MOTOCROSS ACTION MID-WEEK REPORT
#WHIPITWEDNESDAY
Rider: Ken Roczen
Location: Washougal, WA
Date: July 20, 2013
Lens: 70-200mm f/2.8 IS II
Focal length: 165mm
Exposure: 1/800 sec.
F-stop: 4.5
ISO: 1000
TWO-STROKE SPOTLIGHT: DARR RIGGERT'S KTM/KX BUILD
This week's featured two-stroke was an easy choice. How often do you see a KX500 thrown into a KTM 250SXF chassis? Darr Riggert's build is along the lines of a Service Honda creation. They say a picture is worth a thousand words. Well, folks, the KX/KTM union tells a story. If pictures aren't your thing, read below for an explanation from the man himself on what went into the build.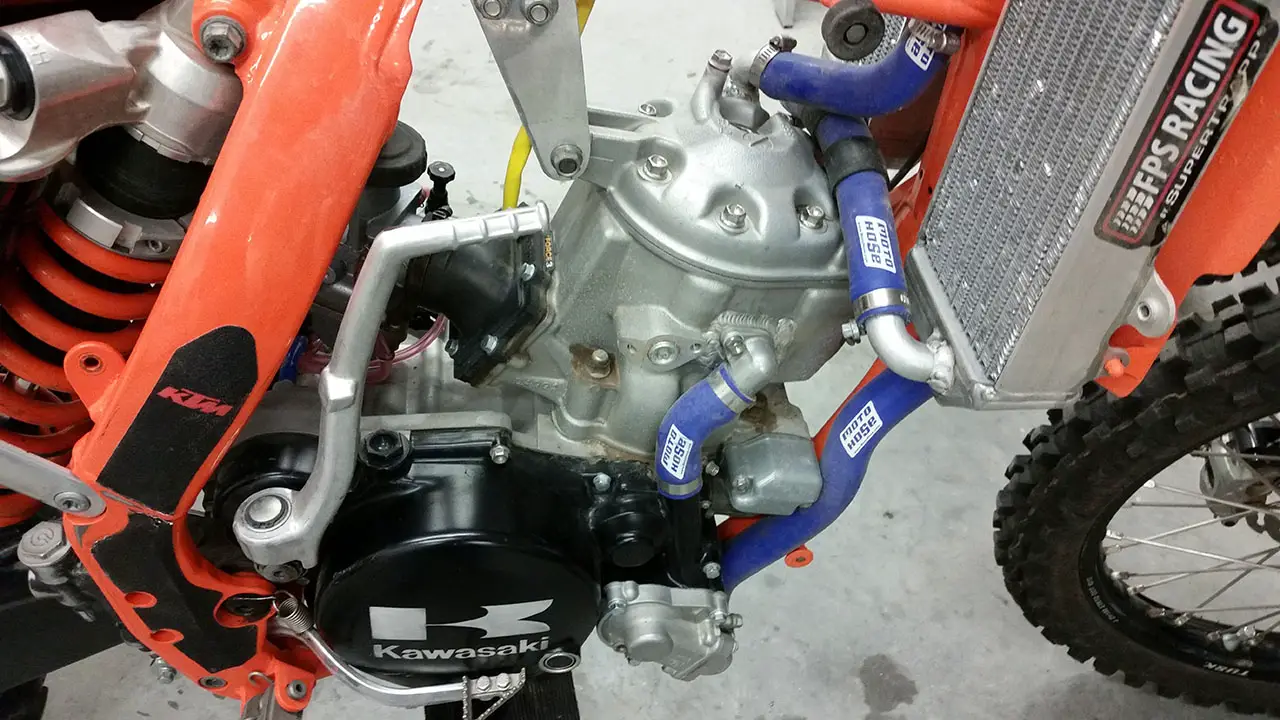 "Here's my 2007 KTM 250SXF chassis with a 2002 Kawasaki KX500 two-stroke engine grafted in. I powder coated the frame and swingarm after the modifications were made. The pipe is a Pro Circuit made for a Honda CR500 with the KX head manifolded welded on it. That's because I couldn't find a lowboy KX500 pipe, so I built my own version. The silencer is from Pro Circuit and has a spark arrestor. I cut four inches out of the muffler but kept the spark arrestor. I also used Tusk Impact wheels. Riley at DeCal Works helped me with the Dungey "KTX" graphics. I built the engine with new cases. There's also a new cylinder, which is ported and moved the water outlet. I also put in a new crank. Works Connection titanium footpegs, Moto-Master rotors, Cycra plastics and skid plate, and I put on a whole bunch of other stuff I don't remember right now! Thanks for featuring my bike."~Darr Riggert, Action Auto Body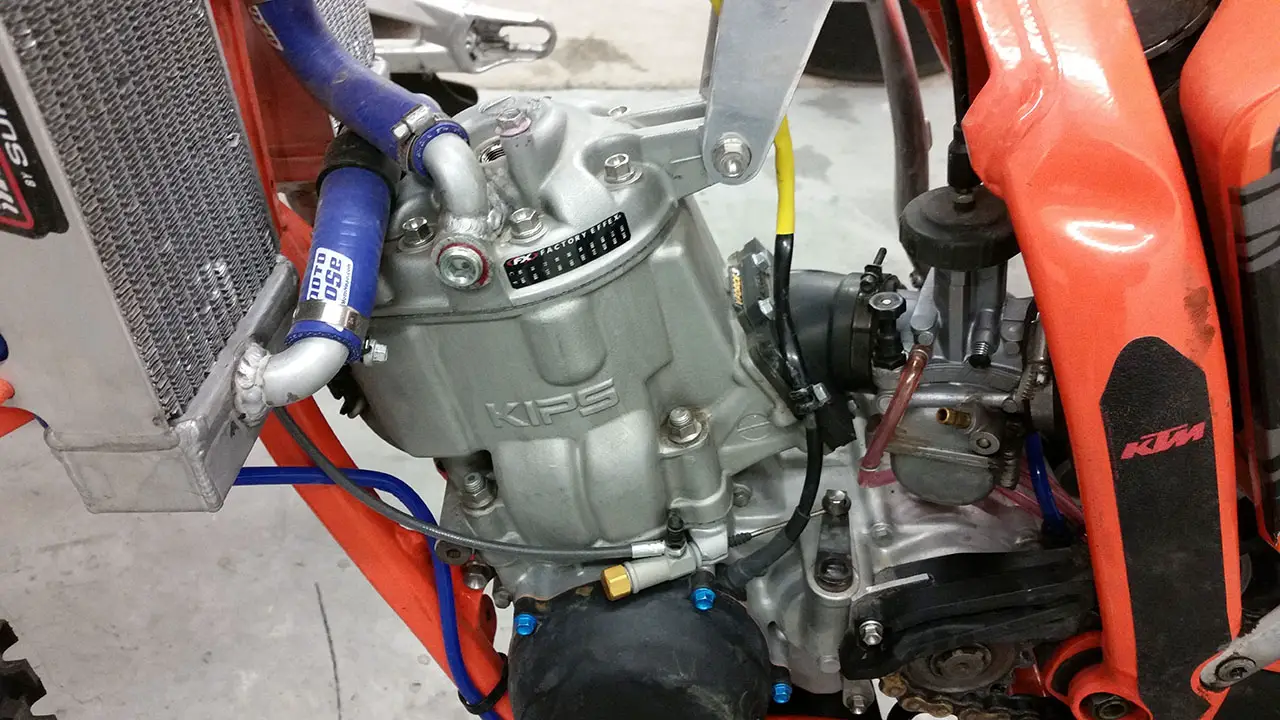 Editor Note: If you would like your bike to be featured in the "Two-Stroke Spotlight," please email me at [email protected]. All I ask is that you give a breakdown of your bike and a detailed description of the thing. Please also send a few photos of your steed. By submitting your bike for the "Two-Stroke Spotlight," you agree to release all ownership rights to the images and copy to MXA. 
WIN THIS 1998 HONDA CR125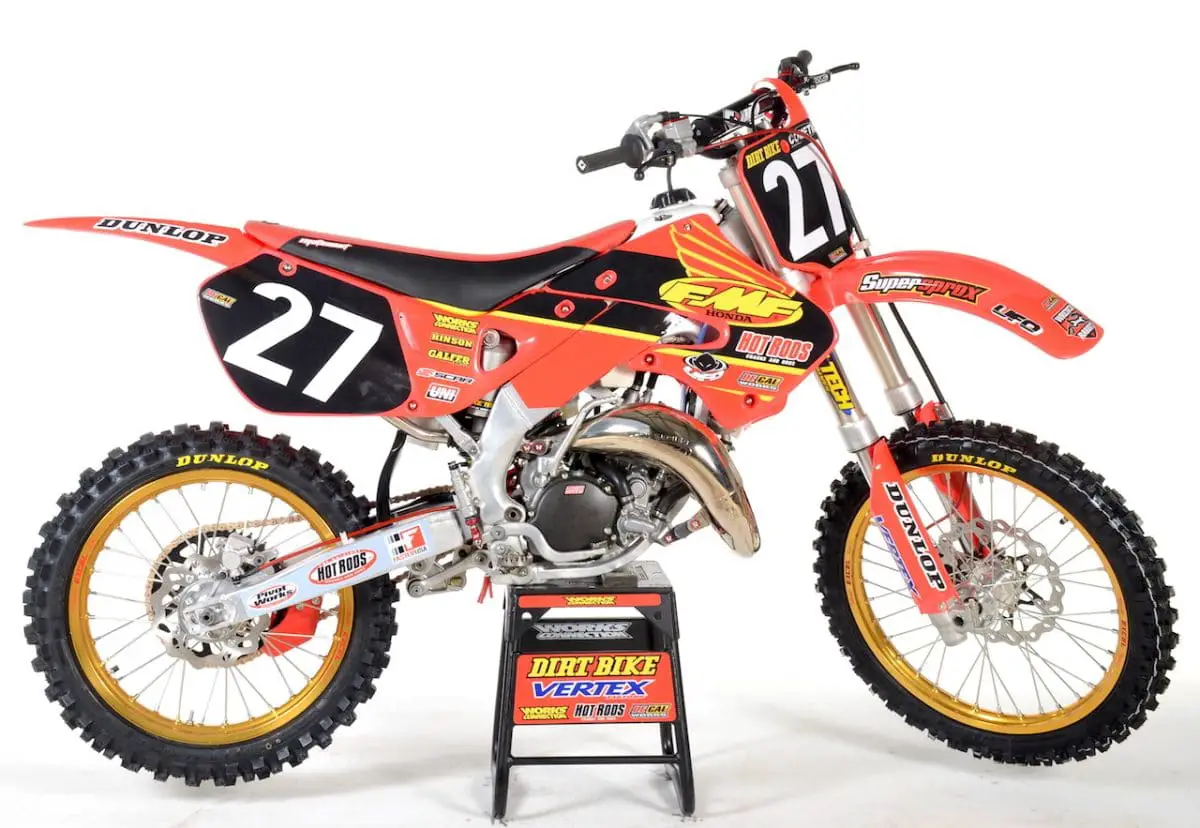 You could win this motorcycle!!! Kurt Caselli Foundation is doing a sweepstakes on this bike. Click the link below to enter https://kurtcaselli.tapkat.org/win199…
Dirt Bike Magazine took a 1998 Honda CR125 two-stroke that was sitting in the dust of Hi-Torque's headquarters in Southern California and brought it back to life with some old school flair paying tribute to the 1990s with the FMF/Honda Factory teams. The concept for this build came from a bench racing session in the garage and had some influence from last years Red Bull Straight Rhythm event. The bikes of this era had character and we teamed up with some industry-leading companies like FMF, Faster USA, Specbolt, Decal Works, Race Tech, Wrench Rabbit, Dunlop, UFO Plastics, Supersprox and ODI to see if we could recreate some of that magic.Platinum FMF pipes, shorty silencers and carbon fiber immediately take us back to the late '1990s. We went one step further replacing a lot of hardware using a complete Nickel Wurks kit from Specbolt that features CNC aluminum washers and bushings. Light Speed is making limited runs of CR125 ignition and clutch covers right now. The wheels are from Faster USA featuring their CNC machined billet aluminum hubs, stainless steel spokes, alloy nipples and gold Excel rims. We added Galfer brake rotors, Dunlop MX33 tires and a black Supersprox rear sprocket. The engine was rebuilt using a complete kit from Wrench Rabbit, we added a VForce reed valve for some additional performance and the Nickel Wurks hardware from Specbolt makes the cleaned up engine cases pop. We had a blast building this project and it's mind-blowing how many aftermarket parts are available for these late '90s two-strokes. Click here to enter.
NOTES FROM THE IRONMAN NATIONAL  | by Ben Bridges
Dylan Ferrandis was a man on a mission in Indiana. 
In 2015  and 2016 Jeremy Martin was the first rider to win back to back MX overalls, and he went on to win the title for Yamaha.  In 2020 he is the first rider to win back to back overalls.  Can he come back to win the title?  He's only 4 points back from Dylan Ferranids with 6 rounds to go.
-Alex Martin went 7-6 for 6 overall.  He is in 3rd in the points standings, 35 back from Ferrandis.
-Jeremy Martin's back to back overall wins at round 3 were the first for Honda since August 17 and August 24, 2013, when Eli Tomac pulled it off on his way to the 250MX title.
-Ferrandis' average finish is 2.0 and Jeremy  Martin's average finish is 2.2 and Alex Martin's is 5.2.
-Dylan  Ferrandis' average start place is 11.2 and Jeremy Martin's is 3.5.
450 CLASS | ELI TOMAC COMES ALIVE TO GET HIS 70TH CAREER WIN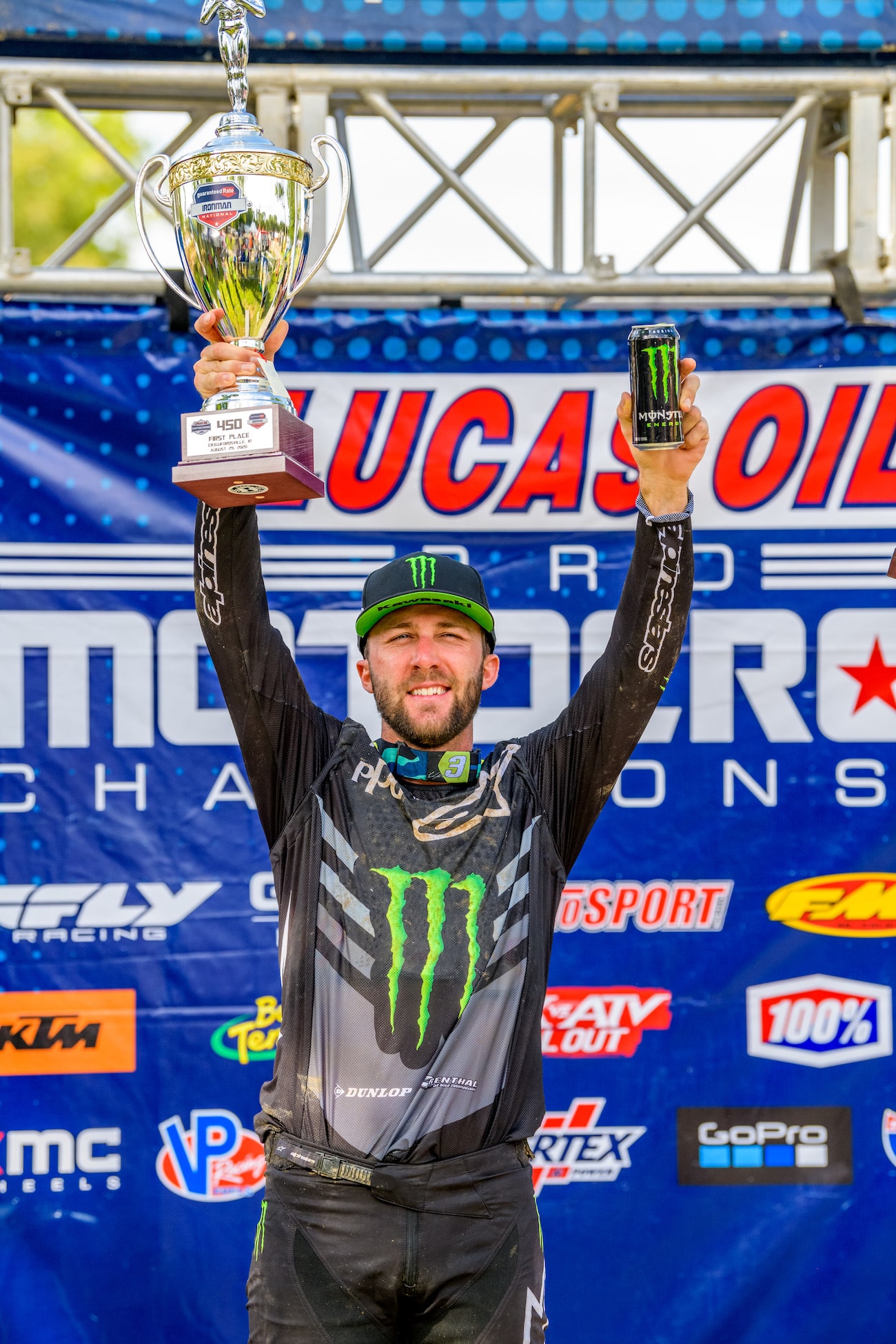 -For the 7th consecutive 450MX season Eli Tomac gets a win.
-For the 5th time in six seasons, Tomac gets a win by round 3.
-2020, 2019, 2018, 2017 and 2015, Tomac had one or more overalls in the bag by round 3.
-Tomac was 40 points back after round 2.  Tomac is now 27 points back after round 3.
– Zach Osborne and the red plate Husky went 7-3 for the day and only produced 34 points.  He has six rounds to go to continue to get valuable pts.
-Adam Cianciarulo got his first back-to-back podiums of his young 450 career.
-Marvin Musquin got his first moto win of the season and went 1-6 for 2nd overall.
-Average finishes after 3 rounds: Osborne 3.2, Musquin 4.3 and Tomac 7.5.
-Average start after 3 rounds: Osborne 8.7, Musqin 4.8 and Tomac 7.2.
-With Kawasaki's overall win at round 3, they have now won at least 1 overall in the 450MX class for 30 seasons, since 1972.  It was their 124th 450MX win.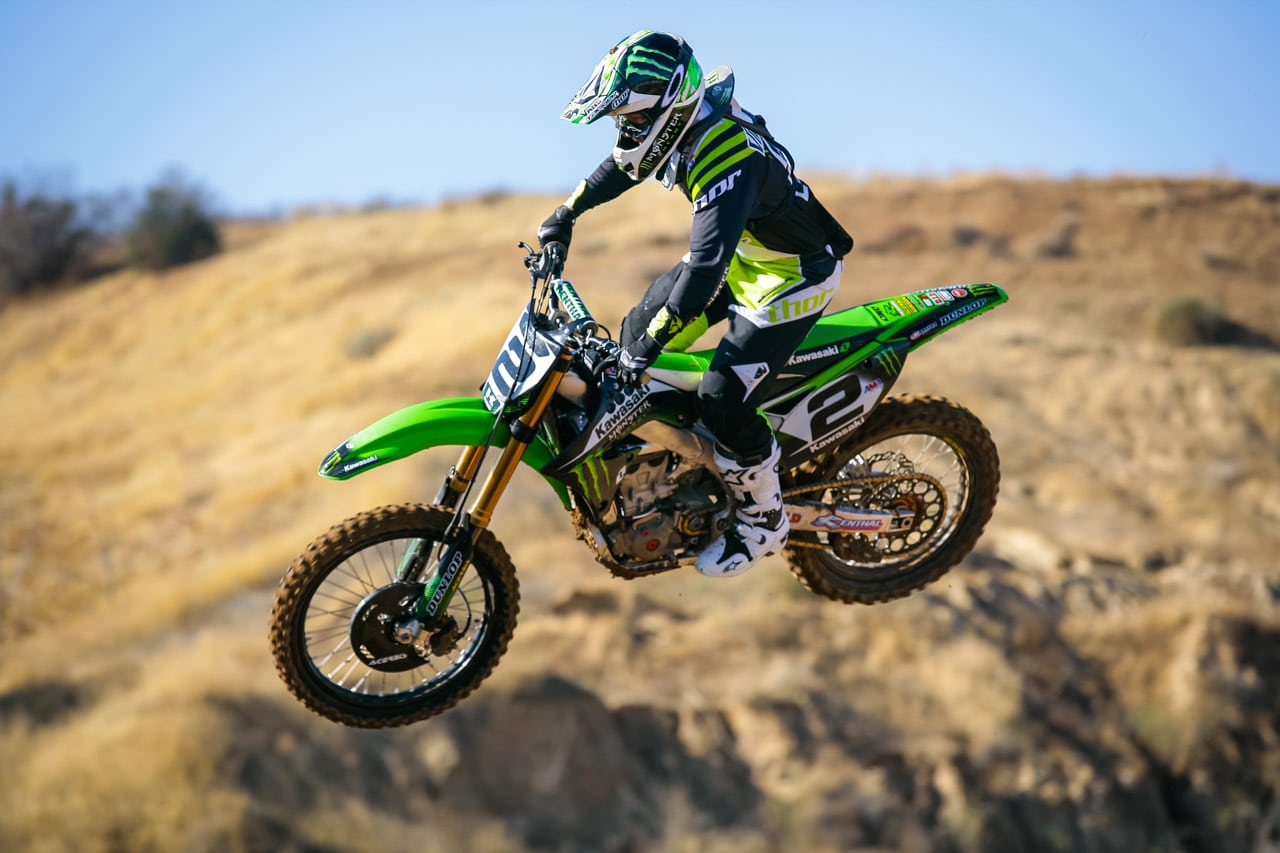 Tomac is only two wins away from knocking Ryan Villopoto down a spot on the all-time win list. 
Eli Tomac gets his 70th career win, 250/450MX & 450SX.  All adds up to 70.  He is 2 wins shy of Villopoto for 5th place on the all-time win list.
RIDE ENGINEERING 270mm WAVE ROTORS 

If you're looking for improved stopping power look no further than 
ride-engineering.com
. We offer 270mm wave rotors; a billet brake caliper (which is flex free with larger pistons) and braided steel brake lines front and rear. Stronger brakes lead to lower lap times. Call us with inquiries or to place and order. 949 722 8354.
COVERED | NOVEMBER 2009

Yamaha kept the 2010 YZ450F hush hush for months, although the motocross industry was buzzing with rumors about the radically new 450 four-stroke. As is the case with most hearsay revolving around motocross bikes, there was a kernel of truth amid a bunch of crazy speculation. The 2010 YZ450F didn't come with an electric starter or hydraulic clutch. What it did have was far more impressive. Yamaha wasn't the first Japanese manufacturer to reverse a motocross engine or embrace the centralization of mass theory; however, they committed fully. Big Blue obviously still believes in the benefits of down-draft fuel injection, the snake pipe and a reverse cylinder, as evidenced by the 2021 YZ450F which still has those design characteristics.
Around August of 2009, Tim Olson–then the Yamaha Media Relations Manager–wheeled two bikes into MXA's warehouse. Cloaked in dark cloth, the 2010 YZ450F was still under embargo. Anyone who agreed to see the bike also agreed to sign their life away. Yamaha didn't want the secret getting out (even though someone infiltrated Yamaha in Japan and took photos of the YZ450F blueprints and uploaded them to the world wide web a month prior).
As for the reason why Yamaha brought two bikes into MXA's studio, the marketing team decided to have key areas of a YZ450F cut apart. The cutaway revealed the new technological aspects. Yamaha also had a race-ready YZ450F, although that bike didn't interest the MXA wrecking crew as much as the cutaway bike. It was so cool, in fact, that we just had to feature it on the November 2009 cover.
SUBSCRIBE TO MXA AND GET A $25 ROCKY MOUNTAIN ATV/MX GIFT CARD—WHICH MAKES YOUR MXA SUBSCRIPTION BETTER THAN FREE
In this issue, MXA tested and built the KTM 350SXF that we wished KTM had built in the first place back in 2011. We wanted a mid-size Open class bike, not high-rpm, big-bore 250. KTM didn't give us that, so we built what we wanted with the help of a $650 Cylinder Works 366 kit. It changed the personality and peak horsepower of the KTM 350SX for the better.

Read all about MXA's KTM 366SXF in the September issue. It could be tucked away in your mailbox by an authorized U.S. government employee if you subscribed.

If you subscribe to MXA you can get the mag on your iPhone, iPad, Kindle or Android by going to the Apple Store, Amazon or Google Play or in a digital version. Even better you can subscribe to Motocross Action and get the awesome print edition delivered to your house by a uniformed employee of the U.S. Government. You can call (800) 767-0345 or Click Here (or on the box at the bottom of this page) to subscribe.
MY INSPIRATIONS | DONNIE HANSEN | The people and things that inspired the 1982 National and Supercross Champion
MY DAD
"My dad used to race scrambles and flat track in the 1960's. He got me into riding when I was seven. Then when I was 13, I raced both scrambles and flat track for a few years."
RON SMITH
"Ron worked in construction and had a lot of money, but he wanted to help someone out in racing. He wanted to work with me, but the deal was that I had to race motocross. I borrowed a Yamaha 250, won my first race, and he liked what he saw. Ron basically gave me a factory ride in motocross right away, because he gave me new bikes every three or four months. Sadly, he passed away."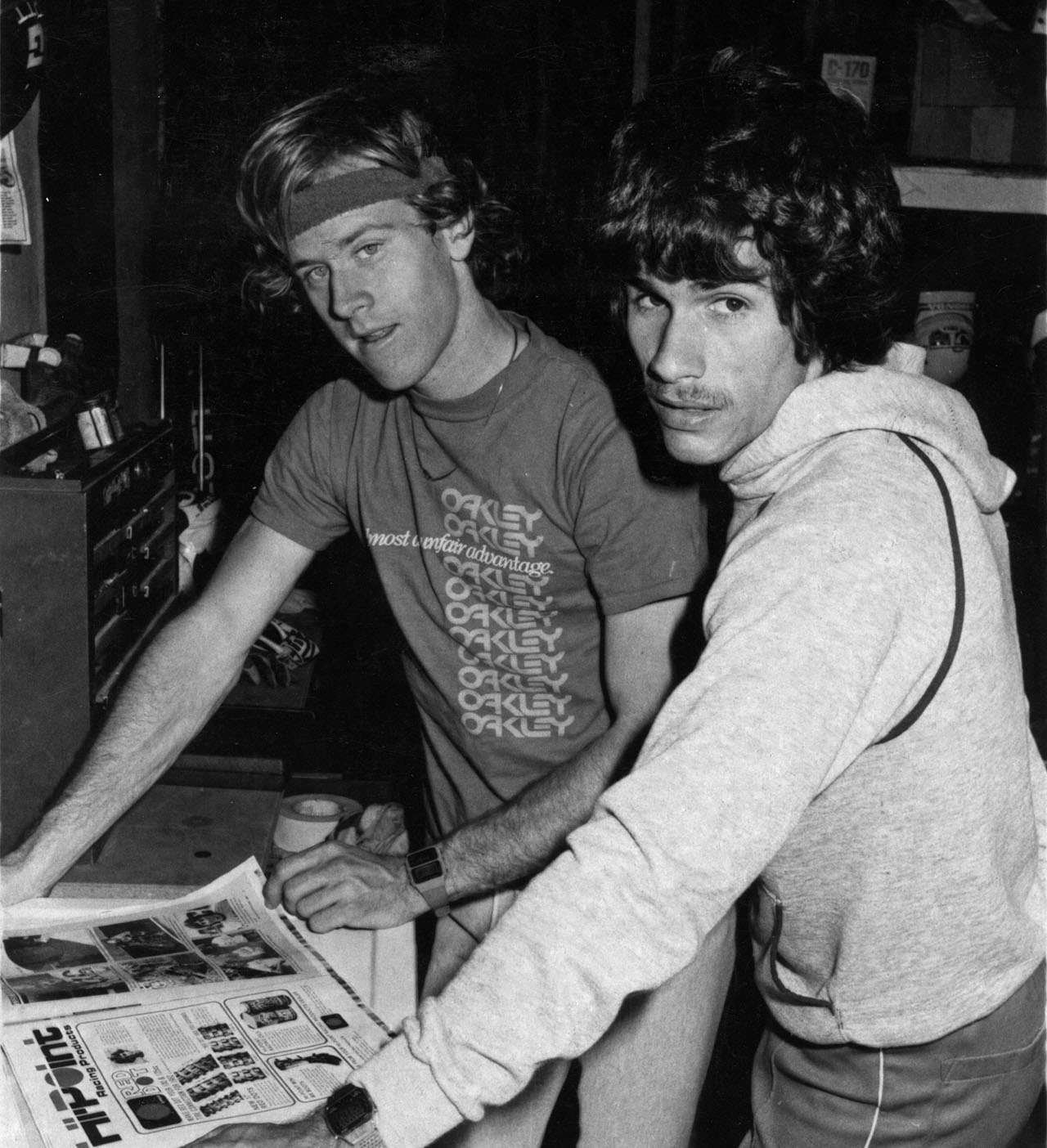 Donnie Hansen (right) and Johnny O'Mara (headband). 
DAVE ARNOLD & ROGER DeCOSTER
"I had a lot of respect for Dave Arnold, who was my team manager at Honda, and Roger DeCoster, who was the team consultant. Between those two guys, they really inspired me. We did a lot of testing together, and fortunately, we also did a lot of winning together. In a short period of time, we accomplished a lot."
BRIAN LUNNIS
"Brian was the only mechanic that I had. He worked his tail off to take me riding, and we went to local races together even though he wasn't required to go. Brian helped me stay on top of my game and he contributed a lot to my success."
BOB HANNAH & MARK BARNETT
"Hannah was a tough guy, and I know that his work ethic made him who he was. Mark Barnett also pushed me to do better, because he was one of my main competitors and I wanted to beat him. He also had a tremendous work ethic, just as Bob Hannah did."
MY SON
"Watching my son Josh ride around a track really inspires me. He is so talented. When I watch him and the way that he flows around the track, it really blows me away. He is a great inspiration to me."
Donnie's son, Josh Hanson when we raced for the Pro Circuit Kawi team. 
I INSPIRE
"I believe that I inspire my wife. There are things that I do where she lets me know how proud she is of me. Other than that, I think I inspire the kids that I teach at my riding schools. A lot of kids want my autograph after they take my classes, which is pretty nice."
TALK MOTO WITH MOTO MINDED PEOPLE. JOIN MXA'S FACEBOOK GROUP CHAT

We love everything moto and want to bring all moto junkies together into one place to share their two cents, ideas, photos, bike fixes, bike problems and much more. To check it out first you must need to or already have a Facebook account. If you don't, it isn't much work and you could even have an alias so nobody knows it is you. To join click HERE. After you request to join we will accept your request shortly after.
1 QUESTION WITH JETT LAWRENCE | by Jim Kimball
THERE IS A LOT OF HYPE ABOUT YOU. MANY BELIEVE YOU CAN BE THE NEXT RICKY CARMICHAEL, OR JAMES STEWART, DO YOU FEEL THAT? Well, I am hoping for that. I am definitely working to be the next Ricky Carmichael. Surprisingly, I truly do not feel that hype though. Yes, my fan base is massive now, compared to what it was, but I don't focus on it too much. I don't really feel it when I am at the races because I am so focused on what I came here to do.
THE BEST SUPERCROSS RACE EVER? 1990 ATLANTA SUPERCROSS
This race from the 1990 Atlanta Supercross is unbelievable. In 20 laps there were quite a few lead changes, banzai passes, take-outs, and a nail biter at the end. The action includes Johnny O'Mara, Damon Bradshaw, Jeff Stanton, Jeff Matiasevich, Guy Cooper (who steals the show), Jeff Ward, and more.
MXA'S FIRST RIDE VIDEO OF THE 2021 KTM 250SXF 
MXA YOUTUBE CHANNEL | HIT THAT SUBSCRIBE BUTTON

The MXA wrecking crew is everything moto related. Check out our MXA YouTube channel for bike reviews, Supercross coverage, rider interviews and much more. And don't forgot to hit that subscribe button.
CLASSIC PHOTO | RICKY PHOTO BLAST THROUGH THE YEARS