MOTOCROSS ACTION MID-WEEK REPORT
#WHIPITWEDNESDAY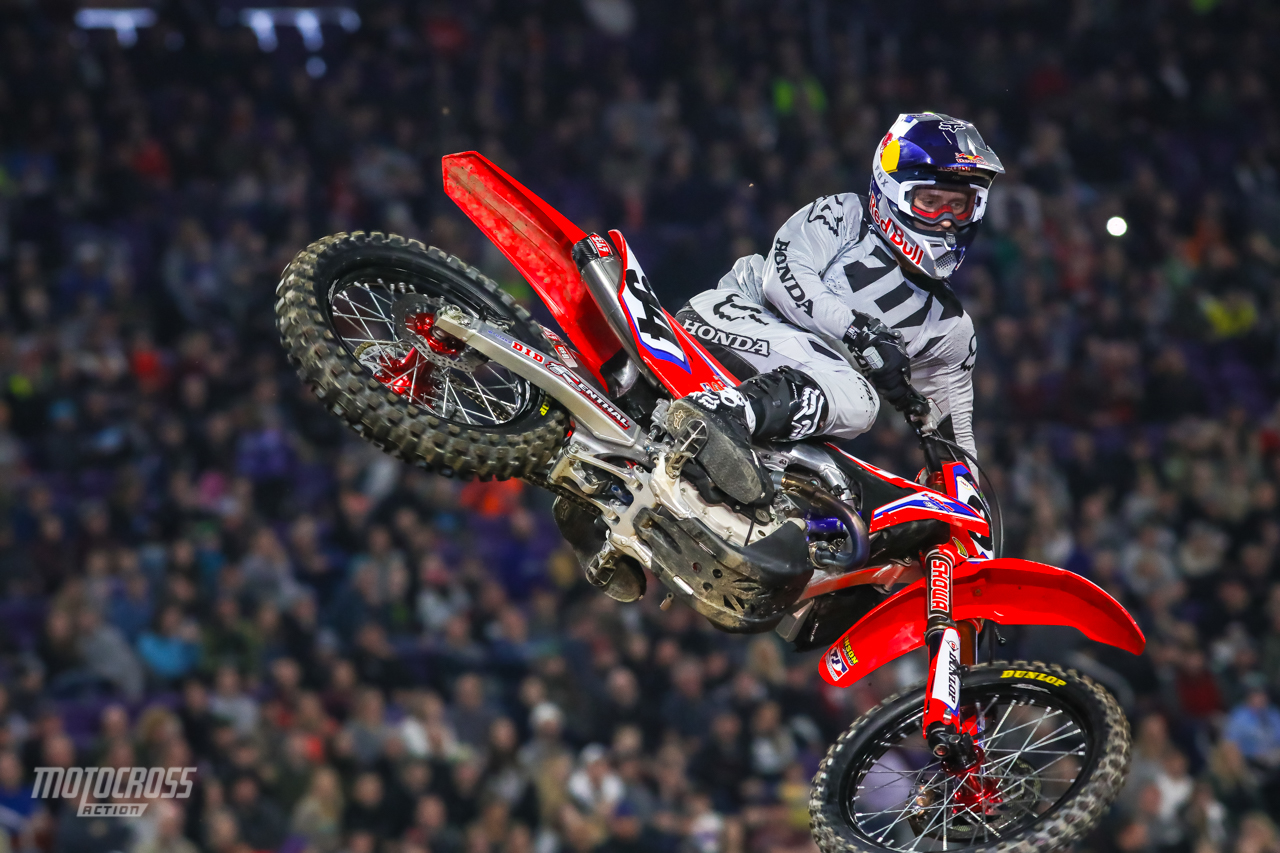 Rider: Ken Roczen
Bike: 2019 Honda CRF450
Location: U.S. Bank Stadium Minneapolis, Minnesota
Lens: 300mm
Focal length: 300mm
Exposure: 1/1600sec
F-stop: f/5.6
ISO: 4000
Photographer: Daryl Ecklund
TWO-STROKE SPOTLIGHT: JAKE BACH'S 2002 SUZUKI RM125
"My name is Jake Bach and this is my 2002 Suzuki RM125 that I rebuilt. The bike was well maintained by the owner before me. The frame and subframe were sent out to be powder coated black. The bottom end had low hours so the top end was rebuilt with a Wiseco top end kit and the cylinder was in great condition. The pipe and silencer were replaced with an FMF Fatty and a Shorty silencer. The OEM hubs were laced up to Excel gold rims and the spokes were replaced with OEM. The plastics are UFO and the seat is SDG and I went with the 2007 OEM graphics. The bars, clutch and grips are Pro Taper."
Editors Note: Please keep those submissions coming. If you would like your bike to be featured in the "Two-Stroke Spotlight," please email me at [email protected]. All I ask is that you give a breakdown of your bike and a detailed description of the build. Please also send a few photos of your steed. By submitting your bike for the "Two-Stroke Spotlight," you agree to release all ownership rights to the images and copy to MXA. Please don't email me spam or try selling me Taylor Swift concert tickets or email me spam. Happy submitting your smoker.
FXR DEALER MEETING & SNOWBIKE RIDING
FXR has partnered with 6D helmets for 2020. The helmet is the same, it just has FXR graphics on it. 
Last week MXA's Josh Mosiman and Daryl Ecklund head out to freezing Minnesota for the 2020 FXR dealer show. The owner, Milt Reimer and media guy Andy White welcomed us with open arms to get a sneak peak of their 2020 gear (which is embargoed till around June), ride snow bikes and took us to the Minneapolis Supercross. FXR has a lot going on for 2019. They are partnering up with 6D helmet as well as EKS Brand goggles. They are also opening up a distribution hub in California and have signed more top level riders to represent them. Here is all that went down.
Milt Reimer is the passionate owner of FXR. 
At the FXR dealer show it was announced that Yamaha signed Mike Brown to represent them for 2019. Mike will race some Canadian Nationals and is in talks of some AMA Nationals as well. 
Mike's new Yamaha YZ450F. 
FXR signed Ronnie Renner for 2019-2020. 
Remember racer Marco Dubé?  He is now a successful sales rep for FXR in Canada. 
A the end of the first night FXR had a fashion show with some of their athletes and a few Viking football cheerleaders. Here is Brock Hoyer posing for the camera. 
One of the many models dressed for the sub-zero temperature. 
This guy likes to freeze. 
Phil Nicoletti is riding for FXR up in Canada. Phil's snow bike broke a chain and landed on his head breaking his visor. He was okay. 

It was Josh Mosiman's first time riding snow bikes. He said it felt like riding a sand track with no front tire. 
Daryl Ecklund rode a few laps as he has been on snow bikes numerous times. 
I don't think you would jump a bike with no front tire, Josh.
Our video guy, Travis Fant was brave enough to catch some air. 
Josh realized that snowmobiles are much harder to ride than snow bikes. 
MOTO | TRIVIA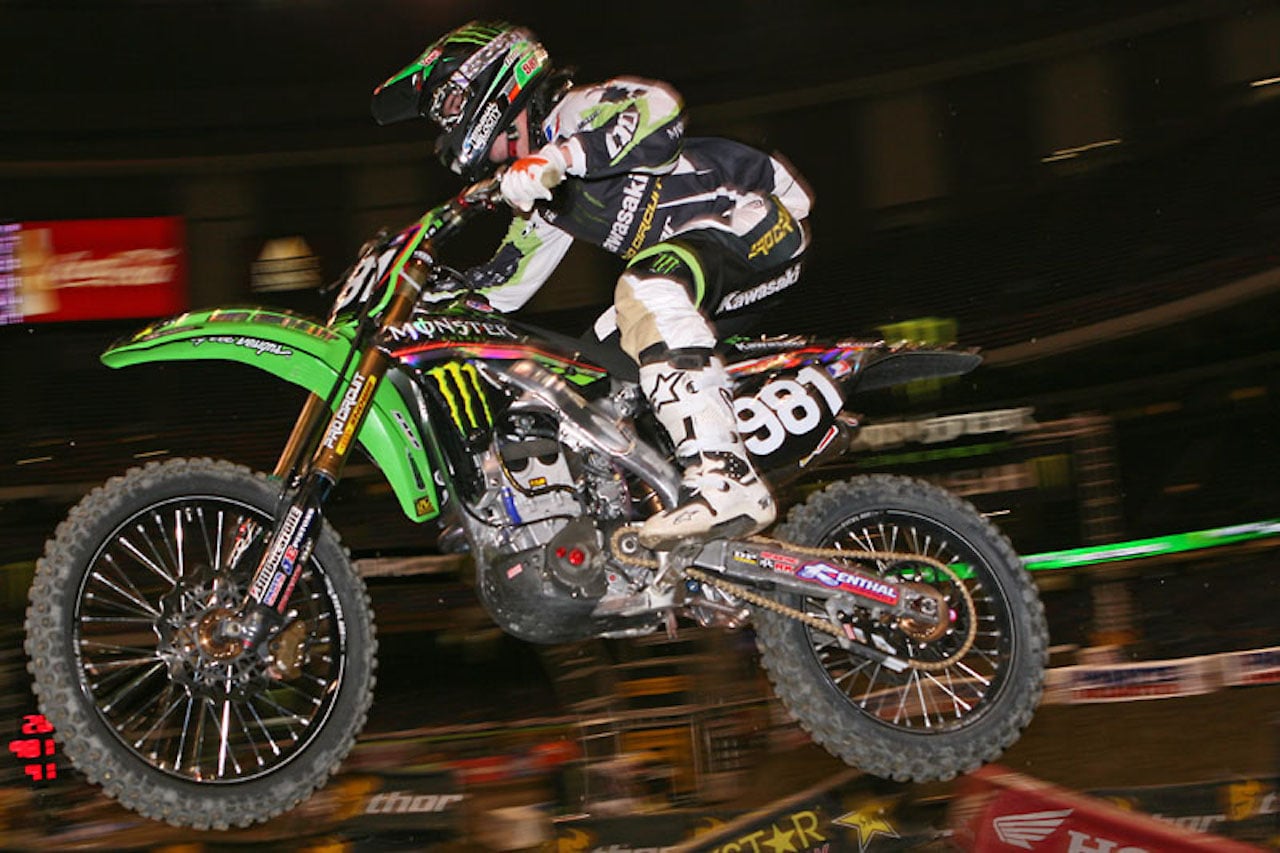 Who is this rider that raced the 2009 New Orleans Supercross?
THEY SAID IT | 2019 MINNEAPOLIS SUPERCROSS
Alex Martin: "Qualifying went pretty well. I was a tad too aggressive, but overall, I was very close to the leaders. You could basically throw a blanket over all of us. I was very comfortable on the bike. Jordan Smith and I had a really good pace going in the heat race. I had the fastest lap time out of both heat races, so I was happy with that. In the main event I got off to a great start and felt really good on the RM-Z250. Smith, Martin Davalos and I had a battle going. Unfortunately, Davalos and I came together and he went down. I apologized to him afterwards. I thought I had third in the bag, but a few lappers messed me up, which allowed Justin Cooper to set me up for the pass. It was a bummer to not finish on the podium, but to be honest, fourth is the best start I've ever had to a Supercross season. The goal was to get the first round out of the way. This was a great result to build off of."
Chad Reed: "We made some great progress with the fork settings this past week. That carried over into the weekend, and helped contribute to my best qualifying result of the year. My speed and fitness are good, but I am frustrated with my starts. I'm not giving myself a fighting chance with track position being so important. It was a hard-fought seventh place. Honestly, it was my best ride of the season. I'll continue to work on my starts and fork settings so that I get to that next level out of myself."



Kyle Peters: "The day was okay. I rode stiff and was fighting myself. The heat race went well, but I was tight. I had a bad start in the main event, didn't breathe, and pumped up really badly. I was stuck behind a downed rider for a bit, which messed me up. The track was tough to pass on. You had to be aggressive. I know what I need to work on, but it was fun to be back behind the gate again."
Ken Roczen: "I had a little wheelie on the start, and I came around in third. I was just in third forever because it's just really hard to pass out there; it gets rutty and we're all kind of taking similar lines. I felt really good, but I couldn't ever make the pass happen, and once Cooper [Webb] got by Joey [Savatgy], he gapped us. I wish I would've had a clear lap earlier because I feel like I could've done a charge toward the end, but with these turns and the intensity we brought, I didn't want to just do a silly, aggressive move and bump up on the inside. I just took a little bit too long, but I'm happy with second place and back in the points lead. I still want to win, but it's all good to get out of here healthy."
Cole Seely: "The track was pretty simple so the practice times were pretty close. I knew going in that the start was going to mean a lot, but unfortunately I didn't get a good one in the heat race. Still, I found my lines and was happy with my speed in the second half of the heat race. That translated into the main event because I was riding really good, and then just before the halfway mark I got cut off by another rider when I was trying to make a pass. I got up and tried to keep my focus forward even though my bike was a little banged up. I managed to pass a few guys. I feel like I'm riding well, but things aren't really going my way. I'll keep plugging away and wait for my luck to turn."
Jordan Smith: "They got that thing changed so fast, and I can't thank my mechanic enough, Christian, and Wayne all of them tonight to get that wheel on and get it switched, that was unbelievable. Then I had time for about one deep breath before I took off, and off we were."
Justin Cooper: "The bike was awesome all day and the team made adjustments to fix anything I was uncomfortable with. I was able to predict exactly what the bike was going to do throughout the race, even with the track conditions getting worse. I had a terrible start, but felt great on the bike the whole main and just had to maintain the race as best I could with all the chaos around me. Everything about the day went smooth except a little first race jitters in the heat race. First podium at my second Supercross race ever… what more is there to say? It's a great feeling!"
Aaron Plessinger: "For me it was a frustrating race to say the least because I felt like I was capable of being on the podium tonight and fighting for the win. It's definitely frustrating, but I felt like I was back to myself again, comfort wise and stuff, I felt good on the bike. I was happy with my riding, just wish I could've done better in the main event. Moving on to next weekend I just want to have good starts and get back up front."
Justin Barcia: "It was a rough one for me. I definitely struggled on my starts. I got a break in the heat race. I got a bad jump, but shot the gap and made it. In the main event I didn't have that gap and I got shut off; I definitely need to keep working on it. We're going to go back to California this week, we'll get some more testing in on the bike and try and dial it in a little more for me. I just need to keep working on it, getting used to it. I'm going to go back and do some more homework and come back ready for Dallas."
Austin Forkner: "At the start of the day I was really pumped to be back racing and I was making some silly mistakes in practice. We were able to talk and get me a little more under control and I felt great there in the heat race and main (event). I felt good the past few weeks at the test track, but you never know how that will stack up at the first race. I'm so pumped to have the red plate and I will do what I can to keep it."
Martin Davalos: "It was a bummer to be riding well at the start of the main event and then get hit. I felt good all day, just had to overcome a few mistakes here and there. The rest of the field is riding well and you have to limit those mistakes, which I'll be working on this week. Next week will be a bit different because the dirt is a lot more hard packed, so we'll see if we can get back up to the front."
Dean Wilson: "The night wasn't great but not too bad, either. I'm not super pumped on it but I came out healthy. I think the past couple weeks of not getting into my normal schedule, due to the rain and resting the week after Oakland because of my knee, definitely had me feeling it and it was a tough Main Event the whole time. I think just trying to get back to my normal schedule will help a lot. It was awesome to be back with the team this weekend and we're just going to get better from here."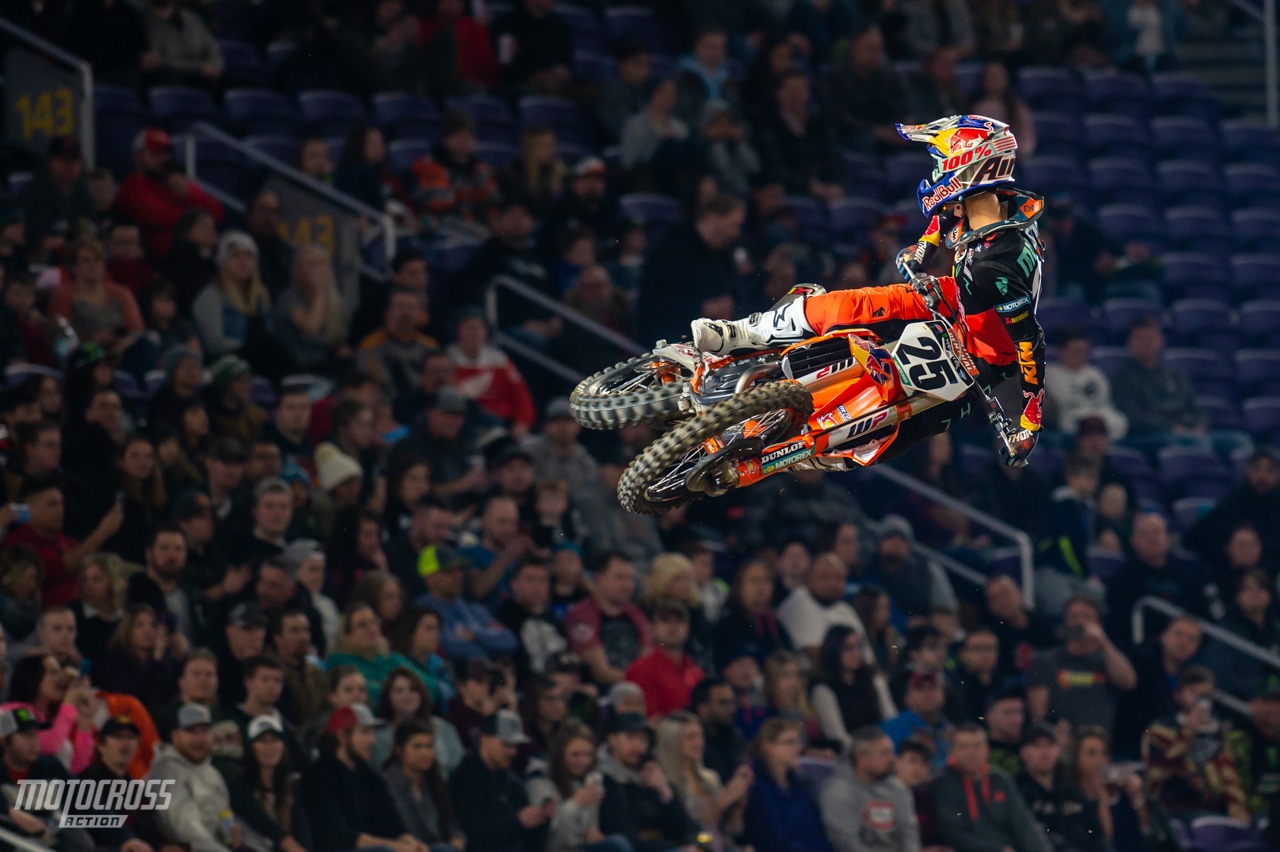 Marvin Musquin: "It was definitely a tough night. I made it really hard on myself going down in the heat race while running in second – I made a little mistake that cost me big time and then again, I hit neutral and went down again. With a really bad gate pick, I knew it was going to be hard to choose either inside or outside on the gate but I chose to go very far inside and I didn't get the start I wanted. I was tight inside and came out top-ten but on a track like that, it's super tough to be in that position to make passes. It took me a long time to get into the top-five and I was pushing to get around [Blake] Baggett and unfortunately, he went down hard, hopefully he's okay. Once I was in third, I tried to give a push for second but there was a gap and physically I gave a lot when I was trying to pass guys for most of the Main Event. Definitely tough, but to be third on the podium tonight is a good result considering where I came from with the heat race and the start, so I'll definitely take it."
Cooper Webb: "To get three wins this year is pretty spectacular, especially bouncing back from last week – having that bad race in the mud – but I never lost belief, never lost faith and knew I was still good. I felt good all day today and to be able to apply it in the heat race, win that, and then win the main was pretty special. It's cool, I have to pinch myself because I've come such a long way in a short amount of time. It's crazy what a year or half a year will do to you. The last two years this place ended my season, so it's pretty cool to bounce back from that and never give up, never doubt myself, make a change and stick to it. I want to keep doing well and doing what I'm doing. I definitely feel like I have a lot to improve on and a lot to learn but we'll see if we can keep going."
YOU DO THE MATH! SUBSCRIBE TO MXA & GET A $25 CHAPARRAL GIFT CARD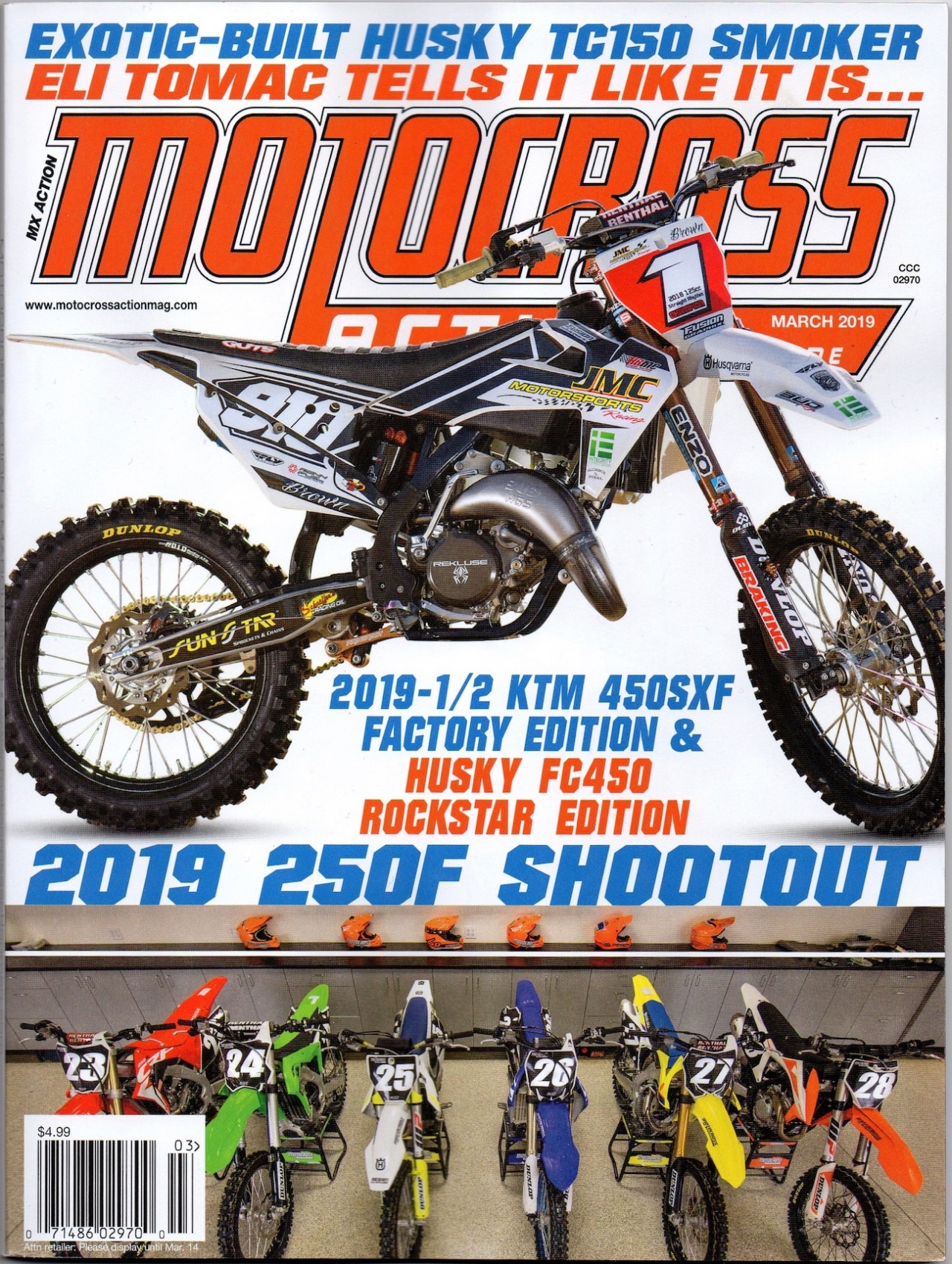 If you subscribed to Motocross Action, the March 2019 issue of MXA would be in your mailbox, computer or iPhone now.
The March issue of MXA is jam-packed with bike tests, product reviews and moto-info. Not only do we have the 2019 MXA 250 Four-Stroke Shootout in this issue, but a 2019 Husqvarna FC350 test, 2019 Yamaha YZ250 two-stroke test,  a retro-test of Chad Reed's 2002 L&M Yamaha YZ450F and a 2019 Honda CRF250 test. Plus, a test of Carson Brown's Straight Rhythm winning Husky TC125 two-stroke and Austin Forkner's 2019 AMA 250 East Supercross KX250 four-stroke. Not to mention an revealing interview with Eli Tomac.
Do you subscribe to MXA? You should. We know that you think that print magazines are dead and that the internet will fill the void, but most of the stuff in the current issue of MXA won't appear on the web for several months, if at all. Luckily, you can get all of MXA on your iPhone, iPad, Kindle or Android by going to the Apple Store, Amazon or Google Play or in a digital version. Even better you can subscribe to Motocross Action and get a $25 Chaparral gift card to spend on whatever motorcycle parts or products you need. You can call (800) 767-0345 or CLICK HERE or click on the box at the bottom of this page.
BIKES YOU'VE NEVER SEEN BEFORE: CZ TYPE 860 V4 350

The Type 860 was a 350cc V4 four-stroke road racer that was started in 1965, but not raced until 1969 because of limited communist funding. It was a 350 for several years and was then bumped up to 418cc in 1971. The original eight-speed transmission was dumped when the FIM banned anything with more than six-speeds. It never won a race, but finished second once. The Czech government ordered them destroyed after their racing days were over, but the ever enterprising Czech mechanics saved most of them.
TALK MOTO WITH ON MXA'S FACEBOOK GROUP CHAT


We love everything moto and want to bring all moto junkies together into one place to share their two cents, ideas, photos, bike fixes, bike problems and much more. To check it out first you must need to or already have a Facebook account. If you don't, it isn't much work and you could even have an alias so nobody knows it is you. To join click HERE. After you request to join we will accept your request shortly after.
MXA'S SNAP CHAT FEED
If you are a Snap Chat user then add us to your stories. Get sneak peaks of everything moto. Our Snap Chat name is motocrossaction. Or just take a Snap of the picture above and it will add MXA automatically to your feed.
CLASSIC PHOTO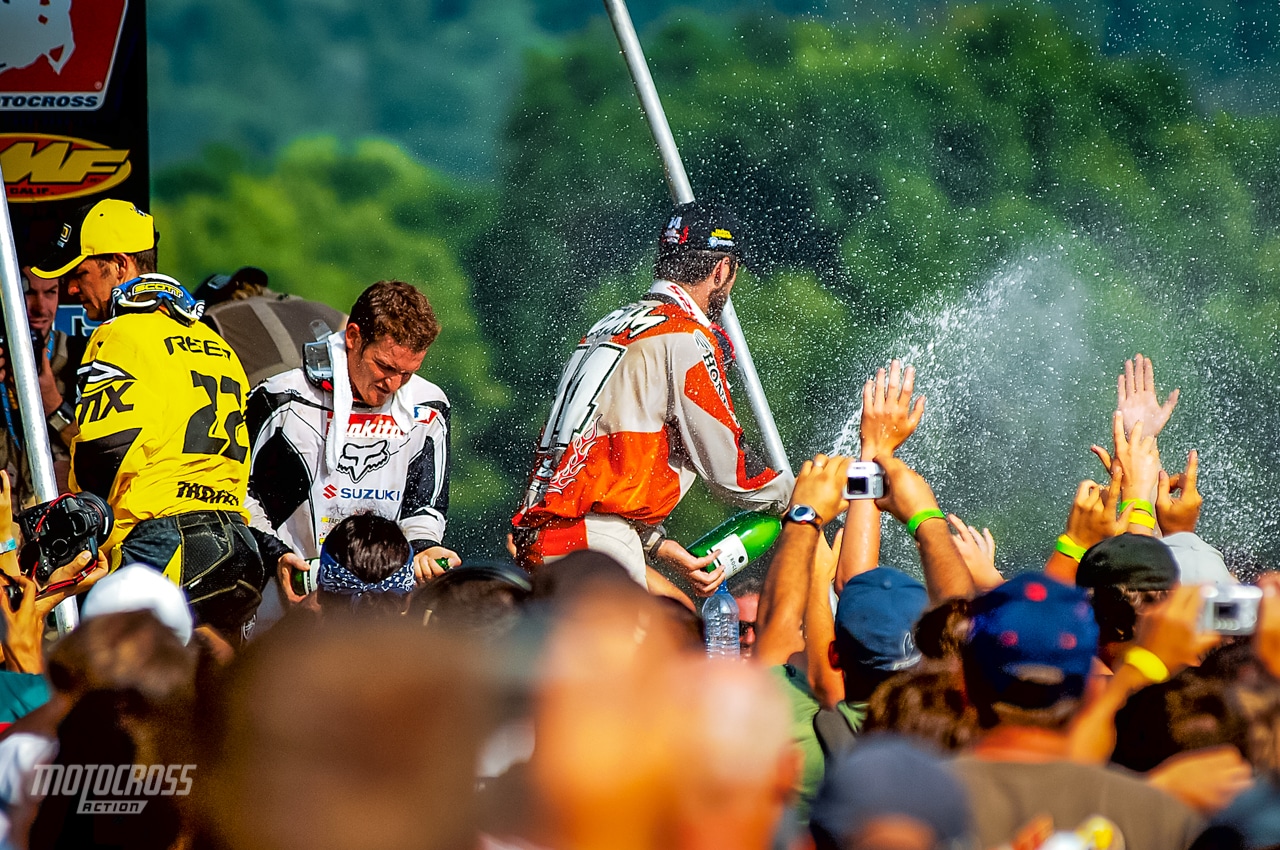 An outdoor National podium back in 2005 with Ricky Carmichael, Kevin Windham and Chad Reed.
---
Moto Trivia answer: Austin Stroupe.