MOTOCROSS ACTION'S MID-WEEK REPORT BY JOHN BASHER
PHOTO OF THE WEEK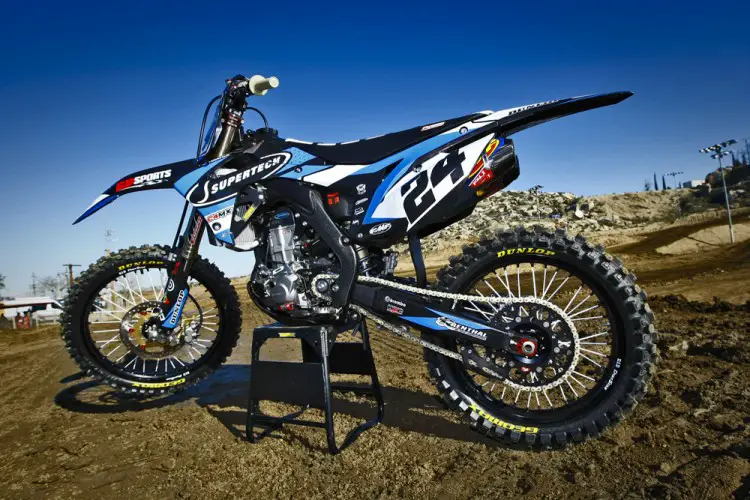 How beautiful is this bike that we got our hands on? Note the anodized black swingarm and frame–it has the same treatment that Chad Reed does to his race bikes. However, don't let the looks fool you. This baby also has some serious bite. Don't think so? Supertech and Frenchie from C4MX teamed up to build MXA a 66-horsepower 2015 Honda CRF450. Mind you, a stock '15 CRF450 tops out at around 53 ponies. Where did the extra 13 horsepower come from? You'll have to wait to find out, because this project bike will appear in an upcoming issue. Until then, check out www.supertechperformance.com and www.c4mx.com.
IT'S COMING ON NEW YEAR'S DAY! MXA'S ADAM CIANCIARULO VIDEO
MXA went to Florida in November to film with Pro Circuit Kawasaki's Adam Cianciarulo. Look for the exclusive video on our website on New Year's day.
OUT-TAKES: AC50 NEW YEAR'S DAY SHOOT
Our videographer, Travis Fant, gives us a sneak peek of the action that's to come in the video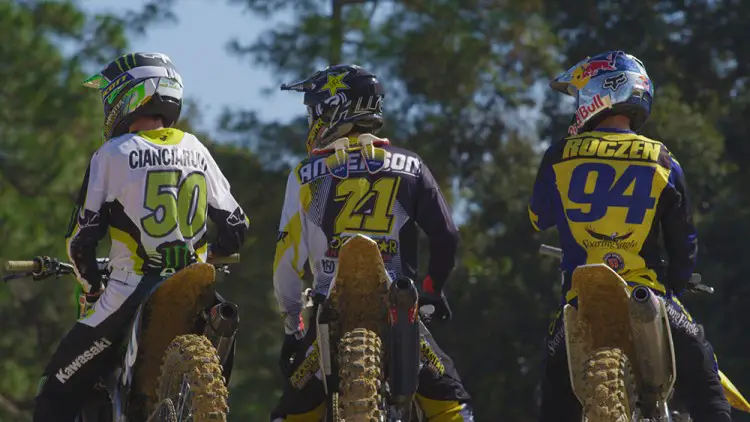 THIS YEAR'S MATRIX SPONSORED RIDER LIST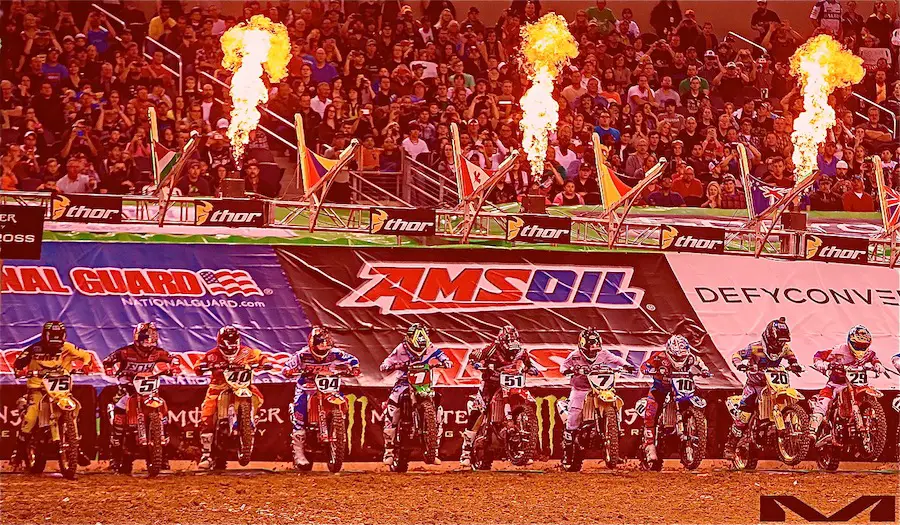 In conjunction with the first Supercross of the season, visit www.matrixracingproducts.com to receive a 15% discount on your entire order. Use code "SX15" at checkout.
Press release: Matrix Concepts is pleased and proud to announce its association and sponsorship with the best teams and fastest riders on the planet. As the world leader in garage and track necessities, the best teams choose Matrix products in the pits including (stands, cans, ramps, mats, tie-downs, toolboxes, and accessories.) Look for these Matrix products under the tents at all 2015 Supercross and outdoor national events.
TWO TWO MOTORSPORTS: Chad Reed, Josh Grant
100 MSO RACING KAWASAKI: Josh Hansen
BTO SPORTS KTM: Andrew Short, Justin Brayton
JGR YAMAHA: Justin Barcia, Weston Peick
RCH SUZUKI: Ken Roczen, Broc TIckle
FACTORY YOSHIMURA SUZUKI: James Stewart, Blake Baggett
GEICO HONDA: Eli Tomac, Justin Bogle, Malcolm Stewart, Jordon Smith, Matt Bisceglia, RJ Hampshire
ROCKSTAR HUSQVARNA: Jason Anderson, Zach Bell, Zach Osborne, Martin Davalos
TROY LEE DESIGNS: Darryn Durham, Jessy Nelson, Shane McElrath
MOTOSPORT OUTLET RACING: Fredric Noren, Colt Nichols, Tommy Hahn
STAR RACING YAMAHA: Jeremy Martin, Cooper Webb, Anthony Rodriguez, Aaron Plessinger
TEAM TEDDER KAWASAKI: Jake Weimer, Dakota Tedder
SLATON RACING YAMAHA: Scott Champion, Cole Martinez, Zack Freeberg, Cheyenne Harmon
AG MOTORSPORTS: Kyle Cunningham, Cade Clason
SUPERCROSS OPENER VIDEO: ANAHEIM 1 VIRTUAL TRACK MAP
MINI-VIEW: JOEY SAVATGY

Nothing to do but win: a conversation with Joey Savatgy
By Eric Johnson
MXA: Joey, it's less than a week before the gate drops at Angel Stadium. What are you up to today?
Joey: Man, right now, nothing. I'm actually just hanging out at my mechanic's house and just kind of relaxing and getting ready to possibly do battle next weekend.
If I had to take a wild guess, I'd say you'll be competing in the West Region opener on Saturday night. Any news on that?
I don't know. Mitch hasn't told us. It's still kind of on play it by ear status, I guess. He hasn't given me a for sure yes or no on anything so I guess it's still a guessing game.
What's your gut tell you?
My gut tells me I might be East, but it's hard to say. It's hard to read Mitch. He has a good poker face. I haven't really gotten a good, positive yes or no answer out of him.
Thus far, how has your experience been with Mitch and the entire team?
It's been really good, man. It's kind of weird because as a kid you always want to ride for Pro Circuit. It was kind of weird getting a call from Mitch during last season. He had talked about wanting to hire me and that kind of stuff. It was just talk. But when the contract really came through, that's when it hit me that I was riding for him. It was kind of weird, but it was a good feeling at the same time because it was something that I've always worked for and for me, I always wanted to ride for Pro Circuit and Mitch just because you always hear that Mitch and his bikes are arguably the best that there is in the Lites class. To be able to have this opportunity is really good and makes me feel good about the hard even though the results haven't been that great. This year, though, will be a whole new deal. Mitch is a legend.
Joey's Pro Circuit hot-rod.
Was getting that contract from the team like the realization of a dream come true?
Yeah, I don't want to sound too clichéd about that stuff, but its definitely cool, man. Mitch is a legend in himself and he knows how to win and he has the resources and ability to win so to have that on your side is definitely a confidence booster.
Due to injuries your entire 2014 Supercross season was written off, wasn't it?
Yeah, I got hurt right at the end of last November and actually broke the scaphoid in my wrist. For those who race dirt bikes or who are familiar to that injury know that injury can take a long time to heal. It's not an injury you want to rush just because if you do rush it, that bone can nag you the rest of your career or lifetime. I made sure to take the necessary time off to be sure that when I came back I was as healthy as possible.
In 2013, however, you were the 250 Supercross Rookie of the Year and lit up the sport with some very good riding. I would think that even though you missed '14, you know you have the speed and know you can do it.
Yeah, I had some pretty good races for my rookie year. Obviously, as a competitive athlete, you always want to do better. Even if you win, it's like, I could have done that a little bit better" or "I could have done this better." There's always that drive to want to do better. I would definitely say, though, the confidence is there. I haven't been on the Supercross gate in over a year, which is a little bit of a bummer, but I know with the team behind me and as much work and everything that we've put in, we're right there. We've also got the bike really, really good. Regardless of which coast I'm racing, East or West, I'm excited to get started and I know that with the whole team behind me that it's going to be a good year.
How is the atmosphere or vibe within in the team? Is it a very competitive atmosphere?
(Laughter) I'd say it's definitely competitive. Obviously, you need competitive people around you to keep that motivation and the drive going. It's good to be at the track with your teammates and to always have something to gauge yourself off of and to help each other at the same time. The atmosphere is really good. I think that for the most part we really get along. I haven't met [Arnaud] Tonus yet as I wasn't here when I came out here. I've met everyone else and I get along with them just fine. It's good.
You did most of your testing and training back East, didn't you?
Yeah, I came out here for testing and stuff, but I'm more of an East Coast kid. Thankfully, Mitch has given me that blessing to go home to be with family and in my own environment to ride and to train back at MTF in Georgia. It's been good. The testing has been great out here, but it's also been great to be home and to get some solid weeks in. I've been able to ride back there with Jordan Smith and Anthony Rodriguez and Gavin Faith. Justin Barcia actually comes and rides with us every other week. We always have someone out there to ride and just push each other and you keep each other on their toes.
And when you come back to California, is it day in and day out and testing at all the local tracks?
Testing is the number one priority when you come out here – especially for me being on the East Coast, there's no testing for me. I'm just trying to get faster and put in laps. When I come out here, the number one priority is testing. When I come out here it's a different pace, but it's also good to get the bike even better than it already was.
Do you consider yourself to be a good test rider?
I think I'm a good test rider. I'm sure that's a question for Bones, but I feel like I'm good at it. I know what I like. Every time I come out here I always think my bike is good and wonder what we can fix, then I come out here and Bones always comes to the track with a couple of different settings and I always leave with a better setting. Somehow he always manages to raise the bar and that's why they're a team with a lot of number one plates on the side of their truck.
Once you were healed up and got your strength back, you really came on strong during the closing phase of the Lucas Oil Pro Motocross Nationals. What helped you to accelerate your game and did it inspire a lot of confidence in you?
Not so much that anything changed. I actually got hurt the Friday before the Glen Helen National. I broke my collarbone. We missed Glen Helen, but I was back at Hangtown, a week after surgery. The main thing for me was that it was a building type of year. To get the good results that I did towards the end of the year helped with the confidence. I know I have the speed to be up there with those guys. It had been a while with the injuries and everything. You can go to a public track and be fast all day, but being fast on a racetrack is a whole different thing. I think that's a thing a lot of people don't realize. To be race fast, you can't prepare for that. It's one of those things you need to do to get better. You need to be on the gate and you need to have those people around you to have that experience. Racing is where it matters most and to really get that figured out you need to be on the gate racing. That's what I've missed for Supercross.
Whether you race this Saturday night or you don't, what do you expect out of yourself and what does Mitch expect out of you when it comes time to line up?
I think everybody knows what Mitch wants and Mitch has not won a championship since 2011, if I'm correct. I know he's hungry. Mitch is the type of guy who does not like to lose, so I think from Mitch's standpoint, he expects all of his guys to win. That's up to me. That's the reason why he hired me, he didn't hire me to roll around in fifth place. So to answer your question, I'm expected to win this year. I'm sure a lot of people are already counting me out as not being one of those guys, but I think the guys who I'm around know that I've been putting in the work. I think I'll be good this year. I think I'll actually surprise a few people. I think a few people will be looking through the Supercross program to try and figure out who is on the number 37 bike because I'm sure there are a lot of people who have written me off just because I've been out of the Supercross scene for a year and was hurt and struggled through outdoors. There are a lot of people who are expected to do good, but if I had to guess, I'm not number one on their list. That's fine with me. There's nothing wrong with being the underdog as long as I show up and do my work and get the results that Mitch wants.
QUOTE OF THE WEEK
"I think that the low age rule is stupid. Kids should not be allowed to turn Pro when they are 16 years old. It doesn't make sense. They aren't mature enough to handle the responsibilities of upholding their end of a professional contract, or understand how to take care of money. Don't believe me? Give a 16-year-old $100 and see what he does with it. I think that they should raise the age limit to 18 years old. The governing organization thinks that doing it will lead to kids going to the FIM and racing the GP's, but that won't happen. What parent in their right mind would ship their kid off to Europe, or uproot their family and move to a foreign country?" – Influential professional racing insider
450 SUPERCROSS CLASS: THE PLAYERS
Angels Stadium will be buzzing Saturday evening when the 2015 Supercross season kicks off. There's no denying that the absence of Ryan Villopoto and James Stewart opens up the field quite a bit. If you'd like to argue that statement, then chew on this: between the two, RV and Bubba won 12 of the 17 rounds in 2014. So who's on deck to win the Supercross Championship? Who knows. Your guess is as good as mine, although I do have a few ideas as to who has the best shot. I'll withhold my opinions, because I've been proven wrong many times before. Anyway, here's a pictorial overview of the major players in the 450 Supercross class. Photos are courtesy of their respective teams or sponsors.
3. ELI TOMAC – GEICO HONDA
4. BLAKE BAGGETT – FACTORY SUZUKI
5. RYAN DUNGEY – RED BULL KTM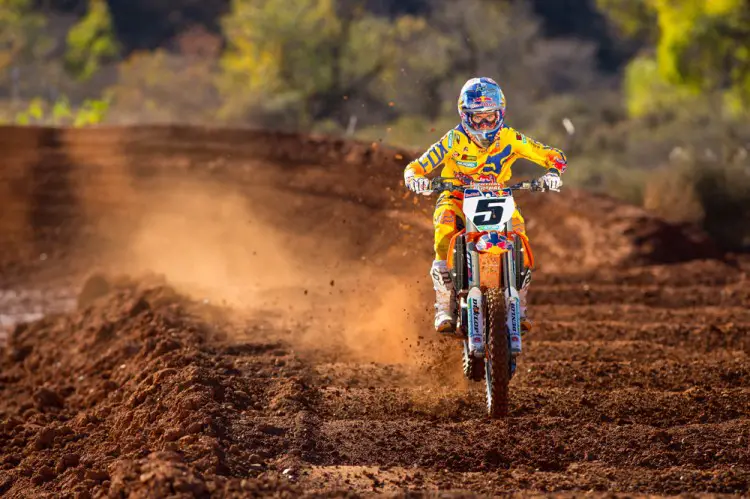 10. JUSTIN BRAYTON – BTO SPORTS KTM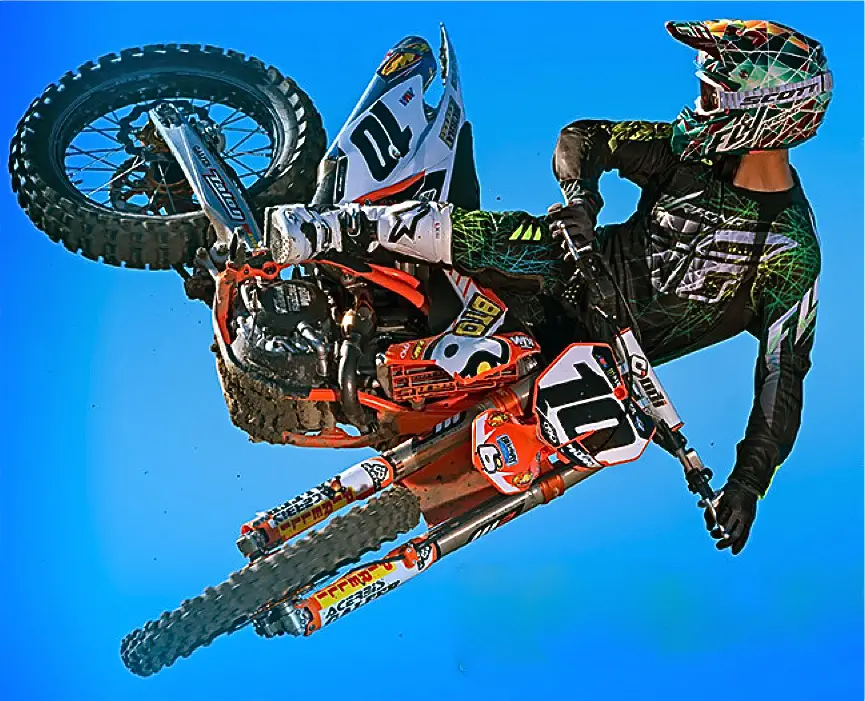 14. COLE SEELY – MUSCLE MILK HONDA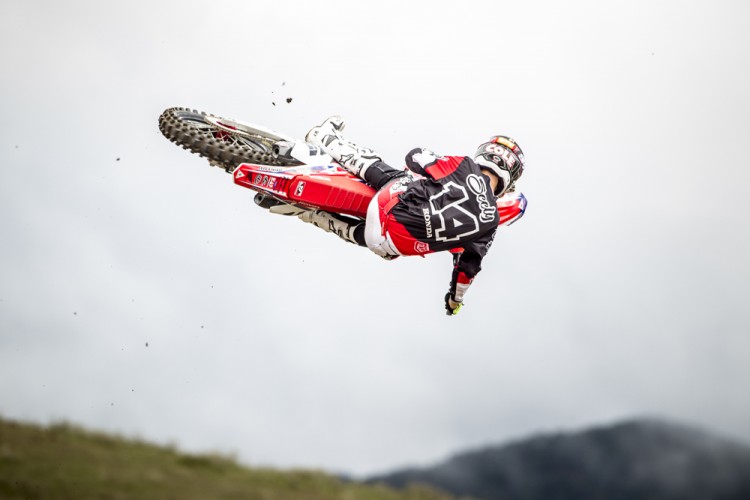 15. DEAN WILSON – RED BULL KTM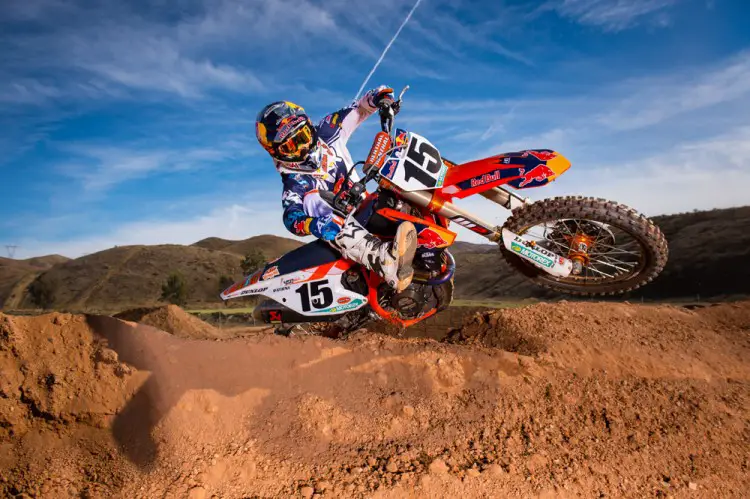 18. DAVI MILLSAPS – MONSTER ENERGY KAWASAKI
20. BROC TICKLE – RCH SUZUKI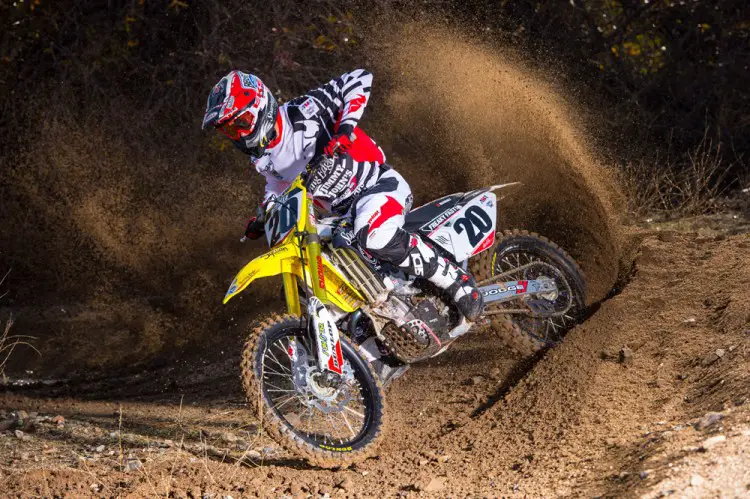 21. JASON ANDERSON – ROCKSTAR ENERGY HUSQVARNA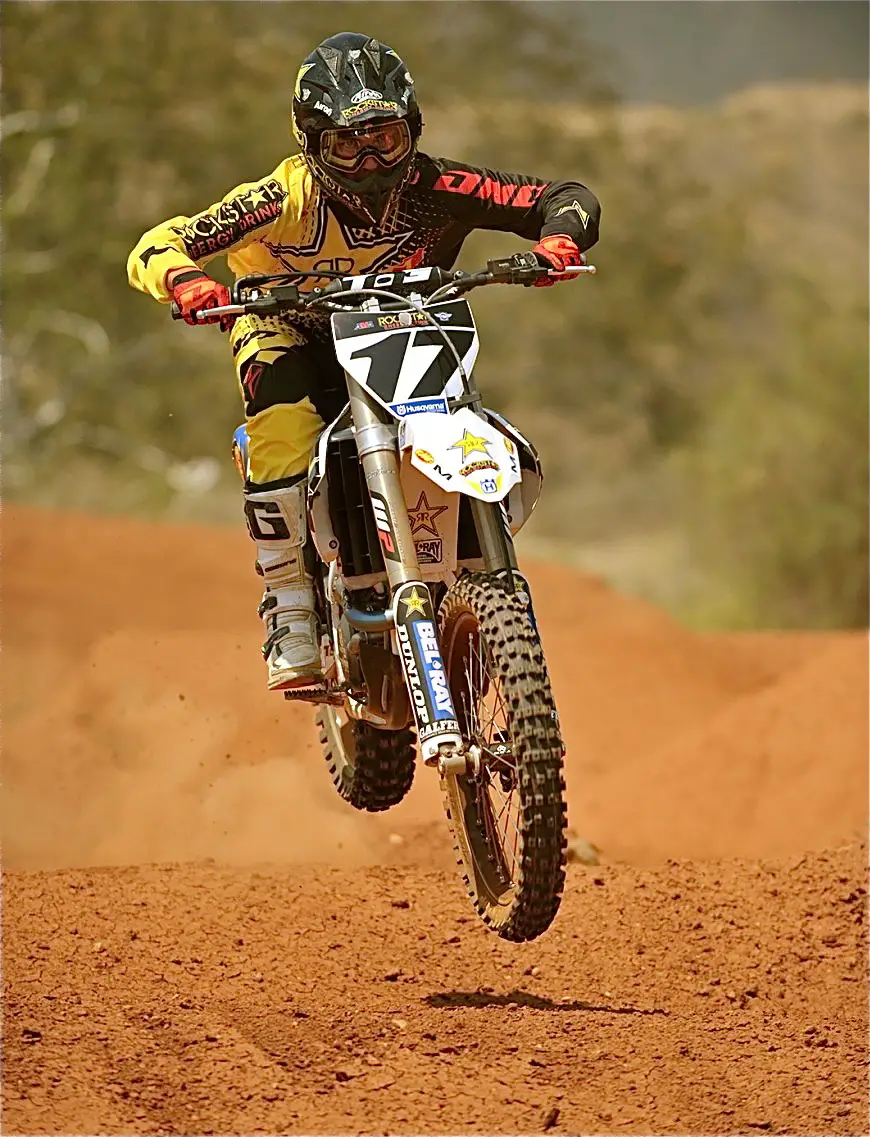 22. CHAD REED – TWOTWO MOTORSPORTS
23. WESTON PEICK – JGR YAMAHA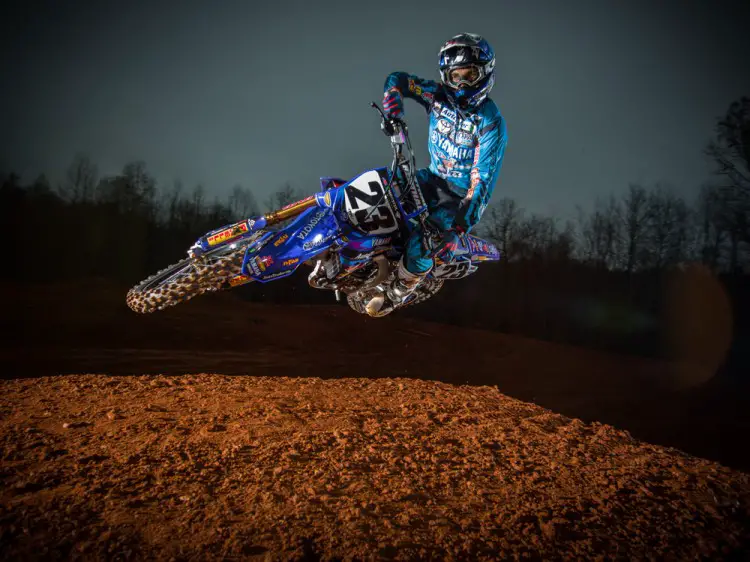 29. ANDREW SHORT – BTO SPORTS KTM
33. JOSH GRANT – TWOTWO MOTORSPORTS
41. TREY CANARD – MUSCLE MILK HONDA
48. WIL HAHN – MONSTER ENERGY KAWASAKI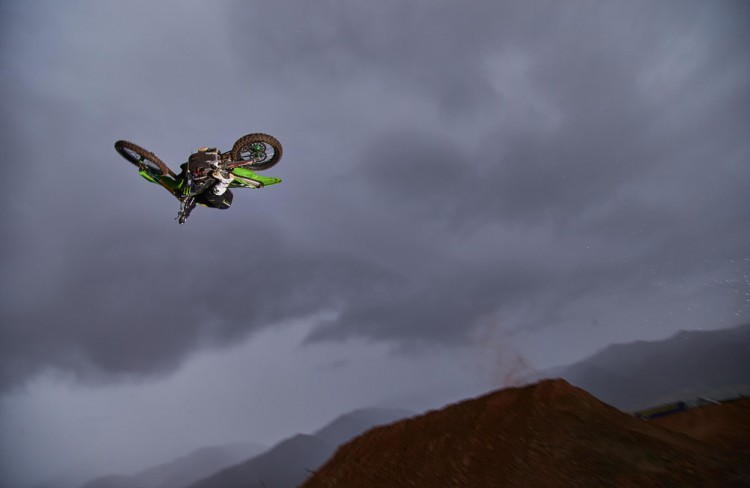 51. JUSTIN BARCIA – JGR YAMAHA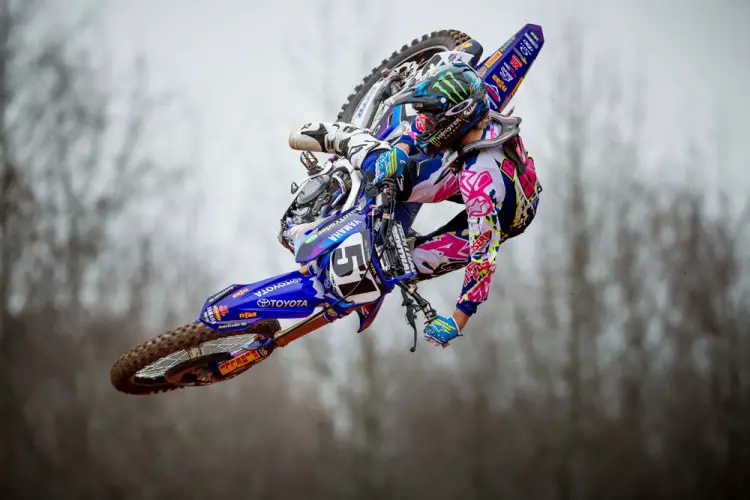 94. KEN ROCZEN – RCH SUZUKI
INTERESTING NUMBER OF THE WEEK: $210,591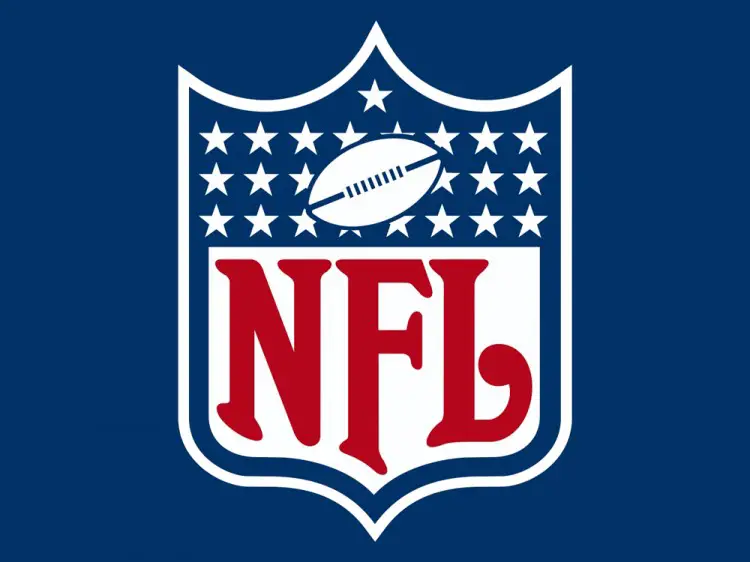 That's the amount, in fines, handed out by the National Football League during week 16 alone, for penalties against players. Most of the fines were the result of player infractions involving unnecessary roughness and unsportsmanlike conduct. The marquee player in the group was Marshawn Lynch, who celebrated a 79-yard touchdown run by diving backwards into the end zone and doing an obscene gesture. His penalty? $11,050.
PRODUCT SPOTLIGHT: PRO CIRCUIT UNVEILS NEW FOUR-STROKE EXHAUST SYSTEMS
[Press Release] We have built a reputation for manufacturing top-of-the-line exhaust systems. Our exhaust is developed in-house and meticulously tested by both our race team and support riders all over the world to ensure you are getting race-proven products that will help separate you from the pack. This type of experience allows us to create four-stroke exhaust solutions like our Ti-6 and T-6 line for 2015 major bike brands including: Honda, Husqvarna, Kawasaki, KTM, Suzuki and Yamaha. For more info go to www.procircuit.com
Ti-6 Pro Titanium Exhaust System:
If you are competing in a AMA Supercross or AMA Motocross series, the Ti-6 Pro is perfect for you. Created as a full-race system, the Ti-6 Pro is the next generation of professional level race exhausts and is designed to pass AMA/FIM sound regulations.
Ti-6 Pro Features: The next generation of professional level race exhausts • Ideal for series such as AMA Supercross/Motocross • Passes AMA/FIM sound regulations • Titanium construction throughout head pipe, mid pipe and canister  • Carbon fiber end-cap construction • Equipped with RC-4 Resonance Chamber (on select models) • Machined aluminum muffler bracket for strength and durability • Asymmetrical muffler configuration for increased packing volume • Machined mid pipe to head pipe joint for a better, leak free fit • TIG precision welding • Made in the USA
Ti-6 Titanium Exhaust System:
The Ti-6 offers maximum performance and is constructed of titanium throughout the head pipe, midpipe and canister while the end-cap is carbon fiber. The Ti-6 is perfect for any closed-course or off-road racer looking for improved performance, durability and a professional look. More features offered by the Ti-6 is the ability to meet AMA amateur racing sound requirements and that it comes equipped with a United States Forest Service (USFS) approved spark arrestor making it easy to alternate between off-road and closed-course racing.
Ti-6 Features: Offering maximum performance while meeting AMA amateur racing sound requirements • Ideal for closed course of off-road racing • Titanium construction throughout head pipe, mid pipe and canister • Carbon fiber end-cap construction • Equipped with RC-4 Resonance Chamber (on select models) • Machined aluminum muffler bracket for strength and durability • Asymmetrical muffler configuration for increased packing volume • Machined mid pipe to head pipe joint for a better, leak free fit • Removable USFS approved spark arrestor • TIG precision welding • Made in the USA
T-6 Stainless Steel Exhaust System:
The T-6 offers maximum performance and is constructed of stainless steel throughout the headpipe, mid pipe and end-cap while the canister is aluminum. The T-6 is perfect for any closed-course or off-road racer looking for improved performance, durability and a professional look. More features offered by the T-6 is the ability to meet AMA amateur racing sound requirements and that it comes equipped with a United States Forest Service (USFS) approved spark arrestor making it easy to alternate between off-road and closed-course racing.
T-6 Features: Offers the same performance as the Ti-6 • Lower cost and increased durability • Ideal for closed-course or off-road racing • Stainless steel throughout head pipe, mid pipe and end-cap • Aluminum canister construction • Equipped with RC-4 Resonance Chamber (on select models) • Machined aluminum muffler bracket for strength and durability • Asymmetrical muffler configuration for increased packing volume • Machined mid pipe to head pipe joint for a better, leak free fit • Removable USFS approved spark arrestor • TIG precision welding • Made in the USA
250 WEST CONTENDERS?
Although the entry list won't be confirmed until the gate actually drops at Anaheim 1, here's a good idea of who will be racing the 250 West series. As for the Pro Circuit boys, Mitch Payton has been quiet about which riders he will send to the line on Saturday night. This means that Joey Savatgy, Chris Alldredge, Arnaud Tonus and Tyler Bowers are up in the air. However, I'll go out on a limb and say that Alldredge and Bowers are going to race West, while Savatgy and Tonus are racing East (Adam Cianciarulo is out until the Nationals).
250 West: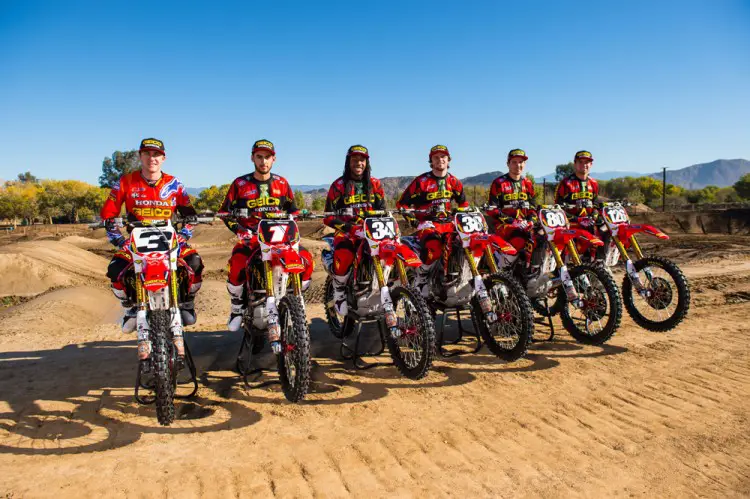 Look for Malcolm Stewart (34) and Matt Bisceglia (38) to contest the 250 West, while Justin Bogle (1), RJ Hampshire (80) and Jordan Smith (126) will race on the East coast. Oh, and that #3 guy? He'll be vying for the 450 crown. Photo: Geico Honda.
16. Zach Osborne…Husqvarna
17. Cooper Webb…Yamaha
28. Jessy Nelson…KTM
31. Alex Martin…Yamaha
32. Justin Hill…KTM
34. Malcolm Stewart…Honda
38. Matt Bisceglia…Honda
40. Shane McElrath…KTM
44. Zach Bell…Husqvarna
66. Chris Alldredge…Kawasaki
97. Darryn Durham…KTM
100. Josh Hansen…Kawasaki
130. Tommy Hahn…Honda
157. Aaron Plessinger…Yamaha
341. Nico Izzi…Yamaha
789. Jean Ramos…Yamaha
911. Tyler Bowers…Kawasaki
981. Austin Politelli…Yamaha
Which means…
250 East: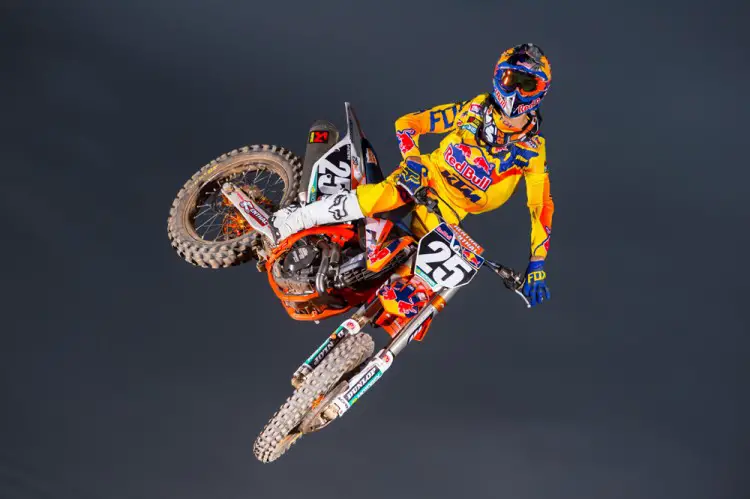 Marvin Musquin has a new look, as well as an all-new bike in the form of a KTM Factory Edition 250SXF. Will he finally win the title that has evaded him for so long? Photo: Red Bull KTM.
1. Justin Bogle…Honda
6. Jeremy Martin…Yamaha
25. Marvin Musquin…KTM
37. Joey Savatgy…Kawasaki
43. Matt Lemoine…Kawasaki
47. Martin Davalos…Husqvarna
62. Anthony Rodriguez…Yamaha
80. RJ Hampshire…Honda
126. Jordan Smith…Honda
200. Arnaud Tonus…Kawasaki
6D RIDE DAY: PERRIS RACEWAY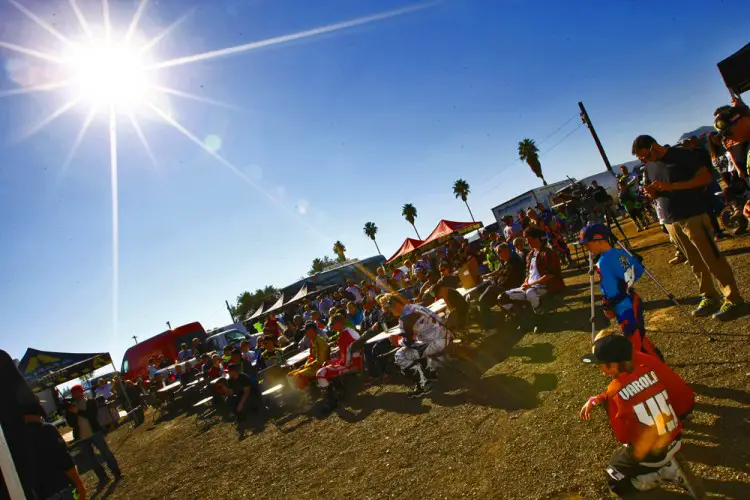 Sunny skies and 70 degrees at the end of December? It could only mean that the 6D ride day was held in sun-drenched SoCal.
On Monday, the great folks at 6D Helmets held a free ride day for all 6D helmet owners at Perris Raceway. The track was prime, food delicious, and 200 or so attendees spanned from 50cc beginners to professional racers. It was a fun day had by all. What was particularly intriguing about the event was how 6D recognized those who believe in the radically forward-thinking technology, and rewarded those folks with a free day of moto shredding. Eli Tomac showed his support by stopping by after wrapping up his morning Supercross training session and signed autographs and took pictures with the safety-conscious 6D crowd.
6D helmet = suspension for your noggin.
The sport needs more companies like 6D that show their appreciation to customers by giving back with things like free ride days. Thanks to 6D for having the MXA gang out, and for bringing so many like-minded individuals together to celebrate their joy for riding.
2015 SUPERCROSS TV NEWS: 12 LIVE RACES, INCLUDING ANAHEIM 1
[Press Release] While FOX Sports 1 will air 12 races live beginning at 7:00 p.m. local race time, FOX Sports 2 will carry three live races and FOX Broadcast Channel will air the East Rutherford race live on Saturday, April 25 at 3:00 p.m. ET / Noon PT.
VIRUS ACTION SPORT PERFORMANCE ANNOUNCES 2015 TEAM
Press realease: Virus Action Sport Performance is prepared for the upcoming Supercross and Motocross racing season and is pleased to introduce its Vteam for 2015. The team presents an impressive roster of championship-winning riders including Monster Energy Kawasaki's Davi Millsaps and Wil Hahn continuing with the team as well as Dakota Tedder from Team Tedder. Virus is proud to welcome Jake Weimer, also from Team Tedder.
"We are extremely excited about our Vteam! With Millsaps and Hahn on the same racing team this year and sharing the same trainer, Ryan Fedorow, Virus will be collaborating with them to develop new products specific to their needs for training, racing, and recovery," said Sten Rasmussen, VP of Marketing. "We will also be working closely with Team Tedder to supply them with Virus products that will help elevate their racing program."
Davi Millsaps is a well-known and respected athlete in the motocross world and has garnered many achievements including an East Coast Supercross Lights championship; multiple 450 main event wins and is currently the 2014 Monster Cup Champion. "I am really excited to continue my relationship with Virus and look forward to pursuing the development of new products specific to motocross and training," stated Millsaps. " Virus has been instrumental in my training and racing program. The Virus compression base layers have helped combat fatigue and sped up my recovery — allowing me to push harder with my program."
Wil Hahn is competing for his second year in the 450 Supercross class with a new team and mindset. He has been training hard and testing his new Monster Energy Kawasaki vigorously in preparation for the 2015 season. As a former 250SX East Title Champion, Hahn knows what it takes to have a successful program."I am really pumped to continue with Virus for 2015 because I think they make great products for my training and racing program," said Hahn. "And because the commitment to their athletes is unreal. They have a training facility at their headquarters for Vteam athletes to use at their disposal — they want to see their athletes succeed and they create the products to help make that happen!"
In addition, Virus is honored to have Team Tedder, which includes 250 Class Rider Dakota Tedder. They recently added Jake Weimer to their program to compete in the 450 Supercross Class. Weimer's claimed the 2010 West Coast Lites title in dominant fashion with four wins and two podiums. Weimer also took part in the huge underdog victory for the U.S. in the 2009 Motocross des Nations. Plus, Tedder had his best SX season to date in 2014. He is looking forward to improving in 2015 and will compete in the 250SX East Coast series.
"We are thrilled to continue our partnership with Virus for 2015," said Matt Tedder, Team Owner. "VIRUS offers great compression base layer products that will help Dakota and Jake through the various weather conditions that are endured during the SX and motocross season." Tedder also continued to say that he feels VIRUS products are very conducive to a successful training and recovery program as he witnessed with Dakota's great results during the 2014 Supercross season.
Virus has been working diligently with all of their Vteam athletes to ensure that they continue to improve their products and create a line specifically focused on the offroad/motocross athlete. "By listening to our athletes input, we have come up with some great new products that will be moto driven and launched in 2015," stated Rasmussen.
"Over the past two years, it has been great to see the improvements in design and fit related to my feedback," said Millsaps, in relation to their collaborative effort. "The new Virus moto collection that will be coming out in 2015 will be the 'go to' product for all riding and training needs." Hahn also commented that he wears them for just everyday use because of how comfortable they are!
For more information about VIRUS | Action Sport Performance and the newest products, visit www.VirusIntl.com or find them on Facebook.
Photos by Geico Honda, Red Bull KTM, Fly Racing, RCH Suzuki, Yoshimura Suzuki, JGR Yamaha, Kawasaki, Thor, Pro Circuit, John Basher, Honda, Monster Energy, Rockstar Husqvarna & Travis  Fant