MXA INTERVIEW: DANNY LAPORTE ON LIFE AS AN ADVENTURE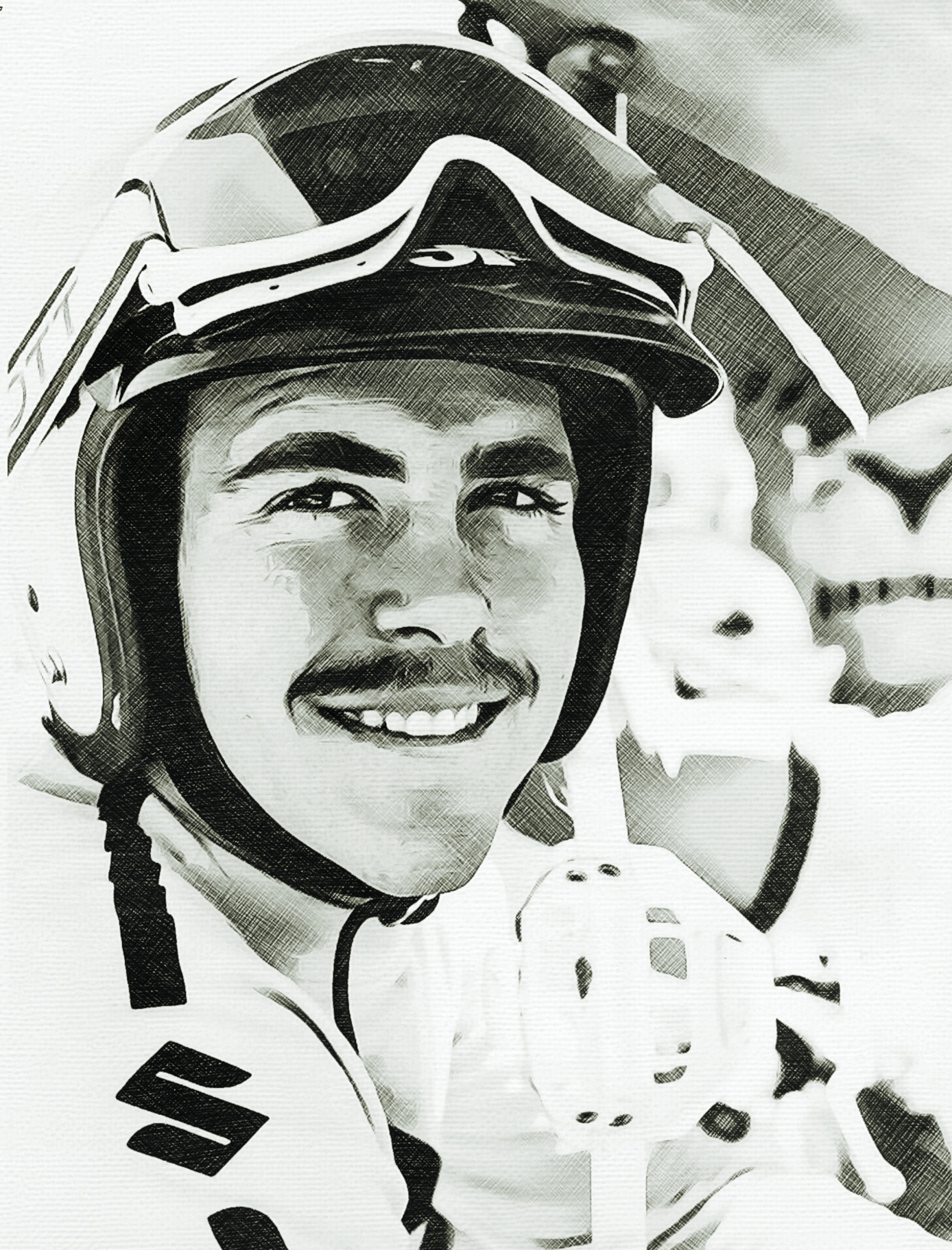 BY JIM KIMBALL
DANNY, YOU GREW UP AT THE START OF MOTOCROSS IN AMERICA, DIDN'T YOU? Yes, it was great. I remember being in the backyard of my house and my dad pulls up in his work truck with a Montesa in the back. I did not know what it was. I was probably 9 or 10. When you are a kid and see something like that, you just go, "Oh my gosh, what is it?" It was so bizarre, but it looked like so much fun, almost scary. After that, he probably owned every Spanish motorcycle on the planet.
DID HE GET YOU A MINIBIKE? I got a little Bonanza minibike with pull-start. Behind the house we had this lot, and I did circles around the house all day long. That is how it started. In our area, there were already a couple of guys racing dirt bikes. There were some local desert racers who were pretty good, and then there were some motocross guys. We had a local track called Ascot literally 15 minutes from my house. The first bike I ever rode at Ascot was a Hodaka.  
WHEN DID YOU DISCOVER MOTOCROSS? I remember the time my dad said, "We are going to go do this new thing—motocross." My first race was at a track we called "Five Corners." Then there was Ascot, and a year or two later, Saddleback. The whole sport was growing. It literally seemed like every few months there were new tracks around.
WERE THERE LOTS OF RACE OPPORTUNITIES? From my house we could ride five or six different tracks. When I got a real dirt bike, a Rickman 125, I started racing three days a week. I would race on Wednesday night and then again on Fridays and Saturdays. My mom used to take me. The dirt bikes were always in the back of the van, and my mom was making sandwiches. When we weren't at school or racing, we were in the garage working on dirt bikes. I was on a Rickman, a Zundapp and later a Penton 125.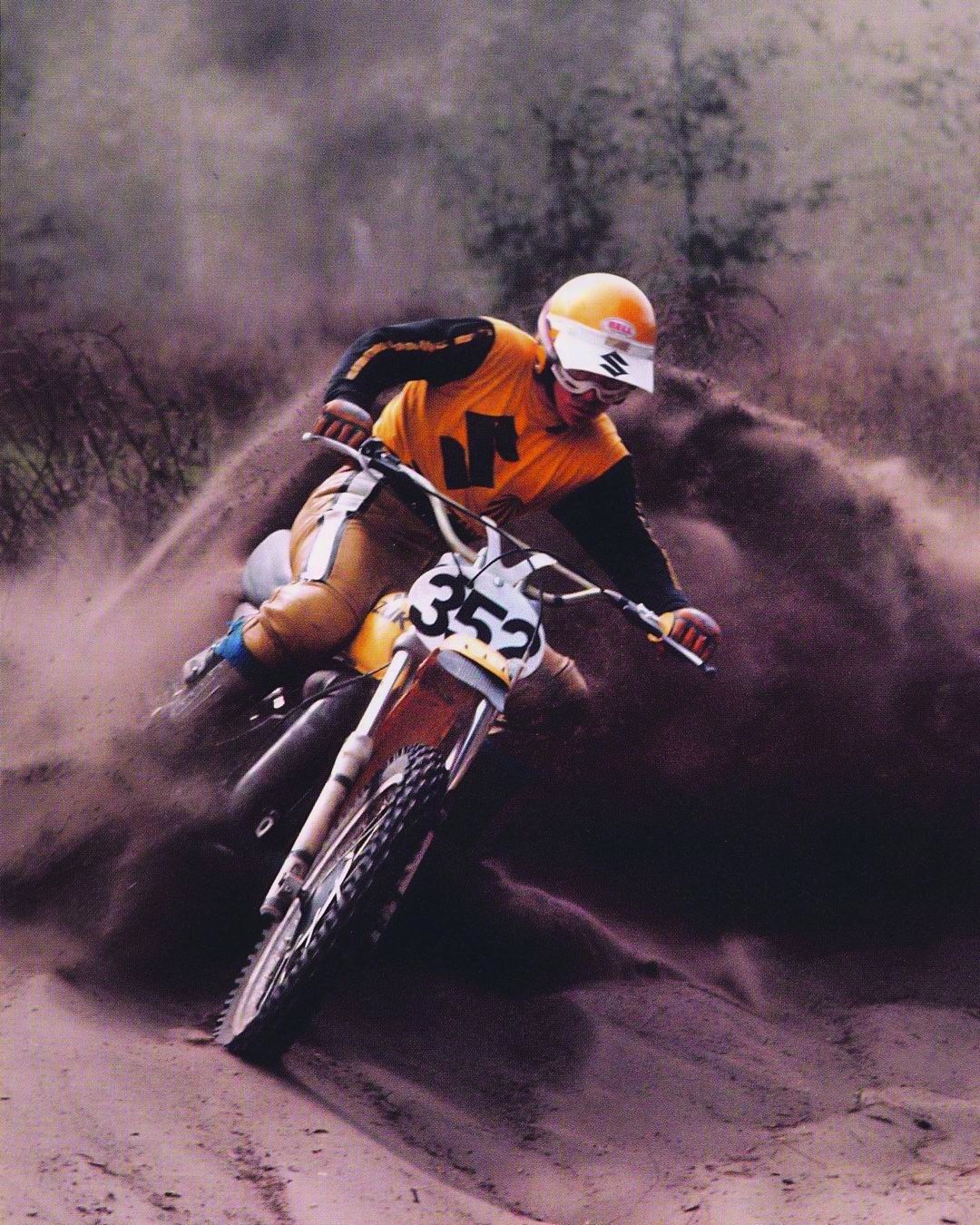 Danny in his first year racing the pro circuit.
WHAT WAS YOUR FIRST BIG BREAK? I started to get good when I became an official Mettco Penton rider. You may remember the name Chuck Bower; he was on the team, too. I got a jersey when we bought that bike, and that was the real deal. Those bikes were so cool. The owner of the company developed different parts for them. He was a sharp guy, so he took the Penton 125 and worked on the weak points to make it stay together.
"I REMEMBER THE TIME MY DAD SAID, 'WE ARE GOING TO GO DO THIS NEW THING—MOTOCROSS.' MY FIRST RACE WAS AT A TRACK WE CALLED "FIVE CORNERS." THEN THERE WAS ASCOT, AND A YEAR OR TWO LATER, SADDLEBACK."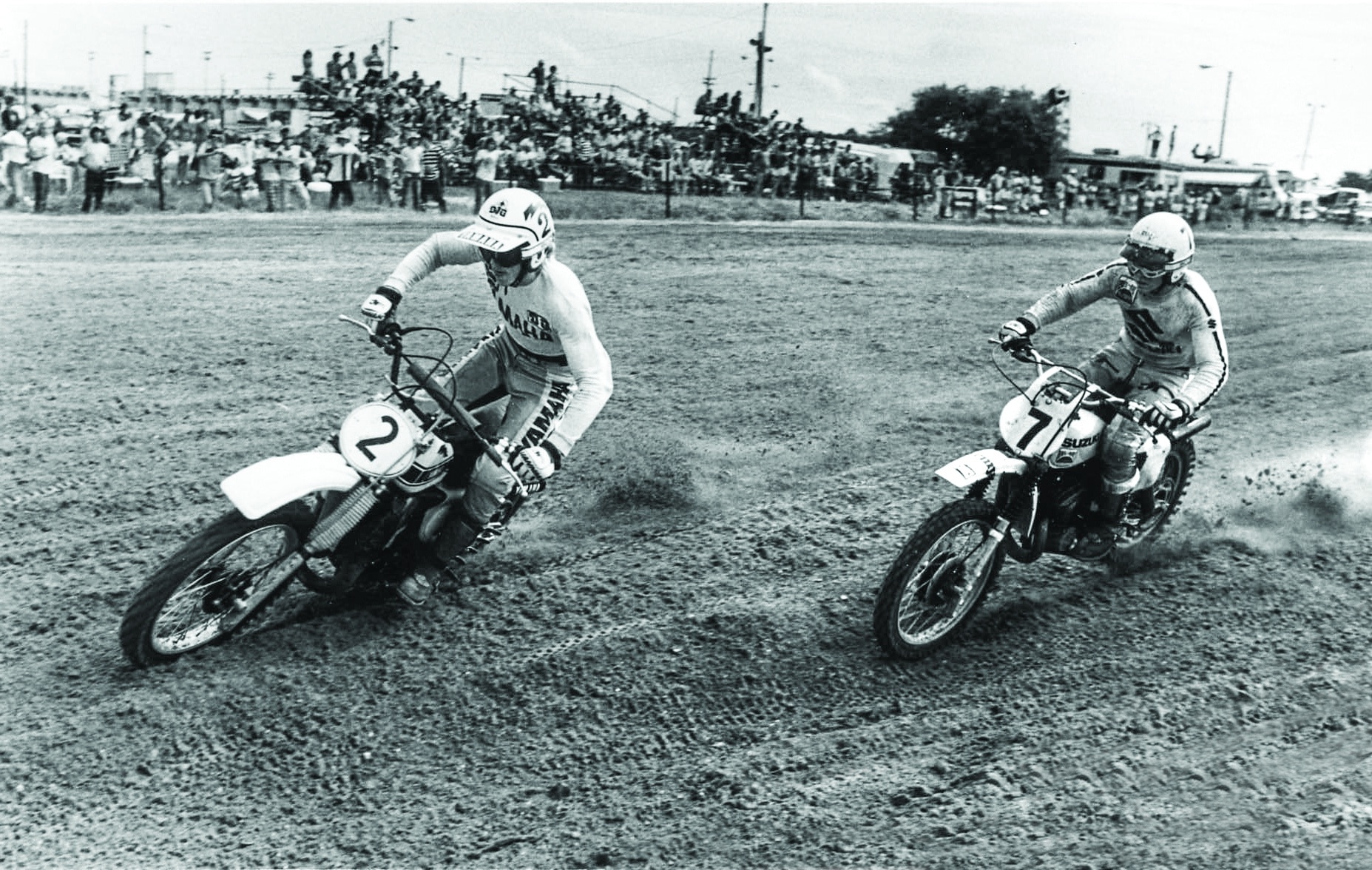 Danny (7) and Bob Hannah (2).Danny with the 250 World Championship number one plate.
BACK IN YOUR DAY, THERE WAS A LOT OF BACKYARD ENGINEERING. Yes. There was not a part on those old bikes that could not be improved. Everyone was starting to go faster without the equipment keeping up. Chains were busting, swingarms were flexing, chain guides were breaking, and we were going faster and jumping farther, so the forks would bend. You had to be careful how you jumped. You had to run smooth, keep the bike low to the ground and never flat land it. There were no downsides to jumps; they were all flat landings.
WHEN DID YOU TAKE THE NEXT STEP? I was 17 in 1974. That was the year that Marty Smith won the Evel Knievel Snake River Motocross. I saw Marty win and make a lot of money. He got me really motivated. I had beaten Marty at some local races and thought, "Wow, that could be me." I literally drove all the way from Snake River to Los Angeles and bought a Honda CR125.
WERE YOU GETTING ANY HELP? I got another bike from Kelvin Franks. Kelvin was one of the founders of CMC. The bike was called a Franks. Kelvin built the frames, and I had a Honda engine in my 125 and a Suzuki engine in my 250. They were fast! I raced Carlsbad and Saddleback week in and week out. I started winning a lot of races, and Suzuki and Yamaha got tired of Marty Smith getting all the attention. They jumped in and scalped some local California talent. In 1976 I got my Factory Suzuki deal, and Yamaha hired Broc Glover. Every team was looking for riders.
WAS BOB HANNAH AROUND THEN? Yes. Yamaha got Hannah, and there was a big assault to go after Honda. That was the plan for 1976. After three or four months of testing the Suzuki, I went to my first National at Hangtown—and my forks broke off. They simply snapped off, and this was the same year that DeCoster's forks broke off at Livermore. Hannah won Hangtown, and I finished one point behind Marty in points, even with my forks broken off. But, we all lost a few motos back in those days.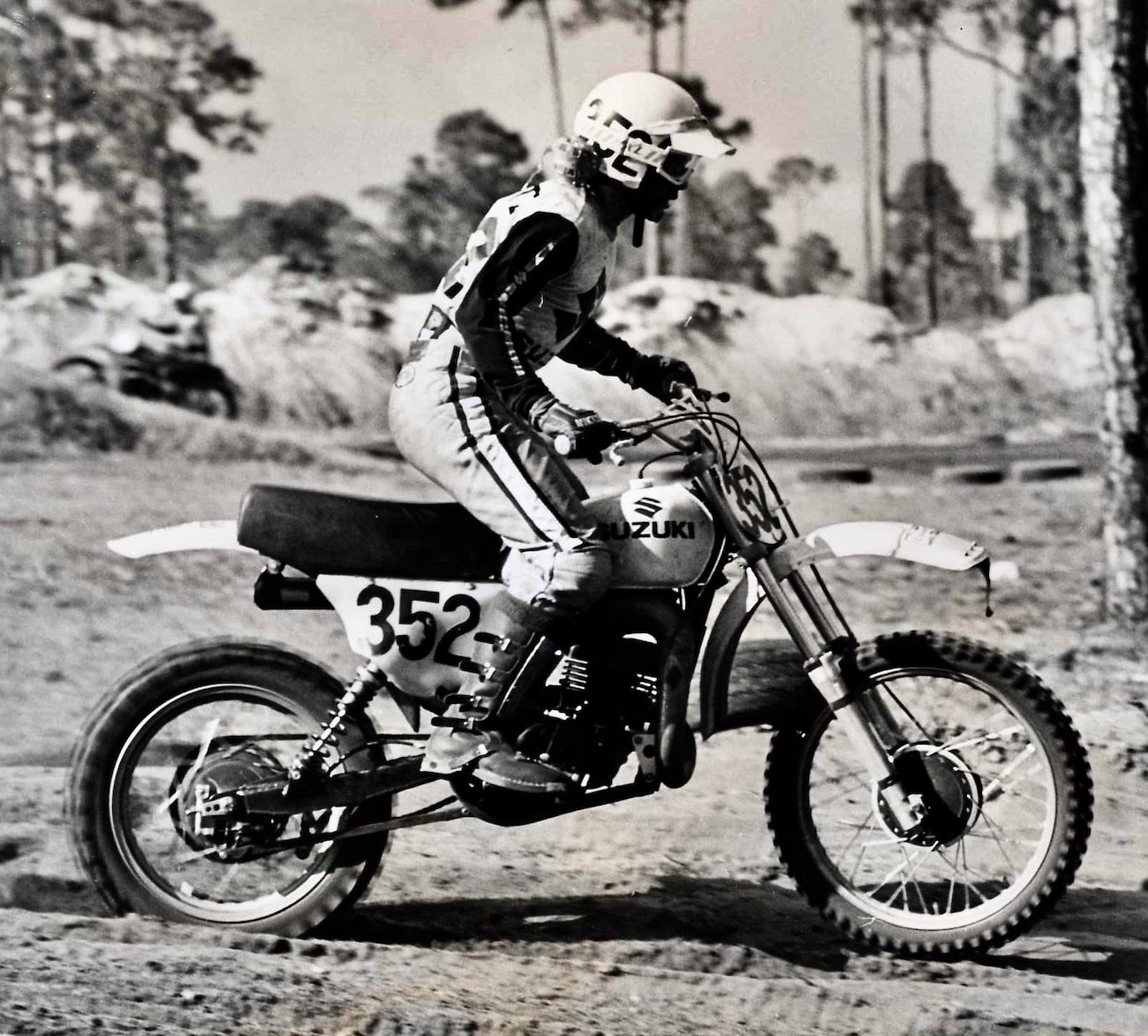 FINISHING THIRD IN THE CHAMPIONSHIP IN YOUR FIRST YEAR AS A PRO WAS AMAZING. I was really stoked. It was funny, because the very first Suzuki I tested was a 250. I broke a set of forks off that bike, too, and got a concussion. At Hangtown, I had to not only race, but I was riding a bike that I was afraid of.
WHAT DID YOU LEARN IN THAT FIRST YEAR OF RACING AS A PRO? Probably the conditioning aspect; learning to get in better shape. The motos were 40 minutes back then, and it seemed like there were 20 guys better than me on the starting line. I remember going from the Junior class to the Intermediate class and thinking, "Holy smokes, these guys are fast." Then from the Intermediate class to the Pro class was another big jump. It wasn't that they were faster; it was just that there were so many more of them.

BACK IN 1977 WAS THE CONTROVERSIAL YEAR, RIGHT? Yes, I won the first couple of 125 races that year. Then, on the very last lap of the very last race in San Antonio is where the big story developed. To me, it was just racing and part of the sport. I was angry at myself. I thought that I had the Championship in the bag. I just had to get to the finish line. The worst thing that happened to me that day was that I had two crummy starts on a bike that I had never raced before. It was Gaston Rahier's full-factory RA125 that they shipped over from Europe for me to race in the final 125 AMA National. I should never have ridden a bike that I wasn't used to.
YOU DIDN'T BLAME YAMAHA'S TEAM TACTICS? Not really. I felt so out of place on the bike I was racing. I realized that the bike did not feel as fast as my bike, and it was just awkward for me. I was just uncomfortable. It was a mistake, but that's the way the ball bounces. You don't have to have the best bike out there to win, you just must be used to it. It is like a tool. When you are familiar with it, you know exactly what it does, but put a new tool in your hand, and it does not feel right. That is all it was.
"I REMEMBER GOING FROM THE JUNIOR CLASS TO THE INTERMEDIATE CLASS AND THINKING, 'HOLY SMOKES, THESE GUYS ARE FAST.' THEN FROM THE INTERMEDIATE CLASS TO THE PRO CLASS WAS ANOTHER BIG JUMP. IT WASN'T THAT THEY WERE FASTER; IT WAS JUST THAT THERE WERE SO MANY MORE OF THEM."

Jody's famous 1977 "Let Brock Bye" photo forced the AMA to investigate whether team riders equaled fixing the outcome of a race—of course they got it wrong.

YOU WEREN'T UPSET ABOUT THE WHOLE "LET BROC BYE" DEAL? Suzuki could have protested it, but they did not want to get political. They just let it go. Some other people did not want to let it go, and there were people who wanted to protest. I personally thought that giving the Championship to Glover was the right decision to make. I never wanted to get into a legal battle, because I felt that I had chances to try to win a title again. It was a bummer. The fans were mostly angry because Yamaha put a sign out and it was well-documented.
TEAM TACTICS ARE COMMON, BUT THE FANS DON'T ALWAYS SEE IT. We all do it every weekend. Yamaha made a big mistake by putting the sign out there for Jody Weisel to shoot a photo of. In one way, it was a great story because Bob and Broc did not get along at all. Even before the race, Bob told me, "I don't want to have to do anything; just beat Broc." I said, "Don't worry, I am going to try, believe me."
Bob has always felt bad about letting Broc by. After the checkered flag, he rode off into the woods and regretted what he had done. In fact, that is why they put out the signboard, because Bob was not going to do it. Coming in after the win, I'm not sure even Broc was that happy. Broc and I get along well, and he is one of my best friends in the industry.
AFTER THAT SERIES, YOU LEFT THE 125 CLASS BEHIND? I went right to the 500 class, and I started winning a lot of races in 1978. Of course, I had mechanical problems at the same time. I was winning races and riding the bigger bike well, but I just dropped too many motos to win the Championship.
WHAT WAS THE THOUGHT BEHIND MOVING UP TO THE 500 CLASS AND NOT THE 250 CLASS? I jumped on a 500 in a 1978 Florida series race, and I just loved the power. I liked the acceleration, and it was a whole new style of riding. You really had to concentrate on lines. The factory 500 was really light and had a lot of power. Also, in the back of my mind, I ultimately wanted to go to Europe and race the 500 Grand Prix series. I thought if I got on a 500, I could learn how to ride it and prepare for Europe.
WASN'T THE 500 CLASS THE PREMIER CLASS BACK THEN? Yes, but a lot of the guys did not want to ride 500s. Eventually, many of the good guys ended up in the 250 class. The level of the 250 class got really high because so many good guys didn't want to ride the 500 class. The 250 class was the premier class by 1979.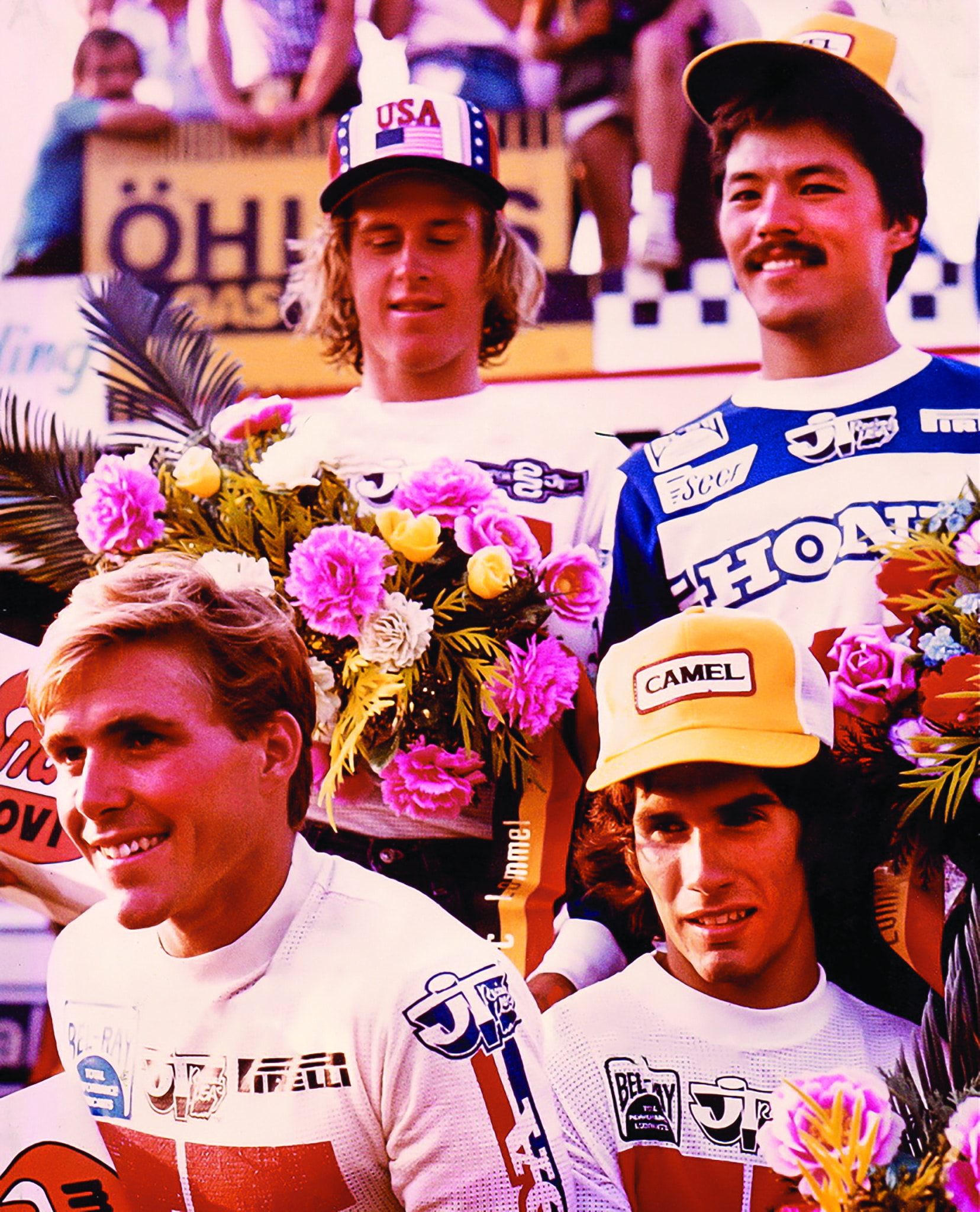 Danny with his 1981 MXDN teammates; Johnny O'Mara, Chuck Sun and Donnie Hansen.
YOU WON THE AMA 500 NATIONAL CHAMPIONSHIP IN 1979. WHAT WAS THAT LIKE? Yes, I finally won my Championship. I had decent results and beat Mike Bell by three points. Thinking of Mike, with him passing earlier this year, is such a bummer. I have so many great memories of Mike—racing against him, traveling together and doing races in Europe. I admired him a lot. It is very sad that he is gone now—and the same with Marty Smith. In 1979 I was already talking to Suzuki about letting me race in Europe. So, when I finally got the 500 Championship, my plan was to go get a title in Europe. I didn't really care about being a two-time National, three-time National or four-time National Champion. I wanted to try something new. During the 1980 AMA National series, I struggled with some injuries and bike problems. Maybe I wasn't as into it as I should have been. Still, I won the final race of the series.
"I ULTIMATELY WANTED TO GO TO EUROPE AND RACE THE 500 GRAND PRIX SERIES. I THOUGHT IF I GOT ON A 500, I COULD LEARN HOW TO RIDE IT AND PREPARE FOR EUROPE."
IN 1981, ROGER DECOSTER SIGNED YOU TO RACE FOR TEAM HONDA. In 1981, Roger got me from Suzuki to Honda. After five years with Suzuki, I signed a one-year contract with Honda. When I talked with Roger, I had mentioned that I would like to go to Europe. I knew the 1983, 1984 and 1985 Honda bikes were going to be phenomenal. Roger said that he would try to help me. But, as soon as the 1981 season started, I was at a local race, and I flipped the bike and dislocated my wrist. I broke a couple of bones and should have taken the year off. But, I took it out of the cast and tried to make it work. Over time, my wrist healed, and I had the opportunity to do the 1981 Trophee and Motocross of Nations with Honda.
TELL US ABOUT THE 1981 DES NATIONS RACES? Back then, we raced the 250cc Trophee des Nations one weekend and the 500cc Motocross des Nations the next. Johnny O'Mara, Donny Hansen, Chuck Sun and I won both des Nations races—both! This was a big deal at the time. Roger had offered me a deal to stay with Honda in the USA for 1982, but I felt my wins at the Motocross and Trophee des Nations were my chance to finally get to Europe. I put some feelers out while I was in Europe, and Heikki Mikkola ended up finding me a spot with Yamaha for 1982. That is why I left Honda. But, I have to say that if it were not for Roger, I would have never gotten to Europe.
"I WAS IN EUROPE, AND HEIKKI MIKKOLA ENDED UP FINDING ME A SPOT WITH YAMAHA FOR 1982. THAT IS WHY I LEFT HONDA. BUT, I HAVE TO SAY THAT IF IT WERE NOT FOR ROGER, I WOULD HAVE NEVER GOTTEN TO EUROPE."
Danny wearing the traditional blue helmet with white stripes at the 1981 Motocross des Nations.
WOULDN'T YOU HAVE MADE MORE MONEY IF YOU HAD STAYED AT TEAM HONDA IN 1982? Absolutely. The 1982 and 1983 Hondas were incredible. In Europe, I was going to be riding an air-cooled Yamaha YZ250 while the Hondas were water-cooled and, as I knew, amazing. In the early 1980s Honda had one amazing motorcycle after another. But, I wanted to go to Europe and was fortunate to find a spot over there.
YOU WON THE 1982 250 WORLD CHAMPIONSHIP IN YOUR FIRST ATTEMPT BUT NEVER REPEATED THAT SUCCESS. WHY NOT? Honestly, I did better my second year. I was a very improved rider, but I did not win the 1983 250 World Championship. I won quite a few races and finished second to Georges Jobe, but at the French Grand Prix, I DNF'd both motos. It was a mystery failure, because bikes were not falling apart like they were back in the 1970s. After the first moto, Yamaha changed everything on the bike and eventually tore the complete bike apart. I literally went one-quarter of a lap in both motos, and the bike quit in the same spot both times.
WHAT WAS WRONG WITH THE BIKE? It was the gas cap. It vacuum-locked, stopping the fuel from flowing. Can you believe that? I lost 50 points. I got closer at the end of the series, but those lost points made a difference. I should have won in my second year. I will never forget that gas cap. Yamaha fired the mechanic and later hired Bill Butchka to work with me. I dominated most of the races left that year, but that gas cap cost me.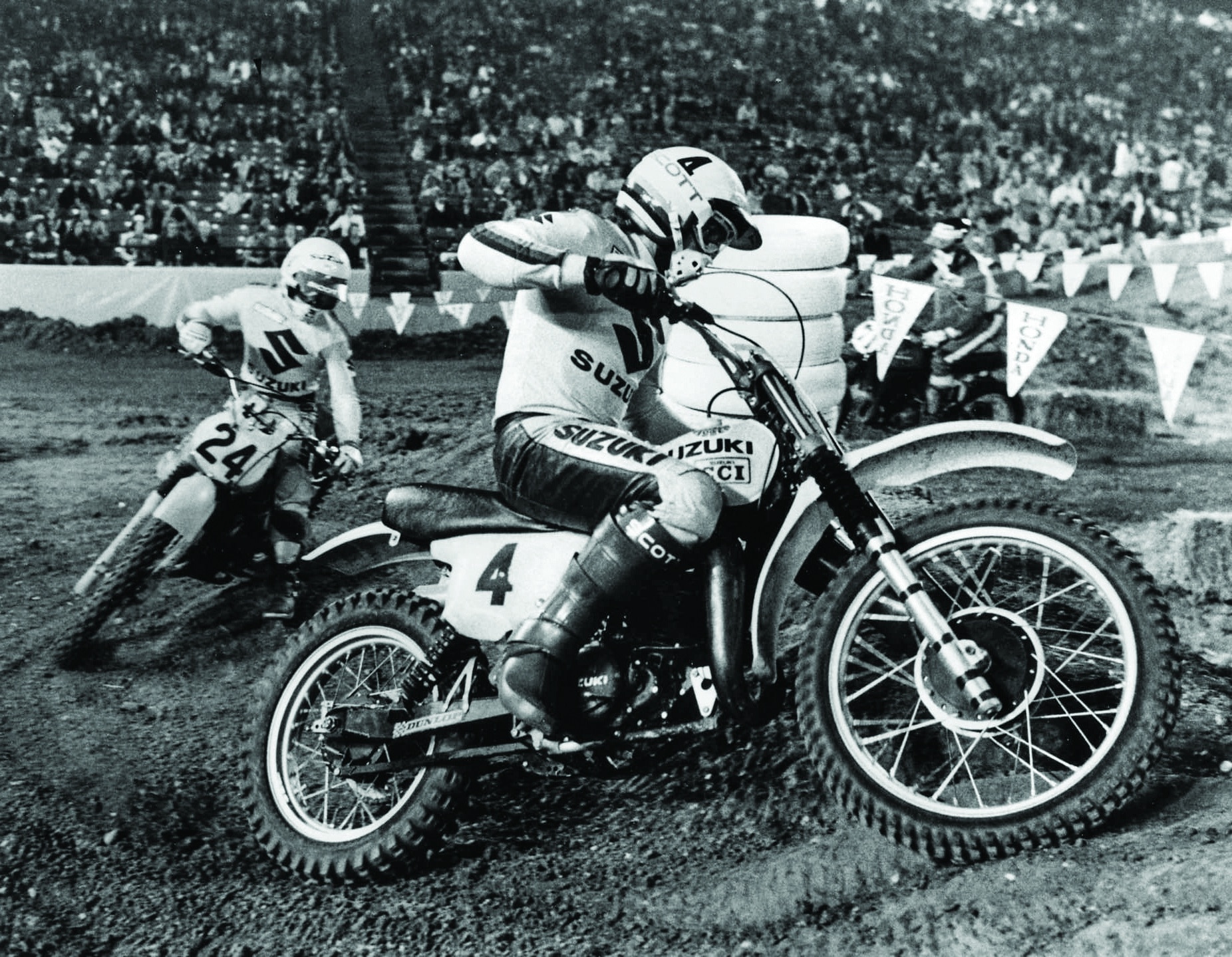 Danny never cared for Supercross much. Here he leads Mark Barnett.
WHAT CAME NEXT? I was still under contract with Team Yamaha for the 1984 Grand Prix season. The plan was to move up to the 500 class for 1984, but Yamaha had a big financial crisis and they stopped building factory bikes. In America, Team Yamaha had to run production bikes against the works Hondas. Yamaha said that they were out of money and that I would have to ride the production YZ490. I got an offer to move to a private Yamaha team with Hakan Carlqvist, but I turned it down. It was not right for me. But, in hindsight, I should have taken that deal. Yamaha gave Carlqvist the aluminum-framed YZM500 to race, and I ended up racing the 500 class on the same type of modified production bike that Broc Glover was racing in the 1984 AMA 500 Nationals. At that time, you could not compete against the Kawasaki, Honda and Suzuki factory bikes on a production bike. I am surprised how well Broc was able to do on that YZ490. I decided to come back to America.
DIDN'T YOU RACE A HUSQVARNA IN 1985? That is right; I forgot. My first team manager at Suzuki was Mark Blackwell, who had moved to Husqvarna, and he offered me a chance with Husqvarna to do testing. I traveled back and forth to the factory. I rode the Swedish and Finnish 500 GPs, five 500 Nationals, and even a few Supercrosses. The bike was heavy and slow. Still, I was having fun and traveling around. Later, at the Lakewood, Colorado, National, playing around on this big, uphill, third-gear road jump, I hit neutral and went over the bars and broke my femur. So, that was the absolute end of my motocross career.
YOU MENTIONED SUPERCROSS, BUT YOU NEVER HAD MUCH SUCCESS IN THE STADIUMS. WHY? I never cared to race Supercross. Racing in stadiums was just strange to me. I liked motocross, but I had to race Supercross. At the time guys were getting hurt and the tracks were dangerous. In that era, they did not know how to make the face of a jump. It was not rounded. Then the second jump looked like a pyramid with no downside. Now the tracks are getting safer, but also the guys are going faster, and they are basically racing 500s again, which is completely funny because they got rid of the old Suzuki RM500 because it was too dangerous.
Heikki Mikkola cheering on Danny at one of the GP's.
IN THE RECORD BOOKS, YOU ONLY MADE THE TOP FIVE IN SUPERCROSS FIVE TIMES. DIDN'T THAT HURT YOUR CAREER? No. It likely hurt my career a bit, but at the time, honestly, the emphasis of the sport was on motocross. Now, it would have hurt me, because everything is about Supercross. In Supercross, I just went through the motions. I told myself, "I am going to get through this safely. I don't want to get hurt." I liked to race outdoors.
LET'S TALK ABOUT RALLY RACING. After I quit motocross, I thought that it would be a lot of fun to try the big off-road rallies. I tried to race the Africa Rally but was told I needed more experience. So, I raced the Baja 1000 for Kawasaki and won it three times. Finally, I was able to race the international rallies. I did the Paris-Dakar Rally five times, taking second overall in 1992. I also won the Pharaohs Rally in 1991. These events interested me, and I enjoyed them very much.
NOW THAT YOU ARE RETIRED, WHAT ARE YOU DOING? I've worked with Donny Emler at FMF for the last 20 years. It has been great. I work in manufacturing, production and R&D, and it is a lot of fun. I live not far from FMF. We start a lot of projects together. I have known Donny since I was 12 years old, and we are close.
Today, Danny LaPorte works at FMF for Donny Emler, who supported him back in the day.
DANNY, WHAT IS YOUR BIGGEST ACHIEVEMENT IN RACING? I just love the sport. I have done a little of everything, but winning the 1979 AMA 500 National Championship and, of course, the 1981 250 World Championship are my two biggest accomplishments. After motocross, I transitioned to the Baja 1000, Paris-Dakar and the Pharaoh's Rally in Egypt. I enjoy motorcycles so much. Life has been a great big adventure.