MXA PERFORMANCE GUIDE TO THE 2011 KAWASAKI KX450F

MXA test riders spent all of last year investigating the areas with the most potential for improvement on the 2011 Kawasaki KX450F. As a rule, we try to find practical and affordable solutions, but when a thrifty option fails, we do whatever it takes to fix the issue. Several MXA test riders love the long, stable chassis of the KX450F, while others struggle to get the green machine to turn. The handling of late-model red, blue and yellow brands is aggressive?often too aggressive. It can be refreshing to ride a bike that doesn't have a hint of oversteer?like the KX450F. Whichever side of the fence they fall on, MXA test riders appreciate any key modification that helps the handling.
If you own, race or are even considering trail riding a Kawasaki KX450F (many of these fixes apply to previous KXs also) MXA's "Performance Guide" will be an invaluable help in getting the most out of your bike. We have compiled a comprehensive list of fixes that every KX450F owner should consider. We have also included some of our favorite aftermarket parts, as well as the do-it-yourself alternatives.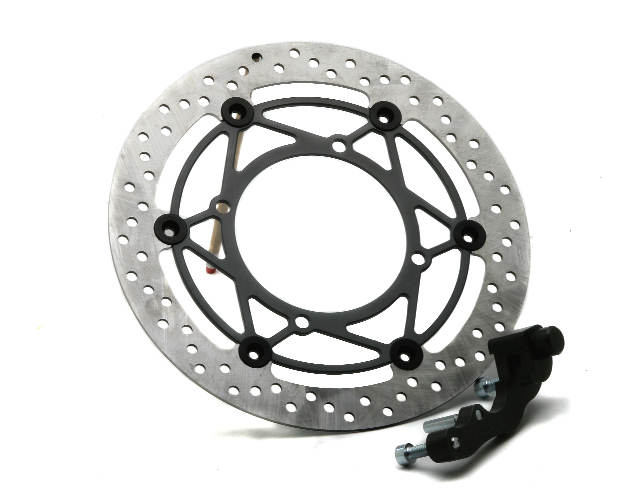 Brakes: On the track, touching the front brake anytime the bike is leaned over drops the front end into the turn. When the KX450F tries to stand up in a turn, this technique is very effective in getting the bike back down to the desired lean angle. The problem is that the stock brakes aren't all that effective. The KX-F brakes can be brought up to snuff with an aftermarket brake line and some care, but nothing compares to an oversized rotor kit. For 2011, we called QTM, picked up an oversized rotor and cut out the extra maintenance time.


Shock linkage: Back in 2009, the KX450F got a new swingarm, raised swingarm pivot point, revised rising-rate linkage and head angle spec. Those mods didn't provide the fix that we were hoping for. We still feel aftermarket linkages are a worthwhile chassis improvement for 2009, 2010 and 2011 models. On our 2011 KX450F, we have tested both Pro Circuit and Ride Engineering linkages. The longer link stiffens up the initial part of the stoke and lowers the chassis, which is just what the doctor ordered for the KX.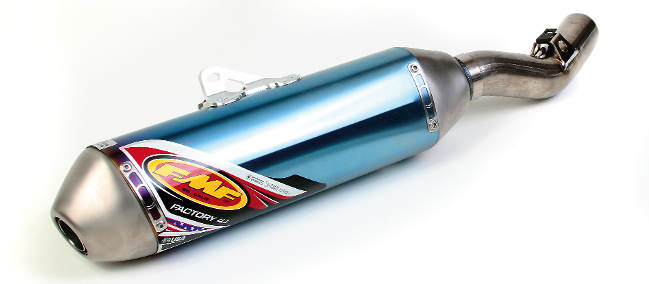 Exhaust system: The powerband is one area where the KX450F really shines. Most MXA test riders love the smooth, controllable power delivery off the bottom. Generally, slip-on exhaust systems add a little mid-and-up power without changing the bottom end. For our 2011 Kawasaki, we tested Pro Circuit and FMF full systems, and Vance & Hines and FMF slip-ons. The full systems were slightly better, but for the price, a slip-on achieved most of the benefits we were looking for, which is to carry the power a little higher into the rpm range and turn down the volume at operating rpm.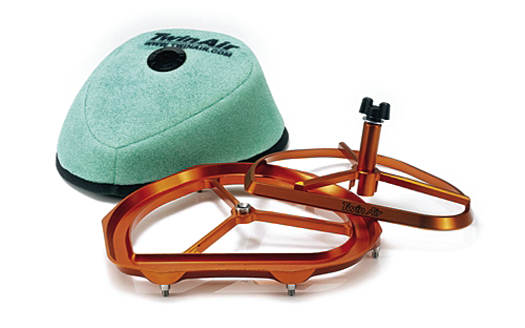 Twin Air's Powerflow kit: If you want to ditch the restrictive backfire screen on your KX450F, it won't be easy. The backfire screen is embedded in the airbox, so you have to remove the air boot from the airbox to remove the screen piece. You won't feel an overall power gain with the Twin Air kit, but you will gain throttle response. Twin Air's kit costs $249.95.

Clutch/timing cover: Kawasaki's clutch and timing covers look great on the showroom floor, but they get hammered after one ride. Pro Circuit, Hinson and Boyesen clutch covers stay fresh longer. You may have some reservations about spending money on cosmetics, so a cheaper option is to bead-blast the stock covers and periodically apply a thin layer of clear coat to help protect them. The shiny metallic covers come out looking really trick.


Loctite: Certain bolts have a tendency to come loose on the KX450F?on the rear fender, airbox and in several other high-vibration areas. You can use Loctite, threadlocker or any other brand, but make sure it's blue and not red. We have made a habit of using this stuff on every bolt we would otherwise have to check after each race.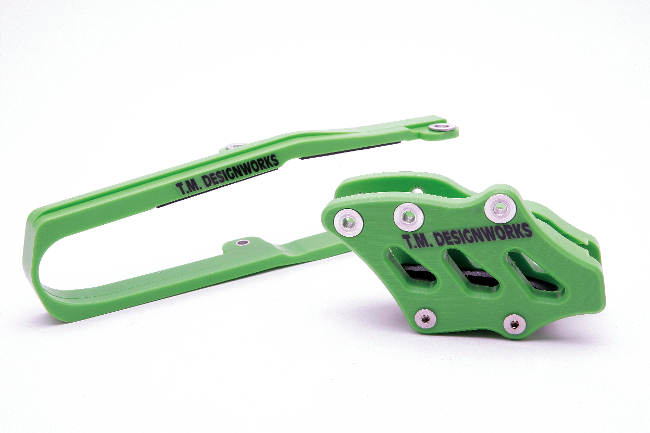 Chain guide: The swingarm and chain guide buffer pads don't last long on Kawasakis. We switched to TM Designworks chain guides. Their Factory Edition 2 material is impregnated with lube, has replaceable wear pads and a sleek design for glancing off of objects. We have tested several brands, but the TM Designworks chain guide was the only one lighter and more durable than stock. Additionally, we have run LightSpeed's carbon fiber chain guide, because it's lighter and stronger than stock, but not as durable as the TM Designworks unit because it relies on the stock buffers.

Footpegs: When we're feeling thrifty, we bead-blast and sharpen the nicked and specked stock pegs for looks and grip (a trick we took from a practice bike we saw in Kawasaki's race shop). To get width and mud shedding, we selected from a wide variety of aftermarket pegs. Some testers felt like arched pegs helped maintain a better grip and were easier to move around on. Moose and Pro Taper pegs are both sharp, but not too sharp, and slightly arched.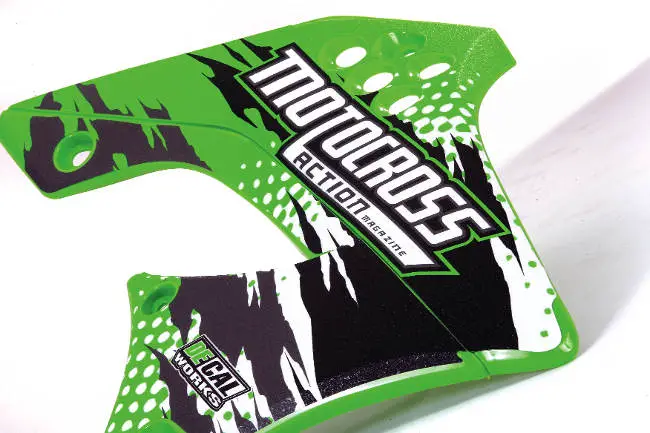 Radiator shrouds/graphics: The KX-F's two-tone color combo looks good, but the shrouds split where the black meets the green. Inevitably, all of our Kawasaki shrouds break. The stock graphics don't last more than three rides. We replaced the stock graphics with aftermarket decals. This year, we called Acerbis for the plastic and DeCal Works for the 22mm gripper material. These are the toughest stick-on graphics we have tried, and they have just a bit of friction to help grip the bike.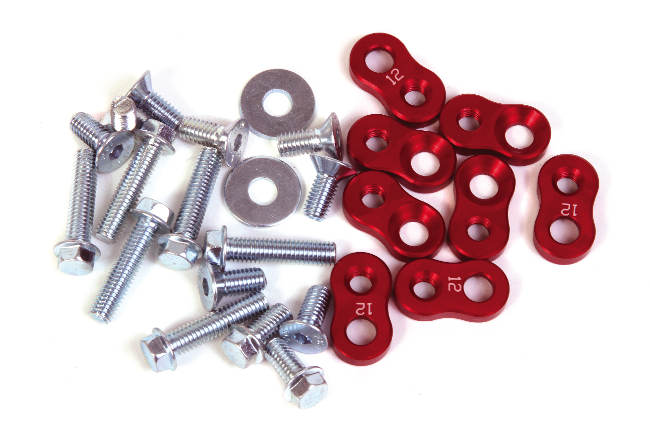 Radiator lowering: If you have ever ridden a dirt-track bike (with short suspension travel) or a vintage bike back-to-back with a modern motocross bike, you know that it's not just about overall weight, but where the weight is located. Low-to-the-ground bikes handle like they are on rails. Since sacrificing suspension travel isn't an option in motocross, we look to DR.D's radiator lowering kit to bring the water weight lower on the frame.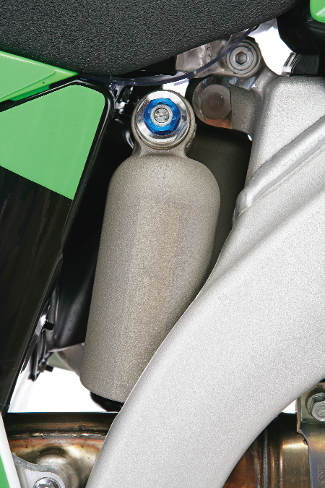 Shock rebuild: After lots of motos, our rear shock's performance started to decline. The KX450F started to wallow, and the damping faded. The difference between a newly rebuilt shock and a blown-out shock is much greater than the performance difference between a revalved shock and the stock valving. When you service the engine, it's a great time to send out the suspension.