MXA RETRO TEST: WE RIDE COOPER WEBB'S 2015 STAR YAMAHA YZ250F
We get misty-eyed sometimes thinking about past bikes we loved, as well as ones that should remain forgotten. We take you on a trip down memory lane with bike tests that got filed away and disregarded in the MXA archives. We reminisce on a piece of moto history that has been resurrected. Here is our test of Cooper Webb's Star Racing Yamalube Yamaha YZ250F.
The MXA wrecking crew is a passionate group of diehard racers. We eat, sleep and breathe motocross. It's the reason we get up in the morning. Testing anything with two wheels and an engine is a thrill, be it space-age, future-tech or old jalopy, but one of the best perks of wearing a fluorescent orange helmet is getting to throw a leg over a factory bike. MXA gets a lot of those opportunities, but the easiest way to get to ride a factory rider's works bike is to ask right after the rider gets hurt. With the rider sidelined, so is the bike, so it makes sense to give it to MXA for some extra love for the team's sponsors.
Cooper Webb tore several ligaments in his ankle during practice at the Las Vegas Supercross. He rebounded by finishing third in the opening moto at the Hangtown National opener. Unfortunately, he smashed the cartilage on the top of his talus in his bad ankle during the second moto and had to skip several rounds. The day after Hangtown, MXA's office phone lit up. It was the Yamaha brass asking if we'd be interested in test riding Cooper Webb's Star Racing Yamalube Yamaha YZ250F National bike. We jumped at the chance, figuring that if Cooper couldn't ride the bike, we might as well knock the dust off of it. Here's what we learned.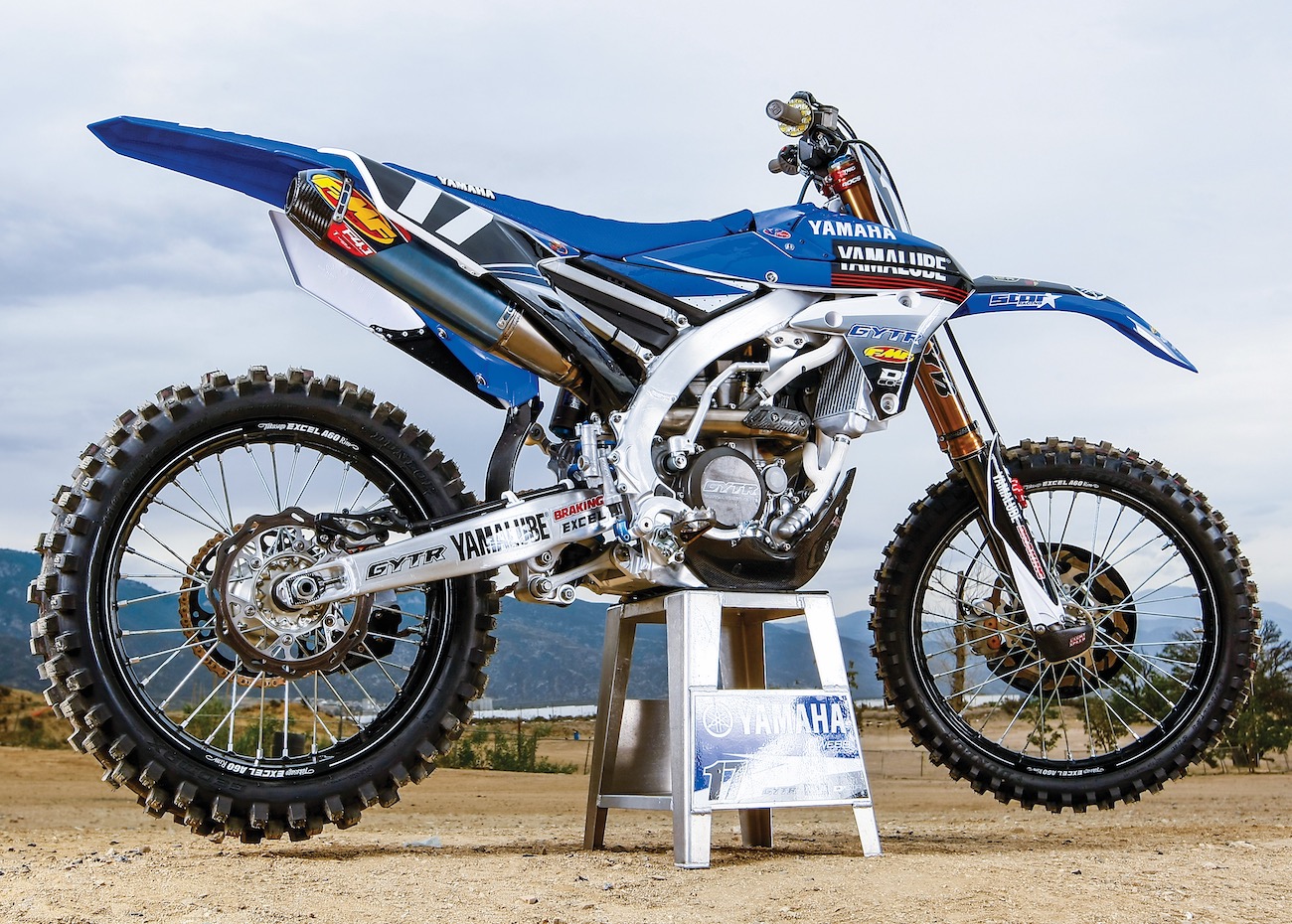 Cooper Webb's Star Yamaha YZ250F.
WHAT FACTORY PARTS ARE ON WEBB'S YZ250F? Star Racing is Yamaha's official 250 race team. The relationship yields considerable benefits for both sides. Yamaha gets a contingent of hot shot racers flying the blue flag. Star Racing receives monetary compensation, a parts budget and factory support. It's a win/win for a race program that has fought valiantly to reach the pinnacle of the sport and has done so with remarkable success in the last year. Since 2014, the Star Racing team has captured the 250 National crown with Jeremy Martin and this year's 250 West Supercross title with Cooper Webb. 
Cooper Webb's YZ250F isn't comprised entirely of Yamaha works parts. Why not? (1) Works parts are expensive because of the extensive development, intricate manufacturing process, low production runs and pricey material. (2) Thanks to the AMA production rule, true-to-life works bikes have been defunct since 1985. Not only that, but the rules are even stricter in the 250 class. (3) There are a bevy of aftermarket companies aligned with Star Racing that are willing and able to create the parts that the team desires.
Having said that, Webb's YZ250F does come with a few trick components that are unavailable to the public. The billet aluminum hubs are from Japan. They are slightly heavier than stock, but infinitely stronger. The spokes and spoke nipples are also factory parts. The Star Racing guys were mum about the engine internals, although they admitted that a few of the parts in the bottom end are special. Finally, the plastic gas tank is direct from Japan. The plastic is thinner, and it holds an additional 1-1/2 liters over a standard tank. A layman wouldn't recognize the difference between a standard tank and the factory part. That's the creative beauty of Yamaha's works parts. The blue crew wants its race bikes to look as stock as possible. Yamaha hopes the consumer will relate a Star Racing YZ250F to a production YZ250F sitting on the showroom floor. It's a brilliant marketing strategy.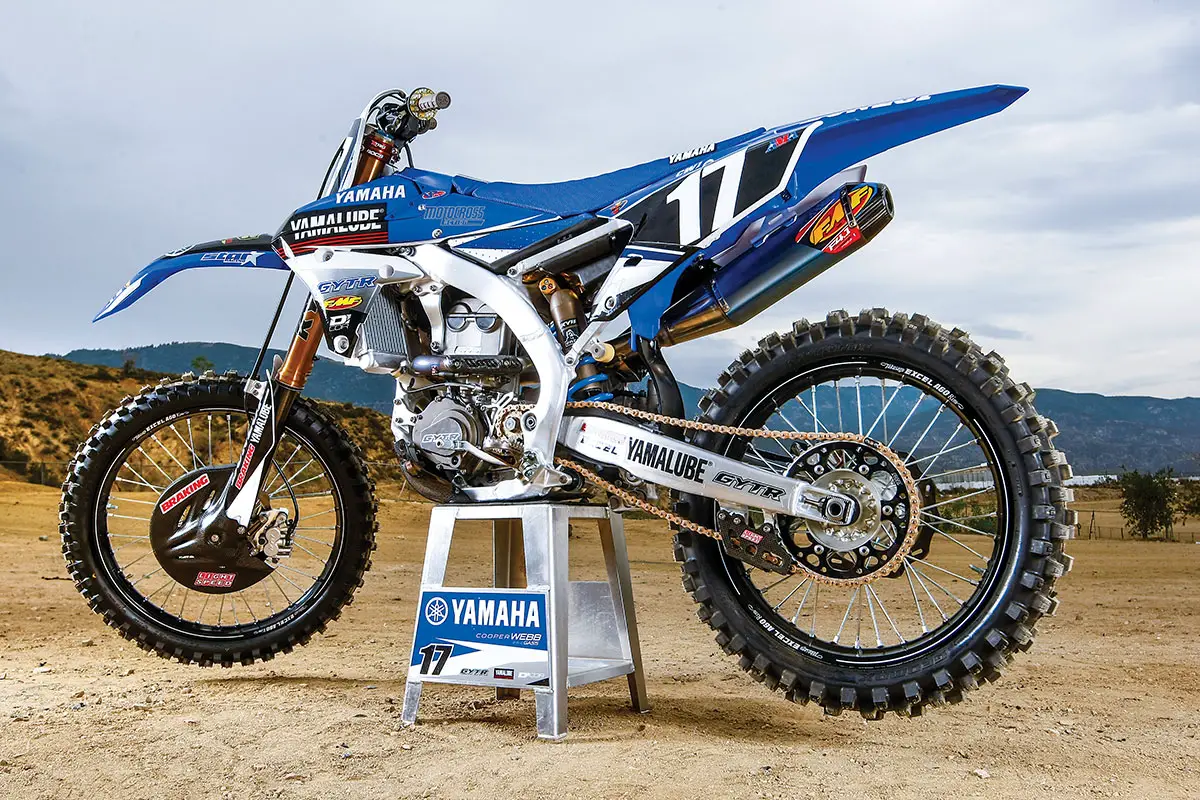 WHAT'S THE MOST UNIQUE PART ON COOPER'S BIKE? It's not fair to pick a single part on a bike so refined that it is the epitome of YZ250F perfection. Below is a list of things that caught our attention.
(1) Front brake. This is the Frankenstein of front brakes. Star Racing discovered that mating different brake parts yielded the best performance for Cooper Webb. While we don't want to make Yamaha mad, we can say that Webb's front master cylinder comes off a 2004 model bike that rhymes with "Shmonda." The caliper is from a 10-year-old Yamaha. A stock brake line (with the plastic sheathing cut off) and standard brake pads, along with a 270mm Braking Batfly rotor, complete the package.
(2) Forks. The Star Racing team uses Kayaba's Factory Kit forks, with Kashima-coated outer tubes and DLC-coated inners. Beefy, 32mm, anodized cartridge rods handle the abuse of National tracks, and the whole system is a PSF (Pneumatic Spring Fork) air fork design. Webb prefers the stock fork lugs, because he discovered during testing that the stockers offer slightly more flex than the wider KYB lugs. 
(3) Shock. The KYB Integral adjuster shock is a mechanical marvel. The triple adjuster unit makes it possible to adjust the low- and high-speed compression damping separately, as well as low- and high-speed rebound. Low-speed compression (silver dial), high-speed compression (blue) and high-speed rebound (red) are found on the dial at the top of the shock, while the low-speed rebound adjustment is made at the bottom of the shock.

(4) Radiators. The rigors of motocross are not kind to paper-thin aluminum radiators. That's why Star Racing re-welds the stock radiators at every seam, with backing braces for strength. A 1.8 high-pressure radiator cap prevents coolant boil over. Such modifications aren't unusual for a National race bike; what sets the Star Racing team apart is how they shave down the frame where the radiators mount to draw the radiators in 5mm on each side. It narrows the cockpit, particularly by Webb's knees when he is in a seated position.
The engine uses GYTR components.
WHAT ARE WEBB'S BIKE SETUP PREFERENCES? At 5-foot-7, Cooper Webb is slightly below the average height for a racer, though his stature in no way hinders his performance. He proved as much every time he blitzed the whoops and blew away the competition in the 250 West. The beauty of modern machinery is that a bike like the YZ250F can be custom-tailored to Cooper. His mechanic, Eric Gass, cuts 10mm off the subframe to lower the rear end. The Raptor titanium footpegs are 5mm taller, while the Pro Taper Carmichael-bend handlebars are low, sweeping and rolled back. In Supercross, Cooper preferred the same handlebar bend; only Gass cut 5mm off each end. The positioning of the Pro Taper medium-compound half-waffle grips is also unique. The clutch-side waffle is set in the standard position, while the throttle-side grip is rolled forward. The reasoning? When Cooper re-grips the throttle, the waffle is in the right spot. He also runs his ARC levers very low.

WHAT ARE THE SERVICE INTERVALS ON WEBB'S BIKE? A race bike is a finely tuned piece of machinery. Replacing parts before reaching service interval limits safeguards against potential disaster. That's why every few hours Eric Gass routinely round-files parts that would last years for most riders. Want examples? Every 10 hours, the titanium shock linkage bolts, engine cases, as well as the linkage and swingarm bearings are replaced. Gass tears down Webb's engine after every National (the team would go through the engine every two rounds in Supercross) and replaces anything that is out of spec and/or beyond the normal service interval. Having said that, it's possible for the frame, swingarm and subframe to last an entire year. These parts are only replaced if they get tweaked during a massive crash.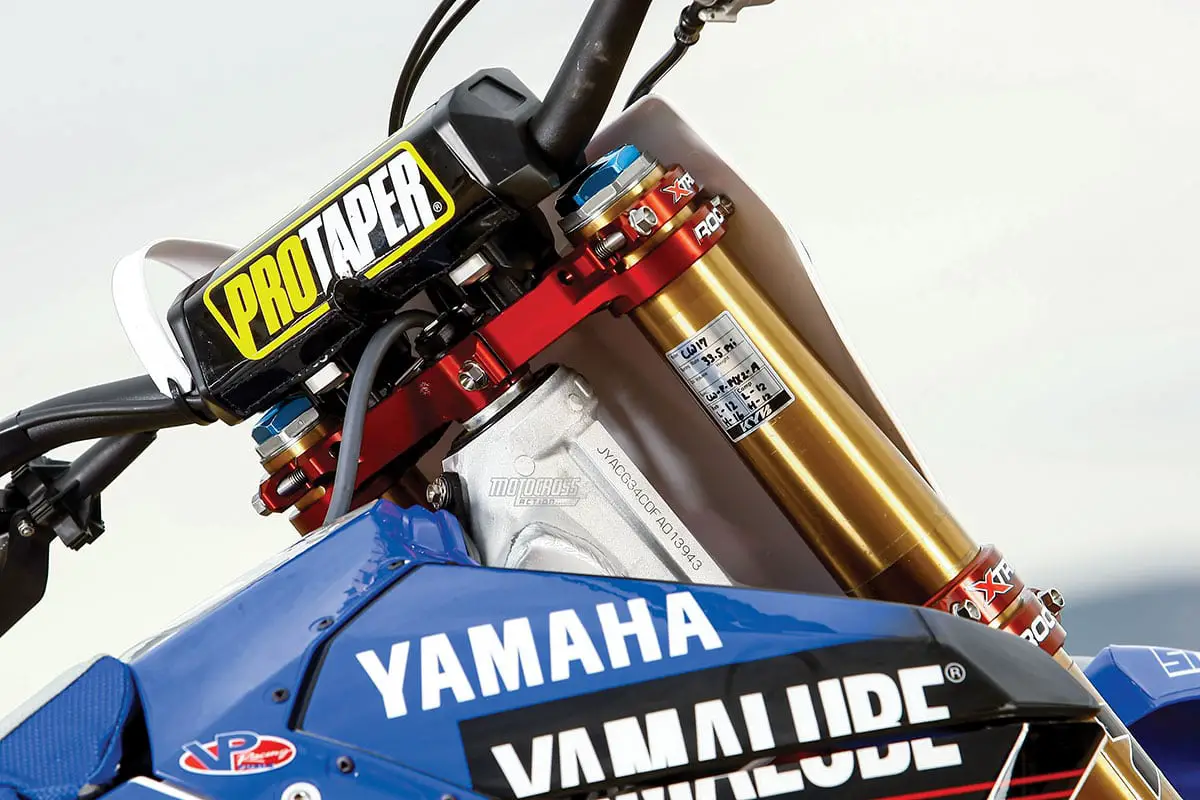 WHO BUILDS WEBB'S YZ250F ENGINE? The Star Racing powerplant is a blend of aftermarket and factory components. It's understandable that Gass was tight-lipped about the intimate details of Webb's engine, given that the powerplant is the bread and butter of any race bike; however, it was easy to notice the GYTR cylinder head. As Yamaha's official aftermarket entity, GYTR has extensive knowledge of all things YZ250F. GYTR also took care of the valve train and porting, provided a sturdy ignition cover that holds more oil, and provided a clutch basket. Note that the internal clutch hub, pressure plate, clutch plates and fibers are stock, while Webb prefers to run YZ450F clutch springs. A GET ignition allows the team to tune the engine and customize the power from track to track. Cooper generally doesn't deviate from his chosen map setting, but there are options available. CWI trues and balances the cranks, and Xceldyne titanium valves are installed. Star Racing feeds VP Racing MR-Pro 6 fuel into the fire-breathing engine. To combat a rampant problem with late-model YZ250Fs, the team made a spark plug cap holder that ensures the cap doesn't dislodge from the spark plug. 
We can't overlook the transmission, which uses the stock gear ratios (even though the transmission is far from stock). The gears undergo a special treatment process, not only for durability but also to promote lubrication. Webb sticks with a 13/47 final drivetrain, with the rear axle set far back in the swingarm for better stability. FMF works closely with the team to develop exhaust systems that meet the demands of the riders. The Factory 4.1 wraparound exhaust, complete with MegaBomb header, is specifically designed for Cooper Webb. That's just one of the perks of being on the Star Racing team.    
WHAT PERFORMANCE MODS WERE MADE TO WEBB'S BIKE THAT YOU CAN MAKE TO YOUR YZ250F? Yamaha YZ250F owners should rejoice, because while Webb's bike is graced with a handful of unobtainable parts, the vast majority of parts that make Cooper's steed run are readily available. Better yet, some of the modifications are free. Eric Gass removed the backfire screen from the air filter cage to promote quicker throttle response. It's also easy to move the rear axle back in the swingarm, though you'll probably need a longer chain. A GET customizable ignition might be too expensive and complex for most riders, but Yamaha makes an intuitive Power Tuner that does wonders for power delivery. While we don't recommend shaving down the YZ250F frame to move in the radiators, a high-pressure radiator cap is a smart idea. 
Kayaba Factory Kit forks.
If preventing a costly DNF is as important to you as it is to Star Racing, then we suggest calling LightSpeed (www.lightspeedcarbon.com, 714-990-5767). The carbon fiber specialists outfit Webb's YZ250F with a skid plate that protects the cases, water pump and ignition cover. Plus, it keeps rocks from getting lodged behind the rear brake pedal. Front rotor and rear brake caliper guards protect vital areas during the occasional first-turn melee. Gass also installs a LightSpeed carbon fiber chain guide in place of the stock aluminum guide. Carbon fiber is much better at taking a blow and returning to shape, whereas aluminum has a tendency to bend and could derail the chain.
HOW FAST IS COOPER WEBB'S STAR RACING YZ250F? To be honest, at first our test riders weren't overly impressed with the power under the YZ250F's hood. Sure, it had a nice powerband, but that's like meeting a girl and automatically putting her in the friendship zone. After a short 30-minute courtship, however, we were in love with Cooper's engine. How could we have a change of heart? The race engine, which had been buttoned up by Eric Gass the night before our test, needed time to break in. We also needed time to figure out the bike's personality traits. The 140-pound Cooper Webb, blessed with an unwavering throttle hand, can roar around the track with a 13/47 gearing combination on his YZ250F. We summoned the courage of a dozen racers and bottled that enthusiasm into one ride bound for glory. The results were outstanding. There wasn't a copious amount of over-rev, but the engine did make unbridled power from the midrange on up to where mountain lions roam.
WHAT WAS OUR FAVORITE ASPECT OF RIDING WEBB'S YZ250F? Slow, fast, young and old admired how planted Cooper Webb's bike felt around the track. Regardless of the types of corners, jumps or roughness of a certain section of real estate, the YZ250F tracked with ease and shot straight as an arrow. The connection from the stout front brake to the front wheel to the ground was impeccable. We could pull in the front brake with assertiveness, yet the front end wouldn't deflect. We often don a St. Christopher medal before testing a Pro racer's bike because of the typically stiff suspension and relentless powerband, but Webb's Star Racing YZ250F was like Baby Bear's porridge. A sterling engine combined with halfway-plush Kayaba suspension and handling that were second to none made for a thrill ride that left the MXA test riders gushing about the experience for days afterward. Yes, it was that good.
Webb's YZ250F front brake used a Honda master cylinder, ten-year-old YZ250 caliper and a 270mm Braking rotor. It was awesome.
WHAT DO WE REALLY THINK? It's too bad that Cooper Webb was laid up at the beginning of the AMA 250 Nationals and couldn't vie for the 250 National Championship. And while his loss was our gain (because we enjoyed every minute on Webb's Star Racing YZ250F), we wish he would have been out there from the beginning.
\