MXA RETRO TEST: WE RIDE MIKE BROWN'S 2001 PRO CIRCUIT KAWASAKI KX125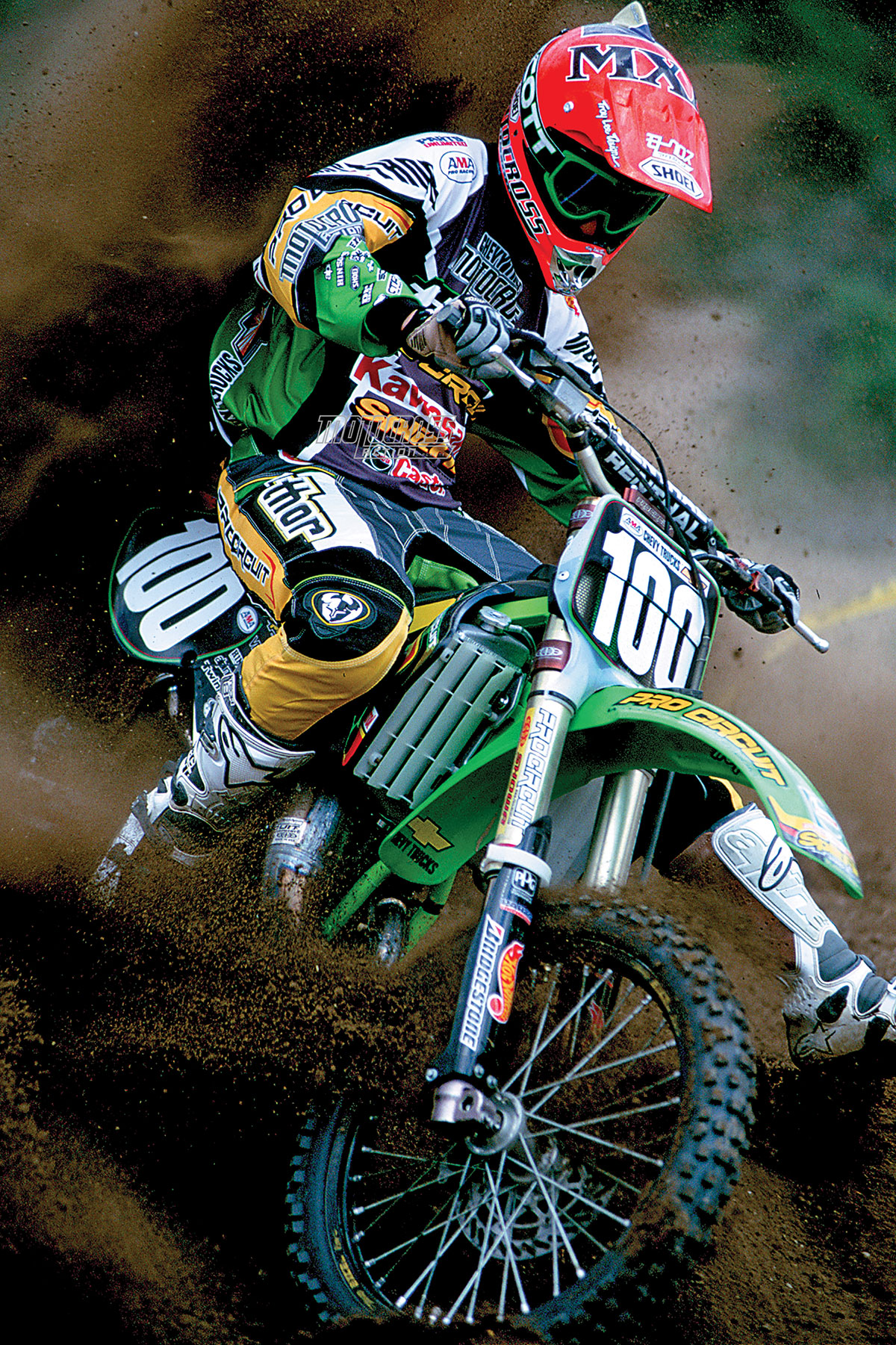 MXA RETRO TEST: WE RIDE MIKE BROWN'S 2001 PRO CIRCUIT KAWASAKI KX125
Editor's note: We get misty-eyed sometimes thinking about past bikes we loved, as well as ones that should remain forgotten. We take you on a trip down memory lane with bike tests that got filed away and disregarded in the MXA archives. We reminisce about a piece of moto history that has been resurrected. Here is our test from the July 2001 issue of  Mike Brown's 2001 Pro Circuit Kawasaki KX125.
When Mike Brown packed his bags and grabbed a flight out of the archaically named Great Britain after last year's Grand Prix season, he left with the knowledge that he would once again be eligible for the 125 class in Supercross. Brown was unfortunate enough to be one of the few riders to point out of the 125 Supercross series under the old AMA system. Mike had to spend two years abroad, without racing a single AMA event (and for a good-old boy from Tennessee, spending his exile in Italy and England wasn't exactly easy). Until he regained his 125 eligibility, he was persona non grata with the American factory-backed teams.
Once eligible, Brown enjoyed a war for his services between KTM and Team Pro Circuit. Mike chose to go with Mitch Payton's Pro Circuit team (you may not remember, but Brown rode for Pro Circuit back in 1992 when the team was called Team Peak Honda).
Mike Brown is a man of few words, but when we talked to him, it was obvious that he was frustrated with how his last season in Europe went. He believed that he was more than fast enough to hang with KTM front runners James Dobb and Grant Langston, but his machinery wasn't. Running out of gas at a few sand races showed that preparation of his KTM left a lot to be desired.
What does this have to do with the MXA wrecking crew testing Mike Brown's Team Pro Circuit National bike? We wanted to discover what kind of bike Brown thought it would take to win the 125 National Championship.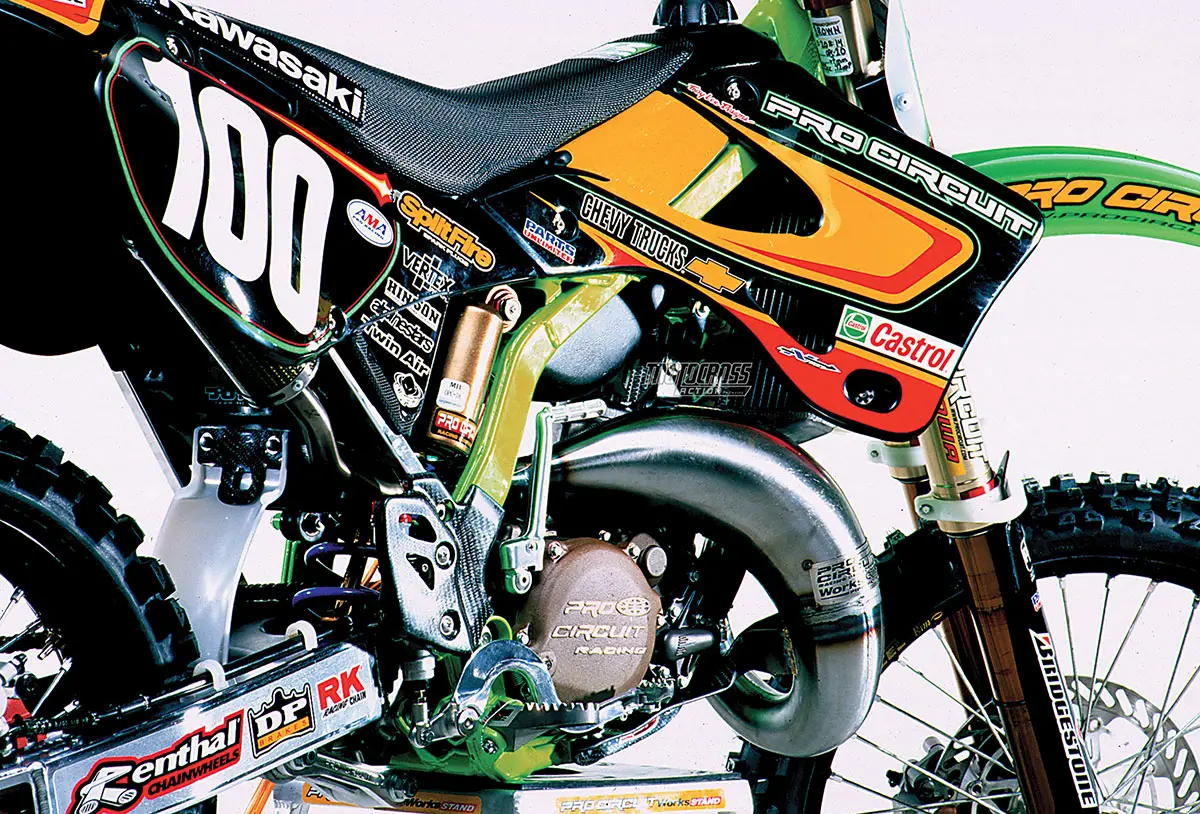 BUYING THE BIKE
You're going to want to pay close attention to this! Believe it or not, you can buy Mike Brown's bike—sort of. Okay, Pro Circuit isn't going to sell you Brown's exact bike, but you can buy a bike that is closer than any other bike on the market. Not a replica, but the real thing. We know what you're thinking; what about the works suspension? Surprise! It is also available as long as you own a Kawasaki or a Suzuki. Even more surprising, the forks are Showas. In a joint effort between Showa and Pro Circuit, you can be the first on your block with works forks. The triple clamps don't come with the forks, but Pro Circuit makes its own triple clamps with different bar heights for different riders as well as the choice of bar position, bar size and rubber or solid mounting.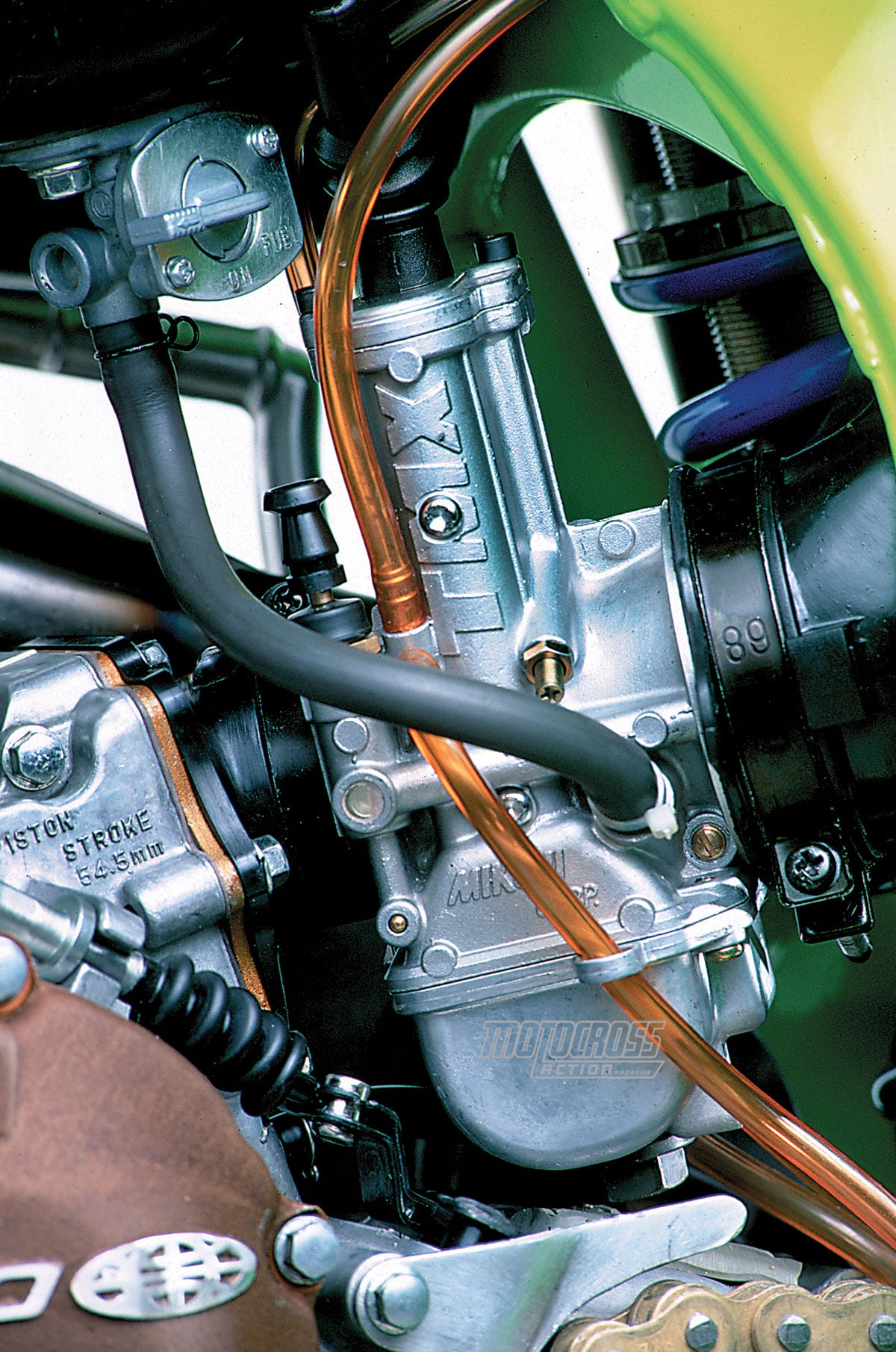 As for the engine mods, Mitch Payton prides himself on giving consumers the same impressive engines that he gives his race team.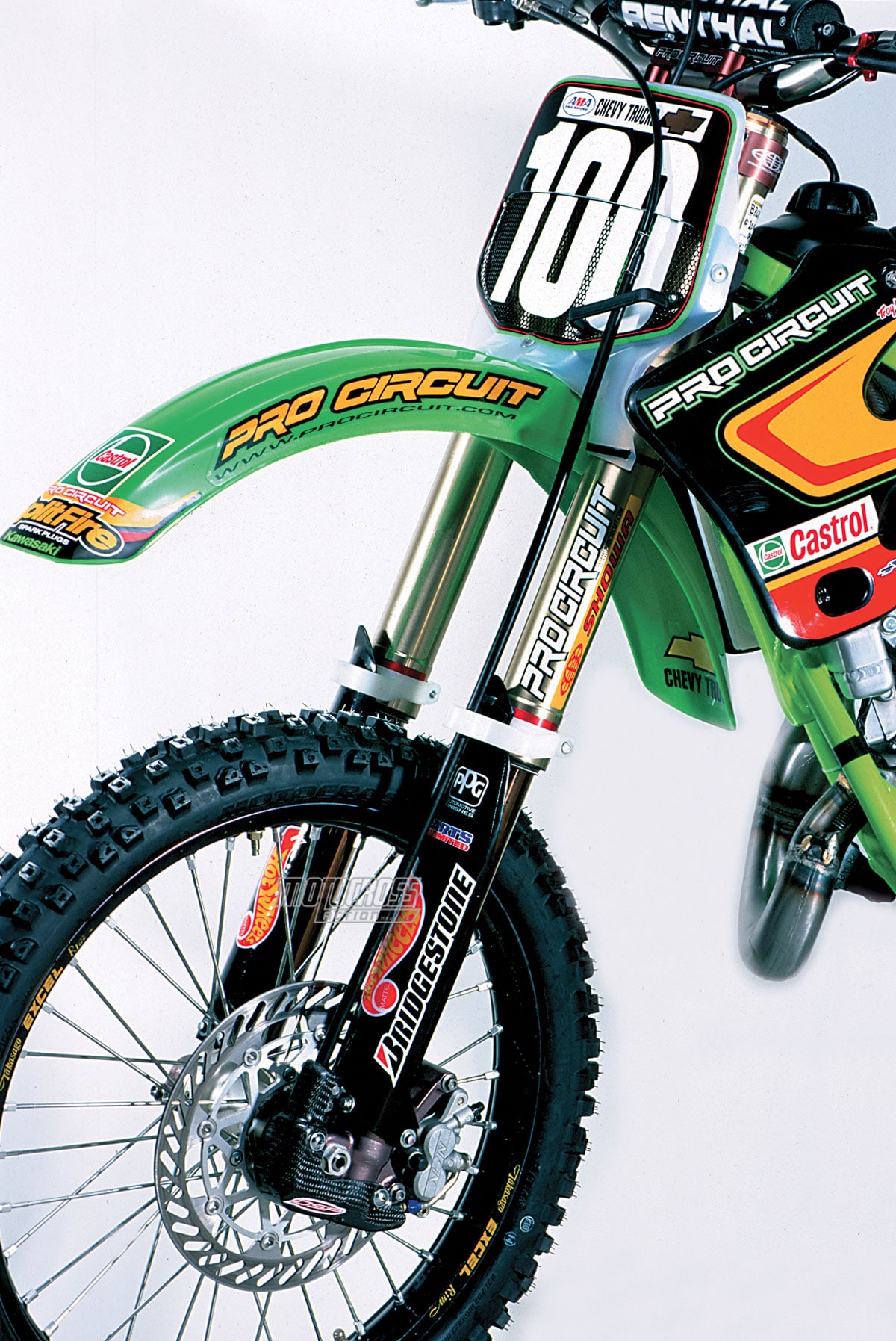 As you would expect, there are a few goodies that you can't buy, but they don't affect the overall performance of the bike. The things you can't buy are the tires, transmission and hubs. Bridgestone gives the Pro Circuit team works tires. Although they don't use them at every race (and we didn't use them for this test), the team does use the works tires more often than they use production tires. The special transmission has a higher first gear than the stocker, but other than that, it is identical, and the magnesium hubs are straight from Kawasaki of Japan.
THE REAL DEAL
We'd like to tell you the biggest difference between Brown's bike and a stock KX125, but everything is different. Brown's bike starts as a stocker, but it doesn't stay that way for long. Before the bike is ever run, it is completely disassembled. The frame is re-welded, gusseted, stripped and painted flo green. The engine cases are split, blueprinted and put back together with the works transmission. The cylinder and head are ported and polished to Mitch Payton's latest spec. The carburetor is bored out and re-jetted.
If you really want to know what makes a works bike, it's not all the trick parts or the engine mods; it's the knowledge. Pro Circuit spends endless hours on the dyno and test track perfecting every aspect of the engine. Nothing is left to chance. The clutch pull is super easy. The throttle is silky smooth. The grips are perfectly aligned, and the wheels are as round as da Vinci's circle.


THE ENGINE TEST
We've had the pleasure of riding all of the Pro Circuit race bikes (including Ricky Carmichael's Pro Circuit 125 National Championship-winning mounts), and none of them hold a candle to Brown's bike. We were amazed at how much power Mitch Payton gets out of any KX125, especially knowing what he has to work with, but this year things are even more spectacular. Before the Supercross series started, Mitch told us how good his bikes were this year. We thought he was doing a PR job. It turns out that the Kawasaki factory made the stock porting closer to Yamaha's spec and Mitch had a better starting point this year. Now that we've ridden Brown's bike, we know exactly why Mitch is so happy. Whereas his old KX125 made competitive peak horsepower, the powerband was so narrow that only a rider the caliber of Ricky Carmichael could keep it on the pipe. Brown's bike was easy to ride—relatively speaking. It's not designed for Beginners or Novices, but Brown's bike was a lethal weapon in the hands of an Intermediate or Pro.
HOW DOES IT RUN?
How does it run? Here is the checklist: (1) It doesn't have any bottom, but then again KX125s have never had any bottom. (2) The power comes on smoothly in the midrange. (3) The most impressive part is that the power goes right on into the top end and beyond without losing any steam. Pro Circuit doesn't want anyone out-pulling Brown up the hills; and, after riding the bike, we can assure you no one will. Achieving all this horsepower wasn't easy. It took a combination of pipe, silencer, porting and ignition curve to make it happen.
Keeping Brown's bike on the pipe was easy because you could rev it out so far that shifting was not a question of how often, but more or less of whenever you felt like it.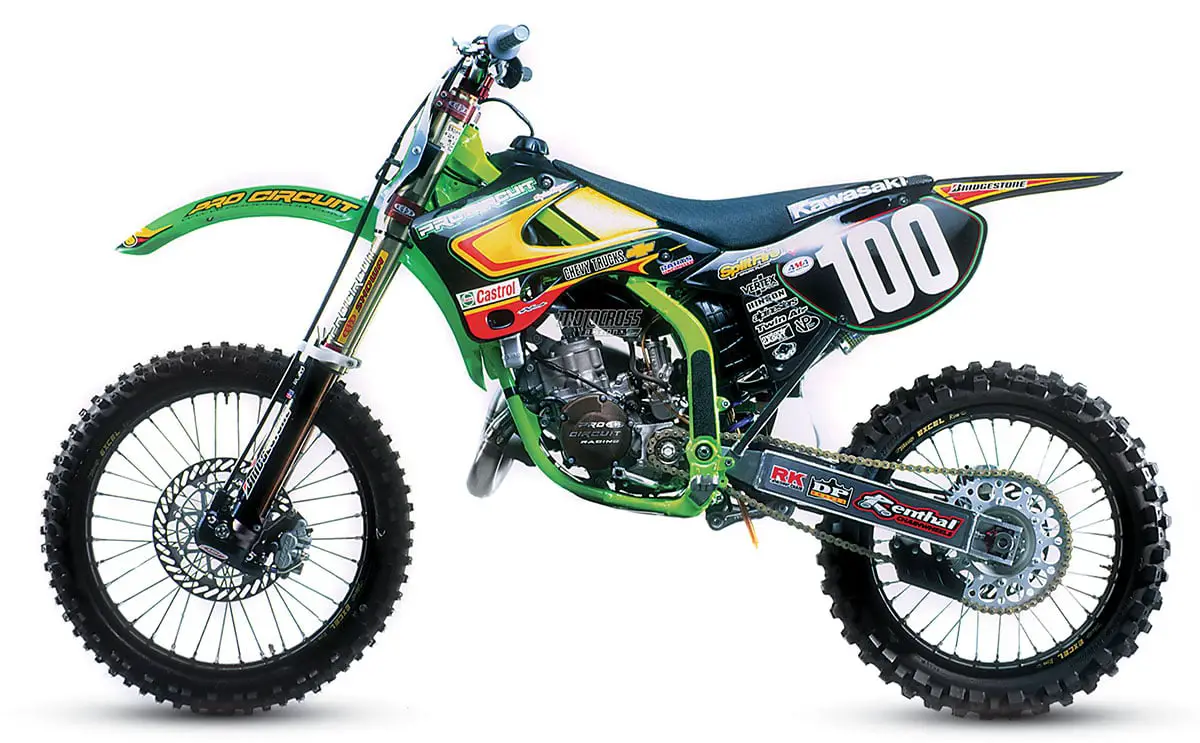 If you are wondering why KHI (Kawasaki's works department) sends transmissions with a higher first gear, it's because without bottom you actually need to use first gear on the KX125. On Brown's bike, we used first gear in a couple of turns, but it paid its biggest dividends on the start.
THE HANDLING TEST
Whereas normal Kawasakis refuse to carve inside lines, Brown's KX went wherever we aimed it. Why? Pro Circuit runs different races that steepen the head angle; the suspension is tuned to perfection and Bridgestone's new M601 front tire works remarkably well.
During the Supercross season, the Pro Circuit boys are forced to run Kayaba forks, but as soon as the outdoor season starts, Pro Circuit suspension specialist Bones Bacon ditches the Kayabas for the Pro Circuit/Showa suspension kit. It's no secret that in the past we've had trouble with Bone's suspension setup being out of the realm of mortal motocrossers, but Brown's stuff was almost perfect. Which means two things: (1) He knows that suspension is supposed to move up and down. (2) We were happy campers. Normally, you can get a test rider to ride a few laps on a works bike, but sooner or later he comes in because he can't handle the ultra-stiff suspension. On Brown's bike, you couldn't get test riders to come back to the box van. The front and rear worked flawlessly.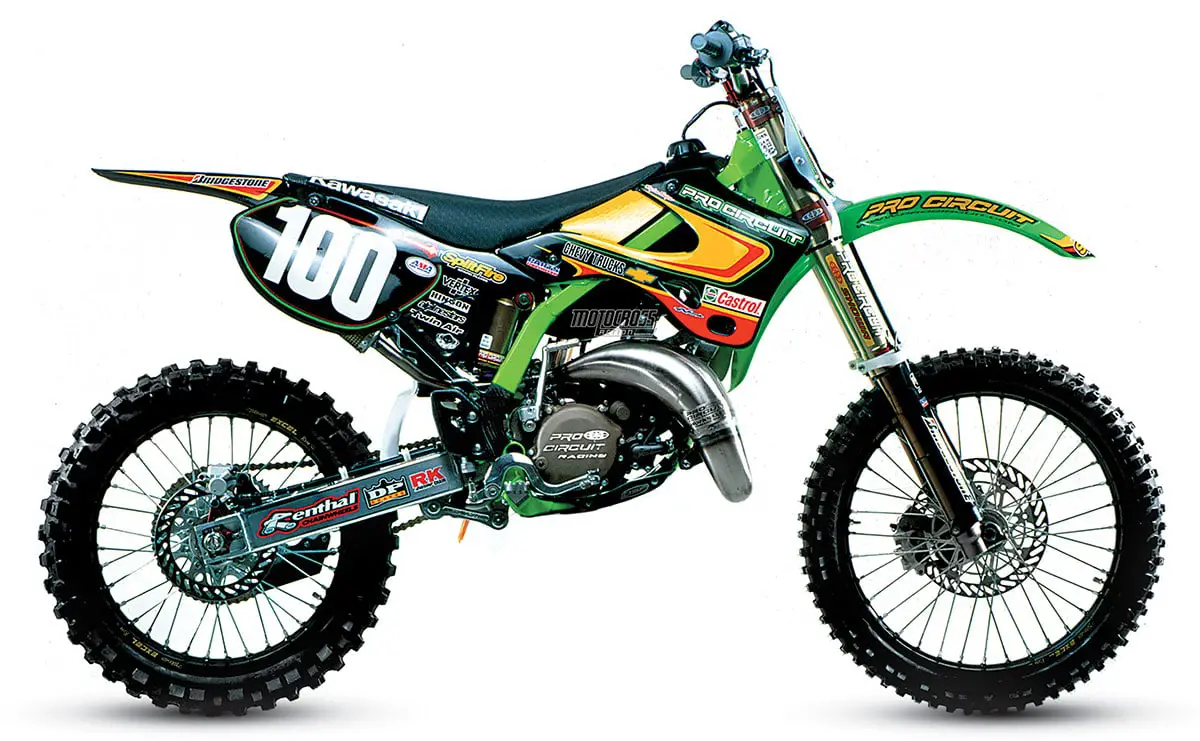 THE COMPONENT TEST
Before we even took a lap, we had to do the bike stand test—the test where you check the bar and lever position. Brown actually runs his Renthal TwinWalls smack dab in the center of the bar mounts and his levers don't point up to the sky but instead are positioned straight forward.
Pro Circuit swaps out the stock front brake line for a braided stainless steel Fastline unit. The plastic throttle tube is replaced with an aluminum unit, and the stock footpegs are dropped in favor of Pro Circuit's own titanium footpegs.
We didn't have a complaint with any of the accessories on Brown's bike. Pro Circuit made it a point to shed some weight from its race bikes with works magnesium hubs and engine side cases. Additionally, the graphics are thinner and the frame guards are gone. If it wasn't absolutely necessary, Pro Circuit left it off.
WHAT WE REALLY THINK
Mike Brown might have lost the 125 World Championship because the prep on the KTM wasn't up to snuff last year, but if he doesn't win the 125 National Championship this year, he can't blame his bike. Point blank—this is the best KX125 we have ever ridden.
(Editor's note: Mike Brown went on to win the 2001 AMA outdoor National Championship on this bike.)