MXA RETRO TEST: WE RIDE RICKY CARMICHAEL'S MXDN CHAMPIONSHIP SUZUKI RM-Z450
We get misty-eyed sometimes thinking about past bikes we loved, as well as ones that should remain forgotten. We take you on a trip down memory lane with bike tests that got filed away and disregarded in the MXA archives. We reminisce about a piece of moto history that has been resurrected. Here is our test of Ricky Carmichael's 2007 Motocross des Nations-winning Suzuki RM-Z450 (from the January 2008 issue).
Picture this: Ricky Carmichael and Team USA have just captured a record-setting 18th Motocross des Nations victory, thanks in part to Carmichael clinching the win by finishing first in the final moto of the day. It's a jubilant day for Team USA and a perfect ending to RC's illustrious career. It is also a great opportunity for the MXA wrecking crew to ride Ricky's 2007 MXDN-winning bike on the same Budds Creek track that Carmichael ruled on only the day before. 
We were chomping at the bit to try Carmichael's 2007 Suzuki RM-Z450 because we have a long history with Ricky's racing steeds. We can lay claim to testing more of Carmichael's bikes throughout his career than anyone else (except for Ricky, of course). From his Loretta Lynn KX85 to three of his Pro Circuit KX125s to his 2003 Supercross-winning CR250 to his perfect-season 2004 Honda CRF450, we have had a good read on Ricky Carmichael and his bike setup. 
Of all the Carmichael bikes that we've tested, his 2004 AMA National Championship-winning CRF450 was our favorite. It had unobtainable suspension, a super-powerful engine and all of the factory accouterments that anyone could dream of. Aside from the lever positioning, which was way too high for our tastes, and the cramped ergonomics (Carmichael is 5-foot-6 after all), we loved his Honda CRF450. 
By the same time token, the MXA wrecking crew cringes at the memory of riding Ricky's 2003 Honda CR250. The engine ran like a scared bear. The forks were extremely harsh. The levers were pointed skyward, and the handlebars were swept back into our laps. It was a feat just to take a lap around the track, much less get on the gas. 
We had to wonder what Ricky's RM-Z450 would be like. Would it be a clone of his sweet CRF450 or his weird CR250? With a three-year hiatus from testing a Carmichael bike, the MXA wrecking crew had to wonder if his setup had morphed again into something completely different.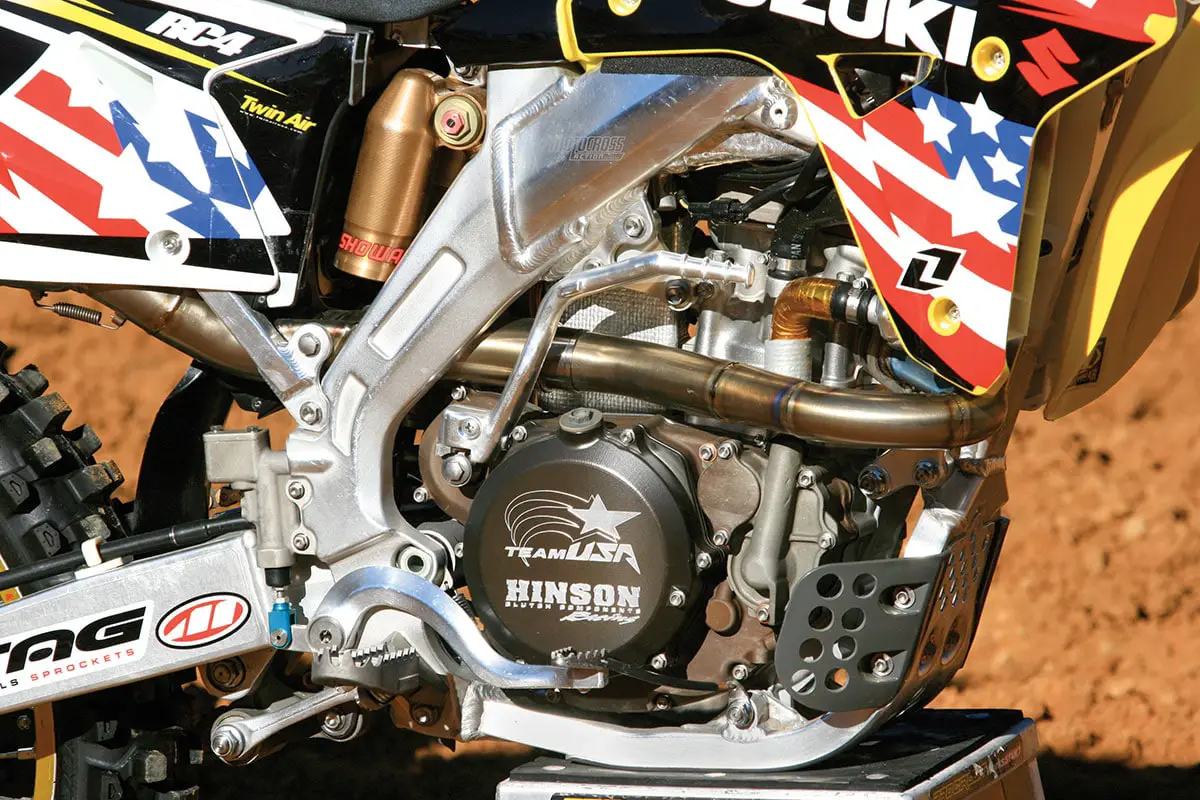 SHOP TALK: WHAT IS IT ALL ABOUT?
As with any factory bike, Ricky's RM-Z450 was packed to the gills with trick factory parts that are hands off unless your name happens to be Ricky Carmichael. 
WHAT PARTS ARE WORKS?

 
The SMC (Suzuki Motor Corporation) crank, cams, radiators, clutch, hubs, axle, rotors, linkage, triple clamps, levers, transmission, skid plate and pegs all come from Suzuki in Japan. American Suzuki also plays a roll in Ricky's bike, supplying the cylinder head and seat foam. Showa also plays a vital role, constantly working with Ricky to dial in the 51mm works forks and the shock unit.
WHAT PARTS ARE PRODUCTION?

 
The only production parts on the bike are the cylinder, spokes and plastic. The frame is stock but re-welded for strength. 
COULD YOU BUY RICKY CARMICHAEL'S SUZUKI RM-Z450?

 
No. Not in a million years; however, do not be disheartened. You can make your RM-Z450 mirror Ricky's by purchasing Tag Metals sprockets, a Pro Circuit exhaust, Bridgestone tires, Excel rims, ProTaper handlebars, One Industries graphics and a D.I.D. chain. Your RM-Z450 won't perform like Carmichael's bike, but it will look good on the stand.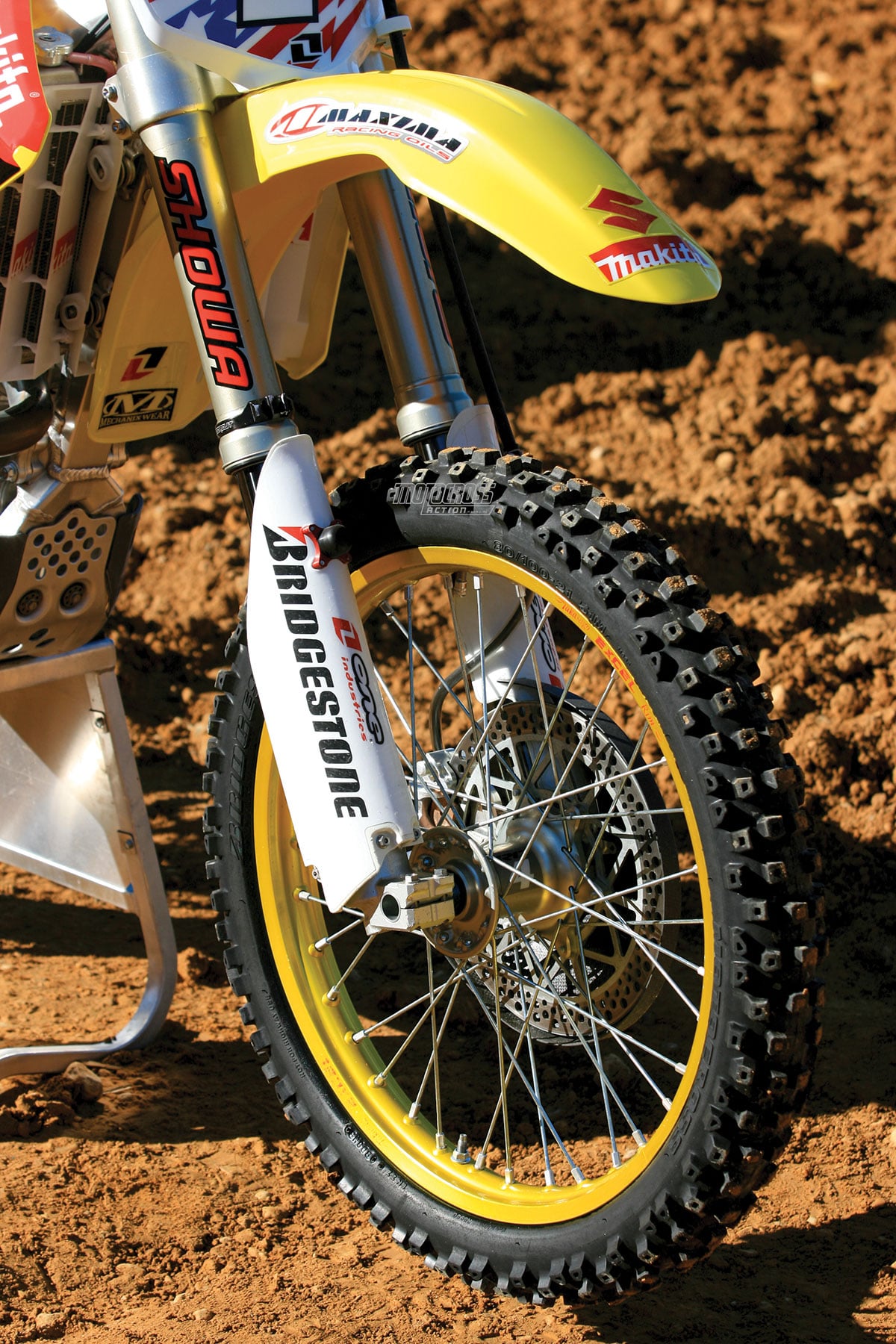 HOW MUCH TITANIUM IS ON THE BIKE?

 
Team Suzuki used several thousand dollars' worth of titanium bolts, not only to drop valuable weight off of the RM-Z450 but to pump up the cool factor. Also on the list of sweet-looking parts are the carbon fiber front rotor cover and chain guide block, as well as the beefy on-the-fly clutch adjuster.
TEST RIDE: HANG ON AND PRAY

No one has ridden more of Ricky Carmichael's race bikes and no one has been more surprised by how varied they have been than the MXA test crew. Here is what Ricky's Motocross des Nations bike was like to ride:
HOW FAST IS IT?

 
We knew that Carmichael's RM-Z450 would be potent. The fastest motocross racer in the world wouldn't ride a bike that was lacking in the power department, and Ricky's Suzuki proved the point. The engine was a fire-breathing dragon, but surprisingly it didn't have a jolt of torque that stretched your arms like Silly Putty in the summer. Adhering to the theory that a detuned engine has more manageable power, RC's RM-Z450 has a very smooth and linear powerband. From directly off the bottom-end all the way through the top, Carmichael's engine pulled until the cows came home. It isn't overly abrupt or tiresome. Don't get us wrong; it's not an engine for the faint of heart, but it doesn't take Superman to handle the power, either. We think that Ricky's engine could benefit any skill-level rider, which is surprising to say since Carmichael absolutely hauls the mail on the very bike that a Beginner could enjoy.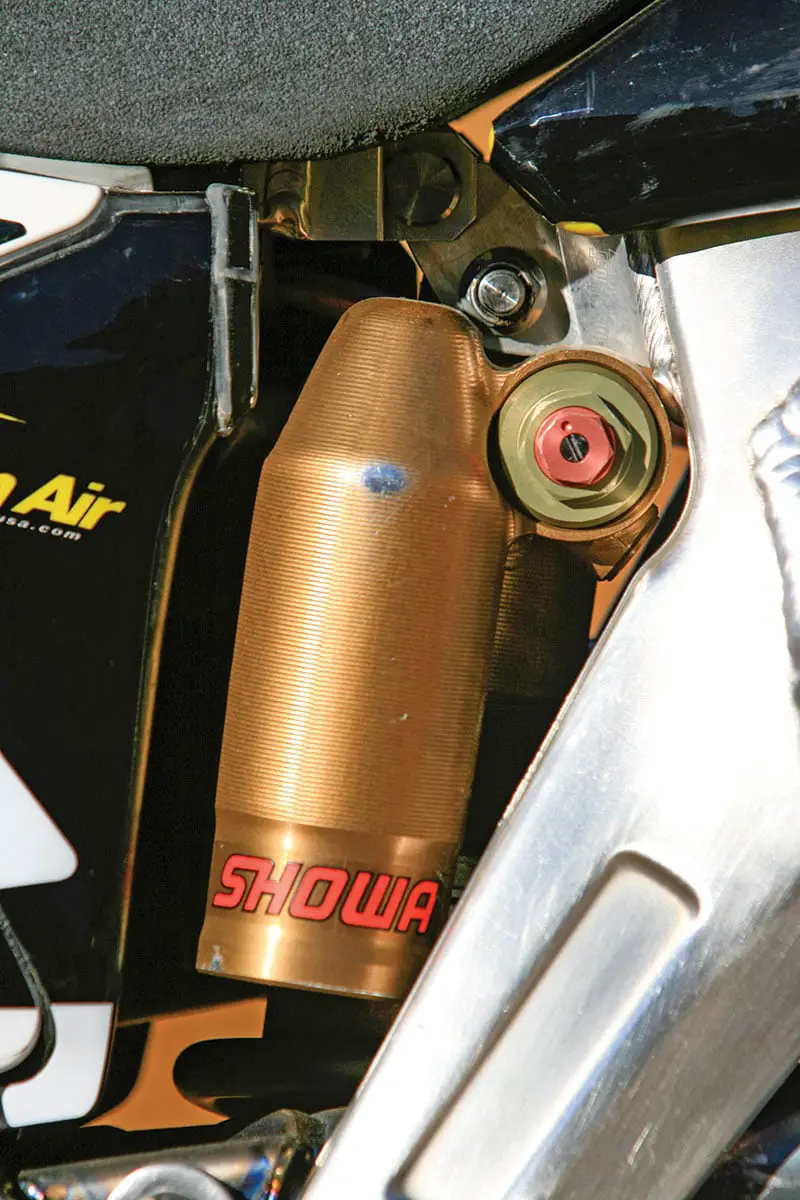 HOW WERE THE ERGONOMICS?

 
Going into the test, we practiced yoga because we knew that we were going to be a little cramped. Ricky Carmichael stands at 5-foot-6, and that's with boots on. Most members of the MXA wrecking crew are at least 4 inches taller than Ricky. When we threw a leg over his RM-Z450, we immediately noticed the cut subframe and low-sweeping handlebars. No big deal. Obviously this setup works well for Ricky, but try as we could, there was no adjusting to the clutch and front brake lever. They were pointed vertically but were also insanely close to the handlebars. When we say "close," we mean knuckle-dragging width from the grips. It caused us to stall the bike on numerous occasions and permanently drag the front brake. After all, where were our fingers supposed to go? The tight confines caused our fingers to cramp up worse than a 24-hour "Halo" video game binge. Ricky's lever positioning was the most awkward setup that we have ever come across, which is quite a statement considering that we've tested some extremely odd bike setups in the past. 
HOW WERE THE GEAR RATIOS?

 
The gear ratios on Ricky's four-speed RM-Z450 were changed to make the power transfer easier from third to fourth gear. The closer ratio between third and fourth was a noticeable change that we really enjoyed. Ricky's ratios eliminated the gaps that hampered the stock 4-speed gearbox. On Ricky's race bike, first and second gears were left completely stock. We must also make it known that while we barely used first gear, second and third were the true meat of the engine. Fourth gear felt like we were in warp drive. We're guessing that Carmichael clicks fourth quite often, but it took bravery for us to tap out top gear down Budds Creek's whooped-out straights.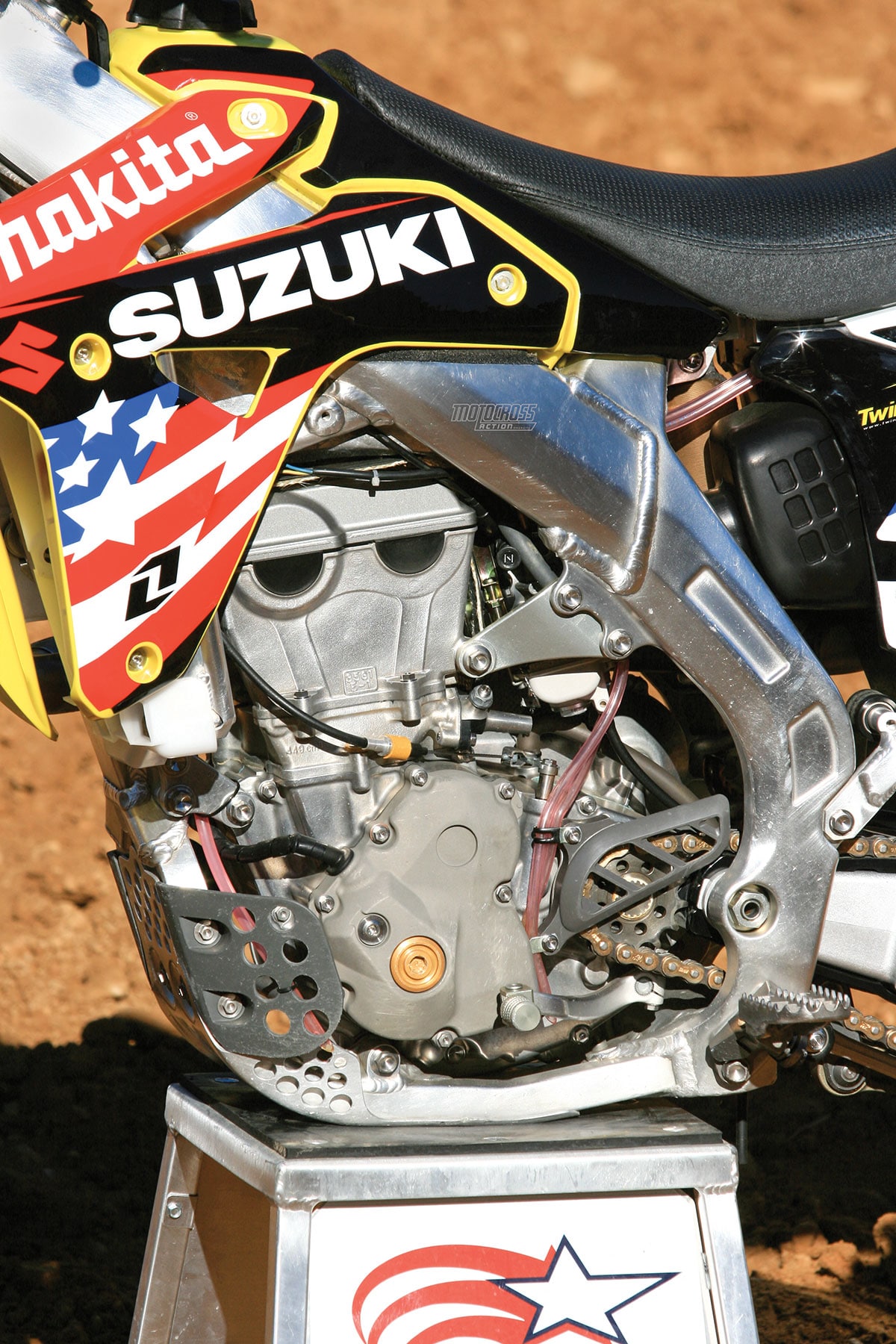 CAN YOU FIND NEUTRAL ON RICKY'S BIKE?

 
On our stock RM-Z450, we can't find neutral without an Act of Congress. Guess what? Ricky can't find neutral, either. We tried to find neutral when we pulled into the pits and also on the side of the track with the bike running, but to no avail. It became rather frustrating, because at one point we stalled the bike while looking at a certain section of the track. It literally took minutes to find neutral, and then it was only by luck. 
WHAT IS THE RIDE HEIGHT LIKE?

 
Suzuki lowered the subframe by 10mm in order to drop the seat height and moved the footpeg brackets back 5mm to account for Ricky's shorter stature. Carmichael also prefers 106mm of sag and runs a completely different rising-rate linkage from the stock RM-Z450 link. As a result, the rear end had a squat that took time to get used to, especially in flat corners without a rut or berm. The lowered back end of Carmichael's bike made the front end feel light, which didn't make it as precise as we would have liked. Then again, Ricky weighs less and wouldn't initiate as much head-angle change. In every other situation, the bike sliced through corners and tracked straight in deep ruts.
HOW WAS THE WORKS SUSPENSION?

 
The Showa suspension worked exactly the way we expected. The suspension was stiff; no surprise there. It is rare for the MXA test riders to find an AMA Pro's bike that isn't ultra-firm. Keep in mind that Pro riders are going faster than the average Joe, so they need the support when slamming into braking bumps. We cannot fault Carmichael for his suspension setup, because it works for him. At the same time, we have to give Ricky credit because the forks and shock weren't harsh. They were plush enough to handle small chop and helped the RM-Z450 settle well into corners. The faster we rode RC's bike, the better the suspension and bike worked in general.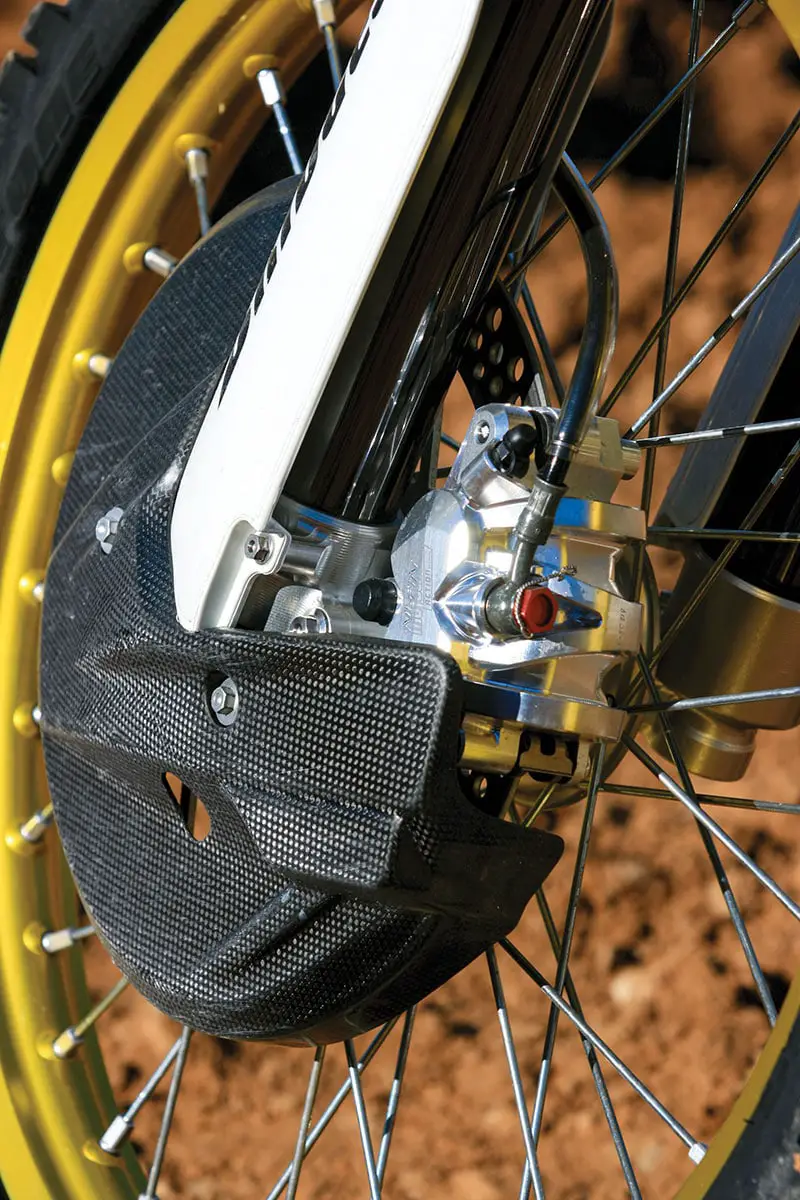 VERDICT: WHAT DO WE THINK?
Ricky Carmichael's Suzuki RM-Z450 is custom-tailored to him, and unless you twist the throttle without fear or with complete stupidity, you can't truly ride Ricky's RM-Z450 to its fullest. Still, there are areas of his bike that are amazing. Aside from the factory parts and works suspension, Carmichael's engine is impeccable. 
Ricky's retirement from the sport closes a chapter on the MXA wrecking crew's ability to test the "GOAT's" bikes. All we can say is that it was a good ride. Thank you, Ricky!
\