REM RACE REPORT: NEW TRACK SHAKES THINGS UP

Click on images to enlarge
Photos by Dan Alamangos & Jody Weisel

Husqvarna's off-road ace Jacob Argubright has been racing at REM on his off weekends to work on his speed. It must be working because Jacob took the 450 Pro win. Photo: Dan Alamangos
Thanks to a new track design, with longer straights, even more elevation changes and well prepped dirt (even though the temperatures and humidity were way up), the REM motocross racers upped their game. There were only five riders who swept their full-size classes with a 1-1 score. Instead, seven classes were won with 2-1 or 1-2 scores and there were even classes won by riders who didn't win a single moto. Eight rider won their first or second motos only to falter in the other one. The most obvious example of this were Ken Clark (5-1) and Lamont Dusseau (1-5) in the Over-40 Novice class — allowing Pete Vetrano to take the overall victory with a 2-2. All of this weird scoring translated in lots of dueling at the front of the packs as one pass would have changed the overall in the majority of class.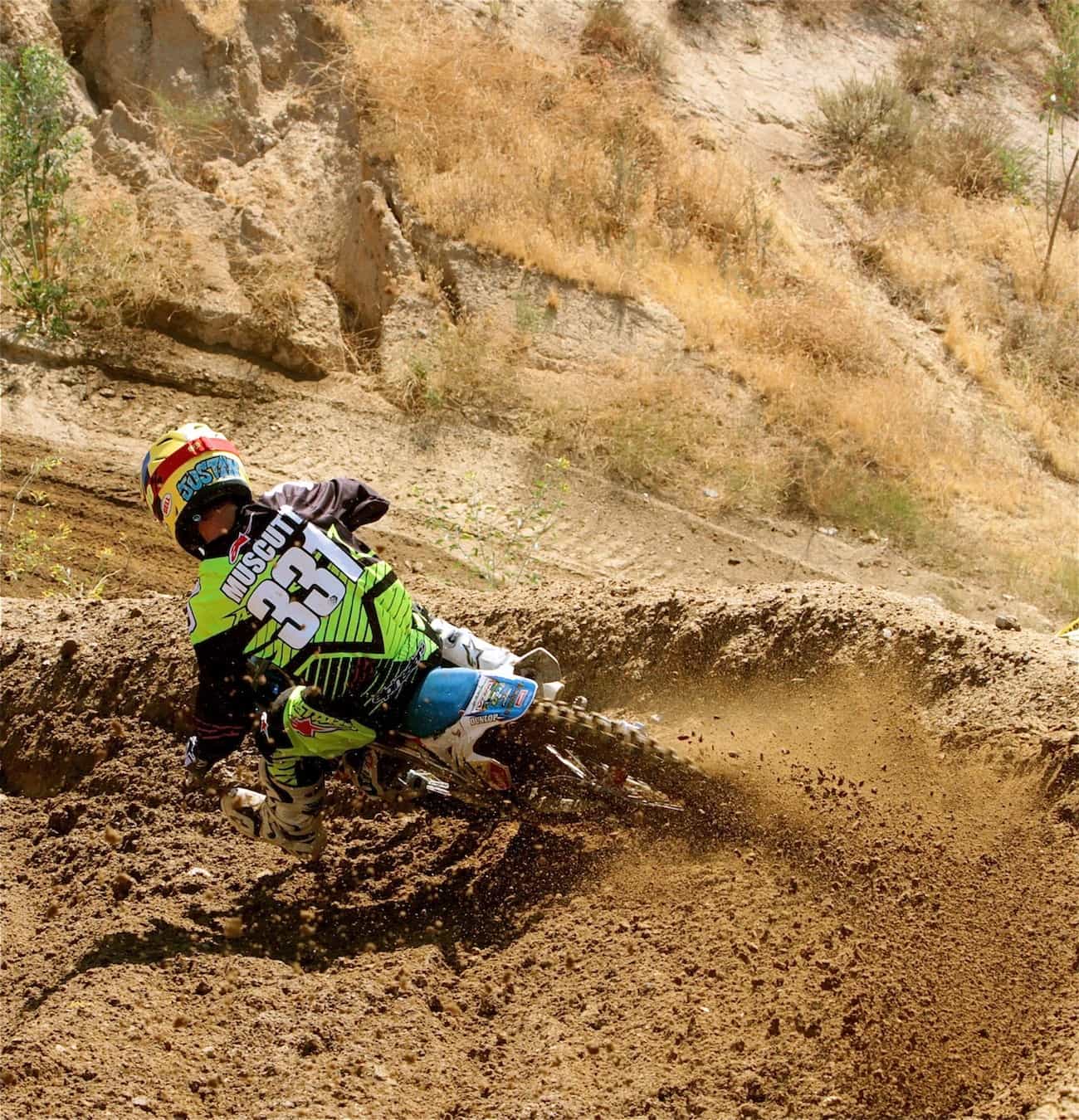 Northern California's Justin Muscutt (331) raced a TM 144MX two-stroke to victory in the 250 Pro class and mixed it up with the 450 Pros who started on the same gate. Photo: Dan Alamangos
Sean Lipanovich (505) won the first 450 Pro moto easily, but his 1-2 wasn't good enough for the victory. Photo: Dan Alamangos
SoCal has been stuck in a heat wave, with temperatures at Glen Helen hovering at the 100-degree mark for the last week, so the turnout was weakened by the high temps. The biggest classes of the weekend were the four oldest classes (you can't stop those old guys from racing): The biggest classes were: (1) Over-50 Intermediate, (2) Over-60 Intermediate and (3) Over-50 Expert. You don't have to guess, but the fifth largest class was the Over-60 Experts.


Brendon Crow gets maximum bite out of this loamy right-hand turn on on his way to the 450 Intermediate win. Photo: Jody Weisel
The weekly brand breakdown held one major surprise. "Win on Sunday, sell on Monday" is not working for Eli Tomac and Kawasaki (at least not at Glen Helen), as only one rider showed up on a Kawasaki this weekend. The number one brand was KTM with 39% of the riders on the orange machines. Yamaha was second with 28%, Honda had 14%, Husqvarna 12%, Suzuki 4%, TM 3%, while Maico and Kawasaki both got a decimal point.
However, there was not as much bite for Brendan as the track dropped off. Photo: Jody Weisel
OVER-40 EXPERT
1. Pete Murray (Yam)…1-1
2. Ralf Schmidt (TM)…2-2
3. David Cincotta (Suz)…3-3
OVER-40 INTERMEDIATE
1. Brian Calhoun (Yam)…1-2
2. Jonathan Levey (KTM)…3-2
3. Giovanni Spinali (Suz)…2-3
OVER-40 NOVICE
1. Pete Vetrano (Hus)…2-2
2. Ken Clark (Yam)…5-1
3. Lamont Dusseau (Yam)…1-5
Dylan Mroz tracks straight and true on his way to third in the 450 Pros. Photo: Jody Weisel
450 NOVICE
1. Shaun Barton (Yam)…2-1
2. Jeff Fitzgerald (Hon)…1-2
3. Ryan Foster (KTM)…3-3
250 NOVICE
1. Dillon Ziegler (Yam)…1-1
2. Jack Mowry (Kaw)…2-2
3. Nicholas Ziegler (Suz)…3-3

This is a snapshot of American motocross from the 1970s. Four-time 250 National Champion Gary Jones (88) leads multi-time CMC number one Val Tamietti and Baja 500 and 1000 winner Bob Rutten (83). All of these guys are over the age of 60 now, but you can't tell it by how hard they race each other. Photo: Dan Alamangos
OVER-60 EXPERT
1. Val Tamietti (Yam)…1-1
2. Bob Rutten (KTM)…2-2
3. Mike Marion (Yam)…4-3
OVER-60 INTERMEDIATE
1. Tim Hoole (Suz)…2-1
2. Jody Weisel (Hus)…1-2
3. Tony Parsons (KTM)…3-3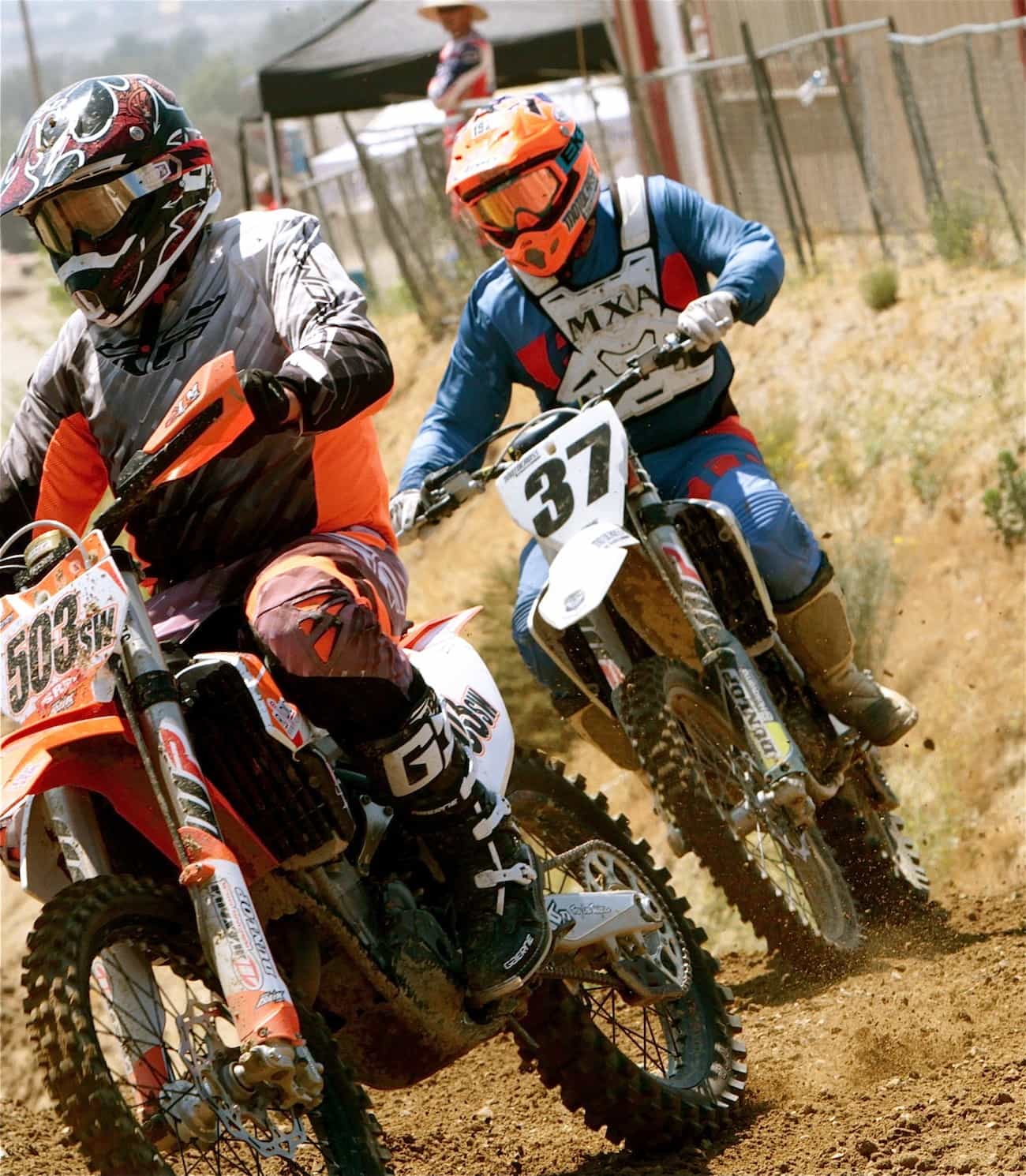 Jody Weisel (37) overcame bad starts to come through to a 1-2 day in the Over-60 Intermediate class. He was testing Metzeler's new MC360 tires on a Husqvarna FC450. Believe it or not, the MC360s are street-legal DOT tires. Jim McCartney (503) went 4-4 for fourth. Photo: Dan Alamangos
OVER-50 NOVICE
1. Glenn Pietronico (KTM)…2-1
2. Mike Brownfield (Hon)…1-2
3. Darren Berg (Yam)…3-3
OVER-50 INTERMEDIATE
1. Randy Skinner (KTM)…1-1
2. Steve Watson (Yam)…4-2
3. Robert Pocius (Yam)…3-3
OVER-50 EXPERT
1. Ron Shuler (KTM)…2-1
2. Joe Sutter (Hon)…3-2
3. Giovanni Spinali (Yam)…1-4

Pete Murray showed up to race the Over-50 Elite class, but when no other Elite riders showed up he moved to the Over-40 Expert class. No problem for Pete. He swept both motos against the young guys. Photo: Dan Alamangos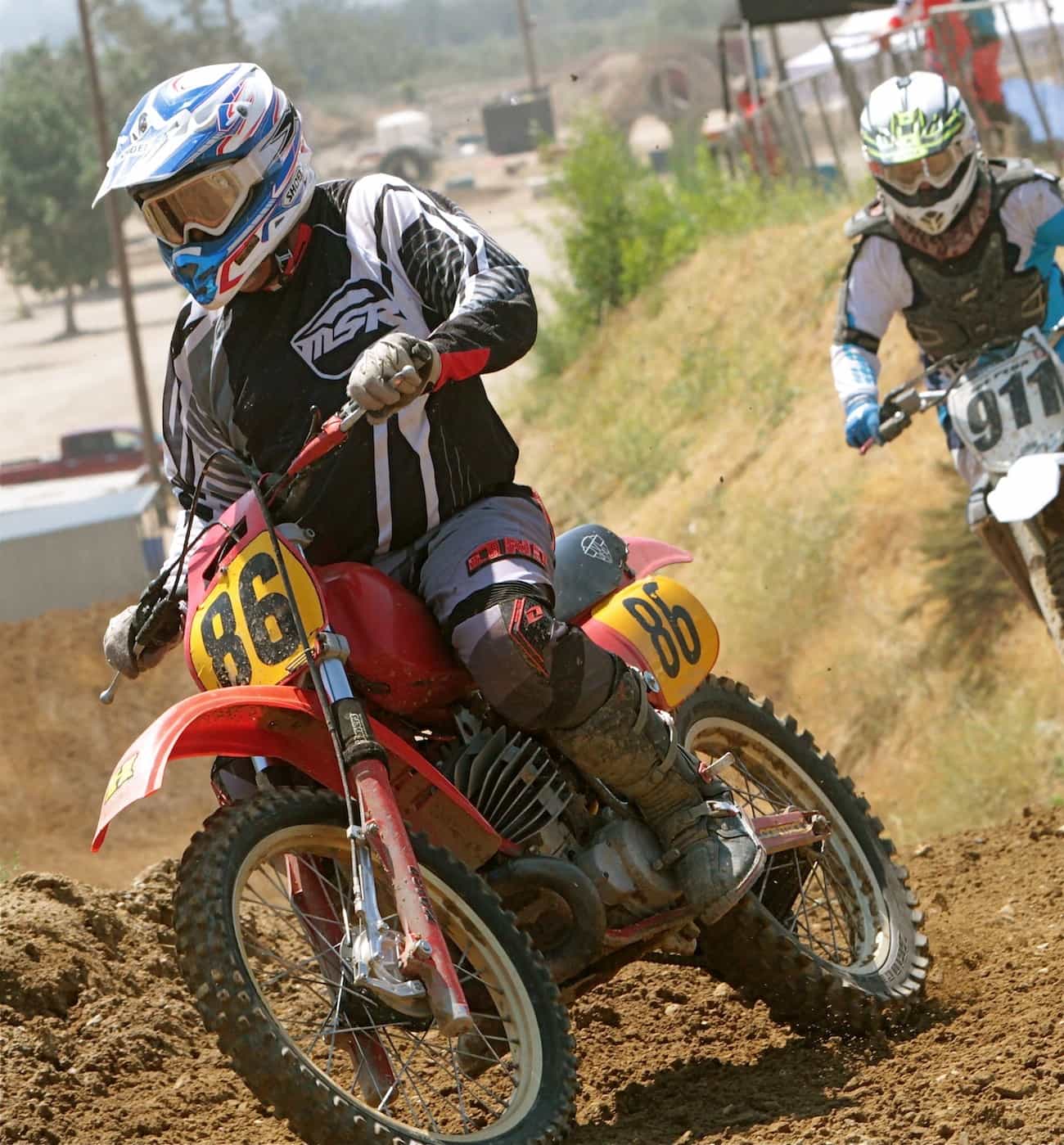 Who says you need a new bike? Roland Rodriquez (86) broke out his trusty Maico 490 and went 6-6 in the Over-60 Intermediates. Photo: Dan Alamangos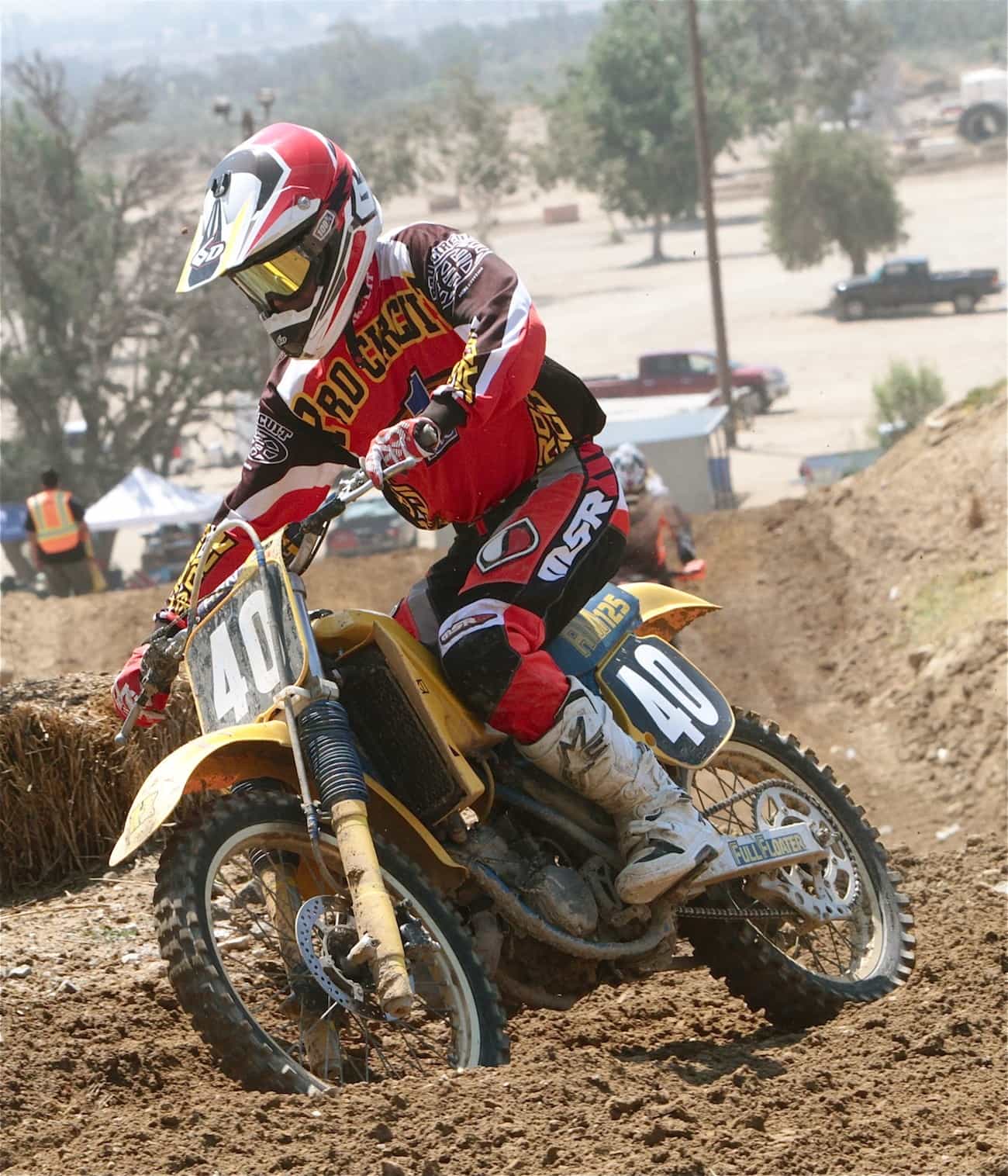 Tim Hoole (40) did Roland a couple years better by racing to his 1981 Suzuki RM125 Full Floater to a class victory and the admiration of all on hand. Photo: Dan Alamangos

Joe Sutter (111) was second in the Over-50 Expert class behind Ron Shuler and in front of Giovanni Spinali (45). Giovanni decided to race two classes, with only a one-moto break between them. He was great for three motos, but the heat got to him in the final Over-50 Expert moto and his 1-4 left him with a third overall.  Photo: Jody Weisel
This is a rare photo of TM importer Ralf Schmidt (73) actually sitting down. Ralf got second in the Over-40 Expert class (behind Pete Murray). Brian Calhoun went 1-2 to take the Over-40 Intermediate gold. Photo: Dan Alamangos

David Cincotta (861) and Jeff Fitzgerald (875) come out of the roller coaster section at full tilt. Photo: Jody Weisel
REM does not race next Saturday (July 1), but will be back at Glen Helen on July 8, 15 and 22. For more info about REM motocross, go to www.remsatmx.com