"SATURDAY AT THE GLEN" RACE REPORT: COLTON AECK, CONNOR STYERS, PETE MURRAY & VAL TAMIETTI SHINE
Following too close behind a rider in the canyon section of the Arroyo track, results in your front number plate getting sand blasted. Joel Licon (289)  gives his YZs burst.
PHOTOS BY DEBBI TAMIETTI & DAN ALAMANGOS
Glen Helen's track crew had a busy weekend, even though two scheduled races for Saturday and Sunday on the Truck Track (GBC Quads and Old School Scrambles) were canceled because of water pooling in the low spots, the track crew still had to prep rain-soaked and rutted race tracks for the "Saturday at the Glen" race on the Arroyo track,  the  National track for a three-day Old Timer's International motocross, the Stacyc track for the Stacyc World Cup series, the Stadiumcross track for the MiniCross races and the Arroyo track, as soon at the "Saturday at the Glen" races were over for Sunday's American Retrocross vintage race.
It wasn't all sand, there were more than enough wet spots ready to slow you to a crawl. 
Even worse, was that the main road into Glen Helen and its neighboring prison was closed again. It had been opened for the first time in a couple weeks on Friday of last week, only to be closed again on Wednesday after a big rainstorm flooded it again. That meant that every racer had to come into the track via the back way off of the 15 Freeway—and only the Glen Helen regulars really know how to navigate through the housing project and prison grounds. The best instruction for newbies is to follow the first truck you see with motorcycles in it.
The good news for Saturday was that the sun was out, the tracks were ready to ride on and everybody was snug in their pit spots by the time the air began to warm-up. "Saturday at the Glen" has a reputation for not wasting any time. You can guarantee that you will get long motos and be out of the track before 2:00 p.m. (necessary because they are piggybacking Saturday and Sunday races on the same tracks).
Colton Aeck (526) won the 450 Pro class, but Ford Heit (144) gave him a run for his money for a few laps.
Equally good news was that Glen Helen moved the Pee-Wee track to the Stadiumcross track. The new Stadiumcross track has been mellowed out to make it a fun track for everything from Pee-Wees to SupermInis. Best of all, the section of land that the Pee-Wee track had been on was given back to the Arroyo Vet track. In a historic note the original Arroyo Cycle Park starting gate was located where the Pee-Wee track was built. Moving the Pee-Wee track enlarged the "Saturday track" back to how big was 8 years ago.
Thanks to weeks of rain the Glen Helen dirt was a mixture of decomposed granite and river sand that had tumbled down from the mountains on two sides of Glen Helen to form a strange sandy surface. Colton Aeck (526), Zack Wiley (13) and Shane Roberts (440) demonstrate the traction. 
450 PRO CLASS RESULTS
1. Colton Aeck (KTM)…1-1
2. Ford Heit (Yam)…2-2
3. Tanner Autry (Yam)…3-3
The Over-60 Expert class was won by Pete Murray with Ed Guajardo second. This photo shows third place Luc De Ley (65), fourth place Val Tamietti (31) and sixth place Ron Lawson (21).
Pete Murray (66) swept all four motos of the Over-50 and Over-60 Expert classes with ease. He had to push his way to the front on the first laps, but once there he set sail.
OVER-60 EXPERT RESULTS
1. Pete Murray (Yam)…1-1
2. Ed Guajardo (Yam)…2-2
3. Luc DeLey (KTM)…4-3
Ray Poltack crashed right in front of MXA photographer Dan Alamangos, who isn't racing because his broken tib/fib is still healing. Dan was going to step out and help Ray get going again, but it's a good thing he didn't because Val Tamietti blasted in between Ray and Dan going wide open. 
This was the week to turn 65 years old as both Dave Eropkin (811) and Randell Fout (43) had birthdays that made them eligible for the Over-65 Expert class. Randel Fout was the run-away winner of both motos, but asked not to be scored as he was just testing settings on MXA's Kawasaki KX450, which handed the victory to Val Tamietti.
Steve Williams went 3-3 behind Dave Eropkin's 2-2 and Val Tamietti's 1-1 in the Over-65 Expert class 
OVER-65 EXPERT RESULTS
1. Val Tamietti (Yam)…1-1
2. Dave Eropkin (KTM)…2-2
3. Steve Williams (Yam)…3-3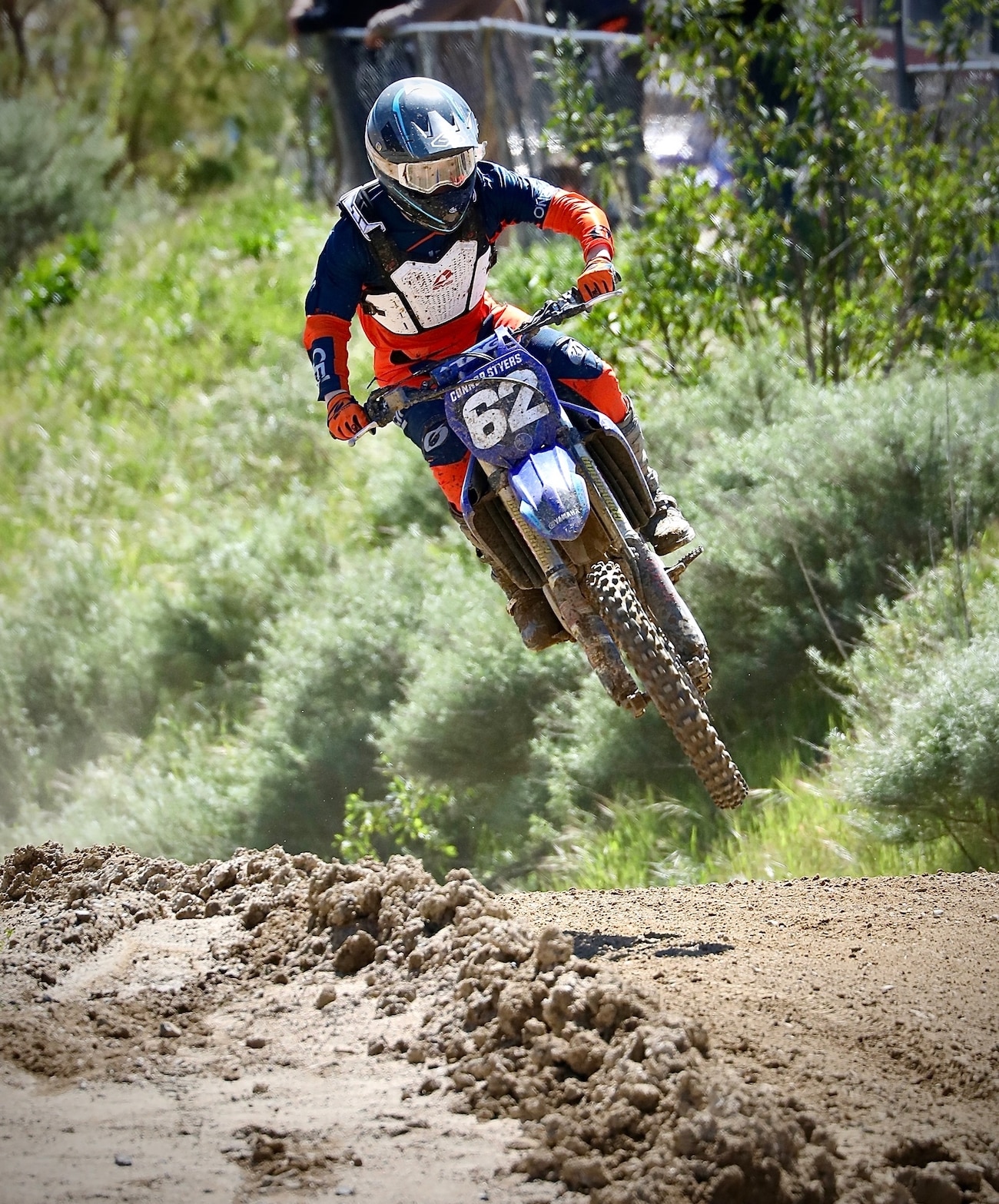 Conner Styers (62) took the 450 Intermediate class victory over Preston O'Neal, Zach Wiley and Cole Myerly.
Preston O'Neal (17) finished second in the 450 Intermediates while Cole Myerly (H101) was  fourth.
Josh Fout took the Vet Pro win on a 2023 GasGas MC450F. This is the same bike he rode to second overall in the Ironman class at the Six Hours of Glen Helen two weeks ago.
450 INTERMEDIATE CLASS RESULTS
1. Conner Styers (Yam)…1-1
2. Preston O'Neal (Yam)…2-2
3. Zack Wiley  (Hus)…3-3
Luther French (21) managed to take the holeshot away from Pete Murray (66) in the second turn of the Over-50 Experts, but it didn't matter as Pete soon took the lead and pulled away.
OVER-50 EXPERT RESULTS
1. Pete Murray (Yam )…1-1
2. Mike Davis (Yam)…3-2
3. Ron Shuler (Yam)…5-3
From left to right: Mark Lengner (113), Pete Feldman (21) and Tracy Bassett (53) packed the top five in the Over-50 Intermediate class with Feldman going 1-1, Lengner 2-3 and Bassett 3-4.
OVER-50 INTERMEDIATE RESULTS
1. Pete Feldman (Hon)…1-1
2. Robot Rodgers (Hus)…4-2
3. Mark Lengner (Yam)…2-3
Randy Skinner (85) decided to race a KTM 250SXF rather than his normal GasGas MC350F in the Over-60 Intermediate classes because he has problems with his hands going numb. It didn't help, but he pushed through to go 3-3. Jay Velez (34b) went 7-8.
Robot Rogers (12) won the Over-60 Intermediate and gott third in the Over-50 Intermediates.
OVER-60 INTERMEDIATE RESULTS
1. Robot Rodgers (Hus)…1-1
2. Robert Pocius (KTM)…2-2
3. Randy Skinner (KTM)…3-3
Marc Crosby (75) and Jim Hanson (83) have been trading wins in the Over-65 Intermediate class. Last week it was Crosby and this week it was Hanson.
Lars Larsson (91) and Jody Weisel (99) have been racing against each other for decades (they both started racing in the 1960s), All they really care about is beating each other.  Jody gives Lars the best bike in the MXA arsenal when he's in the USA from October to April. This week Lars raced a 2023 Husqvarna FE450 Heritage Edition, while Jody raced a 2023  GasGas MC366F project bike. Lars will leave for Sweden right after the World Two-Stroke Championship on April 8. Oh yeah, they both wear the same all-leather boots.
The Arroyo track has a lot of ups and downs. Here, Kent Reed (491) , Bill Seifert (37) and Dave Golles (152) take the down elevator.
OVER-65 INTERMEDIATE RESULTS
1. Jim Hanson (Hon)…1-1
2. Marc Crosby (KTM)…2-2
3. Duane Joice (Kaw)…3-3
Trevor Murphy (23) went 3-1 to win the 450 Novice class, but in the official results, his brother Cole Murphy went 1-2. It doesn't matter because it's all in the family. They'll hash it out between them.
450 NOVICE RESULTS
1. Trevor Murphy (Gas)…3-1
2. Cole Murphy (Yam)…1-2
3. Nathan Dean (Hon)…2-2
Cody Brownfield (24) took the win in the 250 Intermediates with a 1-1 on a Suzuki RM-Z250.
Shane Roberts (440) used a YZ250 two-stroke to go 2-2 in the 250 Intermediates.
Kasey Shelton (34) took the 85cc class gold with a 2-1 over Griffin Sittler's 1-2.
Oh no! Not another Fout! Gabby Fout (76) went 6-5 in the 250 Novice class to get a solid fifth overall.
Charlie Webb (51) came down from Solvang to win the 250 Beginner class.
Augustine Canela (16) took her Yamaha PW50 to a 3-3 day in the special PW50/ XR class that allows riders to get started in motocross without have to buy an expensive Pee-Wee.
AUSTRALIAN RACER DAN ALAMANGOS TAKES YOU ON A TOUR OF SATURDAY'S ARROYO TRACK
Ford Heit (144) drops-in from the steep hill behind him and makes a right-hand sweeper that takes him down an asphalt road before turning hard left into the Bud's Creek sand section. Photo: Dan Alamangos
Injuries are a part of racing, but Aussie Dan Alamangos didn't get hurt racing his bike, instead he fell off his workbench while reaching up to get a part off the top shelf. The result? A broken tib/fib, which had to be rodded. He stayed away from the races when it he was on crutches, but started coming back to hang out with the rest of the MXA guts at the World Vet Championship in November. Now ambulatory, Dan has started to take photos again, because he has two month more before he can race again. These are the photos Dan shot from the seat of his Honda XR100 pit bike.
Much like the Oklahoma Land Rush, the "Saturday at the Glen" track grabbed the Pee-Wee track land (and moved the munchkins to a much larger plot of land at the Stadiumcross track). On Saturday the main track was connected to the Pee-Wee track without any modifications. Luther French leads Pete Murray (66), Larry Laye (195) and Ron Shuler (33). Photo: Dan Alamangos
This is how you get from the canyon on the backside of the ridge to the front side of the track.  Randel Fout (43) is  jumping to the dark dirt on the left side of the hill so he can take the inside rut and pass the lappers in front of him by cutting through the mud that they will go wide to avoid. Photo: Dan Alamangos
This is an overview of the Stadium section of the "Saturday at the Glen" track. The Pee-Wee track, that was absorbed into the Arroyo layout, is in the corner of track (where the road up to the Tower joins the lower pits). The start is actually in the lower pits — just outside of the track fencing. The finish line is just below the scoring tower. Dan is shooting from the top of the Mt. Whitney hill. There is a lot of track behind Dan. Photo: Dan Alamangos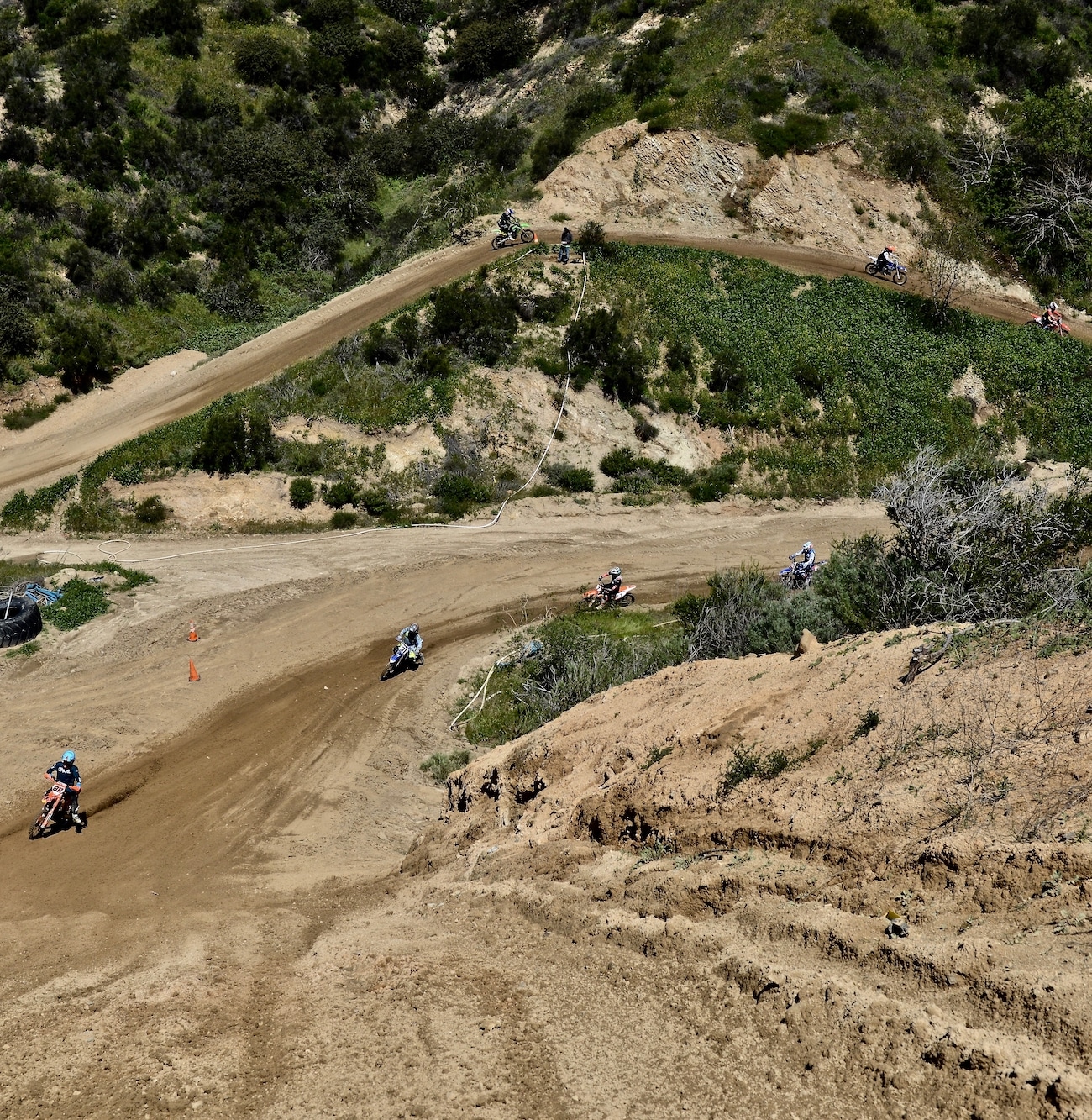 In this photo Dan turned around to look down the backside of Mt. Whitney. This is a part of the track that spectators never see. That is Dave Eropkin (811), followed by Val Tamietti (31) and Will Harper (7) coming up the backside. We think the riders going over the hump in the background are Kent Reed (491) and Mike Monaghan (34). 

Shawn Bushnell (804) didn't take the time on his way to the Over-40 Expert win to notice that Spring is starting to bloom in SoCal. Photo: Dan Alamangos
It's not Glen Helen without a photo of Hollywood actor, "Terminator" stunt man and 125 Pro empressario Pasha Afshar. Photo: Dan Alamangos
2023 "SATURDAY AT THE GLEN" SCHEDULE
""Saturday at the Glen" will not be back in action next Saturday, April 1,  because Glen Helen is being taken over for the Tough Mudder run? And on April 8, most of the Saturday regulars will be at the World Two-stroke Championship race, where Saturday die-hard Pasha Afshar is putting up $17,000 for three select 125 Pro classes. However, "Saturday at the Glen" will return to the Arroyo track on April 15 and April 22. Pre-entry is only $30 ($25 for minis). Post entry is $40 ($30 for minis) on the day of the race. The Gate fee is $10 (per person). You can sign up for the next "Saturday at the Glen" motocross as late as the Friday before the next race (or just show up in person on race day). For more info go to www.glenhelen.com
Jan. 14…Winter Series #1 (Arroyo Vet track)
Jan. 21…Winter Series #2 (Arroyo Vet track)
Feb. 4…Winter Series #3 (Arroyo Vet track)
Feb. 11…Winter Series #4 (Arroyo Vet track)
Feb. 25…Winter Series #5 (National track)
Mar. 18…Spring Series #1 & Pasha 125 Open (National track)
Mar. 25…Spring Series #2 (Arroyo Vet track)
Apr. 8…World Two-Stroke Championship (National track)
Apr. 15…Spring Series #3 (Arroyo Vet track)
Apr. 22…Spring Series #4 (Arroyo Vet track)
May 13…Spring Series #5 (National track)
June 3…Summer Series #1 (Arroyo Vet track)
June 17…Summer Series #2 (Arroyo Vet track)
June 24…Summer Series #3 (Arroyo Vet track)
July 15…Summer Series #4 (Arroyo Vet track)
July 29….Summer Series #5 (National track)
Aug. 19…Fall Series #1 (Arroyo Vet track)
Aug. 26…Fall Series #2 (Arroyo Vet track)
Sept. 16…Fall Series #3 (Arroyo Vet track)
Sept. 23…Fall Series #4 (Arroyo Vet track)
Sept. 30…Fall Series #5 (National track)
Oct. 21…Winter Series #1 (Arroyo Vet track)
Oct. 28…Winter Series #2 (National track)
Nov.3-5…World Vet Championship (National track)
Nov. 18..Winter Series #3 (Arroyo Vet track)
Dec. 9…Winter Series #4 (Arroyo Vet track)
Dec. 16..Winter Series #5 (National track)