"SATURDAY AT THE GLEN" RACE REPORT: JOSH MOSIMAN VERSUS MIKE ALESSI
In the first moto of the Pasha 125 Open two-stroke race Mike Alessi (800) and Josh Mosiman (171) were glued together. Here, Mosiman breaks out of the berm at the Museum turn to try to get under Mike. Alessi won the first moto.
PHOTOS BY DEBBI TAMIETTI & DAN ALAMANGOS
Ever since Mike Alessi quit racing Supercross, the AMA Nationals and miscellaneous series like the Canadian Nationals and the ArenaCross series, he has found a new home racing the newly popular two-stroke races, like the World Two-Stroke Championship, the Washougal Dream Race and the Pasha 125 Open series that is held at regular intervals at Glen Helen and at the World Vet Championship. Hollywood actor Pasha Afshar puts his own money up to attract 125 two-stroke racers to his races. Don't think that Pasha is a race promoter, he isn't. He prefers to piggyback his events on existing races events like Glen Helen's "Saturday and the Glen" races, the World Two-Stroke Championship and the World Vet Championship. These events are happy to have Pasha's 125 Open two-stroke races at their events because he pays big purses, which enhances their races and he doesn't accept any money from the entries. Instead, Pasha hands the riders cash when they cross the finish line.
In the second moto, Mike and Josh moved to the outside of the Museum turn, mainly to stop the other guy from gaining an advantage as the inside line they used in the first moto got powdery.
Pasha's program consists of three classes: (1) 125 Pro; (2) Over-30 125 Pro; and (3) Over-50 125 Pro (at the World Vet Championship he puts all of his purse money into the Over-30 125 Pro and Over-50 125 Pro classes—this year Pasha will pay $13,000 split between the two Vet class). This past weekend's Pasha 125 Open Pro paid $2500 to first place, $1500 for second place and $1000 for third place. The Over-30 and Over-50 125 Pros didn't get paid on Saturday, because they have a big pay day coming up in four weeks that the younger 125 Pros are not old enough to take part in. So those classes used this week's "Saturday at the Glen" race as a chance to iron the bugs out of their 125s before racing for $13,000 on November 5-6.
Mike Alessi has pocketed the most money from Pasha's 125 Open two-stroke races over the years, losing once a couple years ago to MXA's Dennis Stapleton at the World Vet when he got stuck in a muddy rut and, in what was a surprise, Mike got beat by MXA's Josh Mosiman this past weekend at "Saturday at the Glen. There was no muddy miscue on Saturday. Josh stalked Mike all through the first 125 Pro moto, making several passing attempts at the Museum turn and down the big downhill — in the first moto they crossed the finish line nose-to-tail, as they had been for the complete 20-minute moto.
Once Josh Mosiman got to the front in the second moto, he pulled away from Mike Alessi. It was a great race. Photo: Dan Alamangos
Before the second moto, Josh Mosiman said that "he didn't really care about the purse money," that he just wanted to beat Mike Alessi at least once in his career. When the gate dropped for the second moto Mosiman's Pro Circuit-built and Mike "Schnikey" Tomlin-tuned GasGas MC150, got to the Talladega first turn right next to Mike, but Mike isn't that easy to beat to the first turn and he powered past Mosiman as they exited the steep banking. From that moment on, it was a war. Mike Alessi led, but Mosiman closed the gap and they went at it in every corner. Since Josh works at MXA, he rides Glen Helen a couple days a week and was at the Glen two days earlier testing a 2023 Kawasaki KX250 for eight hours (with Dennis Stapleton and Brian Medeiros). Josh knew the track well. Mike used to test at Glen Helen all the time, but moved to Florida a few years ago and only showed up at the this week's Pasha 125 Open race because he had to come to SoCal for the Red Bull Straight Rhythm on October 15 anyway.
Josh Mosiman (171) took the overall win with a 2-1 over Mike Alessi's 1-2.
Josh Mosiman was a little more in tune with the current Glen Helen track layout than Mike and when they went down the sand straight below the REM cliff, Mike went a foot wide at the 180-degree tree turn and Josh broke off the berm early to slice inside of Mike's line. They collided after the apex, not a hard hit, just a nudge, and Mosiman took the lead from Alessi. Mike immediately wicked it up and they spent the next five laps sorting out where they stood against each other.
Josh Mosiman was on his game. He knew from the first moto where Mike's YZ134 was better and where his 45.5 horsepower GasGas MC125 (outfitted with a Mitch Payton ported KTM PowerParts 150 kit) had the advantage. For half of the 20-minute second moto they repeated the nose-to-tail formation flying of the first moto, but this time with Mosiman in the front. Then, Mosiman started to increase his gap, most notably in the places where he had been faster in the first moto and opened up a 2 second gap that Alessi couldn't close—Mosiman gained 2 seconds a lap on the last three laps of the moto and, by the checkers, had an 8 second lead.
Mike (800) and Josh (171) shake hands after what was the an exciting race for the fans.
Did Josh Mosiman really mean it when he said he didn't care about the money, just the win? Yes. How do we know? Josh gave mechanic "Schnikey" $1300 of the $2500 winner's share of Pasha's purse. Making things even better for MXA was that MXA test rider Brian Medeiros went 3-3 in both 125 Pro motos for third place on one of Pasha's KTM 125SXs.
MXA's Brian Medeiros borrowed a KTM 150SX from Pasha Afshar and raced it to third overall in the Pasha 125 Pro race. Brian's third earned him $1000 from Pasha. Photo: Dan Alamangos
What follows are the Debbi Tamietti and Dan Alamangos photos from "Saturday at the Glen's" other races on the National track.
MXA's Dennis Stapleton was second overall in the Vet Expert class with a 2-2 on his GasGas MC450F.
Casey Casper (280) won the Vet Pro class on Saturday, while his dad, Bob Casper, took the Over-65 Expert class win over Val Tamietti and Will Harper.

Pete Murray won the Pasha Over-50 125 Pro class and finished third in the Over-50 Expert class on the same YZ125. A YZ125 specialist, Pete complained that his new bike's suspension felt different from his old one. He was right! The 2021 YZ125 came with 4.2 N/mm fork springs and a 46 N/mm shock spring but in 2022-23, it got 4.3 N/mm fork springs and a 48 N/mm shock spring. Plus, the valving was also made stiffer (front and rear).
Luther French (21) pulled an Eli Tomac in 2022. He switched from KTM to Yamaha and changed his number to the point that people would ask who that "21 guy" was. Luther was second in the Over-50 Expert class behind Arek Kruk, but ahead of Pete Murray.
Rick Ellis (34) was winning the Over-50 Expert class when he tangled with a lapper and crashed on the last lap. His front brake locked-up solid and he tried to push it back to the pits, but the wheel wouldn't spin. He was exhausted by the time Glen Helen's security man, Alan, came by on a quad. They got the front wheel off the ground and walked it back to his truck.
South African Alan Jullien (70) put a scare in Pete Murray when he won the first moto of the Pasha Over-50 125 Open class. Then, Alan Jullien passed Pete early in the second moto and looked like he might repeat. Unfortunately for Alan, he faded in the second moto and ended up with a 1-4 day to Pete's 2-1. Photo: Dan Alamangos
Josh Alexander's 1-1 took the Over-30 Intermediate gold in front of Nick Gomes and Zack Wiley. 
Bob Pocius loves to race, but he also seems to love to help work on the track. He can always be found with a fire hose in his hands watering down any spot that gets dry and dusty.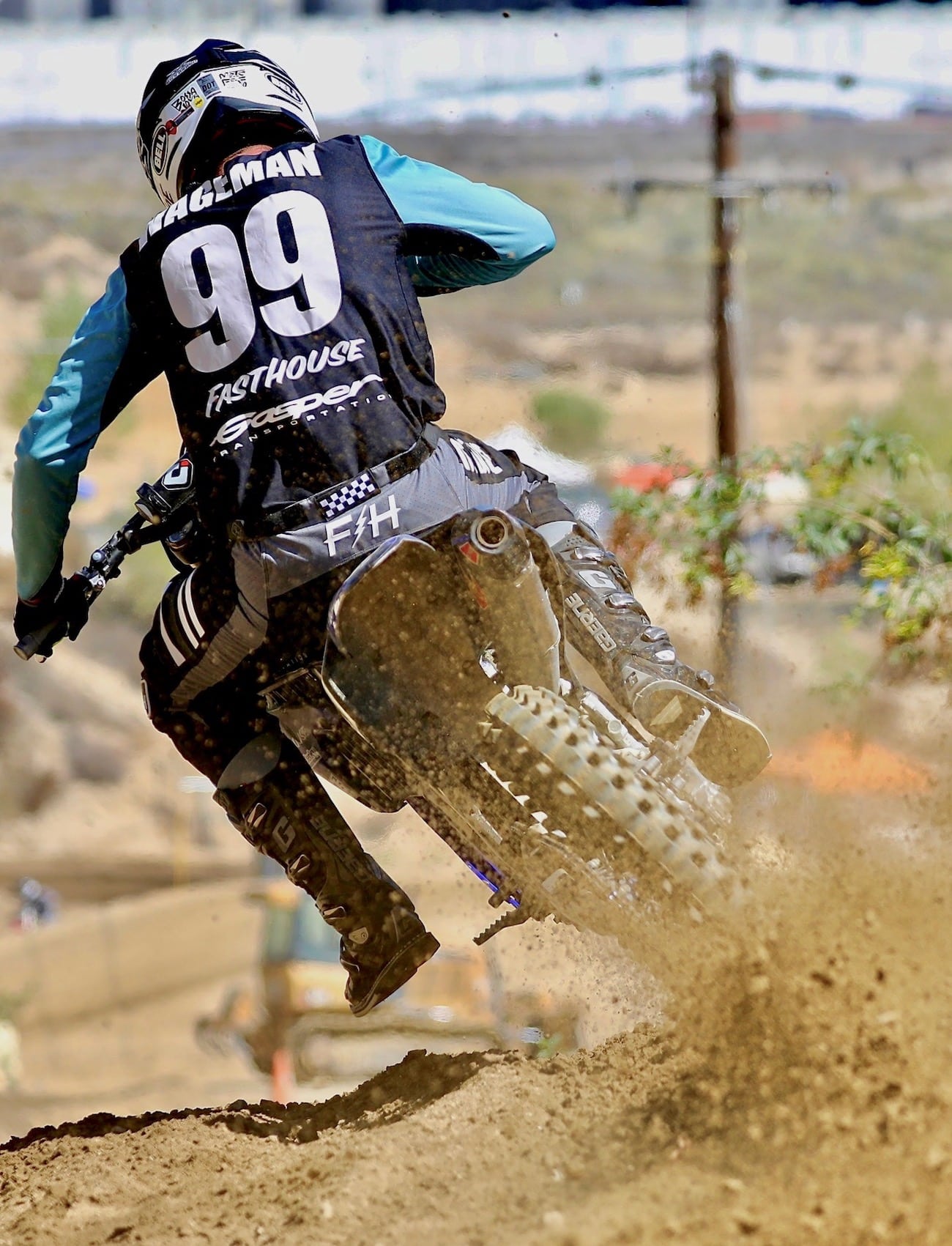 R.J. Wageman (99) took the 450 Expert win with a 2-1, but it wasn't without a little drama.
R.J. Wageman (99) battled hard to the finish line of the first moto, when Todd Sibel (829) passed him mid-race and pulled a gap, but RJ closed in and almost made the pass at the checkers in the first moto.
Bob Casper won the Over-65 Expert class over former CMC Number One rider Val Tamietti (31).
The first turn at Glen Helen is a steeply banked 180-degree corner that riders enter at 70 mph. However, the second corner at Glen Helen is a tight turn with two different berms. If you go to the shorter inside line, the steep hill can be tricky to climb. If you use the outside line you will have no trouble with the steep climb, but you will be going the long way around.
Pete Anagnos (29) put in a 1-2 day to edge out Rick Johnson's 3-1 for the win in the Over-60 Intermediates class.
Chuck Cook (827) went 4-2 in the Over-60 Novices for third overall. 
Casey Cromer (510) uses a lot of body English to keep the front of his Yamaha YZ450F closer to the ground. Casey went 2-2 for second in the Vet Novice class.
Mike Monaghan (34) has had troubles at the last two races with the Power Valve and head gasket on with his Athena-kitted YZ150. This week four-time 250 National Champion Gary Jones worked on Mike's bike and it ran fine. However, Mike missed the start his first moto, so it didn't matter how well it ran.
Bruce Ashmore (111) had a bad day in the Over-60 Intermediates, which meant that he got lapped by the Over-60 Experts. Here, MXA's Randel Fout (83) and Luc DeLey (82) give Bruce a little room as they pass by.
David Cincotta (861) raced his 40-year-0ld Yamaha YZ125 in the Vet class. It looked cool and David rode well, but it was slow.
Cole Gress (19) and Zach Wiley (13) getting hooked up on Glen Helen's unique decomposed granite soil.
Visalia, California's Enzo Temmerman is a Team Green rider who made the move to big bikes this year. He is fast.
Carson Stevenson (133) won the unlikely combination of the Pee-Wee class and the 65 class.
Ryder Hoerr (243) went 2-2 in the 85 class and 1-1 in the 125 Beginners.
Josh Grant has a little chat with sons Wyatt and Easton.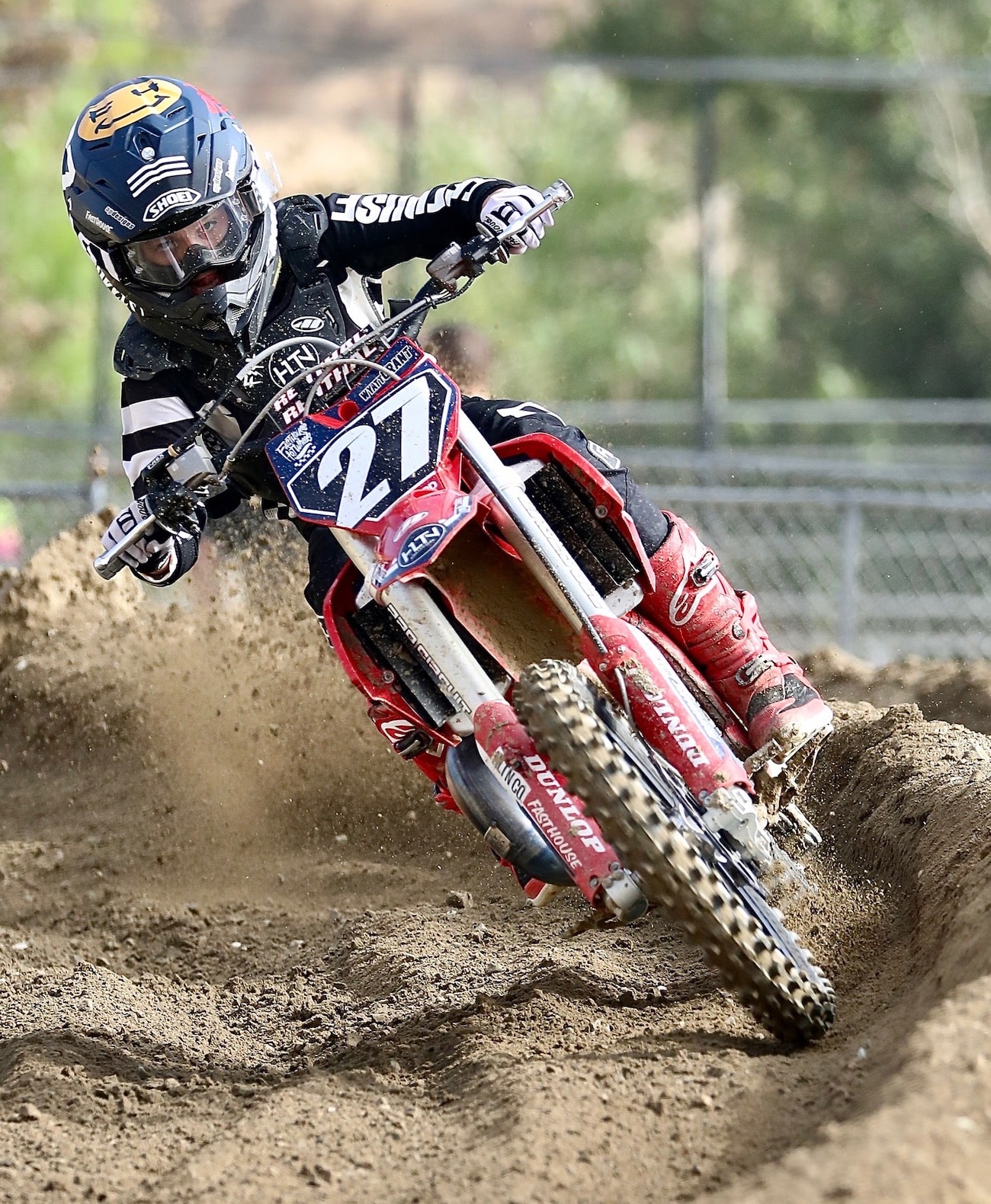 Wyatt Grant (27) puts dad's words into action.  Wyatt went 1-2 for the victory in the 85cc class.
THIS WEEK'S SELECTED WINNERS
Brian Medeiros, Josh Mosiman and Mike Alessi. Photo: Dan Alamangos.
PASHA 125 PRO CLASS
1. Josh Mosiman (Gas)…2-1
2. Mike Alessi (Yam)…1-2
3. Brian Medeiros (KTM)…3-3
PASHA 125 OVER-50 CLASS
1. Pete Murray (Yam)…2-1
2. Nick Mairose (KTM)…3-2
3. Alan Jullien (Yam)…1-4
OVER-30 EXPERT CLASS
1. Casey Casper (Kaw)…1-1
2. Dennis Stapleton (Gas)…2-2
3. Nick Neys (Kaw)…3-3
OVER-30 INTERMEDIATE
1. Josh Alexander (Hus)…1-1
2. Nick Gomes (Hon)…2-2
3. Zack Wiley (Hus)…3-3
OVER-30 NOVICE CLASS
1. Kenny Rawson (Yam)…1-1
2. Casey Cromer (Yam)…2-2
3. Travis Pease (Yam)…3-3
OVER-40 EXPERT CLASS (686)
1. Kris Rourke (Hon)…1-1
2. Brett Daugherty (Kaw)…2-3
3. Ed Foedish (KTM)…5-2
OVER-40 INTERMEDIATE CLASS
1. Adam Morrow (Suz)…1-1
2. Mark Clements (KTM)…2-2
3. Cole Gress (KTM)…3-3
OVER-40 NOVICE CLASS
1. Chad Tewksbury (Yam)…2-1
2. Casey Musick (Hon)…3-3
3. Lamont Duseau (Yam)…4-4
OVER-50 EXPERT CLASS
1. Arek Kruk (KTM)…1-2
2. Luther French (Yam)…3-1
3. Pete Murray (Yam)…4-3
OVER-50 INTERMEDIATE CLASS
1. David Alexander (Hus)…1-2
2. Rick Flores (Yam)…3-1
3. Brad Toms (Hus)…2-3
OVER-50 NOVICE CLASS
1. Bryan Roberts (Hus)…2-1
2. Juan Ordonez (Kaw)…1-3
3. Scott Murphy (KTM)…3-2
OVER-60 EXPERT CLASS
1. Ed Guajardo (Yam)…1-1
2. Doug Frankos (Hon)…3-2
3. Robert Reisinger (Hus)…2-3
OVER-60 INTERMEDIATE CLASS
1. Pete Anagnos (Hus)…1-2
2. Rick Johnson (Hus)…3-1
3. Steve Piattoni (Kaw)…2-3
OVER-60 NOVICE CLASS
1. Chuck Peterson (Hon)…1-1
2. Raul Puig (Hon)…2-3
3. Chuck Cook (Hus)..4-2
OVER-65 EXPERT CLASS
1. Bob Casper (Hon)…1-1
2. Val Tamietti (Yam)…2-2
2. Will Harper (Hus)…3-3
OVER-65 INTERMEDIATE CLASS
1. Robert Hueth (Hus)…1-2
2. Phil Cruz (Hus)…3-1
3. Terry Messer (KTM)…2-3
OVER-65 NOVICE CLASS
1. Malcolm Goldsby (Hus)…1-1
2. Rich Stuelke (Hus)…3-2
3. Mark Moore (Hus)…2-3
125 NOVICE CLASS
1. Mason Hibner (KTM)…1-1
2. Cole Lieberman (KTM)…2-2
3. Payne Traison (Hus)…4-3
250 NOVICE CLASS
1. Justin Giordano (Yam)…1-1
2. Fernando Brambila (KTM)…3-2
3. Zico Gonzalez (Kaw)…4-3
450 NOVICE CLASS
1. Jovanny Ramirez (Gas)…2-1
2. Matt Lieberman (Hon)…3-4
3. Will Dutton (Kaw)…5-3
PEE-WEE 4-6 CLASS
1. Carson Stevenson (Hus)…1-1
2. Dillon Chipmann (KTM)…2-2
3. Daxson Whiteside (KTM)…3-3
PEE-WEE 7-8 CLASS
1. Bryson Rowney (Hus)…1-1
2. Dakota Ramos (Cob)…2-2
3. Brayden Hoyle (KTM)…3-3
PEE-WEE PW50 CLASS
1. Benjamin Bojorque (Yam)…1-1
2. Connor Berglin (Yam)…3-2
3. Jagger Sass (Yam)…2-3
65 BEGINNER CLASS
1. Carson Stevenson (Hus)…2-1
2. Josh Tamayo (Yam)…1-2
3. Logan Wong (Yam)…3-4
65 CLASS
1. Seth Kemnitz (Hus) …1-1
2. Ryan McCay (KTM)…3-2
3. Tanner Morris (Yam)…5-3
"Saturday at the Glen" motocross will race again on October 15, October 22 and October 29 (on Oct.29 "Saturday at the Glen" will run the exact track that will be used for the World Vet Championship a week later. Pre-entry is only $30 ($25 for minis). Post entry is $40 ($30 for minis) on the day of the race. The Gate fee is $10 (per person). You can sign up for the next "Saturday at the Glen" motocross as late as the Friday before the next race. For more info go to www.glenhelen.com
"SATURDAY AT THE GLEN" ON OCTOBER 15


"SATURDAY AT THE GLEN" ON OCTOBER 22
"SATURDAY AT THE GLEN" WORLD VET WARM-UP RACE ON OCTOBER 29