BANNED BY THE AMA: THE ONE & ONLY SUMMER OF THE TITANIUM HUSKY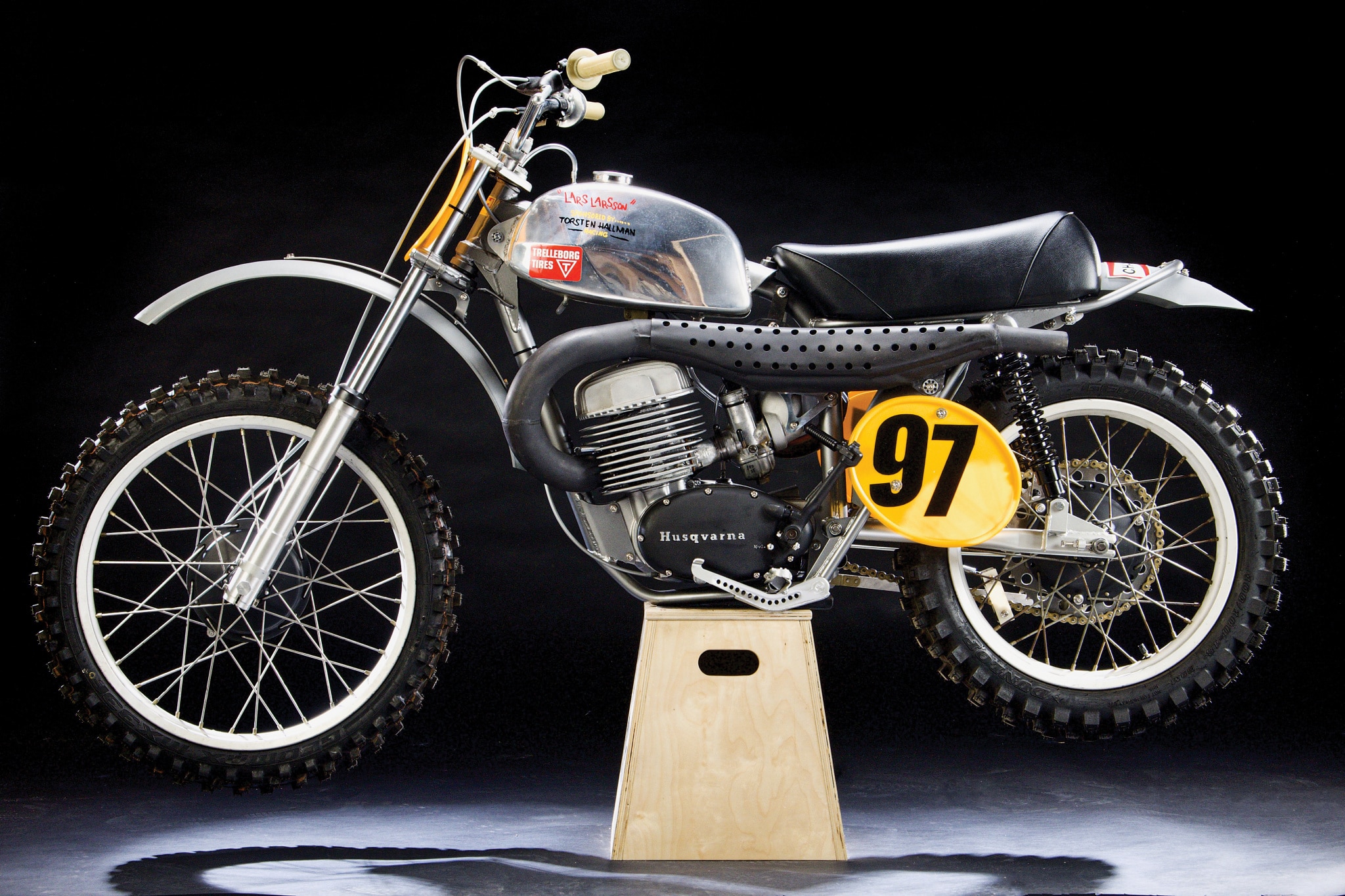 "When I first came to America," says Lars Larsson, "the people had never seen a motocross race or an actual motocross bike. My job for Edison Dye was to go around to motorcycle dealers to show them what a Husqvarna could do. Then, I would race at their local scrambles, dirt tracks or enduros and win to help sell Huskys. I only had a one-year contract with Husqvarna, but during that year I realized that the American riders didn't have any motocross equipment. They didn't have boots. They didn't have leathers. They didn't have gloves. I told Torsten Hallman, 'Hey, we should sell stuff over here.' We opened the doors to Torsten Hallman Offroad Racing (THOR) in August of 1968, and, in my mind, I thought, 'We can't make a living selling motocross pants, boots and gloves. Who could do that?'" That was the start of some fantastic years.
Back in early 1971, Hallman Racing in San Diego, which was owned by Torsten Hallman, Lars Larsson and Burgitta Berlin, was approached by a Los Angeles company that made titanium tubing. The Ti company had connections to a big Husqvarna dealership in Los Angeles named Valerians Cycle. Valerians had suggested that the Ti tubing company take the idea for a titanium frame to Hallman Racing. Along with pitching the virtues of titanium tubing, they also had lined up a dirt track frame company, named ProFab, which was owned by Pete Wilkins, who would make the frame for Hallman Racing. 
AFTER THE AMA BANNED TITANIUM FRAMES, HALLMAN'S TITANIUM HUSQVARNA FRAMES COULD NOT BE RACED IN THE USA. LUCKILY, THE  TITANIUM FRAMES WERE IN BIG DEMAND ON THE GRAND PRIX CIRCUIT; HALLMAN RACING SOLD THEM TO THE FACTORY HUSQVARNA TEAM AND GP PRIVATEERS.
Lars Larsson flying the titanium Husky 400 to victory in the 1971 Inter-Am 500 Support class.
In fact, Hallman Racing embraced titanium so thoroughly that they also ordered titanium handlebars, fork crowns and axles to sell. And even though Lars Larsson's Ti Husky was the only frame made for the 1971 Husqvarna 400cc "egg engine," so named because of the shape of the engine classes, Hallman Racing immediately made plans to build a batch of titanium frames to fit the latest Husqvarna engines. 
The original Ti frame was raced by Lars Larsson in Edison Dye's 1971 Inter-Am 500 Support class. The 1971 Inter-Am series started at Indian Dunes on June 27, 1971, and Lars won, but after the first moto it was discovered the bracket holding the silencer was broken off. This was "fixed" between motos by a leather strap. The next week ProFab went back to the drawing board to design a new "curved" bracket. Amazingly, this was the only problem that Lars had with the one-off frame. The second Inter-Am race was held on July 4 at the Coal Creek track near Boulder, Colorado, and Lars won that race, too. By the end of the six-race series, Lars had won four of the six races (Indian Dunes, Coal Creek, Orlando and Houston). Lars only lost in the mud bog race at Honda Hills and was beaten by Ake Jonsson's younger brother Tore at Unadilla.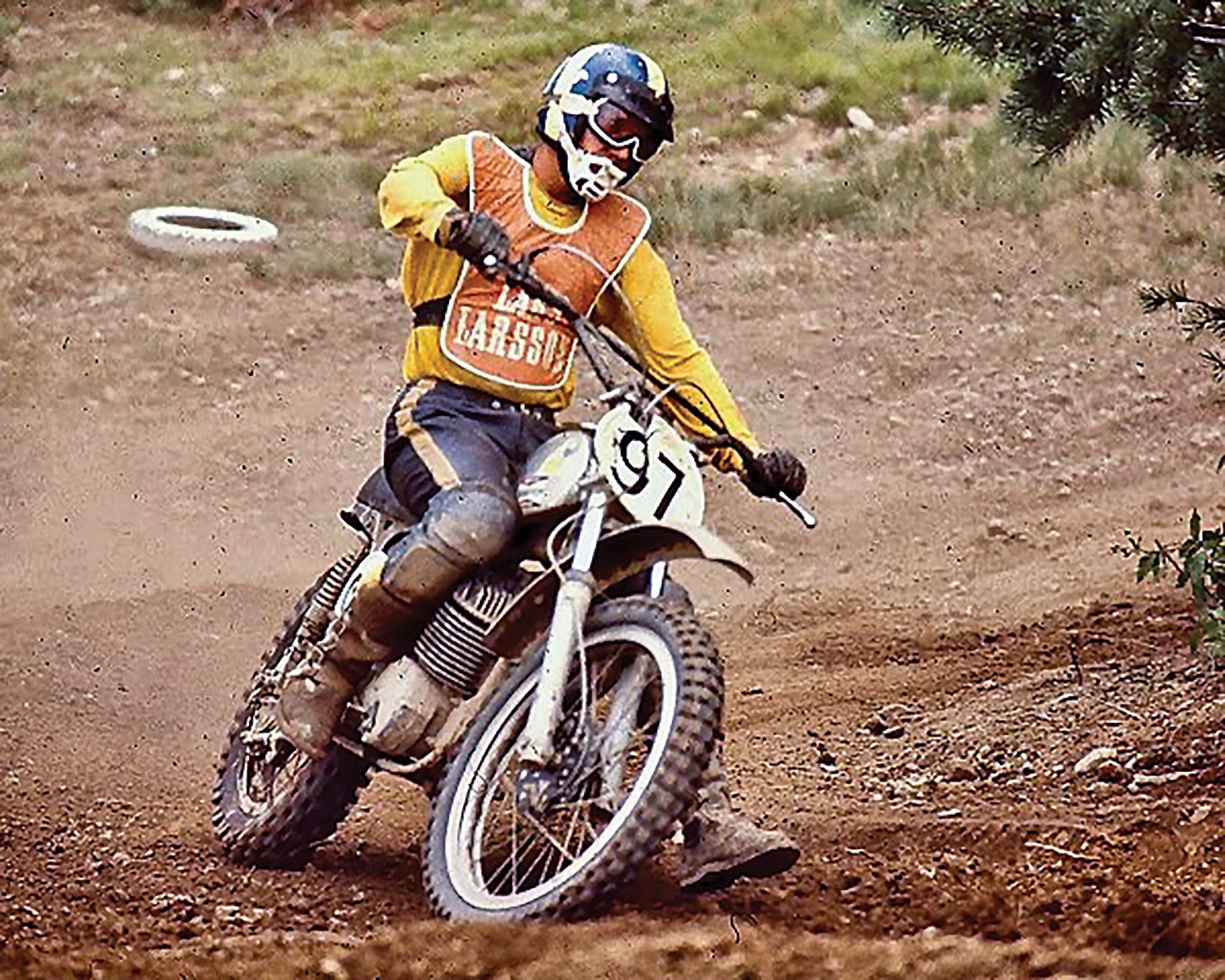 Lars at the 1971 Unadilla Inter-Am.
LOOKING BACK AT THE INTER-AM IN BITTERNESS
Lars still looks back at the 1971 Inter-Am with great fondness but with a little bit of bitterness also. Lars said, "The summer with the titanium bike was something else. The stock Husqvarna weighed 230 pounds, while the Ti bike weighed 189 pounds. It was so light. You took the start and never looked back. You were gone! It was a fantastic bike to ride."
Unfortunately, Lars was too successful on the Ti Husky. The AMA decided that it was an unfair advantage. Even though Torsten Hallman Racing was geared up to sell titanium frames to the public, the AMA outlawed it. After the AMA banned titanium frames, Hallman's titanium Husqvarna frames could not be raced in the USA. Luckily, the titanium frames were in big demand on the Grand Prix circuit; Hallman Racing sold them to the factory Husqvarna team and GP privateers because the FIM had not outlawed titanium. Though legal for AMA racing when it was made, Lars Larsson's Ti frame was disallowed for the 1972 season. When Lars asked why his titanium bike was deemed illegal, the AMA cited fear that titanium would escalate the cost of racing and that titanium was too "brittle" for a race bike, which was patently untrue. 
Lars believes that the AMA officials stood in the way of innovation. He says, "If they had kept out of it, all the other companies would have gone to titanium to remain competitive, and everyone in the sport would have been winners. No matter what your dirt bike weighs now, it would be about 15 pounds lighter and somewhat stronger if the AMA had not made the shortsighted move to ban titanium. These actions are always taken under the guise of trying to do the impossible—keep down the cost of racing. But, if the innovators are not allowed to do something as simple as switch to a lighter, more resilient frame material, which would have benefited all of us, they'll just do sneaky things that benefit no one but their race team and, in the end, raise the cost of racing even more."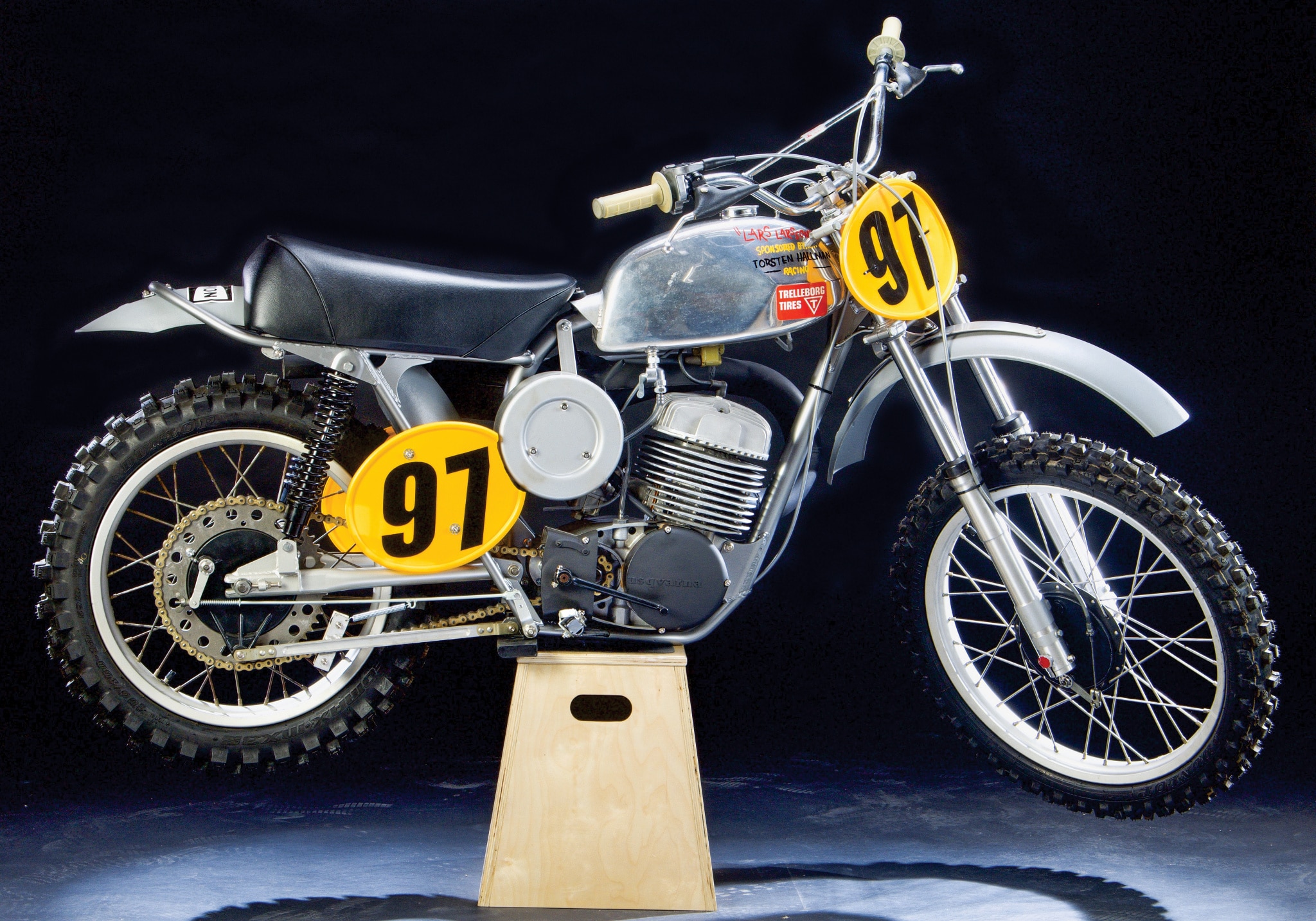 Lars had regrets about selling the Ti Husky to a museum owner and decided many years later to build as close of a replica as possible.
In many ways the story of the titanium Husky should have ended there, but it didn't. After the Inter-Am ended, Lars switched to a 250 Husqvarna to race the 250 Support class at the 500cc 1971 Trans-AMA series. The fabled 400cc egg engine was pulled out of the titanium frame and put in the back of the transporter. Unfortunately, the team transporter was involved in a traffic accident and rolled over on the freeway, where it burst into flames, destroying everything, including Lars' egg engine.
"IF THEY HAD KEPT OUT OF IT, ALL THE OTHER COMPANIES WOULD HAVE GONE TO TITANIUM TO REMAIN COMPETITIVE, AND EVERYONE IN THE SPORT WOULD HAVE BEEN WINNERS. "
This is Lars' Ti Husky in the "Motocross America" traveling exhibit back in 2008. The only problem is that Lars didn't run a Hooker Header and that isn't a 400 engine (it's a 250), but that is his titanium frame.
Then, 30 years later, in 2005, the AMA Hall of Fame asked Lars if they could display his 1971 titanium Husky 400 in the "Motocross America" exhibit. Lars said they could, but that there was an old-style 250 engine in the frame because 400cc egg engines were impossible to find. Later Lars got an offer from a museum owner to buy the 1971 Ti Husqvarna from him. Since his original 400cc engine no longer existed and the offer was very good, Lars sold the Ti Husky. Of course, as with all motorcycle sales, he had seller's remorse and decided 15 years later to track down as many 1971 parts as possible and build a replica of his Ti Husky. Here is a brief synopsis of how Lars built the bike you see on these pages.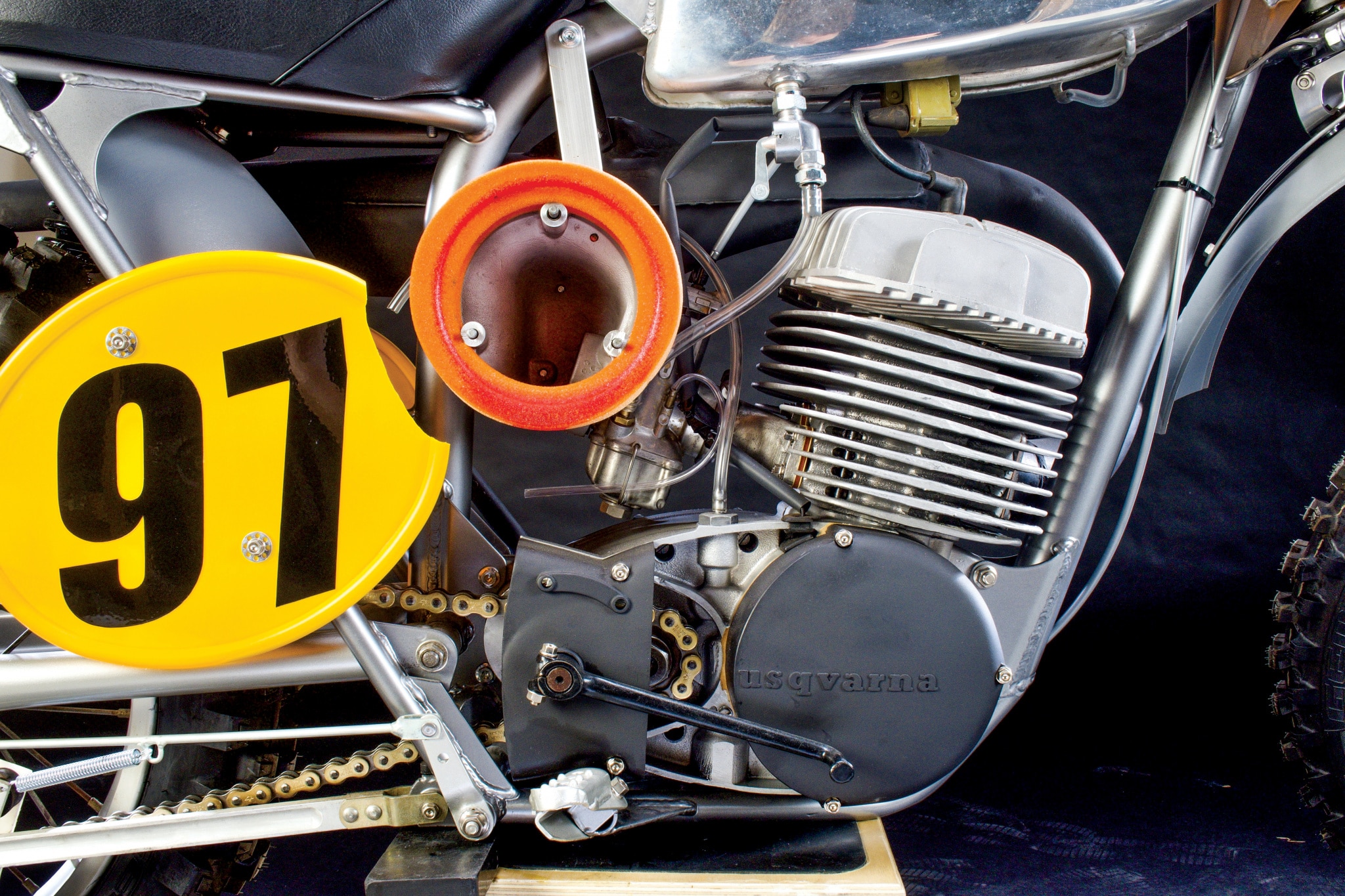 (1) Frame. When it came time to build a replica of his 1971 titanium frame, Lars could not find anyone who could manufacture a 1971 Husky frame out of titanium. Disappointed but not deterred, Lars got a 1971 Husqvarna chromoly frame and did all the 1971 mods to it. As a finishing touch, he had it painted to look like titanium.

(2) Egg engine. Lars searched long and hard to find another 400cc "egg engine," and once he found one, he had it completely rebuilt. Can you see what it's called the "egg engine."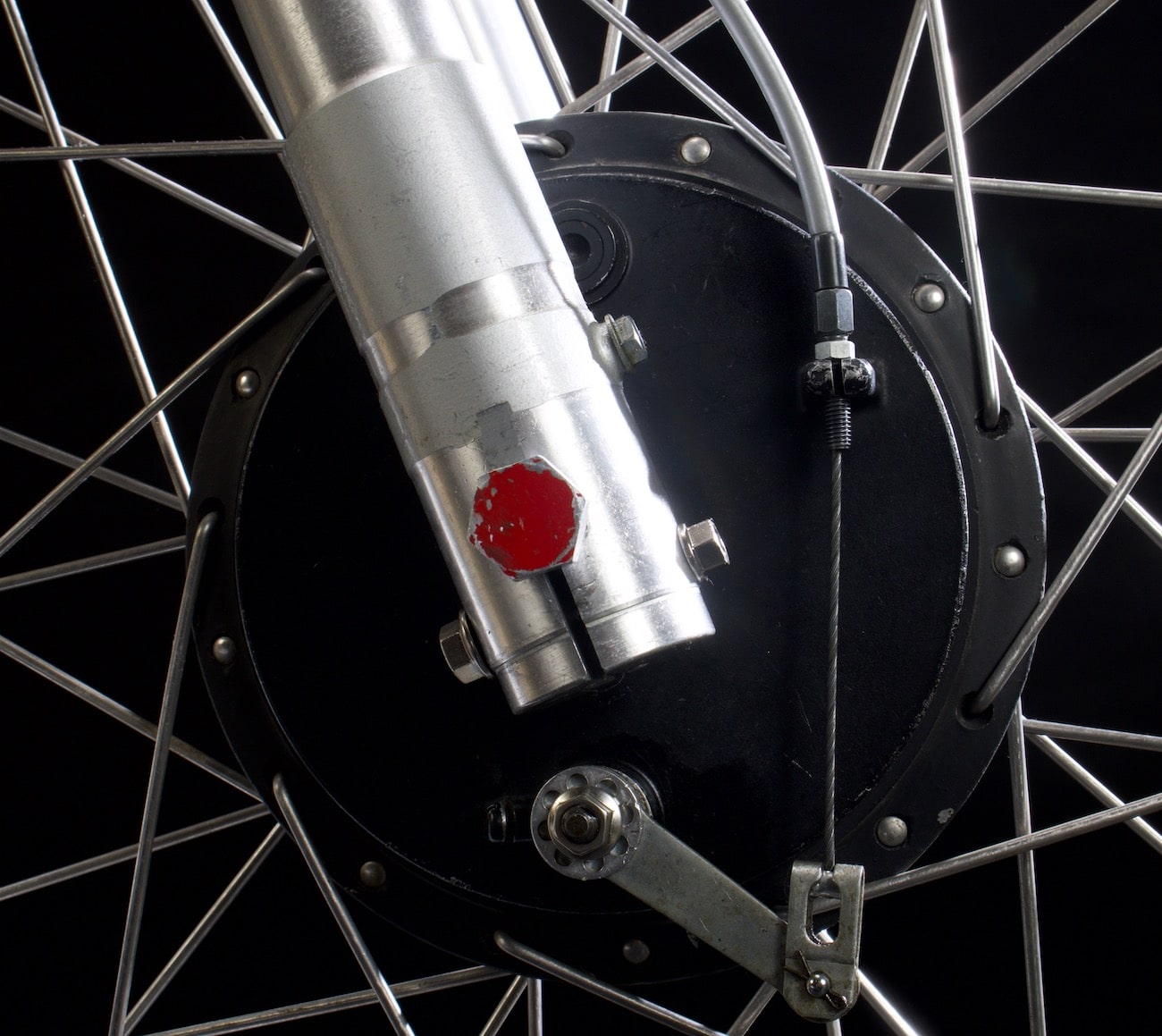 The CNC-machined fork sliders and the red silicone keeping dirt out of the hollow titanium front axle.
(3) Forks. While in Sweden, Lars tracked down a brand-new set of 1971 Husqvarna forks. He sent them to Swedish suspension guru Steve Tell, a former Swedish Enduro Champion and multi-time ISDT gold medalist. Most notably, the fork sliders were turned down on a lathe to save weight.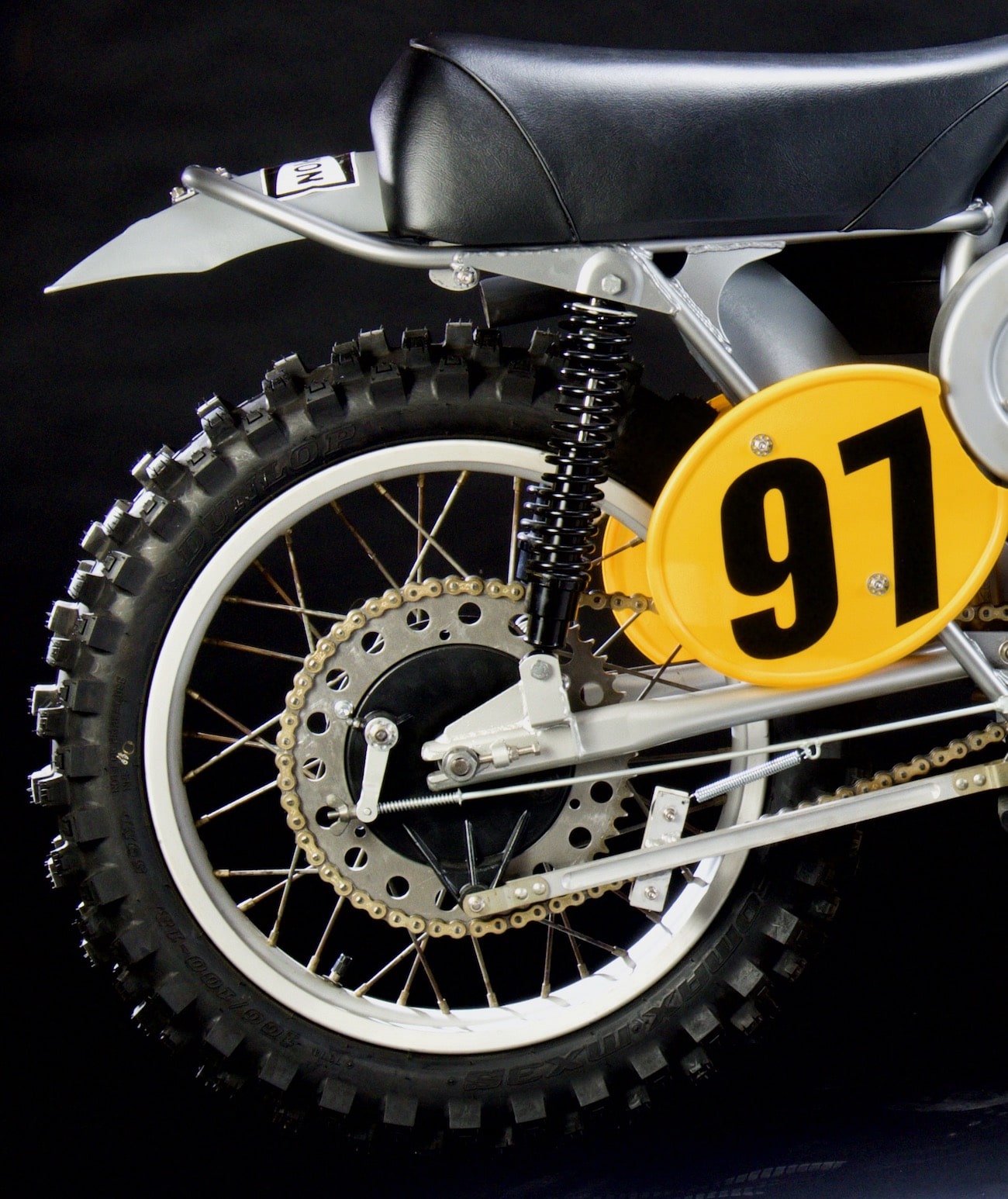 (4) Shocks. New Girling rear shocks were installed.
(5) Sun rims. These were the wheels Lars used at the 1971 L.A. Coliseum. There are no rim locks; instead, sharp pins on the inside edge of the rim are used to keep the tires from spinning. The rear rims are marked with black lines to indicate where the pins are located to keep them from being damaged during tire changes.
(6) Axles. The front axle is titanium with aluminum nuts, but the rear axle is the standard Husqvarna part. The hollow axle shafts are filled with silicone seal to keep dirt out.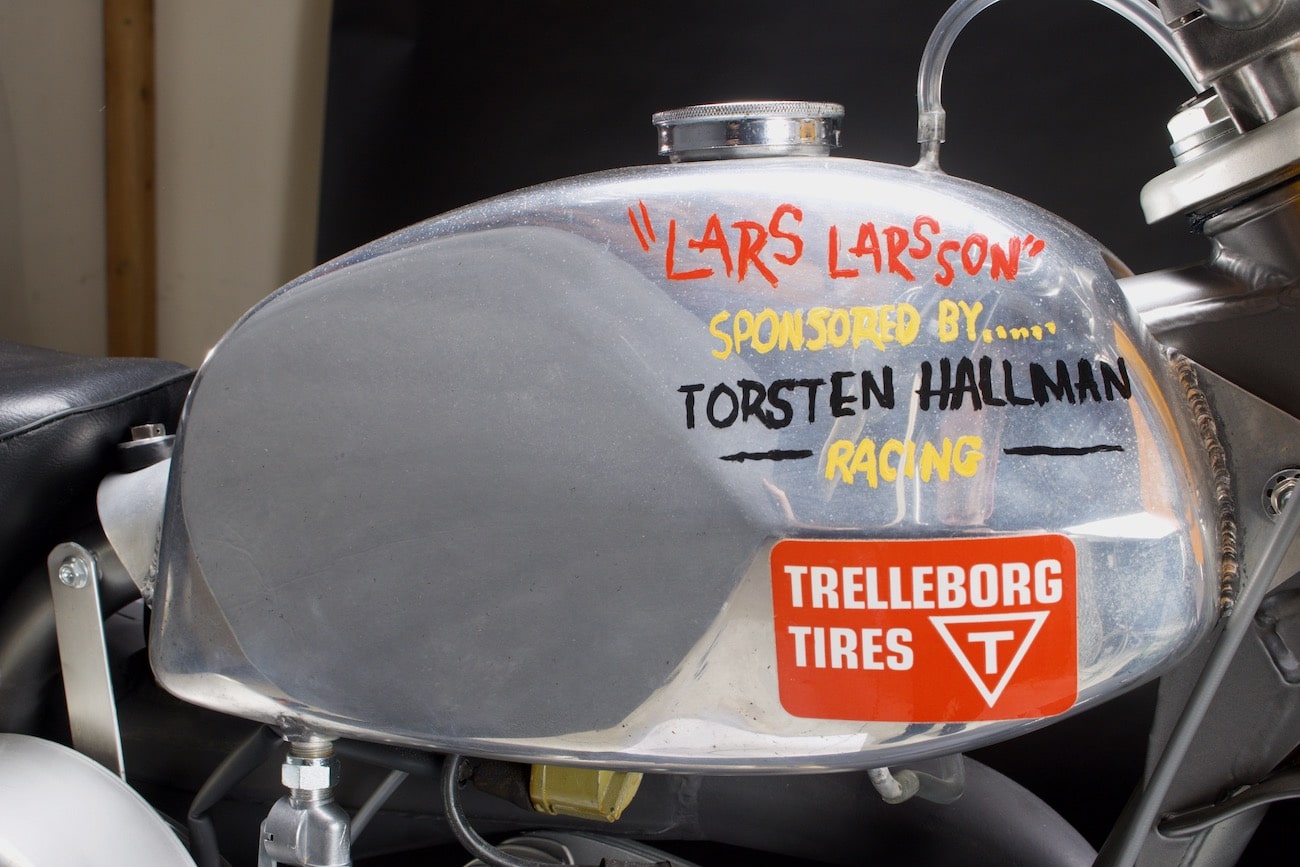 (7) Gas tank. Believe it or not, the aluminum gas tank had been made by Hallman Racing back in 1971. Lars cleaned it up and had artist Jon Ortner duplicate the original 1971 lettering on both sides of the tank.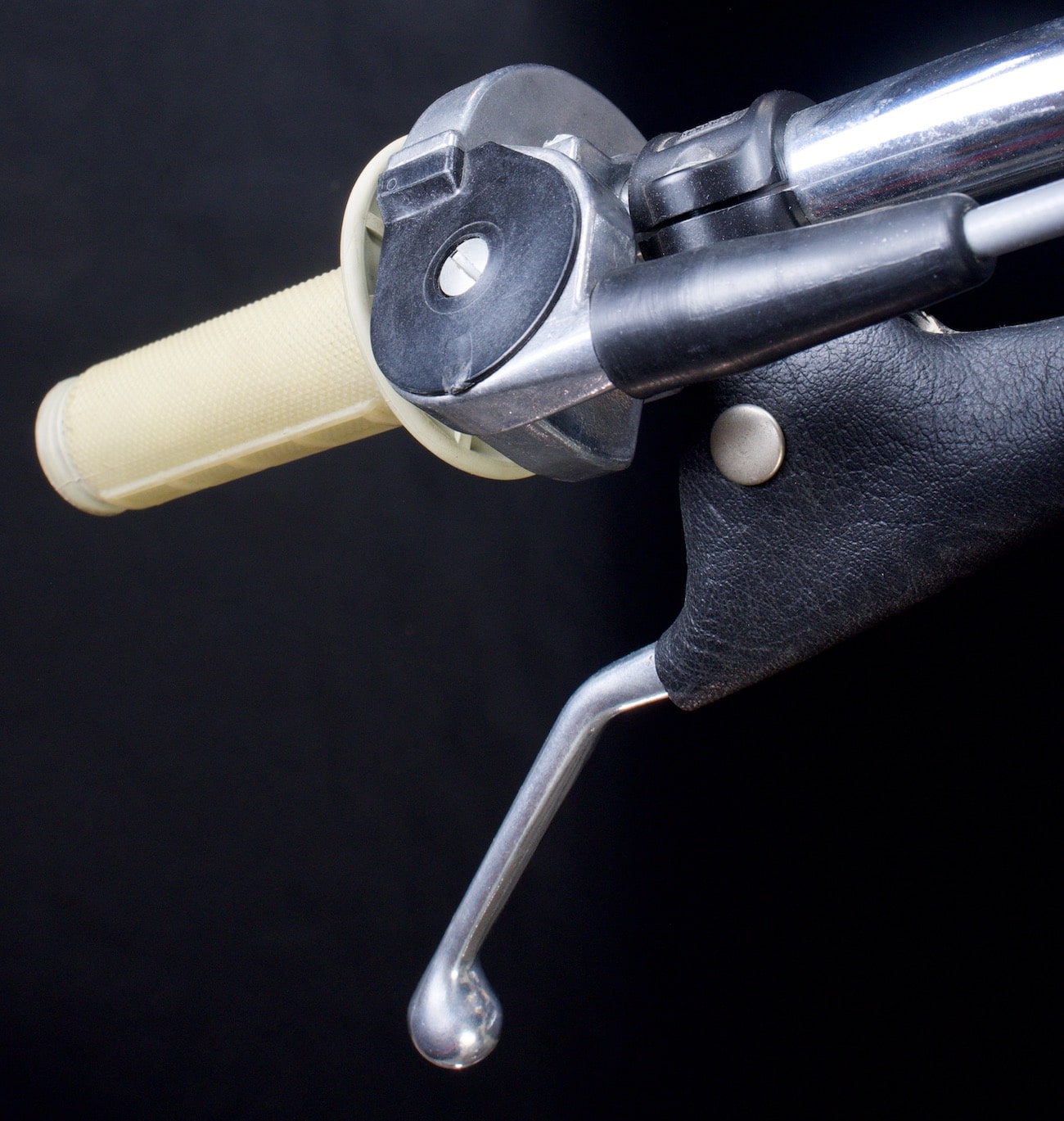 The Gunnar Gasser.
(8) Handlebars. The bars are from Hallman Racing. Back in the day, Hallman Racing sold a line of signature handlebars in Torsten Hallman, Bengt Aberg, Arne Kring, Ake Jonsson, Lars Larsson and Roger DeCoster bends. The levers are old-school Maguras. The throttle is a Gunnar Gasser, and the brake and clutch cables are from Hallman Racing.
This what footpegs looked like back in 1971.
The rear sprocket on Lars 400 Husky was held on by only three bolts.
(9) Miscellaneous. All bolts and nuts, except upper and lower fork crown and rear shock bolts, are from Spec Bolt (including pre-drilled washers). All the plastic, including the seat base, was NOS (new old stock) by A&A Manufacturing. The rear brake pedal is drilled out to save weight. The footpegs are early 1970s pegs with spot-welded teeth. The rear brake backing plate uses a Hallman Racing aluminum brake stay. The rear sprocket is a factory part and only uses three bolts to save weight. The airbox is held on by a Hallman Racing aluminum air box bracket. The airbox cover is a stock 1971 part because Lars couldn't find a plastic A&A cover. The front fender bracket is another Hallman Racing part.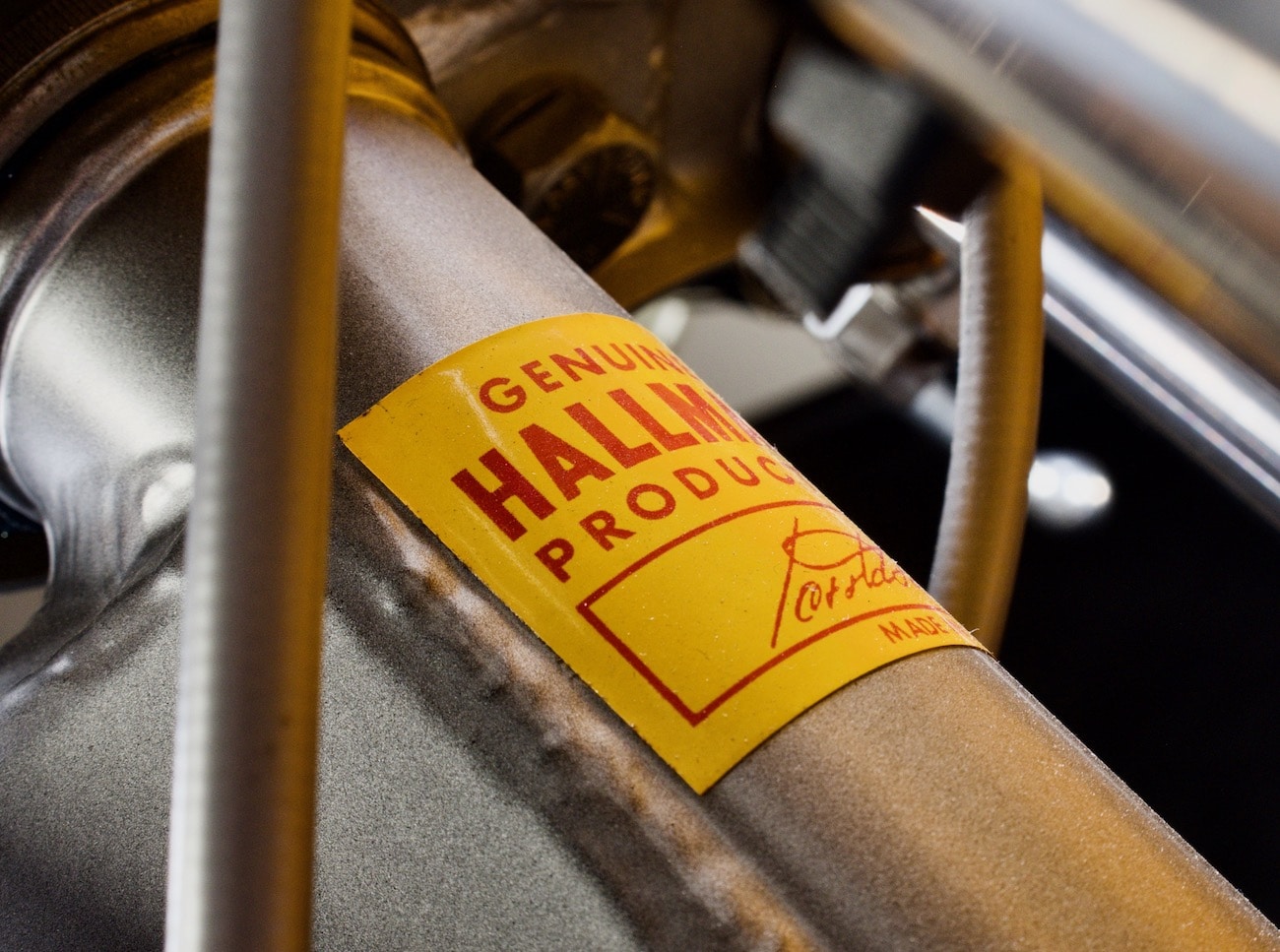 An original Hallman Products sticker from 1971.
Lars Larsson as a young Grand Prix racer with his 1966 Husqvarna.
Lars Larsson winning the Over-80 class at the 2021 World Vet Championship. He did it with a last lap pass on the Mt. Saint Helen downhill. He's on a Husqvarna, of course. Lars now has won World Vet Championships in the Over-60, Over-70 and Over-80 classes.

Lars Larson can always say that he was the first and last rider to win motocross races on one the rarest bike in the history of American motocross—400cc Husqvarna with a frame made of titanium. Lars is still racing at the age of 81. He has never quit and in his golden years he has managed to win the World Vet Championship in the Over-60, Over-70 (twice) and Over-80 Expert classes.