2017 AMSOIL ARENACROSS CHAMPIONSHIP TEAMS & RIDERS
Click on images to enlarge

The 2017 Amsoil Arenacross series consists of 14-rounds in the battle for the Ricky Carmichael Cup. The opening round of the championship will be on Saturday, January 7, inside Cincinnati's U.S. Bank Arena.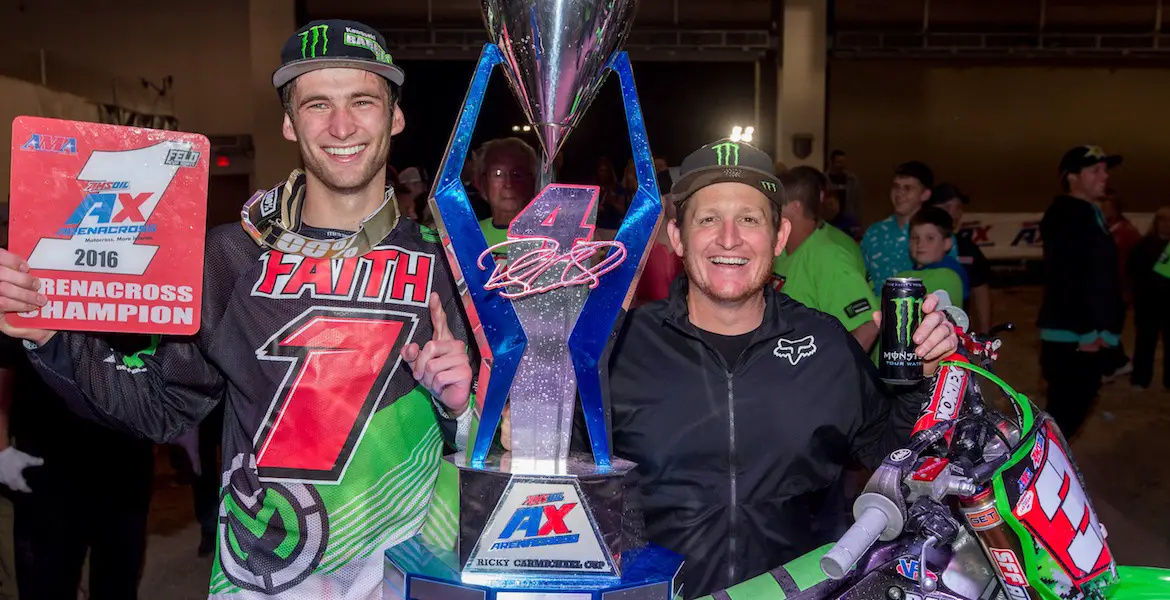 2016 Arenacross Champion Gavin faith and Ricky Carmichael. Photo: ShiftOne
Here is a list the riders and team vying for the 2017 crown.
TEAM BABBITT'S/MONSTER/AMSOIL KAWASAKI,
Gavin Faith
Jacob Hayes
Travis Sewell
TEAM ROCKSTAR/OTSFF/YAMAHA
Chris Blose
Matt Goerke
TILUBE/JACK LINK'S/ TUF RACING
Jace Owen
Ben Lamay
Dillon Cloyed
WOODSTOCK KTM
Daniel Herrlein
Cody Vanbuskirk
TEAM BABBITT'S FACTORY SUZUKI
Cory Green
CUSTOM POWERSPORTS/SPINECHILLERS/TILUBE
Steven Mages
Mike McDade
Jake McKinney
Ben Nelko
TEAM BABBITT'S/GPF/MONSTER KAWASAKI
Ryan Breece
Cody Williams
Jacob Williamson
TOM ZONT RACING/SPORTLAND 2 KAWASAKI
Josh Osby
Scott Zont
DRIVEN MX KTM
Chance Blackburn
Andy Daggett
Jared Lesher
Vincent Murphy
Jeramy Taylor
TEAM FAITH/FLY/OHLINS/PIRELLI/KTM
Dawson Newby
Dylan Rouse
TEAM DIRTBIKE MIKE
Jordan Giambelluca
Hunter Hilton
Dylan Parun
Jeremy Wahlstrom
MOTOSPORT HILLSBORO
Gared Steinke
FINAL STANDINGS: 2016 AMA ARENACROSS CHAMPIONSHIP
1. Gavin Faith…220
2, Chris Blose…215
3. Jacon Hayes…192
4. Travis Sewell…176
5. Jace Owne…172
6. Ben Lamay…169
7. Kyle Regal…143
8. Gared Steinke…126
9. Cody Vanbuskirk…58
10. Daniel Herrlein…11
RIDERS WHO EARNED ENOUGH 2016 RICKY CARMICHAEL"ROAD TO SUPERCROSS" POINTS TO RACE 250 EAST/WEST
On the line and ready to race. Photo: ShiftOne

To Qualify through the "Road to Supercross" program must earn 3 points in a minimum of 2 cities (1 point for making a main event and 1 point for finishing in the top ten). Some of the listed riders already have their AMA Supercross licenses.
Jon Ames
Chris Blose
Benny Bloss
Ryan Breece
Chris Canning
Sean Cantrell
Joey Crown
Gavin Faith
Austin Forkner
Carlen Gardner
Cory Green
Jacob Hayes
Chris Howell
Ben Lamay
Jared Lesher
D.J. Macfarlane
Steve Mages
Marcus Nilsen
Jace Owen
Connor Pearson
Austin Politelli
Kyle Regal
Steve Roman
Dylan Rouse
Travis Sewell
Chase Sexton
Gared Steinke
Keith Tucker
Scott Zont