FIRST LOOK! 2020 SUZUKI DR650S, DR-Z125 & DR-Z50
2020 SUZUKI OFF-ROAD TRAIL BIKE MODELS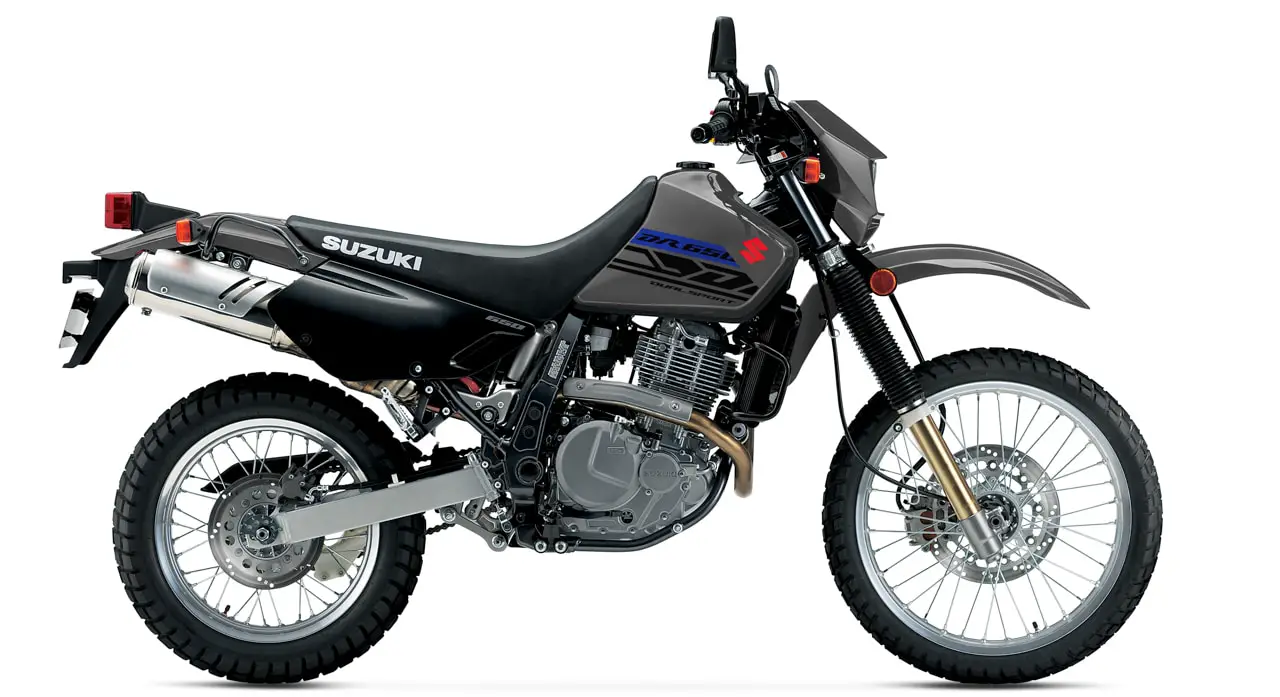 2020 Suzuki DR650S.
SUZUKI DR650S
The Suzuki DR650S is quite possibly the best all-around, dual-purpose motorcycle available today. Every DR650S is quality built by Suzuki and features a reliable, 644cc, oil-cooled, four-stroke, single engine carried in a strong steel, semi-double cradle frame. the telescopic fork and link-style rear suspension can tackle tough trails or urban roads. So a variety of riders can enjoy this motorcycle, the seat height can be significantly reduced. Strong aluminum, spoke-style rims carrying tires that can handle the street or dirt are fitted so riders can tackle pavement or trails with ease. with new solid iron gray bodywork complete with distinctive red, blue and black graphics, the DR650S looks good when ridden on any surface.
Ready to cruise around town, up the highway, or down your favorite trail

Robust, 644cc, air- and oil-cooled, 4-stroke thumper

Smooth-shifting transmission with easy-pull clutch

Convenient push-button electric starter

Optional adjustable seat height
SUZUKI DR-Z125
2020 Suzuki DR-Z125.
Here comes the DR-Z125L to make sure young and smaller stature riders can tackle the dirt. Larger 19-inch front and 16-inch rear tires, as well as a front disc brake, deliver big bike performance to a size-appropriate motorcycle. Styled to mirror Suzuki's championship-winning RM-Z and RMX models,

This DR-Z promotes a more race-oriented look, while the sharp handling and strong low-end and mid-range power provide the get-up-and-go that defines off-road bikes. The looks are a testament that you can't judge a book by its cover, because the DR-Z125L is an unassuming package packed with loads of fun.
DR-Z125 HIGHLIGHTS
Compact and reliable, 124cc, 4-stroke, single cylinder engine

Smooth-shifting transmission with easy-pull clutch

Strong steel frame and beam-style swingarm

Telescopic forks and link-type rear suspension

Champion-approved RM-Z styling with new graphics
SUZUKI DR-Z50
2020 Suzuki DR-Z50. 
The 2019 Suzuki DR-Z50 is the ideal way to introduce young beginning riders to the sport of motorcycling. This compact, Suzuki-built mini-bike brings ease and convenience to riders just getting started on two wheels. With an automatic clutch, three-speed transmission, electric starting, and a low 22-inch seat height, this race-styled bike will help build confidence and riding ability for young supervised riders. The 49cc engine delivers a smooth, controllable power band, and adult supervisors can adjust its power level so young riders can learn at a proper pace. This motorcycle can be in the family for years, thanks to its rugged construction and sturdy 10-inch wheels; the Suzuki DR-Z50 combines a reliable engine with quality running gear that's built to last. The 2019 DR-Z50 is the ideal way to get your whole family involved in motorcycling!
DR-Z50 HIGHLIGHTS
Reliable and easy-to-control, 49cc, 4-stroke engine

Smooth-shifting 3-speed transmission with automatic clutch

Push-button electric starting with back-up kickstarter

Keyed ignition and power limiter for parental control

Champion-approved RM-Z styling and graphics