BIKES YOU'VE NEVER SEEN BEFORE: KREIDLER 50 CROSS
Gebben Motoren Kreidler 50 Cross.
Kreidler is a German manufacturer of bicycles (electric and non-electric), mopeds and motorcycles. They are part of the Cycle Union group based in Oldenburg, Germany, where bikes are built and distributed to dealers throughout Europe. Kreidler was originally based in Kornwestheim, between Ludwigsburg and Stuttgart. It was founded in 1903 as "Kreidlers Metall-und Drahtwerke" (Kreidlers metal and wire factory) by Anton Kreidler and the company started to build motorcycles in 1951. By 1959 one third of all German-made motorcycles were Kreidlers. In the 1970s Kreidler had  great success in motorsport. Especially in the Netherlands, where the riders Jan de Vries and Henk van Kessel were successful.
1977 Kreidler 50 Cross hits the scales at 154 pounds. Kreidler 50s were popular bikes in the 50cc motocross class and were even competitive in the 100cc class in Dutch racing.
Kreidler Motorcycles went out of business in 1982 and the rights to the trademark were sold to businessman Rudolf Scheidt, who had Italian manufacturer Garelli make mopeds under the Kreidler name. The rights to the Kreidler brand were subsequently acquired by bicycle manufacturer Prophete—who imported bikes from Asia. In 1986 Kreidler was reformed as part of Cycle-Union and today markets a complete line of bicycles and electric bikes for the German market.
The horizontal Kreidler, five-speed engine outfitted with a 24mm Dellorto carb.
All Kriedler models of the early 1970s were equipped with a 50cc two-stroke engine, in most cases with a horizontal cylinder. The first scooter appeared in 1956 and the iconic Kreidler moped was launched in 1957. The popular Kreidler Florett was actually a light motorcycle. The success continued even when the motorcycle industry fell into the doldrums.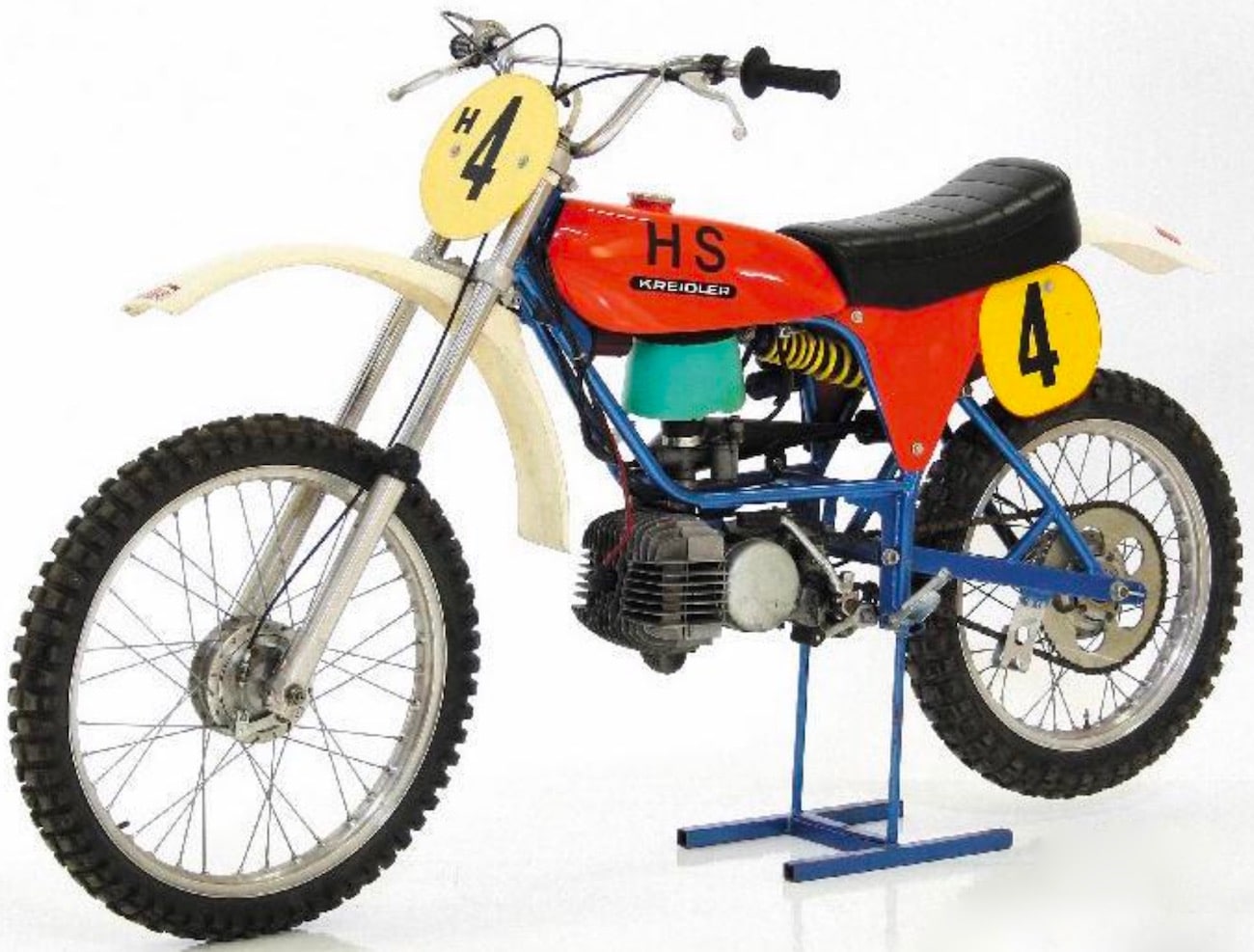 1975 Kreidler Homoet (HS) uses a Motoplat ignition, down draft carb and monoshock suspension.

Where Kriedler found its strongest racing support was in Holland. The Dutch pioneered the 50cc class with a moped class in the 1960s and eventually expanded into 50cc motocross and road racing. In the World Road Racing Championships the familiar Kriedler 50cc GP bikes were built by Kreidler Van Veen  (the Dutch importer of Kreidler mopeds) and HD Kreidler (Hein Drost) who built a series of Kreidler road race bikes.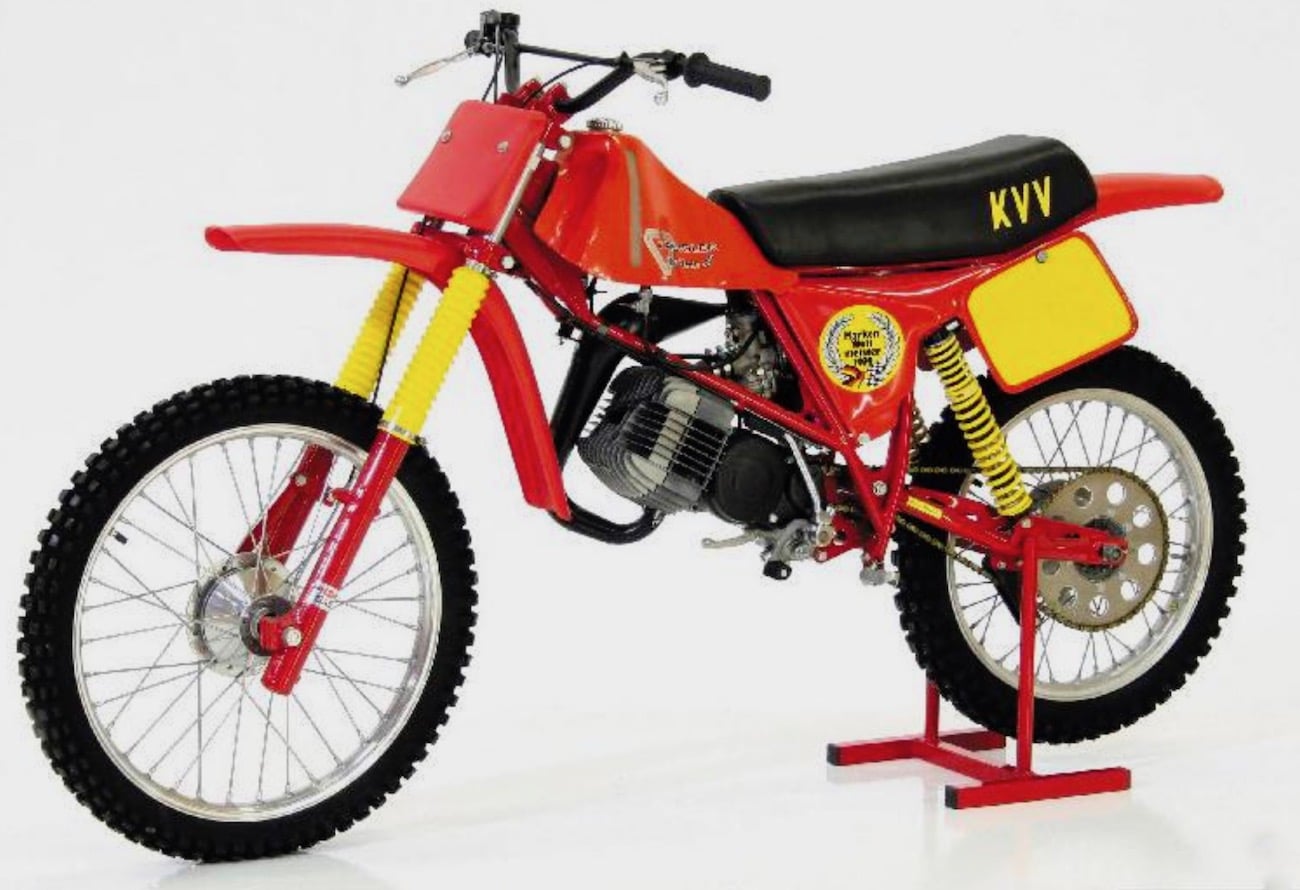 On the 1979 Kreidler Van Veen the twin shocks could be by Girling or Koni, the hubs were normally by Grimeca. The fork tubes were 30mm in diameter.

In motocross even more race shop builders were cashing in on the youth market by making 50cc motocross bikes using Kreidler engines. The 50cc class was very popular as a beginner class for youth. But don't think that the Kreidler marque was not serious—they raced to win. Andre Gebben built a production run of his machines—which became known as the Gebben Kreidlers.  Harrie van Hout built his VHS Kreidlers and Chris Homoet built the famous Homoet Kreidlers.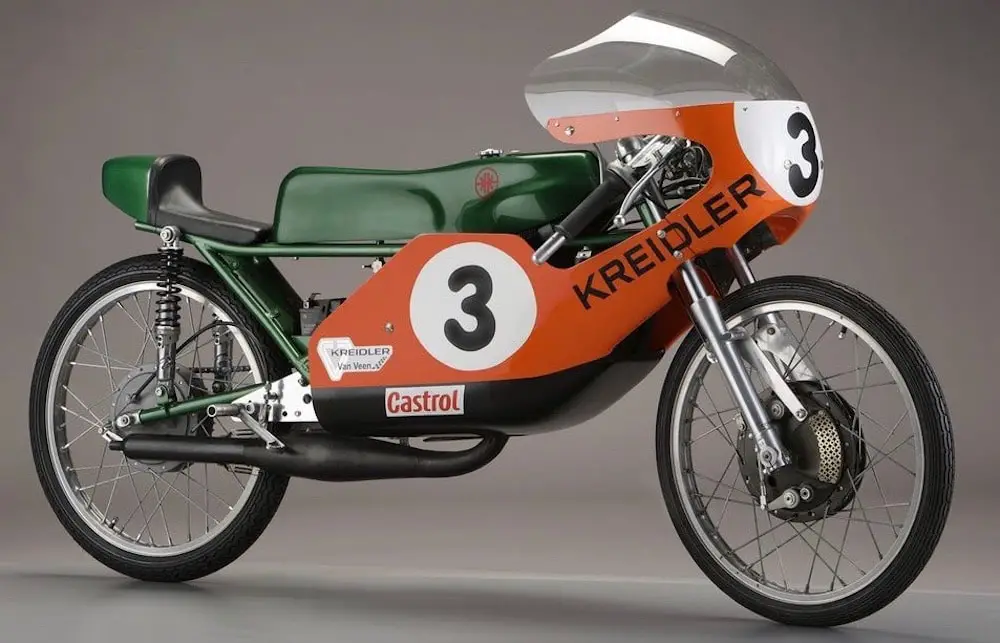 Kriedler motorcycles are synonomous with the 50cc World Road Racing Championship. The Kreidler Van Veen won 8 World Championship from 1971 to 1983 with riders Jan DeVries, Henk van Kessel, Angel Nieto, Eugenio Lazzarini and Stefan Dorflinger.
Famous Kreidler race builders included Gebben Motoren in Staphors,  Homoet Kreidlers came in 50cc, 80cc and 125cc versions. Riwa was built for Dutch road racing by Aalt Toersen and Rieks van der Wal. Ton Daleman of Leiden built 50cc road-racers in the 1960s and 70s under the name Roton. Harrie van Hout built the successful VHS Kreidlers, while the Kreidler Van Veens became the best known of the 50cc road race and motocross efforts.
Unfortunately for Kreidler, German law changed in 1980 replacing the 50cc class with an 80cc class. For the 80cc class, a license was required. Eventually Kreidler had to close its factory doors in 1982.
Angel Nieto won the World Road Racing Championship 13 times—and in 1975 he did it on a Kreidler Van Veen.
\