BIKES YOU'VE NEVER SEEN BEFORE: MAZZILLI RCS 125
The first run of Mazzilli 125s was limited to 90 machines. Giorgio Mazzilli hated that most of the off-road bikes he raced were based on street machines. He built his bike to be a dirt bike from the ground up.
Manufactured by Giorgio Mazzilli from 1970 to 1976, Mazzilli Motorcycles showed considerable innovation for the time, not the least of which was placing the air filter intake on top of the gas tank on some models to allow the bike to cross rivers without stalling out. Giorgio Mazzilli, a trained engineer, was an off-road rider in his youth on Gilera, Capriolo and Laverda teams.

In Italy they hold Mazzilli Reunions every couple years. This is the late Giorgio Mazzilli in 2016.
He made his first prototype bike in 1969, at the age of 40, which used a Maico engine with a frame of his own design. His plan was to built enduro and motocross bikes using readily available two-stroke engines from Sachs.  After testing this frame with the Maico engine, he built his a second prototype only this time with a Sachs five-speed 125 engine.
This is the 1972 Mazzilli enduro model with a Sachs engine and the intake for the Bing carb on top of the gas tank.
Mazzilli placed an order for five Sachs engines, both 100cc and 125cc, to build five proof-of-concept machines that he and his friends could race in 1970. Given the excellent results obtained in racing the five bikes,  Giorgio fired up the production line and started making a run of 90 motorcycles for the 1971 model year. In 1972 Giorgio added the air filter intake to the gas tank and produced 100 copies. Ready for the third series of Mazzilli, he redesigned the look for 1974 and added a continuous saddle-tank connection.
1974 Mazzili 125 RCS with a Sachs engine.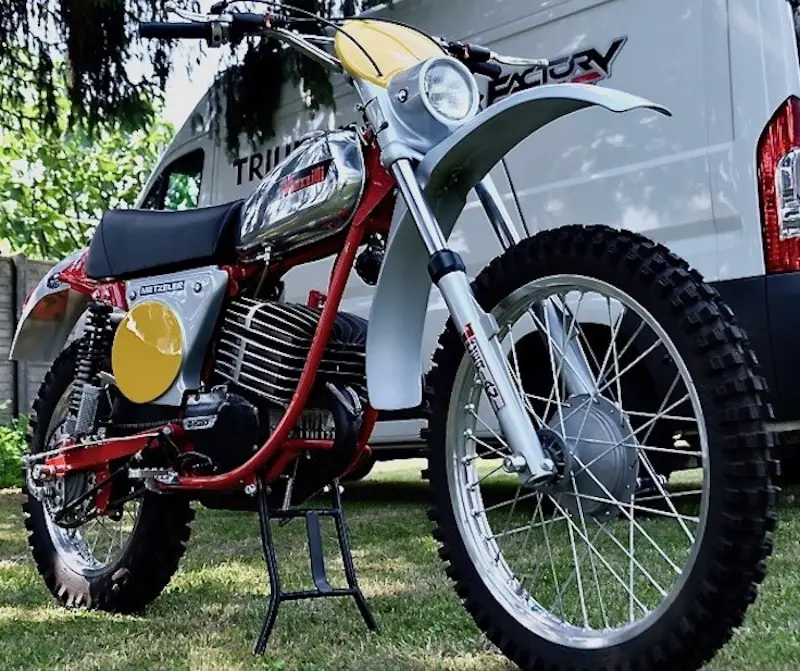 1975 Mazzilli 175 with a polished aluminum tank, Ceriani forks, Marzochhi shocks, Preston Petty plastic and a Minarelli engine.
1975 saw the arrival of the Mazzilli Tubone model, named for the peculiar shape of the muffler. His final run of bikes featured aluminum gas tanks and Preston Petty fenders, headlights and mudguards. From 1970 through 1975, Giorgio Mazzilli built off-road machines in sizes from 49cc to 248cc — including the RSC125 and the LHS125 enduro. In total Mazzilli produced 400 machines. There was even a Jawa-powered 125 in 1972. Giorgio Mazzilli died in 2017 at the age of 87.