BUDDY ANTUNEZ: HIS NEW JGR JOB, TWO-STROKES & COACHING
Buddy Antunez.
Five-time Arenacross Champion Buddy Antunez has been there and done that, so to speak. The Southern California native was a hot shot amateur rider in the late 1980s. His efforts led to a Factory Suzuki ride. In 1997 "Budman" made the tough decision to focus his efforts on Arenacross. He was right at home in the tighter indoor arenas, amassing five straight titles while playing an integral role in bolstering the sport's popularity. He parlayed that success into a Factory Suzuki ride in 2002, scoring a Supercross podium and fourth place in the 125 East Supercross standings.
After retiring at the start of the 2004 Arenacross series, Buddy Antunez has been remained in the industry. Most recently he has coached and trained motocross racers, including Weston Peick. For 2018, Antunez is reinventing himself yet again. Buddy has signed on as Assistant Team Manager for the Autotrader/Yoshimura/Suzuki Factory Racing program. He will be working alongside Team Manager Jeremy Albrecht, while also coaching the team's riders.
Find out more about Buddy's new role, as well as his thoughts on working with Justin Hill, winning five consecutive titles, two-strokes in motocross, and much more. This is week one in our six-week series of interviews that showcase a few of Autotrader/Yoshimura/Suzuki Factory Racing team members.
TO BEGIN, CONGRATULATIONS ON BEING BACK WITH FACTORY SUZUKI. I felt like I never left! That's kind of a crazy thought. When I am doing work around the shop at JGRMX, like getting the riders entered for the 2018 Supercross series, I'm blown away. Things like typing in 'Factory Suzuki' in the sponsor list box really takes me back to when I was racing.
WHAT ARE YOUR RESPONSIBILITIES ON THE TEAM? My responsibilities as of now are to look after the riders. I'm at their disposal for any help, whether it involves riding, training, the technical aspects of racing, or whatever else it may be. On the weekends I'll be at the races, working with the riders to pick the right lines and anything they might need. The goal is to also learn a little bit of what [JGRMX team manager] Jeremy Albrecht does, so I can help with anything he might pass off to me. My time is dedicated to the riders, but also to anyone else on the team that needs support.
WITH THE TEAM BASED IN NORTH CAROLINA AND YOU RESIDING IN CALIFORNIA, WILL YOU MOVE? I'll be in North Carolina for several weeks during the Supercross series. Weston Peick, Justin Hill and Jimmy Decotis will be out in California prior to the start of the West Coast, so I'll be in SoCal with them. I'm trying to make myself as available as possible, all while still going to the races. I will make the permanent move to North Carolina in May.
Working with the team.
WILL YOU WILL BE ATTENDING ALL OF THE AMA IN 2018? I'm back on the national plane flight tour! I have to get my old airline frequent flier numbers fired up [laughter]. For so long I was a Delta Airlines guy, but at JGRMX the guys fly American Airlines, so my status is out the window. I told my wife that, and she didn't see what the big deal was. Those little perks of having status make all the difference in the world when you're flying every weekend. I'll get back up there and have status again
YOU HAVE PRIOR EXPERIENCE WORKING WITH WESTON PEICK DON'T YOU? I started working with Weston in 2013. My role has changed a little bit with him now. He is working with Jon Hornbeck on the physical training part, because Weston kind of outgrew me. Knowledge I pass off to riders is stuff I learned when I was racing. I'm not certified in any kind of training. However, I was able to get Weston pointed in the right direction. Everything I did back in the day was through trial and error. Jon coming on board with Weston has been huge. Now Weston is focusing more on cardio. My place has been getting Peick's lap count at the track and making sure his technique is on point. That's what I'm really excited about, too. Since I have been in North Carolina and working with the team riders I have been able to focus on the details with them. These Pro guys are so good at what they do, but they need to make incremental changes in order to go even faster. Sometimes riders get into a rhythm of doing long motos, and some of the technical aspects get overlooked. I go and find that area where technically they can do better, and it's like a light bulb goes on. That's the beauty in what I do.
WHAT IS IT LIKE WORKING WITH 2017 AMA 250 WEST SUPERCROSS CHAMPION JUSTIN HILL? In the short time I've been working with him I've quickly realized that he is who I thought he was. He's a fun guy. He likes to ride his dirt bike. Justin is one of the most naturally talented guys I have seen. The first day out we found a couple minor flaws, and he immediately addressed them. The challenge is to make sure that he continues having fun on his dirt bike, because he puts in a ton of laps. Justin has the number one plate, but he's so hungry to back it up. Defending a title is the hardest thing. You don't want to lose what you've worked so hard to get. Justin knows that he has to come into 2018 ready to battle. With the Autotrader/Yoshimura/Suzuki RM-Z250 I think he has what it takes to bring home another number one plate.
YOU'RE A FIVE-TIME ARENACROSS CHAMPION, WAS IT HARDER TO WIN THE FIRST TITLE, OR KEEP THE BALL ROLLING? The first title was tough, but it was almost like walking down a path you've never been before. Once I won my first title it was like entering a whole new world. All of a sudden more of my time was demanded by the media. People looked at me differently. I was a champion. To answer your question, the hardest season was the one where I defended my title for the first time. I didn't want to lose the number one plate, but I didn't have the recipe for defending the crown. Once I won the second title I started to figure out how to play the game. My mind started to change. I began thinking like a champion. That sounds so cliché, but it's true. I figured out what it took to win. I also understand where I needed to be in the points at certain times in order to put the championship together. I learned that I needed to keep evolving and getting better. There was a bullseye on my back, because the competition wanted what I had.
Celebrating his five AMA Arenacross Championships from 1997 to 2001.
THERE WILL BE TWO 250 EAST/WEST COMBINED SUPERCROSS ROUNDS IN 2018. DID YOU LIKE THE IDEA OF COMBINING THE EAST AND WEST TWICE? I think the combined races are great, because they offer a chance to shake up the points. All of these great 250 riders will be able to come together and put on an awesome show. It's no secret that 250 racing can be extremely intense. Just look back at this past year. I like that putting everyone together gives the West Coast guys a chance to ride a soft and rutted track, such as Indianapolis. I foresee that the Indianapolis combined round will especially shake up the points for the East guys than the more established West riders, as they will have had more time under their belts.
YOU RETIRED BEFORE THE FOUR-STROKE REVOLUTION. HOW MUCH THE SPORT HAS CHANGED SINCE YOU RETIRED? The technology is certainly mind blowing. I'm also surprised by the tracks. I wish the outdoor tracks would go back to their old-school roots, because a lot of them have big jumps now. I prefer more natural designs. Supercross already has plenty of jumps. That's just me looking it from a fan's standpoint.
WHAT TECHNOLOGY IMPRESSES YOU? I had the chance to prepare for the 40+ class at Loretta Lynn's and I was on my yellow steed, as always. I had a stock 2017 Suzuki RM-Z450, with only minor suspension changes, and I couldn't believe how good it was. Then I came to North Carolina before Loretta's and Jeremy Albrecht gave me some race parts. I was actually nervous to ride a modified JGRMX Suzuki, but I got on the bike and discovered that the changes made it easier to ride. These bikes are so fast right off the showroom floor, and you can make so many changes to them. It's incredible.
DIDN'T YOU PLAN TO RACE YOUR ARENACROSS TITLE-WINNING RM250 TWO-STROKES AT LORETTA LYNNS? That goes back to your last question, because I only raced a four-stroke for one year before I retired from racing professionally. When I got back into riding I realized that I had to ride differently in order to adapt to the four-stroke. My goal was to race the 40+ class and 25+ class at Loretta's, and basically ride in 25+ to have fun and get more seat time. Billy Whitley, my old team manager, had my title-winning 2003 RM250 two-stroke hanging in the rafters of his garage. Billy shipped the bike to JGRMX so mechanic Ben Schiermeyer could work on it. I was planning on riding the RM250 in the 25+ class. The bike needed a little bit more love than I originally thought. In the meantime, I was starting to ride the RM-Z450 pretty well. The 250 two-stroke project got pushed to the side, but it's still in the JGRMX shop. Ben and Lee McCollum are going to get the bike going, and for their efforts they can ride the bike as much as they want.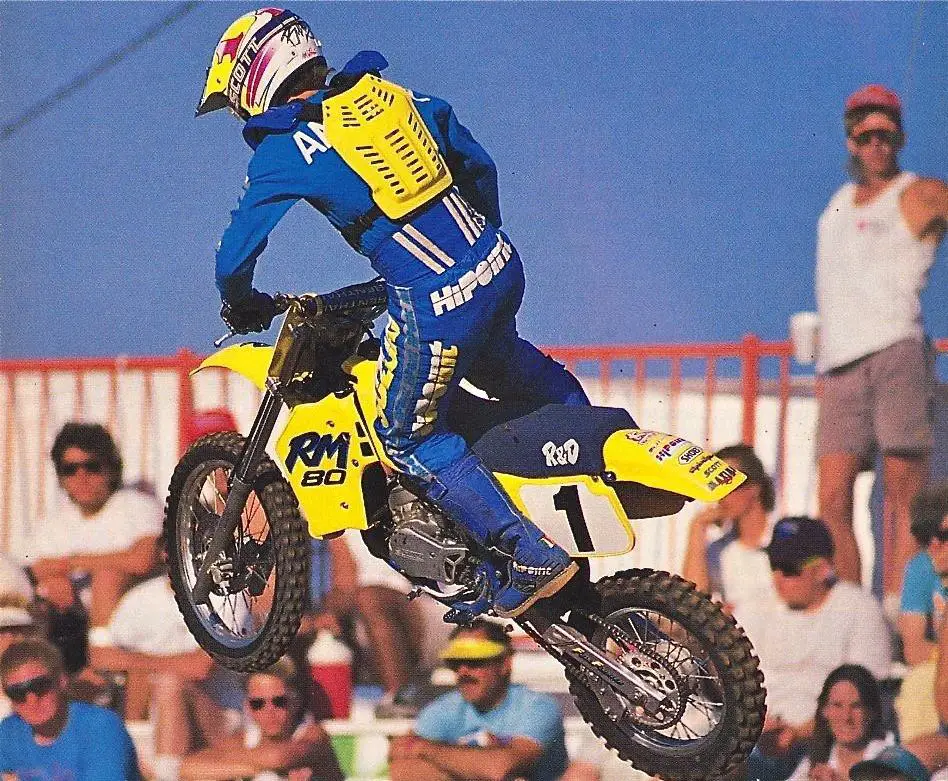 Buddy during his NMA National Minicycle Championship days.
WHAT ARE YOUR THOUGHTS ON TWO-STROKES? Two-strokes sure are fun to ride. One of the fastest two-strokes I ever raced was the 2000 Suzuki RM250. The 2005 model was also really good. Yet while two-strokes are fun, they aren't comparable to where the four-stroke generation is. Four-strokes are so easy to ride. They have tons of torque, awesome power, and the suspension is great. In the game of competitive racing, two-strokes aren't where four-strokes are.
YOU'VE WORKED WITH A LOT OF TOP GUYS. CAN YOU PROVIDE ONE COMMONALITY BETWEEN ALL OF THOSE RIDERS? I've found that most riders don't believe in their abilities. They are all great riders, but what separates them from the very best is the confidence and belief that they can line up to the gate and get the job done. Another discovery is that most let little things get in the way of their overall goals. Sometimes you have to throw away the bad races. If you dwell on them, you'll let that drag you down the next weekend. As a rider, you're not going to win every race. If the best you can do on race day is a fifth, then make sure you get that fifth place. Don't throw it away and end up tenth. Don't make the mistake of taking the win-or-nothing approach. The checkers-or-wreckers mindset is a bad spot to be in.
WHAT IS ONE PIECE OF ADVICE YOU CAN OFFER TO EVERY MOTOCROSS RIDER? Respect. Respect what you're about to do. Don't take what you're about to do for granted. Riding a dirt bike is fun, and it's supposed to be fun. If you respect that and enjoy the process of riding, it will always be good at the end of the day.