ELECTRIC PEE-WEES: THE SILENT REVOLUTION OF THE HUSQVARNA EE 5 & KTM SX-E 5
ELECTRIC PEE-WEES: THE SILENT REVOLUTION OF
THE HUSQVARNA EE 5 & KTM SX-E 5
"We want kids to grow up with our electric bikes," said KTM America President John Hinz during the KTM SX-E 5 intro. KTM and Husky plan to have a complete line of electric bikes for little Johnny to ride when he graduates from the SX-E 5 or Husky's EE 5 version. KTM and Husqvarna owner Stefan Pierer believes in electric technology and see its potential. Manufacturers are desperate to do something as emissions tests are becoming harder and harder to pass. With electric bikes having zero emissions, it gives manufacturers the chance to keep riders on bikes. 
IF ONLY WE COULD KNOW THE AMA'S ULTIMATE PLAN FOR THE ELECTRIC
BIKE MOVEMENT. DO THEY LOVE IT OR HATE IT? IS THE AMA GOING TO START TO PUSH TWO- AND FOUR-STROKES OUT AND E-BIKES IN?
The SX-E 5 is not KTM's first electric bike. KTM has been producing the KTM Freeride for some time now; however, KTM hasn't pushed very hard to sell it. The market for the Freeride is small, as it is part trail bike and part off-road bike. At KTM headquarters in Mattighofen, Austria, it is illegal to ride gas-powered bikes off road. That didn't stop KTM from building a track right across the street from its headquarters. KTM built it to test electric bikes, which at the time meant the KTM Freeride. It has been more than a half-decade since MXA has been to Mattighofen, but we imagine there are many other forms of KTM e-bikes on the track in Austria now.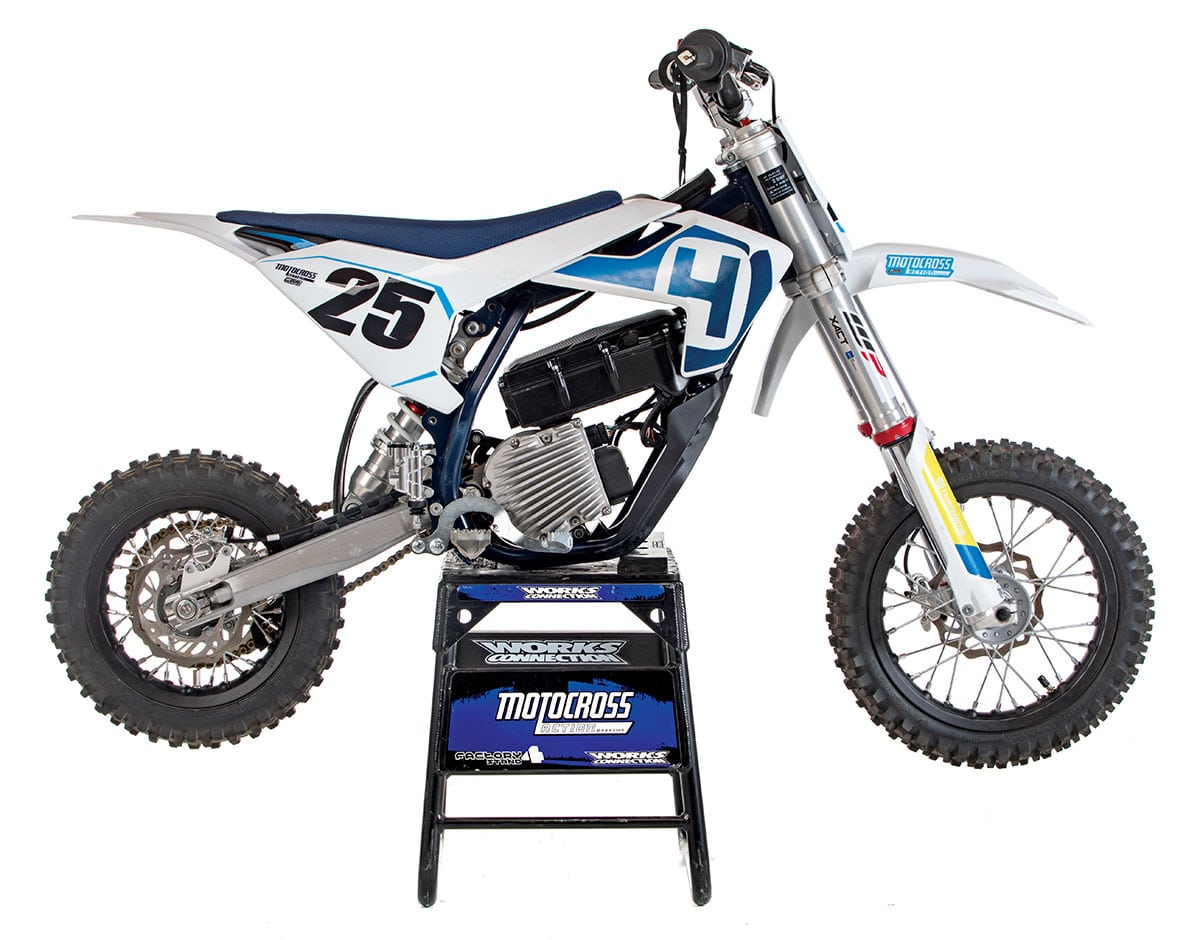 In stock trim the 2020 Husky EE 5 stands 27.5 inches tall, but can be lowered two inches by removing a spacer under the seat and relocating the top shock bolt.
With KTM's Freeride under its belt, KTM was confident enough to put the KTM SX-E 5 pee-wee into production. Was this bike meant to go head-to-head against the current crop of KTM gas-powered pee-wees, such as the 50SX and 50SX Mini? We are somewhat unsure, and we think KTM is as well. When four-strokes started to make their presence known in American motocross, there was a teething period of determining what displacement was fair to race against 125cc and 250cc two-strokes. Obviously, the AMA wanted to push out smokers with its decision to allow four-strokes to have double the displacement of two-strokes.
If only we could know the AMA's ultimate plan for the electric bike movement. Do they love it or hate it? Is the AMA going to start to push two- and  four-strokes out and e-bikes in? Are they willing to even the odds so that four-strokes, two-strokes and e-bikes live in harmony? Maybe we're getting ahead of ourselves, but there will come a time when all these issues will need to be resolved. What we do know is that the KTM SX-E 5 and Husky EE 5 are the beginning of the silent revolution. 
ELECTRIC PEE-WEES ARE GREAT BECAUSE THEY GIVE KIDS MORE
PLACES TO RIDE! NO NOISE MEANS HAPPY NEIGHBORS.
The KTM 50SX two-stroke is no slouch when it comes to power and performance. These little bikes have won titles at the AMA Loretta Lynn's Amateur Nationals in the 50cc Pee-Wee classes. In truth, KTM's 50SX and the electric SX-E 5 are very similar. They are both based on the same basic chassis dimensions and suspension. The only obvious difference is in the choice of power generation—two-stroke for the 50Sx and electric motor of the SX-E 5.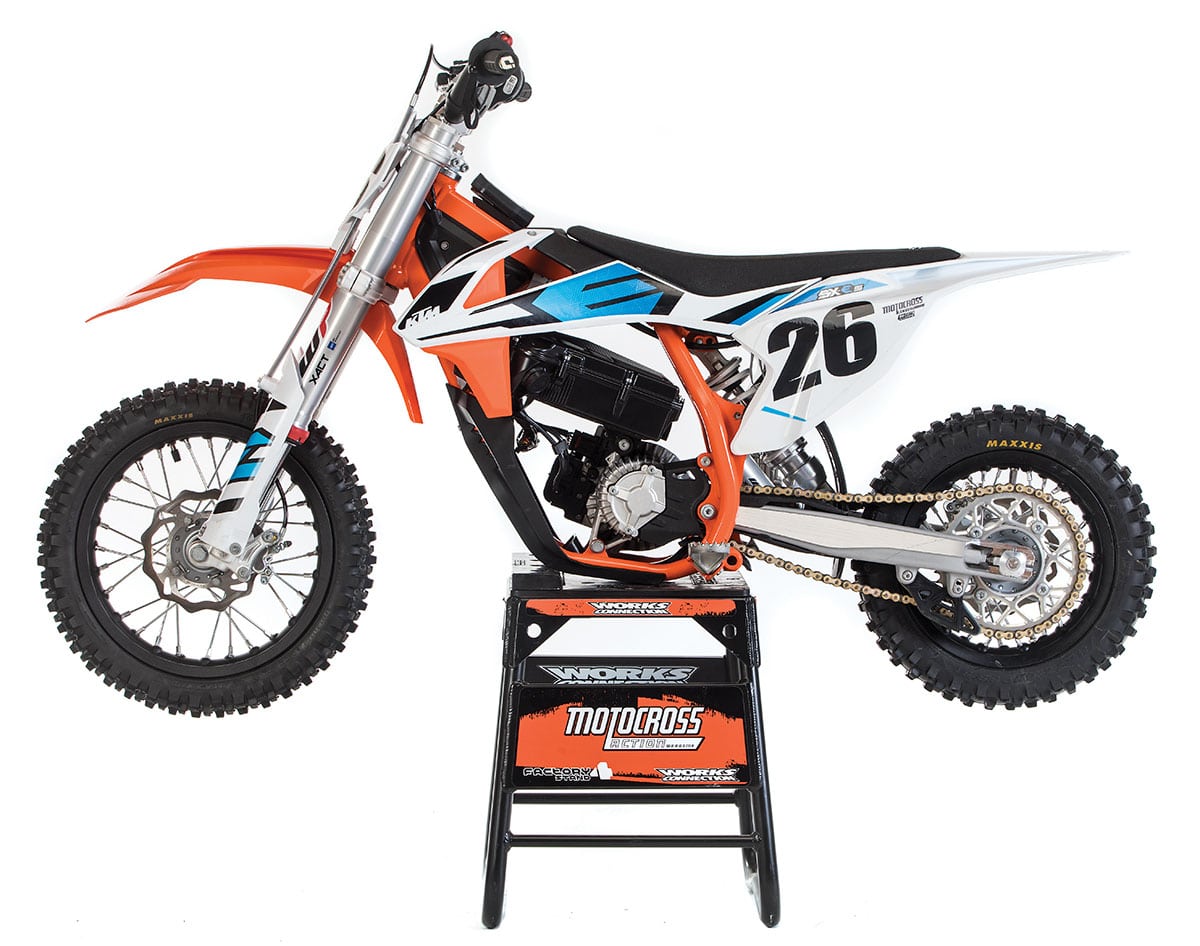 In order to test the different sizes, MXA's KTM SX-E 5 had not only had the standard two-inch capability, but a $150 lowering kit that brought the seat height down a total of six inches.
You are probably asking yourself, "Will electric bikes have their own class or race against gas-powered bikes?" Both. For 2020, the AMA Loretta Lynn's National Amateur Championship dropped the Special Limited 50 (4-6) class and added a Mini-E (4-6) class. In that class, qualified e-bikes can race in the Shaft Drive or Junior 51cc (4-6) class. For an e-bike to qualify for these classes, the battery energy must be limited to 1 kWh. The bike must have a maximum wheelbase of 41 inches, a max wheel size of 12 inches, a seat height of 25 inches, and must use OEM parts.
Cobra was the king of the Special Limited 50 (4-6) class that the AMA got rid of. No problem, as Cobra already has a trick, water-cooled, pee-wee, e-bike up its sleeve for 2021 to allow Cobra to rejoin the Mini-E (4-6) class.
REMOVING A SPACER UNDER THE
SEAT AND LOWERING THE CHASSIS
INTO ITS LOWEST POSITION DROPS
THE BIKE ALMOST
2 INCHES (DOWN TO 25.71 INCHES).
Okay, enough with the politics. It is important to note that the KTM SX-E 5 and Husqvarna EE 5 are identical—they share everything, so at any point in this test if we say KTM SX-E 5 we mean Husky EE 5 also—and vice versa.
What do we think about the 2020 KTM and Husky pee-wee e-bikes? In a few words, they are great; but, they cost $700 more than a KTM 50SX two-stroke at $5049. We have some other concerns that we will get into later, but electric pee-wees' greatest feature is that they give kids more places to ride! No noise means happy neighbors. Go ahead and ride in the backyard or the local desert without worrying about getting in trouble.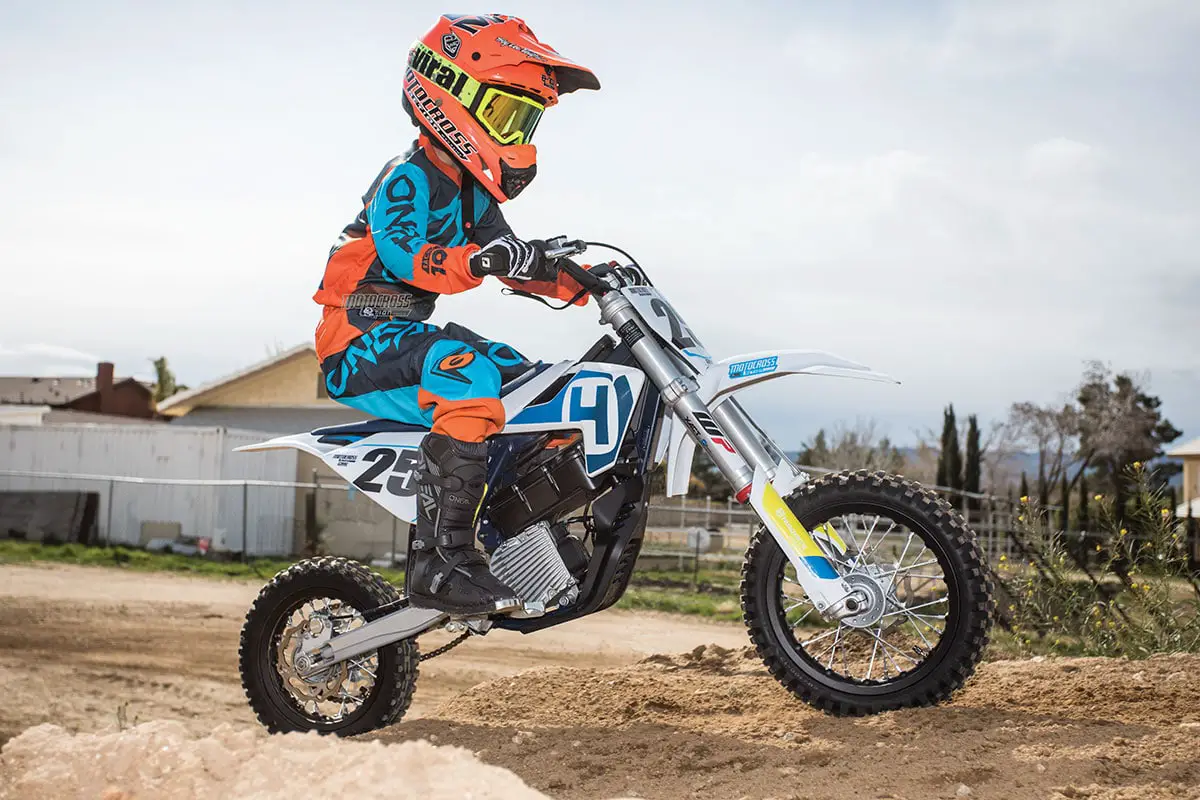 Every one of the kids that MXA had hop on these e-bikes loved them. Each of MXA's hand-selected mini test riders owned either a Cobra or KTM 50SX and said they liked the e-bikes better than their gas-powered bikes. Why? The overall consensus was the e-bikes tracked the ground much better, were easier to ride and were more fun; however, this feeling could be due to the power disadvantage.

What power disadvantage? We put these bikes on the dyno over at Pax Racing to compare the electric power numbers against the internal combustion KTM 50SX. In the horsepower department, there was no comparison. The KTM 50SX produced 12 peak horsepower, while the SX-E 5 and EE 5 produced 6 horsepower. That is 50 percent less power. Since e-bikes do not have spark plugs, we were unable to get torque numbers on the dyno. Pax did find that going from the stock 46-tooth sprocket to a 50-tooth sprocket (which is the biggest that will fit without modifying the chain guide) significantly improved overall power. There is no doubt that the SX-E 5 and EE 5 produce significantly more torque than the KTM 50SX; you can feel it on the track.

The power of an electric bike would come on too aggressively if it weren't for an ECU metering its power; however, the advantage in torque does not make up for the lack of horsepower versus the KTM 50SX. Therefore, if your kid is a serious racer, stick to the KTM 50SX for now. If your kid is learning, a backyard rider or plans to race in the e-bike class, this is a great bike.
WE THINK THAT WITH A LITTLE MORE PRACTICALITY AND USABILITY, THESE BIKES COULD START A SILENT REVOLUTION OF YOUNG KIDS GETTING INVOLVED IN MOTORCYCLING WITHOUT EVER LEAVING HOME.
Another advantage of the SX-E 5 and EE 5 is its adjustability. In stock trim, the seat height of the SX-E 5 is 27.45 inches, which is about a 1/2-inch taller than the KTM 50SX. Removing a spacer under the seat and lowering the chassis into its lowest position drops the bike almost 2 inches (down to 25.71 inches).
Our 2020 KTM SX-E 5 came with the optional $150 lowering kit for the fork and shock, which brought the seat height down an additional 4 inches. This makes the SX-E 5 the same size as the KTM 50SX Mini, which retails for $3849. So, when your kid outgrows his KTM electric pee-wee, instead of throwing down cold-hard cash for a new model, you can just lift the bike up a few inches to accommodate little Johnny's growth spurt.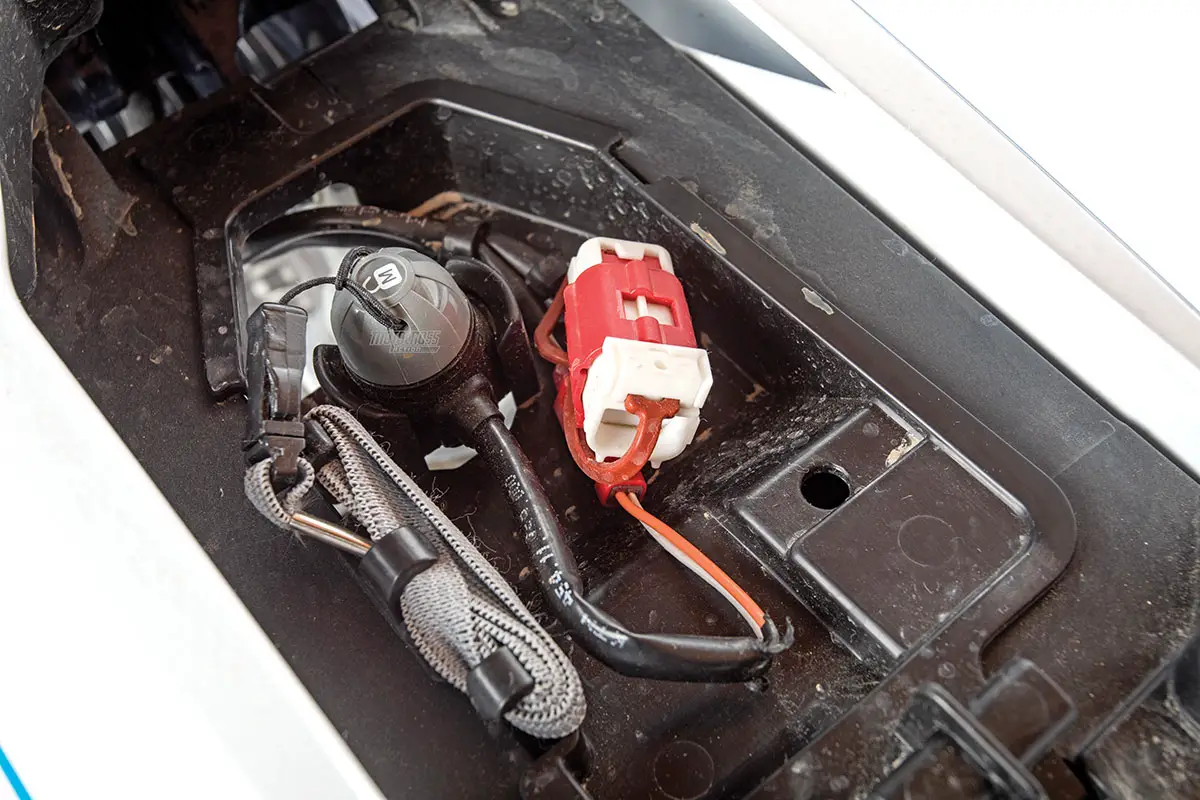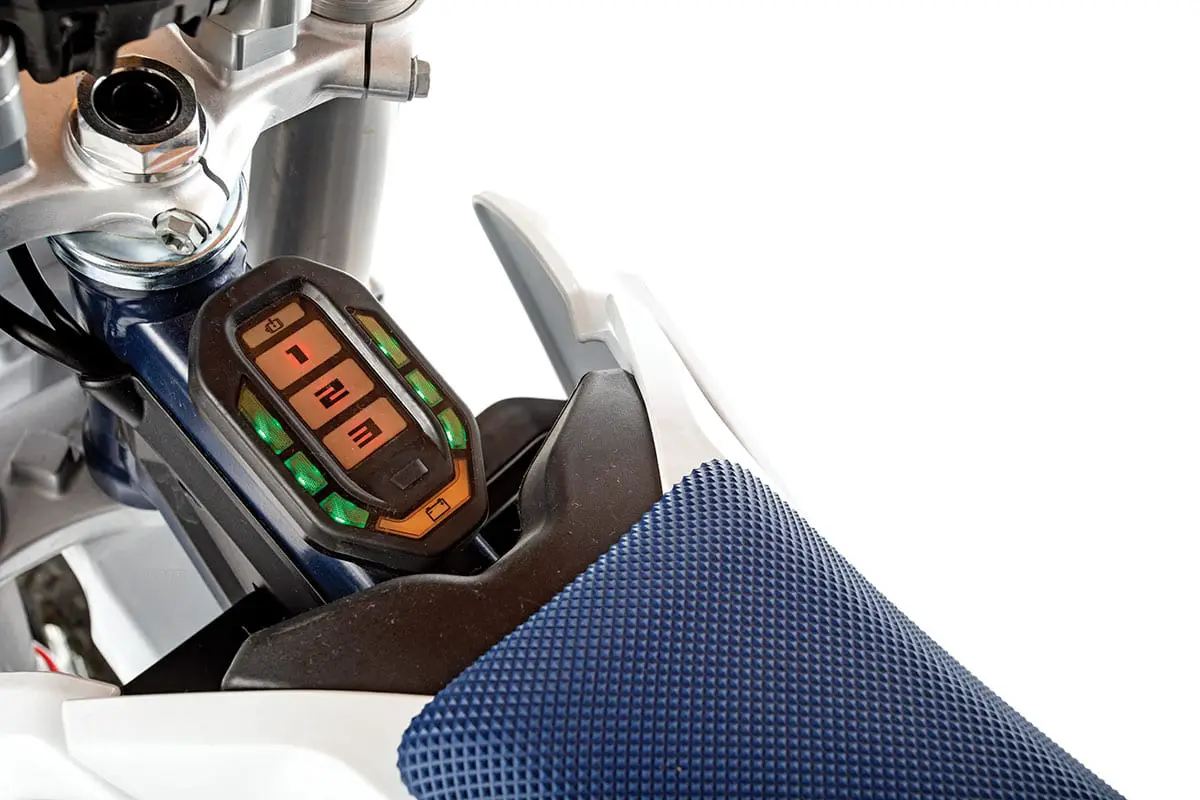 Another unique adjustable feature that we loved is the six different power modes. The first mode is a light walking pace. Each mode ups the power, save for modes 5 and 6. These two modes produce identical peak power, but mode 6, as well as 3, has a regeneration braking feature that charges the battery when the bike is coasting downhill or freewheeling with the throttle off. If you are worried about little Johnny messing with the power unit, no problem. Under the seat is a magnetic tab that can be unhooked so that the power level is locked into place.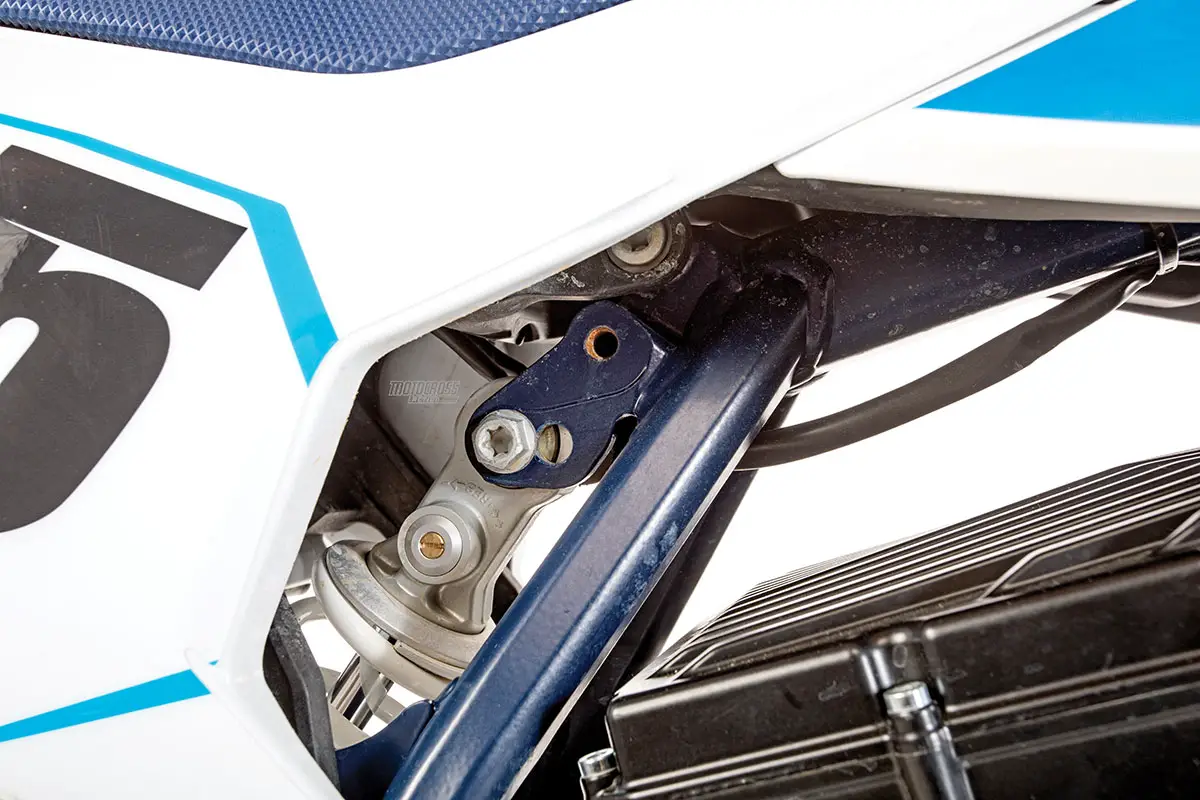 We didn't like the time it took to recharge the battery. When our battery was dead, it took 1 hour and 45 minutes to charge it fully. Our fast testers burned the juice out in less than 30 minutes, while our slower test riders could get at least an hour of riding time in. If little Johnny wants to keep riding, what can you do? You would think that you could buy a spare battery. You could, but would you? It costs $1500.
That isn't the worst part. Even if you buy an extra battery, for some unknown reason, the battery has to be charged while it is in the bike, which means you would still have to wait. And taking the battery out of the SX-E 5 or Husky EE 5 is no easy task. KTM frowns on swapping out the battery anyway. So, the only thing you can logically do, if you have deep pockets, is to buy another bike so you can have one on the charger while little Johnny is riding. And, if little Johny wants to ride more than one full charge at the local track, you'll need to bring a generator to charge it up. Or maybe tracks will have charging stations in the near future.
We think that with a little more practicality and usability, these bikes could change backyard riding for the better. They could start a silent revolution of young kids getting involved in motorcycling without ever leaving home. The KTM SX-E 5 and Husky EE 5 are the first iterations of the electric pee-wee movement.
To tell the truth, we think that pee-wees are what electric motorcycle manufacturers should focus on. Only a small percentage of full-size motocross racers will let go of their internal-combustion race bikes without a fight, but a young kid has no prejudices. If he rides an electric pee-wee, he won't have any bias against riding an electric minicycle and eventually an electric motorcycle.
We think that KTM and Husqvarna did a good job paving the way to an electric future. Their bikes aren't perfect, but you gotta start somewhere. And the best place is with 4-year-olds on electric pee-wees. In time, the price will drop and battery technology will improve.