FACTORY RIDER FOR THE WEEKEND: A FILL-IN RIDE FOR THE HONDA FACTORY OFF-ROAD TEAM
MXA's Josh Mosiman got a last-minute call to fill-in on JCR Honda's Preston Campbell race bike for a long and challenging off-road experience.
BY JOSH MOSIMAN
During my time as an MXA test rider and editor, I've learned countless valuable life lessons and have met many of the legends of our sport. Working for MXA is definitely a dream come true. One thing that we all have in common with the best racers in motocross is the desire to go racing. Guys like Roger Decoster, Mitch Payton and Johnny Campbell don't spend hours at the track every week to cash a paycheck or maintain their status as living legends in our sport, they keep showing up because they love motorcycle racing, even if it means that they aren't on the track themselves' they're still racing, only they're now team owners or managers.
The best way I can describe Johnny Campbell would be to call him "Mr. Honda Off-Road." He can't be "Mr. Honda," because that moniker belongs to Soichiro Honda in Japan, and he's not "Mr. American Honda," because there have been multiple long-time Honda employees who can lay claim to that title, but "Mr. Honda Off-Road" seems quite authentic from my point of view. Johnny Campbell is a living legend in off-road racing with a record 11 Baja 1000 Championships among his long list of accomplishments. Plus, he played a huge role in Honda's development of the CRF450X, which led to being personally recruited by Honda of Japan for the development of the CRF450 Rally project. 
The Johnny Campbell Racing Honda team (JCR) first started in 2008 as a Baja racing effort, but the team made a transition in 2014 when Honda wanted to start developing its CRF450RX line, leading Johnny's team to the GNCC series on the East Coast for five years. Now, JCR facilitates several different categories for Honda Off-Road racing, while Johnny is also the Off-Road Racing Manager for Honda. Back when Johnny first started the JCR racing effort, he had the only Honda off-road team. Now, Mark Samuel's SLR Honda team is representing Honda at the NGPC, WORCS and Baja races, while Phoenix Racing is Honda's East Coast GNCC program. Johnny's JCR team focuses on the National Grand Prix Championships (NGPC), AMA West Hare Scramble series and District 37 Desert racing, and that is only a small part of his list of responsibilities. 
Johnny consults and advises for the HRC Rally team, and part of that commitment is managing Ricky Brabec and his racing in the States. Ricky is a part of the JCR team anytime he's racing on U.S. soil, and JCR helps him maintain his bikes and facilitates all his local racing. Plus, JCR helps maintain Ricky's practice Rally bike. Johnny also does all the coordinating and logistics for the Rally team's durability testing. In his spare time, Johnny still helps with the development of the off-road CRF450RX, CRF450L and CRF450X lines for Honda. Needless to say, he's a busy man.
Alongside factory JCR team riders Tarah Gieger, Ricky Brabec, Kendall Norman and multiple other JCR-supported riders is Preston Campbell, Johnny's son. At 22 years old, Preston has really begun to hone his skills in off-road racing over the last few years, winning Hare and Hound races, placing well at NGPC Grand Prix events and even traveling to Italy to race the International Six Days Enduro (ISDE) last year. If you're a loyal Motocross Action reader, you might remember when MXA and Pro Circuit put a team together to win the 24-Hours of Glen Helen Endurance race. Preston Campbell, Carlen Gardner, Zac Commans and I won the race as a four-man team (but the team was much bigger than just us). 
Earlier this season, I was planning to race the Prairie Dog's National Grand Prix Championship (NGPC) round at Glen Helen on a 2022 Honda CRF450RX with help from Pro Circuit and JCR Honda, but on Monday before the race, while my CRF450RX was waiting for me to assemble it, Johnny Campbell called and asked me to fill-in for Preston Campbell while he healed up and prepared for his next Hare and Hound event the following weekend. It was an automatic yes from me! I knew that I would be comfortable right away on Preston's bike, since we had already spent 24 hours going back and forth on the same bike just a year and a half earlier.  
Johnny Campbell helped design the CRF450RX and he went all-out on this race bike, not to make big power, but to build a smooth and rideable 450.
There are a lot of similarities between a full-race CRF450RX off-road bike and a CRF450 motocross bike, but if you've never seen an off-road, cross-country race bike up close, here is a list of a few of the cool aftermarket and custom mods that JCR mechanic Gage Day made to Preston's CRF450RX.
(1) The ARC clutch system, which is a complete system with the special master cylinder and lever, is highly adjustable. You can tune where and when on the lever the clutch engages or disengages by working with ARC's multiple lever angles. Plus, it has an 11mm piston versus the stock 9mm piston. This pushes what JCR considers to be an adequate amount of fluid to make the clutch pull easier and a lot less fatiguing over a long race. The ARC system also comes with braided steel lines as well. Surprisingly, Preston was able to go one or two seconds faster on a motocross track. The bad news is that the system is not available to the public, but ARC's Bob Barnett hopes to sell the systems soon. 
(2) The top triple clamp is made by BRP, but the bottom is a stock Honda clamp that has been polished. At first glance, I thought it was just for looks, but Gage explained that they intentionally grind off the small casting ridge that comes from forging the aluminum lower clamps. Just knocking off the casting ridge allows the front end to flex more, giving the rider a better feel at the front wheel. 
Pro Circuit handles the exhaust, suspension and linkage needs of the JCR Honda team.
(3) There is also lots of off-road durability know-how that goes into this bike. The Acerbis handguards have zip-ties with a piece of tubing around the main tie to keep the handguards from pushing back onto the handlebars. Preston also uses Acerbis' rubber foot peg booties to keep mud from packing into the foot peg pivot. The hollow spots in the shift lever, swingarm pivot bolt and rear axle have been filled in with silicone rubber to keep mud from packing in. The swingarm features extra gusseting by RaceCo at the chain guide mount to protect it in the event of a big hit from a rock. On the handlebars, the map button is turned around backward to free up more room on the bars and to direct the wiring out of harm's way. JCR also surrounds the map switch with an elastic sealant that is strong and pliable to keep water out. JCR  fills the large airbox intake (at the bottom of the left side number panel) with air-filter foam to keep dust and dirt out. Plus, JCR uses Twin Air filters with dust screens and additional foam filter layers at dusty races.  
(4) Another unobtainable part is the rising-rate shock linkage that Pro Circuit is testing with Preston Campbell. The linkage hasn't been put into production, but Johnny explained that it helps the rear end stay down in the bumps for a flatter feel that lessens kickback—important on the high-speed sections of most West Coast GP races. 
(5) One brand that offers exceptional peace of mind for off-road racers is NitroMousse. The foam Mousse bibs ensure that you can hit square-edge bumps and sharp rocks without anxiety, because Nitromousses cannot go flat or pinch like a traditional tube. 
JCR turns the map switch around backwards and surrounds it with an elastic silicone for extra durability.

(6) The CRF450RX engine is almost the same as the stock CRF450 motocross engine, but it comes with mellower ECU mapping. For Preston's Grand Prix race bike, the engine is left stock (except for a Hinson inner clutch hub and pressure plate); however, Johnny and mechanic Gage Day often custom tune the stock ECU with their own mapping to suit Preston's taste. Johnny said that he added a little more fuel and softened the map a bit so that Preston could ride the bike harder for longer. 
(7) The Scott's Performance Steering Stabilizer was one part that I was especially thankful for because of the fast and choppy straights at Glen Helen. It was also fun to learn that Johnny had been using Scott's dampers since 1990 (longer than I've been alive) and that the damper has stayed practically the same since day one. 
The CRF450RX engine is left stock except for the Hinson clutch. It's also protected by an Acerbis skid plate. 
In typical fashion, I didn't train or prepare much for the 1-1/2-hour Prairie Dogs NGPC race, but I did show up with a bike that was capable of winning, a mechanic who handled all the details for me, and an off-road legend who believed in me enough to let me ride his son's bike (but who also didn't put any pressure on me to perform). It was the perfect scenario to give me the best shot at success. The running joke I told all weekend was that I showed up to the NGPC race with red plates on my bike, and my goal was to leave with them still on. I told anyone who would listen "the red plate joke," and then I found out that the NGPC series specifies that all 450 Pros (except the point's leader) must run red backgrounds with white numbers. It was good to poke fun, but in all seriousness, I didn't know how I would fare in the race, since I hadn't been seriously training for off-road races. But who really knows how long he can last until he is actually in the heat of battle? I spend long days at the track testing motocross bikes, so the sky was the limit in my mind (minus the no training part).
The National Grand Prix Championship (NGPC) series is a West Coast Grand Prix racing series that has 10 events spread across California, Nevada, Arizona, Utah and Idaho. The tracks are Grand Prix-style, with the traditional West Coast layouts that hark back to "On Any Sunday's" Elsinore Grand Prix footage. They feature lots of motocross sections with some tighter trails and rocky ravines, and, depending on the weather, some are more rugged than others. Glen Helen is a racetrack with a lot of off-road potential, but it's hard to get the full experience unless it rains, because it is difficult for the water truck to access most of the ridges, steep downhills and single-track trails. I didn't know this coming into it, but the Prairie Dog's GP at Glen Helen is infamous for getting rained on. In fact, it rained seven of the last 10 years that the NGPC series has stopped at Glen Helen. Funny enough, it rained again this year! On Saturday, the amateur racers battled through a cold rain but enjoyed the benefit of 15-minute lap times and tons of cool single-track trails and ridges without any dust. There was also the infamous high-speed asphalt section in the back by the amphitheater. The turnout was great, with a packed pit area that was surrounded by the ultra-long track.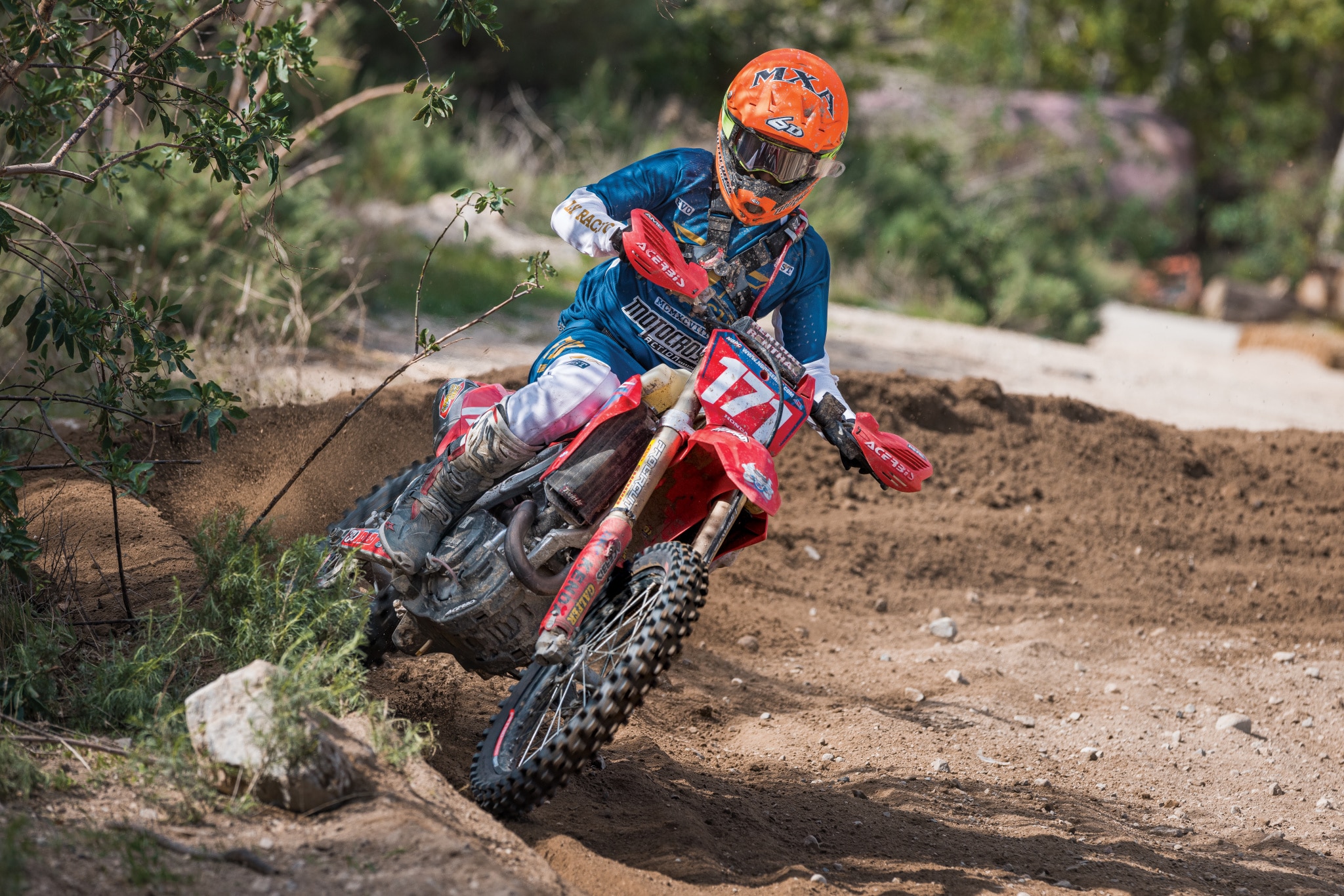 The JCR Honda CRF450RX is more stock than you'd expect, but it handles like a dream in the rough stuff.
The Pro race was scheduled for Sunday afternoon. I was nervous, but that's how I knew I was excited! If you aren't a little nervous, then something isn't right. I didn't have a great jump when the green light flashed on. I came out of the first turn in eighth, but I had an advantage over the rest of the Pros in that I was certainly the only rider who had raced at Glen Helen with this layout configuration. Instead of turning 180 degrees and going up the Shoei Hill, the first turn was a 90-degree corner and dog-leg under the Yamaha bridge before turning back up the first hill. I had raced this start layout five months earlier at an REM race, so it felt natural to me. I swept around the outside in turns two and three to get into third with a big smile on my face. 
There I was, running in a podium position as we shot up the long hill and onto the endless trail system of Glen Helen's mountain ridges. At this point, I was nervous, because I had only ridden three practice laps on the track, so I wasn't completely confident of my buffer zone between bushes and cliffs while sending it on the ridges. My rationalization for only doing a mere three laps of practice was that I opted to only do the 45-minute AA race (Pro practice) on Saturday. After all, I knew if I rode too much on Friday and Saturday, I'd waste my energy for the long moto on Sunday. But, with a 15-minute lap time, that meant I only got to see each section three times. 
I was third for a couple of minutes, but defending NGPC Champion, current points leader, and Red Bull KTM factory rider Dante Oliveira passed me on one of the ridges on lap one, and later in that lap, Trevor Stewart got around me as well, putting me fifth after lap one. At this point, I was proud. Running up there and being roosted by top off-road Pro's like Oliveira, Martinez, Hoeft, Stewart, Walton, Shirey, Demartile and Lynn was fun. At this point in my life, I'm an MXA test rider who doesn't race for a living anymore, but, in my past life, I mixed it up with all these guys at motocross races (before they turned to off-road). They've continued to train, and I've spent more of my time learning the art of testing, writing and talking about dirt bikes instead. 
From left to right: MXA test rider Josh Fout, JCR owner Johnny Campbell, MXA's Josh Mosiman, JCR mechanic Gage Day, Honda's media relations manager Ryan Dudek.
By the end of lap two, 30 minutes into the race, I was in 9th place. I had tipped over once, and I was already starting to fatigue. The ridges were rough and long, requiring me to stand and hold onto the bike for long periods without rest (and with extreme focus, because I didn't want to fall off a cliff). The long/rough straights through the sand washes and back sections of Glen Helen were tiring for the same reason. The tight single-track Pro sections were slow and technical, with rocks, bushes and roots hitting my wheels and helmet constantly, requiring more intense focus and grip strength. Really, the only sections where I could catch my breath and be decently fast were on Glen Helen's linked-together motocross tracks. 
By the time the halfway point of the race came around, I was battling with Jack Simpson, an Australian 250 rider for the SLR Honda team who had caught me from the second row. Johnny Campbell had given me the "Pit Next" signal 15 minutes earlier, so when I came into the hot pits, I went right up to the red shirts who were flagging me down, threw my goggles off and removed the fuel cap for my pit stop, but I went to the wrong team! The SLR Honda pit was 100 feet in front of ours and they were waving frantically at Jack Simpson, not me. Johnny and Gage yelled a few times before I realized my mistake. I slammed the bike back in gear and headed to the JCR Honda pit. It was a hilarious way to expose my inexperience as an off-road racer and my worn-out brain to the entire Pro pits at Glen Helen. The best part was when Johnny and Gage laughed at me as I pulled up to them, making jokes as they filled my tank. They handed me fresh EKS Brand goggles and a water bottle full of my favorite MindFX drink mix, to which I added salt. 

After an hour and a half of racing, I came across the line in ninth place in the 450 Pro class, and I was 13th overall after being passed by three 250 riders from the second row. I was proud of my opening lap, humbled by every lap after, and thoroughly exhausted but very thankful to have been a factory Honda racer for the weekend.
WATCH THE VIDEO: FACTORY HONDA FOR A WEEKEND
JCR HONDA CRF450RX PARTS LIST
Handlebars: Renthal 827 Fatbar
Grips: A'ME half-waffle
Top triple clamp: BRP (stock 22mm offset)
Bottom triple clamp: Stock with custom polishing (the casting ground down)
Steering stabilizer: Scotts Performance
Clutch lever: ARC
Handguards: Acerbis Turbo X-Force
Skid plate: Acerbis
Plastics: Acerbis
Fuel tank: IMS quick-fill
Graphics: Throttle Jockey
Front tire: Kenda Washougal 3
Rear tire: Kenda Parker DT
Suspension: Pro Circuit
Exhaust: Pro Circuit T-6
Clutch: Hinson<
Fuel: VP Racing T4
Oils/chemicals: VP Racing
Radiator guards: Twin Air screens
Wheels: Stock hub and spokes
Rims: D.I.D. ST-X rim
Chain: D.I.D. ERV-7
Chain guide: BRP
Brake rotors: Galfer
Sprockets: Renthal 13/49
Start device: Works Connection
Battery: Anti-Gravity SC1