FLASHBACK FRIDAY | DAMON HUFFMAN'S 125 GLORY DAYS
"My first year with factory Suzuki was in 1993. The first race for me that year was a combined East/West Supercross in Houston, Texas. Those were stacked fields in those days. I finished sixth that night. The following weekend at Anaheim I got into the lead right away and won my first Pro race ever. It was huge for my career. After that I got a little ahead of myself and threw a couple of races away. I didn't make the top 10 at Seattle or San Diego. I knew that it would be tough to win the championship, because I was so far back in the standings. Then, I finished on the podium in Irving and won the last three races of the series—Pasadena, San Jose and Las Vegas. I won four out of the eight 125 West rounds in 1993 and finished third behind Jimmy Gaddis and Phil Lawrence.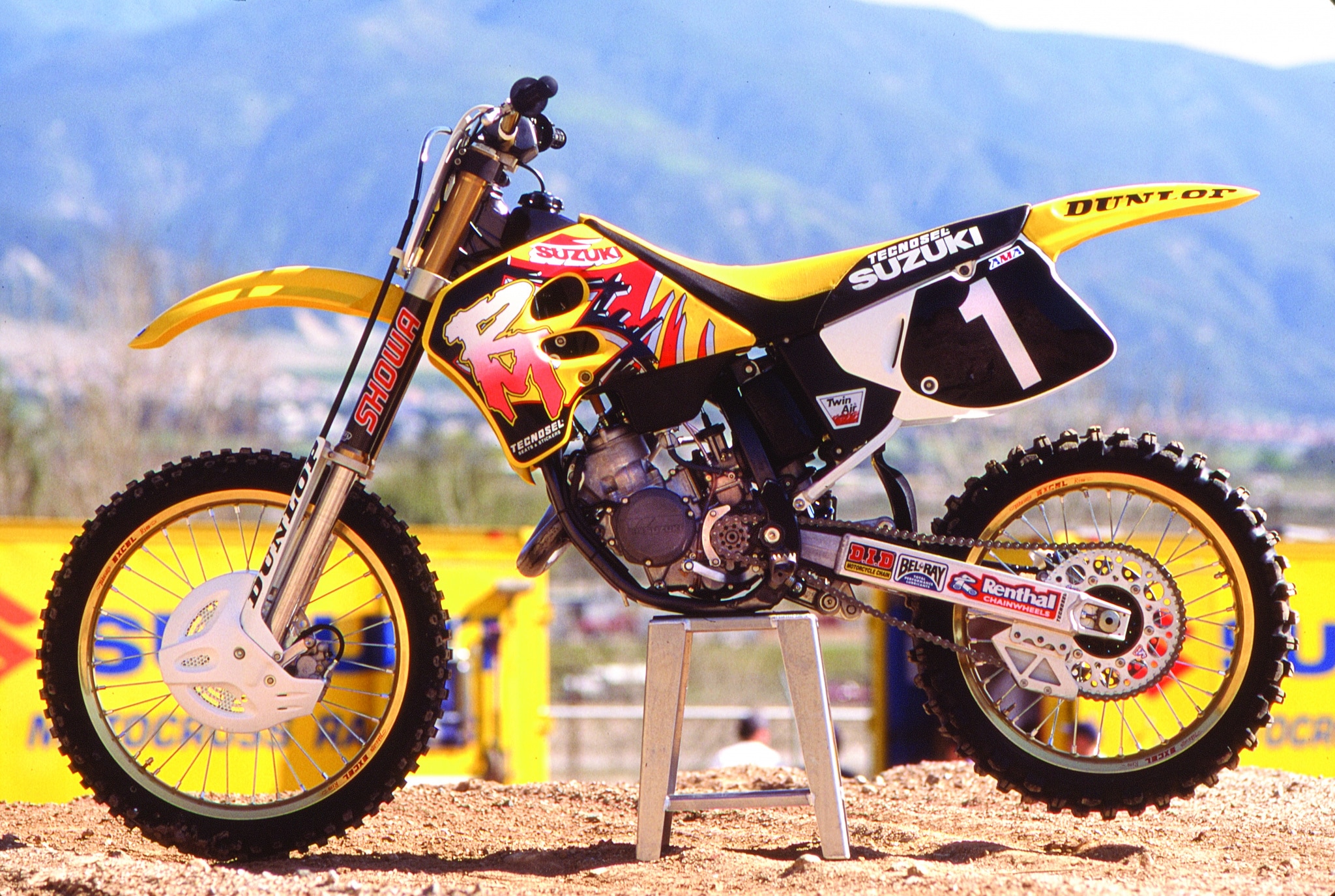 Damon's championship winning RM125. 
"People might not know this, but, counting my four straight podiums at the end of 1993, I didn't finish off the box until the end of my 125 Supercross career in 1995. I scored 20 consecutive podiums! It's an accomplishment that I'm really proud of to this day. In 1993 I was up and down in the results. In 1994 I was more consistent, but I only won twice. In 1995 it all came together. Not only did I win, but I dominated. My 1995 Suzuki RM125 was the culmination of all the work we had done to the bike since 1993. It actually had the same chassis but slightly different engine work. I felt so comfortable on it, and my confidence was at an all-time high.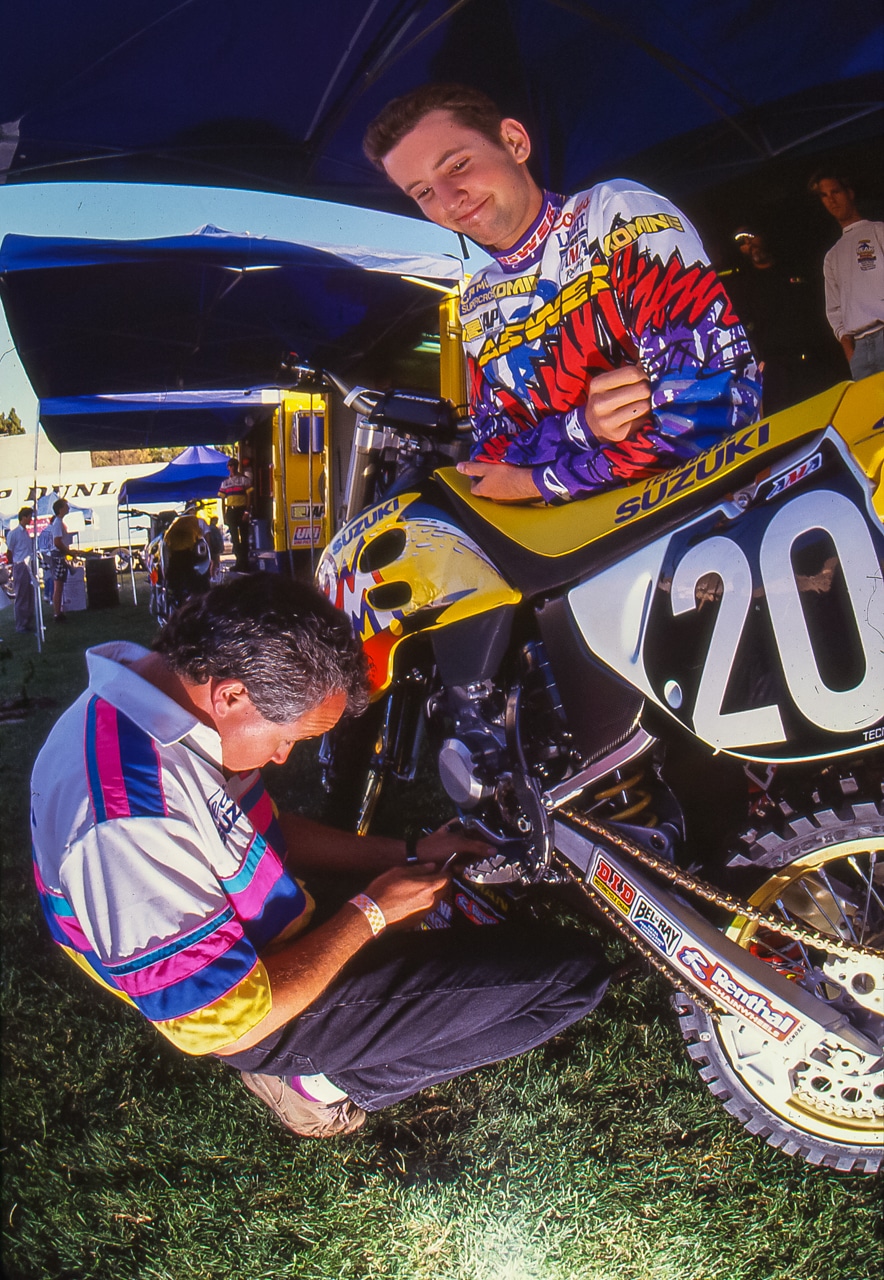 "I clearly remember the Las Vegas finale in 1995 when the lights went out, because I got hosed on the deal. The promoter cut the 125 main event to 10 laps. Ryan Hughes got the holeshot and I pulled up to him on the last lap and almost made the pass, but he held on for the win. I would have won a 15-lap main. What's funny is that the lighting conditions in Vegas weren't bad that night. It wasn't as good as it normally was, but the portable lights lit everything up. It still confuses me why the 125 West class was cut down to a 10-lap main, while the 250 class raced the full 20-lap main. I was robbed.
I CLEARLY REMEMBER THE LAS VEGAS FINALE IN 1995 WHEN THE LIGHTS WENT OUT, BECAUSE I GOT HOSED ON THE DEAL. THE PROMOTOR CUT THE 125 MAIN EVENT TO 10 LAPS. 
"My biggest competitor during my two 125 Supercross Championships was Ryan Hughes. My relationship with him was nonexistent at the time. We were hard-core competitors in 1994 and 1995. He was the guy I thought about when I was at home training during the week. At practice in Vegas that year, he came in hot and took me high on a berm. That made me mad. Afterwards, I went to the Pro Circuit truck and walked right in and sat down. Ryno asked me what I was doing there. My goal was to show Ryno that I wasn't scared of him, even though I was a skinny little kid [laughter]. The following year we were teammates at factory Kawasaki, and everything was fine between us.
"I worked with Roger DeCoster in 1995. I was just stoked to be on a factory team, racing bikes and getting paid. He asked me how I trained for racing. I told him that I ran and rode mountain bikes, but honestly I trained by going jet skiing, playing tennis and play riding. I rode a ton, play riding in the hills, in the desert or riding the rough tracks that Donnie Hansen and Johnny O'Mara had burned into the hills. They were gnarly tracks that never got groomed or watered. Then, one day, I made a stupid comment to Roger about how I didn't waste my time running because it didn't get my heart rate up. I didn't even know what I was talking about [laughter]. So, Roger took me on a run. It was the farthest I'd ever ran. I was tired at the end. DeCoster said, 'Damon, I don't think you're running hard enough or long enough.' He was right. I relied a lot on natural talent, and that strategy had gotten me pretty far. Roger knew that I needed a better fitness foundation, which I worked on later in my career.
"Somewhere around 1995 MXA gave me the 'Baby-Faced Assassin' nickname. I thought it was cool. It fit my personality. I was really quiet as a kid. Then, I would throw on my helmet and want to beat everyone by 45 seconds. I loved punishing the competition. I had a deep-down secret killer instinct. I didn't look like someone who could even ride a motorcycle. I went to public high school, and my classmates didn't know what I did until I won the Anaheim Supercross in 1993."