FLASHBACK FRIDAY | GUY COOPER'S 1990 CHAMPIONSHIP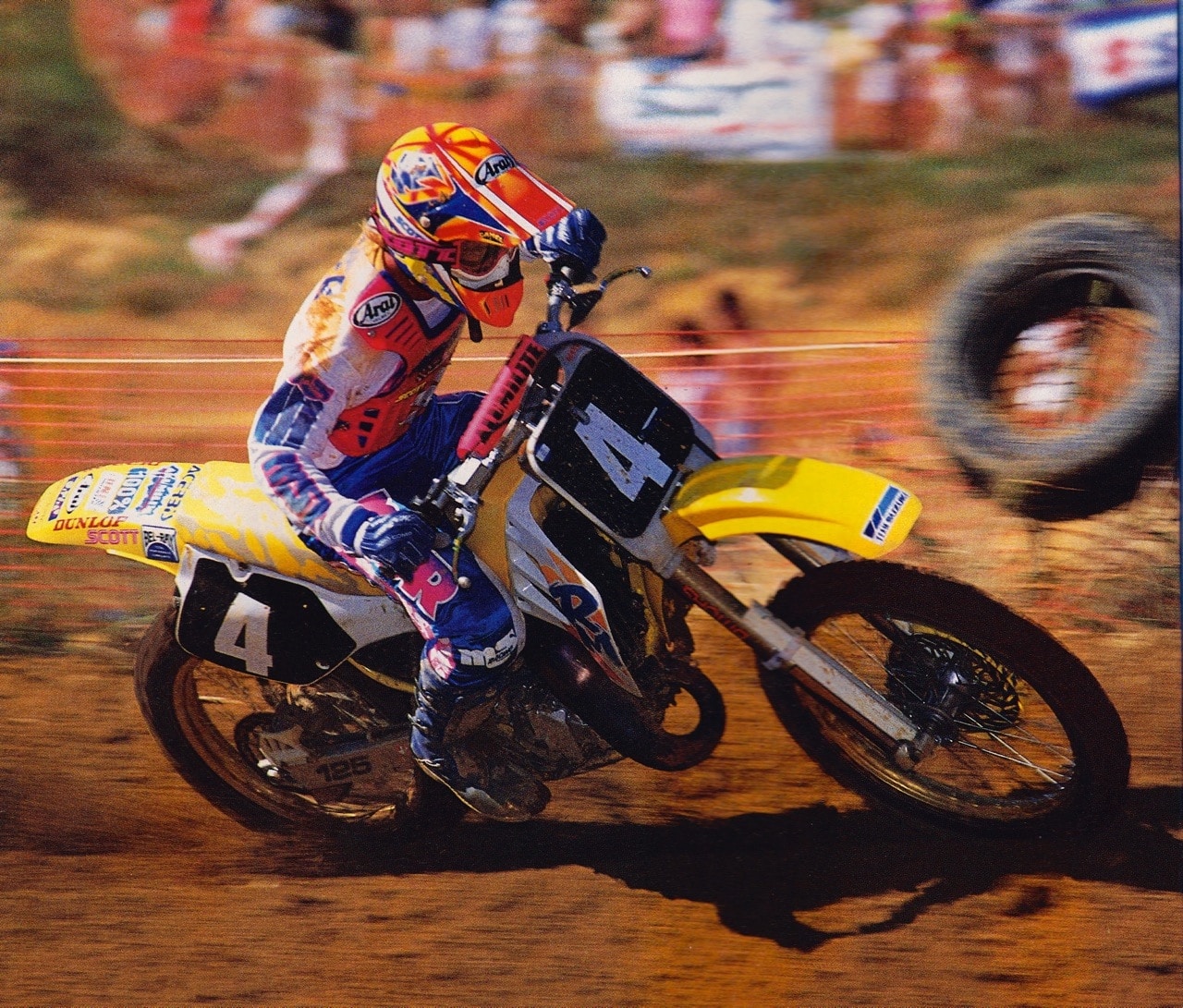 Guy Cooper on his factory Suzuki RM125.
1990 was a highlight in Guy Cooper's career. Cooper had an unusual pro career to start with. He first started racing professionally in 1984. Cooper had some momentum entering the major leagues, having won the Oklahoma State Championships. His best race of the season was at Red Bud, where he placed fifth. While he was overshadowed by class leaders Jeff Ward and Johnny O'Mara, the AMA did take notice. Cooper would earn the 1984 AMA Rookie of the Year award.
In 1985, Cooper raced his first (and only) Supercross of the year at Daytona. He finished 18th. While the rest of the year was focused on the 125 class in the AMA Nationals, Cooper would start off his Supercross career on a 250 two-stroke, while racing an 125 two-stroke outdoors. This trend lasted until 1992. Suzuki was searching for their next 125 outdoor champion. They hadn't won a 125 Championship since 1981, when Mark Barnett clinched his third title in a row in the class. With the exception of Jeff Ward's 1984 run, Honda had dominated the 125 class outdoors. Year after year they churned out Championship riders. Cooper was a Honda rider, but didn't win the championship —From 1987 to 1989 he had ended the series third in points.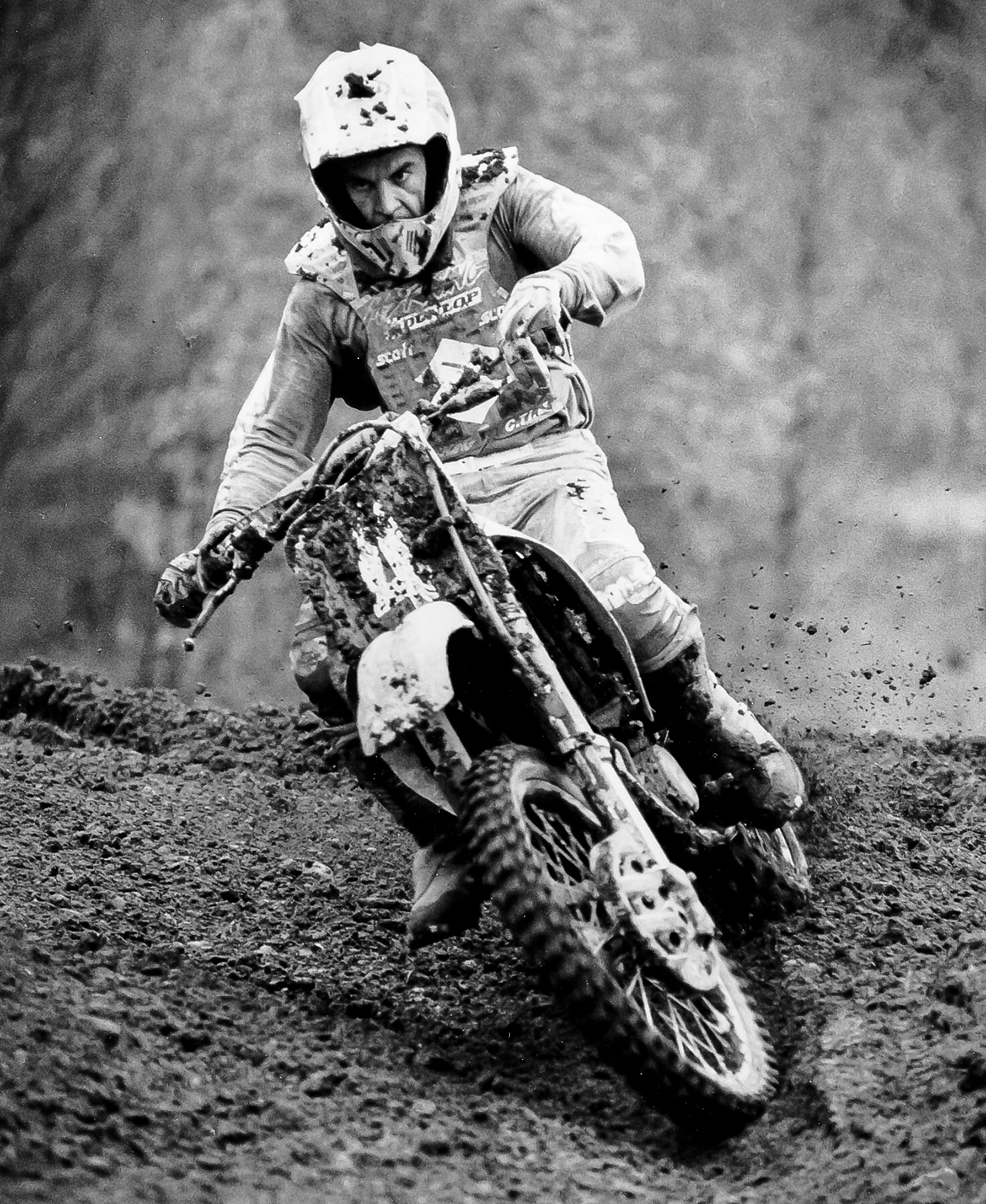 Suzuki had a guy in 1987 who contended for the championship, George Holland. Holland came up second in the 1987 points. In 1988, Holland switched to Honda and won the 125 Championship. Cooper was once again beaten by a teammate. By 1990 a whole new crop of riders had moved into the 125 class. Jean-Michel Bayle, Jeff Emig, Steve Lamson, Jeff Matiasevich and Mike Kiedrowski were all riders that were able to fight near the front.
The season started at Gatorback Cycle Park in Florida. The "Orphan National" happened in early March, so it was assumed it wouldn't fully set the tone for the whole season. It did. Mike Kiedrowski edged out Jean-Michel Bayle, Jeff Matiasevich and Guy Cooper for the win. On April 1st, Guy Cooper won Hangtown by beating out Jean-Michel Bayle. While the other two were buried mid-pack, they all would be back near the front at round three. If anyone could keep ahead of Cooper it was Mike Kiedrowski. The "MX Kied" would get good starts and hold off Cooper by sprinting away. At Lake Sugar Tree Mike did just that, ending the day with a 1-1 win while Cooper was left to battle with Jeff Emig.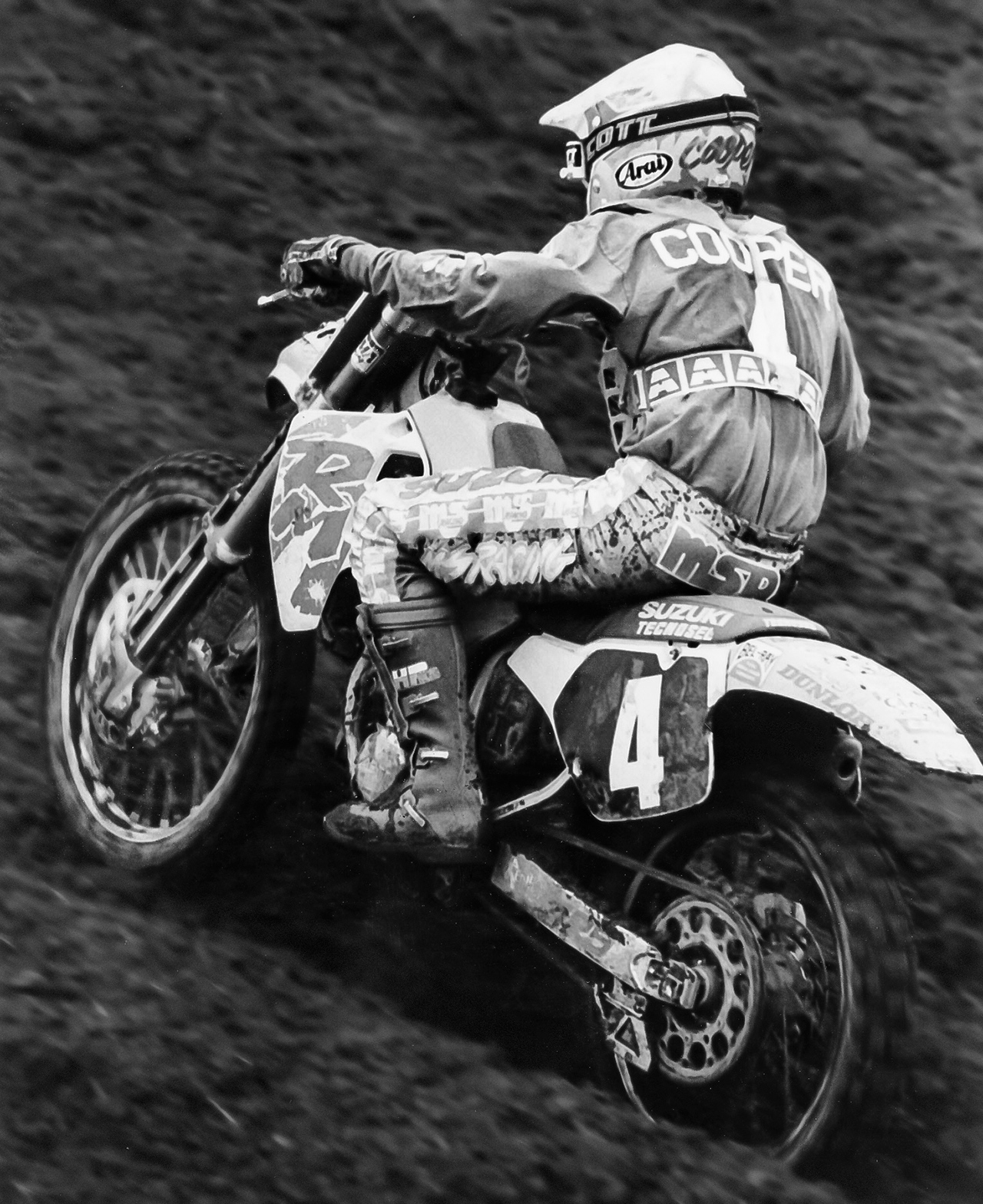 At High Point it was Bayle's turn to take the overall win. At Red Bud Guy Cooper finally started to reel in his contenders, winning the overall. The win put him 32 points ahead of Kiedrowski. He still had a 23-point deficit to make up on teammate Jean-Michel Bayle. Bayle was leading the series at 234 points. While the environment changed his riding style, the sands of Southwick brought Cooper his third win of the season. After getting the holeshot in the first moto, Cooper maintained his lead to a solid first moto win. Cooper wasn't able to hold onto the lead as easily in the second moto. While Bayle was buried in the pack after a first turn crash, both Matiasevich and Kiedrowski were nipping at Cooper's heels. Mid-race Matiasevich caught Cooper and the two battled for the lead. While it seemed like "Chicken" would make the pass stick, Cooper was determined to get it back. Late in the race he did. Cooper shifted his focus to establishing distance, and Matiasevich got caught up in a battle with Kiedrowski. Guy Cooper would close the points gap between him and Jean-Michel Bayle to nine points.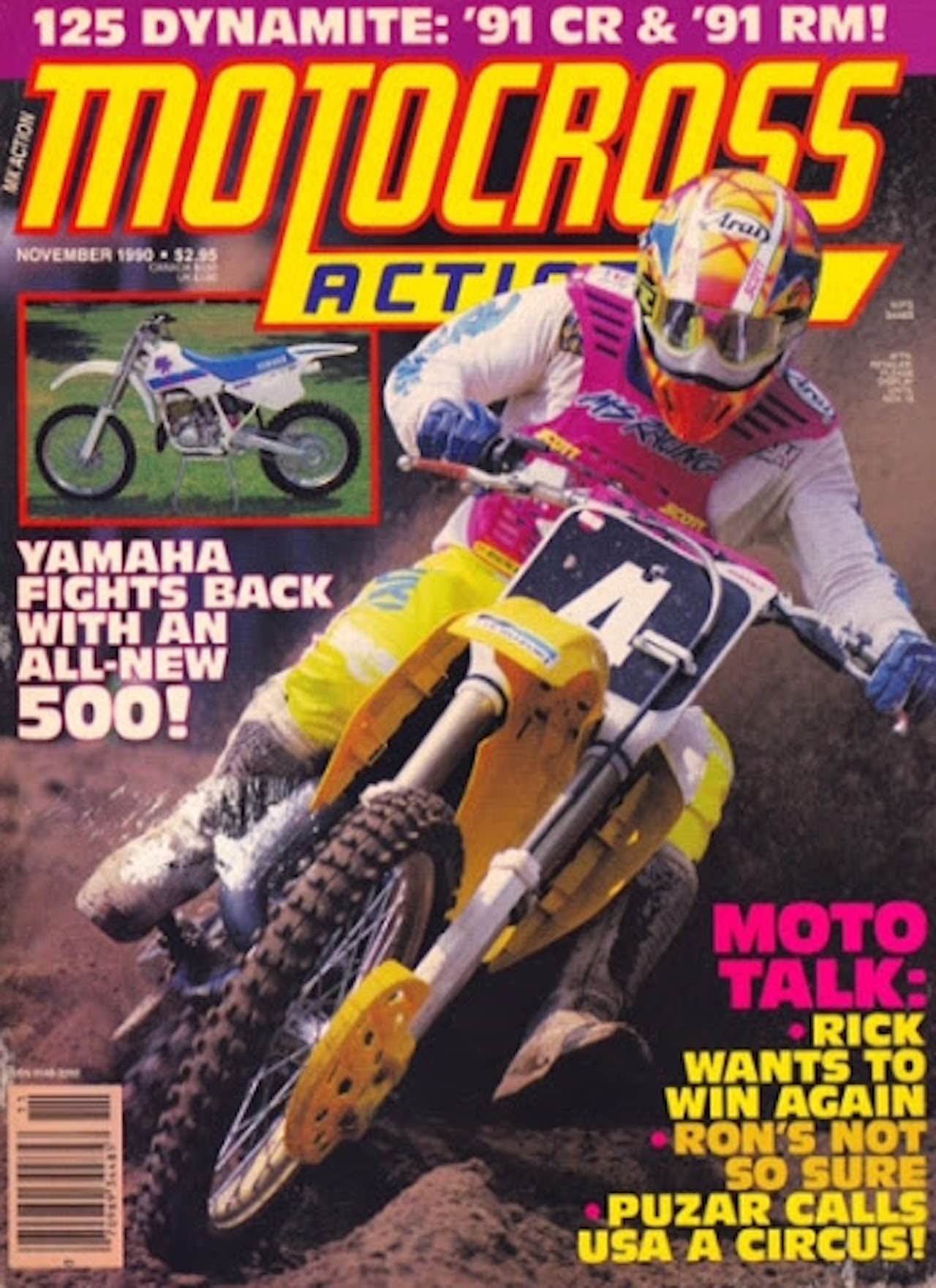 Guy on the cover of the November 1990 issue of MXA.
Jean-Michel Bayle won the overall at the next race, but neither Mike Kiedrowski nor Guy Cooper had to work too hard to overtake Bayle in points when JMB went over the bars a week later at Washougal injuring his wrist. He wouldn't attempt to return until Budds Creek—four racers later. Budds Creek was the second to final race and Honda's Mike Kiedrowski led Suzuki's Guy Cooper by a single point. When Bayle showed up at Budds Creek, healed from his injury, Honda asked Bayle if he would help Mike Kiedrowski win the Championship—which meant moving over for him if push came to shove. Jean-Michael Bayle said, "No." Bayle didn't like Kiedrowski and refused to help him or Team Honda. Fearing that Bayle would jeopardize his Honda teammate's Championship chances, Honda team manager Dave Arnold decided to lock Bayle's bike up in the van to prevent the Frenchman from starting. The plan worked and Mike Kiedrowski was able to fend off Guy Cooper at Budds Creek. The Championship wasn't over, however. A week later Guy Cooper won the overall and the championship by one point. The Honda win National Championship win streak had been broken. Cooper ended with 518 points and Kiedrowski with 517.