GODSPEED! PHIL ALDERTON (1957-2012)
By Jody Weisel
I don't want to write any more obituaries about my friends and I wish that there was some way that I didn't have to write this one. But, this is one "in memorium" that I always knew I'd be putting into words sooner rather than later.
Phil Alderton's life was a cautionary tale of the rise and fall of an American moto-capitalist. Phil saw the highest highs and the lowest lows that this sport has to give. Phil was a charming man with a quick smile and a friendly manner—and even when he was as far down as a person can get, he managed to work his way back to the "Big Show" time and time again. People liked Phil and were willing to take chances to help him—in his later years he almost always let them down.
It was a long and winding road, that included all the soap opera drama that you would expect in a story of redemption and condemnation.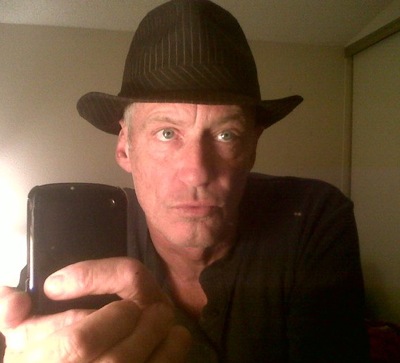 At his height Phil Alderton was a mover and shaker in the motocross world. He had the ear of every person of importance and could get what he wanted with the snap of his fingers. He knew the stars of the sport because he made some of them. He was influential. Then, he started on a downhill spiral that included divorce, a drinking problem, a young wife, business setbacks, drugs, a stint in jail for DUIs, another divorce, a couple of relapses, one last chance and eventual banishment from the sport he loved so much.
I knew two Phil Alderton's: the bright young motorcycle racer who wanted to advance the sport, help other people and make his mark in the world and the pitiful, pale, insecure, shaky Phil that was on the fast track to become a pariah in the sport of motocross.
The young, energetic and alive Phil (his friends called him Flipper,) and I were friendly, but not close friends. Our lives entwined at the races; first, because he himself raced the Nationals during the golden age; and second because he ran the Powerful Honda of Troy motocross team. We spent no time together outside of the race track, but I knew his friends, he knew mine and we talked every weekend.
The second Phil I knew was a totally different man. Oh, he was capable of a quick smile and a hearty laugh, but the ravishes of his lifestyle were written on his face. He had been stripped of his team, because of a series of DUI arrests, and he couldn't get a phone call returned in the sport he had been such a big part of.
I returned his phone call—not out of friendship so much as concern. I'd seen this happenstance devolving of life before. I wanted to help because not helping had a terrible and obvious outcome. So, my friends, my work mates and my race team (who are one and the same) invited Phil into our circle. MXA gave him bikes to ride, a place to be and people to interact with.
Yes, I talked to him about the evils of drugs and alcohol—always in a matter of fact manner that made him cringe. But, I also talked about the joy of being a motorcycle racer and stressed to him that he was, to his very core, a motocrosser. It was what defined him and I thought that it could save him. Over the years the whole MXA wrecking crew saw him fight his personal devils—losing and winning, but not always in that order. And we always rooted for him to comeback, and there were many comebacks. One too few.
It is easy to say that Phil Alderton died lonely, but that just isn't true. Phil had everything that a man could want. In his own words Phil wrote to me once that, "I am and have been many things: a father, son, brother, husband and boyfriend. I have been a student and a business man. I have been employed and unemployed, I have been a success and a failure. And, to most of the people in the motorcycle industry, I have been a team owner and a mover-and-shaker in AMA Pro racing. But, first and foremost, I am a motorcycle racer. I have been one for 35 years."
This is not the story of a Bowery bum, but of a vibrant and powerful man who did great things. Phil changed the sport with his Honda of Troy privateer team, with the founding of Yamaha or Troy and with his Suzuki of Troy effort with Jeremy McGrath. He affected the lives of every racer, mechanic and fan who rooted for the Fifth Dragon team. Even more significantly, he had love and supportive friends (much more so than anything I could offer him), but he didn't have the strength to fight drug addiction.
Drugs and alcohol had a hold of him, and even horrible life lessons couldn't change that, and there were powerful events that should have been life altering for Phil. He spent time in jail. He lost his business. He lost his wives (both of them). He lost custody of his child. He lost the respect of the motorcycle industry. He lost his driver's license. He lost his girlfriend to a drug overdose. He lost his roommate to a drug overdose. He lost himself in drugs. and he eventually lost his life to a drug overdose. It is hard to say. It is sad to say. But, it is a truth that should and could help others…even if it couldn't save Phil.
Finally, the situation got so bad that Phil left California and returned to his Ohio roots. He sent me the occasional e-mail and his friends, Michael Rigdon and Brian Martin, kept me abreast of any news that Phil left out of his brief missives. Often the news was good and sometimes it was troubling, but Phil's life was a roller coaster ride—we all just prayed that it would come gently back to the station someday.
Ironically, it was Phil who had called me two years ago when MXA's Rich Eierstedt had died of a drug overdose. Phil and Rich shared a common story and hearing the sad news from Phil seemed very eerie to me. When Phil passed away, there was no phone call. I got on e-mail on Tuesday, February 29, 2012, from Michael Rigdon saying, "Phil is in critical condition in Dayton from a heroin overdose. He got into this back in April that's when the Chaplin Cycles deal fell apart." Then, I got an email on March 9, 2012,  saying that Flipper had died.

There is value in life…even if it is misspent. Phil Alderton achieved so much in life that the circumstances of his death can't reduce my respect for him. In truth, his fall from grace carries within it a powerful message—not about drugs or life on the edge—but about friendships that see through the fog of addiction. It is bittersweet that a path so inevitable and painful could not be altered by well-meaning friends and family—or by a man who wanted so much to do the right thing.
To his brother Rich, daughter Presley, family, wives, friends and men he mentored at his race teams, I offer my sincere condolences.