HAVE YOU SEEN THE NEW MXA: JAM-PACKED FULL OF BIKE TESTS, TECH ARTICLES & THINGS YOU NEED TO KNOW
The headlines on the cover of the May 2018 issue only hint at all the stories that are inside.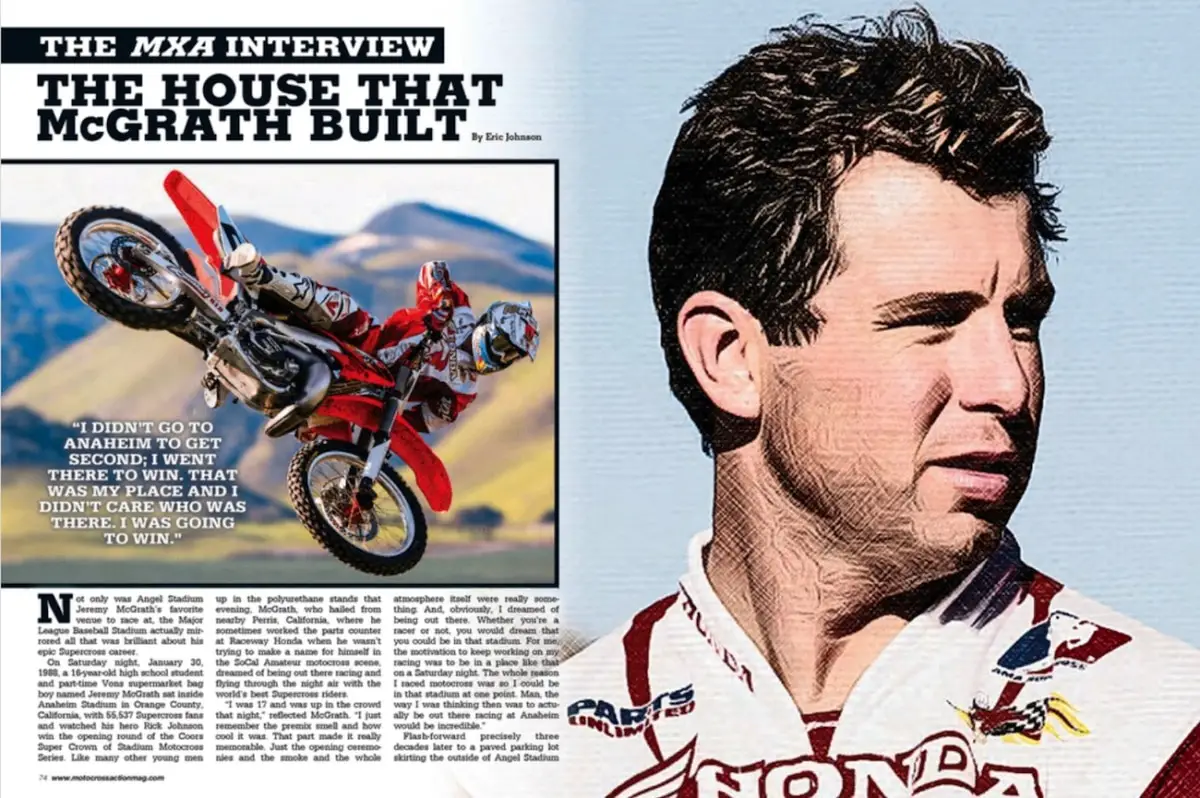 This isn't the typical Jeremy McGrath interview. No questions about his favorite color, what's on his playlist or who he thinks will win next week's race. Nope! Just questions about the special relationship between SuperMac and the Anaheim 1 Supercross. He owned the place. He tell you why he was so good there.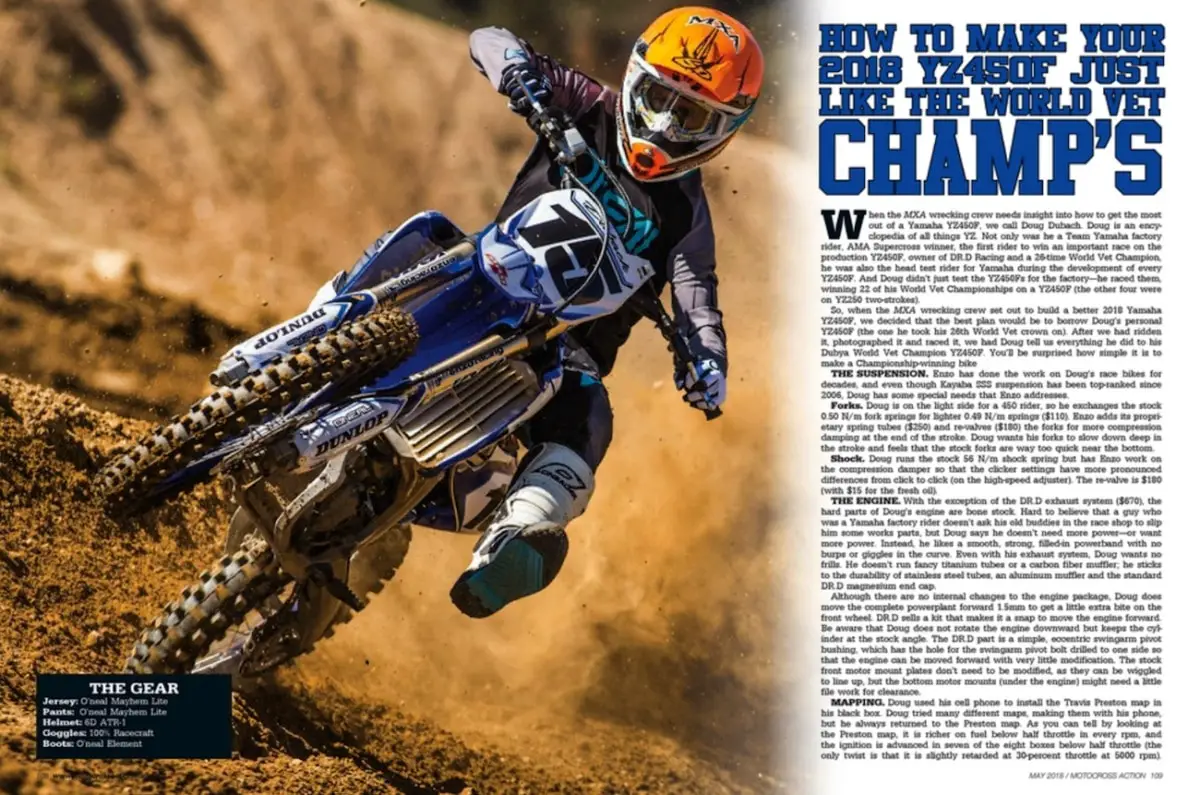 Do you race a 2018 Yamaha YZ450F? Want insider info on it? MXA took 26-time World Vet Champion Doug Dubach's YZ450F away from him and raced it, tested it and poured over it. Doug knows a thing or two about YZ450Fs—since he was the test rider who developed it.
There is a guy on the internet who will answer all of your tech questions, but his answers would be better if he actually owned a bike. Why risk faulty info from an unknown source when the MXperts are here to help you. We not only own motocross bikes, but we have at least one of every brand-new 2018 bike in our workshop.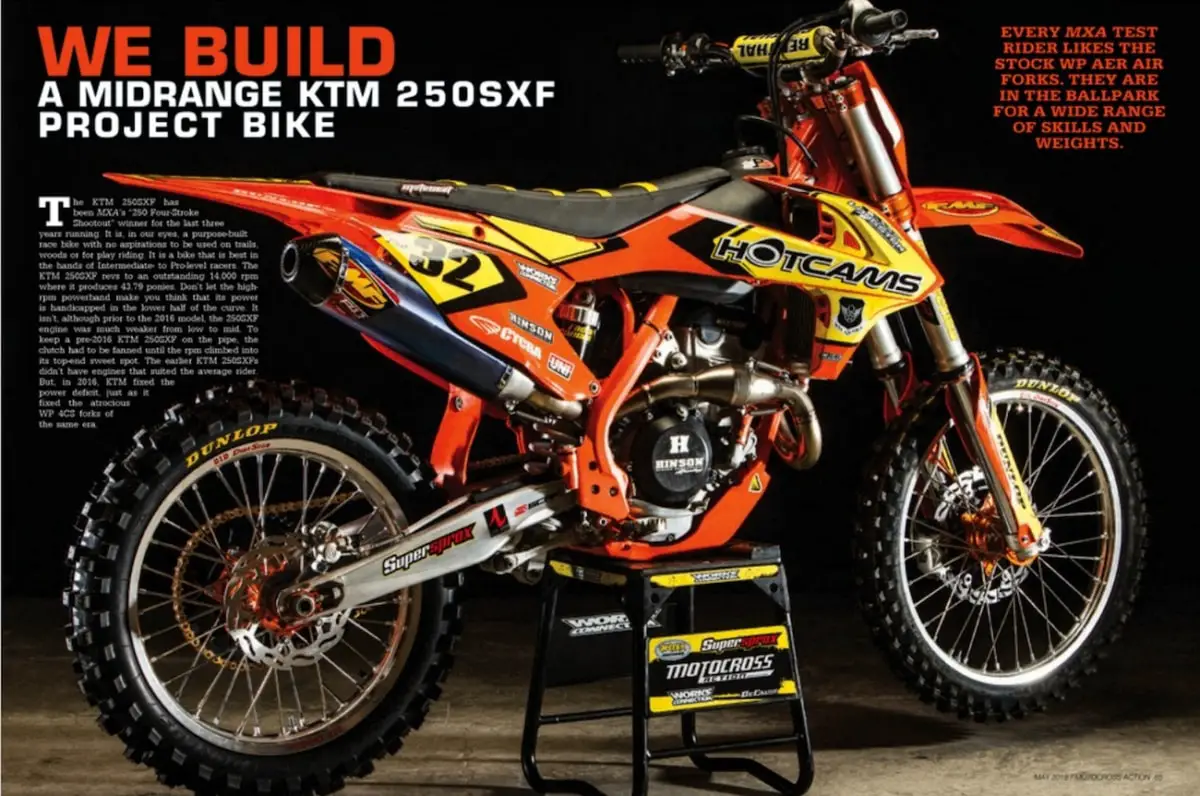 We wanted to build a KTM 250SXF that had stronger midrange to go along with theits 14,000 rpm top-end. We tell you how we did it. Plus, it was a good excuse to make an orange and yellow KTM.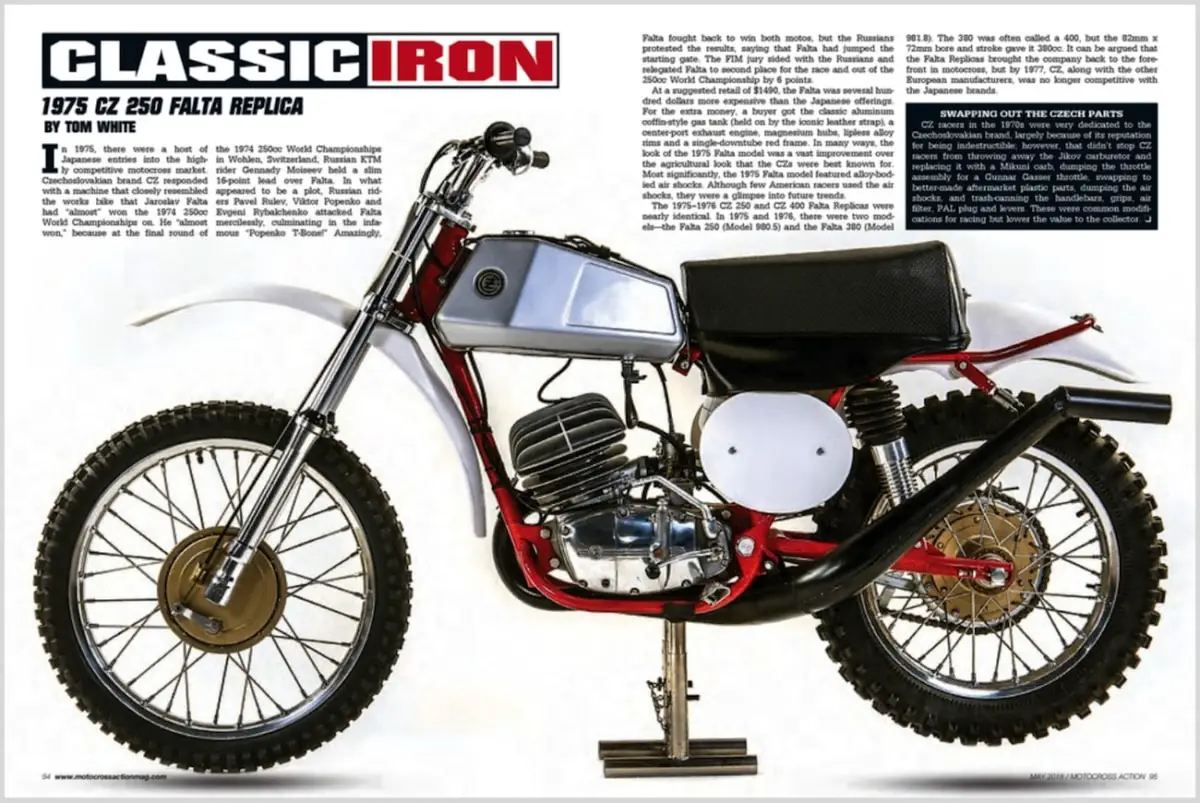 This month's Classic Iron is the 1975 CZ 250 Falta Replica. Jaroslav Falta was the 250 Grand Prix racer who almost rode this bike to fame and glory. "Almost" is the operative word. Note the air shocks.
The 2019 Husqvarna TC125 is a blazing fast, light, agile and attractive two-stroke. We love it. Find out why inside.
Yeah, yeah, yeah, we know that the majority of modern motocrossers don't give a hill of beans about technical stories on how their bike works, but we keep writing them anyway. If you ever wondered about the tortured ife of a piston, read this.
You don't read tests of 450 four-strokes from Italian boutique builder TM Motorcycle every day. These bikes are rare—and although we've tested them before, we never came to terms with their Euro setup. Guess what? We loved this year's TM MX450-FI.
We test the latest brakes from Brembo, Magura and the KTM factory against each other. We were surprised by the results.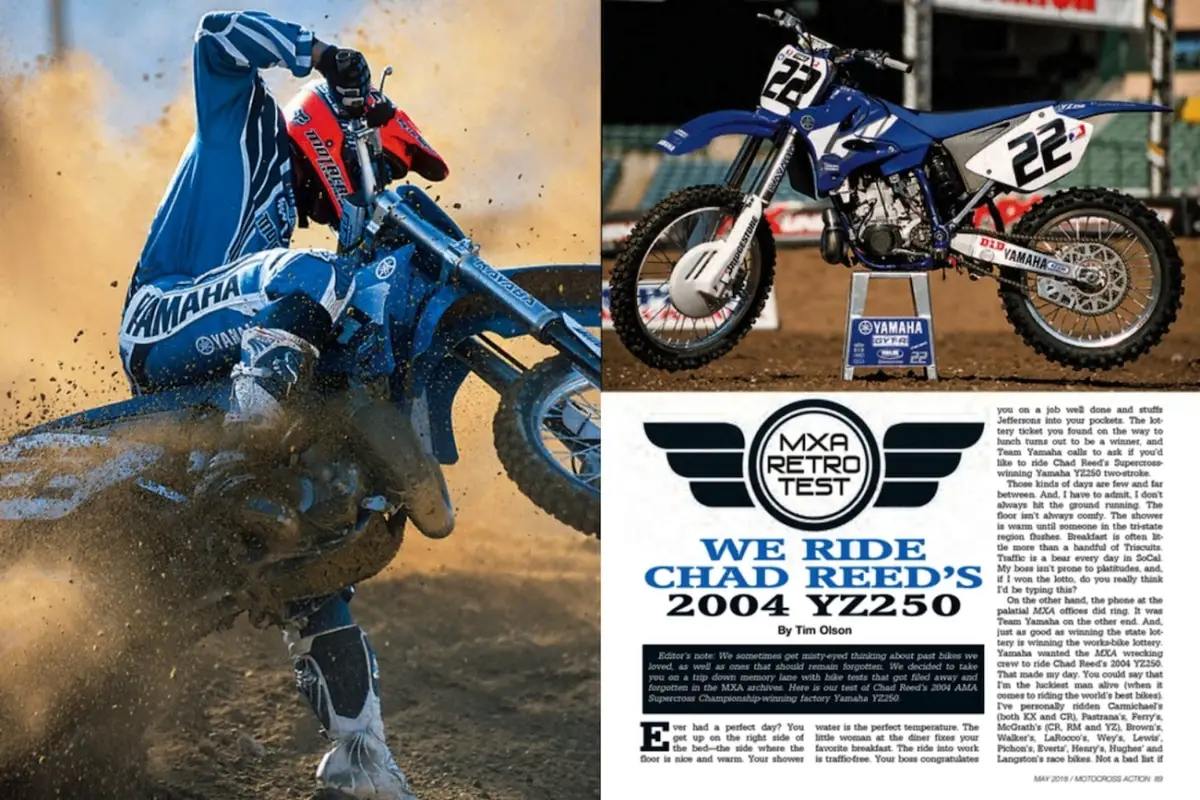 Do you remember when we tested Chad Reed's 2004 Factory Yamaha YZ250 two-stroke? We do and we flashback to show you exactly what we thought of it 14 years ago.
Supercross is almost over, which is a good time to take a look back at all the players that made it an exciting and traumatic series.
PLUS, THESE STORIES AND MANY MORE

Horst Leitner's wild and weird linkage fork.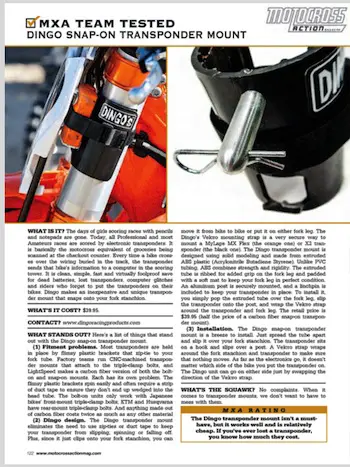 Dingo's inexpensive and trick transponder holder.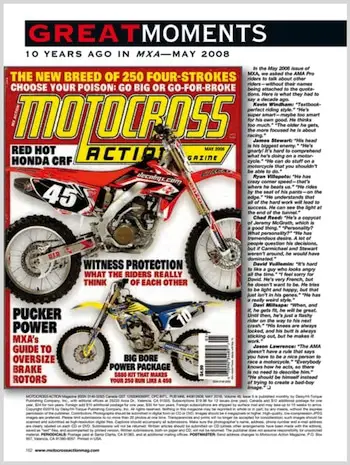 Mean words from the May 2008 issue.

The secrets of the all-new 6D ATR-2 helmet.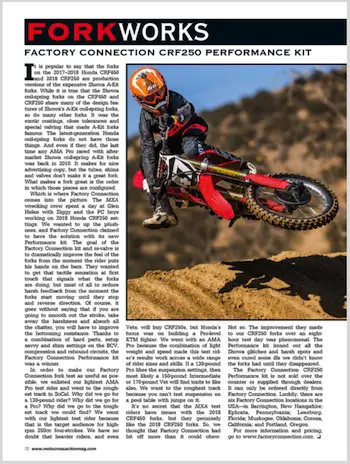 We test Factory Connection's CRF250 Performance kit.
HOW TO SUBSCRIBE TO MXA…AND MAKE MONEY ON THE DEAL

Do you subscribe to MXA? You should. We know that you think that print magazines are dead and that the internet will fill the void, but most of the stuff in the current issue of MXA won't appear on the web for several months, if at all. Luckily, you can get all of MXA on your iPhone, iPad, Kindle or Android by going to the Apple Store, Amazon or Google Play or in a digital version. Even better you can subscribe to Motocross Action and get a $25 Rocky Mountain ATV/MC gift card to spend on whatever motorcycle parts or products you need. You can call (800) 767-0345 or go to www.hi-torque.com/product/motocross-action-holiday/.
OR CLICK ON THE BOX BELOW