JASON ANDERSON'S TC250, KX500 & WIN KDUB'S CRF450 ON THIS WEEKS MID-WEEK REPORT

#WHIPITWEDNESDAY
Rider: Dean Wilson
Bike: 2012 Pro Circuit KX250F
Location: Anahiem
Event: Anaheim Supercross
Photographer: MXA Archive
ISO: 400
Shutter speed: 1/1000
Lens: 70-200mm
Focal length: 200mm
F-stop: 5
TWO-STROKE SPOTLIGHT: PAUL HOEY'S 1998 YAMAHA YZ250
"I have just completed my 1998 YZ250 Ohlins 360cc Noleen replica. This bike was an original used and abused survivor. I completely restored and refurbished almost every part of this bike including a NOS Noleen race team ported Ohlins 360cc top end kit, UFO plastics, Throttle Jockey original Noleen race team graphics and seat cover, GP alloy fuel tank, Ohlins Shock, factory Krooztune Suspension KYB fork internals, Lightspeed Carbon Fibre Parts, Dynoport USA 360cc big volume exhaust pipe and carbon fibre silencer. Excel A60 rims, Talon hubs, Renthal sprockets, chain and handlebars. SCAR grips, Applied Racing triple clamps and Pirelli MX32 Pro tyres. It's been awesome fun building this bike and I can't wait to race it. –Paul Hoey from Australia
EDITORS NOTE: Please keep those submissions coming. If you would like your bike to be featured in the "Two-Stroke Spotlight," please email me at [email protected]. All I ask is that you give a breakdown of your bike and a detailed description of the build. Please also send a few photos of your steed. By submitting your bike for the "Two-Stroke Spotlight," you agree to release all ownership rights to the images and copy to MXA. Please don't email me spam or try selling me Taylor Swift concert tickets or email me spam. I already celebrate T-Swizzle's entire collective, and there will be "bad blood" if you send me junk mail. See what I did there? Happy submitting your smoker.

2019 MXA 450 SHOOTOUT
GEAR GUIDE | TROY LEE DESIGNS
The MXA gear guide is here to suit your needs from head to toe. Whatever your style or color preference, you will find it here this month or the next. Whether you are on a budget or want the best gear money can buy, you will find it here. Our gear guide features quality products that you can bet your hard earned money on. This month we feature Troy Lee Designs gear.
Helmet: Troy Lee Designs SE4 Polyacrylite Factory–$250.00
Goggles: EKS Brand EKS-S Premium–$59.99
Jersey: Troy Lee Designs GP Air Bolt –$38.00
Gloves: Troy Lee Designs Air Solid–$29.00
Pant: Troy Lee Designs Air Mono–$119.00
Boot: TCX Comp EVO 2 Michelin-$549.99

WHAT THE MXA WRECKING CREW IS UP TO
We got the factory bike assassin, Twisted Development RM-Z450 in the studio this week. We will be testing this fire breathing dragon later this week. This just might be the bike that Josh Grant will race if he doesn't find a ride.
This Twisted Development engine can holeshot a Supercross 450 main event. 
A POV of the cockpit. 
The 2019 Husqvarna in the MXA studios.
MXA were the lucky ones that got our hands on Jason Anderson's factory Husqvarna TC250. The Factory Husky team built this as close to his factory FC450 as possible.
The stock Mikuni TMX carb was replaced with the cleaner running Keihin carb. 
Factory WP forks setup up for Anderson himself. 
Then we got it out to Fox Raceway for get Jason to ride it. Then MXA's Dennis Stapleton got to test it. 
Dennis shredding the works smoker. 
JASON ANDERSON ON A FACTORY TWO-STROKE
TAGGER PAINTS AN MXA LID FOR DENNIS STAPLETON 
Check Tagger designs out at www.taggerdesigns.net.
WIN KEVIN WINDHAM'S MXDN HONDA CRF450
Press Release: Road 2 Recovery is proud to announce a partnership with Team Puerto Rico at Motocross des Nations to raise additional funds for Global Disaster Outreach. Beginning Monday, September 24th, 2018 at 11:00 AM PST, you will have the opportunity to win Kevin Windham's MXoN official race bike. This once in a lifetime eBay auction will last seven (7) days and 100% of proceeds will be donated to Global Disaster Outreach. This partnership will give Team Puerto Rico an even larger platform for their fundraising efforts to help rebuild the island after Hurricane Maria. We are very excited to help them raise as much as possible for an incredibly worthy cause.
Thanks to the generous donation from GEICO Honda race team, one lucky buyer will walk away with the bike that Kevin Windham actually road at the 2018 Motocross des Nations at RedBud. Thank you so much to all the contributing partners that made this happen.
We are excited to help be a part of something bigger any ourselves, we hope you are as well and will share.
Direct eBay Link- https://www.ebay.com/itm/183452572384

MXA | MOTO | TRIVIA
Name the rider and year. Answer at the bottom of page.
MAXIMA 927 TWO-STROKE RIDE DAY AT GLEN HELEN THIS THURSDAY, SEPT. 27
On Thursday, September 27, Maxima Racing Oils will be celebrating a day for two-stroke—called "927 DAY." The Maxima staff will be at Glen Helen Raceway showing off their newest products, providing product support and giving those on two-strokes some free goodies! "The Dogger" Ron Lechien will also be there spinning laps on his KX500 and signing posters. The first 100 two-strokes through the gate will get a free bottle of Castor 927 and a cool T-shirt! Normal hours and gate fee applies. For more info go to www.GlenHelen.com.
CRAIGSLIST FIND | 1974 SUZUKI TM 400
LOST BUT NOT FORGOTTEN | 1999 KAWASAKI KX500
BOYESEN BUDDY BOOGIE SPEED FESTIVAL AT PAGODA MC
Press Release: The Mortheast and mid-Atlantic's premier dirt bike festival. "The most seat-time you will get all year" – Randy Kastle, Pagoda MC President.
Calling all Motocross, Enduro, GNCC, Cross Country, casual riders… young and old, fast and slow. This is YOUR CALLING. The Boyesen Buddy Boogie is a unique Dirt Bike Festival designed to offer the best collective Riding and Racing experience available in the Northeastern and Mid-Atlantic regions.
Boyesen Engineering, Motocross Action Magazine, Dirt Bike Magazine, and ThumperTalk.com are proud to showcase the 1st Annual Boyesen Buddy Boogie Speed Festival held at Pagoda MC in Birdsboro, PA. The Boyesen Buddy Boogie has been created to include the full spectrum of Motocross and Offroad and has been designed to be a weekend-long celebration of the best that each discipline has to offer. From beginner youth riders and casual riding , to some of the fastest and most accomplished regional Moto and Offroad pilots, the Buddy Boogie Speed Festival promises to be a fun and approachable event that offers a weekend packed with family fun, riding and racing! The Boyesen Buddy Boogie is slated to be a can't miss event with opportunities to gather as friends, as competitors, and most importantly as FAMILY to celebrate all things Moto and Offroad in one single destination event. The Buddy Boogie offers riders the most available riding time throughout the weekend. Call your Buddies and come out and Boogie!
SOCIAL HASHTAGS
#buddyboogie, #doyouboogie, #pagodamc, #ridepagoda
Event Date:
October 5th – 7th 2018 (Weekend Festival: Friday, Saturday, Sunday)
Event Location:
Pagoda Motorcycle Club
441 Redlane Rd
Birdsboro, PA 19508
TEL: (610) 582-3717
www.pagodamc.org
[email protected]
MXA'S SNAP CHAT FEED
If you are a Snap Chat user then add us to your stories. Get sneak peaks of everything moto. Our Snap Chat name is motocrossaction. Or just take a Snap of the picture above and it will add MXA automatically to your feed.
TALK MOTO WITH MOTO MINDED PEOPLE. JOIN MXA'S FACEBOOK GROUP CHAT

We love everything moto and want to bring all moto junkies together into one place to share their two cents, ideas, photos, bike fixes, bike problems and much more. To check it out first you must need to or already have a Facebook account. If you don't, it isn't much work and you could even have an alias so nobody knows it is you. To join click HERE. After you request to join we will accept your request shortly after.
JOIN MXA'S FLIPBOARD PAGE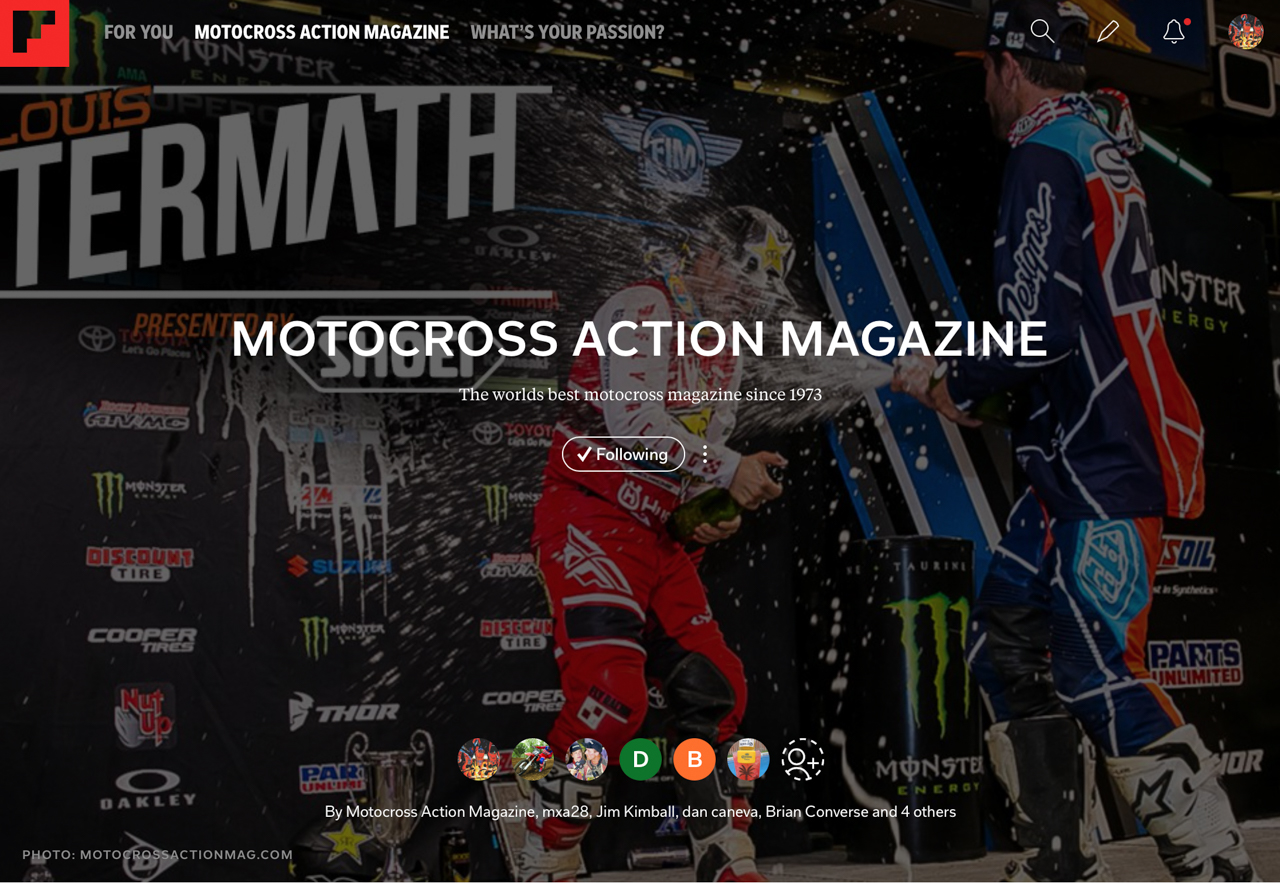 If you use Flipboard make sure to subscribe to the Motocross Action page for all the updates on our website. Click HERE to check out the page.
CLASSIC PHOTO
2011 Daytona Supercross start with Kevin Windham (14), Ryan Dungey (1) and Ryan Villopoto.
MXA QUESTION OF THE WEEK ANSWER
The answer was Tommy Croft. The winner of the FMX contest is Terry Swaim. 

---
Moto Trivia answer: Jason Anderson in his rookie year in 2011