LEST WE FORGET: 2020-1/2 HUSQVARNA FC450 ROCKSTAR EDITION
2020-1/2 ROCKSTAR EDITION
The 2020-1/2 Husqvarna FC450 , Rockstar Edition,  has been forgotten in the nation's concern over the pandemic. MXA thought that maybe a second look at the limited-edition run of bikes that are a precursor to the 2021 Husqvarna FC450 might  brighter your day. It is built in partnership with the suppliers to the Factory race team. Each special-edition model is an amalgamation of production parts mixed with high-tech aftermarket pieces, including Rockstar graphics, titanium FMF Racing Factory 4.1 RCT muffler, blue anodized triple clamps and CNC-machined hubs and updated WP XACT air forks.
2020-1/2 ROCKSTAR EDITION HIGHLIGHTS
1. New Rockstar Energy Husqvarna Factory Racing team graphics.
2. New billet aluminum Rekluse clutch cover increases durability while enhancing the factory look.
3. Updated WP XACT split air fork with a longer bypass slot for improved initial comfort and new oil bypass in the outer damping leg tube to reduce pressure peaks.
4. Fully adjustable WP XACT rear shock for superior suspension performance and feeling.

5. Optional vented airbox cover included that can be changed without the use of any tools for a sharper throttle response according to rider preference or track conditions.
6. Pankl Conrod with a bushing in the small end reduces friction for a faster revving engine.
7. CNC-machined triple clamps with adjustable offset (20–22mm) and perfect fork clamping.
8. Ultralight FMF Racing Factory 4.1 silencer with titanium body and carbon end cap.
9. Anodized D.I.D DirtStar rims with machined, anodized hubs and three-cross pattern in the front for optimal handling.
10. Hydro-formed frame with black premium powder coating.
11. Magura hydraulic clutch for perfect modulation in all conditions.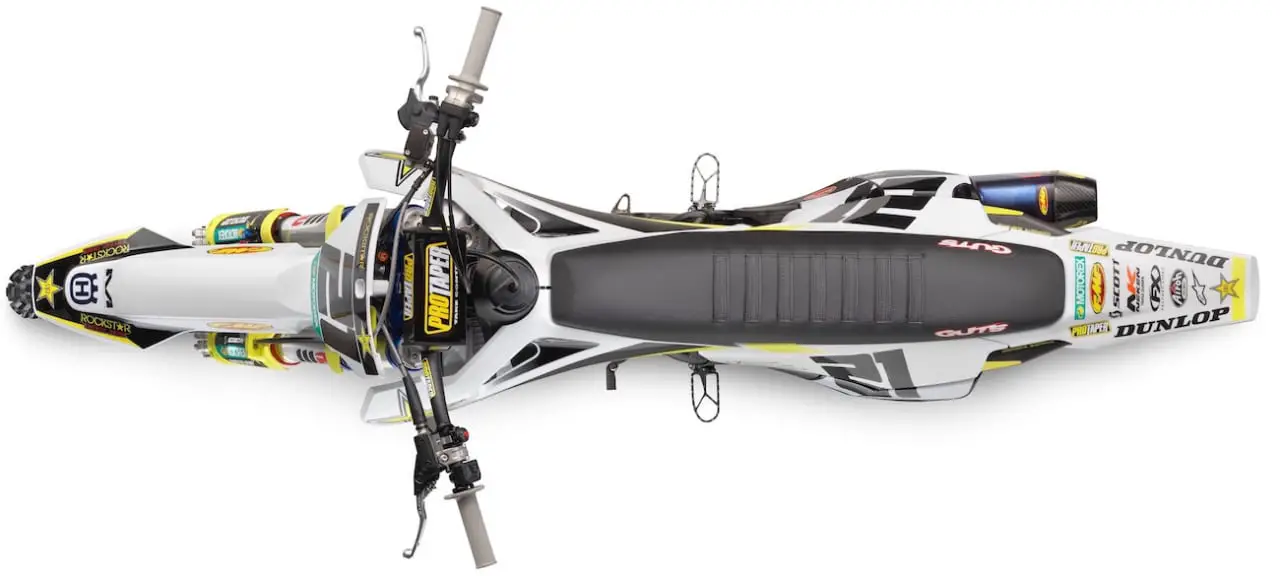 12. Floating front waved disc with disc guard.
13. Lightweight and robust carbon fiber and polyamide composite subframe.
14. Carbon fiber-reinforced engine protector and mechanical holeshot device as standard.
15. Handlebar-mounted map select switch also activates launch and traction control.