MOTOCROSS ACTION MID-WEEK REPORT
#WHIPITWEDNESDAY
Rider: Austin Forkner
Bike: 2019 Kawasaki KX250
Location: Daytona, Florida Supercross
Photographer: Brian Converse
TWO-STROKE SPOTLIGHT: BIG-BORE YAMAHA YZ295
Art McDade and Buck Gerolamy teamed up to make a customized 2009 Yamaha YZ295. It seems that going big on the YZ250 is a popular choice. If you're thinking about throwing a big-bore into your 250 two-stroke, I suggest purchasing a flywheel weight from Steahly Offroad. They have a plethora of options to help smooth the power and make the engine more tractable. Anyway, here's Art and Buck's science project. What's cool is how they included website links. You, too, can build a red and white YZ295.
"Attached are pictures of a well used 2009 Yamaha YZ250 brought back to life as a YZ295.  The engine uses an Eric Gorr low to mid 295 kit ($660) and runs on pump gas. The suspension was rebuilt with SKF products. We think this is the perfect two-stroke for Vet riders. It is lightweight with lots of power and excellent handling. Listed below are all of the suppliers we used.
Suspension By Buck – www.suspensionbybuck.com
Fly Racing – www.flyracing.com
Dirt DNA – www.dirtdna.com
Tusk Off-Road – www.tuskoffroad.com
Works Connection – www.worksconnection.com
Innteck – www.innteck-usa.com
Boyesen – www.boyesen.com
UFO Plastics – www.ufoplasticusa.com
Torc1 Racing– http://www.torc1racing.com/
Eric Gorr – www.eric-gorr.com
Matrix Concepts – http://www.matrixracingproducts.com/
TM Designworks – www.tmdesignworks.com
Bill's Pipes – www.billspipes.com
Clarke Mfg – www.clarkemfg.com
Guts –  www.gutsracing.com    
Thanks for featuring the bike."
~ Art McDade & Buck Gerolamy
Editors Note: Please keep those submissions coming. If you would like your bike to be featured in the "Two-Stroke Spotlight," please email me at [email protected]. All I ask is that you give a breakdown of your bike and a detailed description of the build. Please also send a few photos of your steed. By submitting your bike for the "Two-Stroke Spotlight," you agree to release all ownership rights to the images and copy to MXA. Please don't email me spam or try selling me Taylor Swift concert tickets or email me spam. Happy submitting your smoker.
MOTO | TRIVIA
Who is this rider?
ONE QUESTION WITH JOEY SAVATGY
By Jim Kimball
BY THE TIME THE 2019 SUPERCROSS SERIES IS OVER WILL YOU HAVE TAKEN A MAIN EVENT WIN? I have learned in the past that I do not really go out and say things that I don't know. I don't like to speak out of context, but I believe in my ability. If we continue to improve, get better, figure out a few things, if the cards play out right, you get the hole shot, and have a clear track I definitely believe that it is not farfetched. It is not something that if I said it, that I would be crazy to say it. But I will continue to work on myself and when that time comes and we accomplish it, that would be awesome. If it doesn't, nobody expected me to anyway, that is just how I look at it. It is not unobtainable by any means and it is achievable, it is just a big question at this time. There are a lot of bad dudes in this class, so it will be tough.
FORGOTTEN BIKES: THE ITALIAN WRM 450
The WRM 450 was a unique bike that was only developed as a prototype and never put into production. 
Underneath the hood were some interesting features. 
RAW DAYTONA SUPERCROSS PRACTICE FOOTAGE
DRC ENZO REAR SHOCK HIGH COMP ADJUSTER

The DRC high speed compression adjuster makes for an accurate and easy adjustment.
– ENZO DRC co-developed product.
– Click feeling allows easy adjustment of rear suspension high compression.
– Available for 14 mm and 17 mm adjuster sizes.
Find more at www.drcproducts.com.
DO THE MATH! SUBSCRIBE TO MXA & GET A $25 CHAPARRAL GIFT CARD

If you subscribed to Motocross Action, you would have already got the March 2019 issue of MXA  in your mailbox, computer or iPhone  by now.
The March issue of MXA is jam-packed with bike tests, product reviews and moto-info. Not only do we have the 2019 MXA 250 Four-Stroke Shootout in this issue, but a 2019 Husqvarna FC350 test, 2019 Yamaha YZ250 two-stroke test,  a retro-test of Chad Reed's 2002 L&M Yamaha YZ450F and a 2019 Honda CRF250 test. Plus, a test of Carson Brown's Straight Rhythm winning Husky TC125 two-stroke and Austin Forkner's 2019 AMA 250 East Supercross KX250 four-stroke. Not to mention an revealing interview with Eli Tomac.
Do you subscribe to MXA? You should. We know that you think that print magazines are dead and that the internet will fill the void, but most of the stuff in the current issue of MXA won't appear on the web for several months, if at all. Luckily, you can get all of MXA on your iPhone, iPad, Kindle or Android by going to the Apple Store, Amazon or Google Play or in a digital version. Even better you can subscribe to Motocross Action and get a $25 Chaparral gift card to spend on whatever motorcycle parts or products you need. You can call (800) 767-0345 or CLICK HERE or click on the box at the bottom of this page.
THEY SAID IT | 2019 DAYTONA SUPERCROSS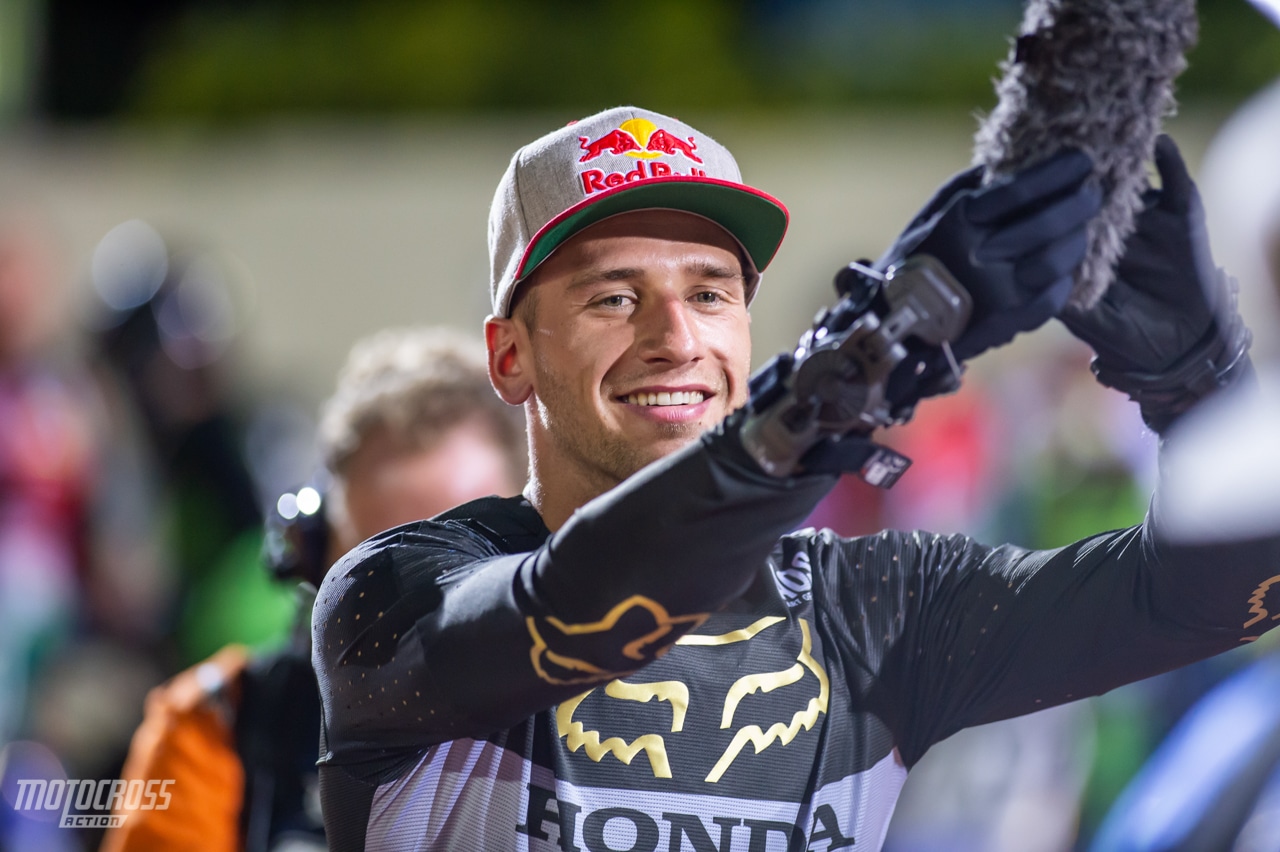 Ken Roczen: "I'm definitely disappointed in tonight's result; it's my worst of the season. I think for the most part the day went well, and I was feeling really good on the bike. Unfortunately, in the main event, there was a pileup in the first turn and I got caught between my bike and Cole's and couldn't get up. Once I was up, I did my best to make up as many positions as I could during the race, making my way into eighth—not what I wanted and we're now also down in the points standings, but there are still seven rounds to go. I'm going to set my eyes forward and bounce back in Indianapolis."
Cole Seely: "The first turn was a really weird setup in my opinion. It reminded me a lot of the GPs, where everyone just lines up to the inside and then files to the outside. We all went into the second turn and I tried to tuck underneath Kenny and Cooper [Webb], but Chad [Reed] came across into Ken, which then pushed him into me. I was actually trying to get Kenny up because the first thing I thought of was him getting burned by my header on the right side, plus obviously I needed to get up too. He got up and going pretty quick but my bike was buried so it took me a minute to get going. It was just super-unfortunate. I'm struggling right now and it's tough to have so many bad-luck weekends and not get the results that I know I can and should have. I've just got to shake this one off too and put my mind forward."
Eli Tomac: "The last half [of the race] was effortless. I just got the flow and that's so important at this track. It just started coming to me. [Daytona Title] number three … this is so cool at Daytona."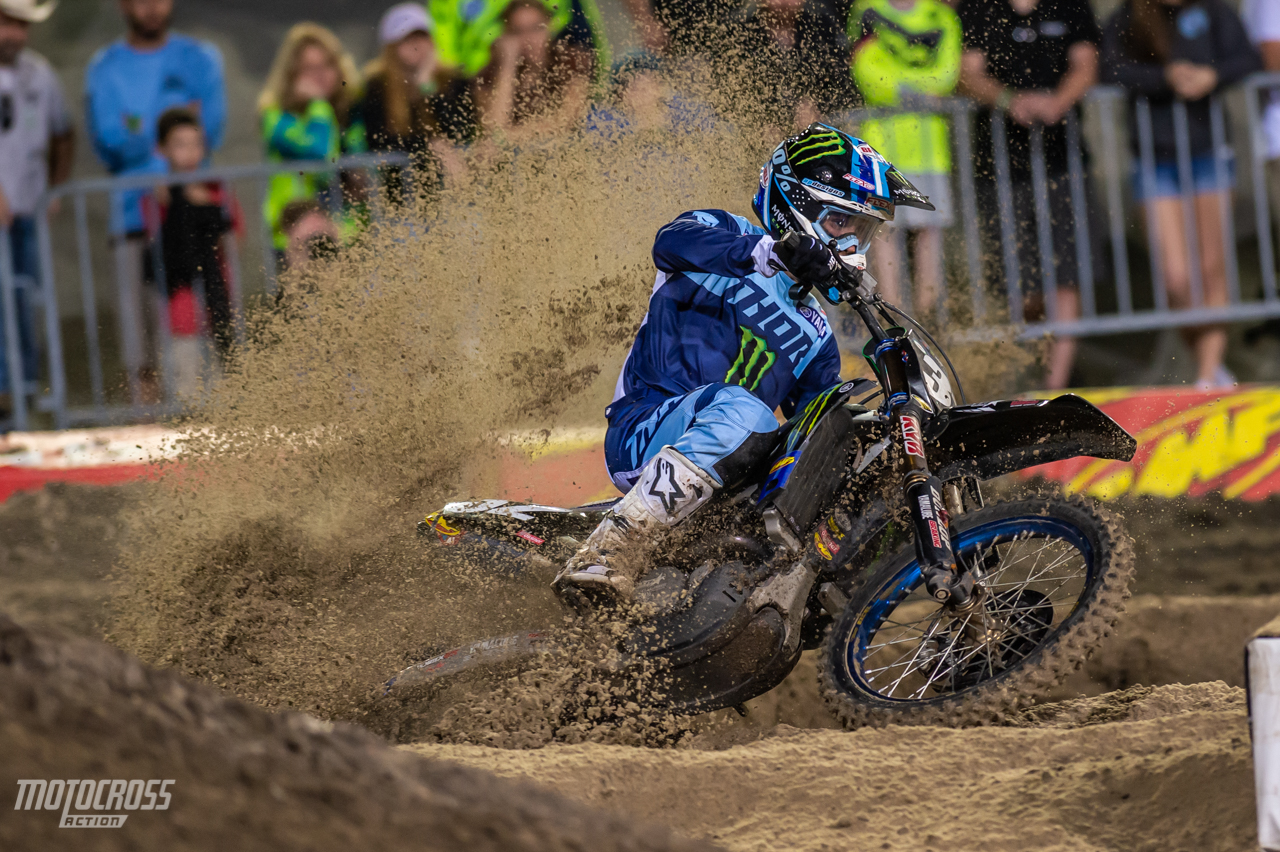 Justin Cooper: "The bike was working really well. We did a lot of testing with the team outdoors this week, so we kind of knew what we had to do coming up today. We were able to get the heat win and bring it home for third tonight. Those guys out front were riding good, but no excuses. I just had a couple mistakes tonight that cost me and you can't do that out here. The track for sure was tough tonight. It got me a couple times, but glad to get out of here safe and on to the next one."
Zach Osborne: "Daytona was good to me this year. Sixth-place, that's my best finish so far. I had some good times in qualifying and I'm starting to find my feet in this class and starting to kind of flow and know my place a little bit. This is something that I can definitely build from and move forward from. It's been a rough, tough start to the season with an injury before the season and obviously trying to get back at it has been a tough deal but I'm still here, still plugging away, and I know the work that I'm doing during the week will pay off soon and it's going to be good."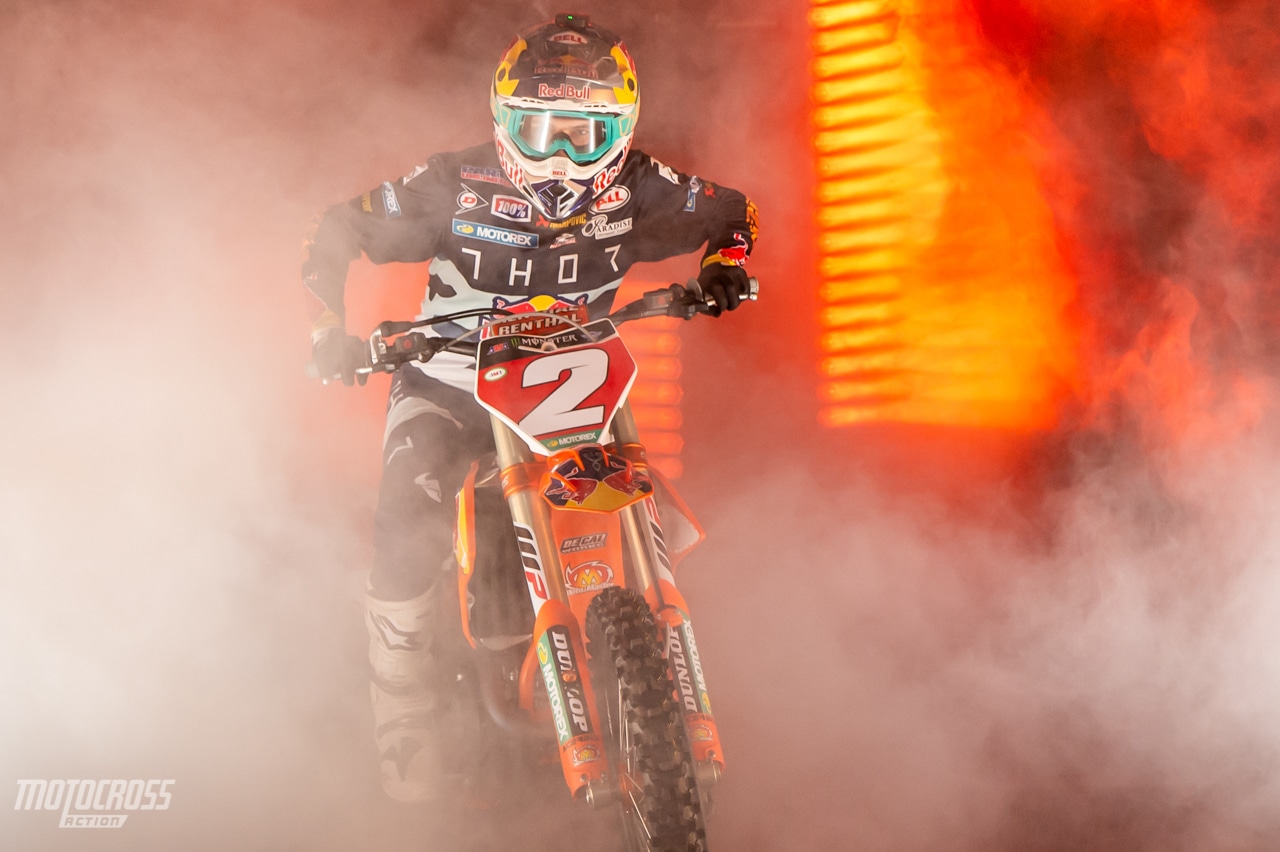 Cooper Webb: "I got a really good start in the Main Event and just made a bunch of mistakes the first lap – I missed the rhythm and got passed by a few guys, went back to about sixth and had some work to do. I made some great passes and it was a great battle all night. It was cool to battle Blake and Marvin, we were all making mistakes but also kind of going for it. Once I got into second, I tried to make a run on Eli and I made some mistakes and also had some pressure from Marvin, so I was kind of in a weird spot. I struggled in a few places – the whoops being one of them – but overall, it was a good night."
Marvin Musquin: "Daytona was overall a great day. The riding was good but unfortunately, I started making a couple mistakes by stalling the bike and that cost me a lot of time. I'm a little bit bummed because the speed was better than the guys in front of me but I was in third place. It's good to be on the podium obviously but I've got to minimize the mistakes and be a little more consistent to be ahead of those guys."
Kyle Peters: "I made good progress. Buddy Antunez and I have been working really hard during the week to get better on race days. I have to keep working to stay up front. I'm going to take the positives from Daytona. It felt good to get the holeshot and lead for a few laps in the main. It's where I need to be. My arms locked up after I got passed, so I didn't put in my best riding after that. Still, my first few laps were solid. I'm going to keep starting up front and try to lead longer and longer until we are winning."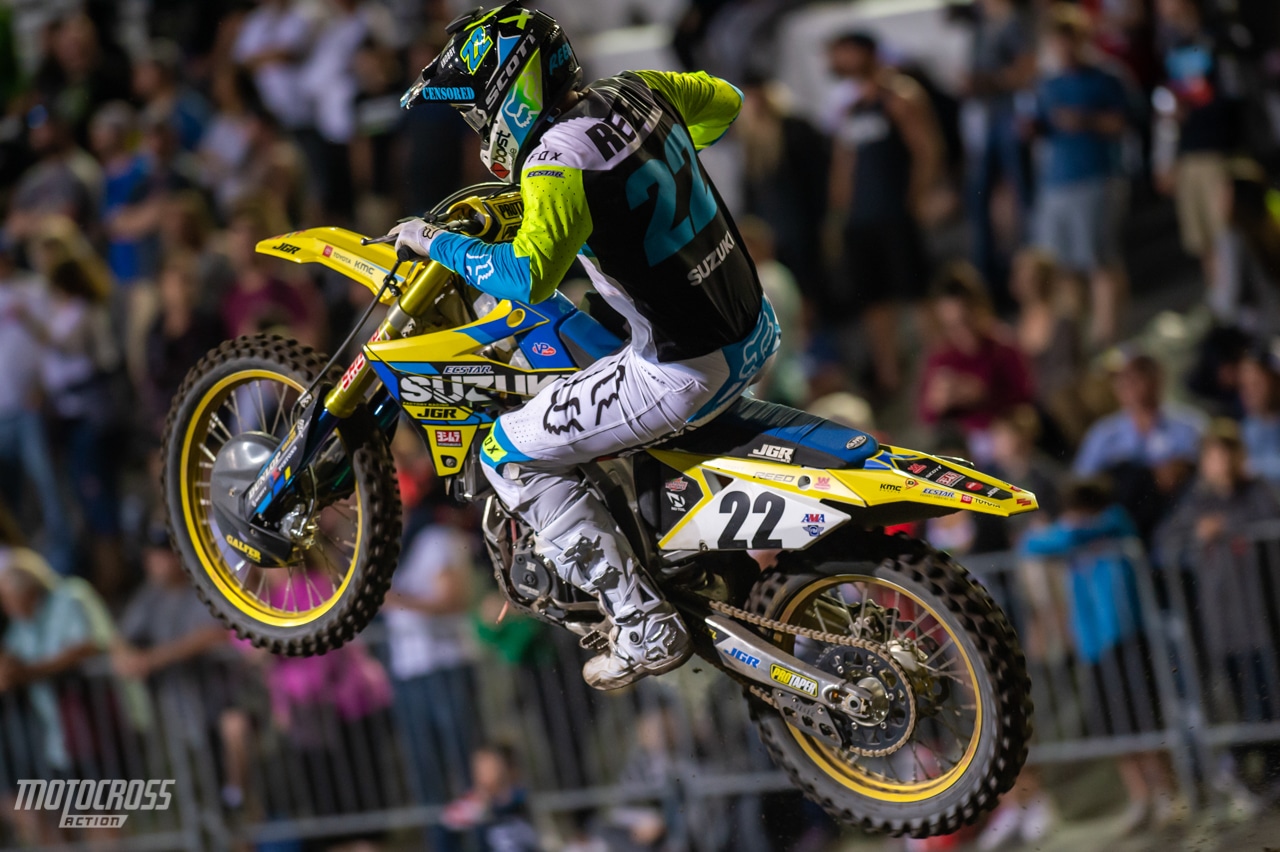 Chad Reed: "Lately I have become accustomed to getting through practice and qualifying, and then I feel more like my normal self when it's gate drop time. This weekend it was the opposite. I felt good all day, but didn't feel quite right when they turned on the lights and dropped the gates. I need to find a little higher level in both situations. Hopefully that's this week's birthday gift!"
Austin Forkner: "It feels amazing to win at a place like Daytona. I've always loved coming here even from the amateur days. The track had some really tricky parts and it broke down a bit so I just tried to maintain a good pace and try to not make any mistakes. It's great to give another win to the team. They've worked so hard to get us all where we need to be."
Martin Davalos: "I wish I could have been able to finish higher but I went down late in the race and didn't get a chance to catch the guys in front of me. I love coming to Daytona and feel it is sort of an equalizer, but we couldn't make it happen tonight. Thankfully we're healthy and ready to take on another weekend."
MXA YOUTUBE CHANNEL | HIT THAT SUBSCRIBE BUTTON

The MXA wrecking crew is everything moto related. Check out our MXA YouTube channel for bike reviews, Supercross coverage, rider interviews and much more. And don't forgot to hit that subscribe button. 
MXA GEAR GUIDE | MOOSE RACING
Helmet: Moose Racing F.I Session–$159.95
Goggles: Moose Racing Qualifier Shade–$32.95
Jersey: Moose Racing Sahara–$39.95
Pant: Moose Racing Sahara––$139.95
Gloves: Moose Racing SX1–$24.95
Boot: Sidi Crossfire 3 SR–$595.00
Head over to www.mooseracing.com.
CAN CHAD REED RACE COMPETITIVELY TILL 40?
PRO CIRCUIT KILLER DEAL!

If you're a fan of the Monster Energy Pro Circuit Kawasaki team, the ITEM OF THE WEEK is just for you! The 2018 graphics kit is now only $35 and is available for the 2016 – 2018 KX450F. Go to www.procircuit.com for more info. 
TALK MOTO WITH MOTO MINDED PEOPLE. JOIN MXA'S FACEBOOK GROUP CHAT

We love everything moto and want to bring all moto junkies together into one place to share their two cents, ideas, photos, bike fixes, bike problems and much more. To check it out first you must need to or already have a Facebook account. If you don't, it isn't much work and you could even have an alias so nobody knows it is you. To join click HERE. After you request to join we will accept your request shortly after.
FLY RACING 19.5 SPRING KINETIC MESH GEAR
Press Release: When the heat cranks up, FLY Racing's ultra-breathable Kinetic Mesh Racewear keeps you cool on the hottest summer days. Utilizing ventilated dual-mesh construction, Kinetic Mesh flows air but filters dirt. Coupled with dynamic multi-directional stretch-rib paneling for flexibility and a ratcheting closure system on the pants for a secure fit, Kinetic Mesh is meticulously tested and researched for maximum rider comfort.
Worn and supported by top Supercross athletes like Blake Baggett and Zach Osborne to GNCC greats like Thad Duvall and Trevor Bollinger, Kinetic Mesh is tried and true from the stadium to the backwoods
For more information about FLY Racing, visit www.flyracing.com.
WHAT THE MXA WRECKING CREW IS UP TO
KTM's David O'Conner built us special bike to test. It is littered with KTM PowerParts, Factory Service engine, 15,000 rpm blackbox, WP Cone Valve air forks and Trax shock. This was a very high revving powerplant. 
We had AMA Pro Jerry Robin give it the once over at the Milestone test track. 
This is Jody's project bike that he built for himself, but has handed it over to ISDT, GP and Hall of Fame rider Lars Larsson, while Jody heals from an injury. It is a 2019 Husqvarna TE300i. Which means it is an off-road full injected two-stroke that we made into a motocross bike. 
Jerry Robin breaks traction on the fuel-injected smoker. 
Here is Lars himself putting some personal touches on the electric-start smoker at last week's REM race. 
RICKY CARMICHAEL TALKS BOUT THE DAYTONA SUPERCROSS TRACK
CLASSIC PHOTO
Mike Brown back in 2005.
---
Moto Trivia answer: Mark Barnett.