MOTOCROSS ACTION'S MID-WEEK REPORT (05/31/12)
HANGTOWN NATIONAL PHOTO BLAST: WILL PETTERSON
    Freelance photographer "Big Will" Petterson was on-hand at the Hangtown National to shoot images for MXA. Will struts his photographic stuff below. Take a look.

Mike Alessi (800) grabs the holeshot.

Justin Brayton.

Ryan Dungey and James Stewart.

Mike Alessi.

Andrew Short (29) and Tommy Hahn (32) jockey for the start.

Smooth like butter?James Stewart.
WHIP OF THE WEEK
Destin Cantrell whips so far that when he looks back he's looking forward. Film/Edit Dylan Pfohl


MXA INTERVIEW: NICO IZZI


Nico Izzi appears to be back on scene in a big way. When he's upright, he's a podium threat.

Nico Izzi's impressive rides in both motos a Freestone left no doubt in fan's and competitor's mind's alike that the blue number 50 would be a bike to watch out for this outdoor season. Nico has had his fair share of ups and downs the last few years and this in this series already, but it looks like he's on a big upswing. So we called him up after his mid week test session to get the inside scoop on his performance this year so far.
MXA: From fans' perspective, you dropped off the radar screen for a while, what was going on?
Nico: Well, I was doing well in '09, when I was riding for Suzuki. I had a really bad injury that year with my foot and my heel. It still hurts, to this day. That was just the beginning. It led to other injuries and being off the bike for a long time. Then I had a kid at a very young age, which causes a lot of pressure and stress. I guess I had to follow my own course, grow up a little bit and learn from things. I worked hard, got everything straightened out, and then was able to fully focus on my career once again.

How did you get on with Star Valli Yamaha Team?
Last year I was riding for Kilbarger during outdoors. It was a privateer team, and they gave me the best equipment that they could give me and helped me get the ride that I'm on now. The Valli Team came to me and gave me the opportunity to ride the last two outdoors on the 450 last year. I pretty well, and they decided to sign me for this year. It's pretty cool how the two teams have combined. It was a little tough at first. We kind of had to get the swing of things because it's a big team with a lot of riders and employees. Once everything mended together it's been great. I can't thank Bobby Reagan and Chad Lanza enough, if it wasn't for them I wouldn't be where I'm at now.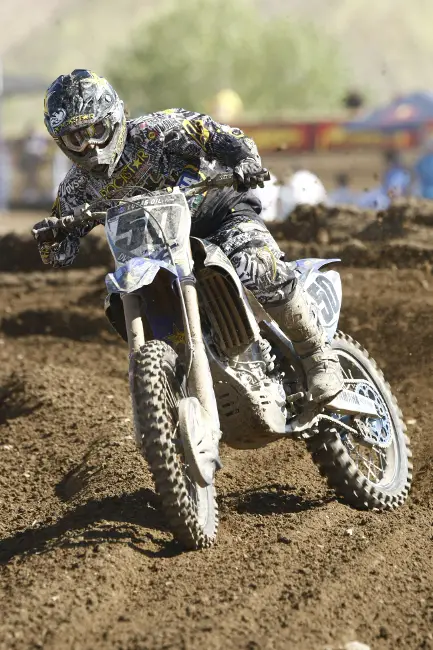 250 or 450? The decision has been up in the air all year, but Star Valli obviously made the right choice for Nico.
When was the decision made for you to ride a 450?
I was supposed to go back to the Lites bike for the West Coast when it started back up. I was originally only supposed to do the East Coast rounds on the 450. But I was doing pretty well in practice times, and in my first 450 Supercross I ran eighth, went down and finished tenth. They decided to keep me on the 450 because I showed some flashes of brilliance, I was riding well and they needed an extra guy on the 450 anyway because everybody was getting hurt. It was up in the air for a while whether I would ride the 250 or 450 for outdoors, but we decided on the 450 and I'm pumped with the decision and really like the bike.

Tell us about your race at Hangtown.
A Hangtown I rode awesome but I had a tough day. I did really well in both practice sessions, I think I qualified sixth the first one and fifth the second one. In the first moto I got about a seventh place start. I went to pass [Vince] Friese for sixth and went down. They have been watering the tracks so much, the first laps of the first moto seemed like ice out there. When your battling with guys and they are coming in on you hot, it makes it really tough when you're riding a slick track. So I came around and completed the first lap in 33rd place after going down. I fought the whole way and came back to 11th, so I salved something. I came into the second moto thinking I just needed to stay up, and I would finish inside the top ten. Then about the third lap JG [Josh Grant] and I were getting close and fighting for sixth. I went off the track and didn't really look when I came back on. Tickle and collided and I went down again. I was laying thinking 'Man, I can't get off the ground today!' I got back up, regrouped, and came back to 10th after having dropped back to fifteenth or sixteenth. It wasn't a great day, but I fought hard the whole time and rode well and that's what matters.



For a brief period, even Stewart and Dungey were looking at the back of Izzi at Freestone.
Now tell us about Freestone, Texas last weekend.
Iwas kind of dreading Texas, just wanted to get through it because it's so hot, the tracks tough and you never know what's going to happen, especially on a 450, not knowing what to expect. I just tried to come in prepared. I knew I had to get a good start and sure enough I almost had the holeshot. [Kyle] Regal got it, but I was right there. I was pumped, knowing I was going to have a clear track. There's nothing better than having that feeling because you can kind of break away. Regal went down. I was in the lead for a little bit, but I knew Stewie and Dunge were on another level. Stewart cam by pretty quickly on the first lap. I held off Dungey for a little bit, but he eventually got around me. I held onto third forever, and thought I was going to hold the spot, but Weimer was pretty strong. I held him off for about 25 minutes but he ended up getting me and pulling me a little bit. But it was  good confidence builder for me and I know I can get to the box.

How about the second moto?
I got another good start and [Andrew] Short and I were battling the first couple of laps. He got me on the first lap and passed him back. I was in fourth place, three laps after the halfway point. I was going after Alessi, because if I could have got him I could have got a third overall. But I ended up swapping into a hay-bale, going down and stalling the bike. I couldn't start the thing and ended up in 24th. I was still happy that 4-24 put me in ninth overall, I didn't think that was going to happen. Texas was a good building block for me and I'm looking for me and I'm looking forward to Colorado.

So your moto finishes haven't really reflected how well you have been riding.
I'm not where I need to be yet, I'm still trying to get there. I'm trying to be smart, trying not to go down or do dumb things but at the same time you also gotta push the edge and go for it to get better. I know that if I can stay healthy and be on the gate all year long, that eventually I can be a top guy every weekend. Hopefully I can stay healthy and have a good solid outdoor season.

What are you working on at the track today?
We're working on some suspension and trying to get the bike to handle a little bit better, there's always room to dial-in that area. But were already ready for Colorado. I just want to give a shootout to everyone that's stuck behind me. Thanks to the Metal Mulisha crew and Star Valli Yamaha.

NICO IZZI'S HELMET CAM: FREESTONE, TEXAS MOTO 2


THE JOHN PENTON MOVIE PROJECT: YOU CAN BE A PRODUCER
Moto Movie Producer Todd Huffman Contacted MXA and told us, "Over a year a go we started working on developing a film about John Penton with the help of recording star Lyle Lovett committing graciously to lending his voice as narrator. We have been looking for ways to fund the project because of it's unique niche, nature. Well, we think we have found the right way through 'crowdfunding' and a site called Kickstarter.com. People can make pledges from $1 to $10,000 in a specific time period (28 days). If the total is reached the pledges are processed, if not, then they are not."

ABOUT THE PROJECT:
After reading Ed Youngblood's book "John Penton and the Off-Road Motorcycle Revolution" in 2007, renowned motorcycle biography director Todd Huffman (The Motocross Files-Speed, Legends of Supercross-CBS, The Carlsbad USGP:1980, One Chance to Win, and Bob Hannah's 1981 Massacre at Saddleback) thought there was a story to be told there. In June of 2007, on location to shoot interviews in Michigan for The Motocross Files, Todd and accomplished Director of Photography, Michael Graber, went to Amherst, OH to at least get "John Penton on tape". Two days and seven hours worth of HD tape later, Todd and Michael had John and Jack Penton as well as nephew, the late Dane Leimbach, on tape.
Fast-forward to the fall of 2010 when Penton enthusiast Jack Martin contacted Todd to suggest a film project about John Penton's life.  After reading Youngblood's book in 2000, Martin had come to believe that a documentary of John Penton's championship enduro career, his development of the Penton motorcycle line and the tremendous effect that had on the sport of off-road motorcycling would be a wonderful demonstration of American ingenuity, entrepreneurship and family values.  After contacting Youngblood and Penton and mulling the project over for several years, Martin finally came to the realization that, while Mr. Penton's story deserved to be told, he wasn't the man to do it. Rather than let the dream just die, Martin contacted Huffman to share his idea, not knowing that Todd had already commenced work on the project.  Martin suggested that Lyle Lovett narrate the film since he had competed on Pentons as a teenager and remained a motorcycle and Penton fan. Todd contacted Motorcycle Hall of Famer, Mark Blackwell who is personal friends with Lyle who said he'd "be honored to be the voice of the film" since as a 14-year-old boy, Mr. Lovett worked sweeping floors at a Penton dealer in Texas.
By November of 2010 PDM, along with supporters and fans of John Penton, had produced a teaser to generate interest, complete with Lyle Lovett voice-over and music. Now it's time to finish the project.
The plan is to get into production the summer and fall of 2012 traveling back east for interviews with Penton family, friends and enthusiasts. Also, there will be a 10-day shooting trip to Europe including Austria (where Penton's were made by KTM), Italy (where Penton's line of Hi-Point competition clothing was made by Alpinestars) and England, Germany, Sweden, etc. where longtime Penton customers and competitors will be interviewed. Both John and Jack Penton may accompany the production to Europe to see some of their old friends. We plan on capturing those moments on film when they happen.
Approximately 50 interviews will be involved with the production. In early 2013 the post-production process will begin and will involve more pick-up interviews and re-creation shooting to fill holes in the story. More editing, music and effects will be undertaken through the spring and summer to get the film ready for a fall release on DVD and digital downloads. A premiere may happen at the annual AMA Motorcycle Hall of Fame Induction Weekend in Las Vegas, NV which usually takes place in Mid-November.
If you're a motorcycle or dirt bike fan in the US or around the globe, or you just love a great story about American spirit, tenacity and ingenuity, then you can be proud of having been a part of bringing this project to life.
For more info or to make a pledge, click here.

MXA INTERVIEW: MEGHAN RUTLEDGE


Meghan came out swinging and won her second moto at Hangtown.
Aussie racer Meghan Rutledge is new to the US series, but has already shown the ability to mix up with the WMX class favorites. Even though she is front-runner, she may have to retire from the season because she only has support for the first three rounds and X-Games. We wanted to know more about the new girl on the scene and we'd like to see her be able to race the rest of the WMX Series, so we called up Megan Rutledge for an interview.

MXA: Would you give us a background on where you're from and your racing history?
I live near Sydney, which is in New South Wales Australia. I've been racing since I was four. I always raced against the boys, so coming over here and racing against the girls is a lot different for me. I have raced women's nationals back home, though. I came up through the juniors, then I stepped up and won the Senior Women's Nationals in my first year, which was last year.

How long have you been here in the US?
I came over in February to have a look around and ride on the tracks and stuff like that. Kawasaki offered me a bike for the first three rounds. It's not an official contract or anything, it's just a bike and we have to do everything else ourselves.

Where were you staying and riding?
I stayed in Lake Elsinore for three weeks in February and went to as many different tracks as I could. Then I went back home and trained on tracks that were a little bit similar to the tracks over here. Then I came back a week before the first round and got to ride twice more before the first race at Hangtown.

Tell us about Hangtown.
I was in third in the first moto and I crashed going into a corner. I couldn't get the bike restarted again so I had to come back from 28th place. I worked my way up to eight place, so I was pretty happy with that. I was sitting in third in the second moto and Ashley went down. Then a couple laps later Jessica went down. So was sitting in first, and Jessica caught back up. We had a battle going on for the last two laps. I was a really hard race, but it was really fun.

Meghan's numbers: She is 66 on a Kawasaki, she recently turned 17, she went 8-1 at Hangtown and 3-3 at Freestone.
What are the differences between the races over here and the races in Australia?
The races over here are a lot bigger. The tracks are a lot bigger, the rider numbers are a lot bigger and the spectator numbers are a lot bigger. Everything's just bigger.

What challenges have you focused on?
It has kind of changed each round. The last round [at Freestone] I had to get used to the heat really quickly. At the first round it was how chopped-up the track got.

Tell us about your race in Texas last weekend.
I got two thirds. In the first one I was battling with Tarah Geiger. She was in third and crashed. I took over third and finished there. In the second race I was running third and Jessica Patterson went down. That put me up in second. Then for the whole rest of the race we battled for second. It came down to the last section. I cross-rutted through the rhythm section and she was able to jump past me. That put me back into third again at the finish.

So, you have spent a lot of time in third place so far. What is it going to take to get past Patterson and Fiolek?
In myself, I believe I can do it. These girls are extremely fast over here. I need to get a good start, ride smart and choose good lines.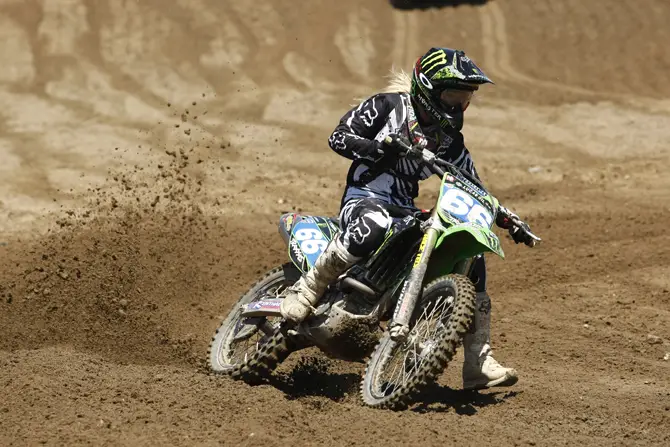 Whether she get to complete this season or not, Meghan wants to come back to compete in the US again next year.
Who has been helping you out while your over here.
The guys from Kawasaki have been really great. Team Green Kawasaki has been helping out with a bike, but like I said there's no contract signed and I'm only over here for the first three rounds because we can't afford to do any more rounds. Race Tech has set up my suspension for me. They also sponsor me back home and I've carried that over here. Beside that, I've kind of just carried over some of my supporters from home.

What is it about Australia that seems to produce fast motocross racers?
I'm not sure about that one. It's definitely an eye-opener coming over here because we think we have a lot of fast people back home. Those top guys over here are a step ahead of everyone back home, but here are a lot of younger guys back home that are determined to come over and race against all the guys over here. Motocross has always been my life and I'm very determined to get to where I want to be. I would like to be able to do the rest of this series, or pick up some more support to come back next year.

GO PRO'S TEXAS NATIONAL VIDEO: JAMES STEWART NARRATES


NEW PRODUCT: MATRIX WORX OIL DRAIN KIT


Matrix Concepts gives you the ability to get dialed in like a factory team with The Worx Oil Drain Kit. The Worx Oil Drain Kit comes with the best of the best, making those dirty oil changes quick and easy. The M28 Oil Drain Container, M52 Oil Funnel, and N1 Nitrile Gloves have been tested and used by many top mechanics and are offered to you at special package price of $44.95. To find out more information please visit: MatrixRacingProducts.com.
BLAKE BAGGETT LAUNCHES INTO ORBIT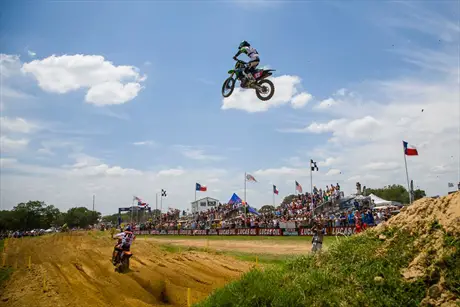 For the Texas fans, one of last weekend's highlights was Blake Baggett's entry into the 12 pack whoop section. Baggett's starts didn't give him much chance to challenge Tomac for the win, but 2-2 isn't too shabby. Photo courtesy of Kawsasaki.
BLAZING TRAILS IN UTAH: WORCS RACE PREVIEW
Moral of the story: If you're scared to try an obstacle, just say that your not really interested.


TRAIN WITH DONNIE HANSEN: THE SCHEDULE IS HERE



The Donnie Hansen Motocross Academy's Summer schedule is ready. Camps are scheduled in Colorado & California, as well as schools scheduled throughout the Summer in North Dakota, Minnesota, Utah and Washougal, WA. More schools will be added soon.
For the schedule and more info visit www.dhma.com, e-mail [email protected] orcall (877)883-7260.