MOTOCROSS GRAND PRIX OF BRAZIL RESULTS: THIS RACE NEEDS TO BE FIXED OR DROPPED

Ken Roczen went 1-1 in Brazil and is 72 points behind Marvin Musquin…with two races left Roczen's chances of unseating Musquin, before the Frenchman leaves for the USA, are slim.
The Grand Prix of Brazil is a disaster for the riders and an embarrassment for Youthstream. Need to know the reasons why? Here they are:
Turnout: Only 24 total riders showed up for the 250 GP and 24 for the 450 GP…and 13 of the 450 riders and 9 of the 250 riders were local South American riders (from Brazil, Uruguay, Venezuela and Argentina).

Tony Cairoli lapping Mariana Balbi…but which time?                                      Ray Archer
Local 450 talent: Antonio Balbi was the fastest of the 450cc South American riders, but he was still eight seconds a lap slower than the fastest rider (and five seconds a lap slower than Jimmy Albertson, who was the slowest of the GP regulars to complete all the laps). Balbi was lapped, as were all the South Americans. There was one rider at the Brazilian GP who was 43 seconds a lap slower than Philippaerts or Cairoli in the first moto. That meant that he was lapped once every  2-1/2 laps. Mariana Balbi earned GP points for the second straight year. At a true-to-life GP this would have been a significant moment in motocross history (for a women to earn Grand Prix points), but coming from the Brazilian Grand Prix it is meaningless. Mariana finished 20th in both motos, but she was three laps down in both motos and if she hadn't been there the guy who was 43 seconds a lap slower per lap would have earned GP points.
Local 250 talent: The local 250 riders at the Brazilian GP were better than the 450 riders?in that no one was 43 seconds a lap slower than the leaders. The slowest South American 250 rider was only 24 seconds a lap slower. Every South American rider was lapped.
Travel: Uber-meister Giuseppe Luongo is dedicated to making the World Championships race outside of the European continent (a good goal), but traveling to Brazil late in the year almost guarantees to very few Grand Prix riders will make the trip.
Schedule: If the race was earlier in the season more riders would venture to Brazil because it is the easiest GP to earn points in, and early in the year many riders still think they have a chance (while later in the year they know where they stand?and know that going to Brazil isn't going to help them). Plus, lots of riders dropped out with nagging injuries late in the season?and they would have raced if the GP was in Europe.
Date: The best plan would be to make the USGP and the Brazilian GP very early in the GP schedule (somewhere between the third and sixth GP) and have them back to back…so that the teams would only have to travel across the Atlantic Ocean one time for two GPs. Unfortunately, with the USGP, Brazilian GP and MXDN in the USA on the 2010 schedule, this forces the teams to travel overseas three times in one year.
Money: In the olden days there was a travel allowance to help the teams get to overseas races. Everyone knows that Youthstream doesn't want to spend money, but they need to reinstate travel stipends for overseas races (and drop the entry fee for riders who make the trip). That would go a long way towards encouraging the top 20 riders in each class to make the trip.
The present: The FIM World Championships needs to go to places outside of Europe…and there is nothing wrong with going to Brazil, USA, Japan, Australia, Canada, Mexico or China…but the quality cannot be reduced when you go overseas. It is time that Youthstream start giving back to the sport…instead of forcing the riders and the team to do all the giving while they do all the taking. This is a simple formula?you have to water the garden to get it to grow…not just mulch up the existing plants without investing in fertilizer. Cut the riders and teams a break. Help them race and they will put on a good show. Making life difficult may make Luongo money in the short run, but these kind of embarrassments don't improve Youthstream's image. And if anyone needed an image make-over it is Youthstream (any organization that makes the AMA look good by comparison is in desperate straits).
The future: The glimmer of hope of many Grand Prix fans rests with the potential of a breakaway Red Bull World Championship motocross series?that series could work much like the Red Bull Air Races worked (the Air Races will be discontinued in 2011). It would take until 2012 or beyond to implement it, and no one knows if Red Bull is serious beyond a few feelers about moving some of their British series rounds to the continent. Youthstream needs to think about the future…not just their bank account. Youthstream may think that having the FIM in their pockets is a slam dunk for them, but they need to realize that a competing organization could find a different sanctioning body, pay purses, not rip the riders off on entry fees and get the support of the media (well, the American media anyway) and the factories. It could happen.
BRAZILIAN GP: 250 CLASS
Ken Roczen did all he could do to stop Marvin Musquin from clinching the title in Brazil. Roczen stalked Musquin for both motos, even though it seemed obvious that he could pass the Frenchman at will. Then, near the end of each moto the 16-year-old German would make his move. Roczen's 1-1 in Brazil was his first-ever two moto sweep. Taking his second Grand Prix victory in three GP's, Teka Suzuki Europe World MX2's Roczen did make up for the troubled qualifying race of yesterday. The 16-year old German topped the podium from Championship leader Musquin. The duo made it a hard fought MX2 Grand Prix as they battled tooth and nail for victory in both occasions, passing each other several times until Roczen would eventually pull away to take victory.
Musquin instead could not clinch the World Title as teammate Cairoli did in the 450 class. Losing six points on runner up Roczen was not a big deal for Musquin, who still has a 72 point advantage with 100 points still up for grabs. Taking second overall, the French mounted on the podium for the tenth time in 2010 and looks forward to the next round in Lierop where he hopes to celebrate the Championship win.

Jeremy van Horebeek was third overall.
Someone who had never seen the podium before Campo Grande instead was Kawasaki CLS' Van Horebeek, completing the top three today. The Belgian rode with a twisted knee to take sixth in race one after a bad start and third in moto two, where he charged hard to pass Paulin and settle for an eventual top three finish. Teka Suzuki's Arnaud Tonus was fourth overall, taking third in moto one and sixth in the final heat, while Zach Osborne completed the top five.
Joel Roelants was sixth ahead of Steven Frossard, the latter having a tough day in Brazil but still holding the third place in the Championship. Gautier Paulin also had a tough day with race one affecting his Brazilian outing. The French and Simpson came together in race one and the contact damaged Paulin's bike, forcing him to pull out. In the crash Simpson dislocated his left shoulder and did not take part in heat two..
BRAZILIAN GP RESULTS: 250 CLASS:
1. Roczen, Ken…1-1
2. Musquin, Marvin…2-2
3. van Horebeek, Jeremy…6-3
4. Tonus, Arnaud…3-6
5. Osborne, Zach…4-9
6. Roelants, Joel…7-6
7. Frossard, Steven…11-5
8. Charlier, Christophe…8-8
9. Kullas, Harri…5-11
10. Lupino, Allesandro…10-10
Other notables: 23. Paulin, Gautier…23-4; 12. Chatfield, Adam…12-12; 13. Castro, Christopher…13-14; 14. Leib, Michael…9-21; 15. Zanoni, Swian…19-13; 22. Nicholls, Jake…22-22; 24. Simpson, Shaun…24-D.

Marvin Musquin celebrates in a Tony Cairoli World Champion T-shirt. He knows he'll get his own shirt pretty soon.
250 WORLD CHAMPIONSHIP POINTS STANDINGS
(After 13 of 15 rounds)
1. Musquin, Marvin…571
2. Roczen, Ken…499
3. Frossard, Steven…430
4. Herlings, Jeffrey..391
5. Osborne, Zach…343
6. van Horebeek, Jeremy…337
5. Simpson, Shaun…329
9. Tonus, Arnaud…328
8. Roelants, Joel…326
10. Kullas, Harri…280
BRAZILIAN GP: 450 CLASS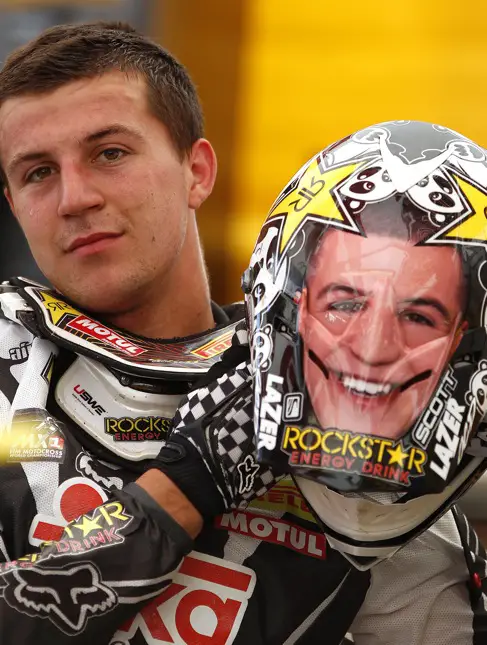 Clement Desalle had a bad second moto in Brazil when his bike let him down.
Tony Cairoli won an action-packed second moto in Campo Grande, Brazil, on Sunday to secure the the 2010 450 World Championship on his KTM 350 SX-F motocross bike. It was the Italian rider's fourth world title and his first for the Red Bull Factory Racing Team.
"I didn't expect to win here but its always nice to be world champion as soon as possible. I didn't take any risks and I was also a bit lucky that Desalle stopped, but that is racing. for sure I am happy with the new bike. I never had to stop for any technical problem and that is really important if you want to be constant. I love this bike and the whole team, they have helped me a lot!" 
 
Cairoli has so far won seven GPs and 13 of 26 individual motos in the 2010 season. He has only been off the podium on one occasion (at the GP of Germany when he finished in fourth place)
 
Securing the title two GPs before the end of the season was not a foregone conclusion on race day in Brazil. Mid race in the second moto, when Cairoli was busy hunting down rival Clement Desalle, he crashed and found himself back at fourth place. He then hit the gas and proceded to systematically register fastest times on the bumpy Brazilian track and to pick off the riders in front, including teammate Max Nagl. He had Desalle in his sights and everything pointed to a cliff hanger finish on the last lap when the Belgian's bike stoppedand he was out of the race. Tony charged through the chequered flag and was not completely aware that the title was his until he was mobbed by madly celebrating members of the Red Bull KTM Factory Racing Team.
Yamaha Monster Energy's David  Philippaerts was back onto the podium after his third place from Teutschenthal. The Italian took pole Saturday and made the most of it by winning the first moto. The second heat though was a different story, as he ended second behind Cairoli and dropped down to second on the podium despite ending level in points with the Sicilian. Philippaerts was the first racer to congratulate Cairoli on his Title victory as he went to shake hands with his countryman right after he crossed the finish line.
Third on the podium was Cairoli's KTM teammate Nagl, who was also surprised about being inside the top three. The German raced to fourth in the first moto and took third in moto two?where he got the holeshot?despite a crash. Nagl said this was a special podium as he found his teammate on top and could join him and the whole team for the World Title celebrations.
Rockstar Teka Suzuki World MX1's Desalle instead had a day to forget at Campo Grande. The Belgian was in second place when Cairoli attacked him and moved past in the last lap of moto one. After taking third, Desalle was on route to win moto two and the overall but his bike stopped due to a technical issue, marking an early end to Desalle's Brazilian GP ? which he won in 2009. Rockstar Teka Suzuki World MX1 teammate Ramon's fourth place was a good consolation for the Geboers managed squad, with the racer combining a seventh and a fourth place in the heats.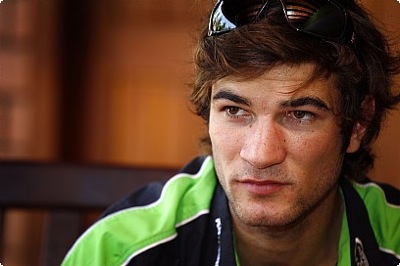 Xavier Boog went 24-6 (after a big first turn crash in moto one).
Rui Goncalves ended the top five, making it a big day for the KTM Factory team. Davide Guarneri took sixth overall ahead of Josh Coppins. Leok, Desalle and Albertson completed the top ten ahead of Antonio Balbi, who was the best placed Brazilian in Campo Grande. Xavier Boog was involved in a group tangle at the start of race one forcing him to retire much earlier than expected. He was 13th overall after ending race two in sixth place. .

Tony Cairoli secured the title when Clement Desalle's RM-Z450 gave up the ghost with a couple laps to go. Desalle ended up 17th in moto two. Ray Archer
BRAZILIAN GP RESULTS: 450 CLASS:
1. Cairoli, Tony…2-1
2. Philippaerts, David…1-2
3. Nagl, Max…4-3
4. Ramon, Steve…7-4
5. Goncalves, Rui…6-5
6. Guarneri, Davide…5-8
7. Coppins, Josh…9-7
8. Leok, Tanel…8-10
9. Desalle, Clement…3-17
10. Albertson, Jimmy…10-9
Other notables: 11. Balbi, Antonio…11-11; 113. Boog, Xavier…24-6; 7. Garcia, Wellington…23-14; 22. Balbi, Mariana…20-20.  
450 WORLD CHAMPIONSHIP POINTS STANDINGS
(After 13 of 15 rounds)
1. Cairoli, Tony…578
2. Desalle, Clement…471
3. Philippaerts, David…441
4. Nagl, Max…420
5. Ramon, Steve…408
6. Leok, Tanel…314
7. de Dycker, Ken…309
8. Boog, Xavier…291
9. Bobryshev, Evgeny…270
10. Guarneri, Davide…242