MXA Mid-Week Report: A3 Review & Post Surgery
PRESS RELEASE: Shift Signs Sarah Whitmore

Women's motocross is bigger and better than ever and Shift has jumped into the fray by signing top AMA/WMA competitor Sarah Whitmore to sport their new line of women's race gear for the 2008 season. Sarah may be new to Shift, but she's definitely no stranger to the brand. "I have been a big fan of Shift for years and I actually won my class at Loretta Lynn's back in 1998 in Shift gear that I bought!, said Whitmore.ÿ"When I saw that Shift was making women's gear, I knew it would be the perfect fit!"
"Shift has always had a unique and aggressive style", said Shift Brand Manager Brett Nicholas, "which is why we've waited to find a rider who's equally as energized and independent.ÿ Sarah is the nicest girl you could meet off the track, but when the gate drops, you better watch out because this girl knows how to twist the throttle!" For more info,
Click Here
.
THE SIGHTS AT A3


The 2008 AMA /Monster Supercross champ?
As usual, the KTM Mini Supercross Challenge was a hit with the crowd. Not thatÿhe wasn't busy enough running his Supercross team, Troy Lee (fifth from right )oversaw his son Max in the KTM race. Max finished tenth.
ÿ
Kevin Windham looked like he might be able to pull off a win….until
A.
Chad Reed figured out how to make mimic KW's approach through a tricky rhythm section, and
B.
Kevin suffered a front flat and faded to fourth.

Each of the last two Anaheim tracks have used sand sections which seem to be one of the more challenging track features to watch. Joe Gibb's rider Josh Summey finished 16th.

While team coach Rick Johnson tried to point out what line to take, MDK/KTM rider Billy Laninovich preferred to show his enthusiam for the race. Somewhere between theÿcompeting interests, Billy put in his best ride of the seasonÿwith aÿ4th placeÿfinish.
Despite theirÿhistory as one ofÿ the winningest teams in Supercross, the big win has proven elusive for the Monster/Pro Circuit team so far this season. In due time.
ÿÿ
Proof of how much thinking goes into bike set-up could be foundÿinside the Yamaha tent when everyone realized that it would be a dry race. Moments after this photoÿwas taken all three factory Yamaha bikes were "de-mudded" by changing their suspension settings, losing the reserve coolant bottles and replacing the higher platform footpegs that were borrowed from the Graves Supermoto team.
The best example ofÿ how aÿnon-news event becomes news ocurred when Kawasaki assembledÿa press conference for Ryan Villopoto where he announced that he was planning toÿbe racing at the east coast season opener in Atlanta. Right. Apparently, RV just had his wrist scoped to deal with some ongoing problems following the fracture he suffered last October. Ryan said that if by chance he wasn'tÿhealthy for Atlanta his focus would be put towards theÿoutdoor series. He also said that rumors of finding him aboard a 450 at any time this year are totally unfounded.
ÿ
DNA Energy Drink/BTO Sports backed Kyle Cunningham had a great race and finished fifth which put him into 10th overall in the series.
ÿ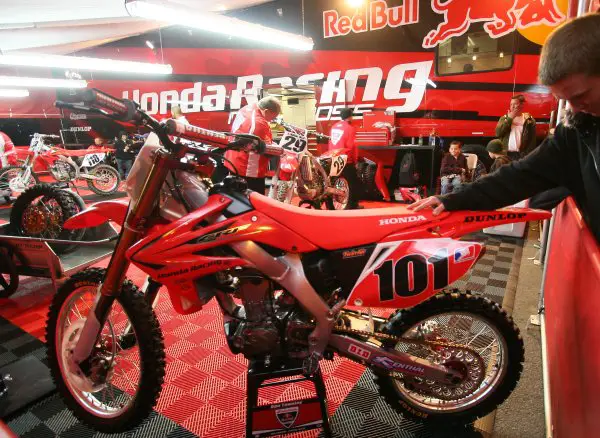 Speaking of the east coast series, Honda was showing-off Ben Townley's bike with the red number plates – the bike looked fast just sitting still.
ÿ
Steve Lamson had his team build up a sweet looking two-stroke KTM for him to ride a ceremonial lap.

ÿ
MDK/Wonder Warthog rider Manuel Rivas Gomez, whoÿcame all the way from Spain to race the Monster Supercross series, turned plenty of heads when he rode well to finish in 10th on his KX450F.
ÿ
The third in a series of three Roland Sands designed graphic kits used by Michael Willard showed up at Anaheim. More subdued than the two previous designs,ÿMichael used them to good effect when heÿscored hisÿbest finishÿso farÿthis year in 12th. For an inside look at the Fox suspension effort check out the MXA Thursday Interview with Mike Marquez.
ÿ
As entertaining as it would be to watch, there is no truth to theÿrumor that Hart & Huntington team riders will be swapping their team Honda race bikesÿfor V-twin hardtails!
ÿ
The AHMRA rolled out a collection of historic MX bikes which included this trio of late 70's Montesa race bikes.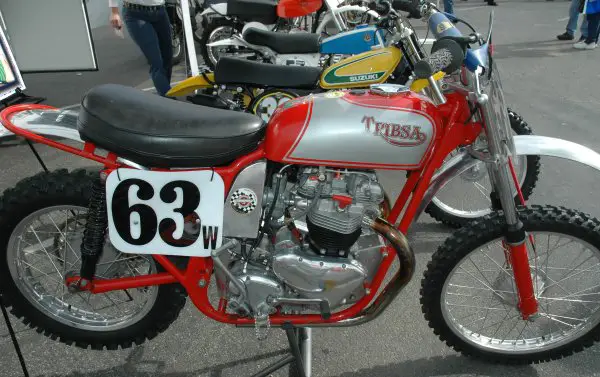 As entertaining as it would be, there is no truth to theÿrumor that the AMA will beÿchanging the Supercrossÿdisplacement rules to include 750ccÿtwins.ÿÿ
ÿ
After the 2006 season, Broc Hepler signed a bigÿdollar, two yearÿcontract with Yamaha. He missed mostÿof last year due to injury and now just four races into the season he's out with a broken hand. There is no doubting Broc's talent, but the unfortunate succession of injuires means the pressure is really on to produce some results when the outdoor series starts.
ÿ
As hard as it is for some to imagine, Davi Milsaps is the top Honda rider so far this season. Ever since San Francisco, Davi has been riding with newfound fire.
ÿ
Although there is still much debate and disagreement about what steps LiveNation plans to take to "internationalize" the sport, there is no stopping riders from across the globe from traveling to America to give indoor racing a try.ÿJoiningÿriders from Canada, Mexico, France, and Brazil who are already racing was Giuseppe Greco from Sicily. This was his first visit to America and he was so happy to be here heÿmade sure to "kiss the ground" in his first practice session – when he endo'd through the whoop section! Giuseppe is here courtesy the Italian influenced Motocross Vacation who brings riders over from Europe to race in America.ÿ
Click Here
for more info.ÿ
ÿ
PRESS RELEASE: Graves YZ450F Pipe

Founded in 1990 by Chuck Graves, Graves Motorsports is both a manufacturer of high performance exhaust systems and accessories as well as a professional road racing and Supermoto racing team. Our racing expertise led us to win the AMA Superstock Championship in 2004 and 2006 as well as the AMA SuperMoto Championship in 2007, Supermoto Lites Championship in 2005 and 2007.
Our ceaseless mission is to offer factory-quality, professional race-proven performance exhaust systems and accessories to our professional race teams, privateer racers, track day enthusiasts and street riders alike. We race what we sell!
Check out the hand-made-in-the-USA Motocross full exhaust system for the Yamaha YZF450F. Big gains in horsepower are achieved while eliminating 1.4 lbs of weight. These high performance exhaust systems feature:
* Mandrel bent Stainless Steel header
* Mandrel bent Stainless Steel Mid-Pipe
* Titanium tapered conical endcap silencer
* Billet aluminum Flange
* Stainless Steel Collar
* Retail: $744.00
For more info, Click Here.
MWR QUESTIONS:
?ÿIs it true that a deal has already been struck on the sale of the AMA National series with the European based Youthstream organization?

?ÿSan Francisco saw the arrival of not one, but two curvy Monster girls swaying to & fro at the start of the main events. Gee, if two are better than one, having a dozen of them out there holding up a 30 second banner would have to even better. Right?
ÿ
QUOTE: "Trust me, they won't be happy until they turn this into Monster Jam. They'll own the teams, have 30 bikes here and control everything!" Anonymous industry insider opining on the direction they think that Supercross promoter LiveNation intends to take the sport.
QUOTE: "Does he really chew tobacco?!!" Red Bull/Honda rider Ben Townley as he learns more about his new trainer, John (Eli's dad) Tomac, who besides being a celebrated country bumpkin, is also the greatest mountain bike racer of all time.
ÿ
PRESS RELEASE: UFO Plastics Support Program
UFO PlasticsÿUSA announced a 2008 Amateur Sponsorship Program that may impact the way the entire industry approaches amateur support. UFO has committed to sponsoring upgraded memberships for up to 1000 amateur riders who agree to actively promote the UFO brand on MxResultz.com. "…the caliber of riders we get through MxResultz give us far more promotional value…..and handling it all through one source just makes my life easier" states Mark Kehm, head of support at UFO. In conjunction with the paid upgrades UFO intends to continue to offer from 30%-100% off their plastic body components to the riders who do the best job in promoting the UFO brand.".
Racers interested in the UFO program should visitÿ
them here
and click Request Sponsorship.
ÿ
MXA MINI-VIEW: Andy Jefferson – Post Surgery

Andy Jefferson is a former Pro MX rider who has been now a WORCS rider under the Ty Davis tentÿ for the last few years. In fact, he's a two-time WORCS champion in the fast old guys class. Recently, Andy decided to undergo forearm pump surgery due to persistant problems with arm fatigue. We caught up with Andy after his first race back.
ÿ
MXA: How did your race go at the WORCS opener?ÿ
Andy:
Horrible, but it didn't have anything to do with my arms. The ground was frozen and I just rode horribly. I rode the RM 250 which was a prettty good bike.

ÿÿÿ
MXA: So, what about the arms?
Andy: They still felt a little bit tired, kind ofÿ like feeling fatigued from lifting weights, but there was no arm pump at all. I hadn't been putting in any hard motos yet, but I'd gone on a 180 mile trail ride a few weeks ago and felt fine. I got 40 staples in each arm. People told me it wouldn't hurt to getthe staples pulled ojut, but it hurt like heck.
ÿ
MXA: Are you glad you had the surgery?
Andy: For sure. I just wish I would've had it five years ago! Before I had it done my arms would last about two laps on my practice track before they would get pumped up. Now I can ride a 45 minute motos without any arm pump.ÿÿ
ÿ
MORE TWO WHEELED RACE ACTION

If you're like us, the spate of west coast Sueprcross races just started to get our competitive juices flowing and now the AMA Sueprcross tour heads east. What to do? The solution lies in the Amgen Tour of California which starts in Northern California onÿFeb. 15ÿand winds its way downÿ the coast for a wild finale at the Rose Bowl in Pasadena. You can expect to see everyone from world champion Paolo Betini to top American riders like Levi Leipheimer and George Hincapie battling it out. Our vote for a great stage to watch is the individual time trial in Solvang on Friday – awesome!
For more info,
Click Here.
MXA CROSS TRAINING:ÿGT GTR Team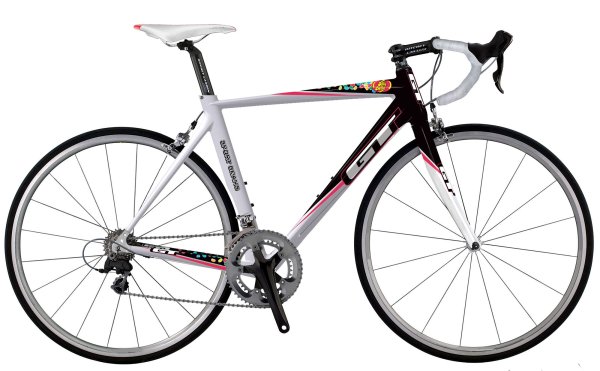 One of the teams competing in the TdC will be the Jelly Belly/GT team and they'll be aboard the carbon xxx frame. Besides their traditional candybeans, Jelly Belly also makes performance enhancing beans.ÿ
Click Here
for more info and to enter a content to design the next Jelly Belly product. For more info on the line of GT road and mountain bikes,
Click Here
.
ÿ
PRESS RELEASE: A New Track Is Coming
MX Motopark Industries Inc., in association with the Pala Band of Mission Indians, today announced the development of Pala Raceway, a 240-acre motocross and off-road racing facility in Pala, CA, 30 miles north of San Diego. With more than five years of planning, engineering and biological studies, Pala Raceway has received all of the necessary permits and federal approvals for construction to commence.ÿ
Construction will take up to 6 months, and an opening date will be announced as construction nears completion. Pala Raceway will feature 12 separate professionally designed and prepped tracks, including: Main Motocross, Vet Motocross, Grand Prix Motocross, Amateur Supercross, 80cc-150cc Motocross, 50cc-65cc Mini, Adult Mini, Stadium Side x Side/UTV, Quad, Mini Quad, Professional Supercross and Super Moto tracks. In addition, the raceway will include more than 300 campsites, a clubhouse, a restaurant, a three-acre fishing pond, a BMX race track, and a bike wash for all park visitors.
ÿ
Pala Raceway is located on Highway 76, approximately seven miles east of Interstate 15, and one and one-half miles east of the Pala Casino Resort Spa. The raceway is closed to the public during the construction process; public tours will be established at a later date.ÿFor more info, Click Here.ÿ
ÿ
PRESS RELEASE: Honda Riders Club At Daytona
American Honda announces HRCA Member special activities at Daytona Bikeweek 2008
Torrance, CA: American Honda is pleased to announce a number of special, exclusive-access activities that will be open to members of the Honda Riders Club of America? (HRCA?) during the 2008 Daytona Bikeweek. As usual, all HRCA Members can enjoy exclusive access to the HRCA Hospitality Tent, located adjacent to the main Honda Display in front of Daytona Speedway. This hospitality area includes indoor and outdoor lounge areas, motorcycle videos, complimentary snacks and beverages, and a nearby motorcycle parking area.
But that's just the beginning. In addition, on Thursday, March 6, HRCA Members have the opportunity to meet with a full contingent of Honda Red Riders at the very exclusive Daytona 500 Club, located on the infield just inside Pit Row at the Daytona International Speedway, overlooking Victory Lane?rarified territory indeed! This special evening begins with a tram ride along some of the Speedway lanes not normally open to the public, followed by an up-close tour of the Honda paddock, the team's very cool transport rigs and a short walk out to the Daytona Supercross track. After that, it's on to a VIP dinner inside the renowned Daytona 500 Club, with main entrees of pan-seared breast of chicken and sliced sirloin of beef. Following dinner, Members and guests will be treated to an interview and autograph session To purchase ticketa for these & other special events, visit the HRCA Clubhouse by
Clicking Here
and looking for "HRCA Member Activities at Daytona Bikeweek 2008." Tickets will be available online while supplies last or until February 22, 2008. You won't want to miss out on the chance to receive the VIP treatment from Honda at Daytona Bikeweek 2008!
ÿ