MXA RETRO TEST: WE RIDE CHAD REED'S 2002 YAMAHA OF TROY YZ250F
This article is reprinted from the April 2002issue of MXA.
We get misty-eyed sometimes thinking about past bikes we loved, as well as ones that should remain forgotten. We take you on a trip down memory lane with bike tests that got filed away and disregarded in the MXA archives. We reminisce on a piece of moto history that has been resurrected. Here is our test of Chad Reed's 2002 Yamaha of Troy YZ250F.
The first time we met Chad Reed was in Europe. Much like us, Chad was only visiting Europe. At the time, the Australian was under contract for the 250 World Championships with Jan de Groot's Winfield Kawasaki team. The reason that Chad Reed was only visiting Europe was that he had already made plans to leave the World Championships and move to the United States. 
Reed signed on the dotted line to ride on Yamaha of Troy's 125 Supercross team. This move surprised us, because (and Jeremy McGrath can attest to this) Reed flat out flies on a 250. He was a contender for the 250 World Championship, had won a GP, and could have leveraged a fair chunk of Euros out of de Groot.
So why did Chad agree to drop down to the 125 class? The answer is disappointing! No one in the USA believed in the 250 GP racer enough to offer him a 250 deal. Only Yamaha of Troy's Phil Alderton saw his potential, but all YoT had to offer was a 125 (since they are Yamaha's official 125 team). For the Troy boys, it was a brilliant move. Chad Reed gets to ride the 250 Supercross class when the series is on the West Coast and will ride the 125 East to fulfill his contract obligations. Reed's 250 Supercross rides have been eye-openers. In his first-ever 250 Supercross, Chad finished sixth (and would have been higher if his pipe hadn't been crushed). Yamaha of Troy is ecstatic. Yamaha is happy, and everyone is waiting for Chad Reed to get off of his YZ250 and climb aboard his YZ250F four-stroke for the 125 East and 125 Nationals.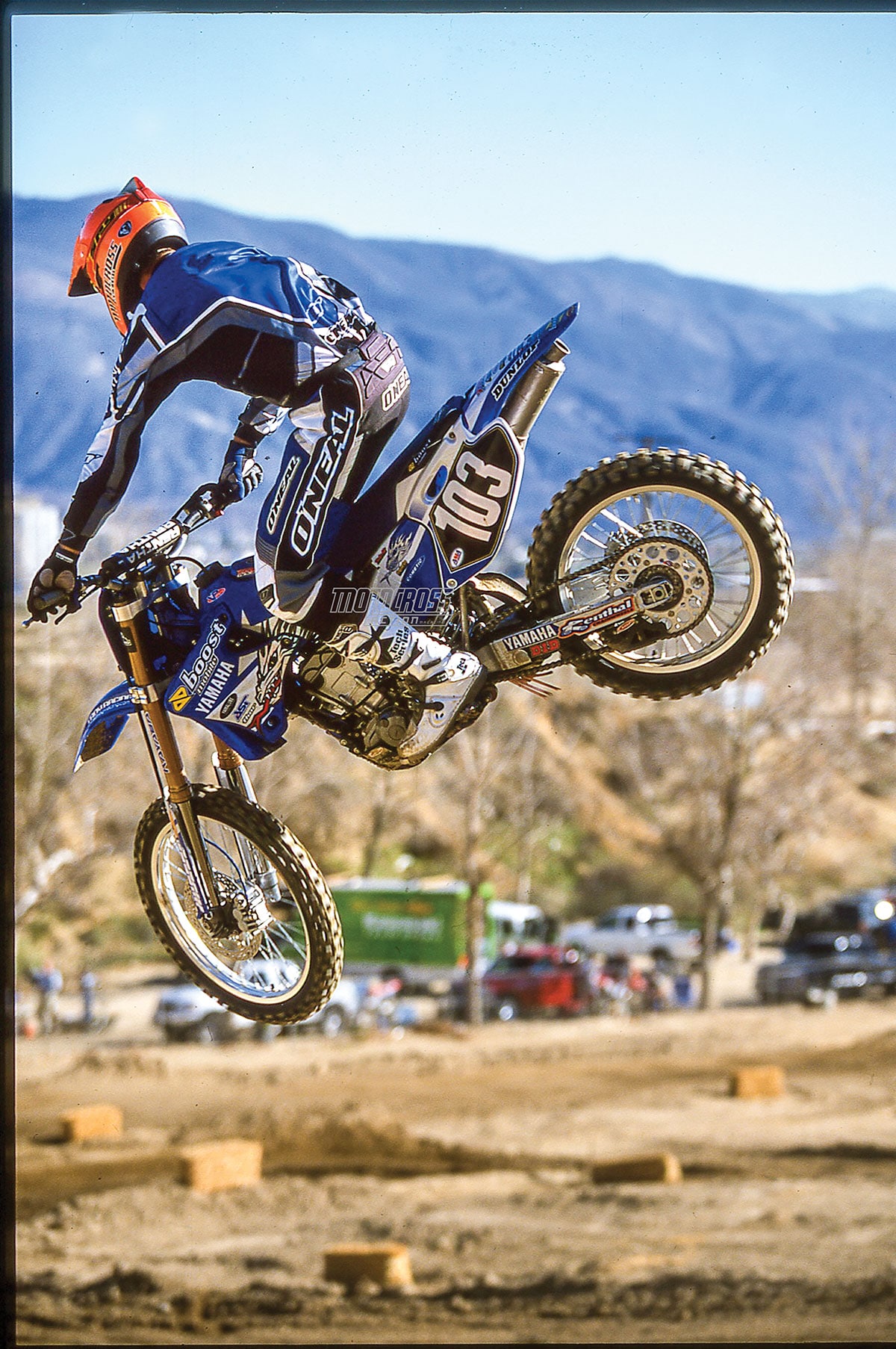 THE MXA GANG COULDN'T WAIT
If you live on the East Coast, you won't get to see Chad Reed ride a 250 this year, but don't fret. At 19 years old, Chad has plenty of years ahead of him to race the 250 class. And just think, if he's this good in the 250 class now, how fast do you think he'll be in the 125 class? The MXA wrecking crew decided to take Chad's YZ250F on a whirlwind tour of SoCal. Here is what's it like to ride Chad Reed's 2002 Yamaha of Troy YZ250F.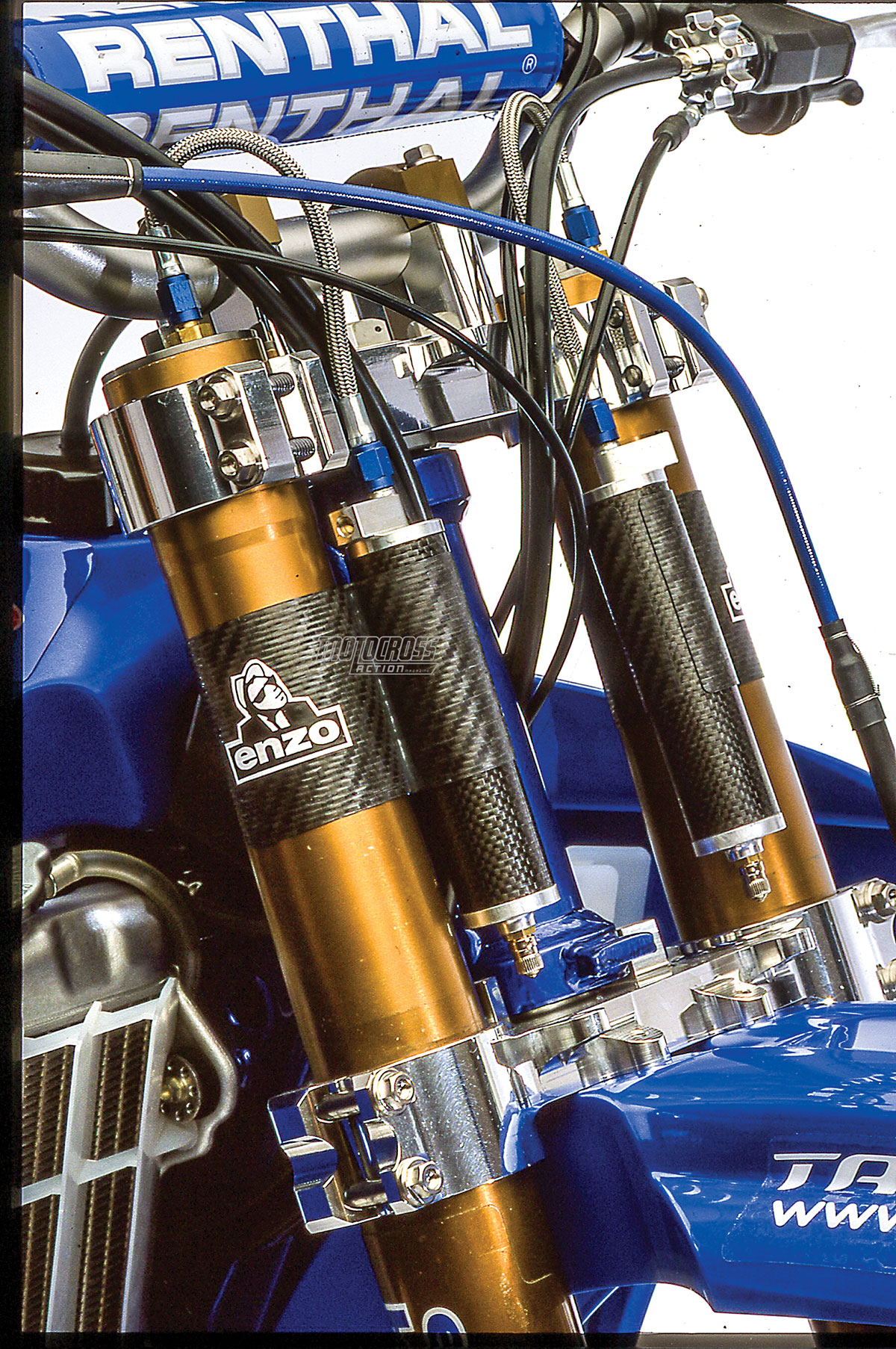 Chad's Kayaba works forks were outfitted with carbon fiber Enzo sub-tanks.
THE BIKE OF THE MILLENNIUM
We were a little excited about riding Yamaha of Troy's YZ250F. Why all the excitement? Yamaha of Troy is Yamaha's official factory-backed 125 effort. YoT has every trick in Yamaha's arsenal, not the least of which is the marvelous four-stroke engine.
After battling with last year's cheater hype, the YZ250F has been given a clean bill of health from the AMA. Unlike the YZ426, which the factory team has perfected over the last five years, the YZ250F is only in its second year of race development.
Before Chad Reed or the MXA test crew ever threw a leg over the YZ250F, YoT had already torn the engine completely apart and gone over it with a fine-tooth comb. They were looking for perfection, and instead of just throwing works parts at the 250F, Yamaha of Troy tested every production part to make sure that it was within tolerance ranges.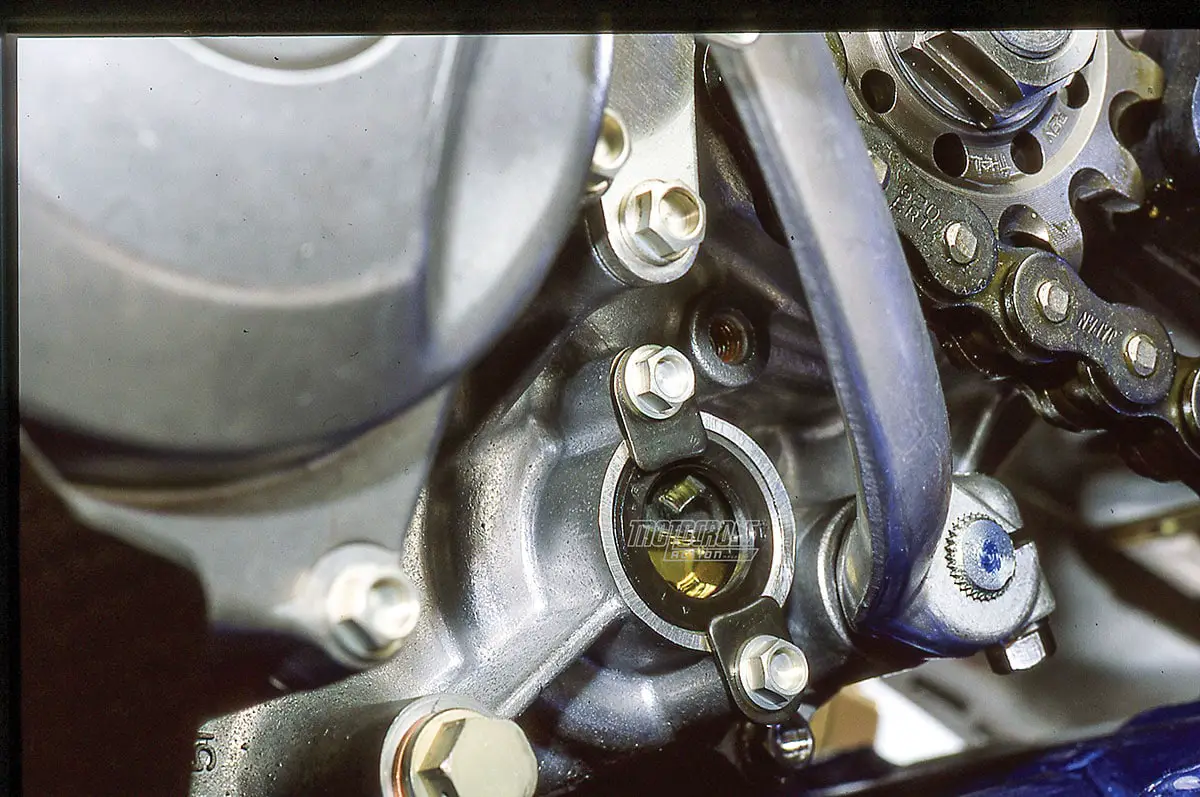 To keep the oil-level sight glass from popping out, it was retained by clips.
Reed runs a works ignition on his bike, but it doesn't raise the already ridiculously high rev limiter. Reed is a lugger, so his works ignition curve helps the engine come on stronger off the bottom. Even the smallest twist of the throttle produces thrust. Since most MXA test riders prefer to use the torque curve instead of the horsepower curve, Reed's setup was perfect for us.
To add more low-end power, FMF created a titanium 4 exhaust with its PowerBomb system and special S-bend just for Reed.
The power output of Reed's YZ250F with the extra bottom end is impressive. We could easily start in second gear. For the tight corners, we continued to use second gear, but everything after that was third and fourth. You don't have to lug Reed's bike if you don't want to, as the engine will continue to pull strong up into the top end.


The only weird thing with Reed's engine setup was his gearing. The gap between second and third seemed taller than on a stock YZ250F. Yamaha of Troy's crew chief, Dean Baker, assured us that the tranny was stock—and he wasn't lying. The gear conundrum came from the 52-tooth rear sprocket. Gearing is a matter of choice, and last year Ernesto Fonseca ran a 45-tooth rear sprocket to utilize first and second gear more. Obviously, Reed favors second and third.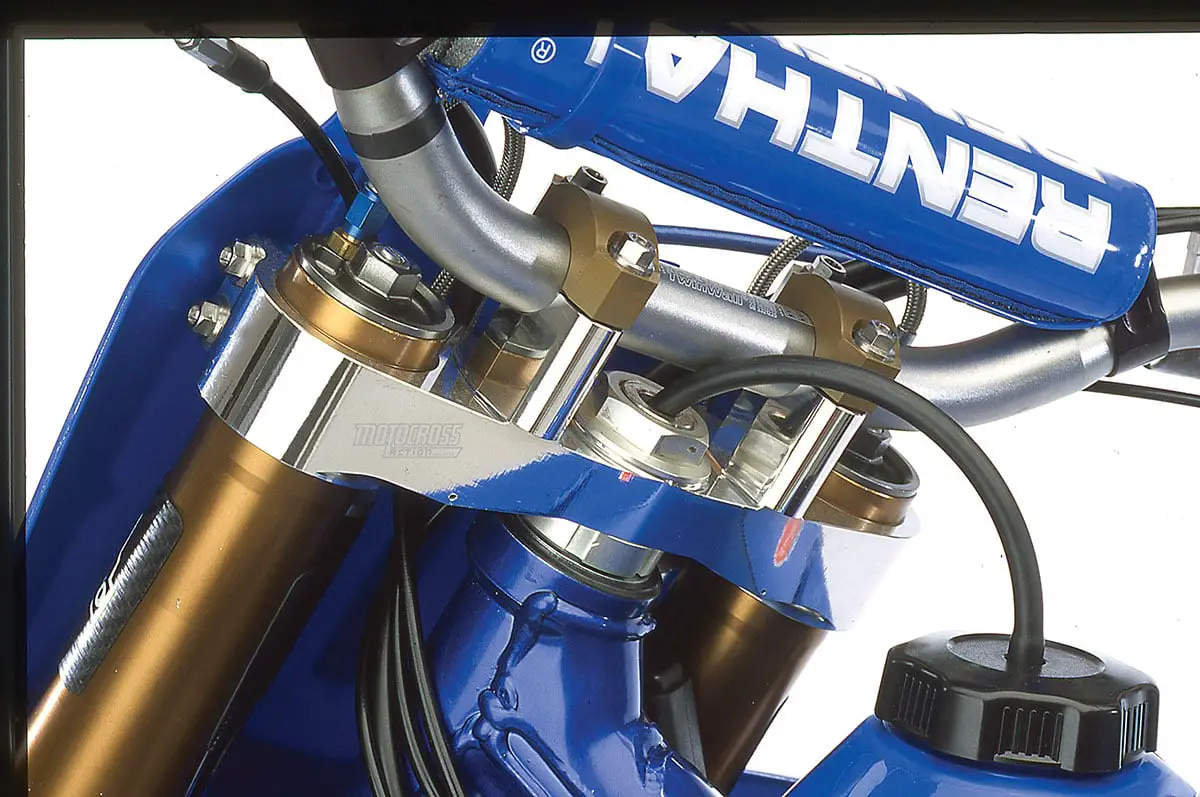 The billet triple clamps were joined by billet bar mounts (with magnesium caps). The bars were from Renthal.
GETTING IT LIT
The 2002 YZ250F is harder to start than the YZ426. The exception to the rule is Chad Reed's YZ250F. Warm or cold, all it took was one kick. Amazing! And it gets better. We never had to use the hot-start button. Not once. We asked Dean Baker if YoT was running a special carburetor, but the answer was no. The secret is proper jetting and thorough cleaning of the carb. 
Baker recommends taking the carburetor completely apart (including pulling the jets out) and cleaning everything with carburetor cleaner. He then lays out all the parts, air dries them, inspects the O-rings, and reassembles the carb. How can you tell when it needs to be cleaned? Dean Baker's answer is simple: "If you have to use the hot-start button, then you need to clean it."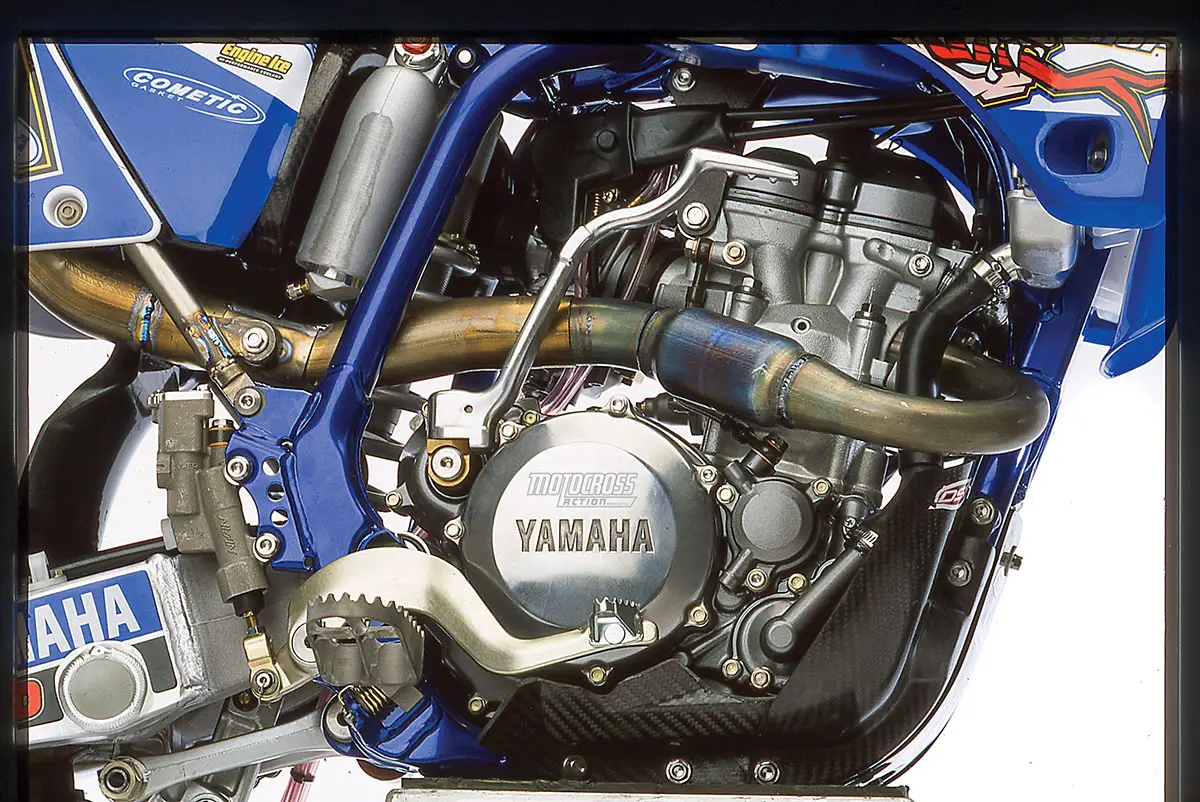 Yamaha of Troy wet-sumped their YZ250F engines. What does that mean? They only ran engine oil in the cases and just enough to get the job done.
SUPERCROSS SUSPENSION WARS
Can you say stiff? If you can, repeat it over and over. We had some idea that Chad liked his suspension stiff after watching him pound through the whoops at quasar speeds on his YZ250, but our estimation wasn't even close. When we rode Chad's bike on the Glen Helen outdoor track, we couldn't go more than five laps without stopping to rest.
Why does Chad run his suspension so stiff? That is the way of the Supercross world. Chad is a stocky guy who doesn't necessarily have the smoothest riding style. Instead of missing the bumps, Reed plows through them at break-neck speed.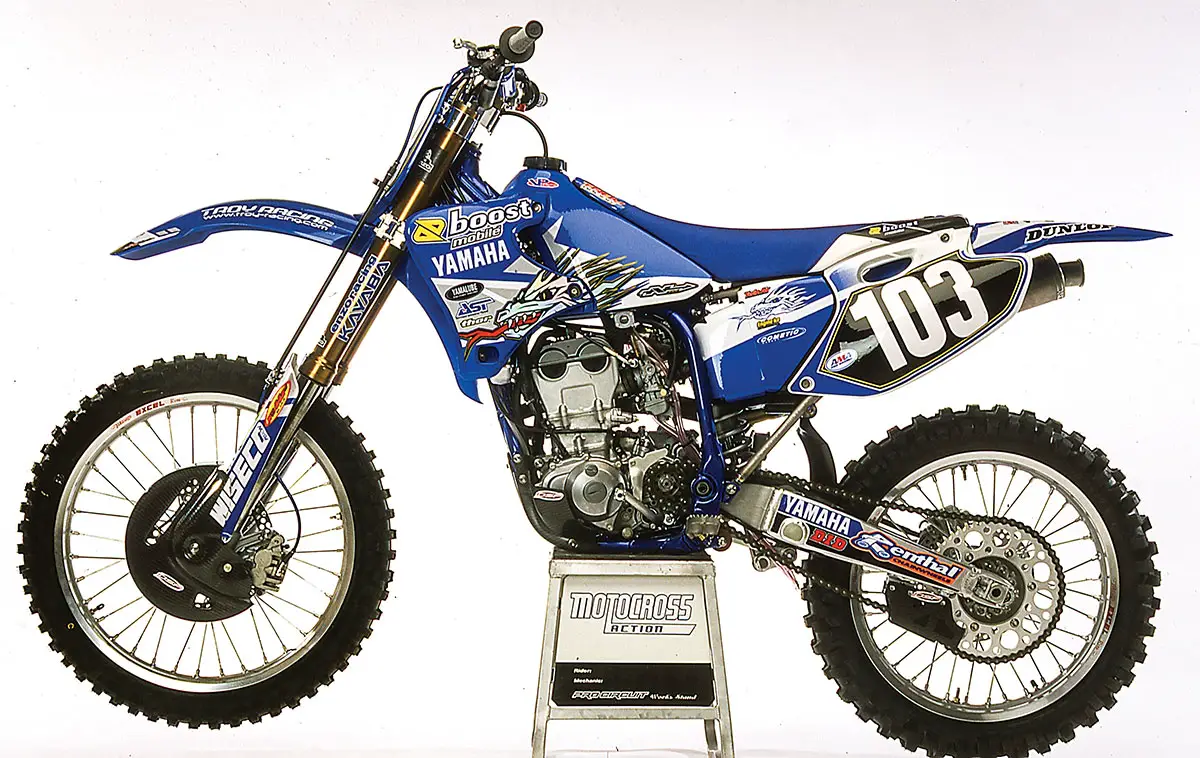 Chad Reed's YoT YZ250F was outfitted with a DSP carbon fiber airbox, titanium FMF pipe and titanium bolt kit. It weighed 216 pounds.
WHAT'S IT WEIGH?
At the start of the season, the AMA tried to put a 216-pound weight limit on the YZ250F while allowing two-stroke 125s to weigh 194 pounds. The rule got shot down by the AMA's office politics (Honda's office). While Yamaha spends boatloads of money lightening Tim Ferry's YZ426, Yamaha of Troy keeps it simple. A titanium bolt kit covers all the bolts on the bike, except the axles, which are stock. The airbox is a DSP carbon fiber system, and the exhaust system is titanium. The only other major weight-saving device that YoT uses is to wet-sump the YZ250F engine. The weight of Chad Reed's YZ250F without gas is 216 pounds. It would even be legal under the AMA's shot-down rules.
CHAD REED'S CONTROLS
When we jumped on Chad Reed's bike, we were surprised we didn't need to touch a thing. The levers were close to normal, and the bar position was almost in the middle. Of course, Reed isn't using a stock clutch perch. For the race teams, Yamaha machines the perch out of a solid chunk of aluminum. The on-the-fly adjuster mimics the stock Yamaha one, except that the works model has a ball bearing that keeps the adjuster from spinning.
Yamaha of Troy cleaned Chad's Keihin FCR carb if it had trouble starting on the first kick.
Reed runs a standard front brake reservoir and master cylinder but connects the two with a braided, stainless steel, Fastline brake hose (routed Honda-style). Reed runs a works 270mm floating front rotor. For the rear brake, YoT gets the trick, all-in-one reservoir that Vuillemin and Ferry use. It is larger than the unit found on stock Hondas. Reed's rear brake is powerful. Reed also runs his rear brake pedal rather high. 
We can't say enough good things about the DSP titanium footpegs that YoT runs. They are larger, sharper and lighter than the stockers.
WHAT DO WE REALLY THINK?
We honestly wish Chad Reed could continue racing the premier class in Supercross. We believe he could win a main event before the 2002 series is over. We expect Chad to be a contender in the 125 East, but where he will really shine is in the 125 Nationals.