MXA RETRO TEST: WE RIDE JAMES STEWART'S 2009 L&M RACING YAMAHA YZ450F
We get misty-eyed sometimes thinking about past bikes we loved, as well as ones that should remain forgotten. We take you on a trip down memory lane with bike tests that got filed away and disregarded in the MXA archives. We reminisce on a piece of moto history that has been resurrected. Here is our test of James Stewart's 2009 L&M Yamaha YZ450F from the August 2009 issue.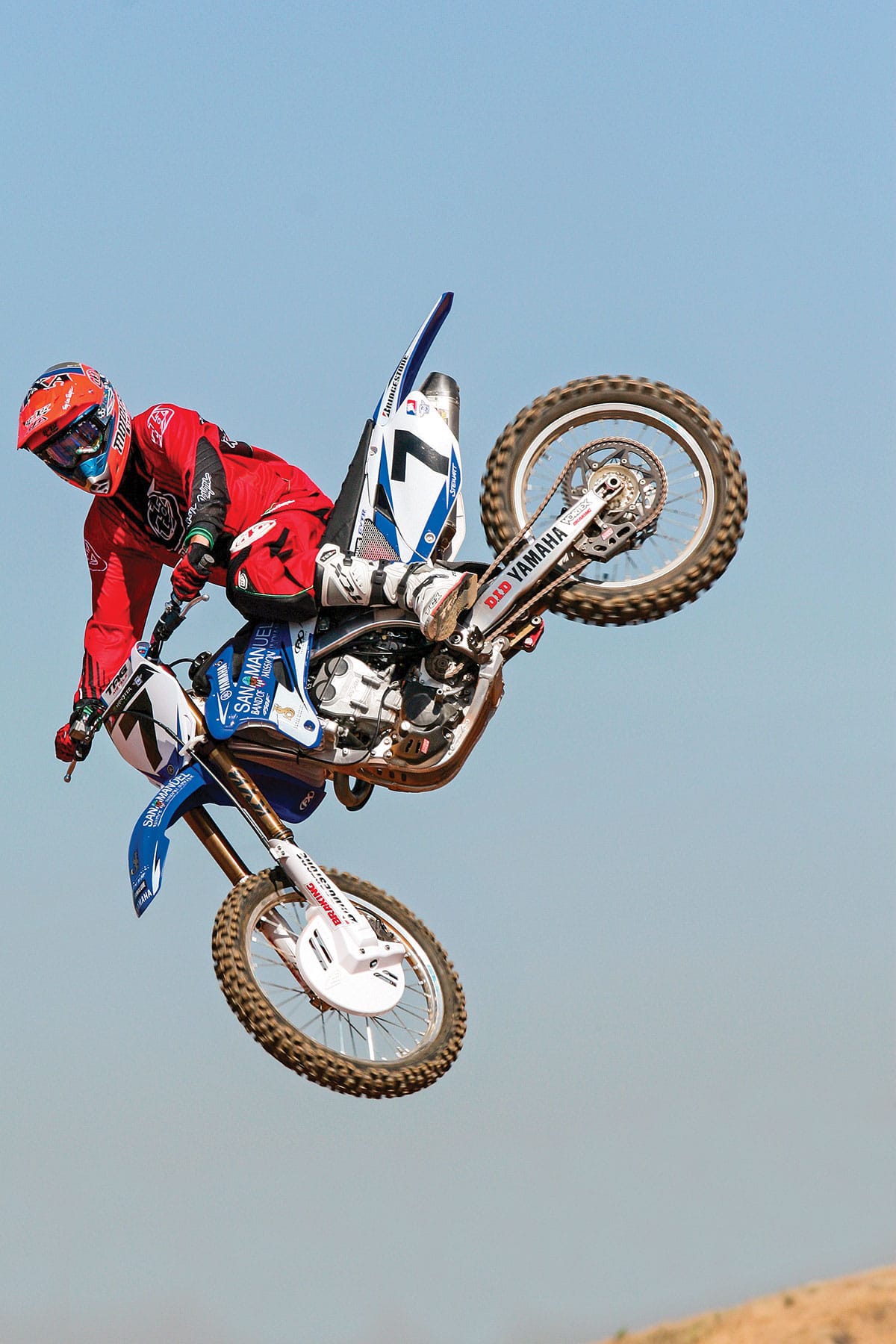 Regardless of what Chad Reed's contingent of diehard fans think, James Stewart deserved to win the 2009 AMA Supercross title. Not only did he win seven races in a row to pass Reed for the points lead, he came back again to win even more races and regain the lead a second time. Stewart was the Rocky Balboa of Supercross (minus the butchered Philadelphia accent). It also didn't hurt that James won 11 races to Chad Reed's three. Stewart showed the poise and speed of a champion. Winning every round of the 17-race Supercross series would have been outstanding, but how he won this year's Supercross title was equally impressive. James kept his cool under pressure and emerged the series winner at the final round in Las Vegas.
James Stewart is not your average racer. He looks at a Supercross track differently and rides each section of a jump-riddled Supercross track like he's playing a video game. Anything is possible in Supercross. The only thing that keeps a triple from being a quad is skill, speed, and equipment. Stewart has skill and speed in abundance, but what about the equipment? Thanks to Larry Brooks and Mike Kranyak at L&M/San Manuel Racing, James Stewart had the third part of the puzzle covered this year.
The MXA wrecking crew wanted to get our hands on James Stewart's L&M Yamaha YZ450F. Thankfully, we had a little bit of luck on our side. L&M co-owner and team manager Larry Brooks has been an MXA test rider for nearly 20 years. He is close to the MXA fold, and, like any dear friend, he was more than willing to help. He gave us James' YZ450F (before it was put on display in Yamaha's showroom lobby).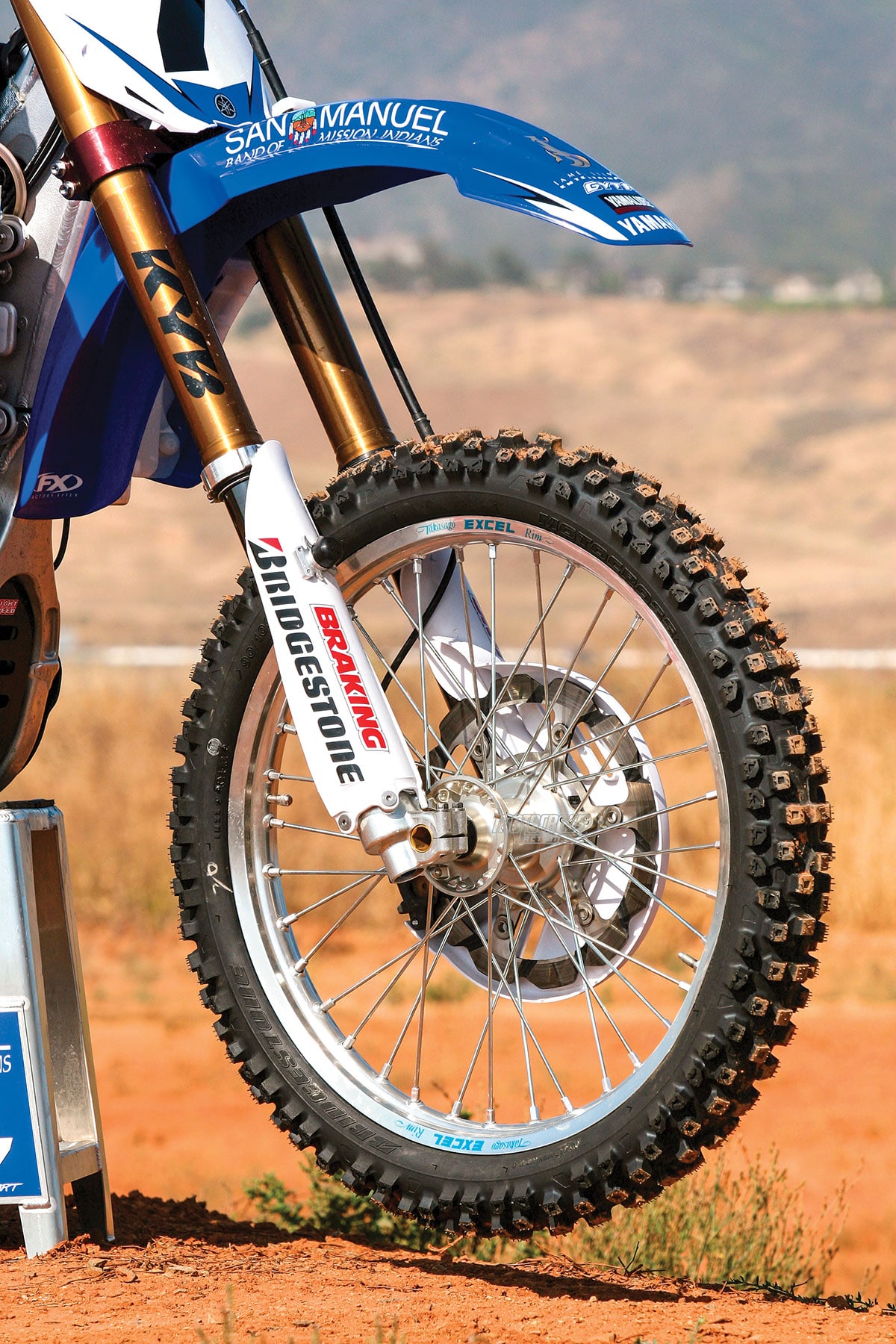 SHOP TALK: BREAKING THINGS DOWN
The list of works Yamaha parts (items that cannot be purchased) is rather short compared to the trick parts that come on the factory Honda, Kawasaki and Suzuki bikes. Yamaha believes that its bikes are race-ready in stock trim. And, for the most part, we cannot argue with the durability of the Yamaha YZ450F. The L&M team uses a bevy of aftermarket components and stock parts, electing to use only a small number of works YMUS (Yamaha Motors United States) parts. The carburetor is YMUS, as well as the axle spacers, shock linkage arm, titanium bolts, transmission and 20mm-offset, anodized-aluminum triple clamps. 
Of course, the works Kayaba forks and shock are also unobtainable. The shock has a hidden radiator reservoir, which is designed to help the shock stay cooler thanks to increased fluid capacity. The reservoir is routed behind the shock and is secured in the air box. The super-sized forks and beefy shock are vital in reducing flex and handling the heavy loads that the bike endures on a Supercross track. 
When we said that James Stewart's YZ450F was mostly stock, we weren't lying. It is deceiving, because there are a few parts that look factory, but in reality they are just stock parts. Oscar Wireman and Paul DeLaurier both handled the wrenching duties for Stewart during his 2009 Supercross Championship run, and they paid very close attention to the details. They cut the sheathing off the stock front brake line and clutch cable to reduce weight. The front brake caliper is also an OEM (original equipment manufacturer) part, but it has been sand blasted and anodized to give it a factory look. L&M makes its own rear brake snake, as well as a tether system attached to the carburetor so that the carb doesn't pop off through the whoops. The gas petcock has also been cut to prevent Stewart from accidentally turning the fuel to the off position with his leg (or anyone else accidentally shutting it off between heats). The subframe is stock but has been cut down 10mm to lower the seat. James didn't have any problem with the seat height until the AMA instituted a rule at the beginning of the Supercross series stating that no extra dirt could be brought into the starting gate area. The AMA rescinded the rule after only a few races, but Stewart stuck with the lowered subframe because he had grown accustomed to it. 
The list of aftermarket parts on James Stewart's bike is rather short. Akrapovic supplies the exhaust system, which is made entirely of titanium, save for the carbon fiber end cap. A resonance chamber is used, which is nothing more than an extra piece of head pipe tubing welded onto the top of the regular head pipe. A small-diameter hole connects the extra tube to the Akrapovic pipe. It lowers the sound level to the AMA-legal range of 94 decibels. GYTR, Yamaha's official aftermarket company, supplies the clutch cover, clutch basket, pressure plates and engine internals. A Braking 270mm Batfly front rotor and rear rotor are used, along with Vortex sprockets (13/52 gearing combination), a DID chain, LightSpeed carbon fiber chain block, rear caliper guard, engine case guards and skid plate, and a Hammerhead holeshot device. Also found on Stewart's steed are Tag handlebars and medium-density grips, a Sunline hot-start lever, UNI air filter, Bridgestone works tires and Factory Effex graphics, seat cover, and thermostrips. L&M runs VP Pro 4.1 fuel, Yamalube lubricants, a 1.8 radiator cap, and Cycra plastic and heat shield tape underneath the gas tank to keep engine and exhaust heat from warming up the fuel.  
What is the most unusual item on Stewart's YZ450F? Believe it or not, a piece of duct tape. Wireman and DeLaurier habitually run a 2-inch-wide piece of duct tape along the back side of the left side radiator fins to keep the cooling system running at a warmer temperature. Although it sounds counterproductive, L&M believes that the bike runs too cool in Supercross stadiums. While many other manufacturers spend thousands of dollars on larger radiator surface areas and catch tank systems, L&M uses a 50-cent piece of duct tape to block off air circulation. 

The second most unusual part on James Stewart's bike is his footpegs. Compared to every other factory bike that we have ever tested, Stewart's footpegs are minuscule. Whereas most Pro riders select the widest footpeg platform they can find (usually around 50mm), James runs the small 45mm footpegs off of a 2007 Yamaha YZ450F. Why? Stewart found that wider footpegs had a tendency to drag and catch going up the face of triples when he laid the bike over and scrubbed jumps. Say what? This is a problem that only James Stewart would have with an extra 5mm of footpeg.
TEST RIDE: TWISTING THE THROTTLE
Thanks to our educated tactile senses, the MXA test crew can tell a lot about a bike just by lifting it off the stand. The first thing we noticed was how light Stewart's YZ450F felt. It was 5 pounds lighter than a stock YZ450F. We also learned that the float bowl level was set very high (after seeing the carburetor spew a good amount of VP Pro 4.1 out the overflow tube). James runs a high float level. That way there is always extra gas readily available for acceleration or when barreling through the whoops. Only James Stewart, the world's fastest racer, would encounter the problem of not having enough gas in a works carburetor.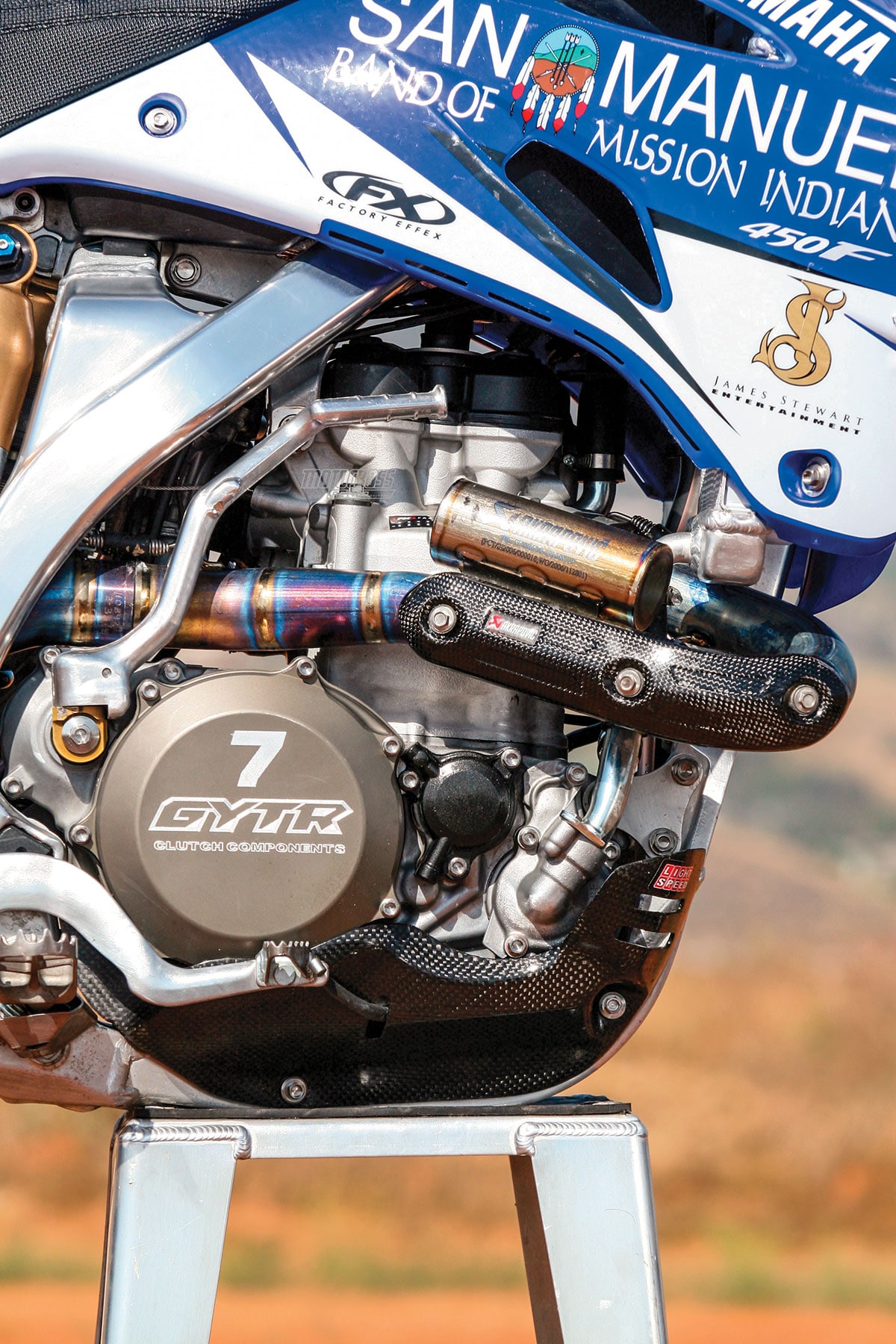 For the past few years we've noticed that Stewart kept lowering his clutch and front brake levers. At the beginning of the 2009 Supercross series, he had the levers pointing so far down that Stewart actually felt embarrassed about them. He would have the mechanics raise them when people were taking beauty shots of the bike and then lower the levers before he rode. James has been consciously trying to raise his lever position, and it was noticeable at the Las Vegas Supercross when his clutch and front brake were significantly higher than they were at Anaheim 1. Regardless, MXA test riders had difficulty riding with the levers in Stewart's preferred position. The rear brake pedal was also extremely low. It gave us flashbacks to the days when drum brakes would overheat and you would need to stand on the rear brake pedal in order for the brakes to work. Stewart says that he runs a low rear brake pedal because he doesn't use the brakes. If you can't tell by watching him race around the track, then perhaps this fun fact will enlighten you to the truth that James Stewart really doesn't use his brakes; he used the same set of front and rear brake pads for the entire Supercross series. That's 17 races without one brake pad change! Stewart also rarely uses the clutch.  
We expect Supercross suspension to be stiff, but we entered a whole new realm of stiffness when we hopped on Stewart's L&M YZ450F. The forks wouldn't budge. We railed corners, hit triples and aced rhythm sections, but the works Kayaba forks hardly moved. According to the L&M folks, James can make the forks go through their stroke with relative ease. How does he do it? By hitting the whoops and rhythm sections upwards of 15 miles an hour faster than mere mortals. Being mortal, we were unable to get the forks to go down more than a few inches.
In relationship to the stiffness of the forks, the shock was comparatively soft. We figured that the bike wouldn't feel balanced. James' YZ450F sat like a Harley-Davidson. We enjoyed the shock settings (by themselves), but once we tried to build speed on Yamaha's Supercross test track, the forks and shock fought each other. It wasn't until we started to put in some extremely hard laps that the suspension started working in unison. We could only dream about how great the suspension would work if we could harness James Stewart's raw speed. 
You might think that because Stewart is the fastest rider on the planet his bike would mirror his riding ability. This was not the case. The L&M Yamaha YZ450F had the perfect Supercross powerband, but it wasn't a fire-breathing dragon. What exactly defines a perfect Supercross powerband? Since Supercross tracks are littered with jumps and whoops of various sizes, ample low-to-mid power is necessary. Stewart's bike has that—and then some. With a crack of the throttle, the engine comes to life quickly, grunting through the bottom end and surging through the midrange. The top-end was so-so, but with a works four-speed transmission, the widespread gear ratios kept the power in the meat of the powerband. We rode the bike mostly in second gear and only shifted to third before the whoops. James typically entered the whoops in third and sometimes shifted to fourth gear through the rockers. Talk about gutsy! 
MXA test riders raved about the throttle response. The carburetor was spot-on and offered really crisp power right off the bottom. The engine didn't have a fuel-injection feel to it (where the power comes on quickly and spins the rear tire). Instead, the power developed quickly but hooked up with a more metered delivery.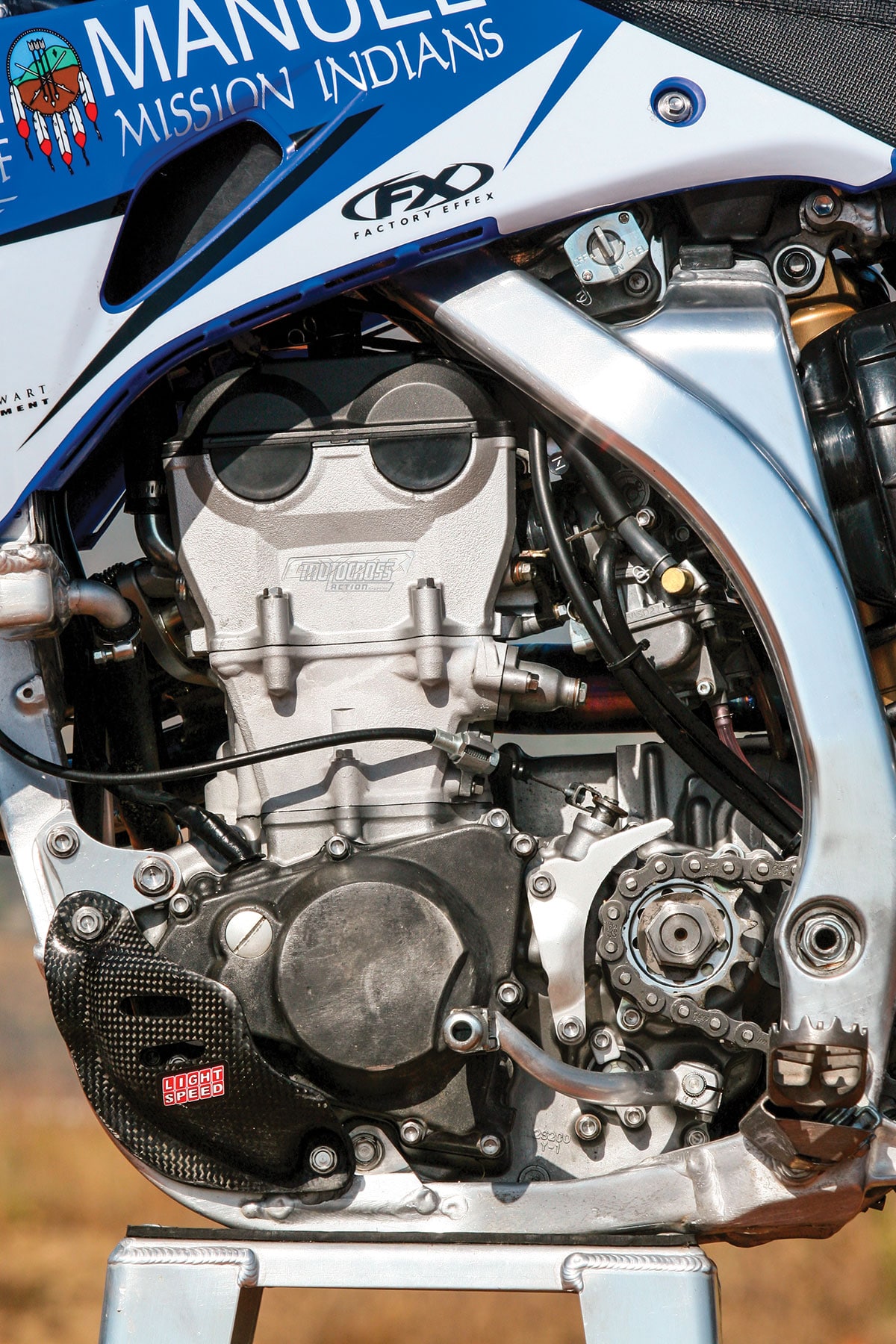 CONCLUSION: WHAT DO WE REALLY THINK?
Riding James Stewart's 2009 AMA Supercross-winning YZ450F was a dream come true, but not for the reasons you might expect. We tested a piece of history, chock-full of personal preferences that only James Stewart would like. The smaller footpegs caught us by surprise, but it was funny to think that a rider would actually be skilled enough to complain about wide footpegs dragging up the face of a jump. By riding James Stewart's L&M YZ450F, we captured a glimpse of Supercross through his eyes. What a sweet sight it was for the two-time Supercross Champion and our merry band of MXA test riders.