MXA RETRO TEST: WE RIDE RYAN VILLOPOTO'S TITLE-WINNING 2007 PRO CIRCUIT KX250F
Editor's note: We get misty-eyed sometimes thinking about past bikes we loved, as well as ones that should remain forgotten. We take you on a trip down memory lane with bike tests that got filed away and disregarded in the MXA archives. We reminisce about a piece of moto history that has been resurrected. Here is our test from the June 2007 issue of Ryan Villopoto's title-winning 2007 Pro Circuit Kawasaki KX250F.
The bike that Ryan Villopoto rode to a dominant 2007 AMA 250F West Supercross title this season wasn't a Johnny-Come-Lately design; it was conceived a long time ago. More accurately, it was the end result of a long-term development project that was started at the end of the 2003 AMA National series. Although the Pro Circuit team had been among the staunchest defenders of the 125 two-stroke, they didn't spare any expense in developing the KX250F when it was introduced in 2004. What they learned over the winter of 2003, they applied to the title-winning bikes of James Stewart, Ivan Tedesco and Grant Langston over the next three seasons.
By the time Ryan Villopoto, Pro Circuit's hand-picked successor, was ready to join the team, Pro Circuit's Kawasaki KX250F was virtually unbeatable. It should go without saying that the team of Payton, Villopoto and the KX250F have been lethal to the competition. Results don't lie. Even in the infancy of his professional career, Ryan Villopoto has already hoisted the AMA 250F National Championship plate. And his most recent championship came in this year's AMA 250 West Supercross class. Villopoto trounced his foes so thoroughly that he wrapped up the title with one race left in the series.
YOU DON'T NEED TO BE THE AMAZING KRESKIN TO IMAGINE HOW BEEFED UP THE STOCK KX MILL IS AFTER PRO CIRCUIT GETS DONE MASSAGING EVERY SQUARE MILLIMETER OF THE FOUR-STROKE'S INNER WORKINGS.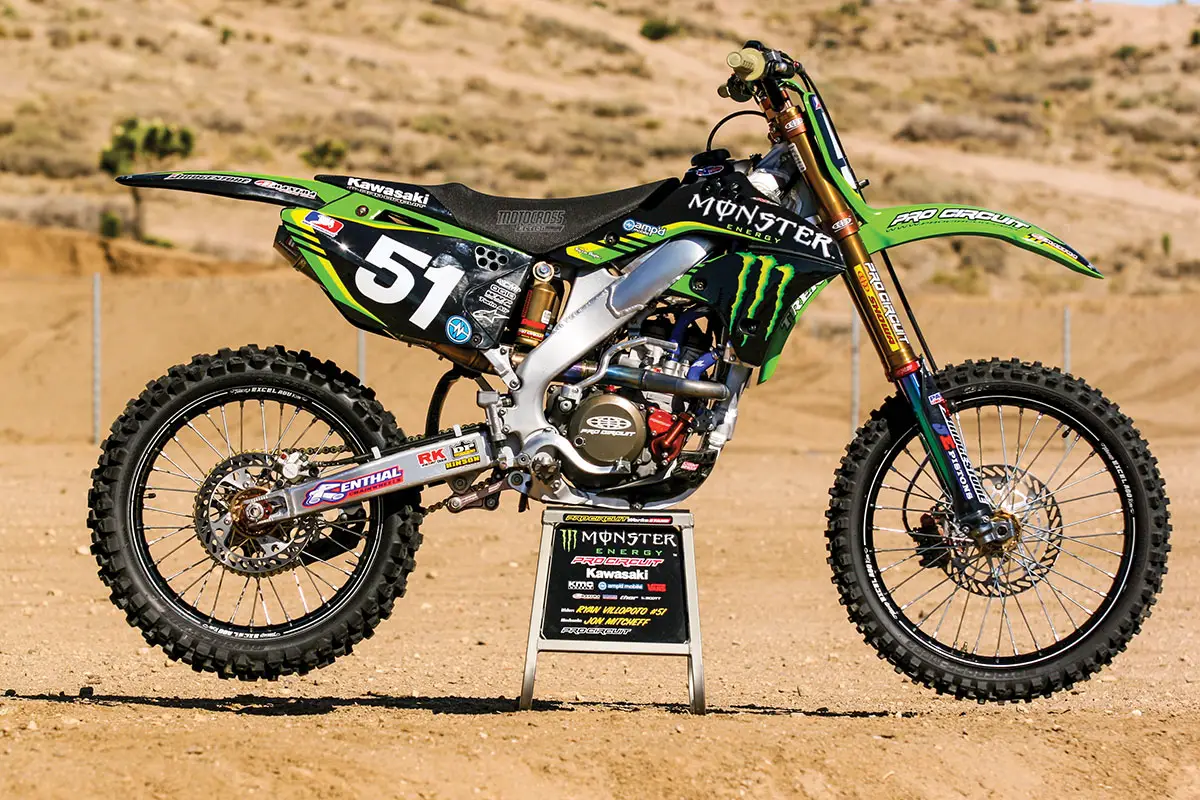 Ryan Villopoto's 2007 Kawasaki KX250F was not just a work of art, but a specialized art project built just for him
The 250F West turned out to be embarrassing for Pro Circuit's competition but great for MXA. We wanted to get our hands on Ryan Villopoto's championship-winning KX250F. Who wouldn't want the opportunity to ride a bike that is the culmination of a race team's effort that has garnered 20 AMA titles in the short span of 16 years? Now, common sense might tell you that prying the winningest 250F in motocross history out of the hands of one of the most secretive race teams in the sport would be virtually impossible. But nothing could be further from the truth. The MXA wrecking crew casually mentioned that we would like to ride Ryan's bike and Mitch Payton said, "That sounds fine to me. Name the time and place. You can do whatever you want with it."
The MXA staff is made up of motorcycle racers. Everyone at MXA races—not just the high-paid test riders but the guys in the advertising department, photo lab and workshop. They hammer the tracks of SoCal in search of perfection, rarely finding it. So, imagine what it's like to actually get a chance to throw a leg over perfection. This isn't just any motorcycle. It is the love child of the most intensive (and expensive) development program in motocross history. It is also the only bike to have won the 250 National Championship since the world went all four-stroke,  all the time. We know how excited you would be to get a chance to stand next to Ryan Villopoto's race bike, but we will probably bore our grandchildren in 2027 with stories of the day we rode this bike.
The overall package of Ryan Villopoto's Pro Circuit KX250F is impressive, to say the least. Mitch Payton had a great starting point with the 2007 Kawasaki KX250F. It justly earned MXA's coveted 250F of the Year Award. In stock trim, the KX250F has a potent engine, decent ergonomics and effective suspension. You don't need to be the Amazing Kreskin to imagine how beefed up the stock KX mill is after Pro Circuit gets done massaging every square millimeter of the four-stroke's inner workings. In fact, 80 percent of Ryan Villopoto's bike was made, modified or reconfigured in the Pro Circuit race shop. Not even the frame is left alone (it is stripped, re-welded and reinforced before it ever gets used).
COMMON SENSE MIGHT TELL YOU THAT PRYING THE WINNINGEST 250F IN HISTORY OUT OF THE HANDS OF ONE OF THE MOST SECRETIVE RACE TEAMS IN THE SPORT WOULD BE VIRTUALLY IMPOSSIBLE. NOTHING COULD BE FURTHER FROM THE TRUTH.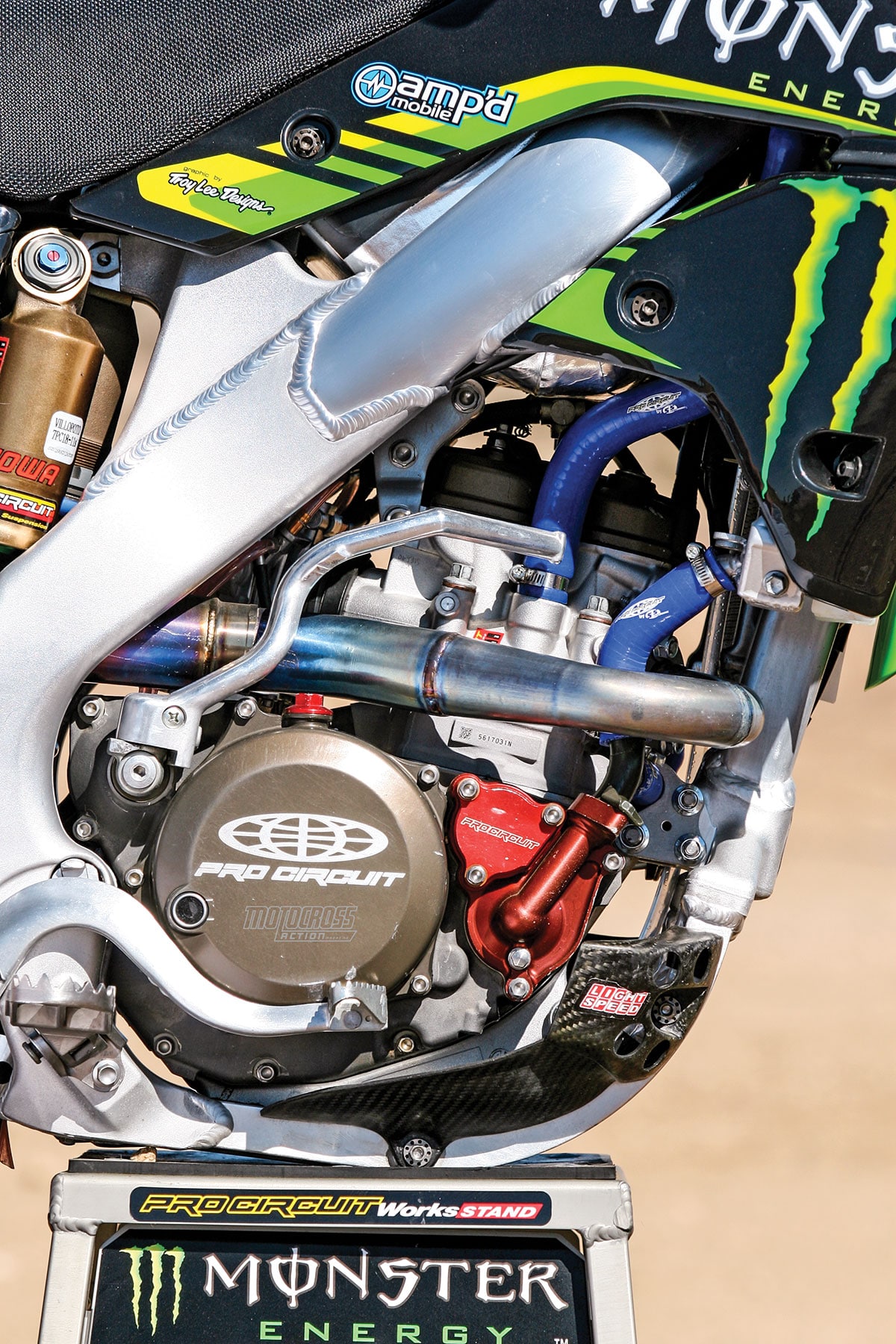 Back in 2007 Pro Circuit was willing to sell to consumer the works transmission out of Ryan's KX250F. They didn't get enough takers at $4000 to every offer it again.
Mitch may use some of the racing world's best suppliers for his components, like JE Pistons and Del West valves, but he doesn't buy off the shelf. He has every part that goes into Ryan Villopoto's race bike redesigned, tested and redesigned again. Pro Circuit's success is the result of hard work—work that starts months before the bike ever hits the race track.
Mitch is not a man who rests on his laurels, or one who overestimates his own knowledge. When Pro Circuit took the great leap forward into thumpers, Mitch sought out competent help. It came in the form of a Toyota Racing & Development engineer named Drino Miller (whose name many might remember from his Baja racing exploits). Drino's job isn't to work on race engines but to imagine them. He is the go-to guy when the time comes to squeeze another 10th of a horsepower out of the engine. In the good old days of two-strokes, the mechanic—in this case John Mitcheff—would have been solely responsible for the maintenance, upkeep and testing of the race bike. Not at Pro Circuit. John keeps it running, but along with Mitch and Drino, there is a team of personnel behind Ryan Villopoto's bike. Zach White is in charge of the KX250F development program. Zach's job is to test every crackpot idea, in-house component and new part to see if it's feasible to run (if not this year, then next). He is joined by Bones Bacon, who handles all the work on Ryan's Showa works suspension and rising-rate linkages.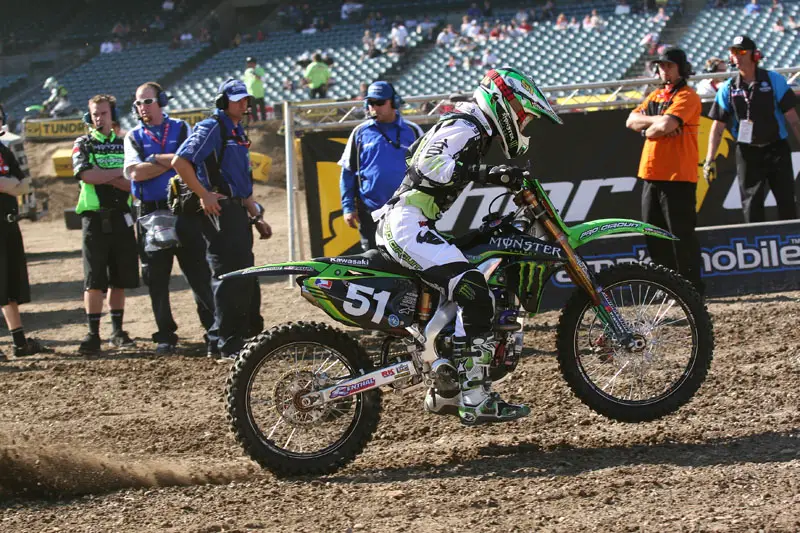 Ryan putting the seat hump to use while practicing starts at Anaheim Stadium.

One of the best things about Pro Circuit's race team is that the things they learn under Ryan Villopoto they make available to the public. Pro Circuit is the epitome of "Race on Sunday; sell on Monday." Ryan Villopoto's triple clamps, Ti footpegs, shock linkage, graphics, axle blocks, camshaft, valves, piston, CNC-machined levers and Showa suspension are all available from Pro Circuit.
Not everything on Villopoto's bike is for sale, though. Some of it is proprietary to the race team (like the Coca-Cola formula), and some of it is just tuned to Ryan Villopoto's personal taste (and probably wouldn't work for mortal men). First and foremost is the exhaust. It is 4 inches shorter than a standard Pro Circuit Ti-4 GP system. A perceptive eye will notice three unusual weld spots in the head pipe. These welds signify that different cone shapes were pieced together to create a tapered head pipe to change the output characteristics of the exhaust. Pro Circuit doesn't sell this pipe, because it was designed for Supercross only and isn't used on Villopoto's outdoor bike.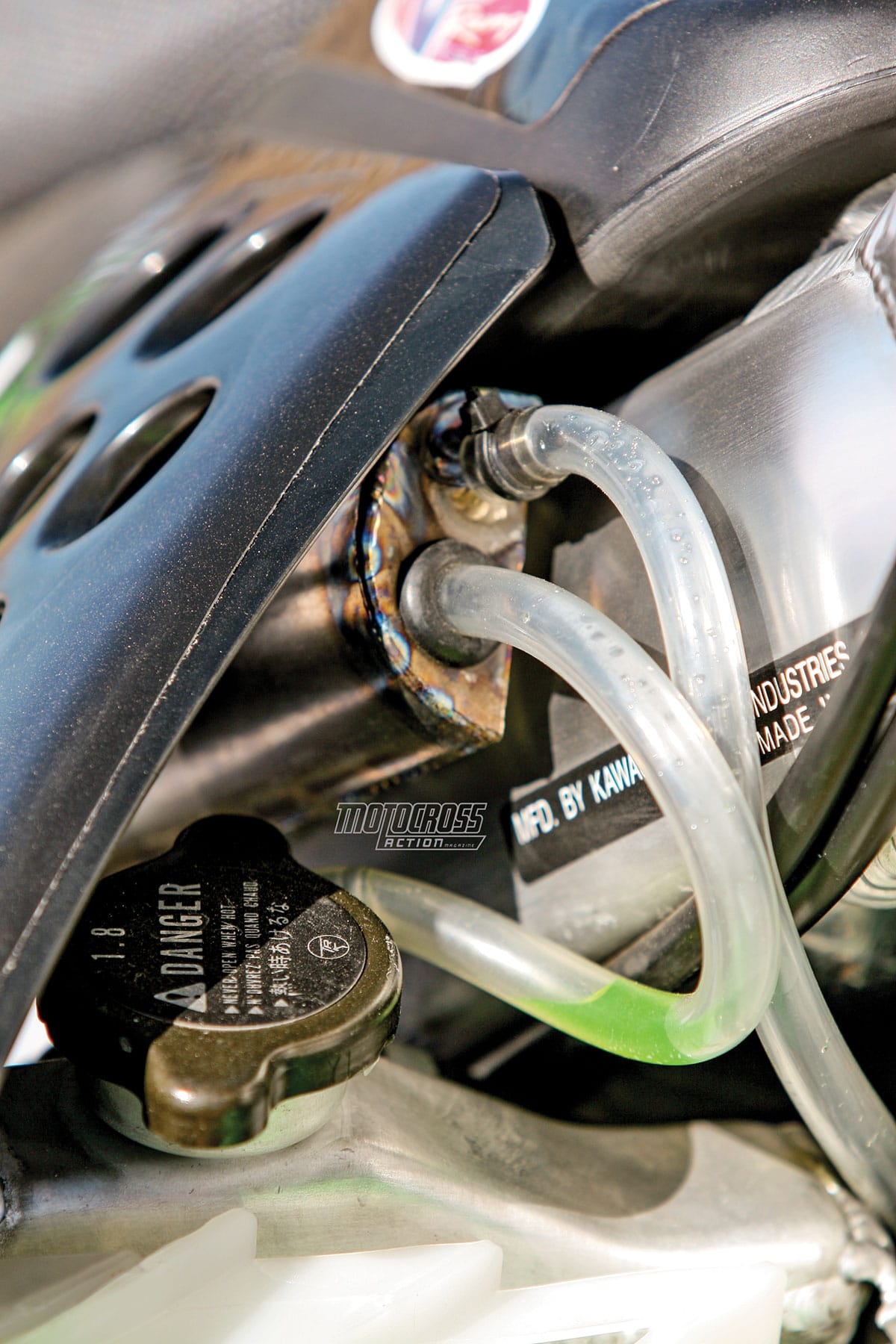 Aside from the exhaust, there is a fluid catch tank tucked behind the right radiator. The purpose of this space-age-looking device is to store excess radiator fluid when Villopoto's bike gets hot. When the engine cools, the fluid thermosiphons back into the radiator. Hence, Villopoto's bike doesn't lose precious radiator fluid after a long moto.
Ryan's bike has different gear ratios between second and third gear. Second is longer and closer to third, so that Ryan won't have to shift as often. Although the gearbox seems very exotic, Pro Circuit offered it in its catalog for several years. They had very few takers at the $4000 price tag.
WE CAN ATTEST TO THE FACT THAT THE ULTRA-EXPENSIVE KIT SUSPENSION WORKS LIKE A CHARM.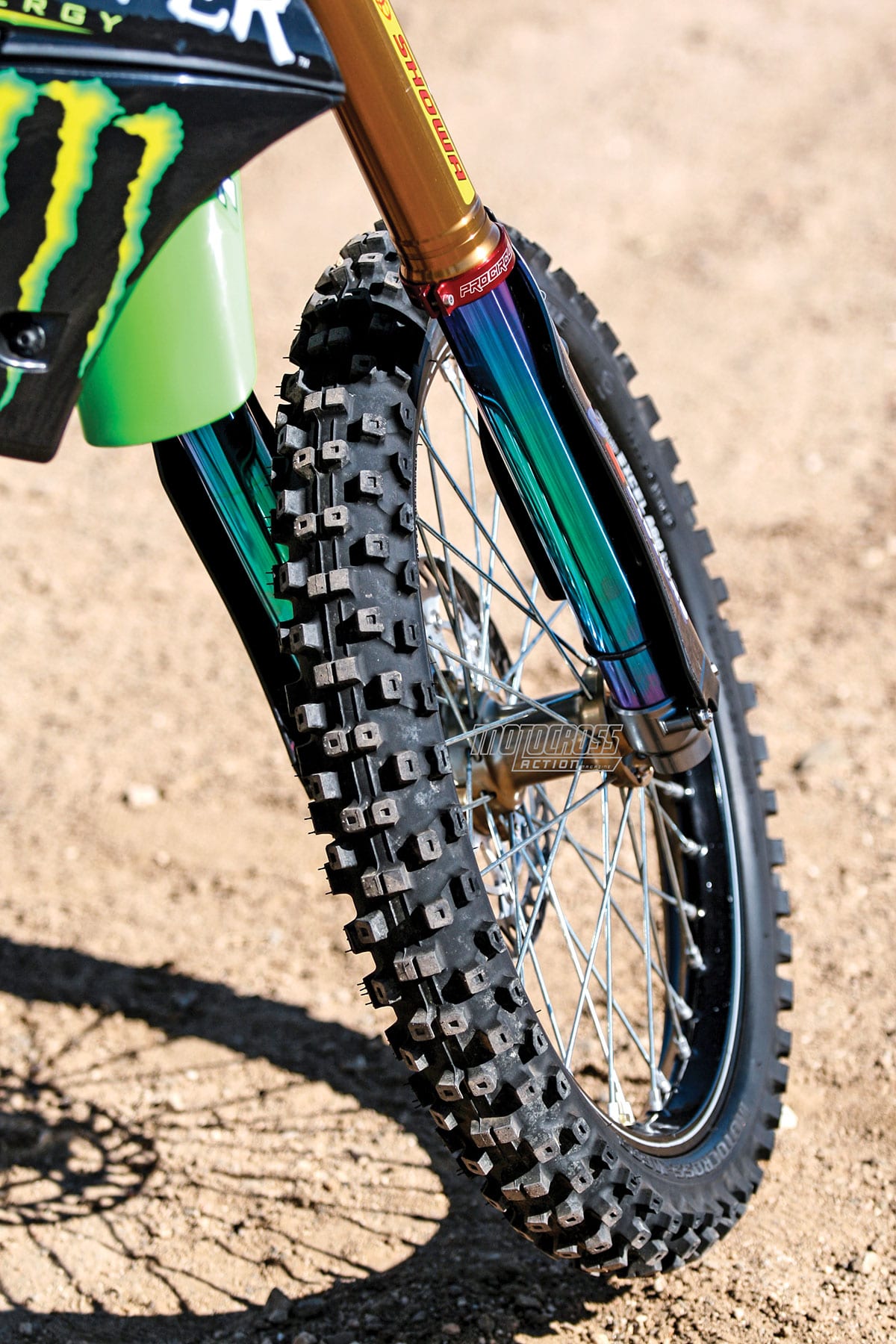 Pro riders may be the fastest racers in the sport, but when it comes to bike setup, they don't always tread the straight and narrow. The MXA test crew has ridden works bikes that had every control, lever and touchy-feely part in the wrong place. These strange setups are wrong on a theoretical level but right for the rider of record. Before we threw a leg over Ryan Villopoto's bike, we had to wonder where his setup would fall in the grand scheme of things, especially considering that he uses what his mechanic Jon Mitcheff adoringly calls "the hump" seat. We weren't surprised to find that Villopoto's subframe was cut 3mm and his footpegs were raised 5mm. After all, he's only 5-foot-5. We were, however, shocked to discover that Ryan chose Renthal's 977 bend for his handlebars. We figured that they would be too tall for his stature. Even though every MXA test rider's legs felt scrunched on Ryan's chassis, they were comfortable with the handlebar bend and positioning. Villopoto runs his clutch and brake levers horizontal to the ground. As for the feel of his front brake, he likes it squishy and close to his hand.
Taller test riders all commented on the hump in the seat. Ryan began using the hump at the first Supercross race of the 2007 season. Why? He felt that the hump was a constant reminder that he needed to stay forward on the bike. Ryan admits that he has a tendency to hang too far off the back, and the hump keeps him in a better position on the track, and especially on the starting gate. The hump was annoying but amazingly effective at reminding us to scoot forward.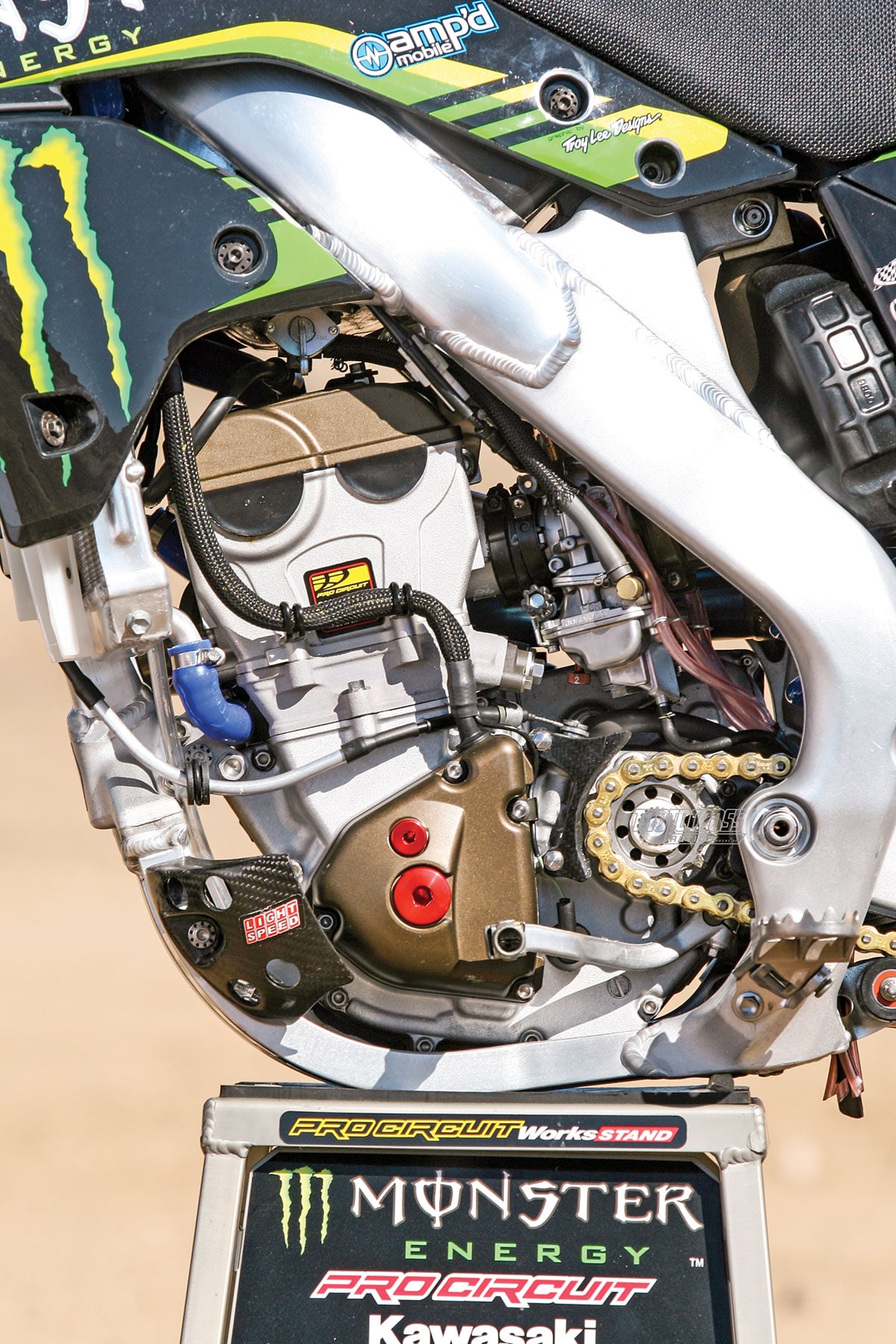 Mitch Payton prides himself on building engines with more than enough power to do the job. Villopoto's KX250F is no different. It ran like a scared cat in a dog pound. The bottom end had gobs of torque, but it didn't stop there. The Pro Circuit bike blasted through the middle of the powerband and sang to a fine tune at the top end. Once we figured out that the powerband was designed to be wrung out, we threw caution to the wind and really began to understand the true power of Villopoto's bike. In fact, one MXA test rider shook his head as he came off the track repeating the words, "It's like cheating!"
Pro Circuit relies on Showa's A-Kit suspension for Villopoto. We can attest to the fact that the ultra-expensive kit suspension works like a charm. The Pro Circuit link lowers the rear of the bike even more than Ryan's cut subframe. Additionally, Villopoto slides his forks up 7mm in his 22mm offset triple clamps to get the bike even lower to the ground. The end result is a bike that turns like it's on rails.
We want Ryan Villopoto's bike! And while it's true that most of it is for sale, it is that extra little bit of care that goes into a works bike that makes it so special. Luckily, we have a plan. We are going to train hard, ride even harder and dethrone Ryan Villopoto as next year's Supercross Champion. Then, and only then, will Mitch let us keep our grubby little hands on this jewel.