MXA TEAM TESTED: ACERBIS POLYPROPYLENE KTM SKID PLATE
WHAT IS IT? For years, the typical skid plate was made from aluminum. It was strong, light and durable. Then, carbon fiber came on the scene, and it was even lighter. Now, the newest generation of skid plates are made from polypropylene plastic. The benefits of plastic are that it can be color-matched, is flexible enough not to drastically stiffen a bike's frame, and is less expensive.
WHAT'S IT COST? $82.95 (orange or black).
CONTACT? www.acerbisusa.com or (800) 659-1440.
WHAT STANDS OUT? Here's a list of things that stand out with the Acerbis KTM polypropylene skid plate.
(1) Bike choice. MXA installed an Acerbis polypropylene skid plate on our 2021 KTM 450SXF because the MXA wrecking crew is hard on its bikes and has suffered engine case, water pump, ignition cover and lower-frame rail damage in the past. KTMs don't come with skid plates on their motocross bikes, or even cross-country models. If you hit rocks, logs or other bikes, a skid plate can save your day and your wallet.
(2) Installation. Thanks to a molded hook that engages the rear-frame cross-member, the Acerbis skid plate only requires one bolt to tighten the steel bracket that clamps the skid plate to the frame's downtubes. Here is how we installed it: First, we slid the molded-in rear hook onto the rear frame cross-brace. Second, we put the one-bolt bracket on the frame (resting on KTM's welded-on skid plate tabs). Third, we pushed the Acerbis skid plate up until the bolt hole lined up with the bracket's threaded insert. Fourth, we installed the Allen bolt and spacer through the skid plate and tightened it down. It wasn't as easy as we make it sound; just persevere.
(3) Caution. After you ride your bike for the first time, be sure to double-check the fitment of the skid plate. The extreme loads placed on the frame can loosen up the skid plate. Once you tighten it down a second time, it should stay.
(4) Plastic versus aluminum. It's no secret that an aluminum skid plate can increase frame rigidity—not a good thing. To combat this, it's not uncommon for aluminum skid plates to come with rubber grommets around the bolts. With plastic skid plates, there is enough inherent flex in the material to eliminate this concern.
(5) Good stuff. Acerbis molded soft rubber segments inside the skid plate to cushion against wear on the frame rails. The polypropylene skid plate is very durable at 6mm thick. The skid plate is shaped to fit snugly against the contours of the engine, reducing space for mud collection. The price of polypropylene skid plates is half that of carbon fiber skid plates.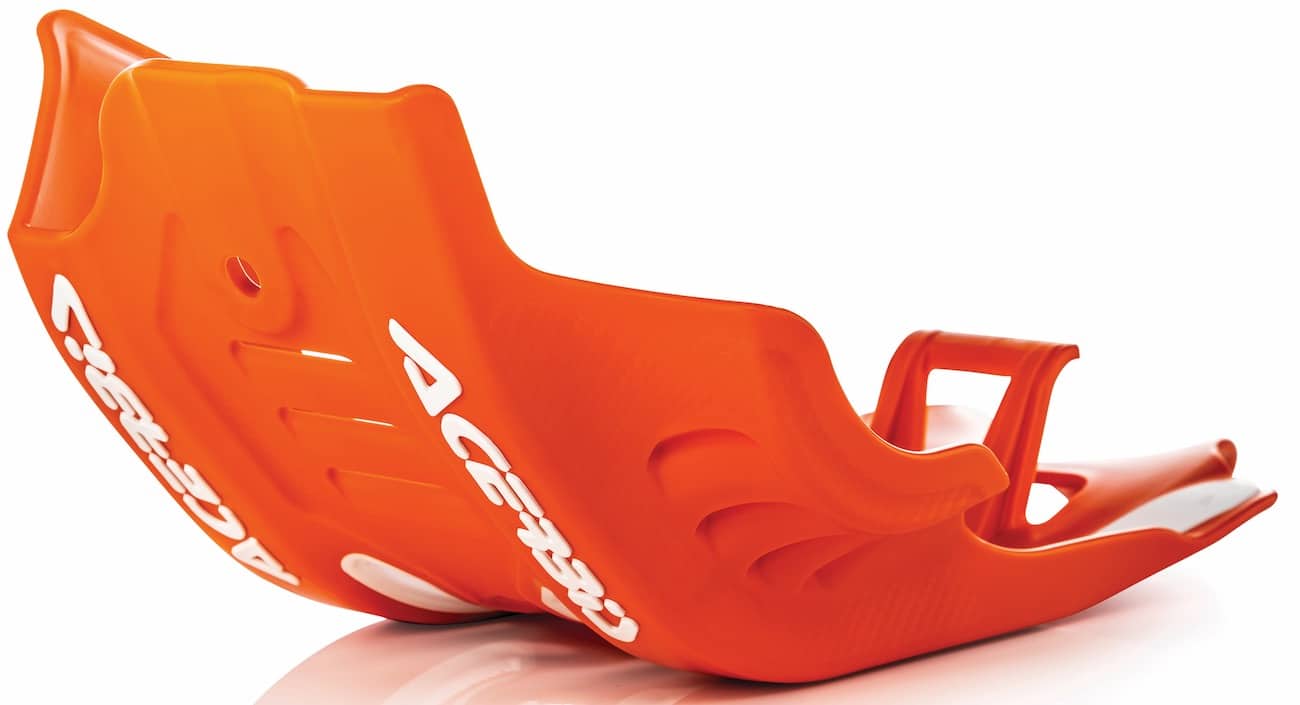 WHAT'S THE SQUAWK? Our major complaint was with the 5mm Allen bolt that held the front of the skid plate. It got splattered with dirt, making it hard to get out. We would prefer an 8mm hex-head bolt to ease tightening and removal.
MXA RATING: Consider a skid plate comparable to a helmet. We think that helmets and skid plates are investments in a happy future.