MXA TEAM TESTED: E-Z UP ENDEAVOR 10'X10′ INSTANT SHELTER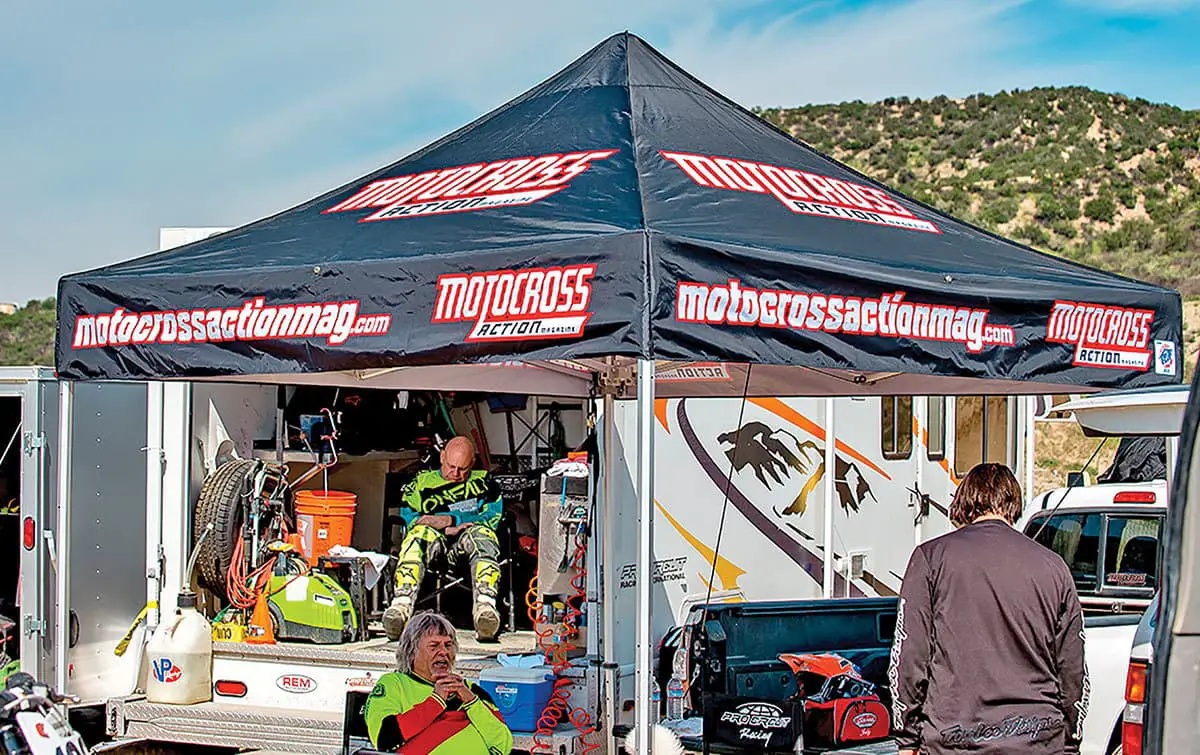 WHAT IS IT? Every motocross racer has experience with E-Z Up awnings (and E-Z Up has almost become the generic name for all pop-up awnings, regardless of their brand name—sort of like Kleenex with facial tissues). While the majority of motocross racers have had positive experiences with E-Z Ups protecting them from sun and rain, some have had awnings fly away in gusts of wind and have had to deal with legs that stick, engagement pins that won't release and tops that fade. E-Z Up has heard all of the complaints and has responded with the E-Z Up Endeavor model. It is the beefed-up, rugged, he-man version of the instant shade business. Bigger, stronger and better.
WHAT'S IT COST? $839.00 (10×10 feet); $149.00 (roller bag).
CONTACT? (800) 457-4233 or www.ezup.com. 
WHAT STANDS OUT? Here's a list of things that stand out with the E-Z Up Endeavor shelter.
(1) Artwork. E-Z Up offers eight standard colors (punch, limeade, black, royal blue, gray, orange, splash and white), plus 17 premium colors. For $839, you get a plain-wrap canopy, but E-Z Up's art department can print logos, photos and custom designs on any color canopy. They even have a Fast Track program that expedites jobs in one day. There is a graphics specialist in-house at E-Z Up who can help you with your desired artwork needs. Obviously, the cost of custom artwork is extra and depends on your imagination (and wallet).
(2) Sizes. The Endeavor model is only available in the 10×10-foot size (although E-Z Up offers sizes as large as 10×20 feet in other models). The Endeavor weighs 64 pounds, but thanks to its all-aluminum frame, it is lighter than most steel awnings by several pounds. The box-stock Endeavor comes with its own bag for storage, or you can order a wheeled roller bag to tote the awning with less effort. We also have a 10-foot sidewall to block the sun when it is at low angles early in the morning or late in the afternoon.
(3) Construction. The Endeavor frame is incredibly well made. The octagon-shaped aluminum legs are 2 inches in diameter (compared to 1.25 inches on the typical aluminum-framed awning and 1 inch for a steel-framed awning). The Endeavor's foot pads, base plate and end caps are upsized to correspond to the jumbo-sized octagon legs. The Endeavor is easy to raise and lower thanks to large pull pins at the top of the chassis and five-position toggle adjusters on the legs, which offer 15 inches of height adjustment. The strength of these critical components is significantly upgraded. Under the canopy there are several built-in hooks to hang accessories from.
(4) Fire-resistant. The commercial-grade polyester canopy meets CPAI-84, NFPA-701 and CAN/ULC-S109 fire-resistant standards. This is important if you want to use your E-Z Up indoors as a display booth or for advertising.
WHAT'S THE SQUAWK? E-Z Up builds 18 different pop-up shelters with prices as low as $149. The $839 Endeavor isn't E-Z Up's most expensive offering, but it is the strongest, most durable and well-built awning that the MXA wrecking crew has ever used.
MXA RATING: MXA has destroyed more pop-up awnings than we care to admit. They have blown away, been hit by bikes, ripped by accident and just plain worn out. We spend three to four days a week at the racetrack, so wear and tear are part of our life. That's why we choose to relax between motos under the strongest instant shelter ever made.