MXA TEAM TESTED: EKS BRAND GOX FLAT-OUT GOGGLE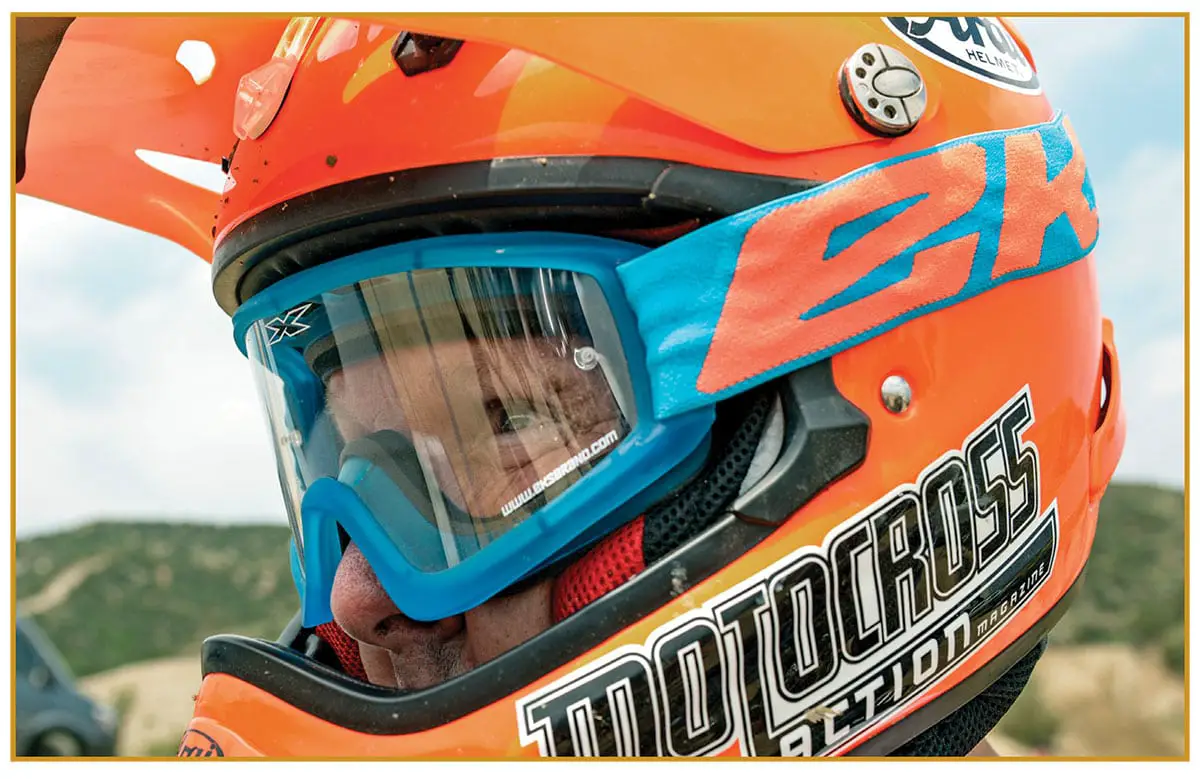 WHAT IS IT? If you are looking for an inexpensive goggle that retails just over $26 and features a variety of lens choices, look no further than the EKS Brand GOX Flat-Out goggle. It is a no-nonsense goggle that is full of value-added features.
WHAT'S IT COST? $25.95 (with clear lens), $35.99 (with colored mirror lens).
CONTACT? www.eksbrand.com or (818) 700-1700.
WHAT STANDS OUT? Here's a list of things that stand out with the EKS Brand GOX Flat-Out goggle.
(1) Frame. The best thing about the EKS Brand GOX frame is that it is smaller than the jumbo-sized offerings that have become de rigueur in modern times. No matter how many exotic features a goggle company offers, they are of no value if the goggle has to be crammed into your helmet's eyeport. The EKS Brand GOX is the exact size of the classic Scott 89 or original Oakley O-frame goggles. The slightly smaller frame size, flexible polyurethane frame, wide field of view and 17mm-thick, three-layer face foam negate the need for outrigger strap systems, as the frame seals masterfully to a wide range of face shapes. This is a basic motocross goggle without frills, air scoops, quick-release lens systems, nose guards or chrome highlights. And, for the cost of one Oakley Airbrake goggle, you could buy enough GOX Flat-Out goggles to last you five seasons of racing.
(2) Lens. The best thing about the low-cost GOX goggle is that it uses the same lens as the EKS Brand EKS-S goggle. For riders who currently wear EKS Brand goggles, the lenses you have now will fit in your $25 GOX Flat-Out goggles. The polycarbonate lenses are shatter-resistant, anti-scratch and anti-fog-coated. EKS Brand offers lenses for this goggle in 15 colors.
(3) Foam. If you assumed that EKS Brand skimped on the amount of foam to improve its bottom line, you would be wrong. The MXA wrecking crew considers X Brand's foam combination to be one of the best on the market. There is a layer of medium-density foam nearest the frame, followed by a thin and very dense layer and finally a wide swath of soft foam. The foam sandwich is finished off by a layer of felt for maximum comfort against the face. Sweat absorption is excellent, as is the longevity of the foam.
(4) Strap. At just over 1-1/2 inches wide, the GOX strap has three beads of silicone to prevent slipping.
(5) Performance. The best compliment the MXA wrecking crew can pay to the GOX Flat-Out goggle is that we didn't notice it while riding. It did everything well and was totally unobtrusive. We admit that there are goggles with more bells and whistles, but why would you need a whistle on a goggle?
WHAT'S THE SQUAWK? No complaints.
MXA RATING: A great goggle is one that blocks roost, absorbs sweat, lasts a long time and provides a clear view of what's coming. Nowhere is it written that a great goggle has to cost $189. Goggle performance isn't improved by a high price tag. The EKS Brand GOX Flat-Out is a serious goggle at a seriously affordable price.