MXA TEAM TESTED: HOOSIER IMX25S STIFF SIDEWALL TIRES
WHAT IS IT? Before the 2021 World Two-Stroke Championship, MXA put Hoosier IMX25S front tires and IMX25 rear tires on all eight of our race team bikes. Following the big weekend, we tested the Hoosiers at three different racetracks for weeks on end.  
WHAT'S IT COST? $91.00 (MX25S front), $98.00 (IMX25 rear), $96.00 (IMX30 rear).
CONTACT? www.hoosiertire.com or (574) 784-3152.
WHAT STANDS OUT? Here's a list of things that stand out with the Hoosier IMX25S front tire and IMX25 (C100) rear tire combo.
(1) Front tire. Just like works tires, Hoosier motocross tires come in different compounds. For our purposes, we focused on the IMX25S front and IMX25 rear. As a front tire, our go-to choice is the 100/80-21 MX25S. The "S" stands for "stiff construction." We preferred the stiffer sidewalls to the previous soft carcass, because the softer compound rubber rolled over too much and wore out too quickly. The stiffer carcass of the IMX25S improved lean angle grip and response to input (without any cushy delays) and delivered both increased braking performance and straight-line stability. There is also a Hoosier IMX30S front tire that offers more durability.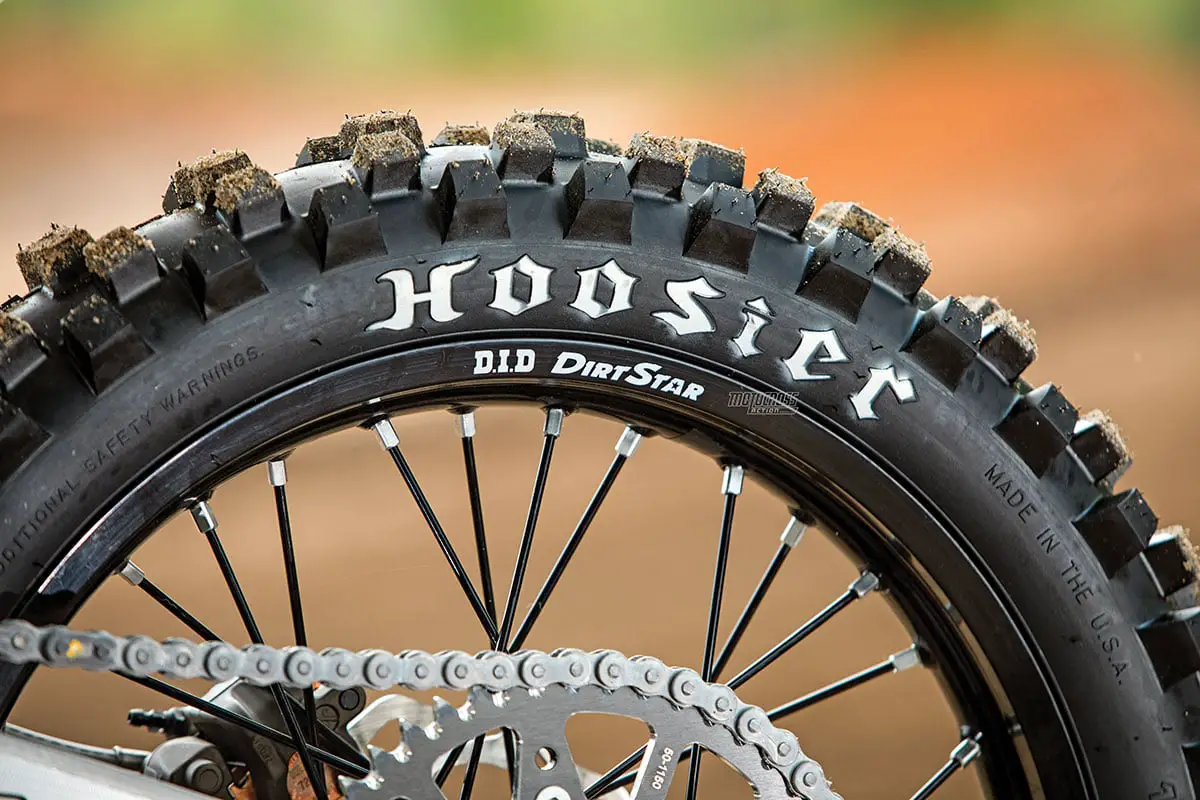 (2) Rear tire. On the rear of our eight World Two-Stroke race bikes, we elected to run the 110/90-19 IMX25 (C100) on our 125cc and 150cc machines, because the Hoosier 110-size tires run smaller than their competitors' 110s, which makes the Hoosier 110 rear closer to the size of a standard 100 from the other brands. Additionally, we elected to run a Hoosier 120/80-19 tire on our 250 and 300 two-strokes because their 120 profile splits the difference between a standard-sized 110 and 120. Overall, we actually preferred Hoosier's rear tire sizes, because we think that modern 125/150cc two-strokes need more meat, while 250/450 two- and four-strokes don't handle as well with a big 120 rear. The middle-ground Hoosier 120 gives you a little bit of 110 feel with 120 grip. If you are worried about reliability, wear and lifespan, Hoosier has an IMX30 rear tire that gives up a little performance for more durability. 
(3) Weight. The first-generation Hoosiers were very light, but the new C100 version's stiffer sidewall cuts down on the weight advantage. The tires are still approximately 1 pound less than their competitors. All Hoosier tires are directional and must be mounted on the wheels with the arrows aimed in the direction of travel.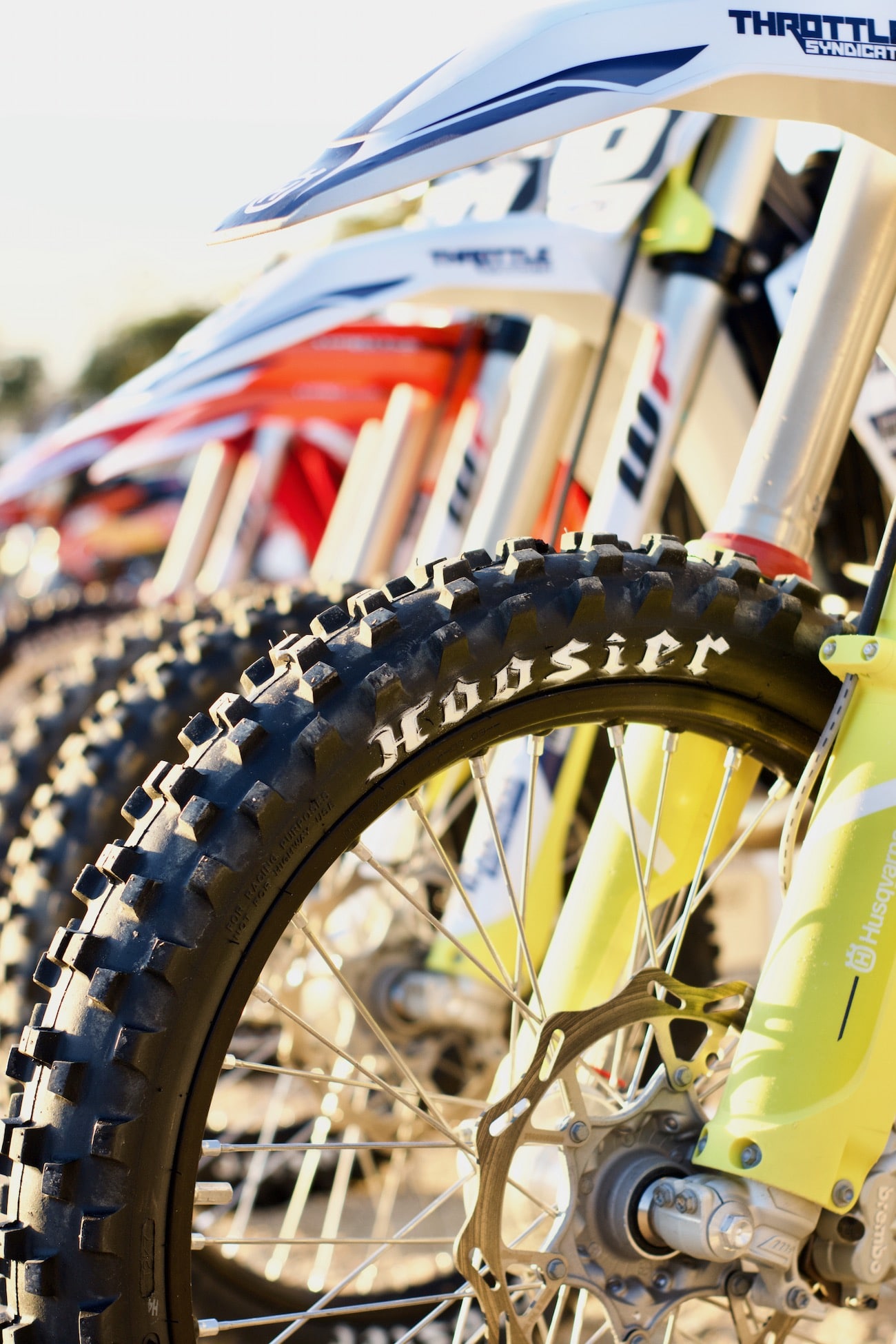 (4) Performance. First off, every test rider loved the Hoosier MX25S front tire. It felt plusher than a Dunlop MX33 and tracked straighter. The rubber compound offered excellent grip, whether in intermediate terrain or hardpack. We did fiddle around with air-pressure settings from 13 psi to 15 psi to fine-tune the feel, but that depended on track conditions. On harder dirt, we preferred the higher pressure; in loam, we stuck with 14 psi.
The Hoosier IMX25 (C100) rear tire delivers a different feel from a Pirelli, Bridgestone or Dunlop tire. At first, we weren't used to a tire that absorbed so much energy, hooked up so aggressively and followed the ground so well. The big highlight of the Hoosier tire was its straight-line traction. The C100 designation on the tire refers to the new stiffer sidewalls, which are not just on the IMX25S front tire but also the rear.  
(5) Durability. We elected to run the IMX25 tires, front and rear, for their performance. We skipped the MX20 and the MX30 tires because we felt that one was too soft and the other a tad stiff. By choosing the IMX25S front and IMX25-C100 rear, we knew we were giving up the durability of the IMX30s. Thus, we had no expectation that these tires would wear like iron.
WHAT'S THE SQUAWK? Two quibbles: (1) The Hoosier logo is stenciled on to the side of the tire, but it doesn't last longer than a couple motos. (2) Tire life depends on terrain and usage, but expect to change them more often than other brands.
MXA RATING: We love these tires. The three different rubber compounds allow the rider to pick and choose how much grip he wants (and conversely how long the tire lasts). This is as close as a local racer can get to a works rubber compound. But like all works tires, it delivers lots of grip, but has a shorter lifespan.