MXA TEAM TESTED: PIRELLI SCORPION MX32 MID-SOFT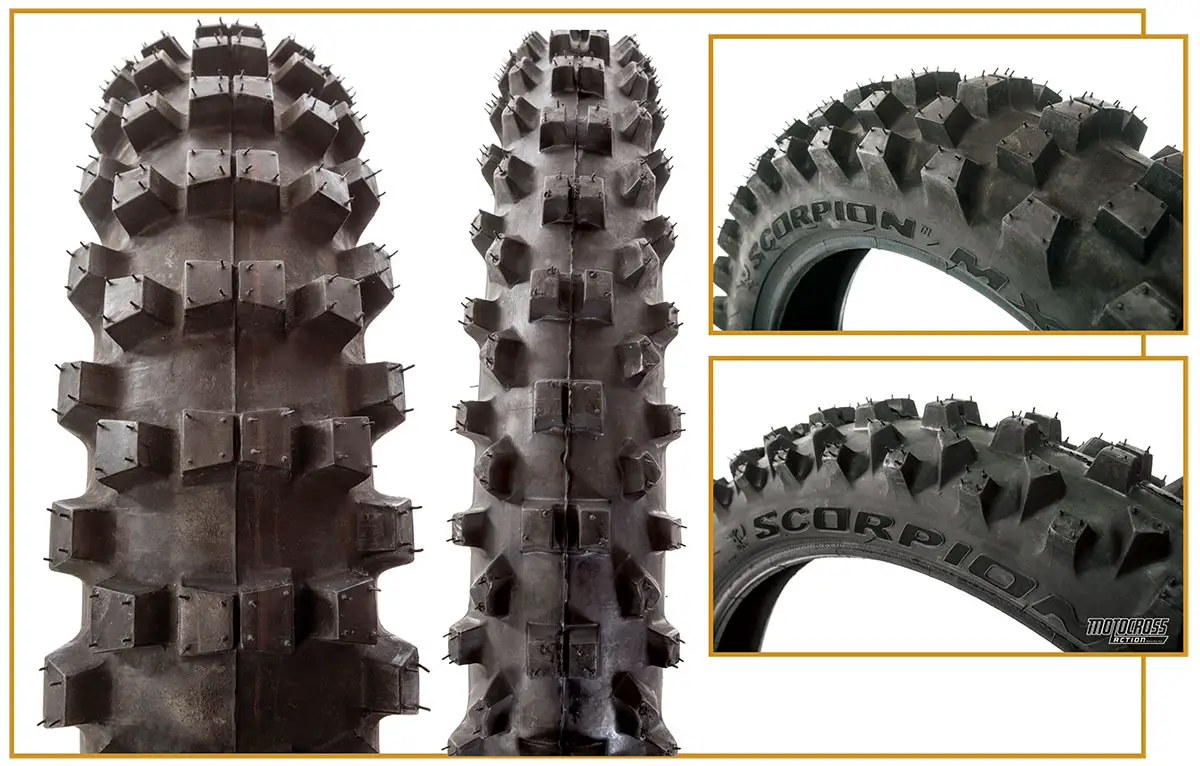 WHAT IS IT? Pirelli's Scorpion MX32 tire replaces the old MXMS tire. This tire was developed by many of the factory teams on the MXGP circuit. The front and rear tires are designed similarly, but with differences that work well together. One difference is that the front tire uses a directional pattern of the knobs on the sidewall to get maximum traction. The rear tire features a "V" layout of knobs down the center. This gives it added stability, particularly while braking. 
WHAT'S IT COST? $121.95 (80/100-21 front), $143.95 (110/90-19 rear).
CONTACT? www.pirelli.com or your local Pirelli dealer.
WHAT STANDS OUT? Here's a list of things that stand out with the Pirelli MX32 Mid-Soft tires.
(1) Installation. These tires are some of the easiest to install. The sidewalls are soft enough to mount the tire without a problem.
(2) Front tire. Just by looking at the front tire, you can tell that it is aggressive. It reminds us, not coincidentally, of the very popular Dunlop MX3S front tire. The Pirelli MX32 front works well in softer dirt. It provides good front-wheel traction at steep lean angles. We ran our tire pressure at 13.5 psi, which gave us the most front-end traction without the rollover feeling in the corners. The biggest surprise was how well the MX32 Mid-Soft tire worked on hard-pack surfaces. The aggressive side-knob pattern allowed us to lean the bike over on hard-pack surfaces without feeling that we would wash the front end out.
(3) Rear. The Pirelli MX32 tire is constructed with a double-layer rubber compound, giving it resistance to heat and dynamic stresses. The "V" layout provides exceptional straight-line stability and a very controlled feel in long ruts. The MX32 Mid-Soft tire felt like it wanted to stay low in deep ruts and didn't want to grab the sides of the rut and kick the bike sideways. Similar to the front tire, the rear MX32 also worked well on hard-pack surfaces, providing great lean-angle traction. We also noticed that when we wanted to break the rear end loose and slide it around bowl turns, it was more controllable, and the rear end didn't come around faster than we would have liked. We credit the unique side knob pattern for this. The rear tire is not directional, which means it can be mounted either way. Our optimal tire pressure was 12.5 for the MX32 Mid-Soft rear tire. 
WHAT'S THE SQUAWK? No complaints. This tire works well in intermediate terrain, but has potential above and below that dirt composition—without ripping the knobs off.
MXA RATING: The Pirelli MX32 front and rear tires are the best Pirelli intermediate tires we've
tested in a long time.