MXA TEAM TESTED: SLATER SKINS HIGH-FLOW YZ-F AIRBOX COVER
WHAT IS IT? The MXA wrecking crew has never been big fans of the 2010 to 2021 Yamaha YZ airbox design. Last year MXA built a 60.83-horsepower YZ450F with nothing more than airbox mods. That was a 2.30-horsepower gain over the stock 2020 Yamaha's 58.56 horsepower. What did we do to make such a major power improvement? We knew that the stock Yamaha air filter design didn't flow very much air, so we combined a Twin Air Power Flow kit with a handmade airbox cover (from a left-over discontinued Twin Air part). It wasn't attractive, but it made a lot of horsepower.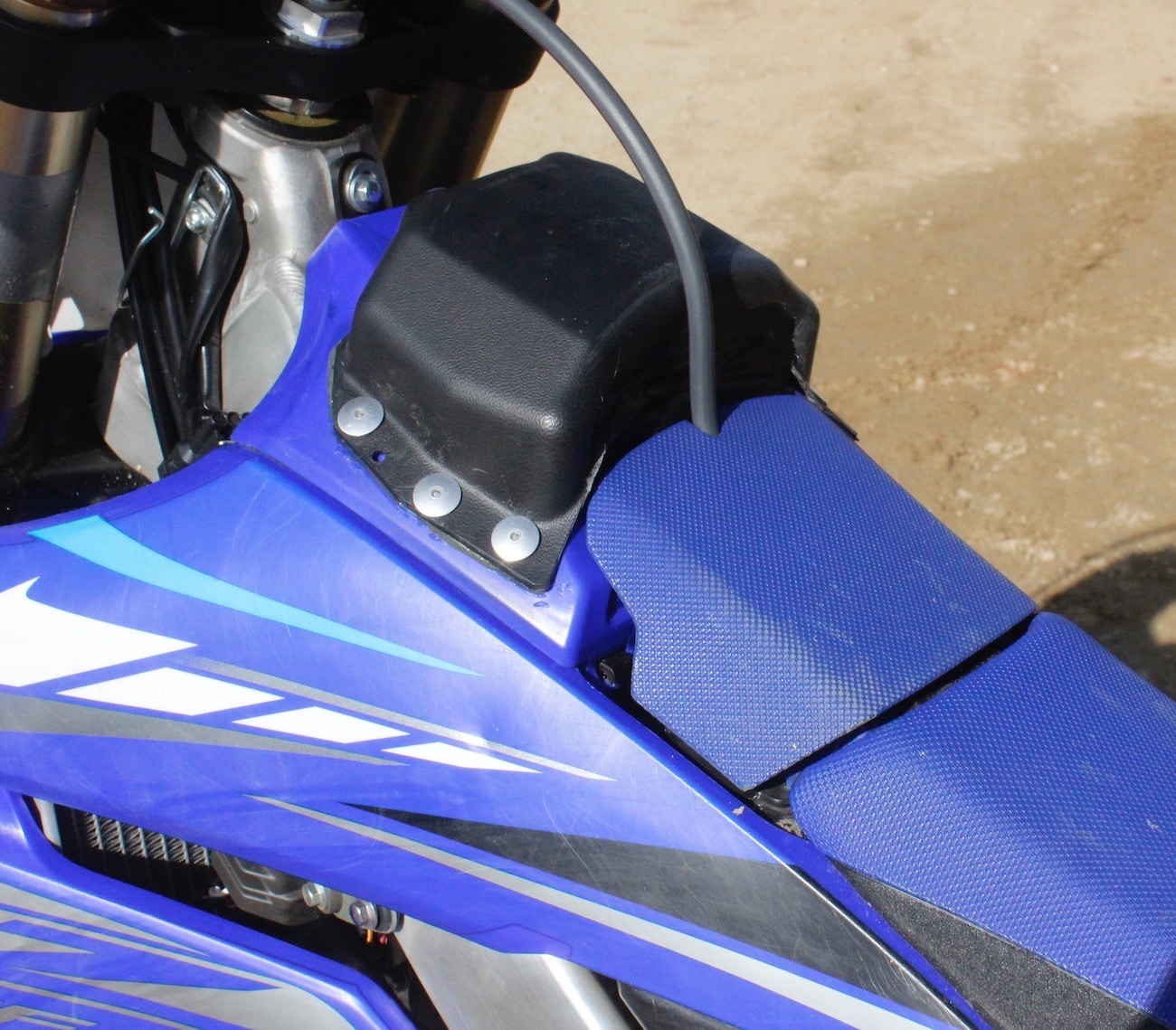 Two years ago, MXA built this YZ450F airbox cover out of discontinued plastic pieces combined with a Twin Air Power Flow kit to prove to Yamaha that their stock airbox design didn't flow enough air. Yes, it was ugly, but what was beautiful was the 60.83-horsepower we got with no mods to the engine other than the airbox cover. 
We hoped that racers would follow in our footsteps, but our homemade humpback cover was a one-off, and there were no readily available high-volume airbox covers available at the time. Now, suddenly, there are several viable options from Nihilo, CRM, Lightspeed, VHM and Slater. It should be noted that all of these covers, save for Slater's, are molded from carbon fiber and have prices as high as $360.00.
Not so with Slater Racing Products' (SRP) YZ250F/YZ450F airbox cover. It is molded from plastic and retails for $80.00. You may remember John Slater from his sponsorship of the 2015–'16 Blue Buffalo team and from his many years of trying to popularize full bodywork on motocross bikes with Slater Skins. There is no need for expensive carbon fiber to replace a thin sheet of plastic—after all, plastic was good enough for the OEM Yamaha cover.
WHAT'S IT COST? $80.00.
CONTACT? www.srpinternational.com or (203) 878-2379.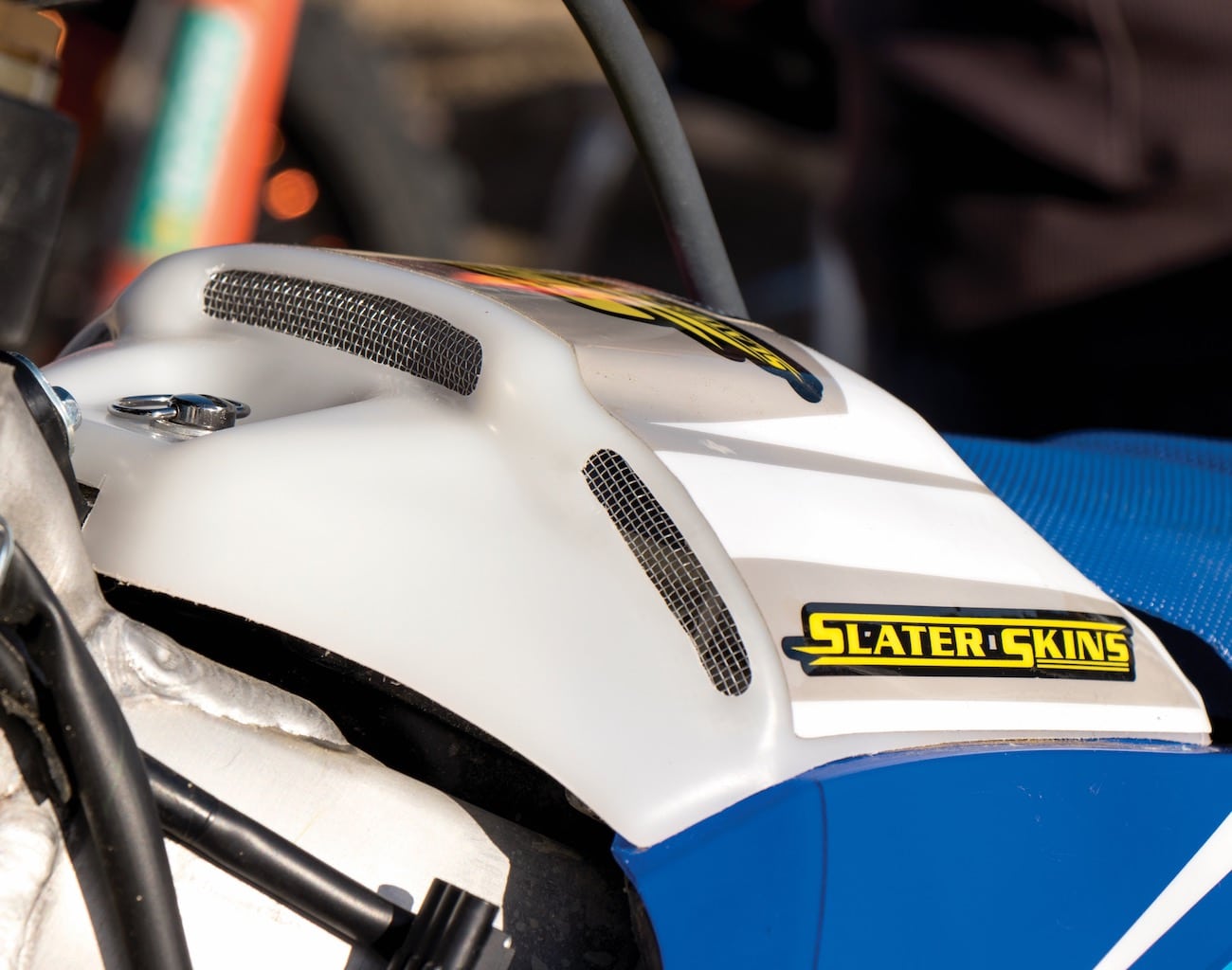 WHAT STANDS OUT? Here's a list of things that stand out with the SRP High-Flow YZ-F vented airbox cover.
(1) Concept. The more time the MXA wrecking crew spent with the stock Yamaha YZ450F air filter, the more we realized that the YZ450F air filter and airbox didn't flow enough air to support an engine that can gulp 600 gallons of air a minute. We knew we needed more air. We have seen riders drill holes in the top of the YZ450F airbox cover to get more air into the airbox, but we didn't want to do that because the turbulent combination of air coming in through the radiator wing vents and the air sucking through the drilled airbox cover holes could ruin the laminar flow air stream that produces horsepower. That's not to say the holes wouldn't introduce more air into the YZ450F,  just that it wouldn't be optimum air. The YZ450F and YZ250F need a stable supply of air, and that is where the Slater High-Flow airbox cover comes into play. Not only is it larger, it has ram-air vents in the front of the cover.
(2) Dyno test. First, a dyno cannot fully test the Slater High-Flow airbox cover's possibilities. Why not? Because the motorcycle is static on a dyno. The only air coming into the airbox is coming from the cooling fans aimed at the radiators. But, MXA dynoed it anyway. It produced  1/2 horsepower more at low rpm and 1/2 horsepower more from mid on up.
(3) On the track. As expected, once the bike was moving, the quantity of air was greatly increased, and, on the seat-of-the-pants dyno, the Slater Skins airbox cover was worth more than a 1/2 horse on top and bottom. It made the throttle response crisper, revved quicker through the midrange and felt fuller under a load.
(4) Options. The SRP airbox cover is available in black or white plastic, with optional graphic packages to make it blue or grey.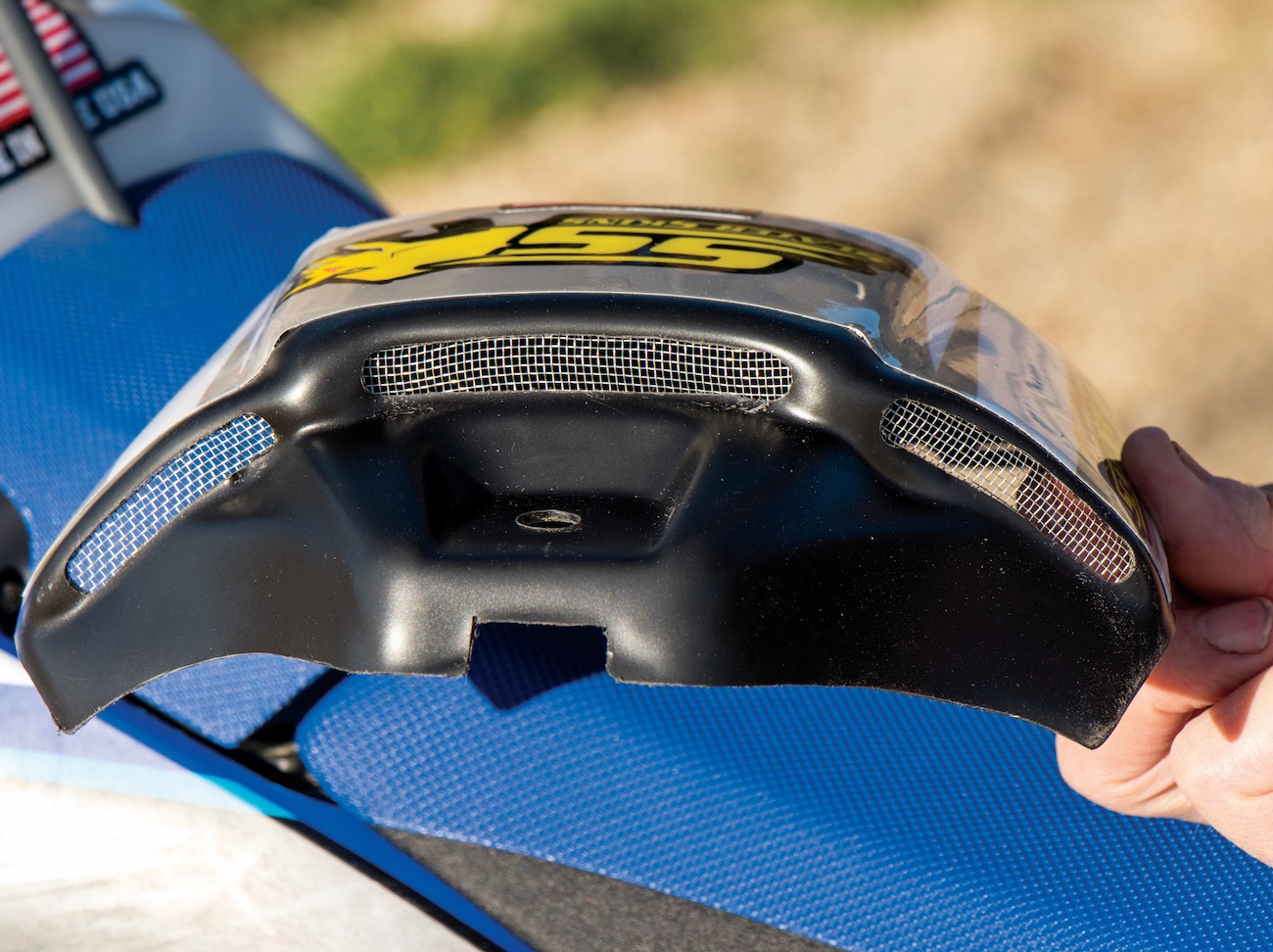 WHAT'S THE SQUAWK? Three quibbles. (1) As if the YZ250F and YZ450F weren't loud enough already, the suction sound coming from the SRP airbox was a cacophony of irritating noises. Be forewarned that any vent that air can get through, dirt can get through also. (2) We wish that SRP had been willing to go bigger on the air volume, because we know from experience that more air is always better. (3) The wire screen in the vents looked like it wasn't mounted strongly, but we never broke it out during testing and we have been using the Slater airbox cover for six months now.
MXA RATING: A nice, tidy improvement for 2018 to 2021 YZ450Fs and 2019 to 2021 YZ250Fs.