MXA TECH SPEC: WHY WE BUY WHAT WE BUY

If there really was a "best bike," the world would be a very boring place. How does MXA know this? Because we lived through it in the 1970s. Back in the day, when the 125 class lined up at Saddleback, there would be 30 Honda CR125s, five Yamaha YZ125s, three Suzuki TM125s and one each of a Monark and a Penton. The very next year, it would be all Yamaha YZ125s and, by 1981, it was all Suzuki RM125 Full Floaters. Finally, the technology balanced out and the starting lines began to look like a rainbow of colors. Life is good and racing is better when every brand has a piece of the pie.
What motivates a rider to choose the bike he's on? Obviously, from 1974 to 1981, it was a universal belief that one bike was better than the rest. Today, it is more complex. There are lots of market forces and emotional attachments pulling a rider to his favorite brand. Here is a list of potential enticements.
Color. You can't have a conversation about bikes without some dim bulb saying, "Just buy the color of bike you like, because all the bikes are the same." That's absurd. All the bikes are not the same; they differ in power placement, suspension feel, weight, horsepower, reliability, ergonomics, price and reputation. If you want a high-rpm 250 powerband, don't waste your money buying a  yellow or blue bike. Just buy a KTM, Husky or Kawasaki, and order yellow or blue plastic for it. You'll be happier and still get your favorite color.
Price. Lots of people shy away from expensive KTM or Husqvarna bikes because they cost $900 more. Instead, they buy the cheapest bike and then spend $900 trying to make it as good as a bike that is already on the showroom floor. Face it, $900 won't buy much on the open market—maybe an exhaust pipe or Rekluse clutch, but not both. KTMs don't cost $900 more because the Austrians are greedy; they cost more because they are better equipped. How much better? Brembo builds the brakes that Ferrari, Lamborghini and Corvette upcharge for. The Austrian bikes have their transmissions built by Formula 1 supplier Pankl. The Austrian bikes weigh less than the Japanese brands. They have braided-steel brake lines, interchangeable throttle cams, steel clutch baskets, ODI lock-on grips and quick-release fuel lines. Sometimes, it's better to spend a little more than to try to make a Nissan Versa fast.
Dealership. Many motocross bike buyers trust their local dealer. He treats them well, has parts in stock and cuts them a deal up front because they are repeat buyers. His shop is close to their home and he doesn't charge those exorbitant setup fees. Maybe the racer would rather own Brand X, but they don't want to part with their Brand Y dealer. That's real love.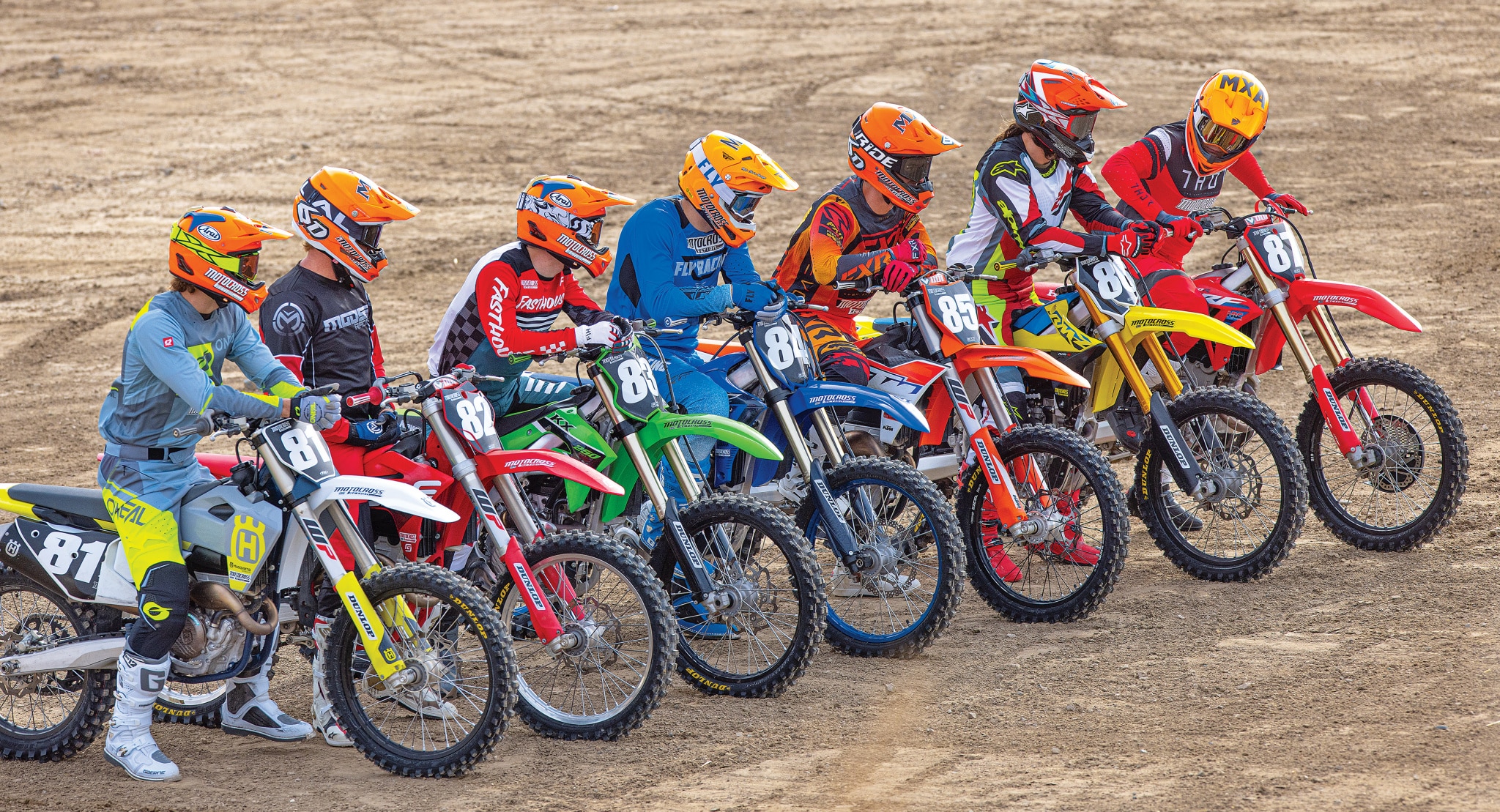 Shootouts. MXA shootouts are a powerful selling tool for manufacturers, which is why they put so much effort into supporting the media. But, with the advent of internet magazines that only get the test bikes for one or two days, winning a shootout in 2023 was a lottery. Bikes that lost in 2019, seemed to be fading in  2020  and were were barely changed for 2021-2022 took the top spots, while bikes that everyone on the planet knows are great finished fourth or fifth. Good test riders aren't a dime a dozen; they are rare. If you must choose a bike based on a shootout, stick with MXA. We not only keep our test bikes for a full calendar year, we race them week in and week out, which allows us to get an accurate view over the long haul.
Loyalty. Motocross racers and car guys are loyal customers. Their brand is their brand for life. If they raced a Honda in 1986, odds are that they will be first in line to get the all-new 2023 CRF450. Their unshakable loyalty is a thing of beauty—for the bike brands that can engender their blind faith.
Every racer knows, deep down inside his psyche, why he bought the bike he did. And after spending $9600 on it, you can bet he will defend his decision with his life.
\