MXA TESTS MIKE ALESSI'S XPR-BUILT YAMAHA YZ134 TWO-STROKE
The idea for Mike Alessi to race more two-stroke races came after Mike raced the ESR-built Yamaha YZ325 two-stroke at the Monster Energy Cup in 2019. But, for most two-stroke racers, the 125 class is the high-profile prize to be sought after. Luckily for Mike, his personal 125 two-stroke revival was happening simultaneously with the boom of 125-only racing. Yes, Glen Helen's World Two-Stroke Championship has been running as the premier two-stroke race since 2010, but now there has been a boom in two-stroke-only races, like the Red Bull Straight Rhythm, Pasha 125 Open series and Washougal Dream Race. Mike decided to set his eyes on more two-stroke racing in partial retirement, and for that he needed a YZ125 to pair with his ESR YZ325.
Unfortunately, after Mike had already set his two-stroke goals in motion, the COVID-19 pandemic caused MX Sports to axe the 125 All-Star class from the National schedule, and both the one-off 2020 Washougal Dream Race and 2021 World Two-Stroke Championship were delayed (although they both came back later in the year).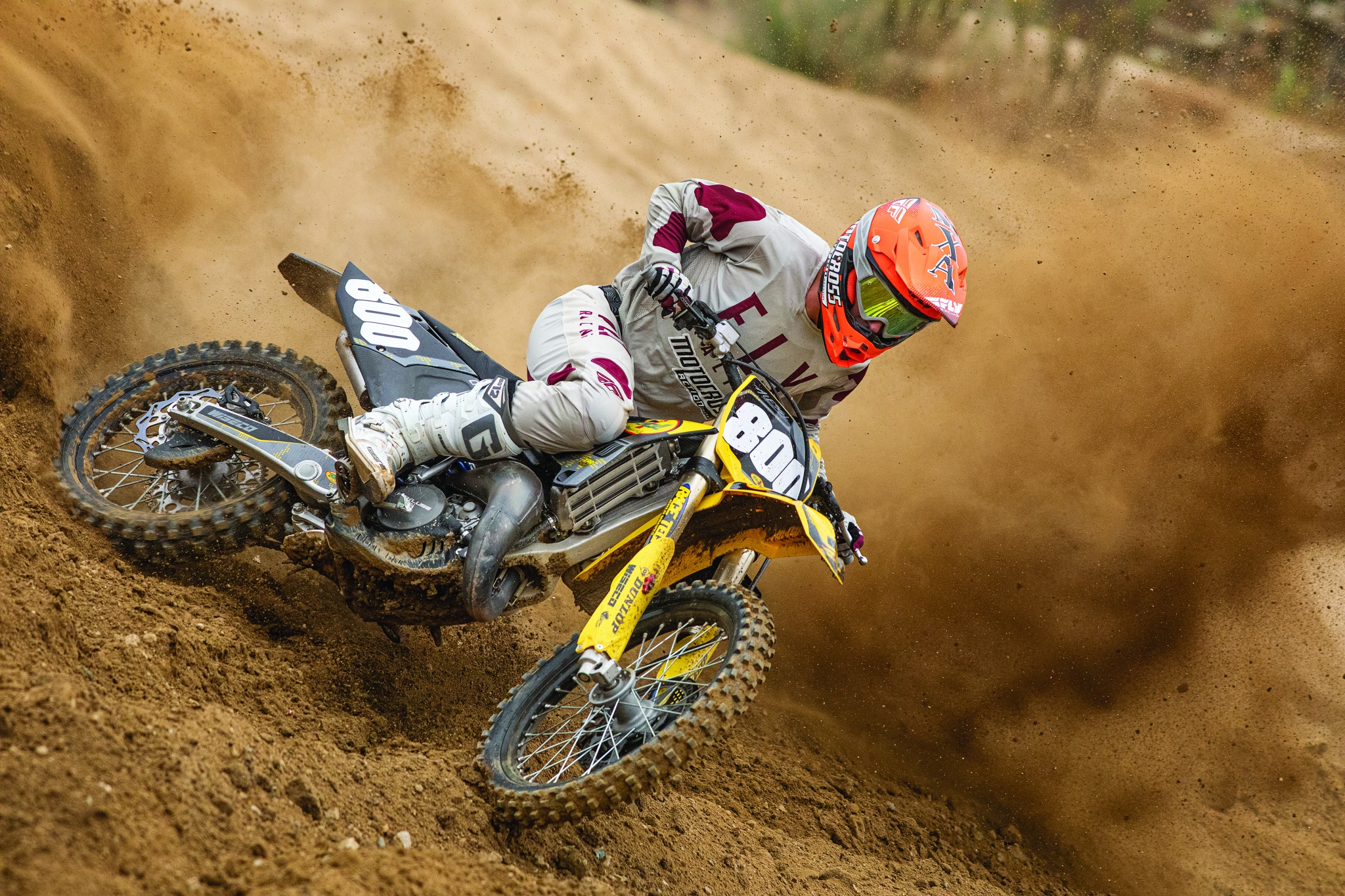 Most former factory Pros of Mike Alessi's caliber would have let these setbacks send them back into the comforts of retirement' but Mike's story is different. He was enjoying his time on two-strokes and realized two things that kept him motivated to go racing, despite the 125 All-Star series being dropped. 
First, Mike appreciates that he can push much harder on the 125 with fewer consequences compared to a 450. Mike Alessi lives in Hilliard, Florida, and rides on his backyard track and at local tracks often. On a 125 two-stroke, he can have plenty of fun and push his limits but still be going many miles per hour slower than he would on a 450, which is safer for him and for other riders on the track. 
Second, Mike complained to his dad that black two-stroke oil was building up in the tip of his silencer. His dad Tony mentioned that he used Blendzall two-stroke oil back in his two-stroke racing days, but when they looked into switching to Blendzall, they had trouble finding it in their local shops. As luck would have it, the original Blendzall owner had recently sold the business, and the new owner, David Schloss, was working on bringing the once-popular brand back to where it was in its heyday. David Schloss was looking for a rider to put his brand back on the map. Bingo! Now, Blendzall is Mike Alessi's title sponsor for all his two-stroke activities, which further incentivized all of his YZ125 racing efforts.
BUT ALL WAS NOT LOST. OUT WEST, PASHA AFSHAR PUT TOGETHER A SERIES OF PURSE-PAYING 125 TWO-STROKE PRO RACES AS A LEAD UP TO THE RESCHEDULED WORLD TWO-STROKE CHAMPIONSHIPS.
But all was not lost. Out west, a Hollywood actor named Pasha Afshar, who races every week at Glen Helen, put together a series of purse-paying 125 two-stroke Pro races as a lead up to the rescheduled World Two-Stroke Championships, where Pasha kicked in more of his own money for the 125 Pro World Championship and then, to top that, got Glen Helen to put two 125 Pro two-stroke classes for Over-30 and Over-50 Vets into the World Vet Motocross Championship. Pasha also added $4000 of his own money to be combined with the regular purse . 
Out of all the races mentioned, the AMA National 125 All-Star series was the only 125-spec class, while all the Pasha Open, World Two-Stroke and Vet World classes allowed riders to bore their cylinders to 150cc. With the 125 All-Star races canceled, Mike's YZ125 race bike was obsolete for the string of 150cc races on the horizon. Mike needed a 150, and he needed it fast. As we all know, power is king in the small-bore classes, while chassis and suspension setup are more important for 250 two-strokes and 450 four-strokes. 
Chad Braun at XPR Motorsports has a working relationship with the Alessis, since he builds all of the CRF450 race engines for Tony Alessi's MotoConcepts Honda team. Mike Alessi had worked with Chad to make his YZ125 engine race-ready and asked Chad to help turn his YZ125 into a YZ150. Both XPR and Mike felt that a Yamaha 150 would give up too much power on the top end, and they landed on 134cc for the race-engine spec. Chad made the cylinder 2mm bigger and upped the internal volume to 134 cubic centimeters. VHM makes interchangeable combustion chamber domes for the head, but instead of using one of its spec domes, XPR requested a blank insert from VHM, which they custom ported and matched to a 56mm Wiseco piston. On the bottom end, the crank and the cases were built by Belgian engineer Dirk Vansummeren of DVS Racingworks. Mike Alessi used a DEP pipe and silencer and a full Rekluse TorqueDrive clutch. Mike kept the carburetor and ECU stock while using VForce4 reeds. For fuel, Mike uses VP MRX02 cut with VP C15.  
 Beyond the power department, Mike Alessi used an ultra-trick CRM carbon fiber fuel tank with a flat-top cap, making the top of the tank look extra factory. And, even cooler than the carbon fiber fuel tank was the full carbon fiber CRM subframe, which had more than one benefit. Not only did it lower weight, it also increased power. The CRM subframe holds more air volume than stock, which helps the engine breathe easier and thus produce more ponies. Mike even told us that the subframe felt lighter than the box it was shipped to his house in. It practically eliminated all metal in the rear end of the bike, save for the seat brackets and bolts. 

MIKE SWITCHED THE STOCK FRONT BRAKE MASTER CYLINDER FOR A 2005 HONDA CRF450 MASTER CYLINDER AND UPPED THE FRONT BRAKE ROTOR FROM A 270MM TO AN OVERSIZED 280MM MOTOSTUFF ROTOR.
For the suspension, Mike used stock KYB components with Race Tech valving. Mike switched out the Yamaha front brake master cylinder for a 2005 Honda CRF450 master cylinder and upped the front brake rotor from a 270mm to an oversized 280mm MotoStuff rotor. He also exchanged the stock YZ125 front brake lever for an ARC lever. Mike protected his aftermarket Honda/Yamaha/MotoStuff hybrid front brake with an Acerbis front brake rotor guard, and he used an Acerbis skid plate to protect the cases. 

Mike's YZ134 had a Nihilo ignition cover with Mike's name and number custom engraved into it. He used MotoStuff Pro Pegs that were held on with FCP footpeg titanium pins. As for sprockets, Mike Alessi went with PBI, the same company that the MotoConcepts team has used up until switching to Renthal in 2021. Mike's YZ134 also had stock rims and hubs with Dunlop MX33 tires, Mika Metal handlebars, a Guts seat cover, Works Connection holeshot device and black and yellow UFO plastics covered in stickers made by Moto Graphics.
Finally, after learning all about the YZ134, it was time for the MXA test riders to hit the track. The first comments we got were, "It feels like a factory two-stroke with more bottom end," and "This bike has a major personality and it wants you to go faster." The MXA wrecking crew test riders still have our Pro Circuit-built Ryan Villopoto-replica YZ125 engine, and for some of our test riders, that was the best 125 they had ever ridden. The Ryan Villopoto-spec'ed engine brought our stock YZ125 up from 33.53 horsepower to 38.32 horsepower. It was amazing. But, when the same testers jumped on Alessi's YZ134, which was recorded at 42.0 horsepower on the XPR's dyno, they were blown away and quickly had a new favorite; however, it wasn't an apples-to-apples comparison since the displacement had been increased significantly on Alessi's bike. It was helpful in making us realize how great Mike Alessi's XPR-built YZ134 really was. 
The MXA test riders are often spoiled with more bikes to ride than they can handle, so it takes something special to inspire them. Alessi's YZ134 was that bike. Its personality was one of a motorcycle that wanted to win, whether the rider did or not. It felt like it would pull out of the corners before the throttle had even been opened. The power shined in the midrange, making it easier to ride than most factory two-strokes because the power was spread out liberally. It wasn't only on top. Our test riders didn't need to ride the clutch to get going up the steep hills. The engine was ultra-crisp and firing in a way that didn't require extra effort from the rider.
For the most part, our testers didn't notice how Alessi's YZ134 handled on the track because they were so enamored with the luscious spread of power. That might sound silly, but it's true. As we mentioned earlier, power is king in the 125 class. The smaller two-strokes already come straight from the factory light on weight and light on power, which is a recipe for success in the handling department. Although the YZ134 big bore was far stronger than a stock 125, its power was still smooth, and the YZ134 chassis wasn't heavy, hence our carefree comments about the handling. Another reason our testers didn't notice how the YZ134 handled was because it handled so well. The best suspension is the suspension you don't notice on the track. It soaks up bumps when it's supposed to and allows the bike to turn the way it's supposed to. So, even on a rough Glen Helen track, our testers had zero complaints about the handling of the bike. We commend Race Tech for the settings they came up with for Mike Alessi. 
Additionally, the carbon fiber fuel tank and subframe made the YZ134 even lighter. Instead of hitting the bumps, it felt like the YZ134 floated over bumps and, once again, the power helped us out here, too. Usually, 125 engines don't have enough grunt to jump over braking bumps, but this was a nonissue with Mike Alessi's big-bore. Our Pro-level test riders were hoppin', skippin' and jumpin' on and around the big bumps. 
Unfortunately for Mike Alessi and his factory-level YZ134 two-stroke, there were more setbacks than just the coronavirus in 2020. Mike's YZ134 was set to make its first appearance behind the starting line at a Pasha 125 Open race at Glen Helen in July, but two days before the race, Mike was involved in a hit-and-run accident while cycling near his home in Florida. He was struck by a truck while cycling on Highway 1. Thankfully, he was able walk away. Somehow, Mike only sustained a hematoma. He got 10 staples in his head, more stitches in his elbow and road rash all over his back. Mike was back riding in a matter of weeks, but his YZ134 two-stroke debut had to wait. The Red Bull Straight Rhythm would've been next on his list, but it was canceled. Sadly, the Washougal Dream race also had issues and was postponed. This time, it wasn't because of the virus but because of massive wild fires burning in the Pacific Northwest that resulted in heavy smoke covering the Washougal facility. 
FINALLY, AFTER LEARNING ALL ABOUT THE YZ134, IT WAS TIME FOR THE MXA TEST RIDERS TO HIT THE TRACK. THE FIRST COMMENTS WE GOT WERE, "IT FEELS LIKE A FACTORY TWO-STROKE WITH MORE BOTTOM END."
At last, Mike was able to bring the YZ134 out for some racing at the next round of the Pasha 125 Open. Surprisingly, the Pasha 125 Open doesn't just pay the 125 Pros; there's money on the line for the 30+ and 50+ Vets on two-strokes up to 150ccs. Mike and his fire-breathing YZ134 walked away from the Pasha race with $1250 after winning $750 in the 125 Pro class and another $750 in the Over-30 125 class. The second race for Mike's YZ134 was at Glen Helen in the 2020 World Two-Stroke Championship, where he and his XPR-built Yamaha rode to victory in the Over-30 125 class.
As you may already know, he grabbed the win in the Open Pro Two-Stroke class on his ESR-built YZ325—and collected a $30,000 pay day (mostly in bonuses from ESR and Blendzall, plus holeshot money, purse and other contingencies). Mike was back at the 2020 World Vet Championship, where he planned to win the Over-30 World Vet Championship and take home some extra cash in the Over-30 125 Pro class (sponsored by Pasha Afshar). Mike did take the premiere crown at the World Vet on his Honda CRF450 but had to settle for second overall in the Over-30 125 Pro race to MXA test rider Dennis Stapleton when Mike fell in the mud and couldn't make up the ground lost. There is no doubt that Mike and his XPR YZ134 had a very good year in the two-stroke races.  
And the MXA wrecking crew had a very good time on Mike's Yamaha YZ134. We bonded with it; it encouraged our test riders, didn't punish them for mistakes and never talked back. The test riders didn't want the day to end, because that meant their dream day of motocross was over, but now at least our testers could better understand Mike's passion to keep racing. When your bike is that good, you never want to stop.