MY TRIP TO THE 2019 AMA HALL OF FAME INDUCTION BY DARYL ECKLUND
Nancy "Mama" Caselli holding her son's, the late Kurt Caselli, official AMA Hall of Fame Induction picture at the induction ceremony in Pickerington, Ohio. 
By Daryl Ecklund
The 2019 AMA Hall of Fame Induction was a special one. Many would say because "the Dogger" Ron Lechien finally made his way in. Although I am a bit biased on the matter.  I was born the year Lechien won his only championship in 1985. He did many great things after that, but he was before my time. However I have heard many war stories about "the Dogger" from my racing elders. The reason this was a special year for me was my late buddy Kurt Caselli was getting inducted.
Can you pick out the two guys I came with? If you guessed the guys with the Ride like Caselli shirts you picked right. This group of people were all close to Kurt. From left to right: Donny Emler, Sarah White, Justin Dubburke, Bobby Steffan, Charles Jirsa, Anthony Di Basilio, Timmy Weigand and Antti Kallonen. 
Kurt and his family are close to my heart. I grew up rolling around in the desert with Kurt, and I wouldn't miss this day for the world. So, I got a few of Kurt's close friends to tag along to travel to Columbus, Ohio. I packed up some Caselli Foundation shirts,  jeans and a pair of beat up DVS shoes that Kurt designed more than decade ago. My friends were in the same boat. We knew this was a fancy venue, but we didn't care. We wanted nothing more than to be true to ourselves, and true to Kurt.  You can say we were underdressed. At the bar "lil' D" from FMF (who was in a full suit ) looked me up and down at me and said, "You must have just got off the plane."
Kurt's KTM from the Sardinia, Italy ISDE where team USA placed second overall was up on stage. 
It was on a Saturday night when they had the big ceremony at the Hilton hotel in Columbus. This is where the inductees were introduced to the crowd about their life on two wheels. Afterward the inductee would have a chance to speak to the audience. The first AMA Hall of Fame Inductee announced was Kurt Caselli. His mom, Nancy, came up to speak on his behalf. It was a magical moment. If you ever met Nancy, you will find that  she is one of the strongest people you will come in contact with. She is also super competitive, just like Kurt. She gave a beautiful speech. Afterward there was only one person in that room that didn't have tears running down their face. That person was Nancy. To talk about her son in such high regard and seeing the things he has accomplished long after he has been gone must have been a very proud moment for her, but at the same time one of the hardest. You are a warrior Nancy. We all thank you for being so strong.
Nancy Caselli excepting Kurt's AMA Hall of Fame trophy.  
After Nancy spoke, Kurt's fiancé, Sarah White came up and talked. She kept her speech light and funny. After all, Kurt was a funny guy. He was witty, fun and extremely charismatic. Sarah brought that side of Kurt out in her speech. We laughed and we cried. It was an emotional roller coaster to the people closest to Kurt , but it was a night we will never forget.
Nancy loves hearts. Here she makes a heart with Kurt's fiancée Sarah White. 
Next on the list to be inducted was the 1985 125cc National champion Ron Lechien. He was inducted in by his friend, Jeff Emig.  Lechien finished  top five in points 15 times. Many of those were runner-up positions to Rick Johnson, who beat out Lechien for three championships.
Jeff Emig (middle left), Ron Lechien (middle right).
The day after, on Sunday, the Hall of Fame inductees bikes and names were placed into the Motorcycle Hall of Fame Museum.  The bikes only get to stay on exhibit for a year, but their names will reside on the Hall of Fame wall forever. This was a much more intimate gathering. Only about 20 people came to the event in Pickerington, Ohio.
The Motorcycle Hall of Fame in Pickerington, Ohio. 
AMA president, Rob Dingman (left) was the one who introduced the riders. Here, Ron Lechien and his KX250 are introduced. 
These are four strong women right here. From left to right: Sarah White, Nancy Caselli, Carolyn Caselli Major (holding Kurt's nephew Bryce), and Kurt's Aunt Pam.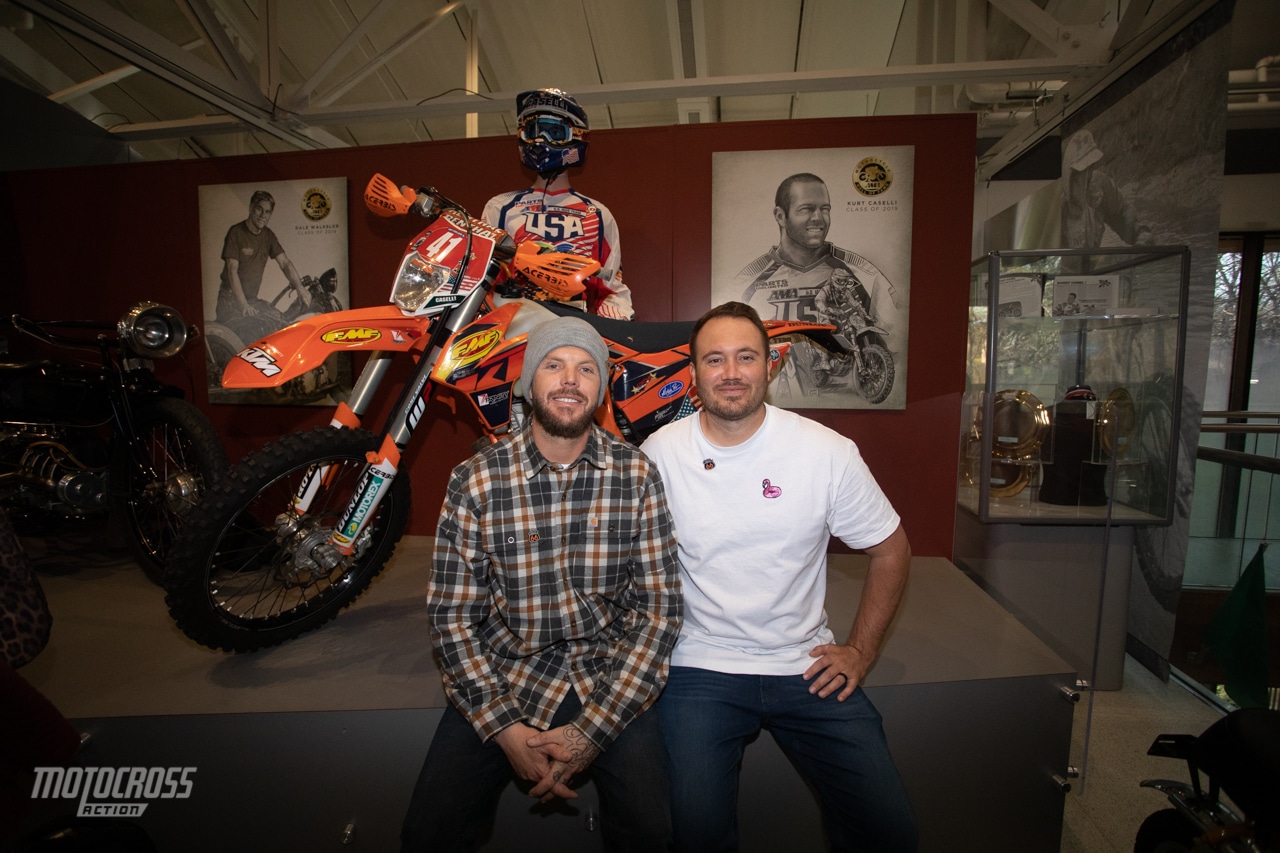 Daryl and one of his best friends (and one of Kurt's good friends) Bobby Stefan sit in front of Kurt's bike at the AMA Motorcycle Hall of Fame Museum. 
This was a weekend that I will never forgot. Reminiscing  with great friends on Kurt's life and seeing how he impacted this world was something special. We miss you buddy.
The wall of legends. 
It is ironic that Kurt's name is right above his childhood off-road hero Ty Davis. 

To support Kurt and the Kurt Caselli foundation head to www.kurtcaselli.com