ONE PHOTO & ONE STORY BY JOHN BASHER

Click on image to enlarge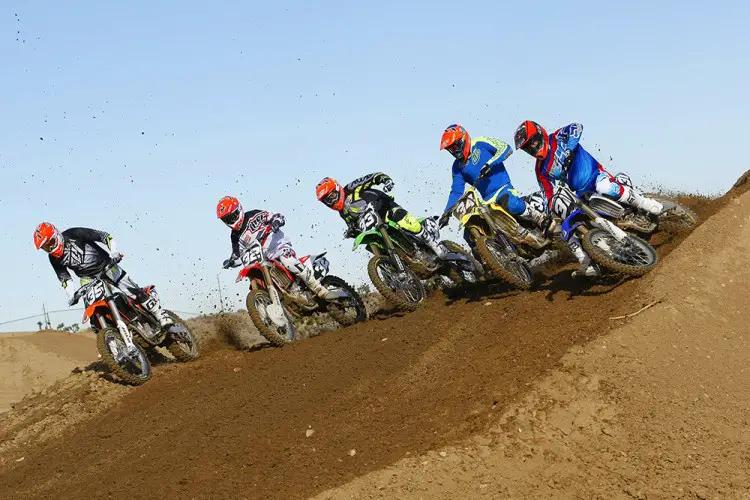 By John Basher
MXA has changed policies since the old days. Remember that the magazine has been in business since June of 1973. Over that time Jody has "been there" and "done that." He has creatively photographed bikes on public grounds, private tracks, and most famously, on the beach. Jody never publicized his endeavors beforehand, choosing to shoot bikes on the sly (sometimes for the reason of not getting arrested!). Bike manufacturers weren't made aware of MXA's intentions until the magazine showed up on newsstands – long after the salt water had been washed off.
MXA doesn't actually own the bikes given to us for the year. We have them on loan, returning the models when the next year's bikes are handed over. What we do to our fleet of test bikes throughout the year is at our discretion. There aren't any complaints from the manufacturers as long as we're able to return the bikes in one piece. What do the brands do with MXA's test bikes at the end of the production year? Some sell them to their employees, others send them to the crusher and most of them bundle them in groups and sell them to dealers. The life of a test bike can be cruel.
"WHAT WE DO TO OUR FLEET OF TEST BIKES THROUGHOUT THE YEAR IS AT OUR DISCRETION. THERE AREN'T ANY COMPLAINTS FROM THE MANUFACTURERS AS LONG AS WE'RE ABLE TO RETURN THE BIKES IN ONE PIECE. WHAT DO THE BRANDS DO WITH MXA'S TEST BIKES AT THE END OF THE PRODUCTION YEAR? SOME SELL THEM TO THEIR EMPLOYEES, WHILE OTHERS SEND THEM TO THE CRUSHER. THE LIFE OF A TEST BIKE CAN BE CRUEL."
When I came on board in 2004, I asked Jody why he didn't involve motorcycle manufacturers in shootouts. His reasoning was sound (as it always is). Jody didn't see the need to schedule a specific day where MXA would pit all of the same displacement bikes against one another. After all, MXA had been testing the bikes for months prior. Test riders would ride one bike and then hop on another, ad nauseam. By the time it came to putting together a one-day shootout Jody had already done dozens of head-to-head tests. Arranging a one-day shootout seemed like a civil service to the manufacturers, and he had no interest in it.
Jody was right. It's not like allocating a single day to riding all of the bikes provided anything we didn't already know. Instead, the information gained in the races over the previous weeks and months prior was most important. Still, I wanted to arrange a one-day shootout. We needed to produce shootout videos and create buzz on our social media feeds. It took a few years of nagging, but Jody finally acquiesced. I was the baby, and the one-day shootout was the pacifier that shut me up.
Everything came together at the end of 2011 for MXA's 2012 model 250 Four-Stroke Shootout. I selected the riders, gear, track and we made it happen on a gloomy Saturday at Zaca Station. It was a success, evidenced by the photos and popularity of the resulting video. A few days later I received phone calls from multiple manufacturers asking why they weren't included in the shootout. I promised their inclusion for the following year.
Hence, every year since 2013 the manufacturers have been involved. Their purpose is to provide track-side support in case our test bikes have any issues. They also set race sag, help our testers adjust settings, troubleshoot, and aid in mapping changes. It's nice that they provide food and drinks – Kawasaki has the best sandwiches, Honda brings grape soda for some strange reason, and Yamaha has the widest variety of breakfast options. But I digress.
The photo take for this "One Photo & One Story" feature was from the 2014 MXA 250 Four-Stroke Shootout held at Competitive Edge in the California desert two of Adelanto. It was the latest time in the year that we've ever held a 250F shootout, because Yamaha was delayed in releasing their all-new 2014 YZ250F. We conducted the shootout on December 10th, 2013. It was so cold that puddles on the side of the track were frozen, and a stiff breeze brought the wind chill down into the low 30's. Fortunately it didn't stop Dennis Stapleton (KTM), Tye Hames (Honda), Trent Pugmire (Kawasaki), Daryl Ecklund (Suzuki) or Emil Foldager (Yamaha) from doing their jobs.
Do you want to know the finishing order for the 2014 MXA 250 Four-Stroke Shootout? Kawasaki took top honors (it had nothing to do with their sandwiches), followed by Yamaha, Suzuki, KTM and Honda. Concerning the difficulty of orchestrating five motocross riders through a turn, that's another story for another time.