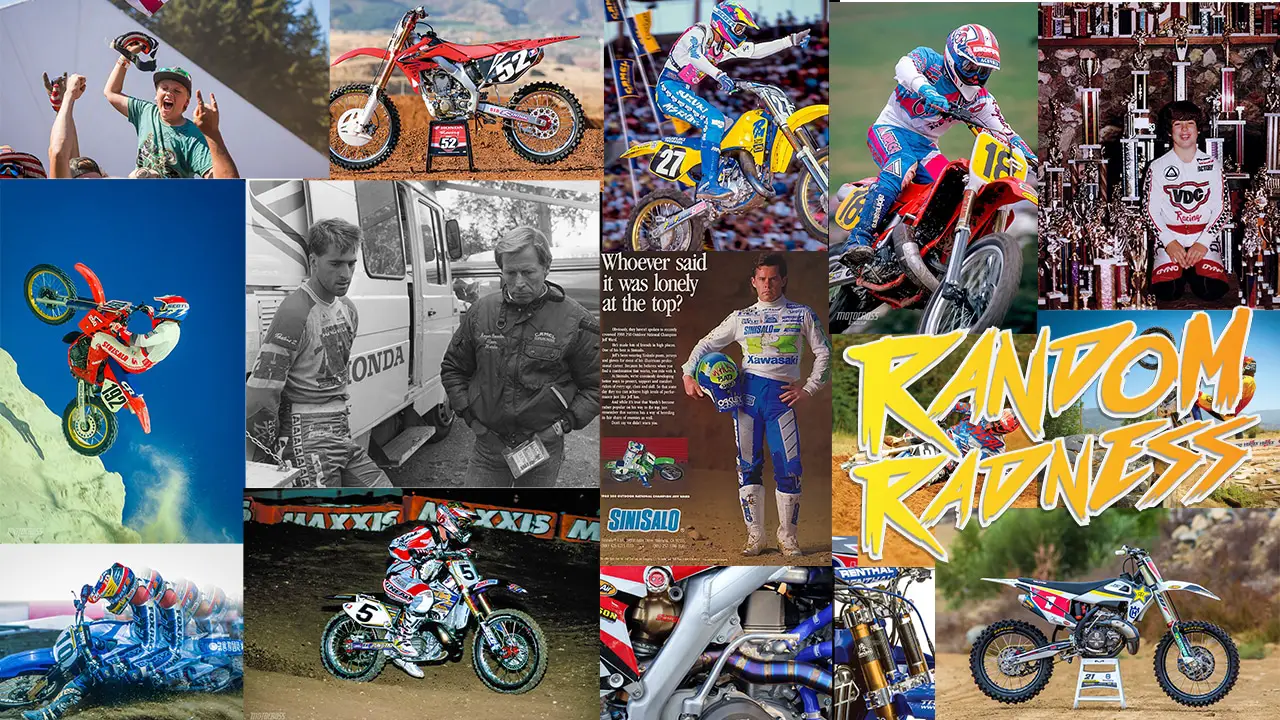 RANDOM MOTOCROSS |53|  RADNESS 
Motocross Action has the most documented collection of photos in the sport as their photogs have been capturing everything motocross since MXA's inception in 1973. These photos have been kept locked up inside MXA's palatial towers (except for the ones that were pilfered). It was time to break into the historic archive of photos that have been captured over our 48-year history. Out of the millions of photos MXA has in its archive only a fraction of those have been seen by the public. Only a few hundred photos were needed per issue of MXA, but our guys snapped thousands of photos each month that were just stored never to be seen. We finally thought we should share these unseen photos of the past and present. We also thought that other fans of the sport needed a platform for them to share their Rad photos as well. With that, MXA's Random Radness was born.
---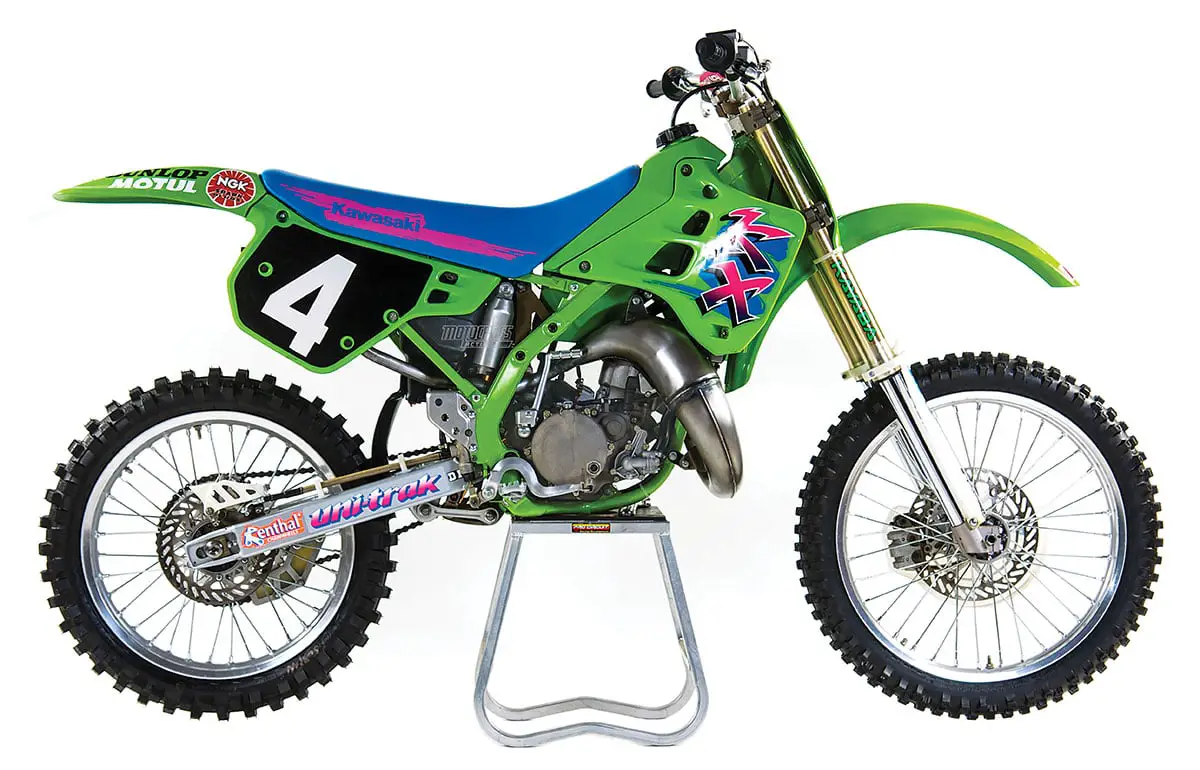 Mike Kiedroski's factory 1991 Kawasaki KX125.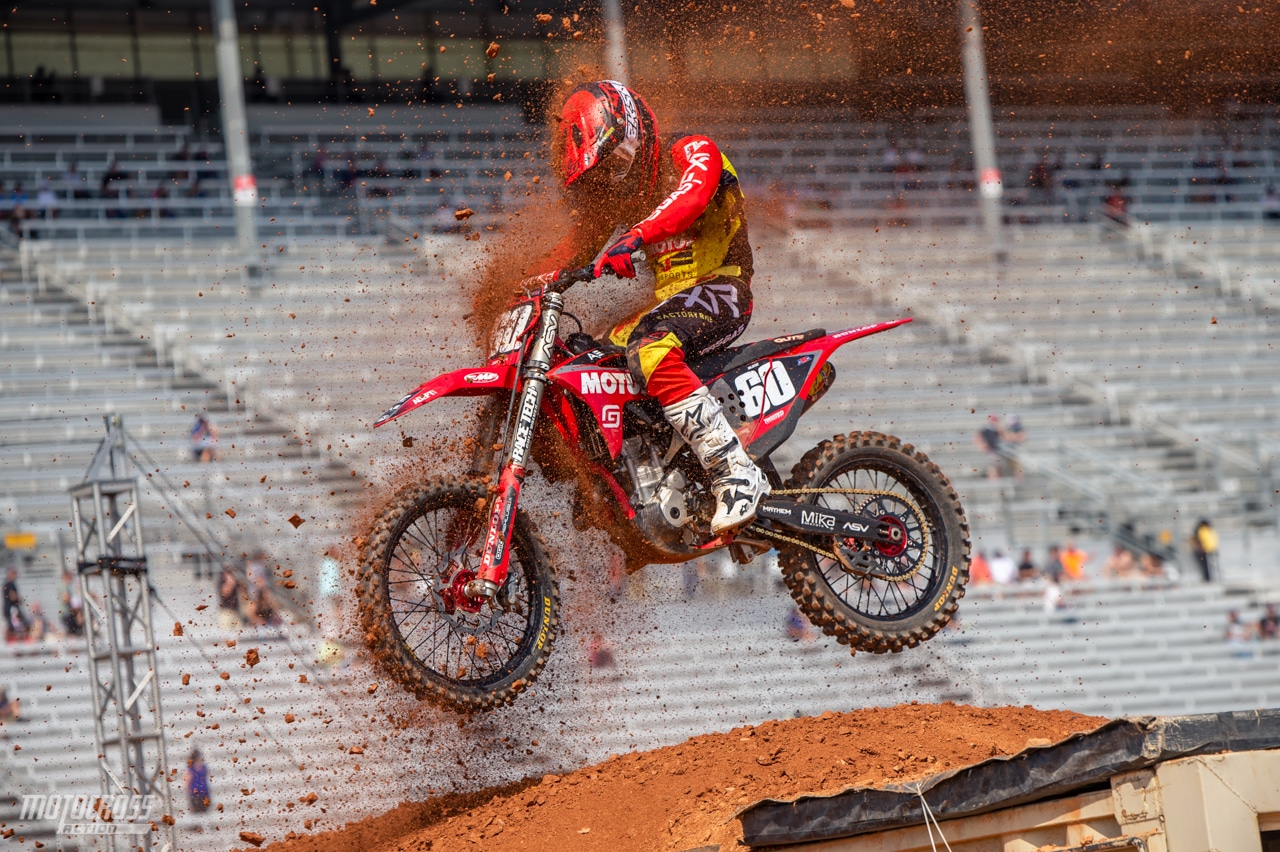 Chris Blose taking a face full of dirt at the 2021 Atlanta Motor Speedway Supercross.
Justin Barcia racing the 2019 San Diego Supercross mud-race.
Pablo Quintanilla getting serious air on his Honda Rally bike. 

Kevin Windham on his factory Yamaha YZ250 two-stroke.
Eli Tomac's champagne party in Washougal.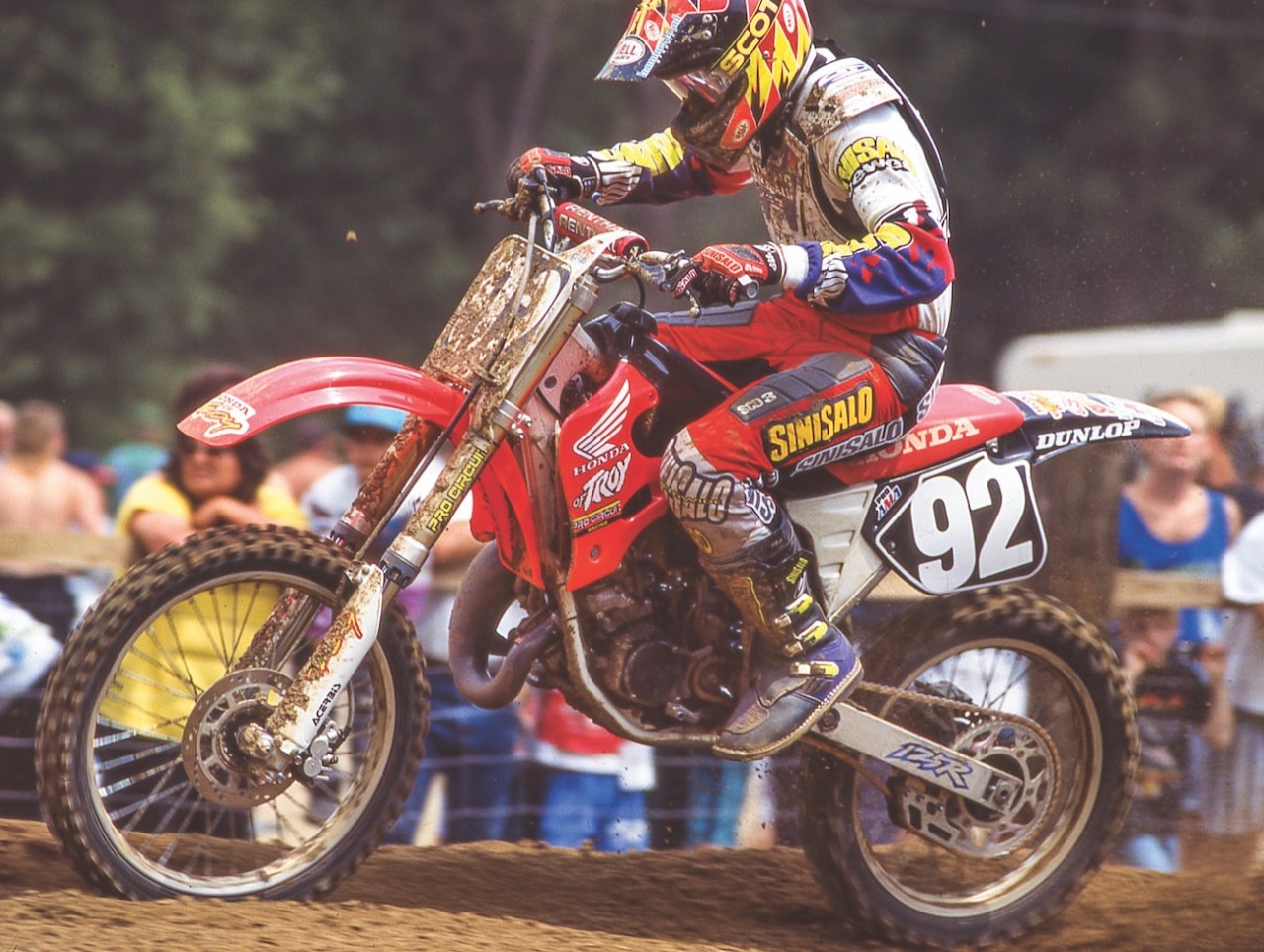 Mike Brown on a Honda of Troy CR125 back in 1994.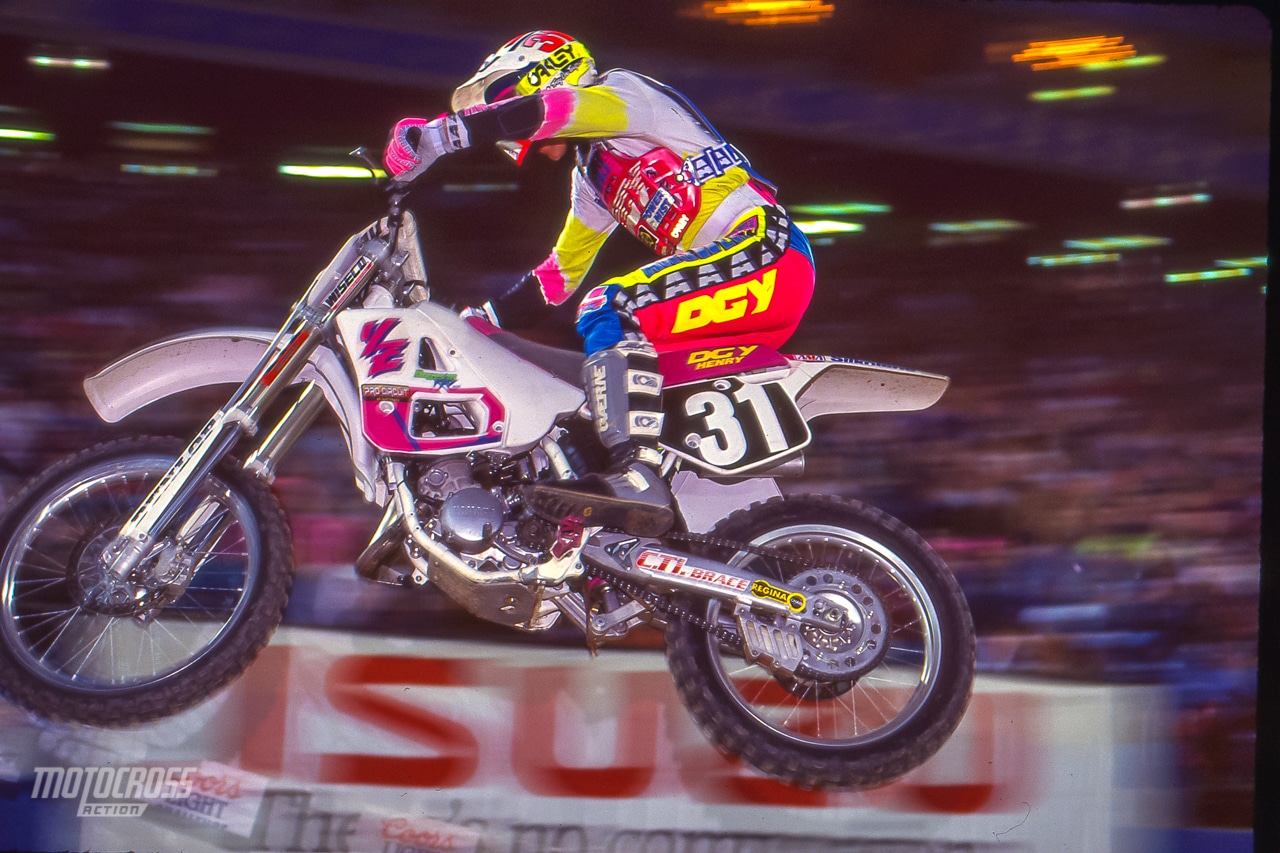 Doug Henry on a DGY YZ125 back in 1991.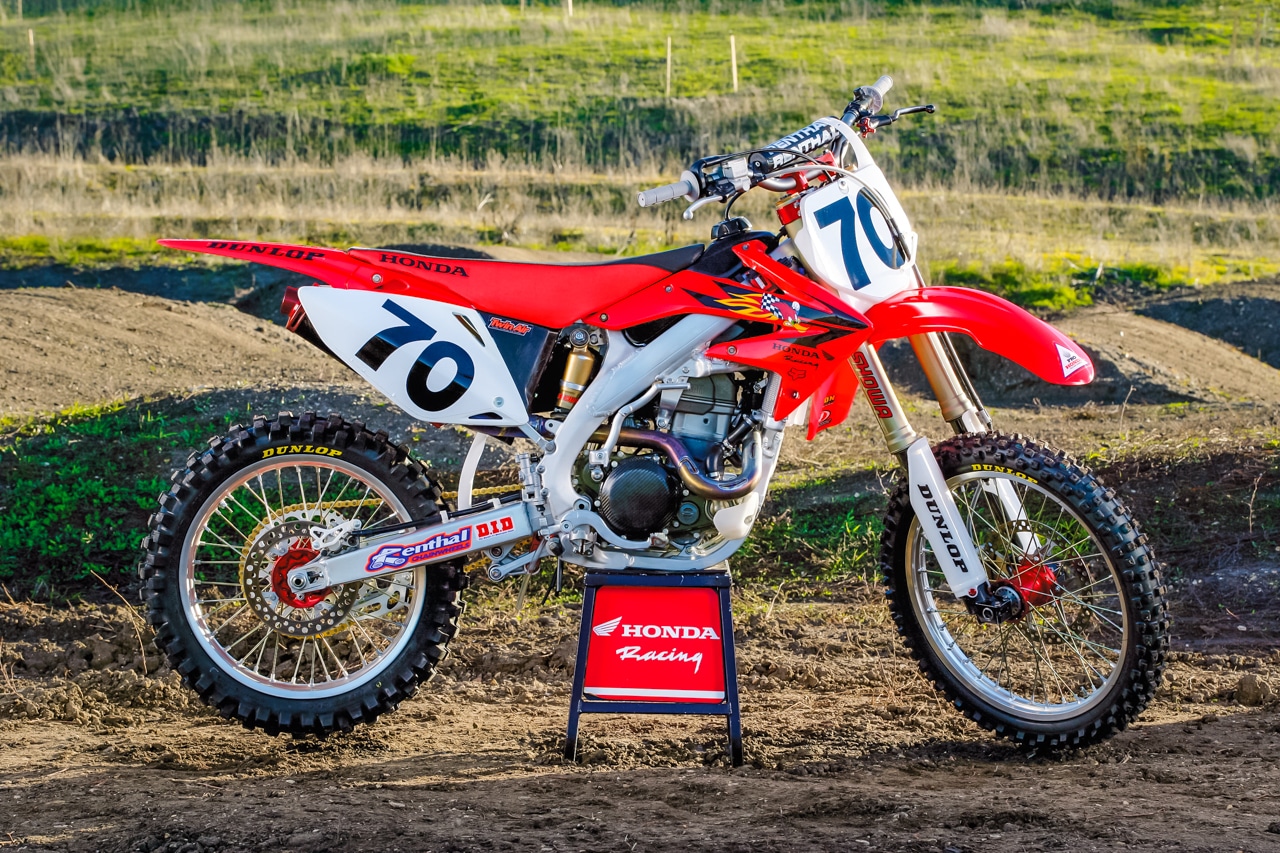 Travis Preston's 2005 factory Honda CRF450. 
Steve Lamson (4), Jeremy McGrath and Ryan Hughes in 1996.
Jett Lawrence riding Aaron Colton's Honda CR500.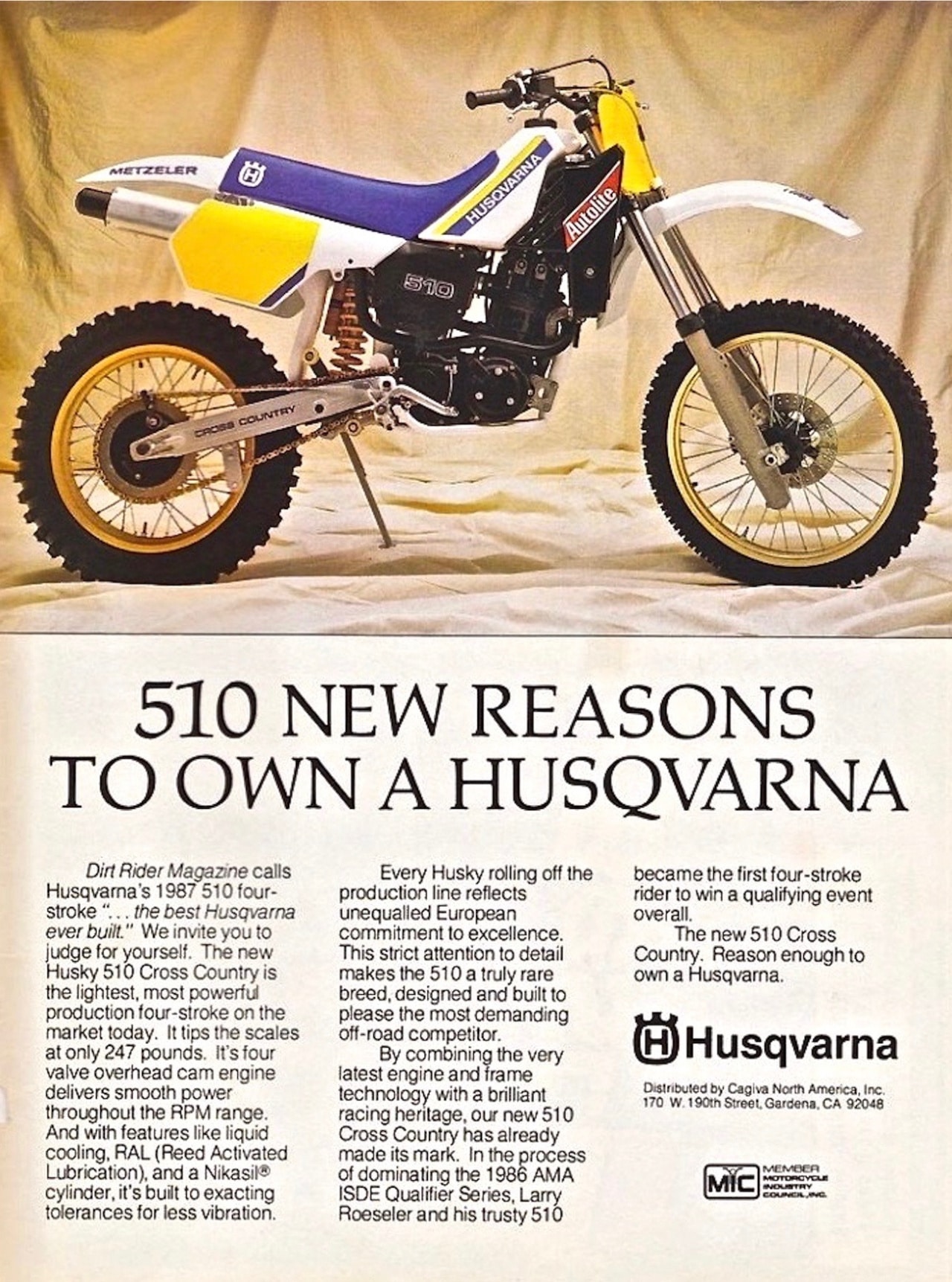 1987 Husqvarna 510 two-stroke ad.
Ken Roczen going through the Washougal whoops. 

Steve McQueen's 1970 Kawasaki G31M, better known as the "Baby Green Streak," was painted and lettered by Von Dutch to say "Ringadingdoo!" In 2007 it sold at auction for $55,575.!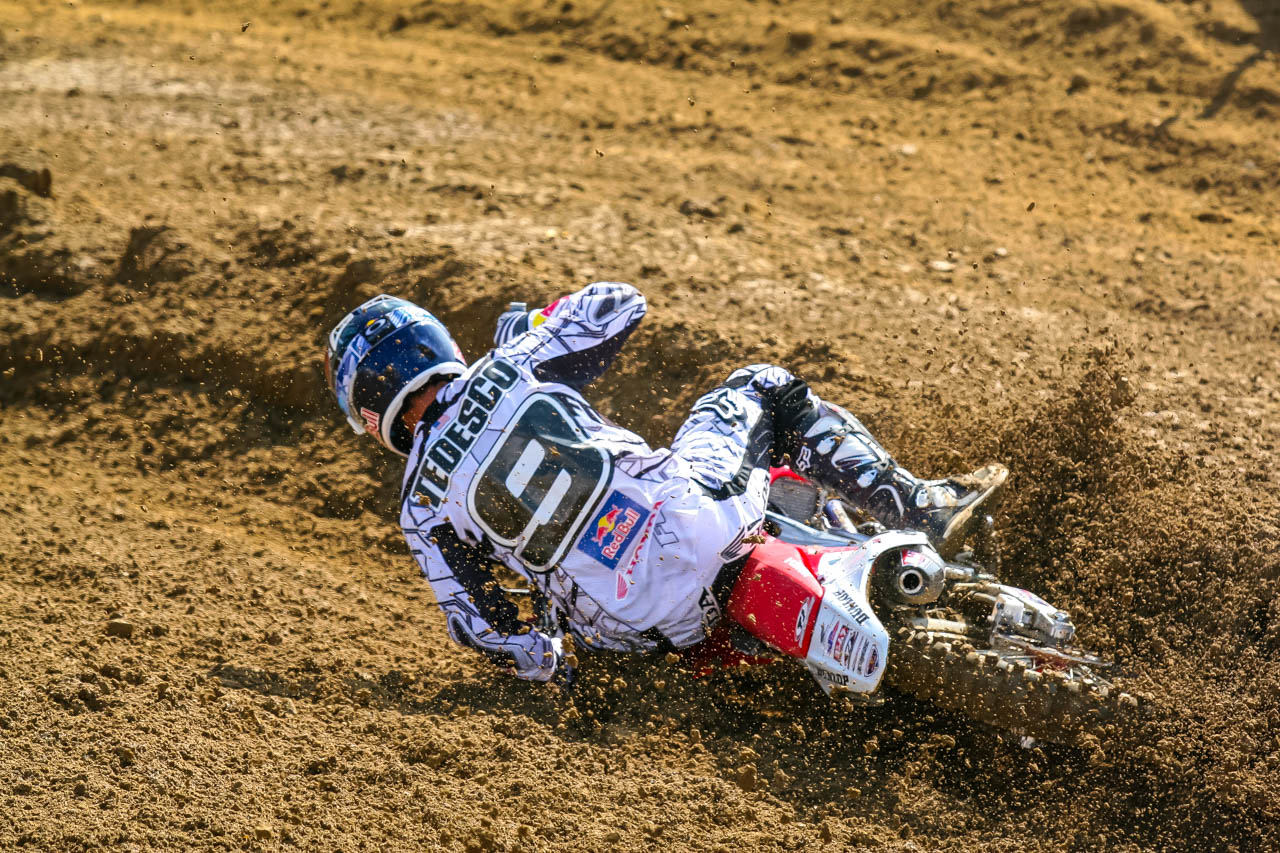 Ivan Tedesco tipping it over at the 2009 Glen Helen National.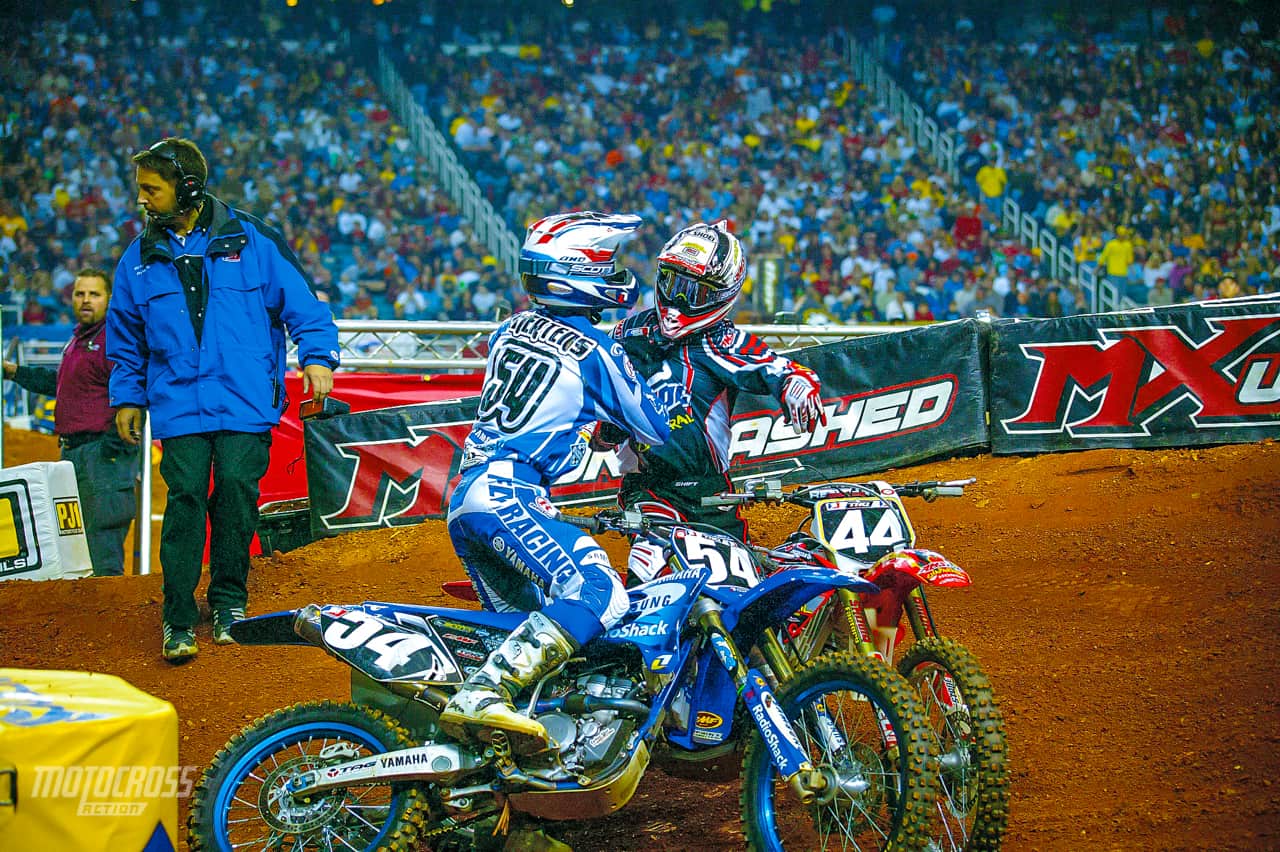 Ryan Mills and Steve Mertins get in a brawl in 2004.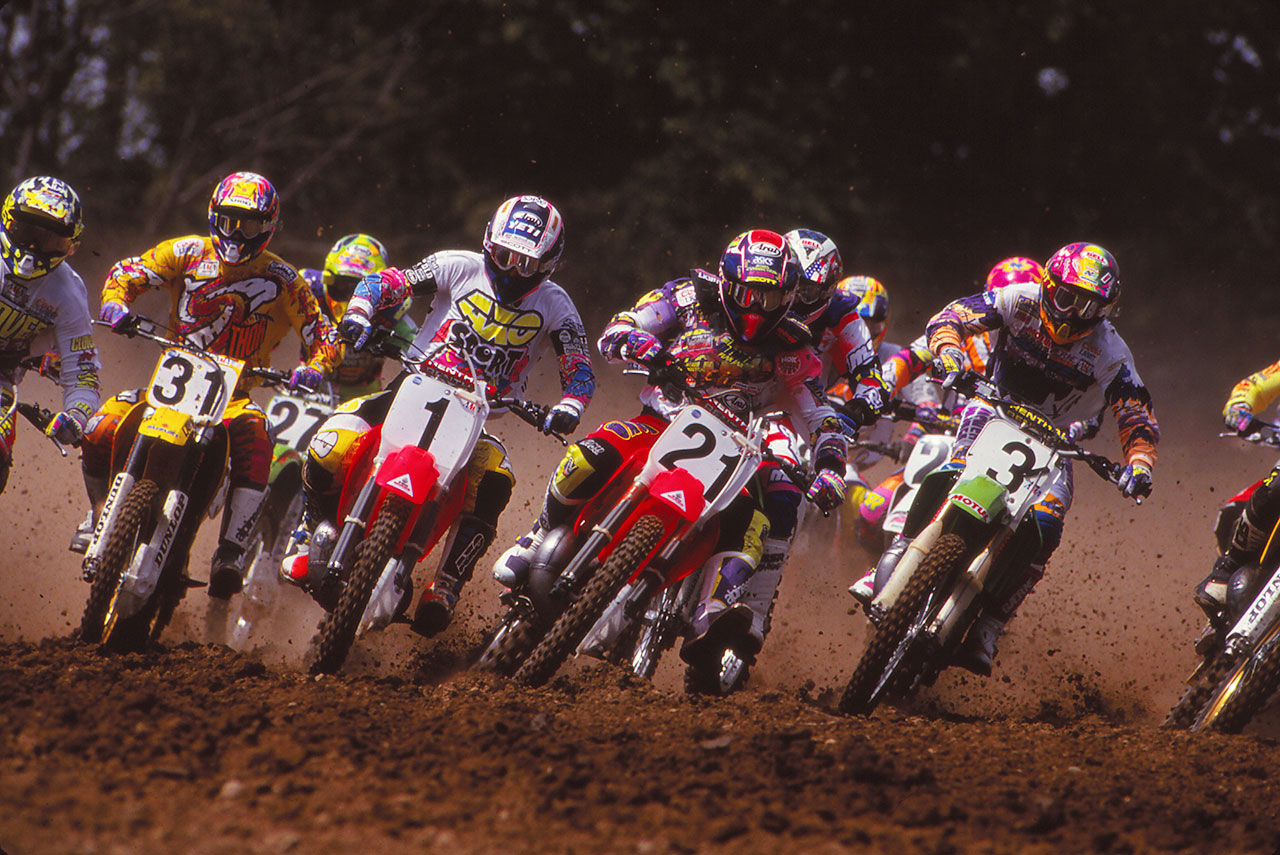 National 250 start in 1993. From the left in Phil Lawrence (31), John Dowd (27), Jeff Stanton (1), Steve Lamson (21) and Mike Kiedrowski (3).
Ricky Carmichael doing a double CanCan at the 2007 MXDN in RedBud.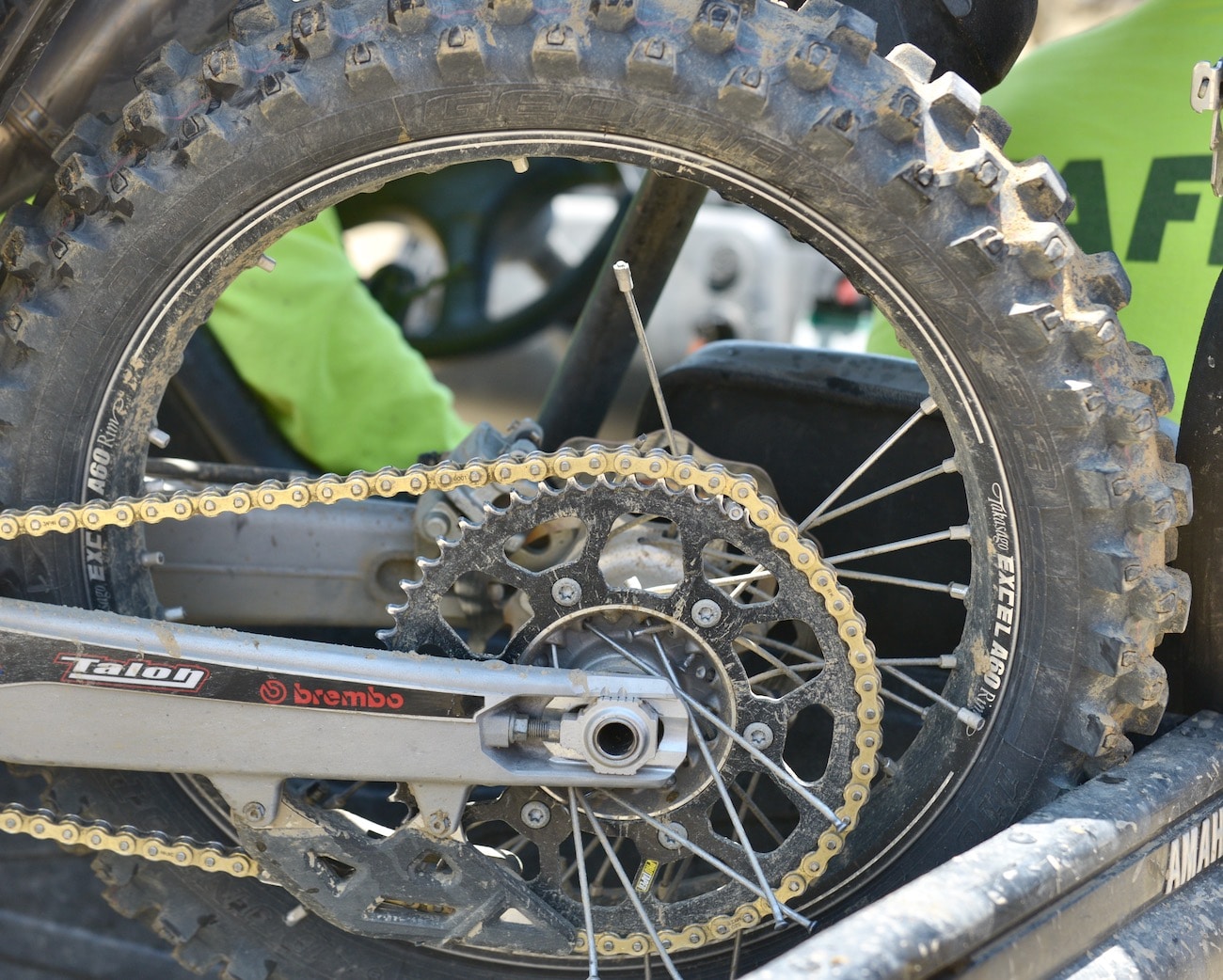 Talk about a broken wheel.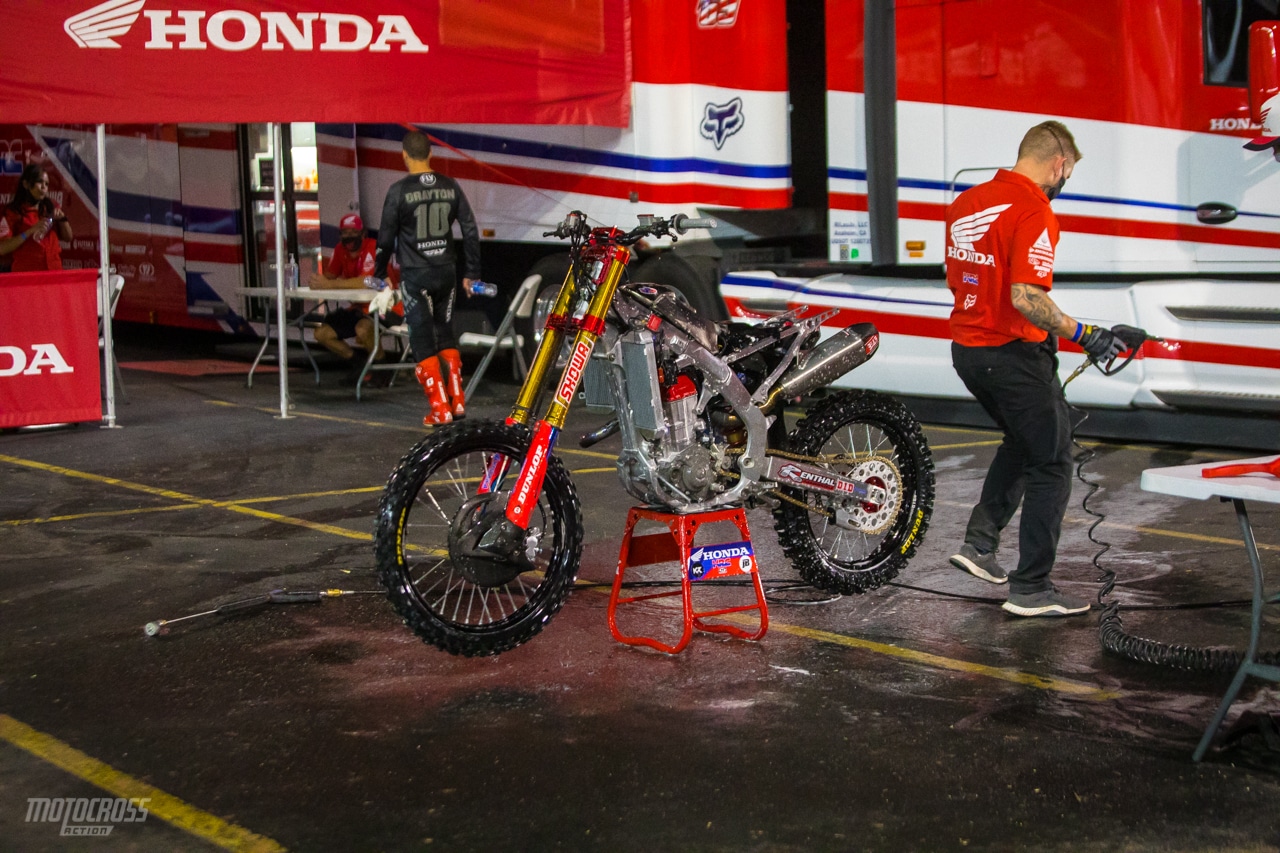 The breakdown of Ken Roczen's factory CRF450 during the wee hours of the night after the 2020 Oakland Supercross. 
"Merica."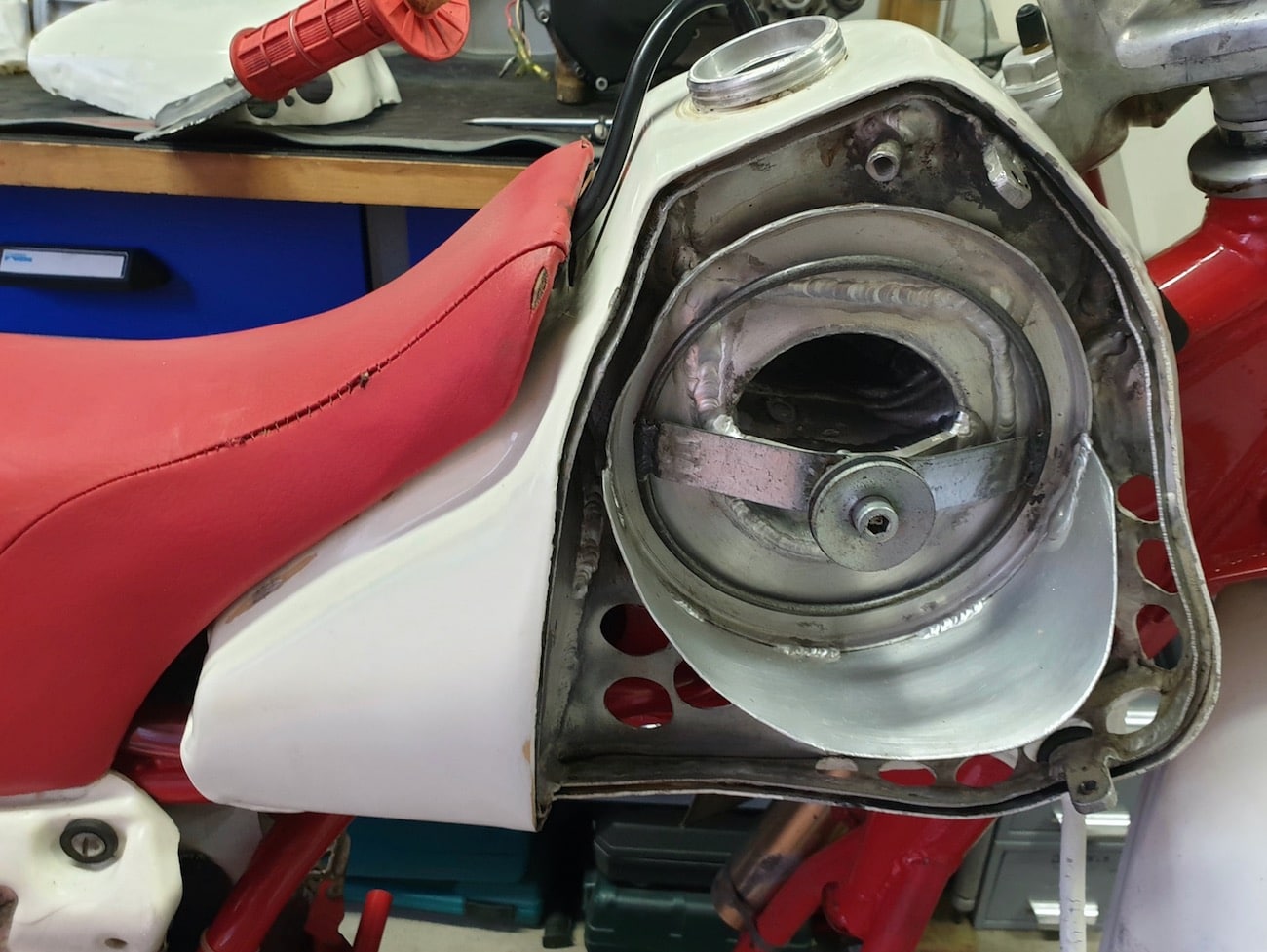 Huh? Airbox in the gastank? Yep. This was a custom Yamaha design from 1983.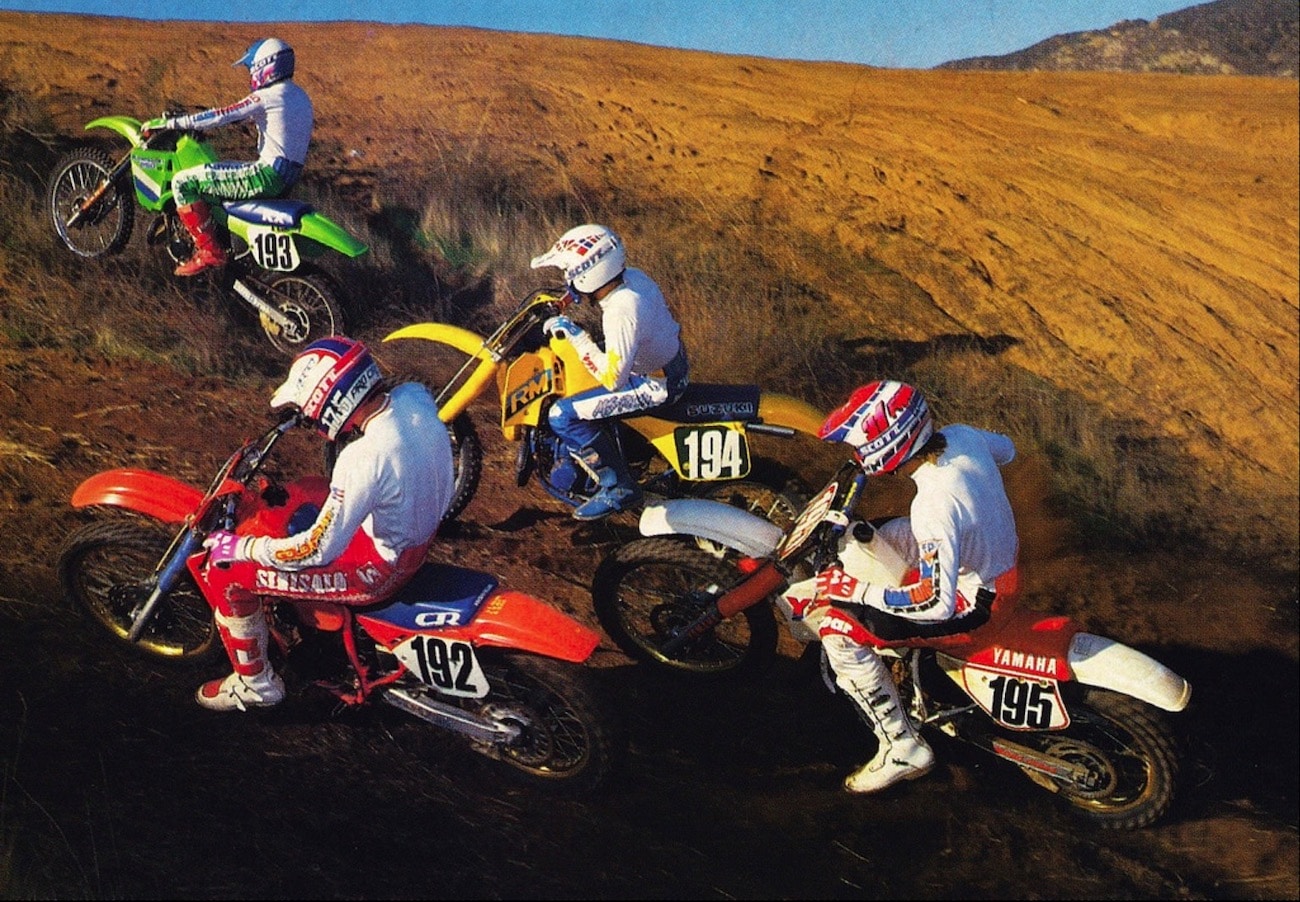 1987 MXA 250 shootout.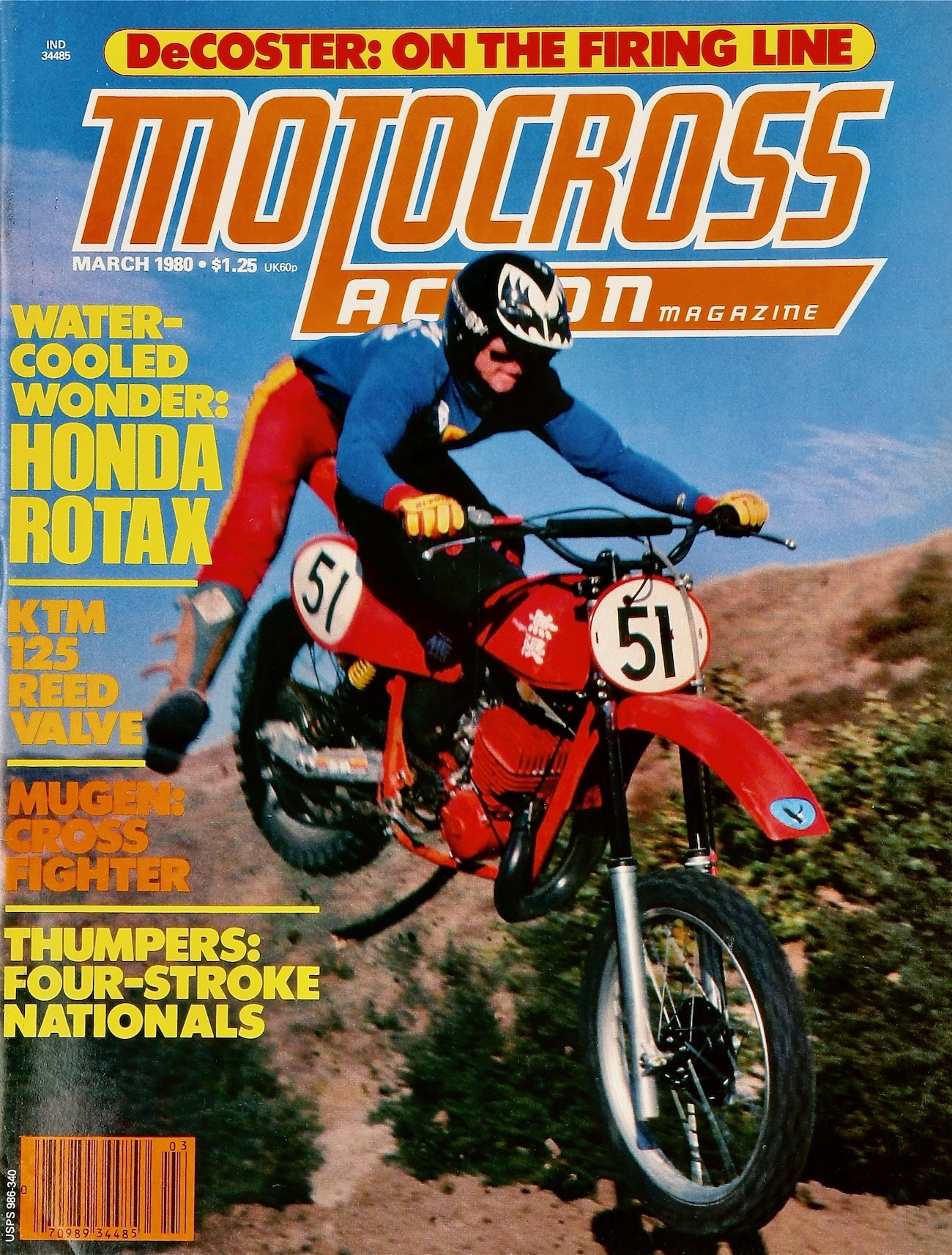 We bet this Mugen on the cover of MXA didn't sell very well. Looks to have a bit of a kick to it. Note the stick stuck into the shift lever, which sent MXA test rider Clark Jones over the bars.

The legendary Tom White.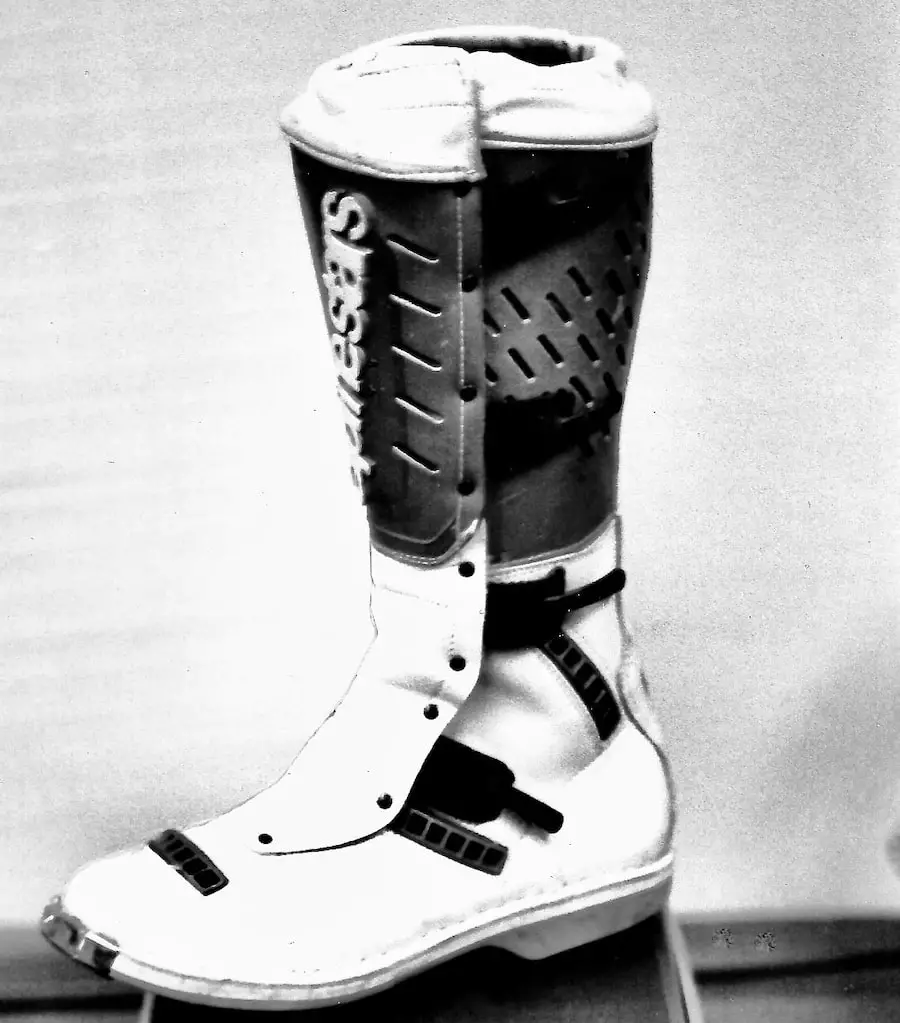 1986 Alpinestars Ventil-Action air boot.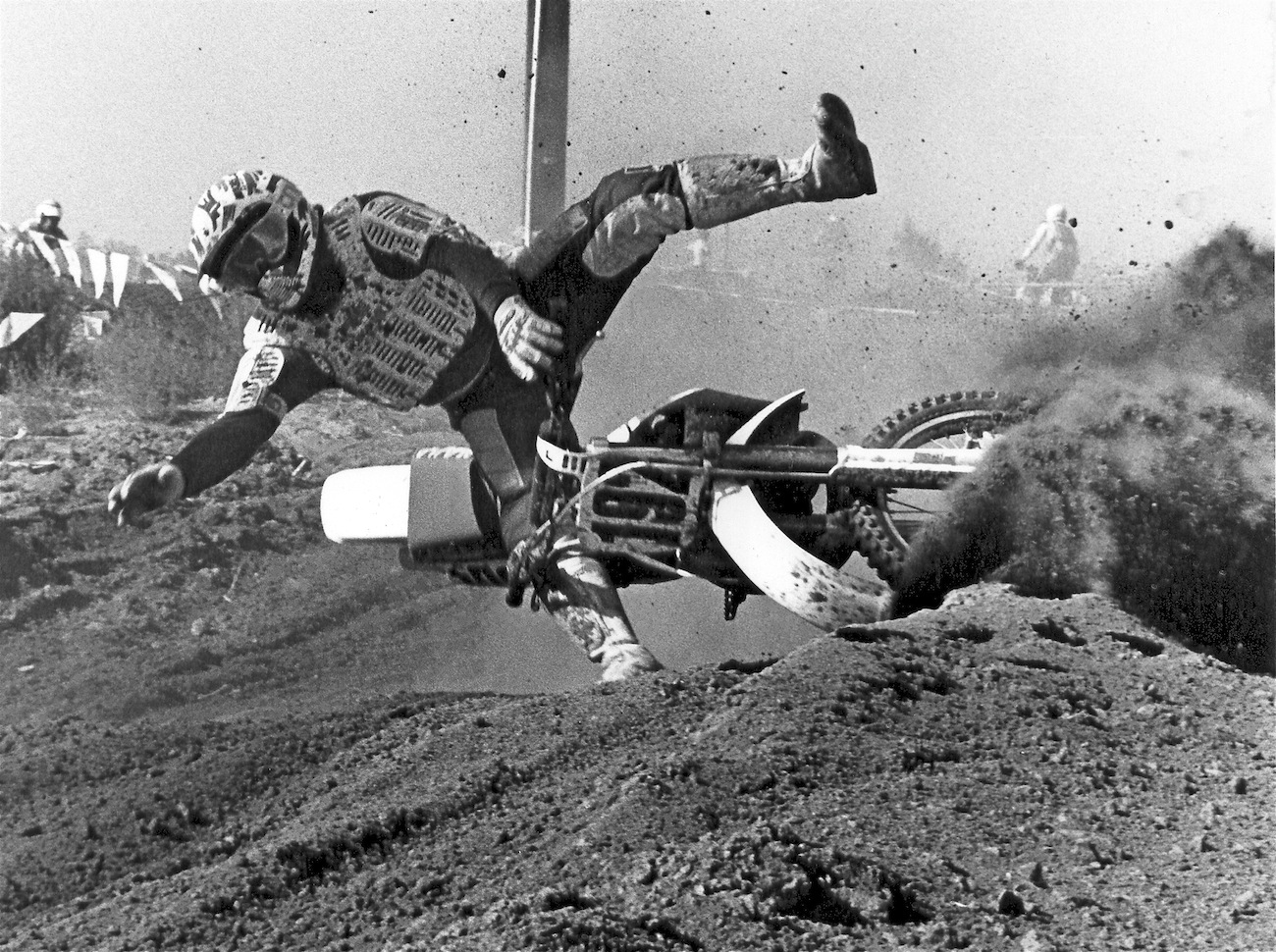 Jody doesn't crash very often, because he says he crashed once and didn't like it. This Perris Raceway proves his point. 
Although only sold for two model years (1982-1983), the air-cooled CR480 was considered to be one of the best Honda Open class bikes made, especially after the disastrous 1981 CR450. 1982 was a four-speed, while 1983 got a five-speed transmission.

Cole Seely under the factory Honda tent in 2015.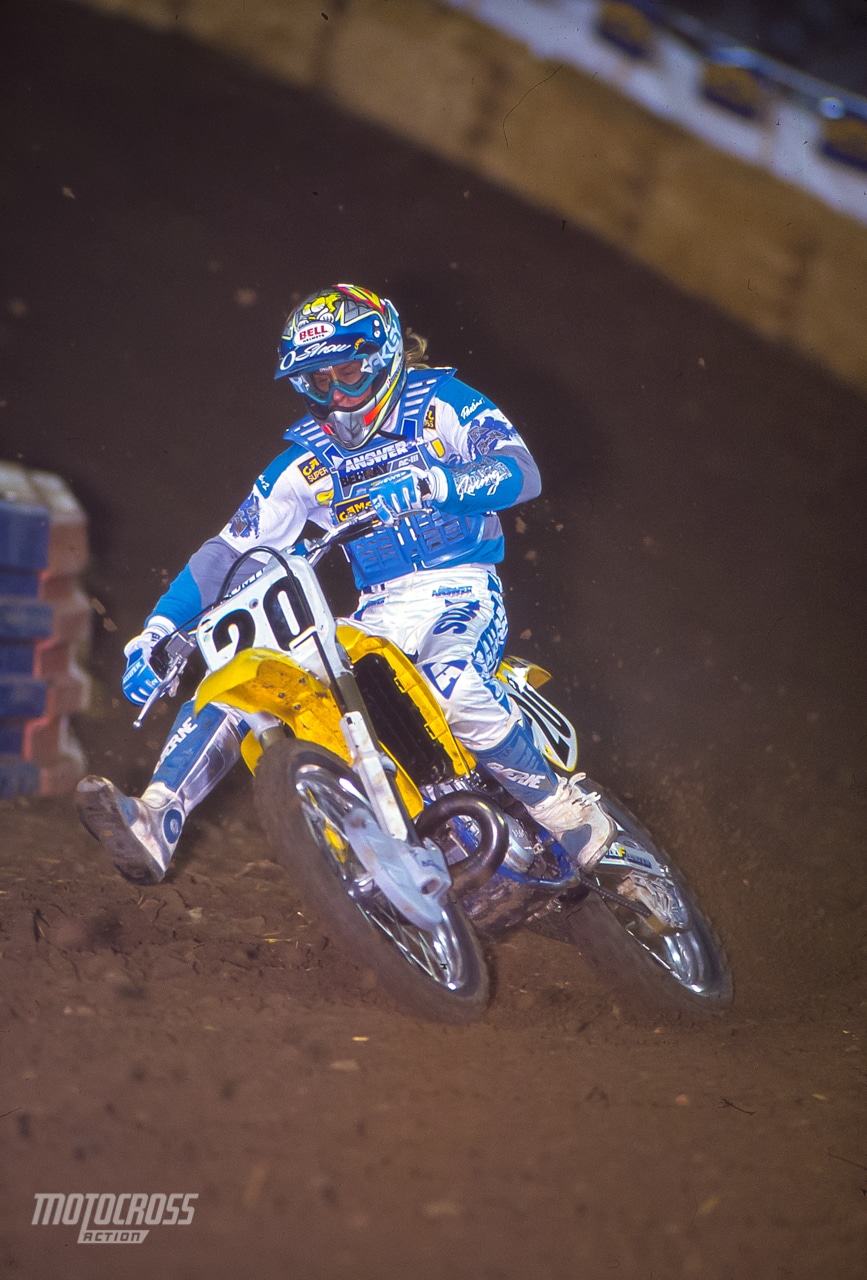 Johnny O'Mara back on a factory Suzuki in 1989. 
The helmet that Aaron Plessinger wore at Washougal.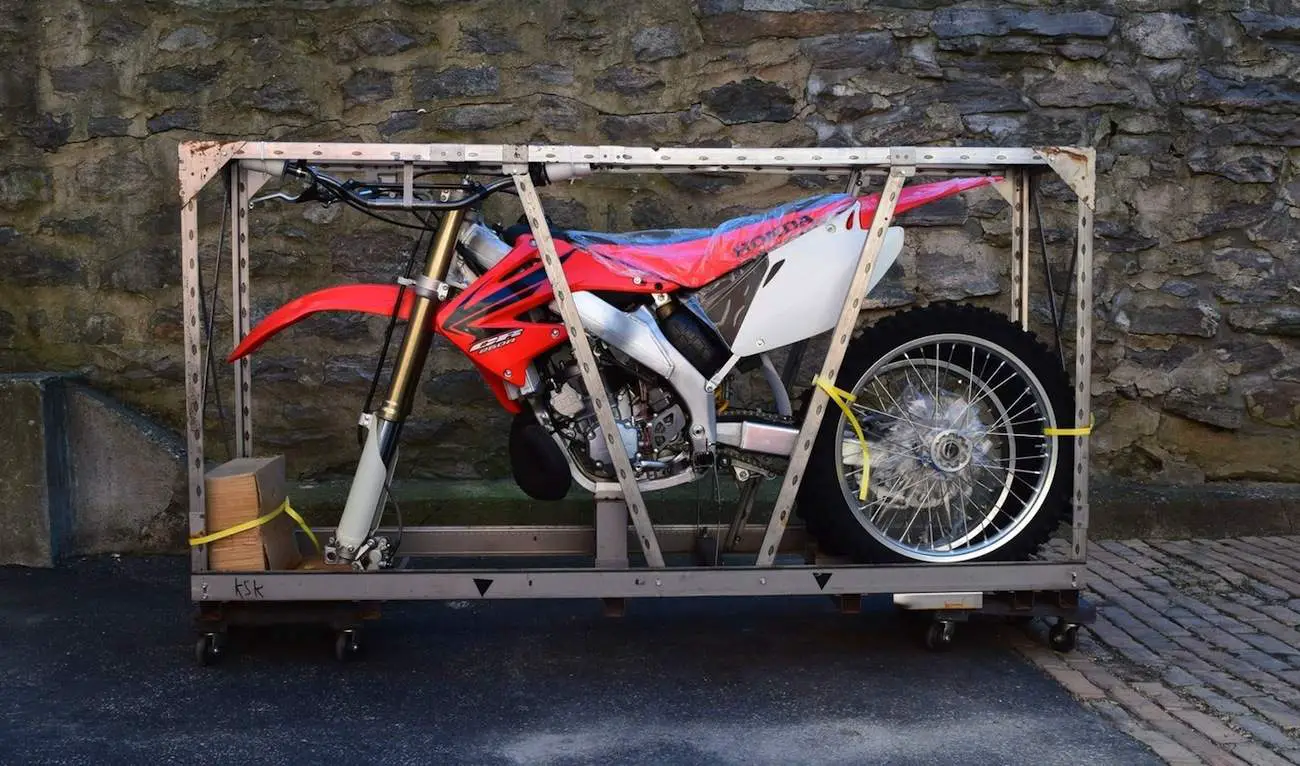 An uncrated 2007 Honda CR250.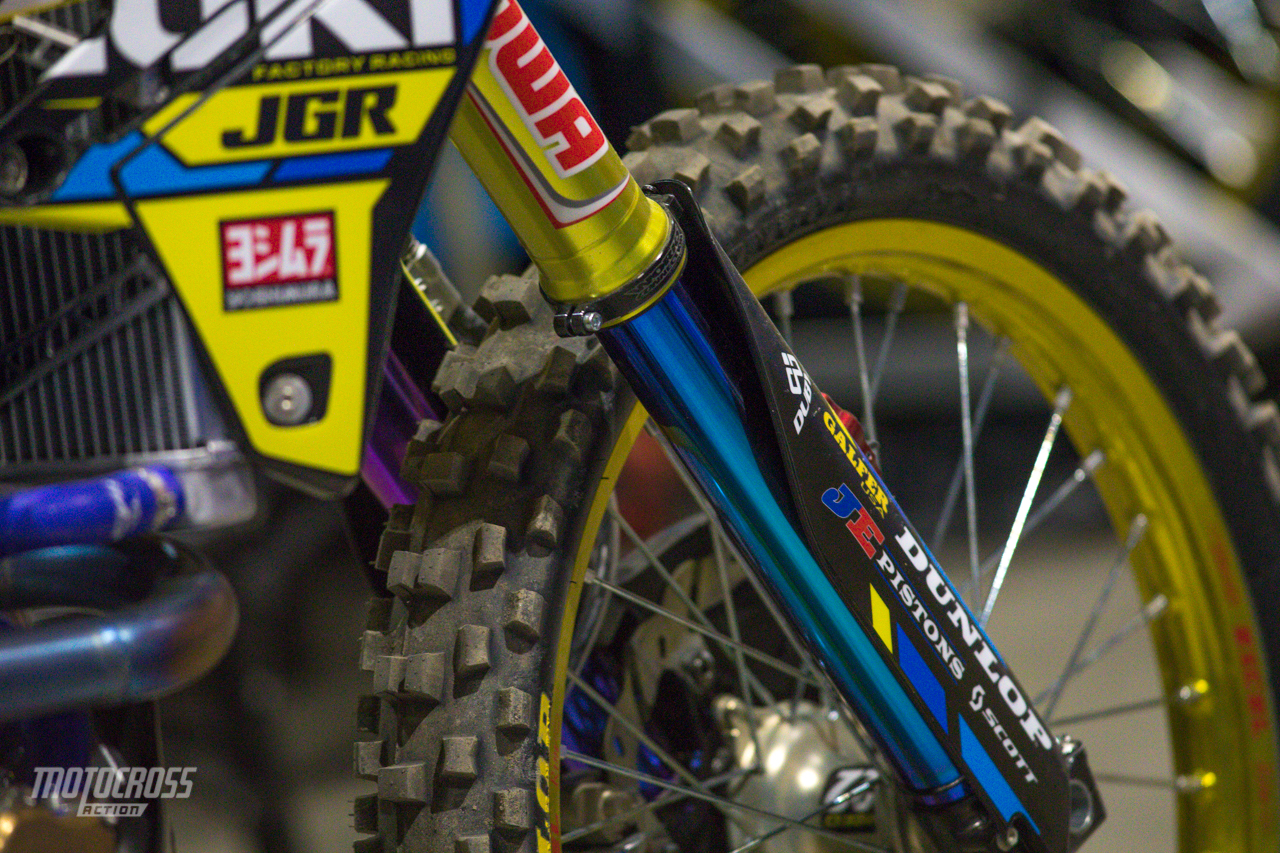 Some JGR Suzuki Showa fork bling.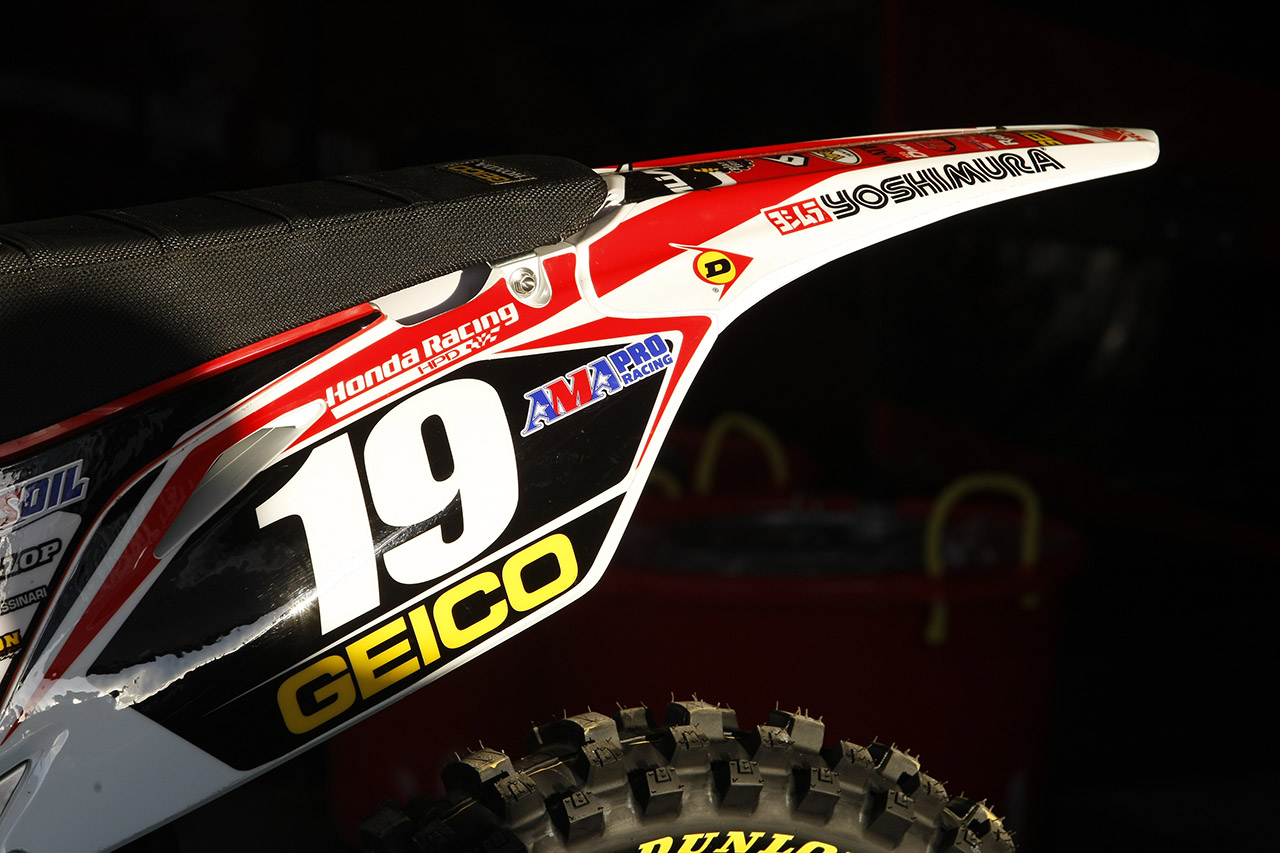 Wil Hahn's Geico Honda glistening in the light in 2013. 
Back in the day, MXA used to give away a truck to the"Rider of the Year." In 1987, that rider was Ricky Johnson. 
Justin Barcia was whipping it big in Washougal.
Kawasaki only went with purple for one year in 1996.
Ricky Carmichael's rookie 1997 Pro Circuit KX125. 
Budds Creek during golden hour.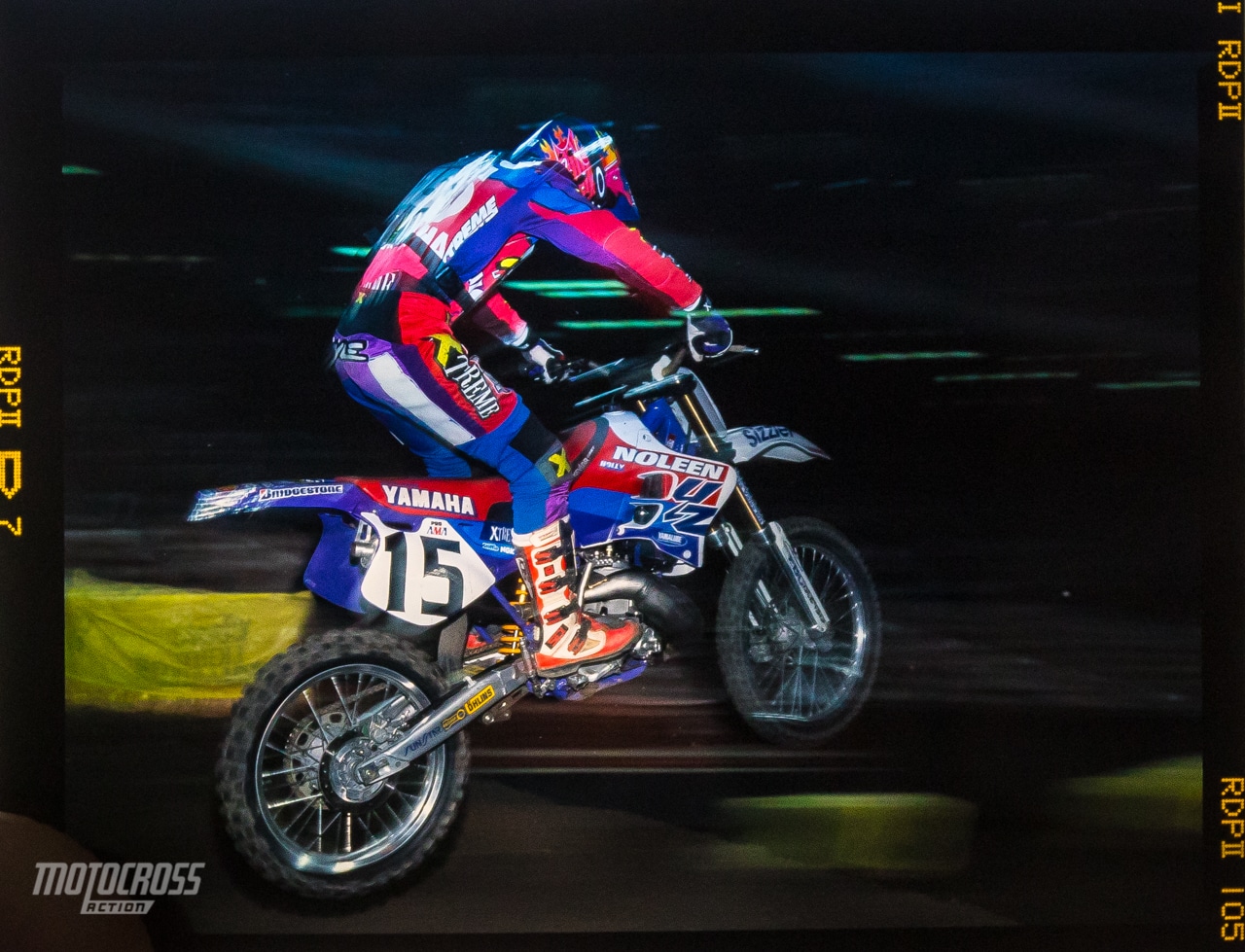 Tim Ferry in 1995 on his Noleen YZ250. 
Jeff Ward's Indy race car in 1997. Jeff finished third  in 1997 and was the Indianapolis 500 Rookie of the Year.

Chad Reed on a JGR RM-Z450 with a retro McGrath painted helmet and gear. 
Sweet handlebars. 
Blake Baggett taking a face full of dirt at Glen Helen in 2013. 
If you have photos that you would like to be featured, please send them to [email protected]. These photos will not be photo credited. By submitting your photos for Random Radness you agree to release all ownership rights to the images and copy them to MXA.