REM GLEN HELEN MOTOCROSS RACE REPORT: SUMMER SERIES ENDS, NOW MAYBE THE SUMMER TEMPS WILL COOL DOWN
Randel Four pursues Jon Ortner (10), while Jon chases after Willy Musgrave and Willy Simons. Fout would win the Over-40 Pro class, while Ortner would end up third behind Musgrave and Simons in the Over-50 Experts.
Preston Tilford swept both 450 Pro motos. Justin Hoeft (615) was second overall, Brett Hottel third, Mark Samuels fourth and Brandon Brady fifth.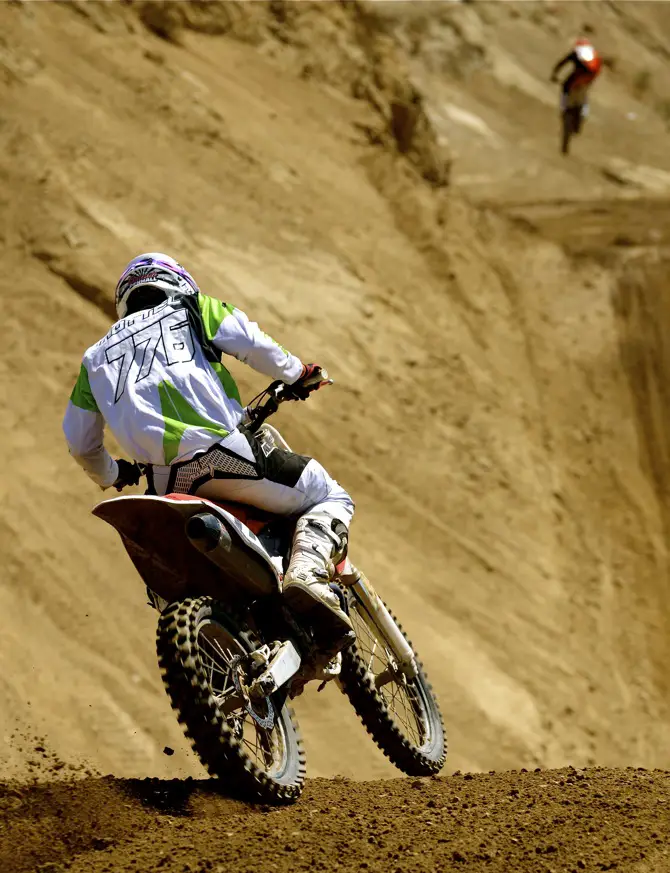 Brett Hottel drops into one of Glen Helen's many downhills, while Dennis Stapleton disappears over the next big hump. This week's race was the final round of the REM Summer Series and, fittingly, it was 101 degrees.
This drop-off was steep, but what you can't see in the photo is that it is also steeply off-camber. Lots of luck if you wanted to stay to the left, because you would always drift down the bank to the right.
Nathan Cernicky's 2-1 was good enough for the 450 Intermediate victory when Dylan Mroz went 1-2.
Trevor Stewart two-stroked his way to a sweep of both motos of the 250 Intermediate class in front of Cameron Reitzel and Willy Simons, Jr.
The finish line chicane had dual lanes, and was accompanied with a stern warning about what would happen to any rider who tried to jump from one side to the other. As dual lanes go, it was well timed to the point that neither side was a big advantage.
Tony Parson has been racing for decades, but got a new lease on life when he turned 60. For the first time since he returned to racing Tony got to lead the Over-60 Expert class in moto two. Then, two laps in, George Kohler (1-1), Jody Weisel (2-2) and Bill Seifert (3-3) came steaming by. Parson ended up fourth overall.
Brandon Sussman  (12) gets it crossed up in his chase of Braden O'Neal (127) in the 250 Novice class. Sussman would go 5-3 for fourth behind O'Neal (1-1), Vito Bednar (3-2) and Tristan Mort (2-4).
We are not sure where former Pro Circuit Husqvarna rider Mike Monaghan is headed, but it looks like he is taking his YZ250 two-stroke around the roost in front of him. Monaghan went 5-5 in the Over-50 Experts behind Willy Musgrave, Willy Simons, Jon Ortner and Bryan Friday.
Just in case Kent Reed didn't see that the track went downhill to the right, there was a giant red arrow pointing the way. Reed went 6-5 in the Over-50 Novice class behind Anthony Rose (2-1), Paul Dobereiner (1-2), Dave Halverson (4-3), Syd Woods (5-4) and Dr. Bill Harrity (3-7).
When Willy Musgrave turned 50 years old, the hotly contested class became a battle of the Willys, as Willy Simons (46) gave Willy Musgrave all he could handle, but Musgrave took the victory.
When under pressure a rider will do things in retrospect that seem silly. Jack Ward (122) sticks his leg into the path of Tristan Mort (314). Luckily, it all worked out.
REM races again next weekend, Saturday, September 21. For more info about REM go to www.remsatmx.com