REM GLEN HELEN MOTOCROSS: THE DAY AFTER THE DAY THE RAINS FELL
MXA Assistant Editor Josh Mosiman was on a test assignment at REM.  Photo: Debbi Tamietti
Photos by Debbi Tamietti, Dan Alamangos & Jon Ortner

This Saturday's REM Motocross was the first of four straight events in December, but lots of people felt that it wouldn't happen given the amount of rain that fell on SoCal on Wednesday and Thursday (before moving east to create massive thunderstorms and snow fall across the rest of the country). They underestimated the work ethic of the Glen Helen track crew.
Joe Sutter (111), Mike Monaghan (16) and Ralf Schmidt (73). Photo: Debbi Tamietti
With the sun shining and temperatures in the low 70s, the racetrack was in almost perfect condition for racing. There was great racing all through the classes, but the most notable were:
Jon Ortner gives a casual look-back as he drops over the edge of Mt. Whitney. Photo:Dan Alamangos
THE PROS: MXA's Josh Mosiman was assigned to race the 2019 Suzuki RM-Z250 and Honda CRF250 (switching bikes between motos). To handicap him even a more, he signed up as a 450 Pro (thinking the purse money would be bigger in that class) and let the pack go off the starting line.
Josh Mosiman rails the outside berm heading up the long and fast canyon straight. Photo: Dan Alamangos
Josh sliced through the Pros and Intermediates in both motos to take the overall win. Surprisingly, Hawaiian David Dabin kept him honest as he jumped out to decent leads before Mosiman ran him down. Dabin is a 250 Intermediate, but would have been second in the combined Pro/Intermediate race.

Mike Carter (50) took the Over-40 Expert win, but he had to work for it. Photo: Jon Ortner
OVER-40 EXPERTS: Mike Carter and Robert Reisinger engaged in a war in both motos. Reisinger won the first moto, but the second was a barn-burner as Reisinger and Carter passed each other back and forth, with a different guy leading each time they came by the scoring tower. Finally, Carter made the crux move and Reisinger had to let him go. It should be noted that Reisinger was also racing the Over-50 Expert class, which he won, with only a one moto break between the 40s and the 50s.
Jon Ortner (10 and Luther French (2) were close, very close, in the Over-50 Elite class. They were also close to clearing his step-up double — but not close enough. Photo: Debbi Tamietti
OVER-50 ELITE: Every race, every week, for the last four years has been epic in this class. This week was no different between Luther French and Jon Ortner. Luther got to the front early in the first moto, while Jon got a last place start. It looked like an impossible task for Ortner to get through the pack, but he sliced and diced his way back from a 15-second deficit and on the last lap was knocking on Luther's door. Luther held on to win moto one, but the writing was on the wall for moto two.
Pasha Afshar brought his $150 Lift carbon fiber Dax hard hat to the track. This led to the inevitable challenge. Photo: Dan Alamangos
The next thing you know, Pasha had been talked into taking a lap with the construction hard hat on. Kids, don't try this with your head. Photo: Dan Alamangos
In the second moto the passing started early on as Ortner and French found themselves out front from the beginning. They started passing each on almost every lap. Luther was faster in the back canyon, while Ortner was faster in the tight stuff. This broke down to Jon Ortner passing Luther French in the corner before the finish line and Luther passing Jon on the fast back straight. They did this three times before Ortner finally got a little braver on the fast canyon straight and held on for the overall.
Randel Fout (23) and Mike Monaghan (16) on their way to a one-two finish in the first moto of the Over-60 Experts.  Photo: Debbi Tamietti
OVER-60 EXPERT: When Val Tamietti broke his tib/fib at the last race, Dave Eropkin must have breathed a sigh of relief with his friend, and toughest competition, out of action. But it didn't turn out that way in moto one of the Over-60 Experts as MXA test riders Randel Fout and Mike Monaghan went 1-2. The saving grace for Dave was that Randel doesn't want to be scored and often pulls off on the white flag. Randel was also racing MXA's 2019 Suzuki RM-Z250 in one moto and Honda CRF250 in the other.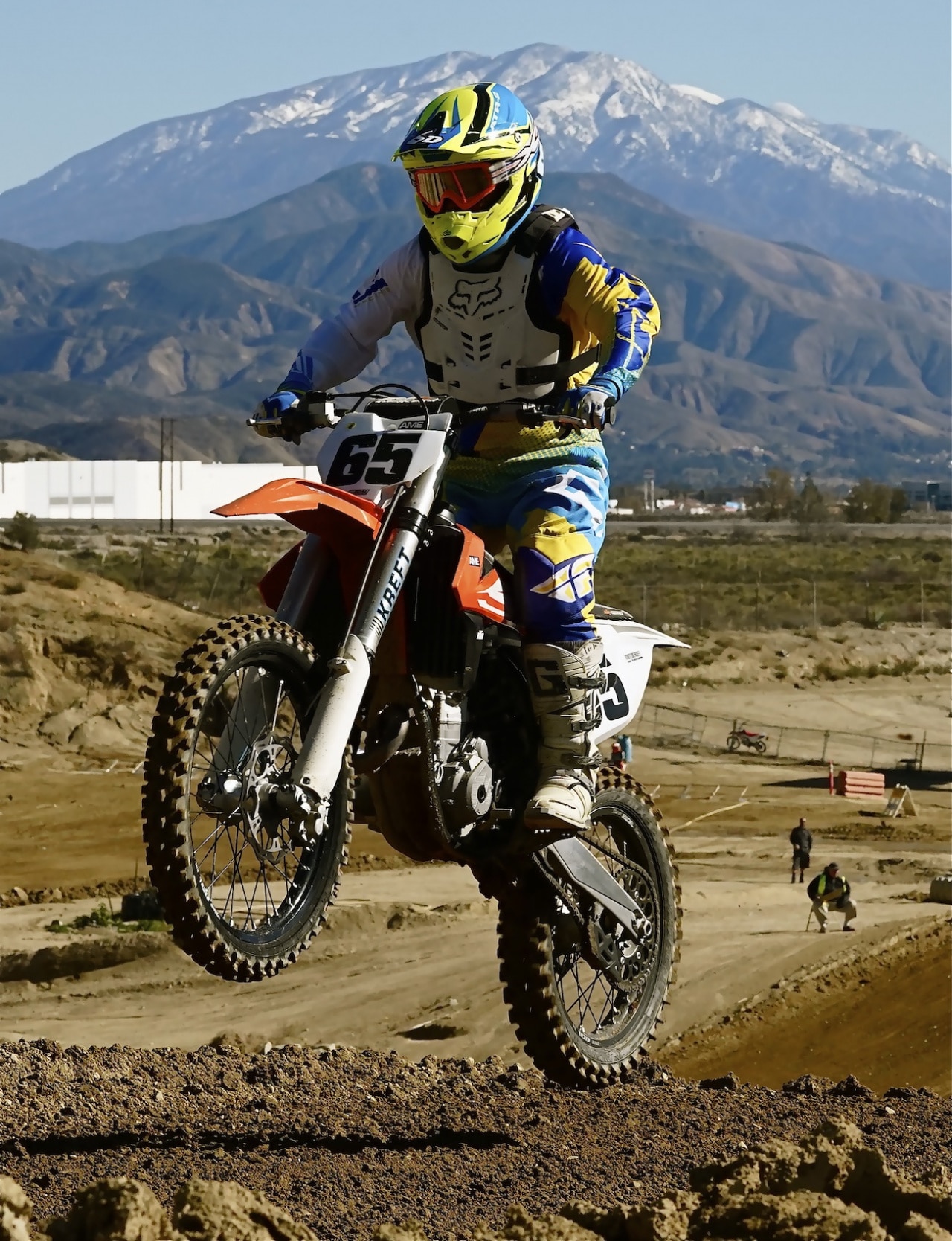 Brian Martin (65) was fourth in the Over-60 Intermediate class. Photo: Jon Ortner

In the second moto, Mike Monaghan crashed on the first lap and started the long lonely pursuit from a half a lap behind the pack. Without having to worry about Monaghan (or the faster Fout) Dave took the overall with a 2-1 to Bob Rutten 3-2, Pete Vetrano's 4-3 and Mike Monaghan's 1-6.
Pro Justin Muscutt (23) was the third MXA test rider to split motos between the 2019 CRF250 and 2019 RM-Z250. The other two were Josh Mosiman and Randel Fout. Photo: Debbi Tamietti
450 Pro: Josh Mosiman…1-1
250 Pro: Noah Hickerson…1-1
250 Intermediate: David Dabin…1-1
Pete Vetrano (2) took the Over-40 Novice win and then came back to take a third in the Over-50 Expert class. Photo: Dan Alamangos
Over-40 Expert: Mike Carter…2-1
Over-40 Intermediate: Brian Calhoun…1-1
Over-40 Novice: Pete Vetrano…1-1
Morgan Pierce (3) won the Over-50 Novice class over a top three of Kevin Weston and Lamont Dusseau. Photo: Debbi Tamietti
Robert Reisinger (96) won the Over-50 Expert class with a 4-1. The rider next to him, Ron Shuler (33) was second with a 3-2. Photo: Dan Alamangos
Over-50 Elite: Jon Ortner…2-1
Over-50 Expert: Robert Reisinger…4-1
Over-50 Intermediate: Dirk Davidow…1-1
Over-50 Novice: Morgan Pierce…1-1
Lars Larsson liked Dicks Racing hopped-up KTM 300XC-W TPI so much at the last REM race that he asked Jody if he could race MXA's stock Husqvarna TE300i fuel-injected two-stroke. He must have liked it also because he won both motos of the Over-65 Expert class. Photo: Debbi Tamietti
BRAND BREAKDOWN AT REM THIS WEEK
1. Yamaha…37%
2. KTM…29%
3. Husqvarna…17.5%
4. Honda… 7.5%
5. Kawasaki …5%
6. Suzuki…2%
7. TM…2%
This week was a resounding success for Yamaha and  Husqvarna. Yamaha had the biggest advantage over KTM that it has shown this year (normally they are with 1 or 2 points of each other) and Husqvarna moved up from fifth on average to third by a healthy margin over Honda, Kawasaki, Suzuki and TM.

Dave Eropkin (811) and Joe Pena (911) are not followed by 711 in the Over-60 Expert class. Photo: Dan Alamangos
Over-60 Expert: Dave Eropkin…2-1
Over-60 Intermediate: T. V. Homes…1-1
Over-65 Intermediate: Lars Larsson…1-1
Josh Fout (78) raced Ivan Tedesco's Pro Circuit Husqvarna TC125 to a two-moto sweep of the 250 Novice class. It is a 42-horsepower, Mitch Payton-built tiddler with Pro Circuit's coil spring conversion on the AER air forks.  Photo: Dan Alamangos
250 Beginner: Tyler Rich…1-1
450 Beginner: Jacob Wondolowski…1-1
250 Novice: Josh Fout…1-1
Brandon Woods (11) had an easy time on his way to the Vet Novice victory. Photo: Debbi Tamietti

Vet Novice: Brandon Woods…1-1
Vet Beginner: Chris Arellano…1-1

Nick Reisinger has been learning how to race on a used Honda XR100, but dad bought him a 2019 Husqvarna TC85 this week. He rode his first two-stroke race with gusto. Photo: Debbi Tamietti
65 Novice: Anthony Keasey…1-1
85 Beginner: Isaiah Wilson…1-1
85 Novice: Zane Harvey…1-1
150F Beginner: Madison Miller…1-1
Anthony Keasey (115) was the 65 Novice winner. Photo: Debbi Tamietti
Ralf Schmidt (73) and Jonathan Levey (156) leave enough room for a slice of bread between them. Photo: Debbi Tamietti

AGE BREAKDOWN AT REM THIS WEEKEND
Under-30 years old…20%
30 to 39 years old…3%
40 to 49 years old…25%
50 to 59 years old…26%
60 and up years old…19%
% over 50 years old…50%
When the old water tank on top of Mt. Whitney fell down the backside of the hill two weeks ago, Glen Helen replaced it with a lower profile tank to keep the heavy winds at Glen Helen from toppling this one. Photo: Dan Alamangos

Ford Heit does a fly-by. Photo: Jon Ortner
Hawaiian David Dabin moves some dirt on his way to the 250 Intermediate win. Photo: Debbi Tamietti
David McCarthy (519) and Chris Arellano (2). Photo: Debbi Tamietti
Phil Dowell (23) has been healing up for awhile, but felt that he was ready this weekend. Phil finished third in the Over-50 Elite class. Photo: Dan Alamangos
REM races again next Saturday, December 15, followed by the December 22 and December 29. After that the number one rider at Glen Helen will be announced (there are three riders that are so close to each other than it will take to the final race to determine who has the most points after 35 races in 2018). For more info go to REM's facebook page or web page at www.remsatmx.com