REM GLEN HELEN OCTOBERCROSS: A CANADIAN, BRAZILIAN AND BRIT WALK INTO A BAR
Mitchell Oldenburg swept both moto of the 450 Pro class. Photo: Debbi Tamietti
Photos by Debbi Tamietti, Jon Ortner & Mark Chilson

Although most of the buzz about the Annual REM Octobercross race is based on the fact that it is held at Glen Helen Raceway 7 days before the Dubya World Vet Motocross Championship, it isn't a Vet-only motocross race. It is instead a unique mix of young and old; aspiring AMA Pros; former National stars, 50-year-olds reliving their childhoods; And a big, long, steep, rough and rutted track that tests the tough and cracks the weak.

Getting the holeshot can be a blessing or curse. Robbie Carpenter (132) hit the wet spot on the side of the track and careened through the infield. He went down hard in the Over-50 Intermediate class. Photo: Mark Chilson
REM's Frank and Myra Thomason hold the Octobercross every year. It is immensely popular because it promises to have lots of talent, lots of highlights and a few thrills and spills. It is chance to see old school Saddleback Specialists battle with Indian Dunes guys, while riders from Europe, South America, Asia, Canada and the 50 states try to spoil the SoCal reunion.
This hill leads riders up 22 stories to the top of Mt. Saint Helen. From there, they plunge back to the bottom. Photo: Debbi Tamietti
WHO WAS RACING AT THE OCTOBERCROSS RACE?
The list of riders at this past weekend's Octobercross race included former GP star Kurt Nicoll; Australians Mike Reefman and Barry Surawski; MXA's Dennis Stapleton; AMA National star Mitchell Oldenburg; 6D's Robert Reisinger and Bob Weber; Japanese Champion Iso Ida; Swede Tobias Ring; Oklahoma's Trey Jorksi; former Baja star Bob Rutten; New Zealand's Tony Cooksey; KTM's Tom Moen; Ireland's David O'Connor; Hollywood stuntmen Will Harper, Mic Rodgers, Mark Donaldson and Bryan Friday; Mechnixwear's John Caper; Danish Champion Mathias Jorgensen; three-time World Vet Champion Lars Larsson; former CMC #1 Val Tamietti; 2018 Edison Dye Lifetime Achievement Award inductee Jody Weisel; Kuwait Champion Barrak Aljasmi; special effects make-up artist Frank Ippolito; STI Tires' Craig Petersen; TM importer Ralf Schmidt; six-time World Vet Champion Pete DeGraaf from Canada; EKS Brand's Richard Taylor; Troy Lee Designs' Derek Drake; Denmark's Niclas Hallfors, recently retired Los Angeles Police Chief Charlie Beck; Spain's Joaquim Sunol; and Brazil's Richard Berois, Roque Colman and Rogerios Schmitt. And 300 other riders.
Derek Drake leaves a bread crumb trail for chasers to follow in the 450 Pro class, Drake's 2-2 got him second in front of Danish rider Mathias Jorgensen. Photo: Debbi Tamietti
450 PRO
1. Mitchell Oldenburg…1-1
2. Derek Drake…2-2
3. Mathias Jorgensen…3-3
4. Tom Auderson…5-4
5. Richard Taylor…4-7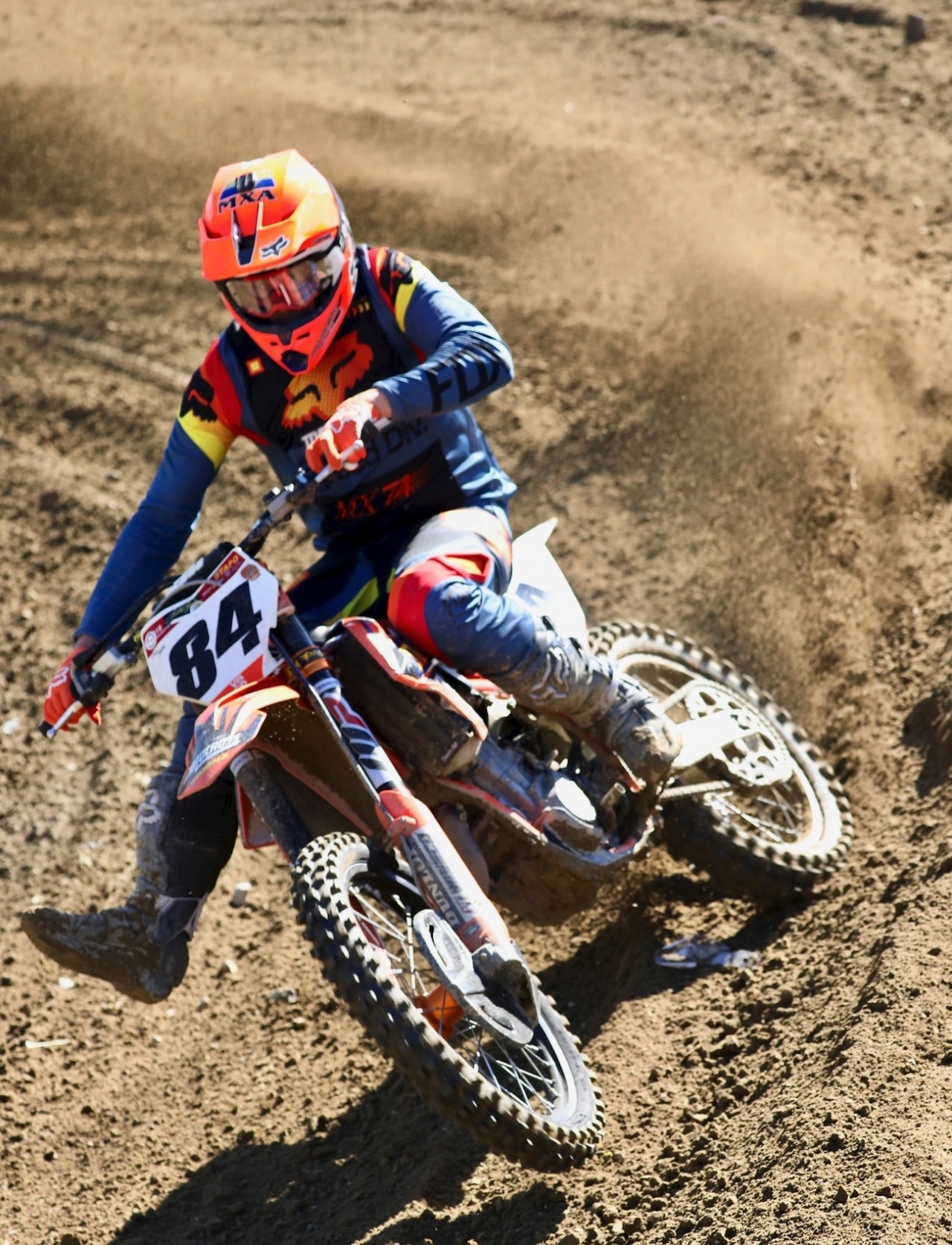 MXA's Dennis Stapleton won the first Vet Pro moto by 10 seconds, but in the second moto he got knocked down three feet out of the starting gate and had to come from last to second—that left him with a 1-2 to Jeff Loop's 2-1. Photo: Debbi Tamietti
All of these many and diverse riders came to race…and race they did. Classes were won by American, British, Dutch, Brazilians, Japanese and Canadian riders. The entries for next weekend's 2018 World Vet Motocross Championship promises to be an major international event as riders from Australia, Sweden, Jersey Island,
Japan, Netherlands, Slovenia, Canada, Finland, Norway, New Zealand, England, Brazil, Mexico, Belgium, Spain, Italy and Ireland. Interestingly enough, Tim Gajser's dad will come from Slovenia to race.
The 60 mph start straight ends with a 45-degree, banked, 180-degree first turn. Photo: Mark Chilson
VET PRO
1. Jeff Loop…2-1
2. Dennis Stapleton…1-2
3. Tobais Ring…3-3
4. Steve Powell…4-4
5. Michael Carter…5-5
Kurt Nicoll is in his 50s, but he won the Over-40 Pro class. Photo: Debbi Tamietti
OVER-40 PRO
1. Kurt Nicoll…1-1
2. Todd Gravitt…3-2
3. Barry Surawski…4-3
4. Mike Reefman…5-4
5. Shawn Bushnell…6-5
Richard Taylor (44) is now a Yamaha racer. He parked his Suzuki to get 5th in the Pro class. Photo: Debbi Tamietti
Bryan Friday (43) was 5th in the Over-50 Expert class, Loren Pochirowski (737) was fourth and Pasha Afshar (L7) 9th. Photo: Debbi Tamietti
Lars Larsson flew in from Sweden to get in a warm up race before the World Vet Championship. Lars is a three-time Vet World Champion, winning his first title in 2001 when he was a young 61 years old. Photo: Debbi Tamietti

OVER-40 EXPERT
1. Ralf Schmidt…2-2
2. Chuck McCarty…4-1
3. Mike Carter…3-3
4. David Cincotta…6-5
5. Robert Reisingner…5-7
Mike Marian is still recovering from his Mammoth Mountain injuries. No, it was not a head injury, this is just the way he dresses normally. Photo: Debbi Tamietti
Plastic surgeon Joaquim Sunol came from Barcelona to race the Octobercross and the World Vet. He went 12-4 for 9th in the Over-50 Intermediate class…a 4-4 would have given him third overall. Photo: Debbi Tamietti
   
Pete Degraaf (16) won the Over-50 Elite class, but he didn't lead every lap. He had to run down Jon Ortner (10) in moto two. DeGraaf has won six World Vet Championships and is 63-years-old. Photo: Debbi Tamietti
OVER-50 ELITE
1. Pete DeGraaf…1-1
2. Jon Ortner…3-2
3. Luther French…2-5
4. Bob Weber…5-3
5. Rob Engel…6-4
Janae and son Senna enjoy a moment with the third place Octobercross trophy. Photo: Debbi Tamietti
There were a lot of two-strokes at the Octobercross. Here, Marc Crosby glides over the ground. Photo: Debbi Tamietti
Pasha Afshar. Photo: Debbi Tamietti
OVER-50 EXPERT
1. Rick Ellis…2-1
2. Robert Reisinger…1-2
3. Giovanni Spinali…3-4
4. Loren Pochirowski…5-5
5. Bryan Friday…4-7
1986 Japanese 125 National Champion Isao Ida regularly runs at the front at the World Vet Championship, but has always been denied a victory. His 1-1 sweep in the Octobercross' Over-60 Expert class makes him a favorite for next week. Photo: Jon Ortner
Oklahoma's Trey Jorski, open face helmet and all, found Isao Ida a little too fast, but Trey went 2-2 in the high-profile Over-60 Expert field. Photo: Jon Ortner
Baja Champ Bob Rutten (83) and Saddleback hero Val Tamietti (31) ran this close during the whole second moto of the Over-60 Experts. Val's 4-3 best Bob's 6-4. Photo: Debbi Tamietti
OVER-60 EXPERT
1. Iso Ida…1-1
2. Trey Jorski…2-2
3. Val Tamietti…4-3
4. Bob Rutten…6-4
5. Tony Cooksey…5-4
Bob Pocius (153) wheelies his way through Glen Helen's sand section. Photo: Debbi Tamietti
Will Harper (7) gets it wrong over a small jump. Harper went 3-7 in the Over-60 Experts for sixth overall. Photo: Debbi Tamietti
250 NOVICE
1. Kallen Sibert…2-1
2. Connor Styers…5-2
3. Ethan Olsen…7-3
4. Lucas Alpaugh…6-5
5. Connor Mullin…1-12
Bradley Cole (14) works over a deep berm on his way to the 450 Novice win. Photo: Debbi Tamietti
450 NOVICE
1. Bradley Cole…2-1
2. Travis Stake…1-2
3. Bararak Aljasmi…3-3
4. Kiel Mattsson…4-5
5. Garrett Circocco…8-6
These two guys were celebrating an anniversary at the 2018 Octobercross. Dr. Joaquim Sunol (left) drove Jody Weisel (right) to the hospital after Jody's massive crash on Mt. Saint Helen on this exact day 12 months ago. It's nice to have a doctor in your pits. Photo: Debbi Tamietti
VET NOVICE
1. Chris Ayers…1-1
2. Caleb Rice…2-3
3. Barrak Aljasmi…5-4
4. Jake Stien…4-4
5. Dal Sabach…6-5
John Allen (right) takes care of the prep on all of Glen Helen's race tracks—and has to be patient when every rider at the race tells him what he could change to make their lives easier. Photo: Jon Ortner
OVER-40 NOVICE
1. Rick Flores…2-1
2. Daniel Dossenbach…1-2
3. Chad Jeffrey….3-3
4. Ralf Kuppinger…4-4
5. Remo Denardo…8-5
The rider's meeting. Photo: Jon Ortner
OVER-50 NOVICE
1. Francisco Arauso…2-1
2. Rogerio Schmitt…1-2
3. Peter Freight…4-3
4. Vince Ctawley…6-4
5. Bruce Richards…3-8
Kurt Nicoll (2) being chased by former AMA Pro Billy Joe Mercier. Photo: Debbi Tamietti
REMAINING 2018 REM MOTOCROSS RACES
Nov. 3-4…Dubya World Vet Championship (National track)
Nov. 17…Glen Helen, CA
Dec. 8…Glen Helen, CA
Dec. 15…Glen Helen, CA
Dec. 22…Glen Helen, CA
Dec. 29…Glen Helen, CA
Irish racer David O'Connor unloads his race bike while wearing his warmest jacket, just in case a Dublin wind blows in off the sea. Instead, it was 90 degrees. Photo: Debbi Tamietti
MOST POPULAR MOTORCYCLE BRAND AT REM THIS WEEKEND (BY PERCENTAGE)
1. KTM…33%
2. Honda…23%
3. Yamaha…22%
4. Kawasaki…12%
5. Husqvarna…6%
6. Suzuki…2%
5. TM…2%
This weekend's brand breakdown showed that KTM had 33% of the riders at the Octobercross. KTM holds a solid lead over Honda and Yamaha —who had 23% and 22% respectively. Kawasakis was fourth with 12%. Husqvarna was at 6%, while Suzuki and TM were at the tail end of the brand breakdown for this week.
Ford Heit swept both motos of the 250 Intermediate class. Photo: Mark Chilson
FIVE BIGGEST OCTOBERCROSS CLASSES
1. Over-40 Novice class
2. Over-50 Novice class
3. Over-50 Intermediate class
4. Vet Novice class
5. 250 Novice class
Rene Garcia (69) and Derek Drake (33) log a little pilot time. Photo: Debbi Tamietti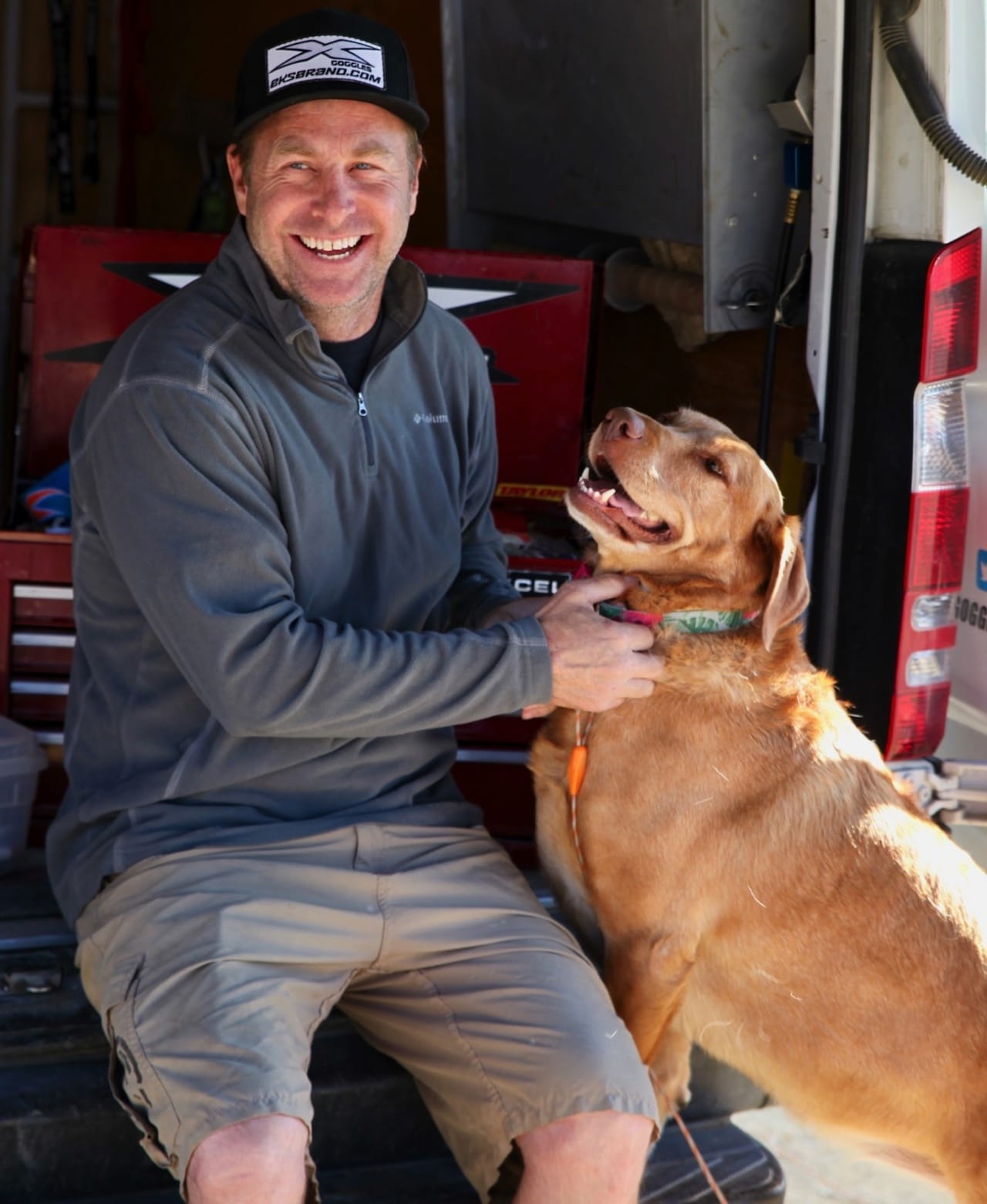 EKS Brands' Rich Taylor and friend. Photo: Debbi Tamietti
Halfway to the the first turn, Robert Reisinger (96), Kurt Nicoll (2), Jeff Loop (229), Dennis Stapleton (84), Mike Reefman (6) and Steve Powell (102) lead the charge. Photo: Mark Chilson
Randy Skinner may only have one good arm, but that didn't stop the injured racer from helping to water the track. Photo: Debbi Tamietti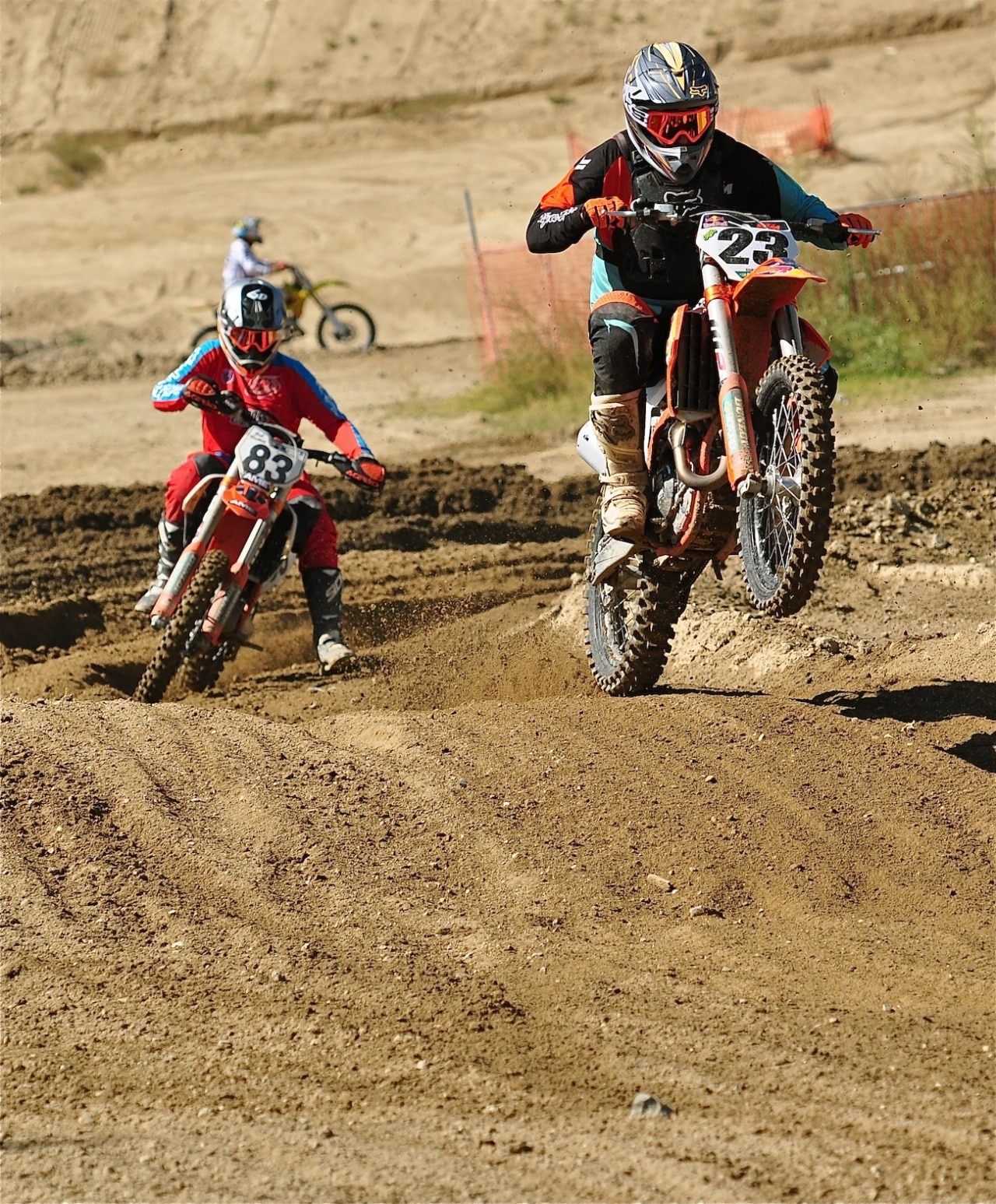 KTM's Tom Moen (23) came out of retirement to race the Over-60 Expert class at Octobercross. Here, Tom leads fourth place finisher Bob Rutten. Photo: Mark Chilson
Next weekend is the 2018 Dubya World Vet Motocross Championships—which is on November 3-4, but has practice days on Thursday, Nov. 1 and Friday, Nov. 2. REM races again at Glen Helen on November 17, 2018, and in four of the five Saturday's in December (Dec. 8, Dec. 15, Dec. 22 and Dec. 29). For more info on REM Motocross go to their facebook page or web page at www.remsatmx.com