REM GLEN HELEN: THE REM RACE THAT WASN'T

Click on images to enlarge
Jon Ortner never even unloaded his bike. Instead, he just kept asking the other 11 guys, "Can I ride your bike?" Amazingly, they let him. He rode four different bikes.
By no means was this weekend the typical REM motocross race. Because of Glen Helen's position at the base of a canyon the locals like to joke that "there are only two seasons at Glen Helen—windy and hot." However, when the Santa Ana winds blow it can be both windy and hot. It was in the mid 80s with winds predicted as high as 40 mph.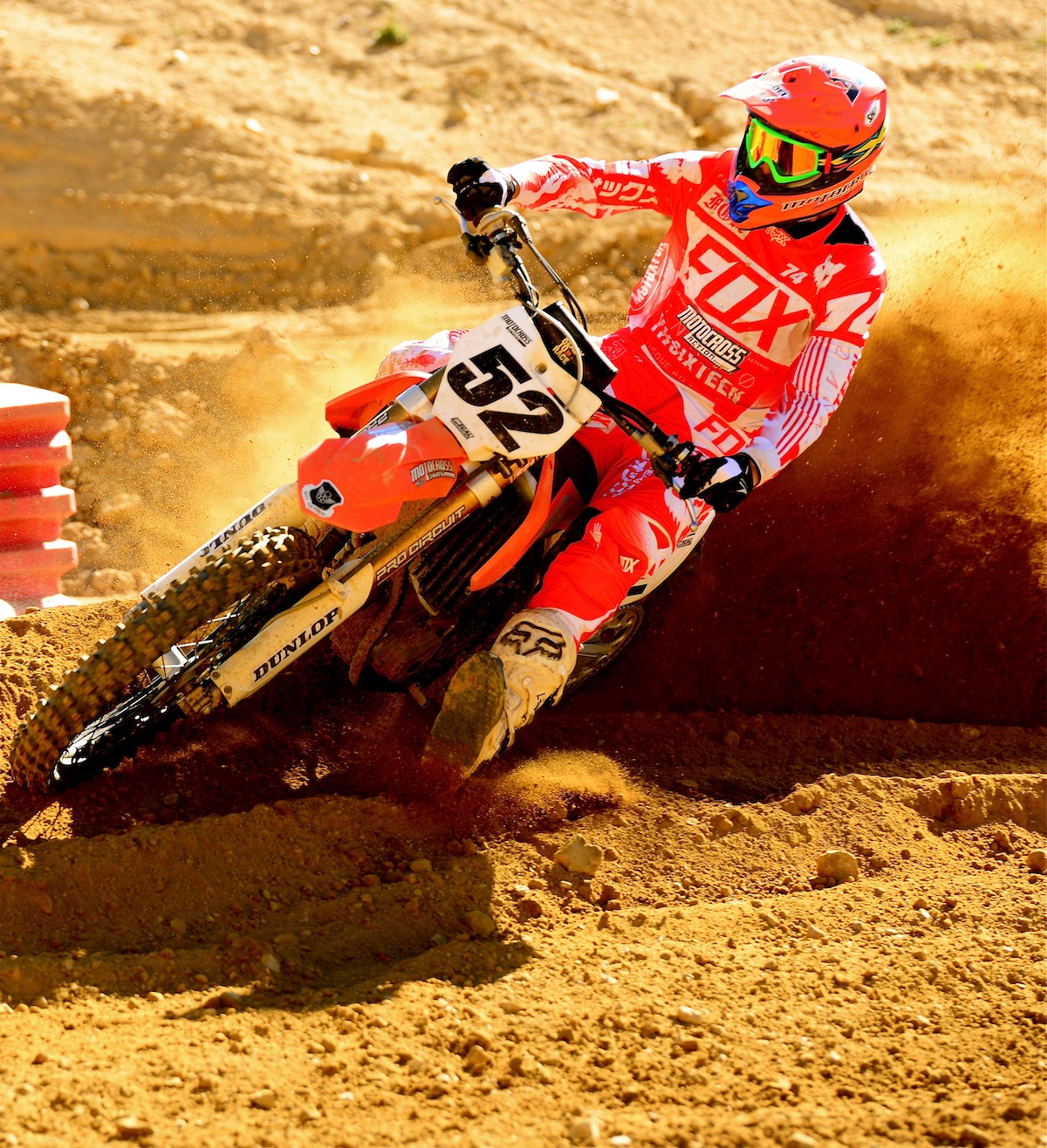 John Perry drove from Durango, Colorado, to race REM, so, when it was canceled he was bummed. It all worked out in the end because here he is blowing up a berm at the non-REM race on MXA's Showa A-kit suspended KTM 350SXF.
Hollywood stuntman Will Harper is headed to Atlanta next week to spend 6 months working on "Guardians of the Galaxy 2." He didn't want to miss any chance to ride with his friends.
And that is what this weekend's REM Glen Helen motocross race held in store for the SoCal racers. However, while working on the track on Friday and reading NOAA weather reports, REM promoter Frank Thomason realized that he was fighting a losing battle against the gusty winds—so, he canceled the Saturday REM race out of fear that the riders would be blown off course (and because the LifeFlight helicopter could not fly in the predicted 40mph winds). For safety reasons, Saturday's November 21 REM race was called off on Friday afternoon.
This is Aussie Dan Alamangos on MXA's WP Cone Valve suspended Honda CRF450. When he wasn't out riding, he was shooting photos of the massive 12-rider REM turnout.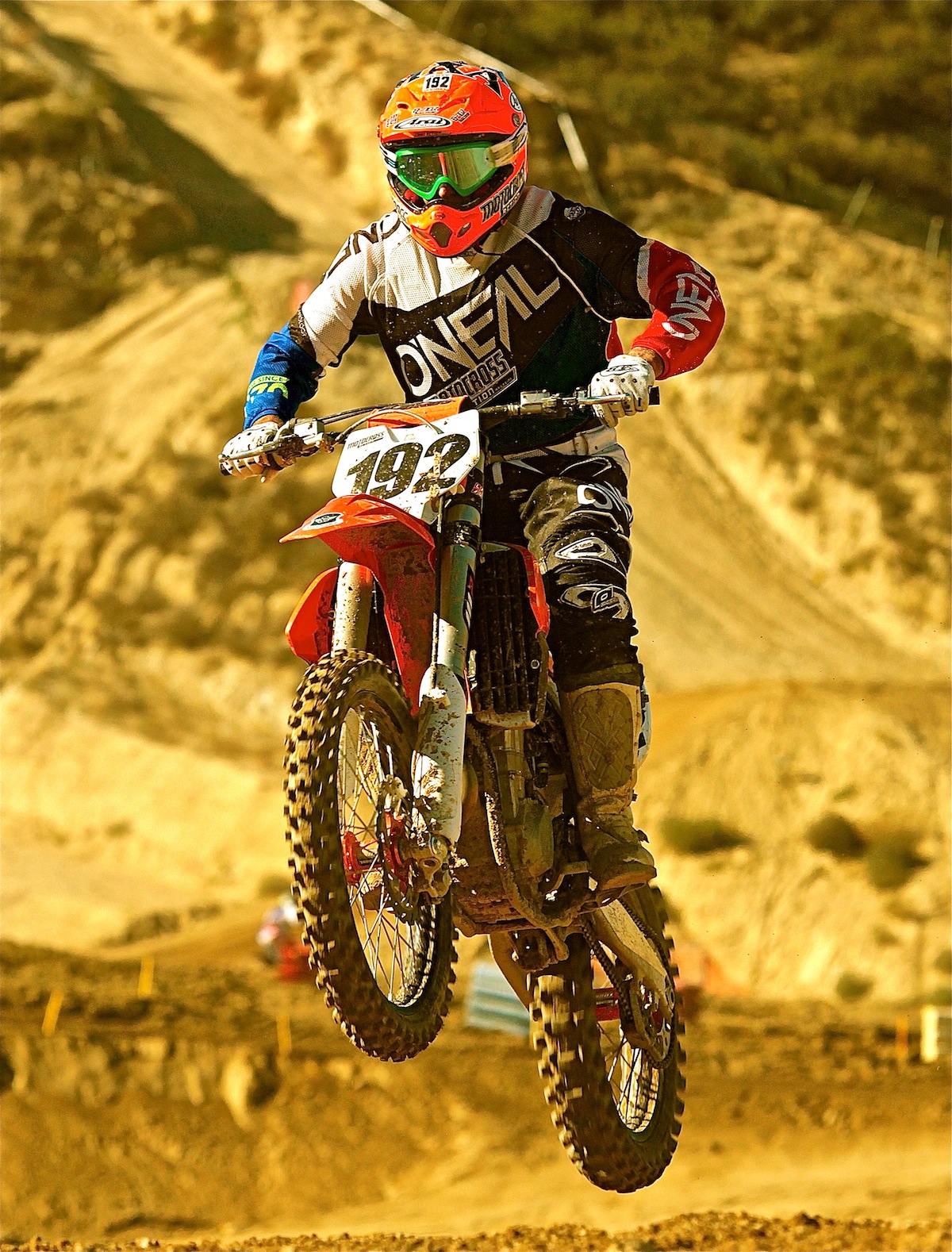 Jody Weisel never misses a race and he wasn't about to let a race go missing. Plus, he had some testing to do, an empty track and more than a few willing test riders. 
With no race, high winds and hot temperatures, virtually every REM racer unloaded their gear bags and stayed home on Saturday. But not everybody. As the sun rose over Glen Helen on Saturday morning a small cadre of trucks pulled into the empty upper-deck REM pits. They ended up being a select few. They ignored the wind warnings and came to Glen Helen because they didn't want to sit at home. They came to race — no matter that the race had been canceled and that there were no track personnel working on getting the course ready to ride on.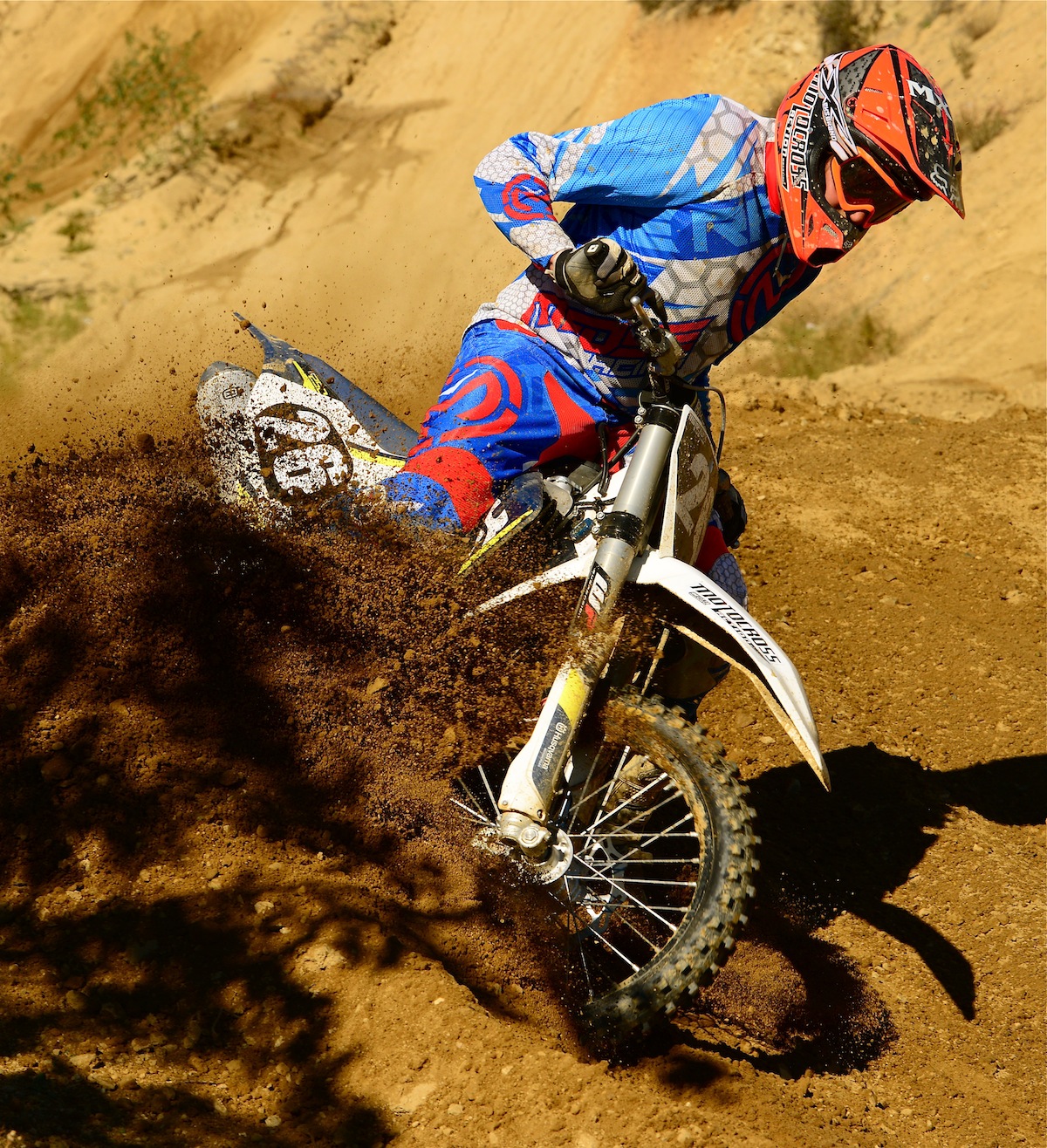 Only a brother would stand on the outside of a turn when Chris Alamangos is coming into it. By our count Chris misses the apex 3 out of 5 times, but Dan Alamangos stood his ground and shot this photo to prove it.
Tom White of White Brothers fame was a Grand National Dirt Tracker before he saw the light. Once he traded his Harley XR750 in for a motocross bike he never looked back.
No problem! After the 12 riders unloaded their bikes they split off into small groups. Since Frank Thomason had graded and ripped the REM track on Friday before calling the race off, the men dragged fire hoses to the highest hills and began watering the track. It took about an hour for them to get the complete layout race ready. There were a few places where the track was a little cobby, but they found guy with a Yamaha side-by-side to drive back and forth through the deepest mud and break up the largest chucks of dirt (since it would take 12 riders a long time to break-in new lines that are normally built by 150 riders in a normal practice).
Randel Fout is a surfer who lives on a boat in the harbor. He may be laid-back, but not when he's on a bike.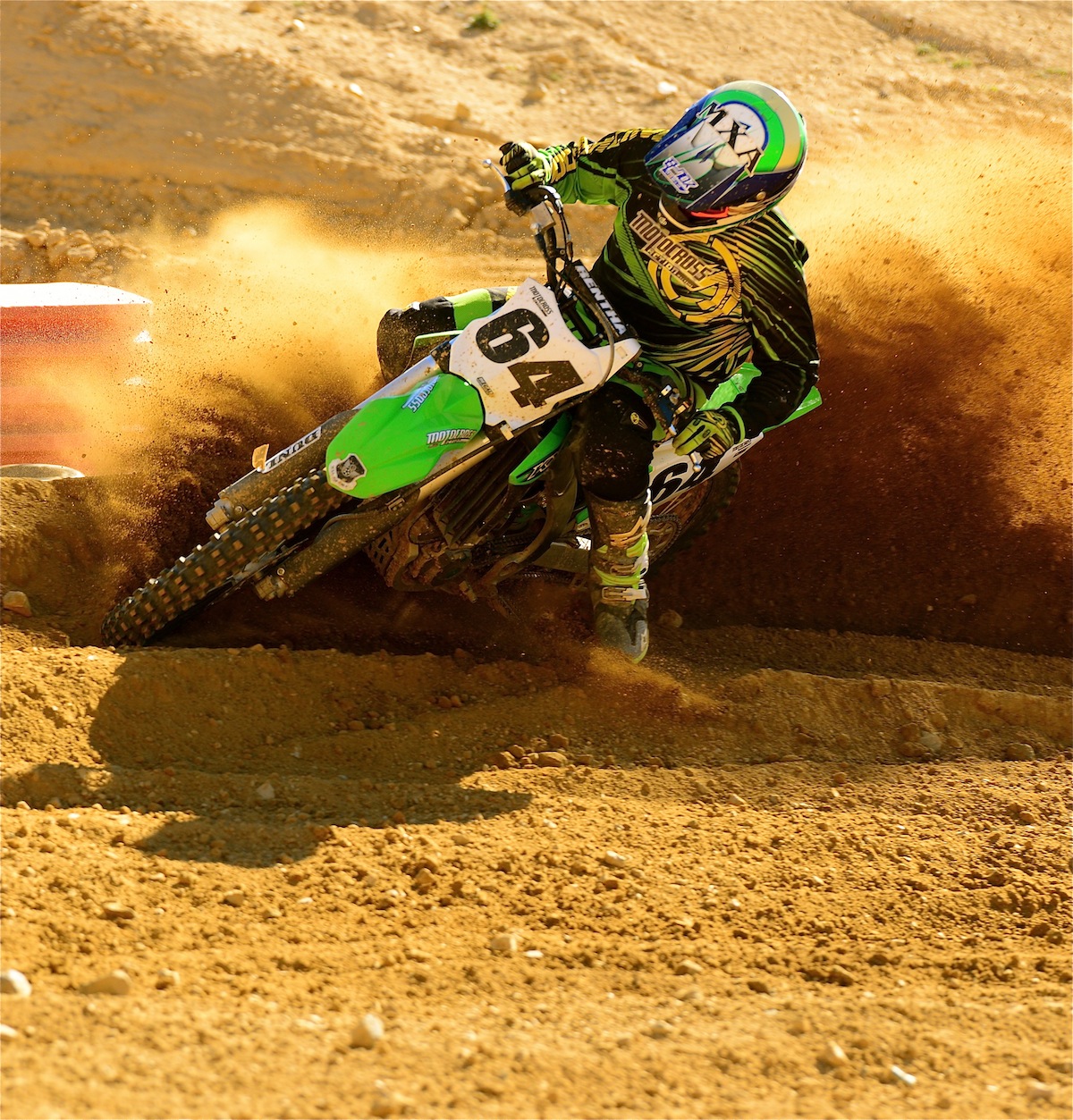 Josh Fout is Randel's son. He is working his way up through the ranks and improving with each race. On Saturday he was able to focus on bermshot 101.

When they were done watering the track, working out the kinks and using quads to break up the big dirt clods, they started riding. Was it windy? Yes. The U. S. Weather Service reported the winds at Glen Helen at the time that the 12 riders had finished working on the track as steady at 15 mph, but gusting to 24 mph. It didn't bother the dozen riders. The REM track is tucked up against some massive hills and isn't as affected by winds as the USGP track, which is directly lined up with the canyon above it.
Gene Boere is another of REM's large Over-60 Expert race contingent. He is a loyal KTM racer and owns four of them and is considering buying a 350SXF next.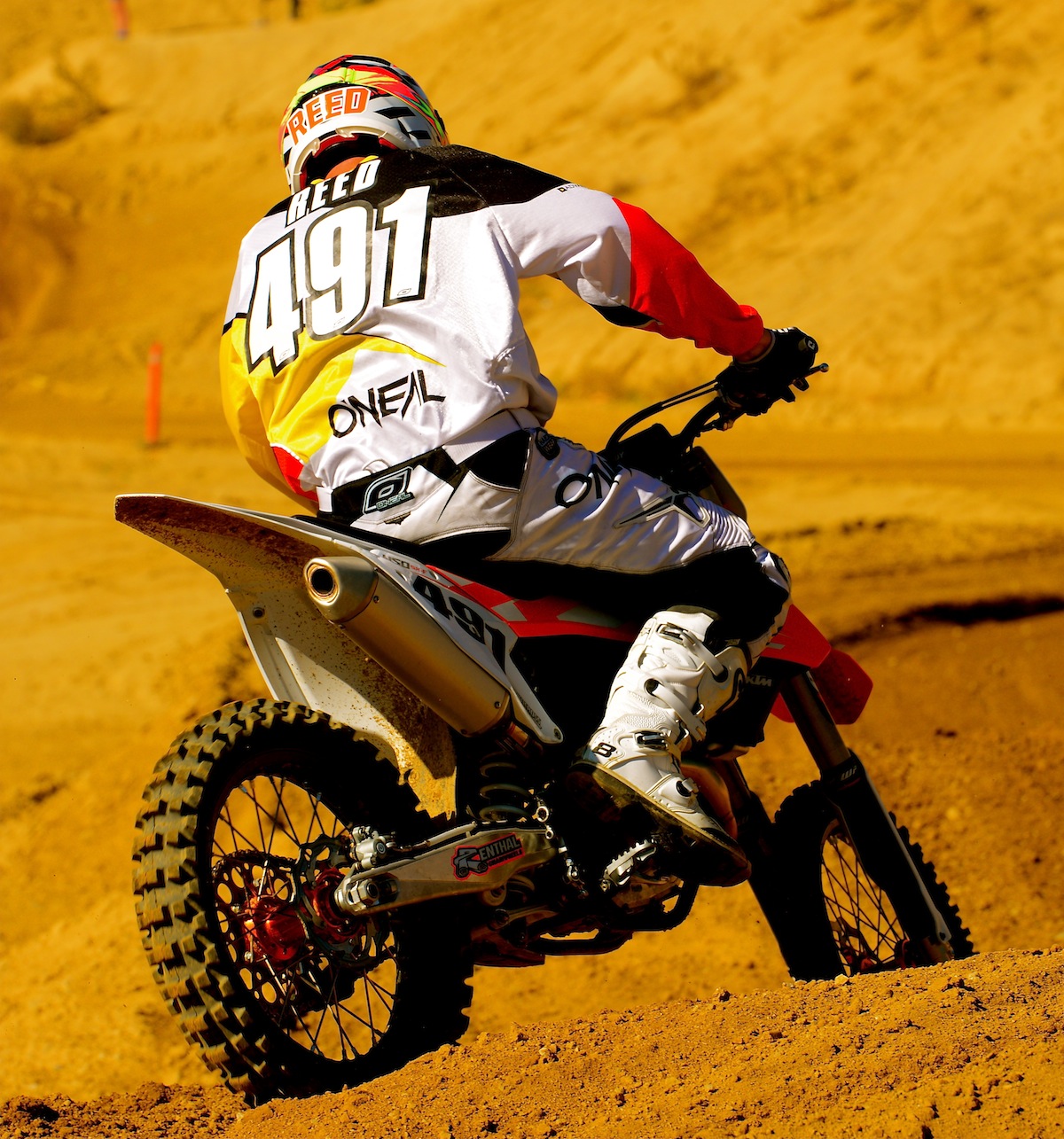 Kent Reed (491) didn't have to worry about Jon Ortner borrowing his 2016 KTM 450SXF because Kent towers over the average rider and weighs about 30 pounds more than Jon—thus the rear suspension wouldn't move for Jon.
As the riders hammered out laps, swapped bikes and fiddled with their settings, they realized that they had been at REM just as long as they would have been if the race had been held. So, they did what all racers do when the race is over — they loaded up and headed to a local restaurant to swap tales.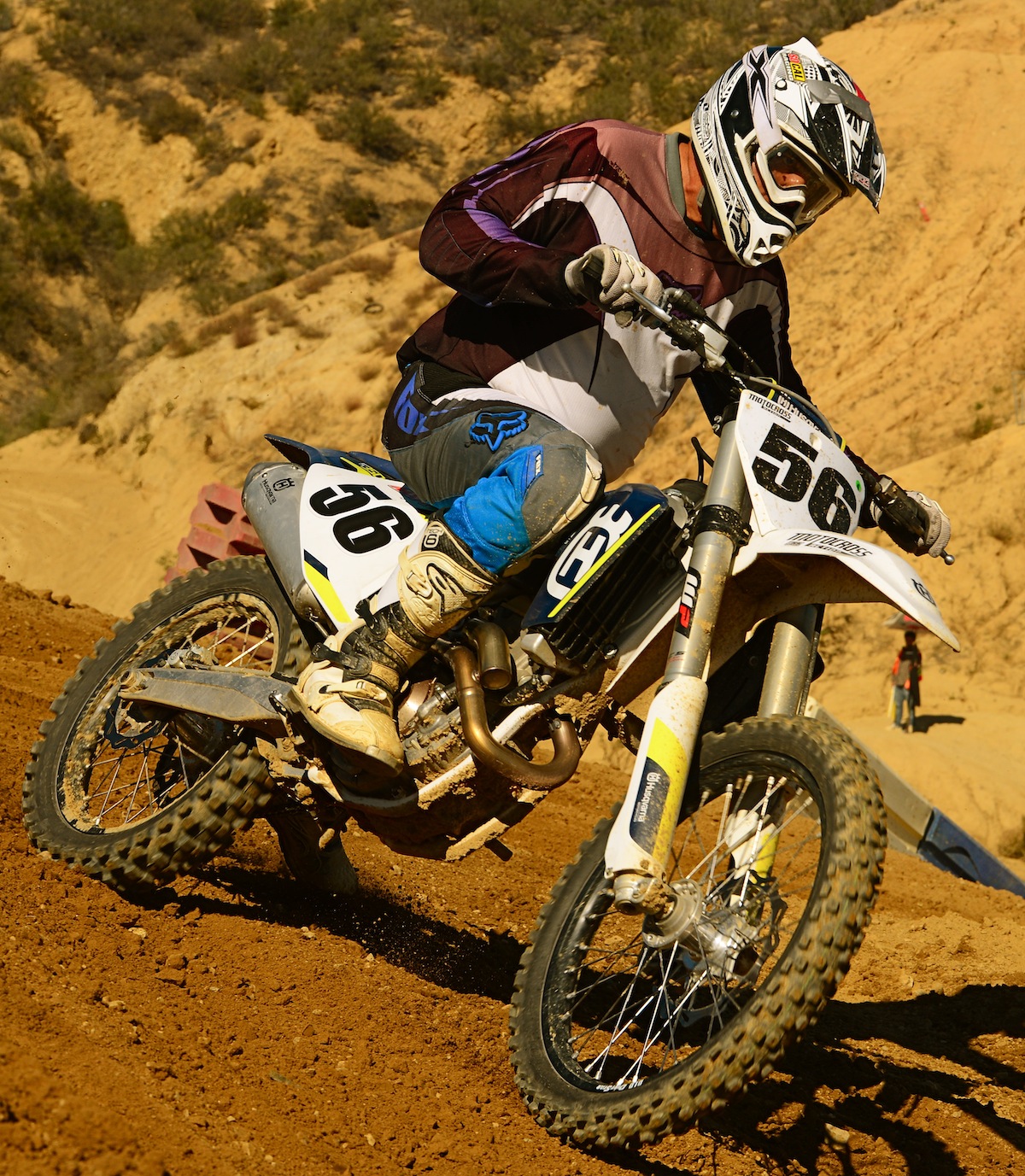 Roland Rodriquez's brother Randy won the 1986 World Vet Championship and now works for Robbie Gordon's race car team. Roland quit racing back in the Maico days, but started up again in 2015 after a 20-year break. Roland actually brought his 1983 Maico 490 out to race and did pretty well on it until he was tempted by modern technology.
Because of this weekend's Day In The Dirt race, REM will not race until the following Saturday, December 5. For more info on REM go to www.remsatmx.com