ROMAIN FEBVRE WINS FIFTH GP IN A ROW, BUT ONLY GAINS ONE-POINT ON PRADO
450 CLASS: Romain Febvre won his fifth consecutive 450 GP win in a row with a 1-2, but he still only gained one point on Jorge Prado (because Prado got maximum points in the Saturday's Qualifying race and went 3-1 on Sunday). Jorge Prado left Finland with a 98-point lead over Febvre with five GPs to go.
Romain Febvre is now winningest 450 GP rider, but that won't mean a thing if he doesn't win the World Championship.
Jeffrey Herlings was racing again and had an 8-4 day when he suffered from reoccurring goggle issues and had to pull into the Goggle Lane to get a new set.
250 CLASS:
In the 250 class it looked like Jago Geerts was going to catch and pass points leader Andrea Adamo in overall points, but Jago crashed into a fallen Fantic rider and had to pull out of both motos in Finland (with a suspected broken collarbone for the second time in 2023).
Red Plate holder Andrea Adamo was in danger of losing the 250 points lead to Jago Geerts, but not after Finland.

KTM's Andrea Adamo rose to the occasion and went 1-1 in the 250 class with Simon Laegenfelder second, Liam Everts third and Lucas Coenen fourth.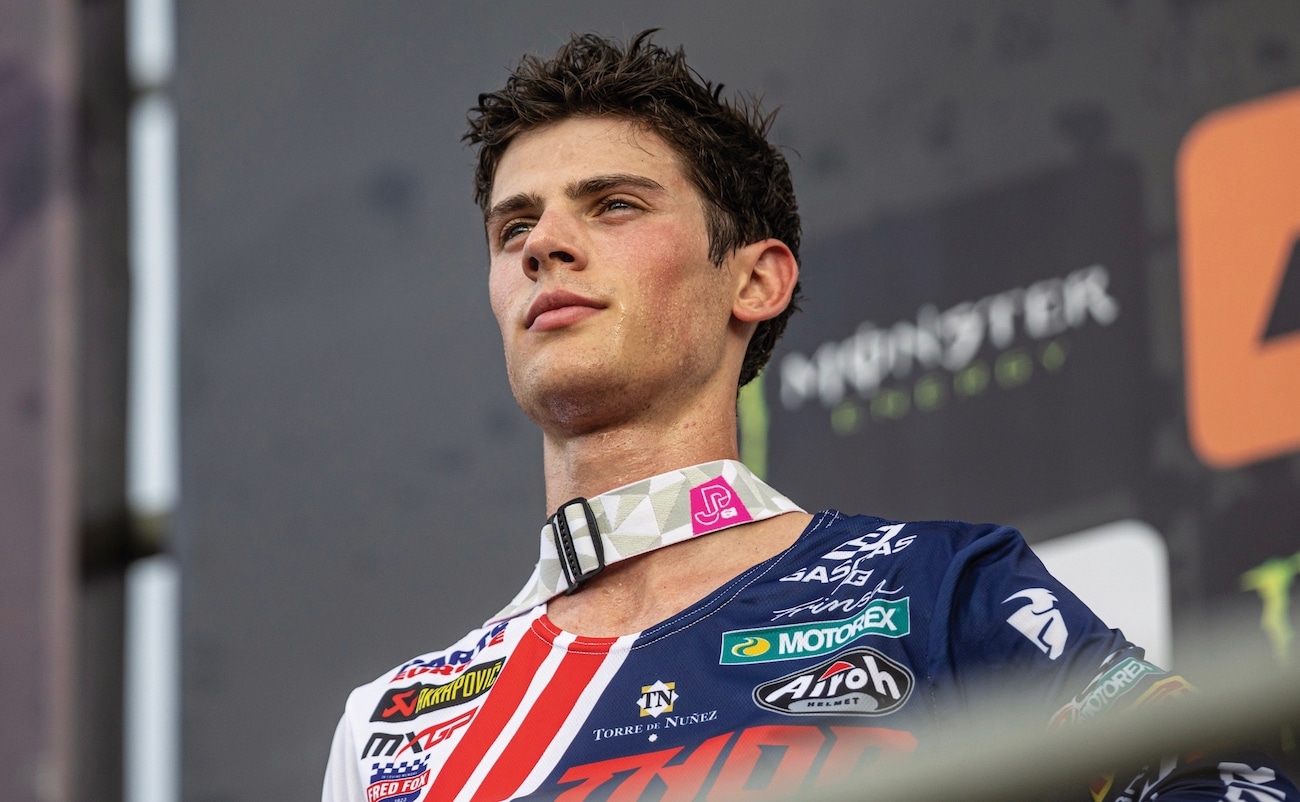 Jorge Prado has a 98-point lead over Romain Febvre for two reasons: (1) Jorge manages to split moto wins with Febvre to keep the GP points close and (2) Jorge has won the majority of Saturday's Qualifying races (and has earned 113 points on Saturday's alone).
450 WORLD CHAMPIONSHIP POINTS STANDINGS
(After 14 of 19 rounds)
1. Jorge Prado…720
2. Romain Febvre…622
3. Jeremy Seewer…550
4. Glenn Coldenhoff…525
5. Ruben Fernandez…489
6. Calvin Vlaanderen…477
7. Jeffrey Herlings…418
8. Alberti Forato…350
9. Valentin Guillod…276
10. Benoit Paturel…204
250 WORLD CHAMPIONSHIP POINTS STANDINGS
(After 14 of 19 rounds)
1. Andrea Adamo…619
2. Jago Geerts…559
3. Liam Everts…532
4. Kay de Wolf…501
5. Simon Laengenfelder…492
6. Thibault Benistant…462
7. Lucas Coenen…461
8. Roan Van De Moosdijk…433
9. Kevin Horgmo…395
10. Jan Pancar…273
\