MXA WEEKEND NEWS ROUND-UP: THE SHRAPNEL IS FLYING

WHAT THE LOSS OF DUNGEY MEANS FOR THE 450 CLASS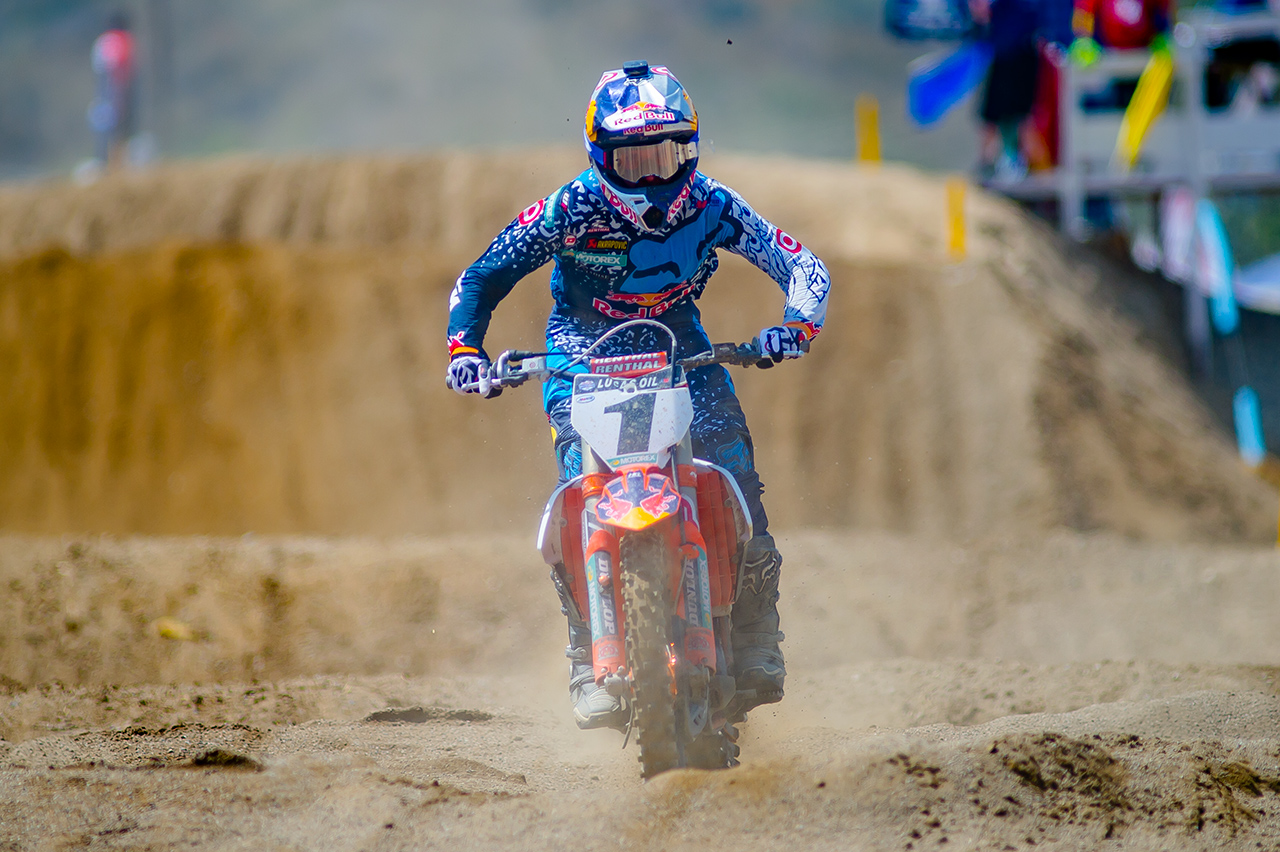 Ryan Dungey.
Ryan Dungey's departure from the AMA 450 Nationals, following his crash at Thunder Valley, which he got up from and finished, doesn't really change the complexion of the 450 title chase. Over the first three races, leading up to this week's break in the series, Ken Roczen has owned the class. Even though he didn't win Glen Helen after his forks went flat in moto one, he wa swinning when the air went out. Even with Roczen clicking off wins, Ryan Dungey was right where he wanted to be. Ryan's go-to strategy is no secret. His game plan is to always to make the podium, win when he can and wait for disaster to befall his competition. It is a great strategy and it has worked well in the past. But, this time disaster got Ryan. Let's not shed any tears for Ryan, the National fans are the big losers. Ryan already earned enough money in 2016 alone to pay himself $100,000 a year for the next 40 years. The fans are the ones to cry for—they don't get to see Ryan, Eli and Ken duel it out over the next 9 rounds.
Obviously, with Ryan gone for a few weeks (losing as many as 50 points for every race he misses), Eli Tomac will be elevated to prime contender status. Its ironic that he was the odds-on favorite to be the 450 Champion before the season started, but now he's relegated to the guy who has the best chance of catching the guy who is leading the points. Eli is currently 29 points behind Ken Roczen and 17 points behind Ryan Dungey. That's a long way back. The points spread means that Roczen can afford to DNF one moto and still maintain a 4-point lead over Tomac when the season picks back up at Mt. Morris on June 18. Only Dungey (17 points), Tomac (29 points) and Canard (46 points) are within two motos of Roczen. If you extend it out to three motos behind Kenny, you can add Cole Seely (54-points back), Josh Grant (55-points back) and Jason Anderson (70-points back). After that we aren't talking about contenders for the title—although they still could be contenders to win a race.
Now, much like how Los Angeles' TV weathermen make a big deal out of any rain shower by calling it "Storm Watch 2016," the sport is on "Disaster Watch 2016." It's sad to say, but to get the excitement back, Kenny has to falter…at least once. And, Eli has to find the mojo he had in 2015.
AT A GLANCE: 2016 AMA NATIONAL CHAMPIONSHIPS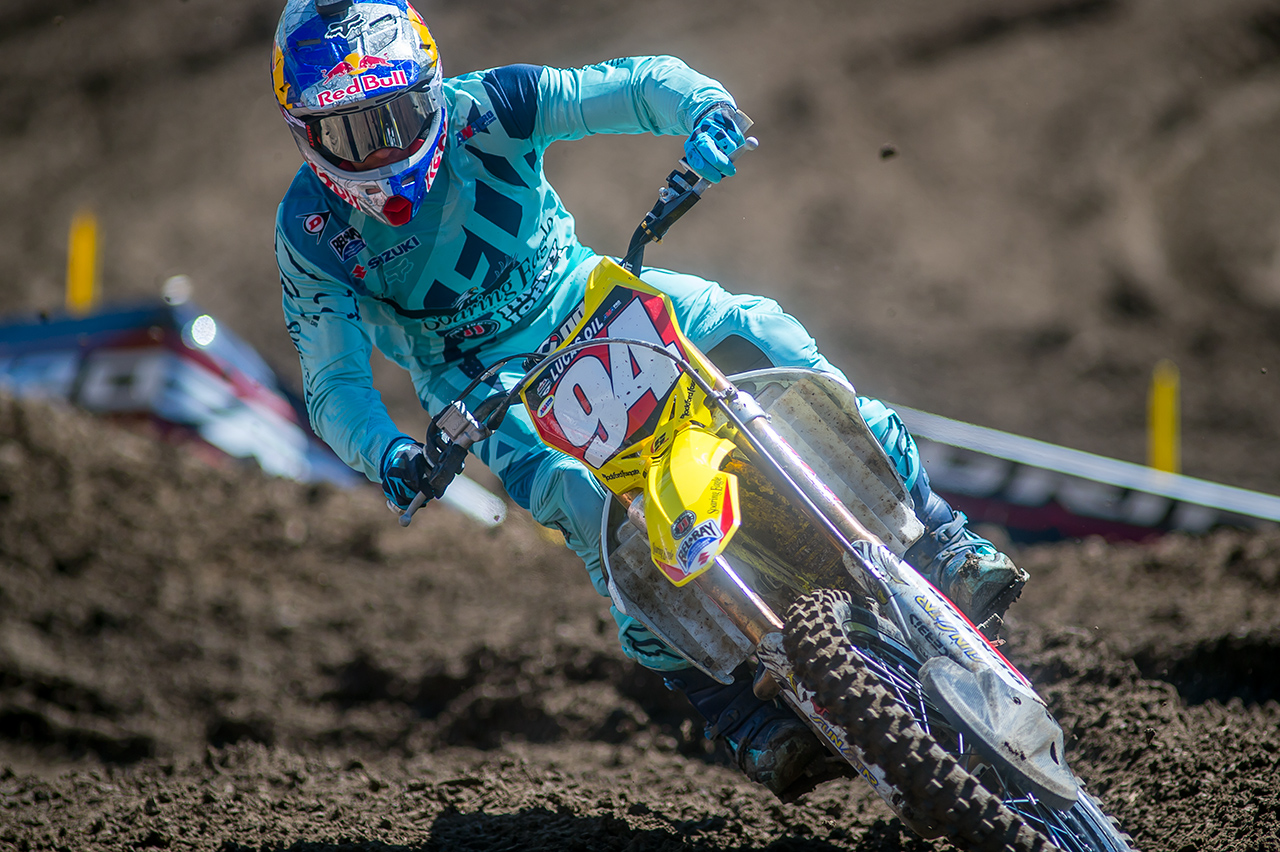 The AMA Nationals take a week off on June 11, but will be a Pennsylvania on June 18. Ken Roczen can gain or lose any points in the interim.

Date             Venue                                        450                                      250
May 21…Hangtown, CA………..Ken Roczen……………Joey Savatgy
May 28…Glen Helen, CA………Ryan Dungey………….Alex Martin
June 4…Thunder Valley, CO…Ken Roczen……………Joey Savatgy
June 18..…Mt Morris, PA………..
June 25..…Muddy Creek, TN…..
July 2.…….Red Bud, MI………….
July 9..…….Southwick, MA​……..
July 16….…Millville, MN​………..
July 23.…..Washougal, WA…….
Aug. 13..….Unadilla, NY…………​
Aug. 20..…Budds Creek, MD….​
Aug. 27.….Crawfordsville, IN…
450 Points Leader…Ken Roczen (Suz)
250 Points Leaders…Joey Savatgy (Kaw)
CURRENT AMA NATIONAL POINTS STANDINGS
These are the top three riders so far in 2016 in the 450 class: Ryan Dungey (left), Ken Roczen (center) and Eli Tomac (right).
AMA 450 NATIONAL POINTS STANDINGS
(After 3 of 12 rounds)
1. Ken Roczen…143
2. Ryan Dungey…131
3. Eli Tomac…114
4. Trey Canard…97
5. Cole Seely…89
6. Josh Grant…88
7. Jason Anderson…73
8. Marvin Musquin…64
9. Justin Barcia…62
10. Broc Tickle…50
Micth Payton goe sover data with Arnaud Tonus (left) and Joey Savatgy (center).

AMA 250 NATIONAL POINTS STANDINGS
(After 3 of 12 rounds)
1. Joey Savatgy…123
2. Jeremy Martin…120
3. Alex Martin…114
4. Cooper Webb…110
5. Aaron Plessinger…81
6. Austin Forkner…80
7. Zach Osborne…78
8. Jessy Nelson…65
9. R. J. Hampshire…59
10. Jordon Smith…52
KYOSHI BECKER'S PHOTO OF THE WEEK

The crowd gathering around the podium in Colorado wasn't as big as at other races, but that just made it easier for 250 winner Joey Savatgy to get everyone wet.
THIS WEEK'S BIRTHDAY BOYS: MICHAEL BYRNE IS 37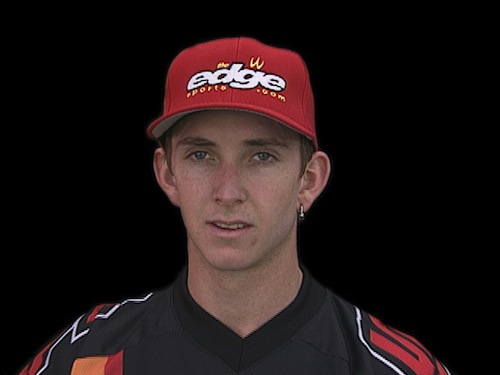 June 10…Michael Byrne 1979
June 12…Randy Hawkins
June 13…Dick Mann 1934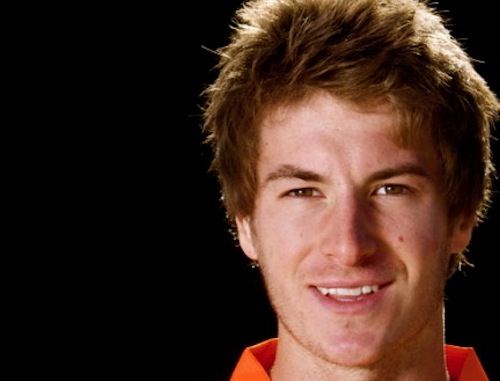 June 13…Tommy Searle 1990
June 14…Keith Johnson 1982
June 14…Nick Evennou
June 14…Jeff Gibson 1982

June 14…Jimmy Button 1973
June 15…Julien Lieber 1994
June 15…Willy Browning


June 16…Jimmy Albertson 1988
June 16…Greg Berg
MOTORCYCLE AD OF THE WEEK: THE "KIT AMERICA" METRALLA

You may only remember Bultaco as a maker of trials and motocross bikes, but many road racers remember the Bultaco Metralla M2 street bike. The "Kit America" version came with a close-ratio gearbox, and different gas tank and bodywork. Metralla is Spanish for "shrapnel."

THIS MONTH RACE SCHEDULE: MAKE PLANS NOW

KURT CASELLI BENEFIT AT DOFFO WINERY
June 11……………………Temecula, CA
2016 AMA NATIONAL CHAMPIONSHIP
June 11..………………….No race
June 18..…………………Mt Morris, PA
June 25.………………….Muddy Creek, TN
July 2.…………………….Red Bud, MI
2016 REM MOTOCROSS
June 12……………………Glen Helen, CA (Sunday)
June 18……………………No race
June 25……………………Glen Helen, CA
July 2………………………Glen Helen, CA (AMA National track)
July 9………………………Glen Helen, CA
July 16…………………….No race
July 23……………………..Glen Helen, CA
2016 FIM MOTOCROSS WORLD CHAMPIONSHIP
June 19…………………….Matterly Basin, Great Britain
June 26…………………….Mantova, Italy

2016 AUSTRALIAN NATIONAL CHAMPIONSHIP
July 3……………………….Nowra, NSW
July 17………………………Conondale QLD
July 31………………………Shepparton, VIC
2016 CANADIAN NATIONAL CHAMPIONSHIP
June 12………………….Nanaimo, BC
June 19………………….Calgary, Alb
June 26………………….Regina, Sask
2016 BRITISH MAXXIS NATIONAL CHAMPIONSHIP
June 12……………………..Desmartin, No. Ireland
July 3………………………..Leucher, Scotland
July 17………………………Blaxhall
2016 AMA VINTAGE MOTORCYCLE DAYS
July 8-10…………………..Lexington, OH
2016 AMA NATIONAL AMATEUR CHAMPIONSHIP
Aug. 1-6……………………..Loretta Lynn, TN
UNITED STATES GRANDS PRIX
Sept. 3……………………..…Charlotte, USA (Saturday)
Sept. 11……………….…..….Glen Helen, USA
2016 MOTOCROSS DES NATIONS
Sept. 25…………………….Maggiora, Italy
2016 DUBYA WORLD VET CHAMPIONSHIP
Nov. 5-6…………………….Glen Helen, CA
MEMORIES OF THE WAY WE WERE: QUADRILATERAALS
No air was involved in the making of these all-aluminum Ribi Quadrilateral linkage forks.

CURRENT FIM GRAND PRIX POINTS AFTER FRANCE

Valentin Guillod is 8th in 450 points and knocking on the door or 7th.

450 WORLD CHAMPIONSHIP POINTS
(After 10 of 18 events)
1. Tim Gajser…432
2. Romain Febvre…408
3. Antonio Cairoli…372
4. Max Nagl…342
5. Evgeny Bobryshev…333
6. Jeremy Van Horebeek…293
7. Shaun Simpson…210
8. Valentin Guillod…208
9. Kevin Strijbos…204
10. Glenn Coldenhoff…184
Benoit Paturel is currently in the 4th place in the 250 World Championships.

250 WORLD CHAMPIONSHIP POINTS
(After 10 of 18 events)
1. Jeffrey Herlings…497
2. Jeremy Seewer…363
3. Pauls Jonass…332
4. Benoit Paturel…293
5. Aleksandr Tonkov…269
6. Petar Petrov…230
7. Dylan Ferrandis…229
8. Samuele Bernardini…228
9. Max Anstie…227
10. Vsevolod Brylyakov…209
2016 GRAND PRIX WINNERS AT A GLANCE
Romain Febvre won at home in France.

Date           Venue                                450                                250
Feb. 27…. Qatar…………………..Tim Gajser………….Jeffrey Herlings
Mar. 6…..Thailand……………….Romain Febvre…….Jeffrey Herlings
Mar. 28…Holland………………..Romain Febvre…….Jeffrey Herlings
April 10….Argentina…………….Tim Gajser…………..Jeffrey Herlings
April 17….Mexico………………..Tim Gajser……………Jeffrey Herlings
May 1…… Latvia………………….Tim Gajser……………Jeffrey Herlings
May 8……Germany………………Tony Cairoli………….Jeffrey Herlings
May 15….Italy……………………..Tony Cairoli………….Jeffrey Herlings
May 29….Spain……………………Tim Gajser……………Jeffrey Herlings
June 5……France…………………Romain Febvre………Jeffrey Herlings
June 19….Great Britain………………
June 26….Italy………………
July 24…..Czech Republic………………
July 31…..Belgium………………
Aug. 7……Switzerland………………
Aug. 28….Holland………………
Sept. 3…..Charlotte, USA………………
Sept.11…..Glen Helen, USA………………
450 Points leader…Tim Gajser (Hon)
250 West points leader…Jeffrey Herlings (KTM)
MXA GEAR GUIDE: 2016 YAMAHA YZ125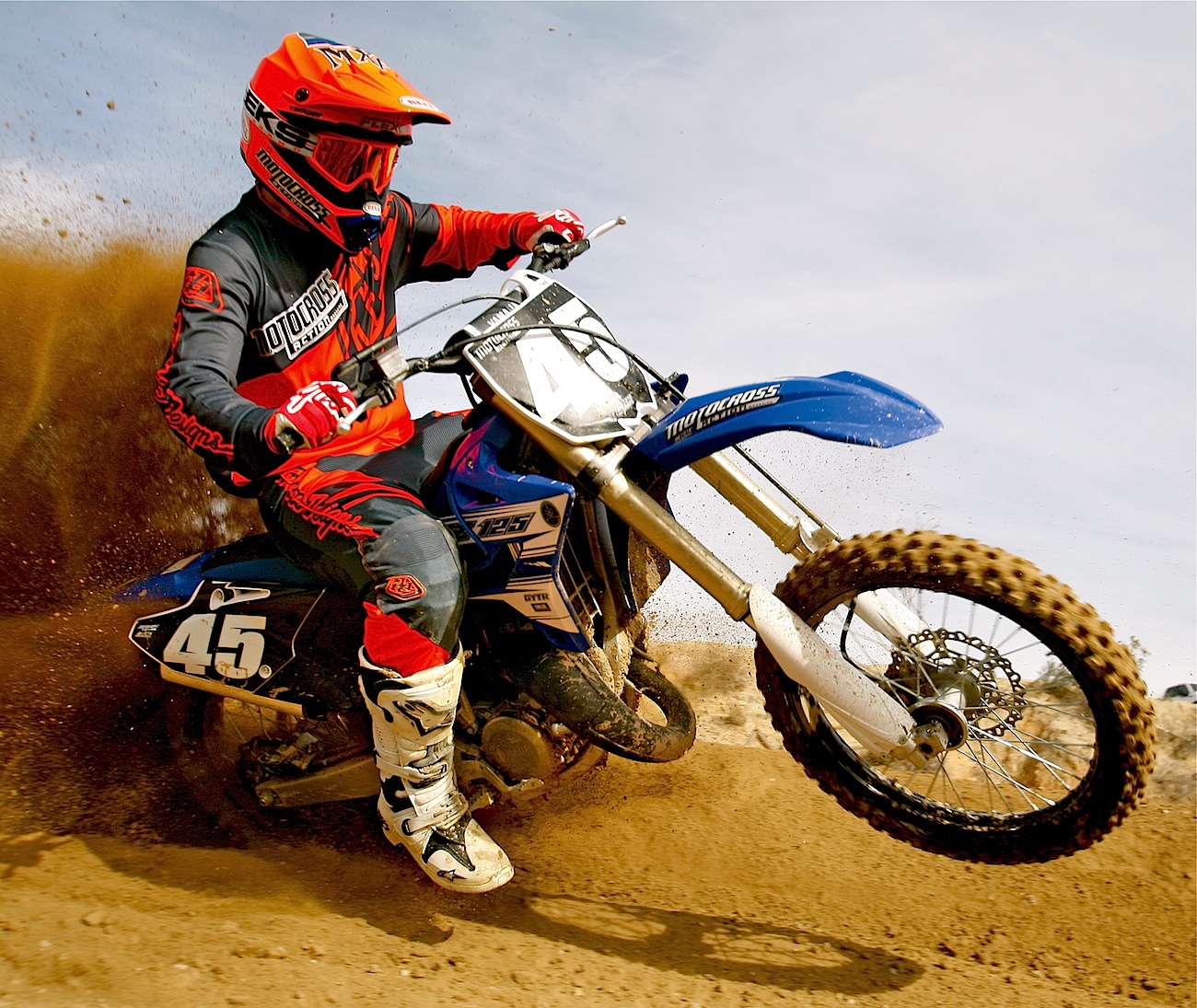 MXA's "Gear Guide" is designed to show you what 2016 gear the MXA wrecking crew wears for our bike tests. This is what we wore on the 2016 Yamaha YZ125 test. If you like what you see, be sure to click on the contact links for more information. Click on images to enlarge.
PANT: Troy Lee Designs GP Flexion orange/gray
JERSEY: Troy Lee Designs GP Flexion orange/gray
GLOVES: Troy Lee Designs SE Pro red
HELMET: Bell Moto-9 (custom painted)
GOGGLES: Eks Brand Fade Volcano Flo orange
BOOTS: Alpinestars Tech 10 white

SUPPLIER CONTACTS:
Troy Lee Designs: www.troyleedesigns.com or (800) 239-6566
Bell Helmets: www.bellhelmets.com or (800) 216-9446
EKS Brand: www.eksbrand.com or (818) 706-1700
Alpinestars: www.alpinestars.com or (800) 409-0903
SUBSCRIBE TO MXA & DIRT BIKE FOR ONE LOW PRICE
And get two $25 Rocky Mountain gift cards as a bonus. That's $50 off your next parts bill for a $32 investment. For more info go to www.hi-torque.com/mxcombo

FACES TO GO WITH THE NAMES

Joe Gibbs.
Andrew Short.
Glen Helen owner Dr. Bud Feldkamp.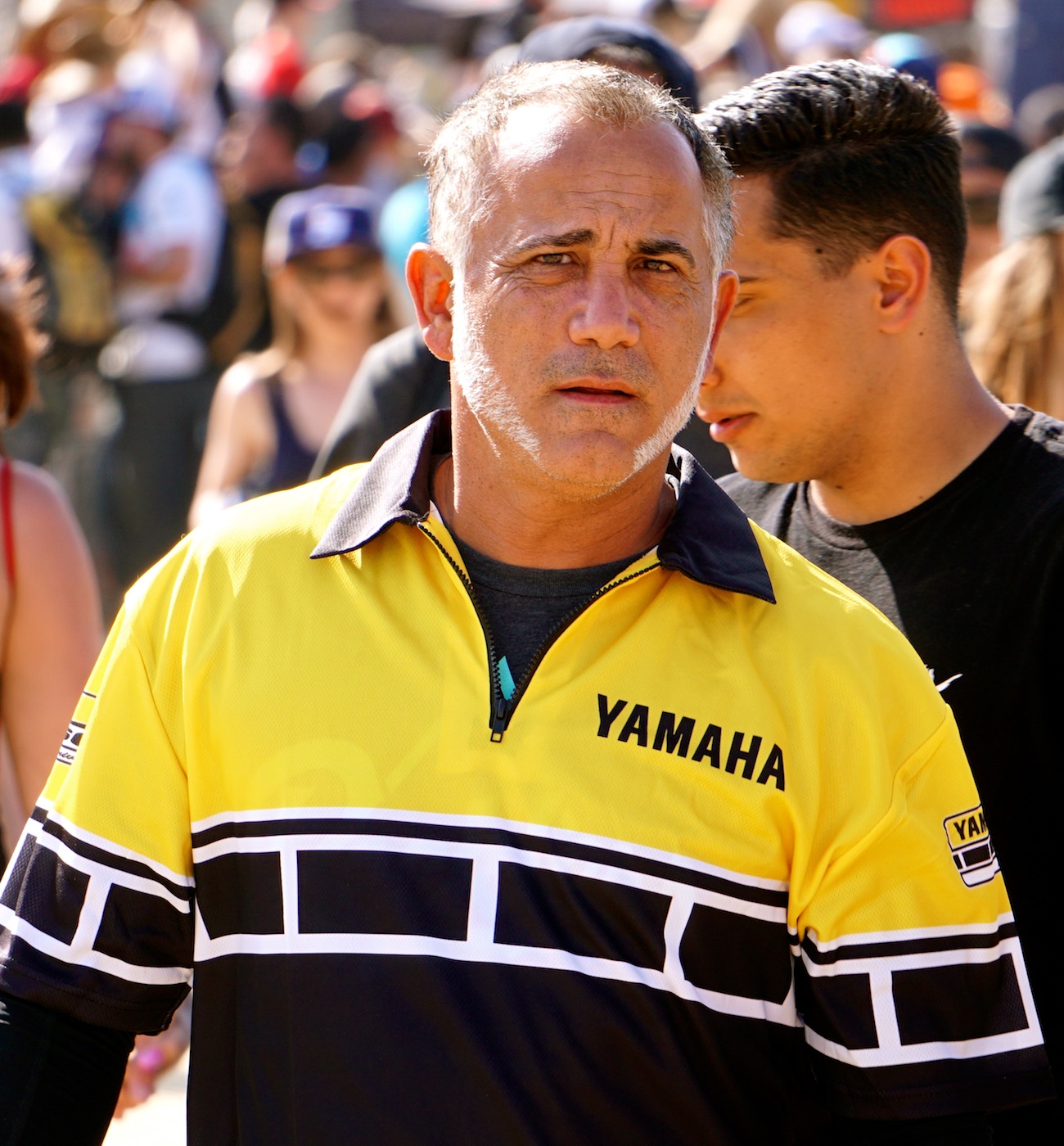 Hollywood stuntman Tony Pantera.
MXA MOTO-CHALLENGE: NAME THIS MOTORCYCLE DESIGNER

You might be tempted to say Senor Bulto, but look at the rear suspension of this Bultaco. There are two shocks (actually one shock and a cut-down fork on each side). The inventor of this rear suspension would go on to build his own motorcycle brand and mountain bike company. Can you name him? Can you name the motorcycle brand he built? On a side note, did you see the Bultaco Metralla in the background? The answer is at the bottom of the page.
COLLECTION OF REM RACE POSTERS…INCLUDING THIS WEEK'S

"Say it isn't so"— REM will hold a very rare Sunday race this weekend, June 12, 2016. Set your watch, but it would be smarter to mark your calendar. For more info go to www.remsatmx.com

"The Stars of REM"—April 30, 2016.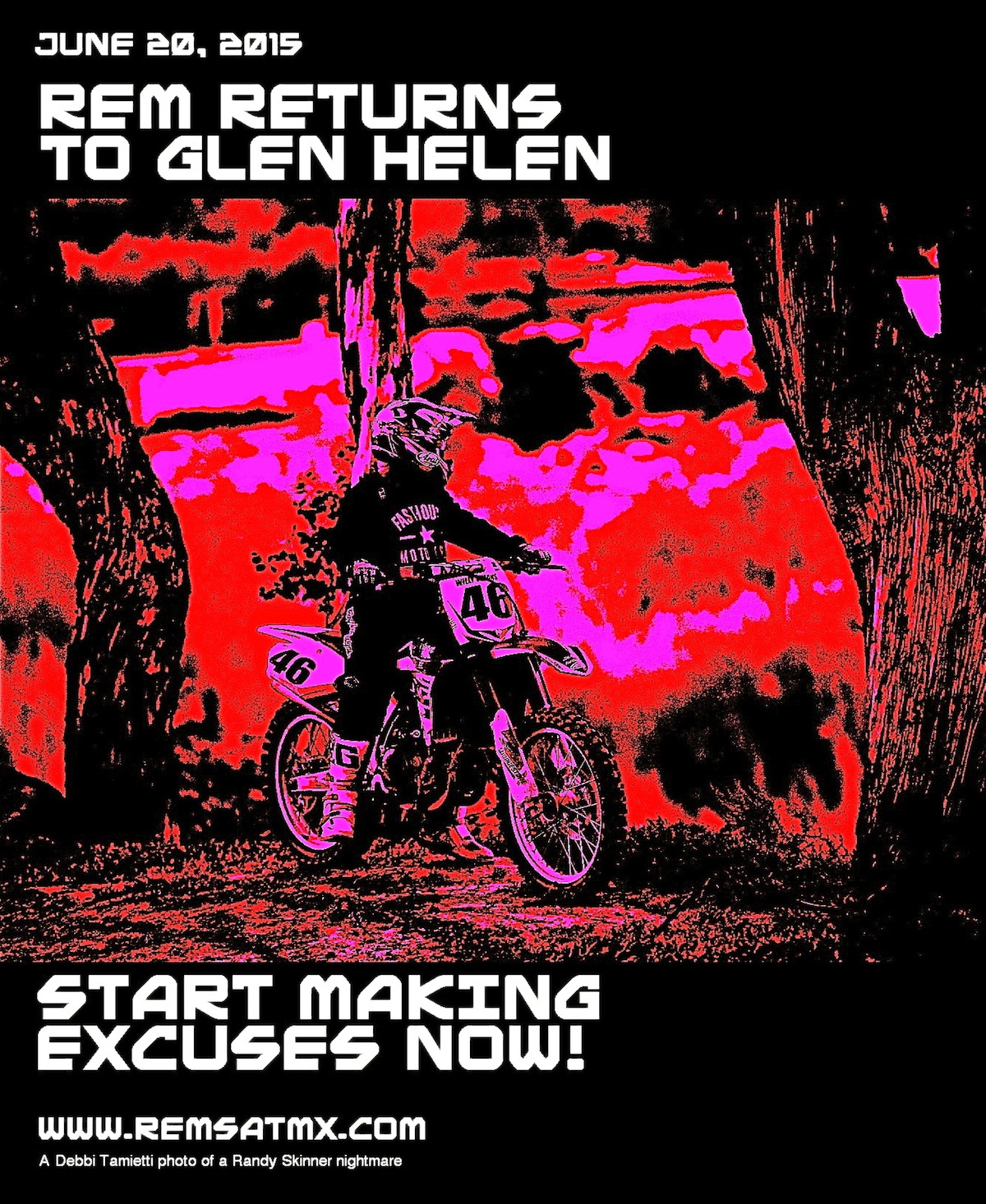 "Start Making Excuses Now!" — June 20, 2015.

"Words To Live By" — February 7, 14, 21, 2015.
"Motocross The Way It Was Meant To Be" — June 21, 2014.
"Summer Is Over" — October 4, 2014.
"Don't Make Frank Angry" — December 20, 2014.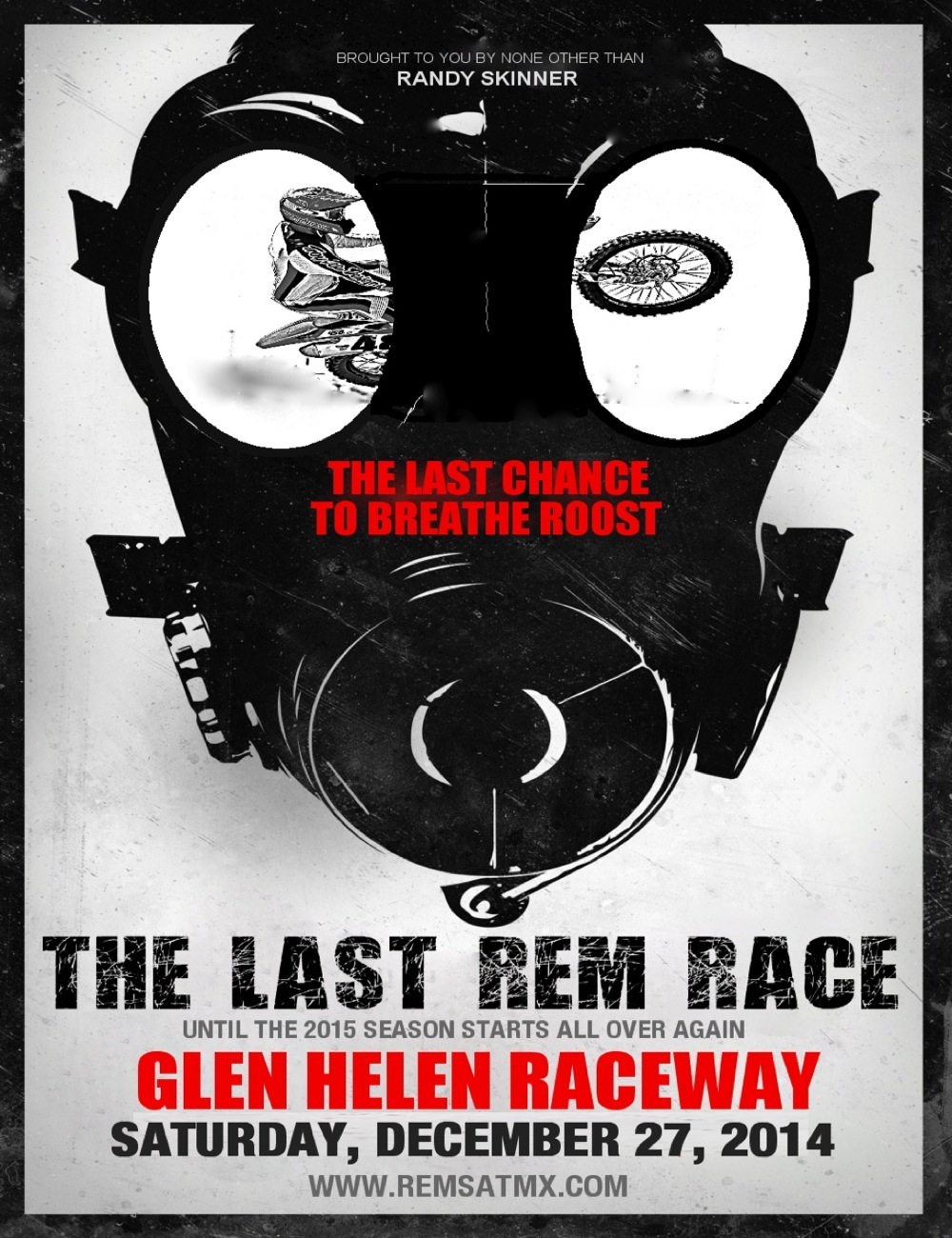 "The Last Chance To Breathe Roost" — December 27, 2014.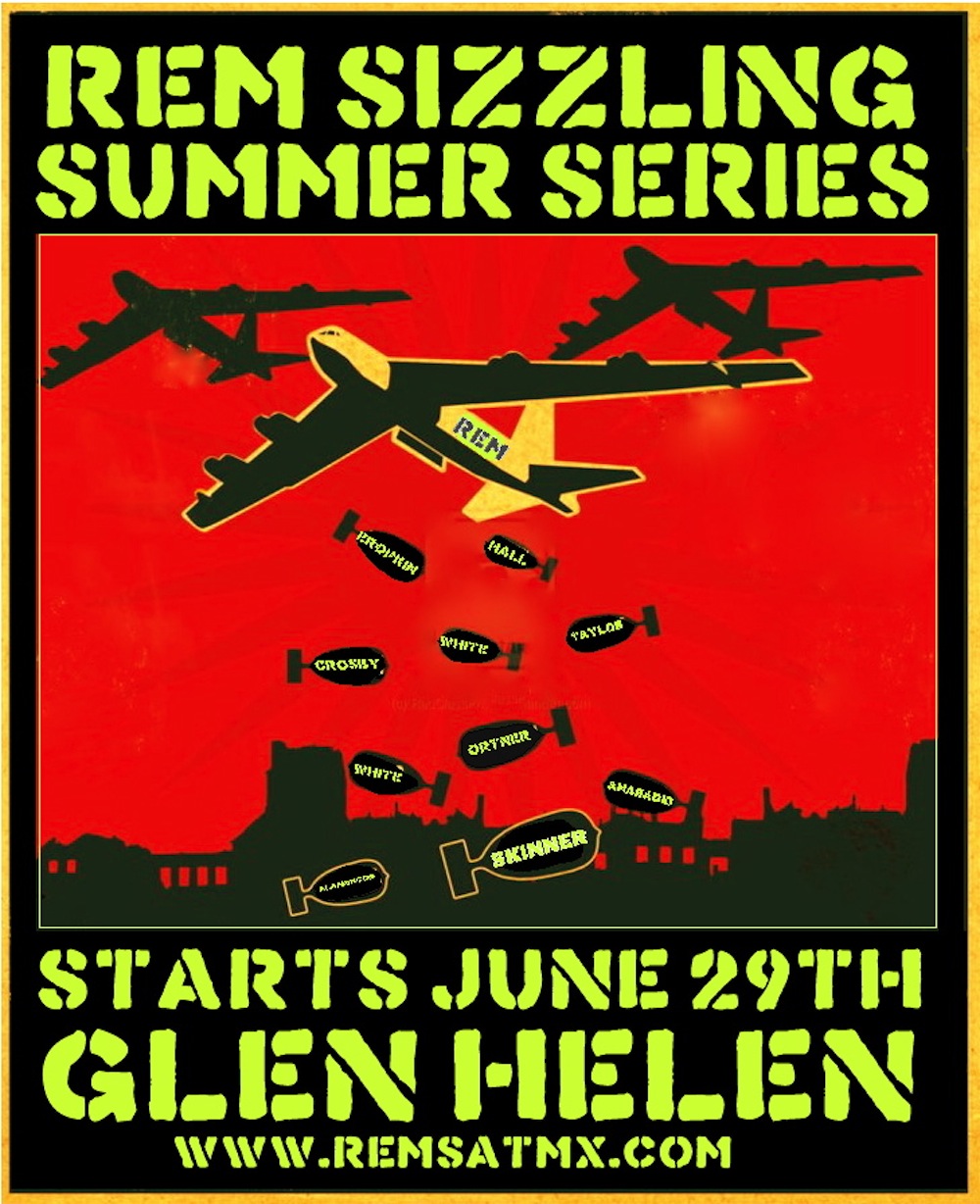 "Sizzling Summer" — June 29, 2013.
"Join The Remolution" — October 26, Octobercross, 2013.
"The Final Battle" — December 28, 2013.
RED BULL STRAIGHT RYTHYM TO RETURNS TO POMONA ON OCTOBER 22
HOW TO SUBSCRIBE TO MXA AND MAKE MONEY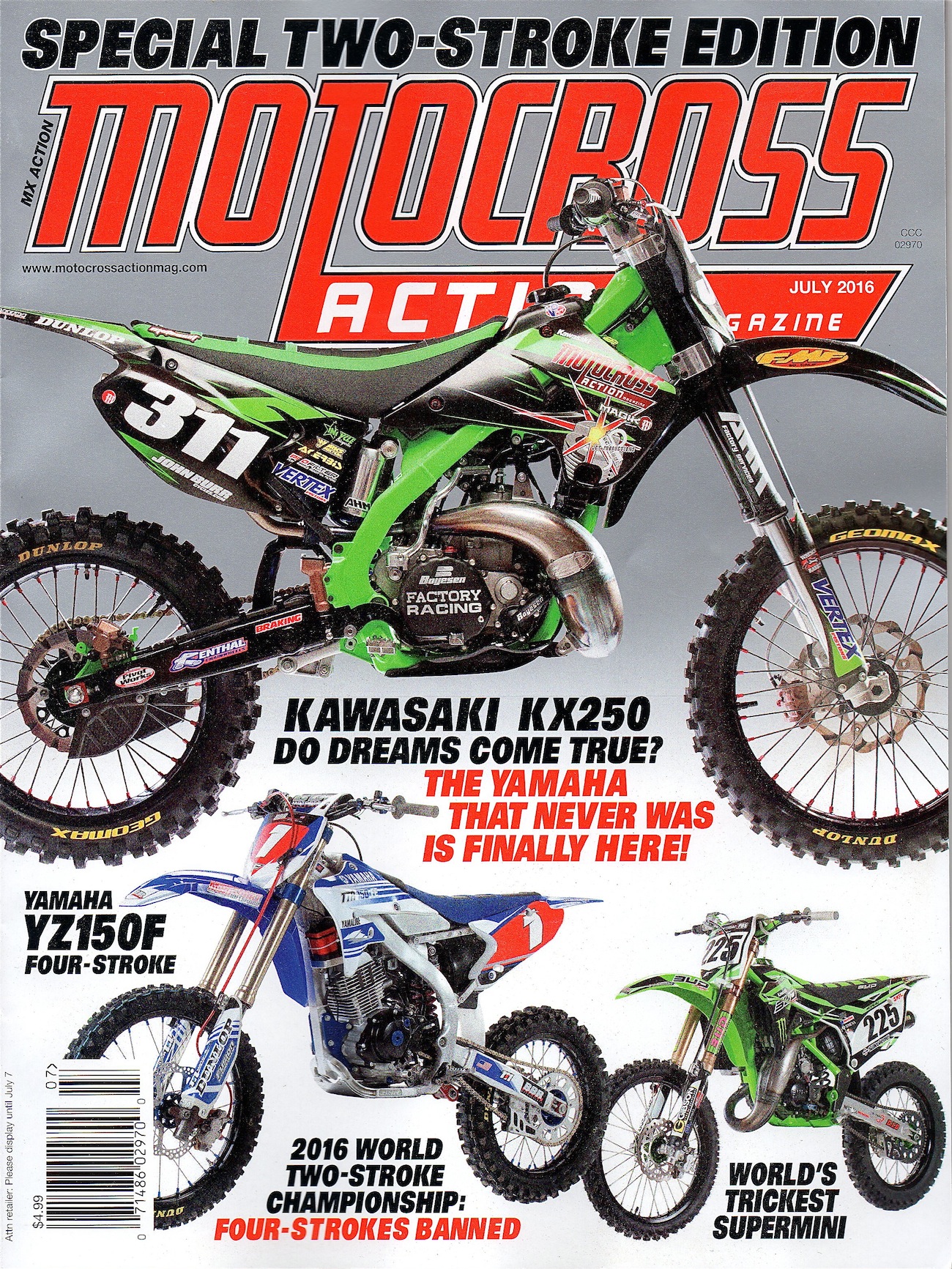 The July 2016 issue of MXA will be out this coming week. Will it be hand delivered to your humble abode by a uniformed agent of the U.S. Government or will you sit around and wait for its content to appear on the internet in a month or two? We'd subscribe—especially since it won't cost you any money when you get a $25 gift certificate from Rocky Mountain ATV/MC for subscribing.

Do you subscribe to MXA? You should. We know that you think that print magazines are dead and that the internet will fill the void, but most of the stuff in the current issue of MXA won't appear on the web for several months, if at all. Luckily, you can get all of MXA on your iPhone, iPad, Kindle or Android by going to the Apple Store, Amazon or Google Play. Better yet get the Digital desktop version at https://hi-torque.com/product/motocross-action-digital-edition/ for $9.99 a year. The MXA test riders prefer the print version and not just because it is delivered by a uniformed employee of the U.S. Government, but because for only $19.99 you get 12 issues and a free $25 Gift Card from Rocky Mountain ATV/MC. That means that there is a profit to be made in this deal for you. For the Print magazine go to: http://hi-torque.com/product/subscribe-to-motocross-action-magazine/

MOTO-CHALLENGE ANSWER 
The answer is Horst Leitner. Horst built his Bultaco prototype in 1975 as a test of had to lessen chain torque on motocross bikes. He would go on to start ATK motorcycles which used a series of roller to trick the chain into thinking that it was pulling the chain in a straight line. As for the odd mounting of the rear axle on the Bultaco, it would come to be known as the "Horst Link" and was used to great effect on full suspension mountain bikes (including Horst's AMP Research mountain bikes). Horst sold his "Horst Link" patent to Specialized and moved on to making automobile and truck accessories.
Photos: Massimo Zanzani, Scott Mallonee, Brian Converse, Kyoshi Becker, Jody Weisel, Ketchup Cox, Honda, Ray Archer, Debbi Tamietti, Dan Alamangos, John Basher, Yamaha, Suzuki, KTM, MXA