HARD FACTS TORONTO: FASTEST LAP TIMES, BROKEN BONES AND THE RED PLATE

Click on images to enlarge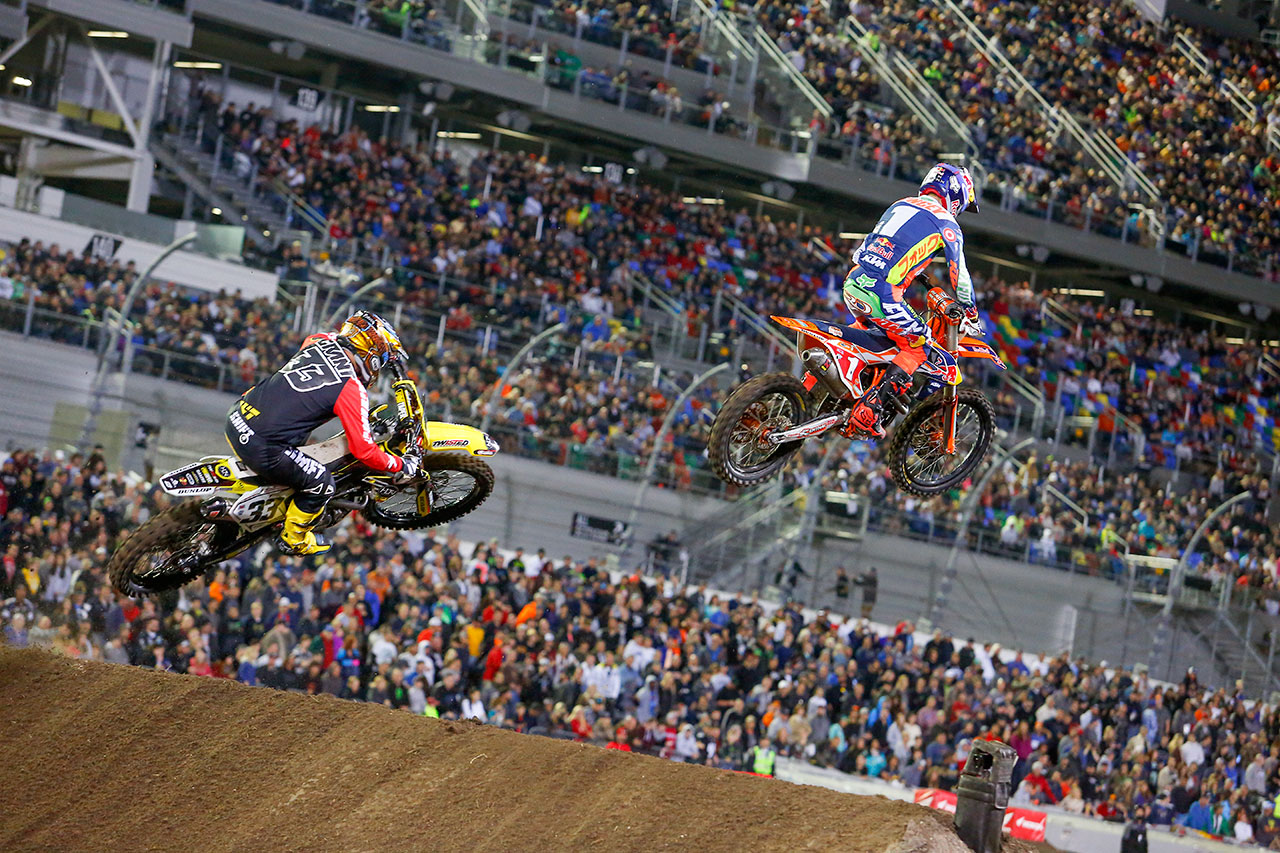 By Kyoshi Becker
PRE-TORONTO ROUNDUP
This Saturday the Supercross series leaves the United States for one weekend in Canada. Located within driving distance of Niagara Falls, Toronto marks the tenth round of the Supercross tour and the only one out of the states. This has posed a unique problem for some riders in the past and currently Martin Davalos of 250 East, as the Ecuadorian rider is having problems with his visa to cross the boarder. Toronto is also known for it's soil as its unique location often adds challenges to the race as the track can consist of freshly thawed mud. Last weekend in Daytona saw a wild race in the 250 class as well as Eli Tomac's first 450 Supercross win of the season. Unlike many of the other Supercross tracks, Daytona is much more loose and has more of an outdoor style feel. The Toronto soil forms deep long ruts across the entire track.
BASIC STATS

58.8% is where we sit in the Supercross season at race 10 of 17.
Toronto wasn't added as an official part of the Supercross series until 2008. Although a part of the schedule from 2008-2014, it was taken out for 2015 in place of a second round at Atlanta.
CNE Stadium is where the first Supercross event was held in Toronto during the 1980 season.
Toronto's Rodgers Center (formerly known as Skydome) is unique in that it was the first stadium to have a retractable roof and it is designed for both baseball and football.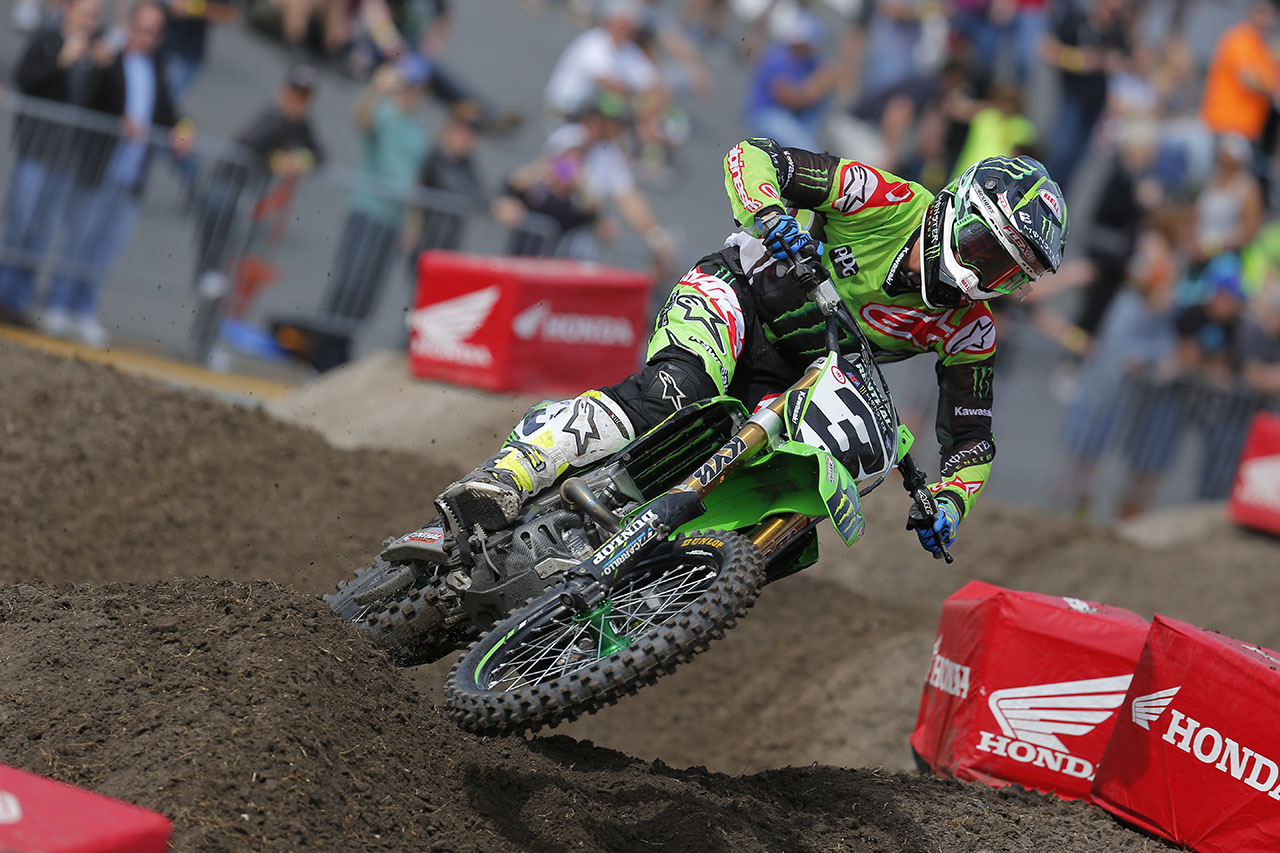 Eli Tomac is on the hunt for the another win.
 450 CLASS NOTES
Chad Reed was the first rider to win a Supercross event in Toronto back-to-back (in the World Supercross series in 2007 and the AMA Supercross series in 2008).
Ryan Dungey now has 81 career podiums with 25 being consecutive, giving him the longest podium streak in Supercross history at a tie with Chad Reed.
Ryan Dungey also ties with current team manager of Geico Honda, Mike LaRocco for fourth place in a career podium percentage of 74%. That was 81 podiums out of 109 starts.
One of James Stewart's most memorable races happened in Toronto during the 2014 season. Starting in 11th place he was able to make his way through the pack and win the race, leading the last five laps.
Christophe Pourcel will not be in Toronta because of a minor practice injury this week.
FASTEST 450 MAIN EVENT LAP TIMES
Anaheim 1 – Tomac 1:01.954.
San Diego 1 – Dungey 48.794.
Anaheim 2 – Tomac 57.202.
Oakland – Dungey 53.229.
Phoenix -Tomac 1:02.602.
San Diego 2 – Dungey 57.995.
Arlington – Dungey 50.754.
Atlanta – Dungey 45.943.
Daytona – Dungey 1:04.851.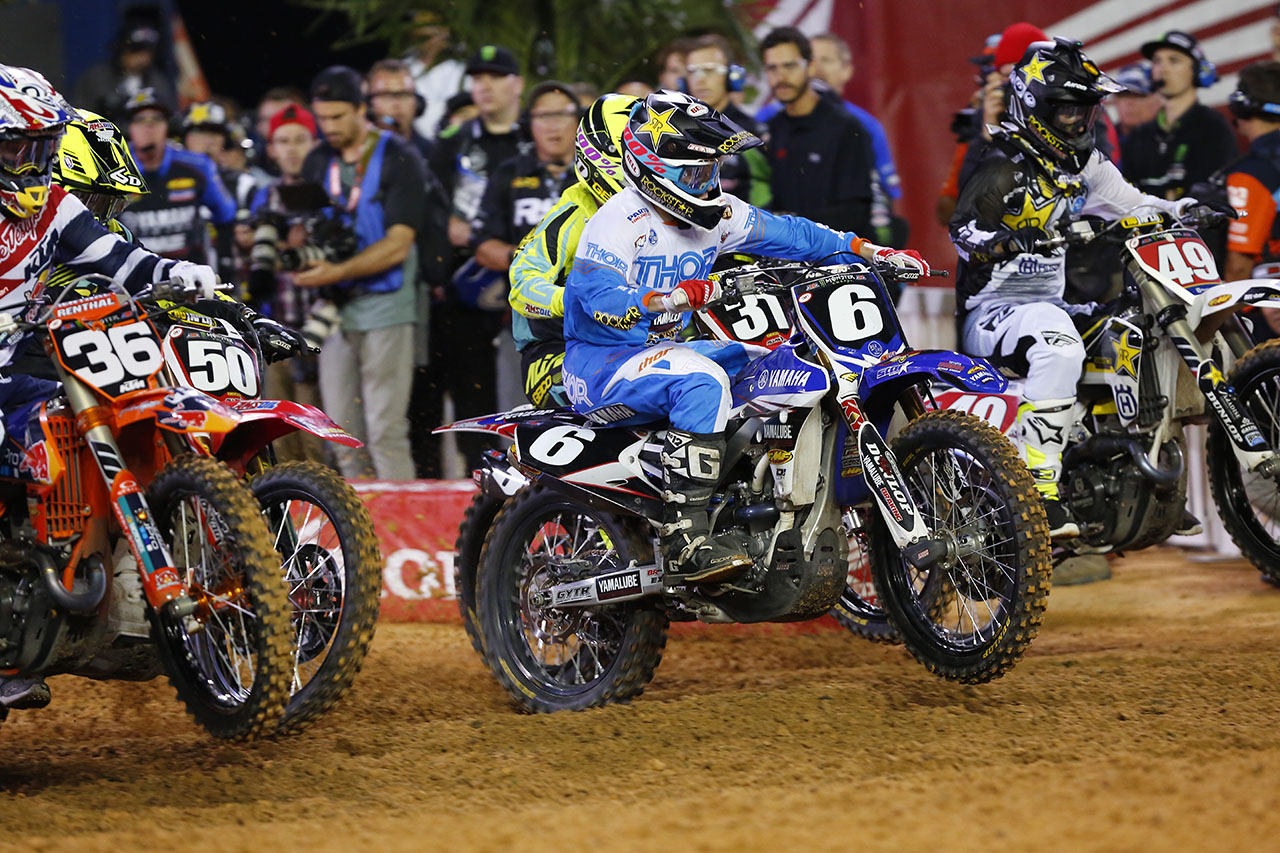 Can Jeremy Martin to pull through with a win in Toronto to back up his Daytona victory?
250 CLASS NOTES
2008 is the first and only time a team swept the podium. The riders were Shaun Skinner, Matt Boni and Kyle Cunningham of the BTO Sports/DNA Energy/Rick Case Honda team.Given that the Canadian round was not an official race in the 250 east Championship most big names teams skipped the trip across the border back in the day.
Martin Davalos is unable to race Toronto this weekend due to issues with his visa. That wasn't the case in 2006 where he was able to win a 250 main event on his KTM in Toronto. He was also in 2nd place in points in 2015.
Justin Barcia is the only rider to have multiple podiums in the 250 class in Toronto.
As the only international city in AMA Supercross, 3 of the 10 winners in Toronto have been international: Marvin Musquin (2013) and Christopher Pourcel (2009) both Frenchmen and Dean Wilson (2011) from Scotland.
FASTEST 250 EAST MAIN EVENT LAP TIMES

Atlanta – Davalos 47.027.
Daytona – Hill 1:07.740.
Cade Clason (761) gets a little closer to the the tires than he expected.                                                                                                  
450 Class
James Stewart- Bruised back. Unlikely to race Toronto (and probably should sit out until the 450 Nationals start to heal completely).
Davi Millsaps – Broken ribs and a collapsed lung.
Christophe Pourcel – Injury not confirmed, but he is out of Toronto. He will possibly be back at Detroit.
Will Hahn – Broken collarbone, torn labrum and a broken scapula.
Andrew Short – Concussion from the three-way crash between him Will Hahn and Phil Nicoletti.
Phil Nicoletti – May not race if knee isn't 100%.
Justin Barcia – The pins are out of his thumb, but he has yet to start riding.
Broc Tickle – Recovering from a broken wrist.
Ronnie Stewart – Also recovering from a broken wrist. Should return in St. Louis.
Kyle Chisholm – Recovering from a broken humerus, dislocated shoulder and concussion.
Dusty Pipes – Like Chisholm, he is recovering from both a broken humerus and dislocated shoulder.
Tyler Enticknap – Broke his thumb at the first San Diego round. Unconfirmed if he will race Toronto.
Tevin Tapia – Broken wrist from preseason still healing.
Dean Wilson – Out for the 2016 season with a torn ACL and meniscus.
Adam Enticknap – Out for the season due to a broken femur.

250 Class
Dakota Tedder –  Concussion, broken scapula and fractured ribs.
Luke Renzland- Broken collarbone.
Marshal Weltin- Dislocated shoulder.
Nick Gaines – Out of the 2016 Supercross season with a broken femur.
Adam Cianciarulo – Still recovering from a broken wrist.
Jordan Smith –  Injured shoulder.
Zach Bell – Still healing from a broken collarbone, but may not finish the West SX series if his infection isn't taken care of.
Jessy Nelson – Out of Supercross with a shoulder/back injury and concussion.
Luke Clout – Out of with a broken femur.
Mark Worth – He dislocated a hip and broke his elbow on the first lap of practice at Anaheim 1.
Daniel Baker – Done for the 2016 Supercross season after tearing his ankle.
Josh Osby – Broke some ribs and punctured a lung.